How much does it cost to install artificial grass?
Get free estimates from landscapers near you
Artificial Grass Installation Cost Guide
To provide you with the most accurate and up-to-date cost figures, we gather information from a variety of pricing databases, licensed contractors, and industry experts.
Artificial turf has been around for decades. It was first introduced as a way to provide grass surfaces for urban areas. Today, it is often recommended as a means to get the look of grass without the need for water, pesticides, and maintenance. Artificial turf can look just as good as natural grass. It reduces costs associated with upkeep. Many versions of turf exist for different purposes, so any homeowner can find an option that meets their needs.
Several styles and types of artificial turf are on the market today, all of which have different price points that impact your final costs. The average cost to install artificial grass ranges between $3,000 to $7,500 with the average customer paying $4,259 to install premium spike-proof, non-directional, UV-stabilized artificial grass turf over 630 square feet. Homeowners might pay only $2,217 for 500 square feet of installed high-performance grass turf but could pay as much as $6,459 for 900 square feet of installed padded grass turf.
Artificial Turf Installation Cost
Synthetic Grass Cost
National average cost
$4,259
Average range
$3,000-$7,500
Low-end
$2,217
High-end
$6,459
Artificial Turf Cost per Square Foot
The cost of your artificial grass will depend on several factors, one of which is the size of your yard. The average price per square foot is $5 to $12.50. Calculating how much of the yard needs artificial turf ensures you buy plenty of grass but do not go overboard and spend more than is required. There is a huge difference in prices as you move to larger sizes, which you can explore more in the table below.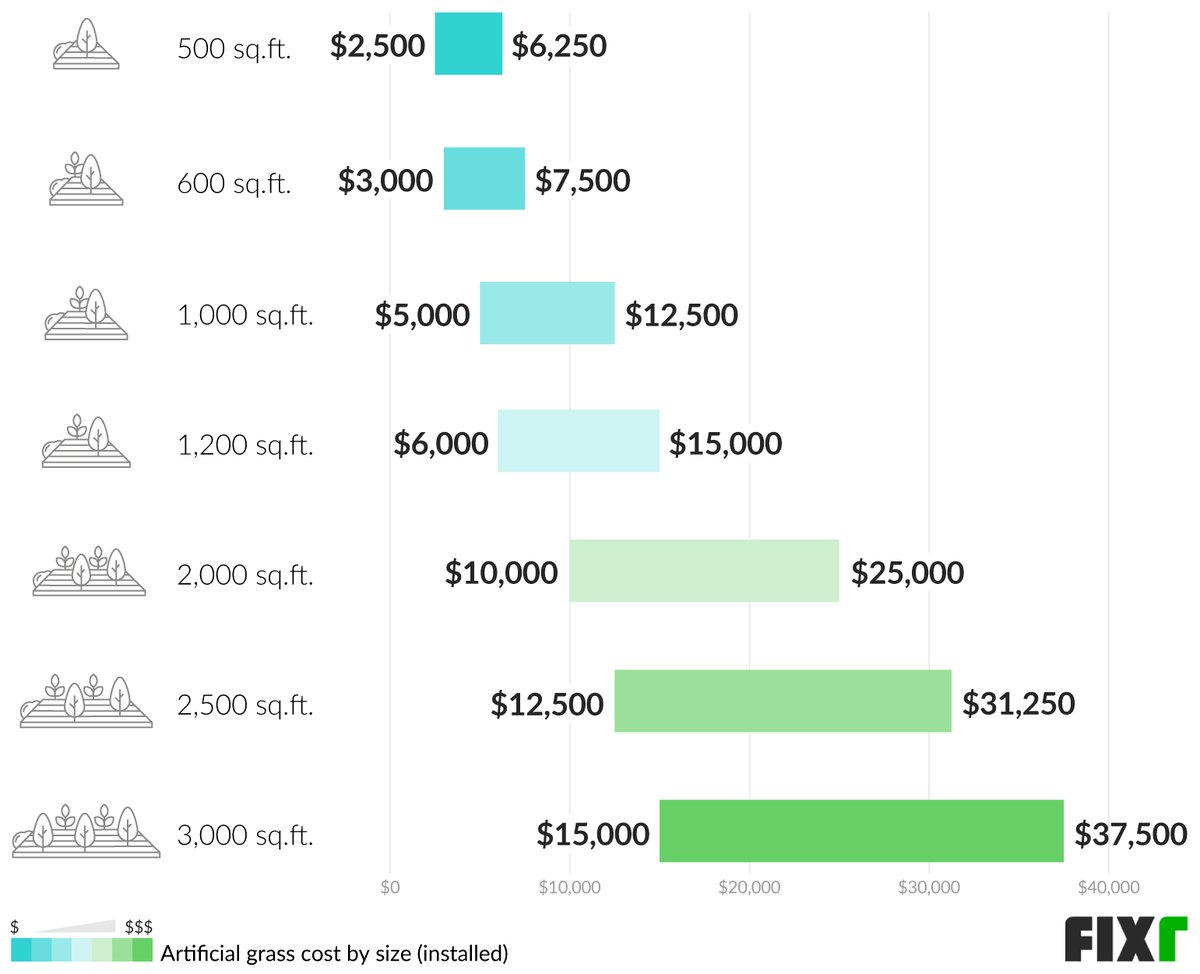 | | |
| --- | --- |
| Size | Average Cost (Installed) |
| 500 sq.ft | $2,500 - $6,250 |
| 600 sq.ft | $3,000 - $7,500 |
| 1,000 sq.ft. | $5,000 - $12,500 |
| 1,200 sq.ft | $6,000 - $15,000 |
| 2,000 sq.ft. | $10,000 - $25,000 |
| 2,500 sq.ft. | $12,500 - $31,250 |
| 3,000 sq.ft. | $15,000 - $37,500 |
Artificial Grass Cost by Material
Fake turf comes in three different types. Homeowners can choose from polypropylene, polyethylene, or nylon material for their artificial turf. Each has its own advantages and disadvantages and is best used in specific environments and situations. When choosing the right material for your artificial turf, consider how much maintenance you want to do, how long you want it to last, and your budget. Prices range from $2 per square foot for polypropylene to as much as $6 for nylon versions.
| | |
| --- | --- |
| Type | Average Cost per Sq.Ft. (Materials Only) |
| Polypropylene | $2 - $6 |
| Polyethylene | $2.50 - $4 |
| Nylon | $5 - $6 |
Polypropylene
You will pay $2 to $6 per square foot for polypropylene. This is the least popular choice as it cannot handle heat or high foot traffic. It is best used in areas that are shaded. However, this is the least expensive artificial turf option. Another benefit of polypropylene grasses is that it is pliable and light with a smooth feeling. However, it can have trouble handling rain, snow, and extreme temperatures.
Polyethylene
Polyethylene artificial turf is $2.50 to $4 per square foot. Older grass is made of plain nylon. It is not readily available anymore, but you can still find it in small rolls. It has a stiffer feel and often a shorter yarn. Newer grasses are made from a type of nylon called polyethylene. This is softer to the touch and comes in many different blade shapes. The shapes give your lawn a variety of looks, reminiscent of different grass seeds.
Nylon
When choosing nylon, the costs range from $5 to $6 per square foot. You will find nylon in sports-related areas, due to its spike-resistant surface. This sturdy artificial grass is great for high traffic areas and looks very natural. It also holds up under high heat temps. It is resilient and strong, with blades that hold its shape. It has a natural look but tends to be expensive in exchange for all its great features.
Artificial Grass Cost by Brand
As in any other industry, there are variations in the quality of artificial turf. Knowing and understanding the differences will help in making a decision about the brand you want to buy.
| | |
| --- | --- |
| Brand | Average Cost per Sq.Ft. (Materials Only) |
| EasyTurf | $1.50 - $2 |
| AstroTurf | $1.75 - $7.50 |
| OneLawn | $2.25 - $7.50 |
| Pregra | $2.50 - $3.75 |
| Perfect Turf | $4 - $5 |
| Tough Turtle Turf | $4 - $9 |
| ForeverLawn | $4.50 - $9.50 |
| K-9 Grass | $4.50 - $9.50 |
| ProGreen | $4.50 - $11.50 |
| Synlawn | $5.50 - $7.50 |
EasyTurf
The average cost is $1.50 to $2 per square foot for synthetic turf from EasyTurf. This company features multi-colored blades and has one of the best drainage systems available. This artificial grass has intertwining blades to look as natural as possible. It is also known as a pet-friendly brand that stands up to running dogs or playing children. Easyturf can be used for backyards, home golf courses, and other projects. It includes a 15-year warranty.
AstroTurf
AstroTurf costs $1.75 to $7.50 per square foot. Astroturf has been around the longest and has made many improvements over the years. It is one of the most long-lasting, realistic options available. As a leader in the industry, their grasses are made for high-performance lawn needs. This company provides a warranty, but it varies based on the chosen product.,
OneLawn
Pricing is $2.25 to $7.50 per square foot for OneLawn artificial grasses. OneLawn is a long-lasting, lush turf. It is pet and kid friendly as it contains antimicrobial agents. This company offers low-maintenance lawn options that can be used in playgrounds, pet spaces, and more. Artificial grasses from OneLawn also offer a 20-year non-transferable warranty and a 10-year installation warranty.
Pregra
Expect to pay about $2.50 to $3.75 per square foot for artificial turf from Pregra. Pregra is an all weather artificial turf that is suitable for pets. It is rated as premium and provides an athletic backing for years of use. All grasses from this brand is premium and designed to offer a great look and excellent performance. As for the warranty, all original owners will have a 10-year limited guarantee.
Perfect Turf
It costs $4 to $5 per square foot to install artificial turf from Perfect Turf. Perfect Turf is a 10-year old company that offers realistic looking grasses for yards, playgrounds, pets, and commercial use. It is a high-quality, heavy-duty product that lasts for years to come. There is a 16-year warranty for fiber degradation, undue fading, and workmanship.
Tough Turtle Turf
Artificial turf from Tough Turtle ranges from $4 to $9 per square foot. This brand specializes in stunning, high-performance residential artificial grass. They also have a selection of pet-friendly turf that can handle high traffic areas in a homeowner's lawn. A three-year labor warranty is provided from the date of installation. In addition, a 25-year limited lifetime warranty is provided.
Foreverlawn
Pricing for artificial grasses from Foreverlawn ranges from $4.50 to $9.50. Foreverlawn combines its natural look with moderate to high traffic tolerance. It is a lightweight turf and a good choice for lawns. All grasses are made to look natural and has a high quality for use in extreme traffic situations. This brand also has several different grass products to meet specific needs. Products from this company come with a 10-year warranty.
K9 Artificial Grass
Also made by ForeverLawn, K9 Grass artificial turf is $4.50 to $9.50 per square foot. K9 turf is a non-toxic, antimicrobial turf designed specifically for cats and dogs. It offers complete edge to edge drainage. It has a dense short blade structure and is cleaner and better smelling than many other artificial grasses options. It is easy to maintain and has a realistic look. A 10-year warranty is provided with K9 Grass artificial turf.
Progreen Synthetic Grass
The cost for synthetic grass from Progreen is between $4.50 and $11.50 per square foot. It is kid and pet friendly. It is a natural looking product that drains well and is UV protected. This product is made entirely in the United States of America and offers the utmost in quality. It has dual fibers to mix realism with softness for the ideal lawn. This company offers an eight-year warranty.
Synlawn
Synthetic turf from Synlawn costs about $5.50 to $7.50 per square foot. Synlawn is a very eco-friendly brand that uses soy beans to make its bio-based polymers. Most other brands use petroleum based polymers. Made exclusively in the USA, Synlawn also offers "Enviro-loc" backing that helps the blades to stand upright and is extremely durable. The grasses from this company also come with a lifetime warranty.
Labor Cost to Install Artificial Grass
Lawn care professionals are the experts most commonly used to install artificial turf. The installation process takes from less than a day to three days, depending on the size of the project. The material costs make up more than half the cost, including the infill, base, and grass, and labor makes up the rest. Delivery is normally included in the pricing. For the installation of a 600 square foot artificial turf lawn, labor makes up about $1,000 to $3,500 of the total $3,000 to $7,500 cost.
Labor is generally charged by the square foot. Professional artificial grass companies will advise you on the best type of blades, drainage, foundation, infill, and brand for your needs. In addition, using a professional will ensure you have a warranty and someone to call on with problems or concerns.
Artificial turf is installed in several steps. The ground needs to be prepped and cleared before the base material of sand or crushed stone is placed on the lawn. The compactness varies based on need. After it has been compacted, weed block fabric is placed before the turf is put down. It is nailed into place before cutting and edging to offer a natural look. The grass blades are pulled upward, and the infill spread between to keep them in position. Then the grass is raked to settle the infill and make the grass look its best.
Average Cost of Artificial Grass by Location
Many people use artificial turf in a variety of areas. It can completely cover your yard or create a lawn that is lower maintenance than grass. It can also be used in smaller areas, such as around hardscaping, in areas where pets play, and near saltwater pools, which can kill real grass.
Artificial turf can be added to walls to create warmth and charm in any area. It can also be used on a balcony to create the illusion of a yard when one is not available. For roofs, lightweight artificial turf can be used to create extra shade. It can also be used to build a roof terrace for entertaining. Sloped gardens are another area to use artificial turf. It can be hard to keep them growing so artificial turf creates a healthier look. For stairs, this grass can add a more natural look. It can also be used as decking, especially if you choose a brand known for being cool.
Since concrete patios easily get dirty, artificial turf can be installed on top. This keeps the good looks going and helps with heat if you choose a heat-resistant type of grass. For terraces, artificial turf can be used like patios to improve visual appeal. Finally, artificial turf can be used around a pool to avoid cracking or people slipping on concrete.
| | |
| --- | --- |
| Location | Average Cost per Sq.Ft. (Installed) |
| Wall | $3 - $5 |
| Balcony | $3 - $5 |
| Around Pool | $6 - $12 |
| Playground | $6 - $20 |
| Indoors | $7 - $9 |
| Roof | $7 - $19 |
| Gazebo | $8 - $10 |
| Sloped Garden | $8 - $10 |
| Stairs | $8 - $10 |
| Decking | $9 - $12 |
| Patio | $9 - $12 |
| Terrace | $9 - $12 |
Artificial Grass Installation Process by Type of Base
One of the most vital parts of proper installation is the various materials needed to ensure the seal is long-lasting. The most common materials to install turf on include grass, concrete, gravel, and soil. Attaching the grass will be done differently depending on how it attaches.
Grass
You can have artificial grass installed right over your existing grass. If you put artificial grass on grass, it installs right over the top, but a weed barrier ($0.08 to $0.09 per square foot) keeps the natural grass from pushing through the turf. The seams will be covered using adhesive seam tape, tacks, or nails, ranging from $0.35 for nails to $15 for a roll of seam tape. Also, the pieces can be sewn together. Once this is accomplished, the border of your turf will be attached with lawn spikes.
Concrete
For concrete, padding (which costs between $2.50 to $3 per sq.ft.) can be used to make the surface better for use in playing and relaxing, especially when children are present. Due to the nature of concrete, padding would be installed to create a softer surface for safety reasons. If your grass will be attached to a hard surface such as concrete, glue will be used to hold it. Bender board (which costs $0.14 to $0.15 per square foot) is then used to complete the edging of the turf.
Gravel
Another option is to lay grass on gravel, creating a more stable surface and better drainage for any water. If there will be heavy traffic over the lawn with a gravel base, foam padding may be needed. The common gravel used will be decomposed or crushed granite mixed with other materials. The gravel should come in small pieces to ensure a flat surface for the artificial grass to be installed.
Soil
Artificial turf can be installed on soil, too. The soil will typically be covered with a wire mesh material followed by a layer of rock. An intermediate layer of CMB or Class II road base is used between the surface and the grass. CMB costs $0.50 to $2 per square foot, while Class II road base ranges from $15 to $100 per square foot. Class II is more expensive due to being more intensively tested. Weed barrier can be placed but does not have to be. This is followed up with the grass and infill to ensure it stands straight and retains its appearance.
Artificial Grass Blade Shape
There are several different shapes of blades in artificial grass. Some are more naturally looking while others have benefits such as heat reflection and springing back after high traffic. Each one varies by characteristics and durability.
V-Shaped
V-shaped is one of the best options for durability. It has an erect appearance and is best used in high-traffic areas since it can handle abuse. When pressure is placed on this grass, it pops back up into its original appearance. It works well in spaces with pets, small children, and sports. It offers some of the best performance of any artificial turf on the market today. The V-shape creates the memory and strength for which this type of artificial turf is known.
C-Shaped
The three main characteristics to describe a c-shaped blade are erect-standing, durable, and long-lasting. This tall, thin artificial turf looks realistic while performing well. However, it can have more of a shiny look than other grasses and may not be as soft as other types. The design incorporates a curve rather than a flat surface, making it less likely to pull in heat and make the yard overly hot.
U-Shaped
Another long-lasting and durable option for a lawn is u-shaped. Unlike the grasses mentioned before, the u-shaped version also has a soft feel similar to natural grass. U-shaped blades keeps away the sun's rays, so the lawn does not get overly hot. It is best used in light-to-medium traffic areas for a natural-looking lawn that can be used for small gatherings and everyday yard needs.
S-Shaped
S-shaped blades can also be highly realistic looking. In addition, they are designed to be strong and sturdy enough to handle heavy foot traffic. Another characteristic to be aware of is the soft feel of this turf, which makes it feel more like natural blades under your feet. This is why people choose s-shaped blades since it makes the lawn more lush, which is preferred for backyard applications.
W-Shaped
When you want artificial grass that keeps the lawn as cool as possible, w-shaped blades are the top option. However, that is not the only benefit this kind of grass offers a homeowner. The shape of the blades makes the grass long-lasting and durable, so it can be used regularly with no problems. This is another example of artificial turf that looks natural and could seem to be natural grass at first glance.
M-Shaped
The primary blade for those who want their lawn to appear fully natural is m-shaped. Light easily passes through the surface to prevent the shiny appearance that some other types have. It has a unique design, so pressure comes down on several points, making it work well even in situations with a lot of foot traffic. This type of blade does well for front yards where you want the most realistic appearance for visitors and neighbors.
Double W-Shaped
The double w-shaped blades are designed with curved, thick filaments that help the grass stand upright even after foot traffic. Double w-shaped blades ensure durability and performance and create an excellent appearance. The three veins in this blade offer the realistic natural look that many homeowners desire. It also has heat diffusing properties to keep the lawn from getting overly hot.
Seven Stem
The seven stem blade gets its name from the unique textured leaf design and is considered by many to be the most attractive artificial turf available. It has a series of angled areas to diffuse light, making it look so natural. This ensures the grass does not become overly hot and creates a lawn that is uncomfortable to use. The blades are made to do well against high traffic and last up to two decades before needing replacement.
Diamond
Diamond-shaped blades are made to be super soft and comfortable to walk across. The shape also makes the turf look more realistic than some types of artificial turf. It is durable and stronger than flat blades, so it can stand up to a lot of traffic. These blades are created to avoid splitting so they can be used in any space where many people gather. It is a versatile blade shape that looks good and performs well.
Omega
Homeowners can expect omega grass blades to be realistic in appearance, soft to the touch, and highly durable for long-lasting use. These blades handle regular use easily or even work under the load of heavy equipment without breaking down or bending out of shape. These omega-shaped blades can be used where pets spend time, children play, or other activities occur regularly.
Quality
The yarn itself has two designations that determine its quality. The first is the denier, which is the density of each yarn fiber. A higher denier means a heavier, thicker yarn. The second is face weight, which refers to how much the yarn itself weighs without its backing. The heavier the weight of the grass, the more densely packed it is and the better the quality. It is not unusual to pay as much as twice the cost of a low face weight grass as for one of high-quality. For example, 40 or 50 ounces is considered a bargain price, costing around $3 to $4 per square foot, while 90 ounces will cost $8 to $10 per square foot for the material.
Artificial Grass Pile Height
The height of your artificial grass varies just like the height of a lawn. For example, an artificial grass putting green needs to be much shorter in pile than the height of a lawn. Pile heights vary and can be trimmed after installation.
Twenty millimeters of free pile height, or pile that extends above the infill, is considered standard. However, a lot of the pile height depends on the base you use. The harder the base, the higher the pile needs to be to create a cushion. Some bases are made of rough crushed stone, while others are made of more finely crushed material. Rough material is harder to walk on, so a softer, higher pile of 60 millimeters makes more sense.
In terms of cost, higher piles typically cost about $1 to $2 per square foot more on average than those with lower piles. The biggest driving cost, however, is still density and face weight rather than height.
Pet-Friendly Artificial Grass Cost
Your beloved family member (dog or cat) can make a mess in live grass and leave ugly discolored spots. There are several types of artificial grasses for dogs that can remedy this problem. The benefits of pet-friendly artificial turf cost far outweigh the cost of natural grass. Advantages include no more digging and no pesky outside creatures. Artificial grasses are not attractive to fleas, ticks, ants, or snakes. So, you won't have to worry about treating the grass with harmful pesticides. Artificial turf for dogs costs $2.50 to $10 per square foot.
Pros and Cons
There are several benefits to artificial turf. It can be used in areas where grass seeds cannot grow. This includes areas experiencing drought as well as spots with concrete. It also needs no watering, so it looks great without an irrigation system. Pesticides are not needed for artificial turf. It also does well against dogs and other pets. Since it may be perforated for drainage, it can also be used in areas with lots of rain. All messes in the yard can also be cleaned up using only a garden hose. On top of that, you save time since it does not need to be mowed.
However, artificial grass does not breathe well, so it may become hotter than natural grass. It also needs to be raked at least once a year to keep its appearance. While it can be recycled once it reaches the end of its life, recycling centers that take it may be hard to find, leading to the need to use a landfill. On top of that, the initial artificial turf cost can be more than the cost to plant traditional grass.
Colored Artificial Grass
Like natural grass, artificial grass comes in many shades. It also comes in some artificial colors as well that you would not necessarily see with natural grass. This includes pink, purple, blue, chocolate brown, and gray.
Some colors are used for special reasons, such as around children's playgrounds. Others like blue may be used to complement specific areas like a pool.
The quality of colored grass is not usually as high as that of the one designed to look like natural grass covering. The pile is shorter, and the face weight is not as high. It tends to cost about the same as a mid-quality green grass, around $3 to $6 per square foot.
Maintenance
Artificial grasses do not require nearly as much maintenance as natural grass lawns. It does not need to be watered, cut, or fertilized. It needs some maintenance, however, to keep the grass upright. It can be rinsed with water from a hose to remove dust and debris. After that, a stiff-bristled broom is used to brush the grass back into an upright position. The key is to work against the grain of the grass in even strokes.
You may want to have the company return yearly for more intensive maintenance for a fee of around $150 to $200.
Artificial Grass vs Sod
If you currently have a bare yard, you have two choices for how to instantly cover it and get a lawn. One is artificial turf, and the other is sod.
Sod is naturally growing grass that is laid over a coating of loam, which eventually takes root in your lawn. It is more costly than grass seed but produces an instant lawn, much like artificial turf.
It is much less expensive than artificial turf, costing only $1,740 to $3,520 for a 2,000-square-foot lawn as opposed to $10,000 to $25,000. Sod is treated like other grasses, which means that it requires more maintenance than artificial grass. It must be watered, mowed, and cared for like other grasses, but it also gives the cooling properties and softness of real grass.
| | | |
| --- | --- | --- |
| Action | Artificial | Sod |
| Initial Cost | $10,000 - $25,000 | $1,740 - $3,520 |
| Watering | $0 | $250/year |
| Fertilizing, Weed and Pest Control | $0 | $720/year |
| Lawn Service | $0 | $900 - $1,200 |
| Total Cost 1st Year | $10,000 - $25,000 | $3,610 - $5,690 |
| Annual Costs | $0 | $1,870 - $2,170 |
| Costs After 5 Years | $10,000 - $25,000 | $11,090 - $14,370 |
| Costs After 10 Years | $10,000 - $25,000 | $20,440 - $25,220 |
Enhancement and Improvement Costs
Yard Clean-Up
Before installing artificial turf, homeowners must ensure that the backyard is free of weeds and debris. Cleaning up a yard takes a lot of time, or homeowners can bring in a professional to handle the process. The average cost to hire someone for yard cleanup ranges from $200 to $500, depending on what needs to be done. Basic yard cleanup will be at the bottom of the range. If the lawn needs tree pruning, tree trimming or leaf removal, the price may be more than the range stated above.
Recycled Artificial Grass
Much of the recycled artificial turf comes from athletic fields. Companies that collect the grass, repurpose it for use on playgrounds, dog parks and runs, animal shelters, batting cages, and golf driving ranges. There are also companies that recycle the turf and resell it at a lower price of $0.25 to $1.25 per square foot. This eco-friendly version is also less expensive than new artificial turf, which has an average cost of $6 to $15 per square foot.
Urethane Coat
Some artificial grass can have a urethane coat on the backing. This keeps the backing strong and the grass lasting longer. Expect costs for products with this coating to start around $10 per square foot.
Non-Absorbent Fibers
If you intend to use your artificial grass for dogs or other animals, it may be worth choosing grasses with non-absorbent fibers. This can prevent the smell of urine and other fluids from being absorbed into the grass. This turf is useful near pools since the chlorine smell will not be absorbed into the fibers. Non-absorbent artificial grass costs start at $5 and reach as much as $15 per square foot.
Additional Considerations and Costs
Color protection. Make sure that the artificial grass you purchase has been UV-stabilized to prevent the color from fading and for it to last longer.
Extreme weather. Extreme highs and lows in temperature can damage artificial grasses. This is why it is important to opt for higher-quality products if you live in areas with extreme temperatures.
Fire protection. Artificial grass can burn or melt. When grilling or installing a fire pit on the grass, clear a large enough area to prevent fires. Do this by covering the grass with gravel or another substance that will not burn, or use hardscaping in the area.
Rainy areas. Choose a grass that has been perforated to drain quickly if you live in areas with heavy rainfall.
Warranty. Most artificial grass manufacturers have a minimum of a 5-year warranty on their products. With proper care, however, this grass can last 8 to 20 years.
Alternatives. There are lower-maintenance natural grasses available that need less watering and grow slowly, so they need less mowing. They can be an alternative to artificial grasses for those who want less work while still using a natural product.
Old turf disposal. If you have old turf that needs to be disposed of, you will have dump fees at a rate of $150 to $400 per dump truck load.
Home value. Artificial grass adds to your home value. It creates an easy-to-maintain lush lawn that needs little time or money to keep in perfect shape. In addition, it is more environmentally friendly, which appeals to many home buyers.
Return on investment. A return on investment is possible with your artificial grass installation price. Many get a return within only six years of installing artificial grass. It can last up to 25 years, so you have over two decades to save money and time due to less needed maintenance than you would have with natural grass.
Lawn shape. It is fairly simple and quick to install artificial grass in right angles or straight lines for a minimal turf cost. However, the artificial turf backyard cost increases in situations where the lawn is an unusual shape or has many curves. It requires more labor to get that sort of job completed.
FAQs
How long does artificial grass last?
Properly maintained, artificial grass can last up to 20 years, with most lasting around 10.
Is artificial grass worth the money?
Yes, for many homeowners, artificial grass is well worth the investment. It looks great in all seasons, never needs water, and has no need for fertilizers or pesticides. It also does not need to be mowed and does not become damaged in shaded locations.
What do I put under artificial grass?
Artificial grass needs a base of some kind, usually sand or crushed stone, topped with weed-block fabric.​
What is the best height for artificial grass?
This is largely dependent on the use and what your base is. Twenty millimeters is standard, but higher grass is available.
Can you lay artificial grass on concrete?
You can, but you may want to opt for taller grass, around 60 millimeters, to soften it because the concrete will be felt below.​
Can dogs dig through artificial grass?
This depends on the quality of the mat. Some mats are meant for use with dogs and are less likely to be dug through. ​
What is the best artificial grass for dogs?
Choose a non-absorbent grass with a tough, high-quality mat that is designed for dog owners. ​