How much does it cost to install outdoor lighting?
Get free estimates from electricians near you
Outdoor Lighting Cost Guide
To provide you with the most accurate and up-to-date cost figures, we gather information from a variety of pricing databases, licensed contractors, and industry experts.
Outdoor lighting has several purposes. It is used to provide safety and a lighted way in the dark. Additionally, it enhances and creates an ambiance to the front of a house, the backyard, and around the pool and patio. Costs for outdoor lighting vary according to the home's location, if new wiring is required, and the type of lighting you choose. This work is usually done by an electrician as it involves electrical work.
The national average cost for outdoor lighting installation ranges from $2,000 to $4,000, with most people paying around $3,000 for eight LED step lights and 12 hardscape lights installed around a pool area, including wiring and a new transformer. At the low end, you could spend $300 to have a front and back porch light installed by a professional, including materials and labor. On the high end, you could pay up to $5,500 for specialty designer lights, motion detectors, and solar lights installed with a custom design around the entire house and pool area.
Pricing for Outdoor Landscape Lighting
Cost of Landscape Lighting Installation
National average cost
$3,000
Average range
$2,000-$4,000
Low-end
$300
High-end
$5,500
Cost to Install Landscape Lighting by Location
The cost to install landscape lighting based on location ranges from $50 to $500. Landscape lighting highlights your home, trees, bushes, flowers, pool, patio, driveway, and lawn statutes. This produces a subtle, warm feeling to all areas of the outdoors. Guests will feel welcome and be able to see your home in the dark for parties and get-togethers. There are many options for the location of lighting. Each one is aesthetically pleasing for homeowners and guests.
Pathway Lights Installation
Pathway lights, otherwise known as mushrooms, cost $50 to $150 each for a professionally installed light. Pathways get darker the further along them you walk away from the lighted area. Whether it is through a garden area, towards a pool, up the front walk, or to the patio area, pathway lights are vital to furnish a glow for you and your guests to move through the area without tripping or missing a step.
Driveway Light
The cost for outdoor driveway lighting runs from $50 to $150 for each light to be installed, including materials. Driveway lighting is a great investment to ensure that no one trips and falls as they head up the driveway. In the dark, the sides of the driveway can be hazardous as a guest or family member could step off of the concrete into the lower, softer grass and sprain an ankle or fall.
Patio Lights Installation
The cost for patio lighting ranges from $50 to $200 for each light. Patio lighting is a vital part of your backyard and outside area. Homeowners often only have a light just outside the backdoor that shines only on the patio area. You may want lighting that shines out further, especially if you have a larger patio area. Patio lighting can be attached to the home or installed on railing posts or uplighting around the concrete pad.
Pergola Outdoor Lighting
To add lighting to a pergola, expect to pay $50 to $400 per light. Pergolas have become very popular in the last several years. They are a great place to relax and enjoy the evening or have a party or barbeque. One of the most important parts of your pergola is the lighting. For a family meal or a fun get-together, you will want to make sure everyone can see well in the evening. Your professional installer will recommend the best type of lighting and make sure you have the correct electrical wiring to support your new outdoor lighting. String lights are a nice option and create an urban feel.
Install Exterior Garage Lights
Many people choose to install exterior lights on their garage, which will cost between $60 and $150 per light, depending on the type of lighting, the fixture, and other factors. Security lights and LED flood lights are popular additions to keep garages safe, but traditional exterior lighting can also be installed. If there is not already wiring to the garage for lighting, you may incur an additional cost to run the electrical lines to the new light location(s).
Porch Light Installation
The cost to install a new porch light is $65 to $250, depending on your choice of fixture. A porch light makes your front door easier to spot and provides a grand entrance. It deters an intruder as they prefer to work in the dark. If your house numbers are above the door or beside it, a porch light illuminates them for visitors or in an emergency. Choosing a fixture that matches the style of your home and the finish of your doorknob brings everything together.
Deck Light Installation
Expect to pay about $75 to $150 for labor and materials for one deck light. There are many deck lighting choices, including deck stair lighting, recessed, under rail deck lighting, post cap lighting, under deck lighting, landscape lighting, and solar lighting. All of these work well to light the way for you, your family, and guests. Solar lighting is nice because it doesn't need electricity to work. There are many energy-efficient designs and styles that you can match with your particular decking.
Led Step Light
Each LED step will run $85 to $100 for the materials and labor. LED step lights are energy-efficient and supply a warm atmosphere for your front or back steps. These are generally installed above each step so that the step is visible in the dark. They can be purchased individually or as a strip. Strips are a great choice for areas where you need more illumination or for large areas.
Tree Outdoor Lighting
Uplights are a great way to go when lighting up trees in your yard. These cost $100 to $400 per light. Highlighting the trees in your front or backyard lends a magical, dramatic feeling. Choose large, grand trees to light up the night. For a fairy garden look, you can have tiny lights installed throughout the tree branches. It is the perfect way to bring life to bare branches during the winter or furnish a warm, inviting look among summertime foliage.
Gazebo Outdoor Lighting
Lighting for a gazebo will be a little more costly at $200 to $500 for each light. Gazebos are similar to a pergola, but most pergolas are just a slatted roof that allows the sunshine to enter. A gazebo contains a solid roof to protect from the weather. Gazebos need a little more lighting due to the roof that blocks out the moon and stars at night. It is a little more cozy feel and is often separate from the house. The pergola is attached or right outside the house.
Pool Lights
A pool needs lighting. The cost is around $300 to $500 for the materials and labor involved in installing a halogen pool light. It is important to remember that you get what you pay for. Since these types of lights are constantly exposed to water, it is best to choose a well-known brand and have it professionally installed. With lights installed at random points around the pool, your pool is safe for night-time swimming and provides a beautiful backdrop for parties and events.
Cost to Install Outdoor Lighting by Type of Fixture
The pricing by type of fixture ranges from $50 to $1,000. There are several outdoor light fixtures available on the market today, including different styles and colors. Pricing for the light fixture and the installation varies according to the quality, brand, and type of light. Lighting styles should always match other exterior lighting to keep in harmony with the aesthetics and light that is emitted from the fixtures.
| | |
| --- | --- |
| Type of Fixture | Cost per Light (Installed) |
| String Lights | $50 - $200 (50 ft. strand) |
| Flush Mount | $50 - $250 |
| Outdoor Wall Light | $50 - $250 |
| Floodlight | $75 - $250 |
| Uplighting | $100 - $400 |
| Downlights | $100 - $400 |
| In-Ground Landscape Lights | $125 - $400 |
| Pot Lights | $305 - $550 |
| Bollard Light | $400 - $1,000 |
| Lamp Post | $400 - $1,000 |
Outdoor String Lights Installation
The cost to have outdoor string lights installed is $50 to $200 for a 50-foot string. Also known as party lights, outdoor string lights are a quicker install than individual lights. This is because they are all connected to the same wire and can be strung across a pool, the top of a pergola, screen porch, or gazebo, in tree branches, on balconies or deck railings, or almost anywhere you want to create a sweet glow. For dinner parties or barbeques, your professionally installed string lights will last for years to come.
Exterior Flush Mount Light
Exterior flush mount lights cost about $50 to $250 for the materials and labor. These lights are great for porches or outside a front door. A flush mount light simply means there is no extension of the light, so it is installed directly against the ceiling. The lighting comes in various colors and styles to match any home's exterior.
Install Outdoor Wall Light
The cost to install an exterior light fixture is $50 to $250. These are usually lights mounted outside the front or back door or on the eaves area of the house. An outdoor wall light can be a dim or extremely bright light that covers a concentrated or a wide area. Additionally, for homeowners who have a stone or concrete wall around their property, an outdoor wall light could be mounted to create more lighting along the property line.
Install Outdoor Flood Lights
The cost to install outdoor floodlights is $75 to $250 per fixture. Some floodlights have more than one bulb but use the same base electrical unit. A floodlight is used for darker areas of the yard and light up back, front and side yards, patios, driveways, and garden areas. Floodlights are known for their wide beam that illuminates a large area at once, flooding the area with light as indicated by the light's name.
Exterior House Uplighting
The cost for exterior house uplighting is $100 to $400 for each light, including materials and installation. Uplighting is installed at the base of the home and highlights the walls. It makes your home look larger and gives more curb appeal. It deters intruders near windows as they prefer darkness to operate. Additionally, strategically placed uplighting provides a way to highlight special architectural features and gives a home a modern look.
Downlights Outside House
Downlights cost $100 to $400 each, installed. Downlights are lights that are installed higher than the home to mimic the moonlight. They are usually installed on the trunk of a tree or edge of the home and directed downward to light the yard, pathway, or the tree itself. These are generally mounted with a shroud around the lightbulb to avoid harsh light.
In-Ground Landscape Lights
To install in-ground landscape lights, you should expect to pay $125 to $400 for each fixture. These lights, also known as well lights, are buried in the ground and highlight walls, trees, shrubs, and columns. They are usually made of brass with a sealed PVC lining to provide a waterproof light. Areas prone to flooding will want to use these fully submersible lights.
Outdoor Pot Lights
If you want to install recessed lighting outdoors, you will spend between $305 and $550 per can, or light, installed. Recessed lights require a ceiling, so they are not usually popular in outdoor lighting. They can be installed on overhangs, on a porch ceiling, or even around the sides of windows. The wet-rated recessed lighting options are ideal for outside due to the likelihood of the lights being exposed to moisture. You can choose the type of bulb that goes in these lights, including CFL, fluorescent, and even flood light bulbs.
Bollard Light
To install a bollard light, you can expect to pay $400 to $1,000 for one light. Bollard lights are tall, thin column lights. These are typically used for pathways, driveways, landscaping, or gardens but can also be mounted on the side of your home. They have a more modern look and are LED lights. This makes them great for outdoors and provides a long-lasting, weatherproof light.
Install Outdoor Lamp Post
Getting an outdoor lamp post installed costs between $400 to $1,000, including materials. An outdoor lamp post makes a quaint, welcoming light in the yard or near the street. It will light up the sidewalk and driveway area to make your home a well-lit, safe place to go. The cost range is high because it is necessary to run wiring from the home to the lamp post. Installing an outdoor lamp post can be quite expensive.
Cost of Landscape Lighting Installation by Source of Power
The cost per light to install landscape lighting based on the power source ranges between $100 and $300. Landscape lighting is a great way to light up your front or backyard space. Lighting is also priced according to the source of power used for the lights. The typical choices are battery-powered, hardwired, and solar. Each of these choices has its advantages and disadvantages so consider the nuances among the three before making a choice.
Solar lights are gaining popularity because they use less energy. Also, some people appreciate not having to worry about a power source. This enables these lights to be installed in more places with less labor. Battery-powered lights are another good choice for people who do not want to hardwire lights or are putting lights in hard-to-reach places. Ultimately, hardwired lights are ideal for porch lights, garage lights, and other lighting attached to the house or garage. However, that depends on the wiring available because it costs $300 to $500 if it needs to be installed.
| | |
| --- | --- |
| Source of Power | Unit Cost (Installed) |
| Solar | $100 - $200 |
| Hardwired | $100 - $200 |
| Battery | $100 - $300 |
Pricing for Outdoor Landscape Lighting by Material
The prices range from $75 to $500 to have one light installed, including the fixture. As with indoor lighting, there are various materials that outdoor lights can be made from. Many homeowners purchase lights on the look without thinking about the material. This is a particularly important feature when comparing fixtures that will be used outdoors. The elements can wreak havoc on certain products and affect the longevity of your outdoor lighting.
Plastic lights come in acrylic and polycarbonate options. While acrylic offers the best light clarity and color-fastness over time, polycarbonate may be a better choice for its durability and ability to last longer without maintenance or replacement. Some people choose aluminum lights because they are lightweight, corrosion-resistant, and durable. Stainless steel is stylish like aluminum but often does not do well in areas with dirt, salt, or sand because it corrodes easily. For those who want a more rustic or unique look, copper and brass lights come in at the high end of the price range. See a glimpse of the average costs in the table below.
| | |
| --- | --- |
| Material | Average Cost (Installed) |
| Plastic | $75 - $300 |
| Aluminum | $100 - $300 |
| Stainless Steel | $100 - $300 |
| Copper | $100 - $500 |
| Brass | $125 - $500 |
Cost of Exterior Light by Type of Bulb
The prices for your landscape lighting bulbs range from $0.70 to $11 each. Bulbs are gauged by a myriad of features, including brightness (measured in lumens), energy efficiency, heat emission, lifespan, the level of mercury inside the bulb, and if the product is recyclable. These bulbs are often designed for outdoor use in different wattages, lighting styles, and materials that can withstand the elements. Some bulbs are similar to the ones you would use indoors. Here we compare the different bulbs based on these facts and the pricing for each type of bulb.
| | |
| --- | --- |
| Type | Cost per Bulb (Unit Only) |
| LED | $0.70 - $8 |
| Halogen | $2 - $5 |
| Fluorescent | $2 - $11 |
Labor Cost to Install Landscape Lighting
A professional electrician should always do any type of install to your home that involves electricity. There are many intricate details and construction codes that are vital to the safety of the occupants. Additionally, an expert will do the job quicker and easier than someone less familiar with lighting. This is particularly true if wiring is needed. For an area where lights have never been installed, wiring will be required unless you are using battery-powered or solar lights.
Installing the wiring and a single light will take an electrician three to five hours. Electricians charge $40 to $100 an hour but may have a set price for wiring and installing a light. Hourly rates vary according to the area in which you are located. This could put an electrician's cost to install an outdoor light with wiring around $350 to $600. Typically, an inspection won't be required beforehand unless there are extenuating circumstances such as extreme moisture or damage to existing wiring.
Cost to Replace Outdoor Light Fixture
Installing a replacement light fixture is less complicated than installing an outdoor landscape system or wiring for new lighting. Therefore, it may be cheaper since less labor is required. For a simple light replacement, instead of calling an electrician, you could hire a handyman who has some electrical install experience. This should always be someone who comes with recommendations. However, the cost is often similar at $50 to $100 an hour. If you are located close to the handyman, he may charge a little less or may have a set price for this task at $40 to $50. An electrician may be able to do the job quicker due to his knowledge and expertise. So, it may cost less to hire an electrician to do the job. The costs may be affected by the area in which you live, the level of expertise of the handyman, and the cost of your fixture, which is separate from the install price. A new outdoor fixture runs $30 to $500, depending on the type of light and quality/brand.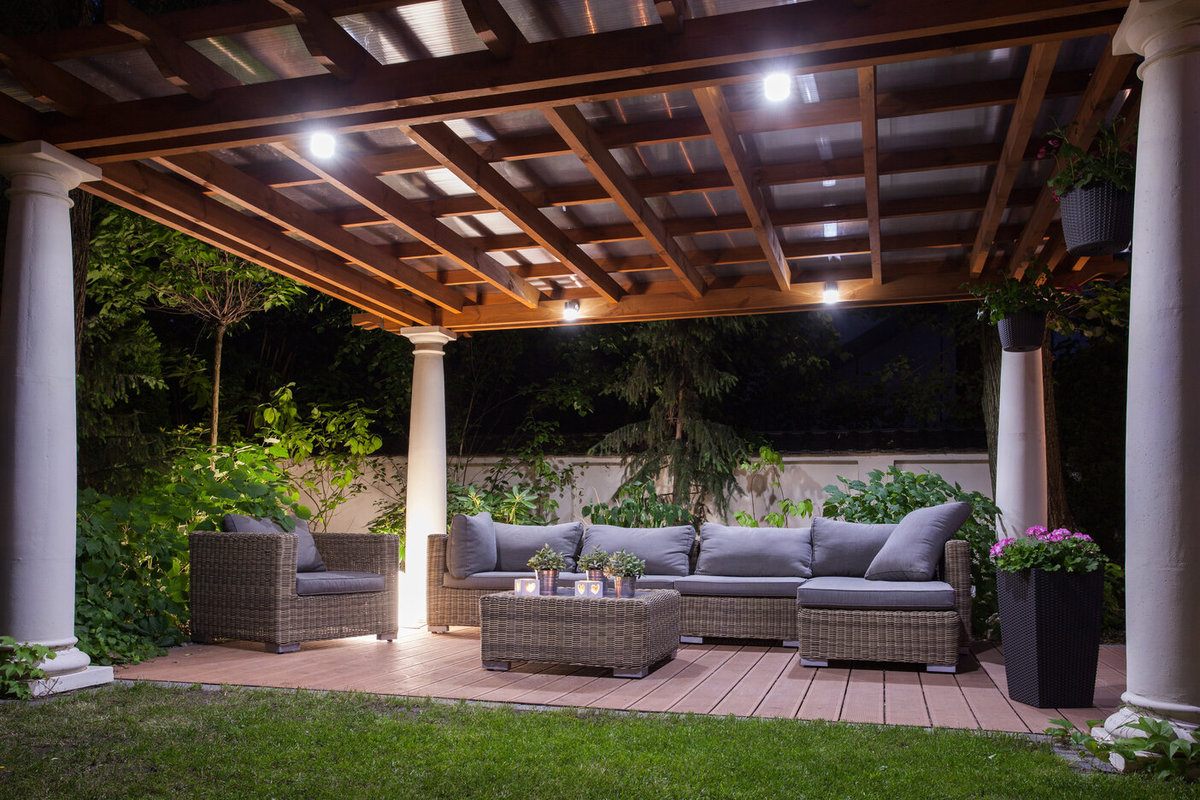 How Many Landscape Lights Do I Need?
When it comes to landscape lighting, you can overestimate or underestimate. This mistake takes away from the overall look and feel of your new landscape lighting. A professional can help you by making suggestions on the type of lighting or how many lights to use. However, there are some basic ideas on how to estimate what you will need.
Most experts advise allowing around 10 feet of distance between landscape lighting located on pathways or driveways. Highlighting for smaller trees can be one to two fixtures, while large trees may need three or four for the best effects. Wall lights should be 1 to 2 feet from the wall and space about 8 to 10 feet apart for maximum aesthetics. The number of lights also depends on the size of your yard and how much landscaping you have that you want to show off.
Backyard sizes vary greatly according to the location, such as in the city or rural, or even by state and age of the home. Some examples are:
| | | |
| --- | --- | --- |
| Size of the Landscaped Area | Number of Lights | Price |
| 500 sq.ft. | 10 | $400 - 1,000 |
| 825 sq.ft. | 15 | $600 - $1,500 |
| 1,200 sq.ft. | 20 | $800 - $2,000 |
| 1,500 sq.ft. | 25 | $1,000 - $2,500 |
| 2,000 sq.ft. | 30 | $1,200 - $3,000 |
How Much Do Outdoor Lights Cost to Run?
We have already discussed the types of bulbs. However, the cost to run each one is different. Halogen lights are last in line for energy efficiency at $5.05 annually. Fluorescent and LEDs are the least expensive to run at $1.75 and $1.19, respectively. The more lights you have, the more electricity you use for your outdoor lights. Understanding how much it costs to run your lights helps you decide the best way to light up your space. The type of bulb you use greatly determines the amount each light will use.
Cost to Install Low Voltage Landscape Lighting
Low voltage landscape lighting is a great way to save money on your outdoor lighting costs and runs about $90 to $150 per fixture with installation, but it isn't a requirement. Most home transformers are 120 volts, but landscape lights do not need that much voltage. Your electrician can install a 12-volt transformer that will lighten the load and save you some money at the same time. Your transformer needs to be the correct wattage to fulfill the needs of your landscape lighting and not be too much higher. People enjoy installing low-voltage lighting because it saves on your utility bill and makes the wiring safer if it is above ground because there is no risk of electric shock with this type of wiring. You can then have energy-efficient outdoor lights that are still attractive and safe. Homeowners can choose Energy Star exterior lighting to keep costs even lower. Saving money, saving energy, and increasing safety are all common reasons to choose this lighting instead of traditional voltage lighting.
Outdoor Lighting Effects
Outdoor lighting lends drama, grandeur, and safety to any home. There are several lighting effects that a professional can help you achieve with your outdoor landscape lighting. Color temperature is part of the process of making these effects work to make your space beautiful and well-lit. Temperatures range from warm to daytime to cool, and each one creates a special look. Shadow and silhouette lighting is designed to create unique accents and shadows of features in your yard. These are some popular choices for those who want to highlight details that may be hard to see.
Some people install downlights or spotlights to create a moonlighting effect or use floodlights to create a washing lighting effect to help light up a larger space. Grazing lights directed up or down toward an object or landscaping element add texture and dramatic points that would not be seen otherwise. Finally, there is path lighting, which is one of the most common options for outdoor lighting. Path lighting is usually functional, but it can also be decorative.
Cost to Convert Outdoor Light to Outlet
To convert an outdoor light to an outlet, you will spend $250 to $400 for labor and materials. If you have an outdoor light that you would prefer as an outlet, an electrician can do that for you. It is important to note that an outdoor light may have been installed in that particular location due to building codes, so you will want to verify that is not the case. An outdoor light conversion to an outlet should be made into a GFCI outlet with a weatherproof receptacle box, as this is a safe outdoor use outlet.
Enhancement and Improvement Costs
Security Lights
The cost to install outdoor motion sensor lights is $350 to $500, including materials and labor. Security lights are a great addition to any home to deter intruders and provide light when arriving home. Many security lights are motion-sensitive, so they only come on at the first sign of movement. This makes them more energy-efficient and ensures you have a light when you need it. These can help with nuisance animals like raccoons, rats, rabbits, or deer who eat your plants and flowers and destroy your yard. Traditionally, security lights were somewhat boring, but today's motion lights come in various colors, styles, and sizes, so you can pick what goes with your decor.
Landscape Lighting Designer
The cost would be around $200 to 500 or $50 to $150 an hour to hire a landscape lighting designer. You will want to find someone with experience and references in this area to ensure you get exactly what you want. Landscape lighting designers draw up plans for your outdoor lighting and advise you on the style and type of lighting you need. You can design your own landscape lighting. Yet, if you want a premium design, hiring a designer makes the end result even better.
Christmas and Holiday Lighting
Christmas and holiday lighting is a nice way to show your holiday spirit and add a festive touch to the outside of your home. Assuming you are looking to install holiday lights to the exterior of your home, you will spend around $250 to $650. Professional installation ensures that there are no safety hazards. These lights enhance the home during the holiday season but will not be up year-round. They may be considered an optional outdoor lighting project.
Additional Considerations and Costs
Permits. Some lighting installations require a permit. It depends on the local requirements and the job itself. If a lighting fixture is being replaced and the wiring is in place, there is generally no permit required. If wiring is necessary, a permit will most likely be required. Electrical work requires a licensed contractor.
Color lighting. It is possible to install a rainbow of colors in your outdoor lighting. However, most designers prefer to stick with warm white light as it adds an elegant look to the landscaping rather than a light show.
DIY. Anything electrical shouldn't be done as DIY. Electrical work is detailed. One little mistake could cause a fire or electrocution. A licensed contractor is the best route.
Electrical costs. Adding outdoor lighting increases your utility bills. However, the amount of the increase depends on the type of bulbs you use. LED bulbs will save you a considerable amount, as much as 83%. Halogen and fluorescent save 28% and 75%, respectively.
GFCI outlet. These outlets are used in areas where moisture or water is present. All outdoor outlets should be GFCI to prevent electrocution. The cost to have a GFCI installed is $250 to $400. For older homes where wiring needs replacing or a change to the electrical panel is required, the cost could be $1,000 to $1,400.
FAQs
Where to put outdoor lighting?
Outdoor lighting can be installed on the side of the house or garage, on a porch, patio, or pergola, or even as part of the landscape with landscape lighting. You want to put lights in areas you want to highlight, use regularly in the dark hours, and secure with security lighting.
How many lumens do I need for outdoor lighting?
Lumens determine the amount of brightness that a bulb contains. Several factors affect the lumens you need, including personal preference, the space between lights, and the area being lit. In general, you will need 700 lumens for a flood light, 100 to 200 lumens for pathway, driveway, or stair lights, and 300 to 700 lumens for motion sensor lights. Uplighting for small areas or trees, lumens should be 50 to 100, while a larger area could be as much as 300 lumens. Lumens in pools or ponds are usually best at 200 to 400.
How much does an electrician charge to change a light fixture?
Changing a light fixture is much easier than installing a fixture that has to be wired. However, most electricians charge a minimum or trip charge if you only want one light fixture changed. This could amount to $75 to $150.
What are the best outdoor patio lights?
String lights create a cool, urban feel for any party or get-together. Make sure your choice is waterproof and weatherproof for long-lasting, safe lights.
Do you need a guide wire to hang string lights?
If string lights are hung from a structure such as a pergola, fence, or railing, you don't need a guide wire. If the lights are being hung over an open area, using a suspension kit with metal wire ensures that the lights don't sag.
Does landscape lighting add value?
Landscape lighting adds value to your home. Many home buyers want a completed yard they can enjoy immediately. Landscape lighting in the front yard adds curb appeal.