How much does it cost to hire a furniture assembly service?
Get free estimates from handymen near you
Furniture Assembly Cost Guide
Updated: November 30, 2022

It is not uncommon for buyers to purchase furniture online or from stores unassembled. Boxes use much less room in a warehouse, and retailers typically do not like to pay their associates to assemble the pieces. However, this means you are faced with the furniture assembly. Putting furniture together takes time, which is lacking in today's fast-paced world, and requires tools that many people do not have. So, contracting with an assembly furniture service is an easy solution.
Furniture assemblers usually charge by the piece. The national cost of labor to assemble furniture ranges from $150 to $200, depending on the size and intricacies, with most homeowners spending $175 to assemble a queen-size wood bed frame. Assembling furnishings takes time and varies on size and intricacies. This project's low cost is $50 to have a handyman assemble a basic chair. The high cost is $550 for an L-shaped desk with cleanup and disposal of the packaging.
Furniture Assembly Rates
Furniture Assembly Prices
National average cost
$175
Average range
$150-$200
Low-end
$50
High-end
$550
Average Cost to Assemble Furniture by Size
Furniture comes in many sizes and complexities. Some furniture pieces are easier to assemble, taking less time and effort than others. For this reason, many assemblers charge lower rates for small pieces of furniture than for larger pieces. However, this varies by the professional. Some have minimum rates they do not go below, even for small items. Others charge by the hour, with lower costs for each additional hour than for the first, making the cost of assembling a single chair more than double the rate of assembling a second chair during the same visit. Some professionals use a sliding fee scale if you assemble multiple pieces. For example, if you assemble a desk and office chair, the desk may have one rate and the chair another.
| | |
| --- | --- |
| Size | Assembly Cost |
| Small | $50 - $75 |
| Medium-Sized | $75 - $150 |
| Large | $125 - $200 |
| Extra-Large | $150 - $500 |
Furniture Assembly Cost by Furniture Item
Furniture assemblers typically have a furniture assembly price list to determine how much they charge per item, but some charge by the hour. In this case, many assess the item first and tell you how long it takes to complete. Prices range from $50 to $550, depending on the intricacies. The price charged is only the cost of labor and does not include the cost of purchasing the item. The prices given in the following table are the average costs for each item. However, there are always variations depending on the number of parts, complexity, and size.
| | |
| --- | --- |
| Furniture Item | Assembly Cost |
| Chair | $50 - $80 |
| Shelf | $50 - $100 |
| Kitchen Cart | $75 - $125 |
| Coffee Table | $75 - $125 |
| Hammock | $75 - $125 |
| Table | $75 - $150 |
| Crib | $100 - $250 |
| Baker's Rack | $120 - $275 |
| Dresser | $120 - $275 |
| Sofa | $120 - $300 |
| Bed Frame and Storage | $120 - $450 |
| Bench | $125 - $300 |
| Bookcase | $140 - $350 |
| Cabinet | $150 - $400 |
| Bunk Bed | $150 - $400 |
| Swing Set | $180 - $500 |
| Kitchen Island | $200 - $500 |
| Desk | $200 - $500 |
| Entertainment Center | $200 - $500 |
| Wardrobe | $300 - $525 |
| L-Shaped Desk | $350 - $550 |
Furniture Assembly Rates by Room
Many furniture pieces can be assembled for any given room. Sometimes, you purchase several pieces for a single room and need them set up at once. Other times, you may purchase a single piece of furniture per room. Costs per room can reflect the size and type of furniture pieces you have and the number of pieces per room. Depending on the furniture type and number of pieces, you may get a discount on multiple pieces, with each subsequent piece having a lower cost than the previous one. However, discounts may not apply if you have several large pieces of furniture for one space. Below are the average costs to assemble furniture most commonly found in that room. These costs are for labor only and do not include the furniture.
| | |
| --- | --- |
| Room | Cost (Labor Only) |
| Outdoor | $50 - $500 |
| Kitchen | $50 - $500 |
| Office | $50 - $500 |
| Living Room | $50 - $550 |
| Bedroom | $75 - $525 |
Outdoor Furniture Assembly
Outdoor furniture assembly ranges from $50 to $500, depending on the piece. It is often heavy and robust to withstand the ever-changing weather. To endure inclement weather, it must be correctly assembled to be durable and long-lasting. Many outdoor furniture types are available. Common items include chairs, tables, hammocks, benches, chaise lounges, and swing sets. The more complex the item, the higher the total costs. Keep in mind that some tables and chair sets or multiple chaise lounges may have lower per-item costs if you assemble them at once.
Kitchen Furniture Assembly Price List
The prices for assembling kitchen furniture range from $50 to $500, depending on the size, number of pieces, and time needed for assembly. Kitchen furniture assembly refers to putting together furniture pieces and not installing stationary cabinetry. However, it can include assembling a free-standing cabinet like a high cabinet or sideboard. Kitchen furniture can also include a table and chairs, a dining room table for open layouts, storage shelves, free-standing islands, baker racks, and rolling carts. If you have multiple shelves or chairs set up at once, your cost per item may be lower.
Living Room Furniture Assembly
Having living room furniture assembled by a handyman or furniture assembler is a common task that costs $50 to $500. Common items in the living room include sofas, armchairs, coffee and end tables, bookshelves, and entertainment centers. The price of assembly depends on the size and number of pieces needed to complete the item. Many opt to assemble several pieces at once. Others hire a furniture assembler to complete a single piece. For some items, such as 2 end tables or 2 armchairs, the cost of the second item may be lower than the first because the assembler may be faster for the second item, allowing them to lower the cost.
Office Furniture Assembly
The average cost to assemble office furniture ranges from $50 to $550, depending on the item. Most home offices feature a desk and chair, but others have filing cabinets and bookshelves. Larger L-shaped desks may have higher costs than smaller desks, while some assemblers may give you a discount on a per shelf or filing cabinet cost if you have multiple items assembled at once. The furniture in the office can be heavy wood or lightweight and modern. Most furniture assemblers base their price on the size, weight, and complexity.
Bedroom Furniture
The cost to assemble bedroom furniture ranges from $75 for a simple night table to $525 for an intricate wardrobe. Other common items to assemble in a bedroom include beds of all types, including bunk and storage beds, dressers, chests of drawers, and chairs. It is not uncommon for someone to purchase an entire bedroom set to assemble at once. Having a professional assemble the bedroom furniture is a fast and efficient way to guarantee that the job is carried out correctly and safely. Bedroom furniture assembly is a fairly straightforward process. Whether you have a single piece put together or multiple pieces, the price of the job depends on the piece's size and complexity.
Furniture Assembly Rates by Number of Items
Many professional furniture assemblers offer discounts if you assemble multiple items at once. The type and amount of discount is based on several things. Some companies offer 10% to 20% discounts on additional items because they are faster to assemble once the professional has worked on the first one. For multiples, the discounts sometimes continue to increase, so you may get 10% off the second, 20% off the third, and 30% off the fourth in a set of chairs. Some companies also drop their hourly rate after the first hour. So, it may cost $70 if the first item takes one hour, while the next few items may cost $35 each or less if the installer can go faster.
In some cases, the assembler may be very familiar with a specific item. This may happen when you purchase several chairs from a store like Ikea, which typically hires out assembly. Your assembler may know exactly how long it takes to tackle that item, and they may give you a bulk-rate quote that is lower per item than if they were to assemble one. Many assemblers have a fee or surcharge for coming to your home. This fee only applies to the first item if you have multiple items assembled, so the others have lower rates. This means having several items assembled at once can give you a break on costs, but those breaks vary. Making sure all items are from the same manufacturer may give you a bigger break than items from different manufacturers, and simple items have bigger breaks than complex items. The following table shows examples of how the price of assembling a set of chairs changes depending on the number being assembled that day.
| | |
| --- | --- |
| Number of Items | Cost (Labor Only) |
| 1 Item | $50 - $80 |
| 2 Items | $90 - $145 |
| 3 Items | $130 - $210 |
| 4 Items | $165 - $265 |
| 5 Items | $185 - $315 |
Furniture Assembly Rates by Company
The average cost to hire an assembly service from the company you purchase the furniture from ranges from $50 to $450, depending on the service. Many companies assemble furniture that they sell. The three main companies that sell and assemble furniture are Ikea, Wayfair, and Amazon. If you buy furniture from one of the big furniture vendors, you can pay an additional fee to deliver the furniture to your home fully assembled or for the furniture to be assembled in your home. Each company has their own methods and costs. Amazon Assembly Service may be contracted out to companies in your area. Most charge flat rates, and the company that does the assembly must be based in your area. Sometimes, there are no assemblers available for the item you purchased.
Ikea furniture assembly costs are also per item. They use TaskRabbit to find someone in your area to do the assembly. This means various people may bid for the task, so there can be a sliding scale if you purchase the assembly through Ikea rather than contacting directly for the job. Wayfair assembly costs are usually determined by the area and people in your state who may be available. Costs can change by zip code and location, and some items may not be eligible for assembly in your area. The table below reflects the furniture delivery assembly and assembly costs of the three companies.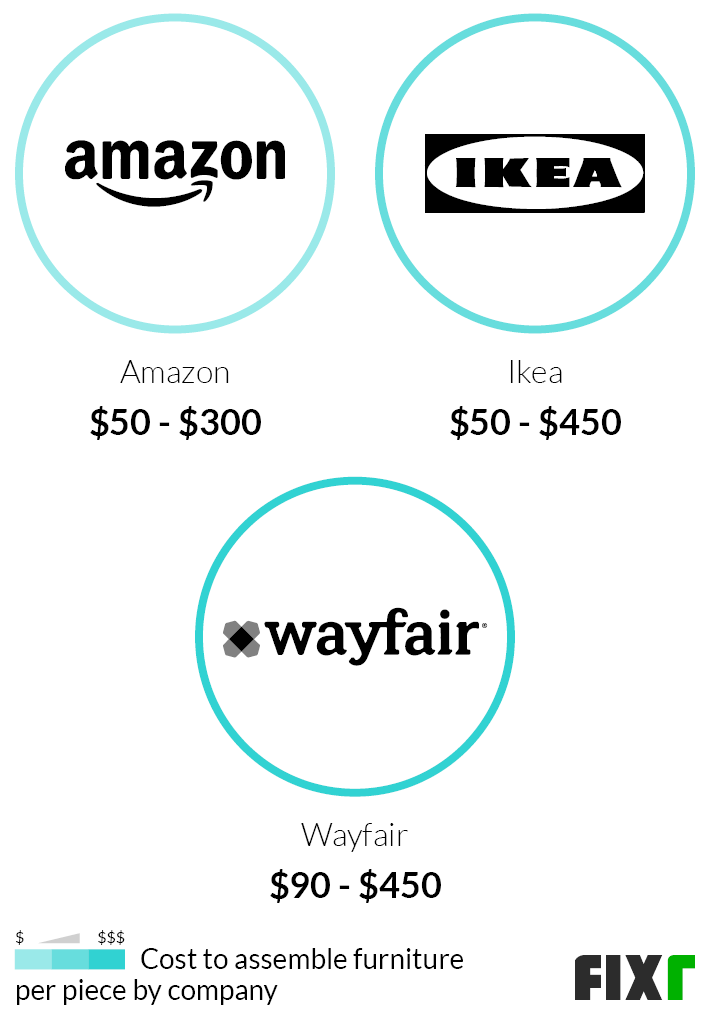 | | |
| --- | --- |
| Delivery Company | Cost per Piece (Labor Only) |
| Amazon | $50 - $300 |
| Ikea | $50 - $450 |
| Wayfair | $90 - $450 |
Furniture Assembly Hourly Rate
Furniture assemblers who charge by the hour run $50 to $100, depending on the number of items, number of professionals sent to do the job, and the project's complexity. The average hourly cost is $75 an hour for the first hour, and the costs usually drop after the first hour. They charge for the first hour even if the piece being assembled does not take a complete hour to finish. This is considered the minimum fee. If a company charges 1 hour to assemble a chair that takes only 30 minutes, you can have the furniture assembler put together 2 chairs in 60 minutes. Usually, the time varies depending on the furniture's complexity and number of parts that must be put together. A simple bed takes far less time to assemble than a large, intricate one with many parts. Assembling furniture can be quick and easy or time-consuming.
| | | |
| --- | --- | --- |
| Hours | Furniture Type | Cost (Labor Only) |
| 1 Hour | Chair | $50 - $100 |
| 2 Hours | Bed | $100 - $200 |
| 3 Hours | Large Table | $150 - $300 |
| 4 Hours | Desk | $200 - $400 |
| 5 Hours | Entertainment Center | $250 - $500 |
| 6 Hours | L-Shaped Desk | $300 - $600 |
Furniture Delivery and Assembly Service
Some furniture assembly companies also deliver. You decide if you want to have the furniture assembled at the time of purchase. The assembly service is added at checkout. Some pieces are assembled before delivery. Other retailers send an assembler to your house. You can usually schedule the service, or you must wait for the furniture assembler to contact you to discuss the appointment time. Delivery is typically separate from the price of the furniture assembly service.
Enhancement and Improvement Costs
Post Assembly Cleanup Service
Typically, a furniture assembly company provides a clean-up service after they complete the removal and disposal of all packaging, boxes, and extra pieces. Some companies include this service, and others charge a disposal fee of $35 to $50. Discuss the service with the furniture assembly company or a handyman to put the furniture together.
Additional Considerations and Costs
DIY. Home furniture assembly can be handled as a DIY project. It is often best to hire a professional furniture assembler for the task without the proper tools, time, or knowledge.
Flat-pack furniture. If you are new to assembling flat-pack furniture, ensure you do not miss pieces during the assembly. You also need to pay close attention to how tightly you fasten the components to prevent damage.
Discounts. If you purchased multiple items, consider assembling them at once. Most furniture assemblers offer a discount if you hire them to assemble more than one piece of furniture. Putting together furniture takes time, so ask about discounts for multiple items.
Broken pieces. If you discover that the furniture arrived broken in the box, contact the company you purchased it from for a refund or replacement. Never fix broken items of furniture yourself. Contact a company representative for help.
Inspection. Inspect the item when it arrives to ensure it is not broken before scheduling your furniture assembly. If the assembler arrives and cannot put the furniture together because it was damaged, you must pay a fee for the assembler's time.
Do not unpack. Never completely unpack the box before the assembler arrives. Doing so could lose important pieces or instructions. Instead, check to ensure it is the correct item and undamaged before closing the box.
Space clearance. Keep the area where the furniture is assembled clear of other furniture and debris to make it easier for the assembler. Keep pets and children out of the area during assembly.
Estimates. Obtain 3 estimates for furniture assembly and read reviews. Choose a company that is not too cheap or expensive but offers moderate fees and boasts good reviews.
Location. Your location affects the cost if you live in a rural area or big city. If the furniture assembler has to travel a long distance, they typically charge more. When hiring someone to put furniture together locally, the fees are usually less if they do not have to travel a great distance.
Travel fee. If you are outside the assembler's area, you may be charged a travel fee for the visit. This is typically up to $35 but may be higher if you are significantly farther.
Estimate visit. If you hire a company that has not sold or delivered the furniture and is unfamiliar with it, they may charge you for an estimate visit. This charge is $30 to $40, and if you hire the company to do the work, they usually roll it into your total fee.
FAQs
How much should I charge for putting furniture together?
This depends on several things, including how large the piece is, how familiar you are with the design and tools, and what the furniture is made from. Typical costs for furniture assembly are $150 to $200 but can start as low as $50 for small items.
What does furniture set assembly mean?
If you purchase a furniture set like a living room or bedroom set, you can purchase set assembly. In this case, an assembler puts together the pieces for one set price.
How much does it cost to assemble a dresser?
A dresser typically costs $120 to $275 to assemble by a furniture assembly service.
How much does it cost to hire someone to assemble IKEA furniture?
The prices of Ikea's furniture assembly service start at $50.
Can you hire someone to put together furniture?
Yes, you can hire furniture assembly services to put together furniture.
The information provided by our cost guides comes from a great variety of sources. For more information, read our Methodology and sources.