How much does it cost to install laminate countertop?
Get free estimates from countertop installers near you
Laminate Countertop Cost Guide

Laminate countertops are an attractive and low-cost way to update your kitchen. Laminate counters are made from several layers of plastic laminated together to form a durable surface. They come in many colors and styles and mimic the look of granite and other stones. They also come in different levels of quality, with some features like the ability to undermount a sink.
With these options also comes a wide range of associated costs. The national average is $1,000 to $2,500, with most people paying around $1,902 for 30 feet of designer laminate counter, fully installed with an undermount sink and decorative edge. The low cost for this project is $895 for 25 feet of industrial-grade laminate with a sink cutout and a 3 inch backsplash, while the high cost is $3,006 for 30 feet of custom-made laminate with a sink cutout, seamless tops, and a 4 inch backsplash, installed.
Laminate Countertop Price
Laminate Countertops Installation Cost
National average cost
$1,902
Average range
$1,000-$2,500
Low-end
$895
High-end
$3,006
Cost of Laminate Countertops per Square Foot
Like other countertop materials, laminate comes in several colors and designs, which means a range of costs. It is common to find laminate for as little as $10 a square foot or as high as $40 a square foot, depending on the grade, finish, and pattern. Thicker laminates cost more than thinner, while more elaborate patterns and bolder colors cost more than more subdued or uniform colors and patterns. With installation this comes to between $20 and $60 a square foot just for the countertops; you may have other costs involved such as the edging, sink cutouts, or backsplashes.
| | |
| --- | --- |
| Countertop Size | Average Costs |
| 10 sq.ft. | $200 - $600 |
| 20 sq.ft. | $400 - $1,200 |
| 30 sq.ft. | $600 - $1,800 |
| 40 sq.ft. | $800 - $2,400 |
Laminate Countertops Cost per Linear Foot
Laminate countertops are sold and installed by the square foot. This means that you will take the linear feet of your countertop in inches, and multiply it by 25 - the number of inches in a countertop width. This will give you your square inches for the entire countertop surface. Divide this number by 144 to get your total number of square feet. For example, if you have 12 linear feet of countertop, you will need 25 square feet of countertop, which will have a cost of $500 to $1,500 on average.
This can be loosely translated to a cost of $42 - $125 a linear foot. Keep in mind that many edge treatments are priced by the linear foot, at a cost of $5 to $20 a linear foot extra, as are integral backsplashes, so your total costs can change depending on how you decide to finish the countertop.
Laminate Countertop Prices by Location
Laminate countertops can make a great addition to many different areas, including kitchens, bathrooms, and in some cases outdoor kitchens as well. Each area will have not only different costs based on the average size of the countertops, but will also have different considerations to make as well.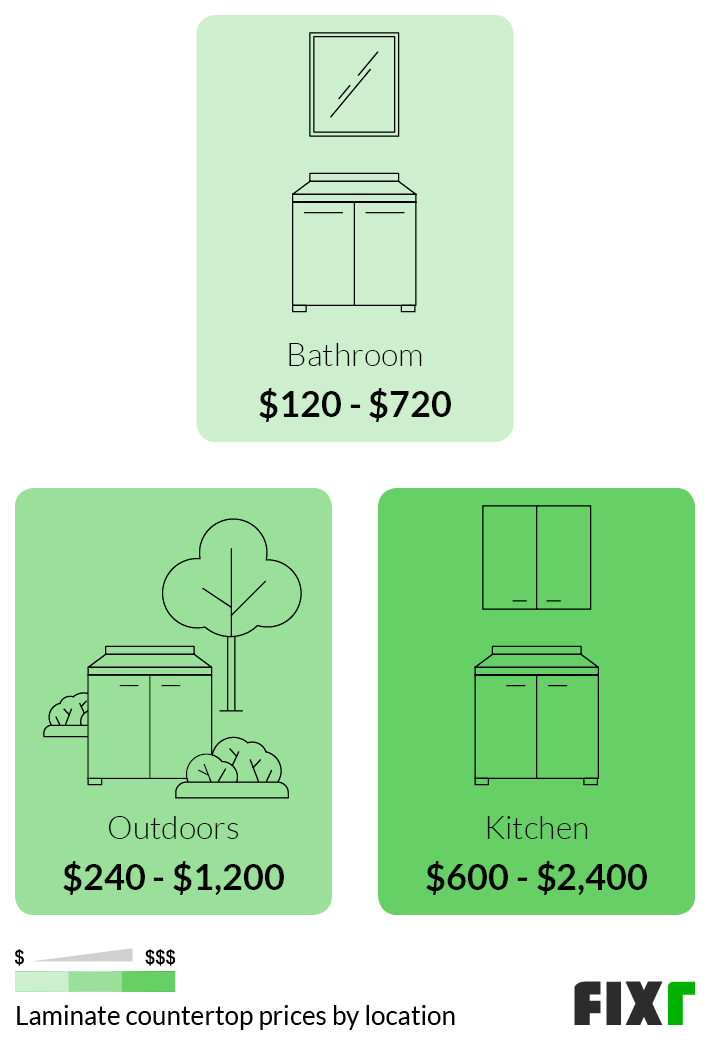 | | |
| --- | --- |
| Location | Average Costs (Installed) |
| Bathroom | $120 - $720 |
| Outdoors | $240 - $1,200 |
| Kitchen | $600 - $2,400 |
Laminate Countertop in Bathroom
The average cost of installing laminate countertops in a bathroom is between $120 and $720. Most bathrooms have countertops that are between 6 and 12 square feet. However, it is possible to have countertops that are larger or smaller. If this is the case, then your costs could be different. Laminate used in the bathroom should ideally be made to handle moisture. Using lower quality laminate in a wet environment could cause the edge to delaminate. This means that the edge of the countertop could peel away if it becomes overly damp.
Outdoor Laminate Countertop
The cost of a laminate countertop for an outdoor kitchen would be between $240 and $1,200 on average. Most outdoor kitchens use between 12 and 20 sq.ft of countertop. It is possible to use less or more, however. If this is the case, then you may have different costs for this project. Laminate can be used outdoors if it's in a covered or protected area. It doesn't handle long term exposure to moisture well, so a covered porch or beneath a pavilion would be the best place for this installation.
Laminate Kitchen Countertops
The average cost of laminate kitchen countertops is between $600 and $2,400. Most kitchens have around 30sq.ft. of countertop, with some needing up to 40 sq.ft. However, it is possible to have a galley kitchen with fewer countertops or to have a larger kitchen with a peninsula or island that needs more. In either of these cases, your costs could be different. There are many different types of laminate that will work well in the kitchen. You have many options for decorative edges, types of sink installations, and integral backsplashes as well.
Laminate Countertop Prices by Type
Laminate is a material made up of multiple sheets of paper coated in a resin and heated and pressurized together to form a durable surface. Laminate countertops are made with several layers of brown Kraft paper on the bottom. That is followed by a layer of decorative paper, and then a clear layer of paper. Each paper is infused with resin, and then all the layers are pressed together. Laminate is used for many surfaces and is found in several grades and thicknesses, intended for various uses.
For the use of countertops, laminate is sold in Horizontal Grade, which is thicker, heavier, and more durable than Vertical Grade, which is laminate used on furniture and walls.
Laminate also comes in both high and low-pressure sheets. For the use of a countertop in the kitchen, high pressure is warranted. High pressure means that 1,000 pounds of pressure was used to create the countertop, making it more durable. Only 400 pounds of pressure was used for low pressure, making it more suitable for vertical applications.
While there are many different types of laminate countertops, they are horizontal grade, made with high pressure. However, they are given additional surface coatings as well that increases their function and durability even more. For example, they are given an antimicrobial surface that makes them resistant to bacteria growth. Or they have proprietary finishes like Wilsonart's AEON finish, which creates a durable, scuff-free surface:
| | |
| --- | --- |
| Laminate Type | Average Cost (Material Only) |
| Standard (Horizontal Grade/High Pressure) | $10 - $15/sq.ft. |
| Antimicrobial Finish | $15 - $30/sq.ft. |
| High-Durability Finish | $20 - $40/sq.ft. |
Laminate Countertops Cost by Brand
Many brands make laminate countertops, including Formica - well known name brand all its own. Some of the top brands have the most choices when it comes to color, style, durability, and edge treatments. Each brand will have its own costs, as well as colors and styles to choose from. Most will also have a range of costs and qualities to choose from, so you can easily find the right fit for your project.
| | |
| --- | --- |
| Brand | Average Cost per Sq. Ft. (Material Only) |
| Arborite | $10 - $30/sq.ft. |
| Pionite | $10 - $30/sq.ft. |
| Formica | $15 - $40/sq.ft. |
| Wilsonart | $18 - $40/sq.ft. |
Arborite Countertops
Arboite makes a range of different colors and patterns for laminate counters. They have solid colors, repeating patterns, and some colors and styles that mimic wood and stone. They cost between $10 and $30 a square foot on average.
Pionite Countertops
Pionite is another reputable brand of laminate countertops with a range of colors and patterns. These include a selection of solid colors and some patterns that mimic the look of granite or marble. They cost between $10 and $30 a square foot on average.
Install Formica Countertops
Formica has changed over the years, from the only brand to one of the more luxury manufacturers. They still make a line of solid colors and patterns and have an antimicrobial finish standard on many of their products. They also have some luxury colors and finishes. The costs for Formica ranges from $15 - $40/sq.ft. for the material. The cost to install these countertops is roughly the same as other materials - $10 to $20 a square foot.
Wilsonart Countertops
Wilsonart has become synonymous with luxury and high-end laminate countertops. All their materials are antimicrobial, and they have an exclusive AEON finish that makes their counters 5 times more durable. They have options for undermount sinks and intricate edges. They cost $18 - $40 a square foot on average.
Luxury Laminate Countertops
Previously, laminate counters were considered low-cost and low-quality, but times have changed. Laminate now comes in luxury finishes, colors, and patterns that make them affordable yet durable, long-lasting, and attractive.
Luxury laminate is found from manufacturers, such as Formica and Wilsonart, with others like Pionite beginning to produce them. They typically cost between $25 and $40 a square foot and have fewer visible seams, a more durable finish, patterns and colors that closely mimic the look of stone or wood, and the ability to have an undermount sink rather than a drop-in sink.
Laminate Countertop Edge Options
While standard laminate countertops come with a square edge, newer designer counters and luxury countertops offer different edges. This includes very decorative and stylish edge options to complete your kitchen. Each has a range of costs.
| | |
| --- | --- |
| Edge | Average Cost per Linear Foot |
| Square | No cost |
| No-Drip | $5 - $7/linear foot |
| Eased | $5 - $7/linear foot |
| Full Bullnose | $7 - $10/linear foot |
| Half Bullnose | $7 - $10/linear foot |
| Ogee | $10 - $20/linear foot |
| Dupont | $10 - $20/linear foot |
Square Edge
Most standard laminate countertops come with a square edge. This has a sharp corner, which is usually seamed at the 90-degree point. This edge is standard and usually has no additional costs.
No-Drip Edge
The no-drip edge is generally only put on laminate countertops. Just before the final edge, the countertop raises slightly into a bump that helps stop spills from sliding over the edge. The look is subtle, and while it does not stop big spills, it keeps things clean. This edge is usually between $5 - $7 a linear foot.
Eased Edge
An eased edge is a square edge that has the top softened slightly. This makes a nicer transition and also hides the edge seam a little bit better. This edge costs $5 - $7 a linear foot.
Full Bullnose Edge
The full bullnose edge has a curved top and a curved bottom, so the entire edge is completely rounded. This is a fairly new edge for laminates and is only done with the more luxury types. It costs $7 - $10 a linear foot.
Half Bullnose Edge
The half bullnose edge has a rounded top, but a square bottom. It is a little easier to do and is found on nearly any type of laminate countertop. Costs range between $7 - $10 a linear foot.
Ogee Edge
The ogee is a decorative edge found on luxury laminates. It has a sharp top that extends downward into a long curve. It costs between $10 - $20 a linear foot, depending on the size and manufacturer.
Dupont Edge
The Dupont edge is another decorative edge found on luxury laminates. It is similar to the ogee, but with a shorter, sharper top and a shorter curve at the bottom. Prices range between $10 - $20 a linear foot.
Cost to Install Laminate Countertops
Laminate countertops are fairly easy to install. In many cases, they are done DIY when using standard sizes and materials. Installation typically costs between $10 and $20 a square foot. Prices are higher for luxury laminate and for laminates with fewer visible seams.
In addition to the basic installation costs, you may have other costs included as well. For example, undermounting a sink adds about $200 to the project cost. Finishing corners on the laminate adds between $25 and $50 for each corner, depending on the laminate type.
What Is the Difference Between Laminate and Formica Countertops?
The terms "laminate" and "Formica" have been used interchangeably for years, which has led to confusion over whether there is a difference between the two materials. This is because Formica was the first manufacturer of laminate countertops, and like many name brands, the manufacturer name became synonymous with the material.
Today, you may still purchase a Formica brand laminate countertop. You may also purchase a laminate countertop from one of several other reputable manufacturers. Each has its line of colors, patterns, edge styles, and surfaces. Formica is a brand of laminate, and there is fundamentally no difference between the two.
Cost to Replace Laminate Countertops
Some installers charge the same amount for installing new countertops or for replacing them. Others charge an additional fee of $8 to $10 per foot for removing and disposing of the old laminate counters. This increases the cost of the average project by $240 to $300 for replacement over the typical cost of a new installation.
Pros and Cons of Laminate Countertops
The biggest pro for installing laminate countertops is the cost. Laminate costs roughly half of what other countertop types cost. Laminate is also fairly low maintenance because it does not need to be sealed or require special cleaners. Newer laminates are also very durable, resisting scratches and scuffs, and it is also possible to get antimicrobial surfaces for a safer kitchen.
On the other hand, laminate is not very eco-friendly because it is made of plastic and cannot be recycled. It also produces a lot of VOCs when being produced and continues to off-gas after installation. While luxury laminate is durable and long-lasting with fewer seams, most standard laminate eventually begins to delaminate, meaning peel around the edges. So, laminate does not tend to last as long as other materials.
​
Granite vs Laminate Countertops Cost
Laminate counters are very affordable when compared with granite. The average granite countertop costs $3,000 to $3,500 and is higher for some colors and patterns. Granite tends to last longer than laminate by about 10 years, but you do have to take steps to maintain it. Laminate is lower maintenance. Both come in a range of colors and styles and support several sink sizes and styles.
Corian vs Laminate Countertops Cost
Corian is the name brand for solid surface countertop material. This is a solid plastic countertop, rather than layers of paper and plastic-like laminate. It is much more expensive than laminate at a cost of $50 - $150 a square foot just for the material. It appears seamless and has an integral sink, but it scratches and melts easily. Laminate does a better job of resisting scratches and heat. However, a solid surface material lasts a few years longer, about 15 years compared to laminates 10 years.
Laminate vs Quartz Countertops
If you're looking for a man-made material for your countertops, rather than a natural one like granite, two of the most popular choices are quartz and laminate. Both materials can come in a range of different colors and styles. Both can also be made to mimic the appearance of other materials including granite and marble. This is where the similarities between the two materials end, however.
Laminate is made up of many different layers of paper that have been laminated together. Quartz is made of roughly 93% natural quartz stone, bound together with resins and pigments. Of the two, quartz is much harder and more durable. It resists scratching, staining, and burning —all things that can impact laminate to some degree. Quartz is also much more expensive than laminate on average, with costs ranging from $1,750 to $3,000 for 30 sq.ft.
Enhancement and Improvement Costs
Laminate Countertops that Look Like Granite
All laminate countertop manufacturers now make patterns that look like granite and other natural stones. They have costs starting at $15 a square foot, although the most realistic looking countertops are closer to $40 a square foot.
Adding a Backsplash
It is very common to install a new backsplash at the same time as the countertop to give the entire kitchen a makeover at once. The average cost of a new backsplash is around $1,500.
Sink Installation
The sink cutout is included in what you pay for the countertop, but you have added costs for installing the sink after the counter is in. The average cost of sink installation is around $400.
Cooktop Installation
Laminate countertops are not usually made for drop-in cooktops. Some manufacturers may work with this but may not guarantee it. In most cases, a range installation is the best available option for laminate, with average costs of around $600.
Old Countertop Removal
Some installers remove the old countertop at no additional charge. Others may charge between $8 and $10 a square foot to remove the old material.
Additional Considerations and Costs
Warranty. Most laminate countertops today come with a 1-year warranty from the manufacturer. Always check to find out what that covers.
Durability. While laminate once scratched easily, today's laminate is much more durable and resists scratches and scuffs. If this is a concern, look for luxury laminate, which has a durable surface added to help reduce them.
Trivate use. Laminate resists heat better than some materials, but it is still recommended to use a trivet and not put hot pots directly on the countertop to avoid scorching.
Cleaning. Laminate is easily cleaned with a soft cloth, dish soap, and water. Always dry the countertop thoroughly and wipe up spills as soon as they are noticed to avoid water pooling in the seams.
FAQs
Are laminate countertops cheaper than granite?
Yes, in many cases, they cost roughly half of what a granite countertop would cost.
Can you put laminate over laminate countertops?
Technically yes, but this means that the countertop is only as good as the first layer. So if it is not stable, the new countertop is not either.
How long do laminate countertops last?
Standard laminate lasts 10 years, while some luxury laminates last up to 20.
Is Corian better than laminate?
Corian is the name brand of solid surface plastic countertops. Both have their advantages, disadvantages, and appearances. Choosing one over the other is a personal decision.
Are laminate countertops out of style?
Not at all! New luxury laminate brings a lot of style and pattern to your kitchen for less than other countertops.
The information provided by our cost guides comes from a great variety of sources. For more information, read our Methodology and sources.