How much does it cost to install kitchen countertops?
Get free estimates from countertop installers near you
Kitchen Countertops Installation Cost Guide
To provide you with the most accurate and up-to-date cost figures, we gather information from a variety of pricing databases, licensed contractors, and industry experts.
Kitchen countertops cover base cabinets, giving you a work surface for cutting and preparing food and providing storage. Countertops are functional or decorative and made of a wide range of materials. Some may be chosen purely for aesthetics, while others for their functional benefits. Because each material performs differently in the kitchen environment, you must consider your lifestyle and personal tastes.
The national average cost range to install a new kitchen countertop is $1,500 to $4,500. Most homeowners pay around $3,500 for 30 sq.ft. of moderate granite countertops with an eased edge and undermount sink. This project's low cost is $1,000 for 30 sq.ft. of mid-range laminate countertops with a drip edge. The high cost is $10,000 for 30 sq.ft. of teak butcher block countertops with an end grain.
Kitchen Countertops Installation
Kitchen Countertops Installation Costs
National average cost
$3,500
Average range
$1,500-$4,500
Low-end
$1,000
High-end
$10,000
Countertop Cost per Square Foot
Two factors drive the cost - the material and amount. Many countertops are available for use in the kitchen. These include low-cost materials like laminate and higher-end materials like granite, recycled glass, quartz, marble, soapstone, quartzite, and butcher block. Many have overlapping costs, and the color, style, and fabrication type determine the total price. This means most countertops cost between $20 and $200 a square foot, fully installed.
| | |
| --- | --- |
| Countertop Size | Average Costs (Installed) |
| 10 sq.ft. | $200 - $2,000 |
| 20 sq.ft. | $400 - $4,000 |
| 30 sq.ft. | $600 - $6,000 |
| 40 sq.ft. | $800 - $8,000 |
Kitchen Countertop Prices by Location
Countertops can be installed in traditional, indoor, and outdoor kitchens. You may find some materials perform poorly outdoors, depending on your climate. For some materials, wet, rainy, or freeze/thaw climates may not be the best fit. For example, concrete does not do well in freeze/thaw conditions, but soapstone does very well.
Ultimately, the cost is dependent on the material cost and amount needed. Below are the average costs based on the most common sizes for indoor and outdoor kitchens.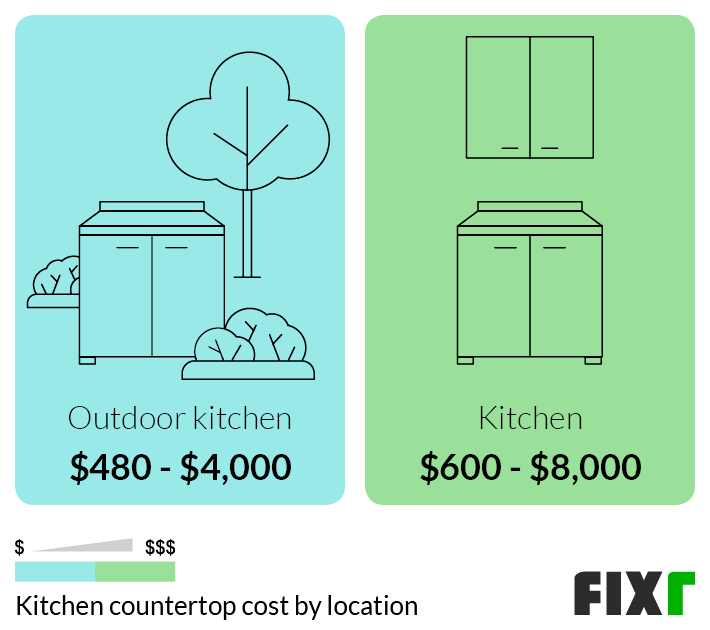 Outdoor Kitchen Countertops
The average cost of an outdoor kitchen countertop is $480 to $4,000, depending on the material. Most outdoor kitchens need between 12 and 20 square feet of material. If your kitchen requires more or less material, your costs could be different. Low-cost materials like laminate do not perform well in outdoor kitchens. However, most solid materials do, except for concrete in cold climates. Solid surface, most stones, and recycled glass perform well in this environment.
Average Price of Kitchen Countertops
The average cost for kitchen countertops ranges from $600 to $8,000, depending on the material. Most kitchens need around 30 sq.ft. of countertop. Some larger kitchens may need up to 40 sq.ft. You can also have smaller galley kitchens or larger kitchens with islands, peninsulas, and perimeter countertops. Your costs could be higher or lower than average in both instances. Many countertops work well in the kitchen. Determining the right one for your space depends on your lifestyle, home, and preferences.
Kitchen Countertops Cost by Material
The kitchen countertop material impacts the price and your lifestyle. Consider maintenance, durability, appearance, and cost when making your decision. Several materials work well in the kitchen, but not all are right for every home. Each material has a wide range of costs due to color, grade, rarity, and manufacturer. These factors may also influence how well a particular product works in your home.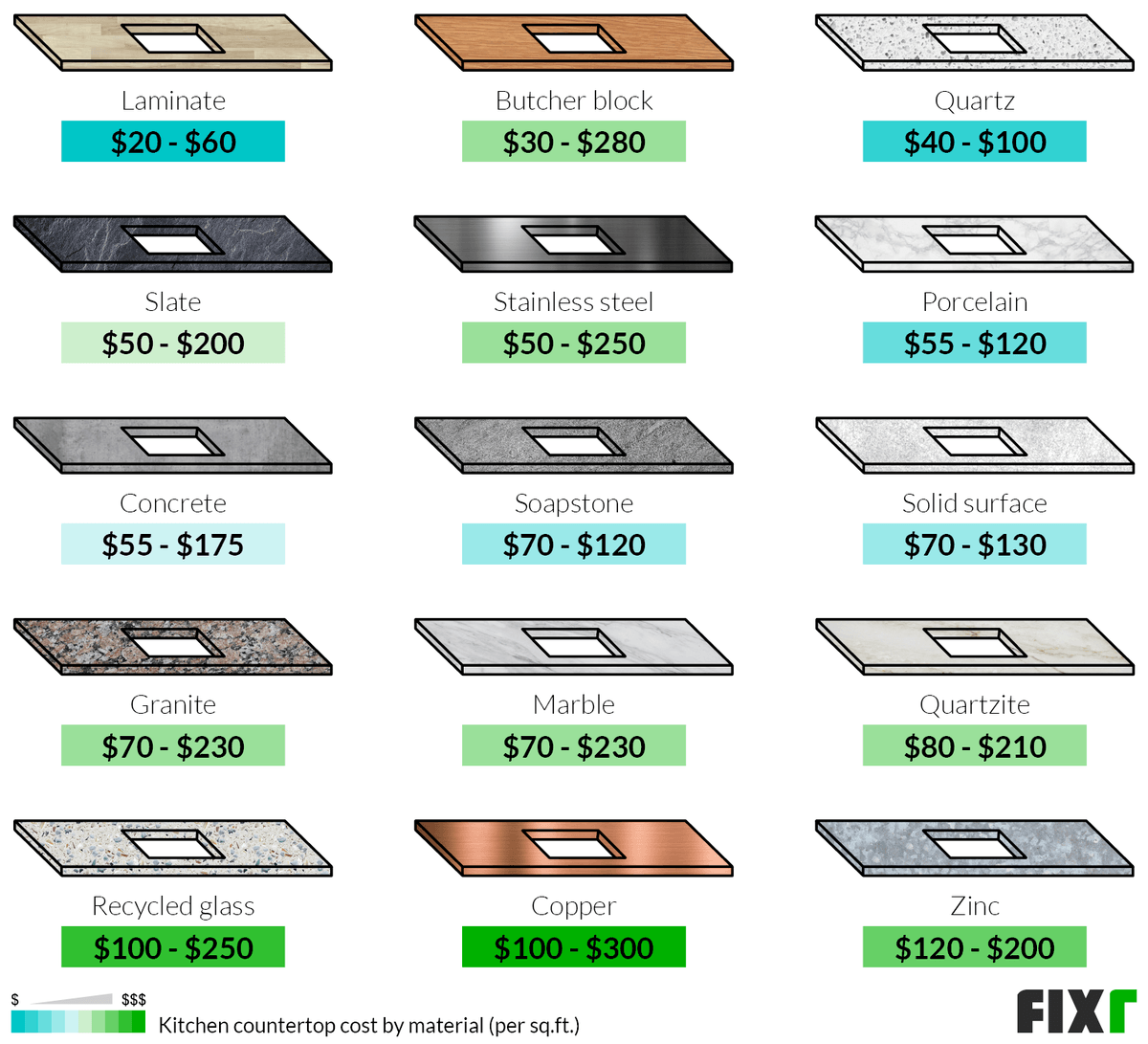 Laminate Countertops
The cost of laminate countertops is between $20 and $60 a square foot installed. Laminate countertops are made of multiple layers laminated together with a long-wearing top layer. The material is fairly thin, so it is usually mounted on a wood or particleboard underlayment. It can have multiple edge types, comes in many patterns, and can have an integral backsplash. Some luxury types also have an undermounted sink installed. Laminate is very readily available and can be found in many big box stores.
Butcher Block Countertops
The cost of butcher block countertops is $30 to $280 a square foot installed. Butcher block countertops can be made from many wood types. Each is made up of many pieces of wood tightly glued. They can be made of long pieces of wood, shorter sides of wood, or the ends. Each one has costs, functions, and durability. You can mix finishes and woods for a custom top with personality.
Quartz Countertops
The average cost of quartz countertops ranges from $40 to $100 a square foot. Quartz countertops are manmade. They contain roughly 93% natural quartz rock mixed with resins and pigments. Quartz is the strongest natural material used in construction, which makes these countertops durable. The resin ensures they resist scratching, staining, and burning. They come in a wide range of colors, styles, and finishes.
Slate Countertops
The cost of a slate countertop averages $50 to $200 a square foot. Slate is a metamorphic stone made from sandstone. It is formed in thin sheets that stack tightly. The slate can be one color or multi-colored. Some slates can be polished, others must be honed or have a slightly textured surface. The more brittle the slate, the harder it is to find a large slab, increasing costs.
Stainless Steel Countertops
The cost of stainless steel countertops is between $50 and $250 a square foot. Stainless steel countertops are made of thin metal sheets. This metal is wrapped around a wood base for thickness. The steel comes in different gauges or thicknesses. The thicker the steel, the more durable and costly it is. Steel countertops come in a wide range of finishes and styles.
Porcelain Countertops
The average cost of porcelain countertops ranges from $55 to $120 a square foot. Porcelain slabs are made of compressed clay dust that has been fired to very high temperatures. The finished slabs are stain, scratch, and heat-resistant. They come in many colors and styles and mimic other materials. The slabs are often thinner than other countertop materials. The thicker the slab, the higher its costs.
Concrete Countertops
The cost of concrete countertops averages $55 to $175 a square foot. Concrete countertops are a solid material formed differently than others. It is poured in a mold in your kitchen or at a different site. It can be molded to any shape, given any edge, and given multiple colors, finishes, and surface textures. Due to how it is made, the bulk of the cost is for fabrication and installation.
Soapstone Countertops
The average cost of soapstone countertops is $70 to $120 a square foot. Soapstone is a unique natural tone made mostly of talc. It has a soft and soapy feel, which is how it gets its name. It is stain and heat-resistant but can scratch. It develops a natural patina, and many choose to oil their countertop to help the patina develop evenly. Without oiling, it can develop darker and lighter areas.
Solid Surface Countertops
The cost of solid surface countertops ranges from $70 to $130 a square foot. Solid surface countertops are made from plastic - acrylic or polyester. The slabs are formed in a mold and can be given a wide range of colors, finishes, and styles. The material is non-porous, but it stains, scratches, burns, and melts. It is slightly higher in maintenance than many other types. Stains and scratches buff out with a green scrubbing pad.
Granite Countertops
The cost of granite countertops averages $70 to $230 a square foot. Granite is a natural material that contains high amounts of silica, feldspar, quartz, and mica. Each piece is different, which makes every countertop unique. Granite comes in a wide range of stones, from common to exotic. The rarer the stone, the higher its cost. Granite is mostly sold as a slab but can be found in tile and modular forms.
Marble Countertops
The average cost of marble countertops ranges from $70 to $230 a square foot. Marble is also a natural stone but composed mostly of calcite. This is a much softer stone than granite. Marble stains and etches easily. It requires sealing to impede staining. Marble countertops are often honed to avoid etch marks shown on polished finishes.
Quartzite Countertops
The cost of quartzite countertops is between $80 and $210 a square foot. Quartzite is a natural stone made mostly of metamorphosed quartz. It is dense and durable and much less likely to stain or etch than other natural stones. It comes in many colors and styles. It can mimic marble in many instances but with better durability. The rarer the stone, the higher its costs.
Recycled Glass Countertops
The cost of recycled glass countertops averages $100 to $250 a square foot. Recycled glass countertops come in two types - solid and crushed glass. Solid glass is poured and comes in many colors and styles. Crushed glass is held together with a resin, much like quartz countertops. Both are highly resistant to stains, scratches, and heat. Recycled glass countertops contain up to 100% recycled material but amounts vary.
Copper Countertops
The cost of a copper countertop ranges from $100 to $300 a square foot. Copper countertops are made similarly to stainless steel. Thin sheets of the material are warped around a wood base. The copper sheets come in different thicknesses or gauges. The thicker the copper, the higher its cost. Copper has a living finish. This means it dulls in untouched areas and remains bright in places infrequently touched.
Zinc Countertops
The cost of zinc countertops is between $120 and $200 a square foot. Zinc is a soft metal that can be used like copper or stainless steel for a countertop. The sheets of metal are formed around a wooden base. Zinc comes in different thicknesses or gauges. The thicker the zinc, the more durable the countertop, but the higher the expense. Zinc can also have a living finish, darkening in areas not touched frequently.
Average Cost of Kitchen Countertops by Thickness
Countertops are often sold by the centimeter. The most common measurement is 3 cm, with a few materials available in 2 cm and 4 cm. You can also find 1 cm thick quartz countertops for commercial spaces - these have a built-up edge to appear thicker. Stone countertops are too fragile to be this thin. Metal countertops are sold by the gauge over a thick piece of wood, while porcelain countertops are sold in 6 mm and 12 mm thicknesses. All other slabs are generally available in 3 cm thicknesses as average, with limited availability for 2 cm and 4 cm. While some countertops are sold in "inches," these measurements are merely rough estimates. The centimeters are a more accurate measurement for slab material.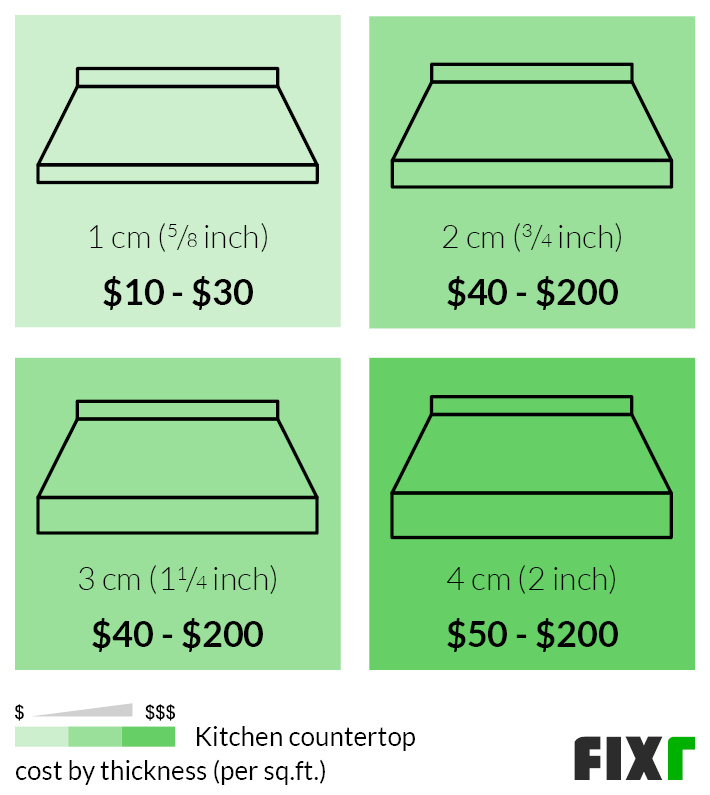 | | | |
| --- | --- | --- |
| Thickness | Equivalent Inches | Average Cost per Sq.Ft. (Material Only) |
| 1 cm | ⅝ inch | $10 - $30 |
| 2 cm | ¾ inch | $40 - $200 |
| 3 cm | 1¼ inch | $40 - $200 |
| 4 cm | 2 inches | $50 - $200 |
1 cm Countertop
1 cm countertops cost between $10 and $30 a square foot for the material. They are approximately ⅝-inch thick. The only material that can be safely installed in this thickness is quartz. Even so, the material must have a built-up edge and be installed over a plywood or MDF underlayment. These increase the countertop's cost. This material is usually sold in bulk for commercial applications.
2 cm Countertop
2 cm countertops average $40 to $200 a square foot. This size is roughly equivalent to ¾-inch thick. Many marbles come in this thickness because the slabs are not large enough to be thicker. Some granites are also available at this thickness, but the colors may be more limited. This is the thinnest size for most natural stone slabs because going any thinner is impossible due to the stone's fragility. A countertop of this thickness often needs a built edge and an underlayment, increasing costs.
3 cm Countertop
3 cm countertops range from $40 to $200 a square foot. This size is roughly equivalent to 1¼-inches thick. This is the most common thickness for slab countertops. Most countertops come in this thickness, including quartz, marble, granite, soapstone, and quartzite. No underlayment is required at this thickness, and it can also take any edge without building it.
4 cm Countertop
The cost of a 4-cm thick countertop is between $50 and $200 a square foot. This size is roughly equivalent to 2-inch thick countertops. Not all material is available in this thickness. Some popular, strong marbles like Bianco Carrara can be found in this thickness, as can some granites. You can pour a concrete countertop to this thickness or get the illusion of this thickness with metal countertops, which use an underlayment. At this thickness, you need faucet extenders for a faucet to be installed.
Cost of New Kitchen Countertops by Type
Many people view countertops by their material type, but how the counter is formed or presented also impacts the cost and installation. There are several types of counters, with some categories having more than one material choice.
| | |
| --- | --- |
| Type | Average Cost per Sq.Ft. (Installed) |
| Tile | $20 - $50 |
| Cast-in-Place | $50 - $125 |
| Modular | $55 - $70 |
| Precast | $60 - $150 |
| Slab | $70 - $230 |
Tile Countertop
The cost of a tile countertop ranges from $20 to $50 a square foot installed. You can use specialty, designer, or exotic tiles on your countertop. Doing so increases the cost. Tile countertops can be a great way to experiment with color, design, and pattern. Tile countertops are most common in the Southwest but make a great statement anywhere. Many tiles work on a countertop, from simple ceramic tiles to exotic stones.
Cast-in-Place Countertops
A cast-in-place countertop costs $50 to $125 a square foot installed. Cast-in-place countertops are made of concrete and right in your kitchen on your cabinets. A frame is built to hold the concrete, which is poured or cast into the mold. Concrete takes several weeks to cure, so this method is only recommended for new builds or major renovations when you are not residing in the home. This is a good method for unique shapes or layouts because concrete is brittle and hard to transport.
Modular Countertops
The cost of modular countertops is between $55 and $75 a square foot. Not many materials are available modular. Granite is one, and you may find some modular gauged porcelain slabs. A modular countertop is like an oversized tile countertop. There are much larger sections that fit together rather than small tiles. You can get the countertop for a lower cost because it is not one large slab but has fewer seams than tile.
Precast Countertops
The cost of a precast countertop is $60 to $150 a square foot. This is another method of creating a concrete countertop. The concrete is cast in its mold at another location. It is finished off site and transported to your home for installation. This can be a better fit for homeowners who want access to their kitchen while the concrete is curing. The cost is higher for this method because concrete is hard to move.
Kitchen Slab Cost
The cost of a kitchen slab countertop ranges from $70 to $230 a square foot. Slabs are one of the most common types. This is a large piece of material that can be cut in many ways, including curved countertops or organically shaped countertops. Many materials come in slab, including all stones, quartz, recycled glass, and solid surface countertops. They are fabricated off site and transported to your home. Because of the nature of most slab material, go to a fabricator to view the slabs in person when making your selection.
Kitchen Countertops Prices by Type of Edging
Most countertops have different edge treatments to complete their look. The edges vary by the material, thickness, and how it is made. Some edges cannot be obtained on thinner materials without building up the edge with additional material. Others may not be able to achieve certain edges because of how the material is made. The following edges can be applied to 3-cm thick or higher slab countertops and some 2-cm thick countertops. A few can also be used on other materials. Costs are priced by the linear foot and are an additional charge, with the exception of the eased edge.
| | |
| --- | --- |
| Edging Type | Average Costs per Linear Foot (Installed) |
| Eased | No charge |
| Bevel | $10 - $15 |
| Half Bullnose | $10 - $15 |
| Full Bullnose | $10 - $15 |
| Ogee | $20 - $25 |
| Mitered | $20 - $25 |
| Dupont | $20 - $40 |
Eased Edge Countertop
An eased edge is included with most countertops at no cost. This is the most common edge. Rather than square with a hard edge, the eased edge is slightly rounded or beveled at the top, depending on the fabricator. Essentially, the top edge is taken from a sharp line to a softer one. This gives the countertops a more welcoming appearance. Eased edges are common for families with children because they are easy to care for and do not have sharp edges.
Beveled Edge Countertop
Adding a beveled edge to your countertop costs $10 to $15 a linear foot. Beveling is done on the countertop's top edge. It takes the edge from a square to a more pronounced angle than the eased edge. This can give the countertop more of a geometric or contemporary appearance. This edge is more interesting but still easy to clean and care for. There are no crevices or rounded areas for dirt or food to collect.
Half Bullnose Edge
The cost of a half bullnose edge is $10 to $15 a linear foot. A half bullnose edge rounds out the top half of the countertop's edge. The bottom section is still squared off. This rounded top makes the countertop smoother and sleeker. This edge is a good option for transitional-style kitchens. It is also easy to clean and care for.
Full Bullnose Edge
The cost of a full bullnose edge ranges from $10 to $15 a linear foot. A full bullnose is sometimes also known as a pencil edge. This edge is rounded on the top and bottom. It has no square or sharp edges or corners. This is a nice edge for those who want something more decorative but easy to clean and maintain. Bullnose edges have a soft look that makes them good for many kitchen styles.
Ogee Edge
The ogee edge costs between $20 and $25 a linear foot. Ogee edges are fairly decorative. The edge starts with a slight dip that lengths into a long curve. The edge of the long curve is square on the bottom. Ogees can be done on 2-cm countertops but look best when the edge is thicker. Therefore, it is common to build up this edge on thin countertops before carving it. You have additional costs in this case.
Mitered Edge Countertop
The cost of a mitered edge countertop ranges from $20 to $25 a linear foot. Mitered edges make a great contemporary countertop edge. The top edge is square, but the rest of the edge cuts back sharply at an angle after a short drop. This gives the countertop a clean and hard look. This edge is frequently used in offices and like spaces. It is a hard and sharp edge, so it is not the best fit for families with small children.
Dupont Countertop Edge
The Dupont countertop edge costs between $20 and $40 a linear foot. Dupont edges are very decorative and work well in formal kitchens. The Dupont edge must be done on a 3 cm or larger edge. The edge must be built up to achieve this if your countertop is thinner. If so, expect additional costs. Dupont edges come in a few types, including having a squared-off bottom curve that ends naturally. The drop from the top edge to the curve is sharper than an ogee.
Labor Cost to Install Kitchen Countertops
The labor and process of installing your countertop vary depending on the counter. Some are made just for you, while others are off the shelf. Some are made in your kitchen, while others are fabricated off site and brought in.
For any material custom made to your specifications, a template is made by gluing thin strips of balsa wood together in the shape of the counter. This is ideal for custom shapes and odd-sized kitchens. This template is transferred onto the material being cut, so there is no error.
If you have a natural stone countertop that requires installing sealing, this is usually done at this time for no additional charge.
In many cases, the cost of installation is included in the material price. However, this is not always the case, and it is important to ask when pricing materials.
Expect installation to take from 2-5 hours to complete once measurements and templating are over.
New installation is slightly different from replacements. While the costs are usually the same, a replacement can sometimes have higher labor costs, depending on the old countertop material and how difficult it is to remove.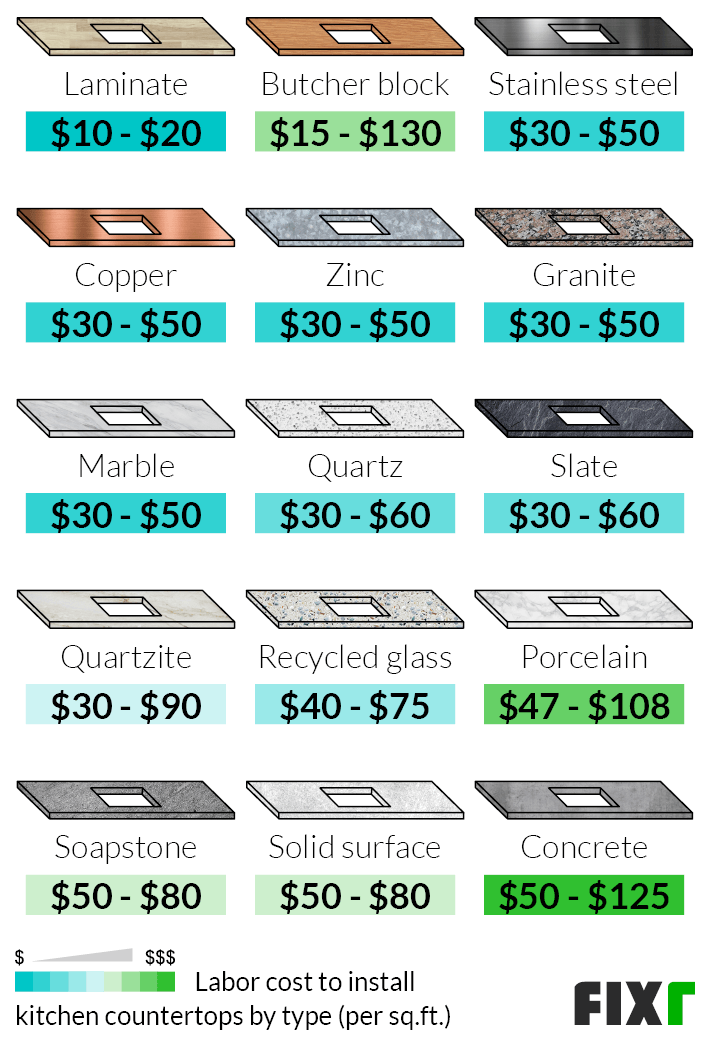 Cost to Replace Kitchen Countertops
If you have a countertop and want to replace it, your experience and costs may differ from a new installation. First, your old countertop must be removed and disposed of. Many installers include this service in the cost you pay for the new countertop and its installation. Others charge an additional $50 to $200 for this service. In addition, your cabinets may need to be inspected to ensure they can support the weight. Shimming or adding supports is sometimes necessary if your cabinets are very old. Most newer cabinets support heavy countertops without issue. Finally, existing sinks and faucets must be disconnected. Some installers do this at no additional charge, while others charge a small fee. This can mean the cost of replacement is identical to the cost of a new installation and sometimes higher. These are the costs of four of the most common countertop replacements.
Replace Countertops with Quartz
The average cost to replace countertops with quartz is between $40 and $150 a square foot. The vast majority of quartz installers remove your old countertop at no additional cost. If your cabinets need to be leveled, shimmed, or the existing countertops are difficult to remove, your costs can be higher than a new installation. Quartz countertops are templated from your existing countertop. They are cut and finished to fit your cabinets before arriving at your home. They are completely ready to install within about 2 to 3 weeks after templating.
Replace Countertops with Granite
The cost to replace countertops with granite averages $70 to $280 a square foot. Many granite installers remove your old countertop at no additional charge. The only costs are usually due to the old countertop being difficult to remove or dispose of. You may have additional costs if you use thinner granite and need underlayment or to shim your cabinets. The granite is templated off your existing countertop. It is cut and finished before being brought to your home. This takes roughly 2 to 3 weeks.
Replace Countertops with Marble
The cost of replacing existing countertops with marble ranges from $70 to $280 a square foot. Most marble installers remove and dispose of your old countertops at no additional cost. The only time there may be an added fee is if your countertops are very difficult to remove. You may have added fees for thin marble, which needs an underlayment, or if your cabinets need to be shimmed or leveled. Marble is templated from your existing countertop. It is cut and finished before it is installed. This takes about 2 to 3 weeks.
Replace Countertops with Quartzite
The cost to replace existing countertops with quartzite is between $80 and $260. Most quartzite installers remove and dispose of your old countertop at no additional charge. The only charges are usually due to the old countertop being hard to remove. Leveling or shimmying your cabinets before installation has an additional charge. Quartzite is templated from your existing countertops. It is fabricated and finished before installation. The process takes roughly 2 to 3 weeks.
Cost to Replace a Kitchen Island Countertop
The average cost to replace a kitchen island countertop ranges from $20 to $350 a square foot, depending on the new material. Most installers remove the old countertop at no additional fee. However, a few may charge extra if the countertop is extremely hard to remove. You may also have extra costs if you need to have the island shimmed or leveled before installation. Expect additional fees if you add a sink or cooktop to your island.
Kitchen Countertop Finishes
You have a choice of surface finish. The most common finishes are glossy and honed. Some materials may have an additional charge for different finishes, but the finish is a preference that has no bearing on the cost in most cases.
Glossy Countertop
Glossy countertops are referred to as polished in most cases. Depending on the material, the finish may be naturally glossy or need to be polished. Polishing uses grit of progressively finer material to grind the surface until it reflects light. Most countertops have a default polished surface. It disguises most surface flaws and makes the colors brighter and more intense. Some materials are too soft to achieve this finish, so they may have a different default.
Honed Countertop
Honed countertops have a flat matte finish. A few may have a high hone, in which a material too soft for a polished finish may have a slight sheen after honing. Honing is the last step before polishing. The surface is smooth but matte. Honed countertops are duller in color. Stone countertops show small pits and fissures that polishing disguises. Matte countertops are a good choice for some marbles because they make etching less visible.
Kitchen Countertop Add-Ons
Kitchen countertops are often installed at the same time as other additions. This can be new cabinets, a kitchen island, backsplash, sink, or cooktop. Each has varying costs, depending on the material, style, and layout.
| | |
| --- | --- |
| Add-On | Average Costs (Installed) |
| Kitchen Sink | $300 - $500 |
| Cooktop | $500 - $1,000 |
| Kitchen Island | $500 - $12,000 |
| Backsplash | $900 - $2,500 |
| Extending a Countertop to a Backsplash | $2,100 - $8,400 |
| Cabinets | $4,000 - $9,000 |
Kitchen Sink Installation
The cost of a kitchen sink installation is between $300 and $500. You may also have a sink cutout fee, depending on the material. This fee is generally around $100. Sinks should be on hand when you select and template the countertop. Every sink usually comes with a paper template. This template ensures the sink fits your new countertop.
Cooktop Installation
The cost of installing a cooktop ranges from $500 to $1,000. You may also have a cooktop cutout fee. This is usually around $200. Not all materials can have a cooktop. Some must use a range because of the material's nature. You must have the cooktop or its model number on hand when selecting the countertop. The model number is necessary for the fabricator to pull the specs and make the cutout.
Add a Kitchen Island
The average cost range to add a kitchen island is $500 to $12,000. Kitchen islands come in many shapes, sizes, and forms. Some are simple rolling islands, while others are custom pieces of furniture for your kitchen. You may choose the same countertop on your island as on your perimeter cabinets. You can also select a different material for the island countertop. Doing so adds depth and interest to the kitchen design.
Add a Backsplash of a Different Material
Installing a different-material backsplash costs between $900 and $2,500. The backsplash is the last thing installed in the kitchen. Because it touches the countertops and cabinets, it generally needs to coordinate with both. You can use a wide range of materials for this area, including glass, metal, ceramic, stone, or wood. The backsplash is one of the most decorative areas of the kitchen, so many people choose to make it the focal point. You may have additional space behind the cooktop or sink to create a stunning visual display, depending on the layout.
Extending a Countertop to a Backsplash
The cost to extend your countertop into a full backsplash is between $2,100 and $8,400, depending on the material. Not all countertop materials can be extended like this. The most common are typically stone and quartz countertops. The same slab used on the counter can be cut and installed to fit the backsplash. This provides a cohesive look. Most backsplashes measure around 30 sq.ft. in size or roughly the same size as your countertop. Expect to double the cost of your countertop for the installation.
Replace Kitchen Cabinets and Countertops
The cost of new kitchen cabinets averages $4,000 to $9,000, depending on the type, material, and style. Typically, replacing cabinets means new countertops. This has an average total cost of $5,500 to $13,500, depending on the countertops. Using something more exotic or of a basic grade can have costs outside this range. Your costs could fall above or below this range if you have a larger or smaller-than-average kitchen. Choose the cabinets first and bring a sample of your door to select the countertop when choosing new cabinets and countertops so that you can see how they work.
How to Choose a Kitchen Countertop Color
There are many ways to go about choosing the color of your kitchen countertop. Your first step is to take a sample of anything you have already selected. This includes cabinets, wall colors, flooring, and other prominent things.
Next, narrow down your material choices. Choosing marble automatically narrows your color choices. Once you have your samples and know the material, visit the fabricator. This is the company that makes the countertop. View the samples and pieces of material that become the countertops. For example, you can view the slabs used for marble, granite, soapstone, recycled glass, quartz, solid surface, quartzite, and more. Hold up your samples beside the materials in question.
If you want a subtle look, choose something that sits close to your sample colors on the color wheel. Blue works with green, purple, and gray. Tan works with white, taupe, and brown.
Choose something sitting opposite the color of your samples on the color wheel for a dramatic look. Black with white, yellow with purple, or red with green. The farther apart the two colors are, the more dramatic the look. The closer the colors are, the more subtle and quiet.
Countertop Maintenance Comparison
Price and appearance are two components to consider when choosing a new counter. Counter cleaning and maintenance also need to be reviewed.
Many materials, including natural stone, concrete, and wood countertops, require some maintenance and care. This includes yearly sealing, cleaning the counter with pH-neutral cleaners, and wiping spills as they occur.
Always use a cutting board and never cut directly on your counter. Materials like laminate and solid surface may scratch, while hard materials like granite and quartz may damage your knives.
Even in one material, maintenance varies. For example, black granite requires no sealing and little maintenance, while light-colored stones require regular sealing and treatment. Always ask the supplier what they recommend for cleaning materials to ensure your new counter performs well.
Below you can compare materials based on their difficulty of maintenance. Materials are ranked low, moderate, and high-maintenance based on everyday use. Something high-maintenance may require more work to prevent wear, stains, and damage, while low-maintenance things require little beyond regular cleaning.
Best Heat-Resistant Countertops
Many countertops are heat-resistant. All stone countertops were created using heat because they were formed from lava or created under enormous heat and pressure. Therefore, granite, marble, quartzite, slate, and soapstone all resist heat.
Quartz and crushed glass recycled countertops resist heat to some degree. Porcelain countertops are extremely heat resistant. Metal countertops resist moderate amounts of heat.
Solid surface, laminate, and butcher block are not heat resistant and should not be used as a surface for hot pans.
Enhancement and Improvement Costs
Waterfall Edge Countertop
It is common for islands and some peninsulas to have a waterfall edge to the countertop. This is an extension turning 90º down to look as though the countertop is flowing down like a waterfall. This costs an additional $700 to $2,000.
Plumbing
When undergoing a larger kitchen remodel, you may need to update your plumbing. This can be as simple as installing a new faucet to something more extreme like moving appliances and adding extra sinks. The average cost of plumbing for a remodel is $4,000 to $8,000.
Additional Considerations and Costs
In-home consultation. Before you order a countertop, there is typically a templating appointment. This is an in-home consultation where the countertop installer makes a thin balsa wood template of your countertop. This template creates the exact size and shape of your counter and indicates edging, cutouts, sink and stove placement, seams, and other important information. Even ready-made counters, such as laminate, should have a template made to get the right-sized pieces. Templating is included in the countertop cost.
Pattern. Your counter's pattern or coloration can be described in three ways - solid, granulated, and veining. Solid is one color with no variation. Granulated or flecked has one or more colors in tight patterns. Veining is a swirled color pattern that may change in thickness and position. Typically, the more varied the color and pattern, the more expensive the countertop.
Countertop refinishing. Some countertops can be refinished for a new look rather than replacing them. The cost to refinish your countertops ranges from $300 to $500.
Showroom samples. Ask for a showroom sample to test in your home for color and how it reacts to stains and cleaners. Ask for help from the salesperson to determine if a material is right for your needs.
Talk to your contractor. Always ask what is included in the price per square foot because edging, installation, and sealing costs may not be included, depending on the installer.
Eco-friendly. Many countertop materials are considered green or eco-friendly. These include recycled glass countertops, Durat solid surface, which uses recycled content and can be recycled, and butcher block countertops made from reclaimed wood.
Location. Some countertop materials are shipped from other countries or different parts of the U.S. Others are quarried or manufactured in your state or a neighboring state. If you want to use local materials, ask which ones have been sourced near you.
FAQs
How do you replace kitchen countertops on a budget?
There are several ways to replace countertops on a budget. You can use a low-cost material like laminate. You can ask for material remnants when installing a small countertop or tile the countertop yourself.
Should I replace my cabinets and countertops at the same time?
If you intend to replace your cabinets anytime soon, replace them before you replace the countertops. Countertops are templated to match your existing cabinets. When you replace your cabinets, you cannot reuse the countertops in most cases.
What is the most affordable kitchen countertop?
Laminate countertops are the most affordable, followed by tile and some types of butcher block.
What is the most maintenance-free countertop?
Quartz, recycled glass, and porcelain are a few good maintenance-free countertop options.
What is the new trend in countertops?
Quartz is the most popular countertop material, followed by quartzite, a more durable natural stone than marble and granite.