How much does it cost to install a tankless water heater?
Get free estimates from plumbers near you
Tankless Water Heater Installation Cost Guide
Water heaters are an integral part of the plumbing systems in residential homes and commercial buildings. Consumers are turning to tankless units for their many benefits. These heaters heat the water you use rather than heating and storing it. There are two basic ways to use one. Single-point units install close to the source and are fairly inexpensive to purchase and install. Whole-house units are more costly but heat all the water in your home at once.
The national average cost for installing a tankless water heater is $2,500 to $4,500. The average homeowner pays $2,811​ for an installed 150,000 BTU tankless whole-house gas model. This project's low cost is $1,058 for a single-point installed 240v electric tankless model The high cost is $6,698 for an installed 80-gallon whole-house solar system.
Tankless Water Heater Installation Costs
Tankless Water Heater Costs
National average cost
$2,811
Average range
$2,500-$4,500
Low-end
$1,058
High-end
$6,698
Whole-House vs Single-Point Water Heater
There are two types of heaters - single-point and whole-house. Single-point heaters go to a single output - shower, faucet, or appliance. Whole-house heaters heat the water for your entire home with multiple offshoots. This means a whole-house heater is much larger than a single-point. Choosing which one depends on several factors like price and family size:
| | |
| --- | --- |
| Type | Average Unit Costs |
| Single-Point | $150 - $300 |
| Whole-House | $450 - $1,500 |
Single-Point Tankless Water Heater
The cost of a single-point tankless heater averages $150 to $300. Single-point tankless units can be installed on your house's interior or exterior near the water use point and no more than 50 feet from an adjacent power source using an electric heater, typically requiring 220 volts. This means you need a tankless heater for every source. For example, you need three units if you have two bathrooms and a dishwasher unless all three locations are close.
A single-point tankless unit installed under the kitchen sink is a great way to deliver instantaneous hot water at the most used faucet in the home, regardless of which whole house water heater is installed. And because you will no longer need to run water for several minutes before it gets hot, these units offer a financial return on investment over time.
Whole-House Tankless Water Heater
The cost of a whole-house tankless water heater is between $450 and $1,500. Whole-house tankless heaters are installed near an exterior wall to reach the vent for gas units, but they have some flexibility. One unit can handle multiple bathrooms and a dishwasher, even when used at the same time. Purchase a unit that can handle the amount of use your home needs.
The amount of water heated with a tankless system varies from 0.5 to 2 gallons per minute for a single-point heater and 5 to 10 gallons per minute for a whole-house unit. This is important when considering which system to choose. For example, a home with multiple people bathing and a washing machine and dishwasher running cannot be supported from one unit. Therefore, if you have a heavy-usage household, you may need to install multiple units, prioritize your water usage so that you are not using more than 10 gallons at a time, or consider mixing a whole-house unit with a point-of-use unit for certain rooms.
A whole-house heater is sufficient for most single-family homes, allowing you to have multiple bathers or a washing machine and dishwasher running at once. However, a single-point heater may be sufficient in small apartments. Both should be considered to determine which is right for your needs.
What Size Tankless Water Heater Do I Need?
There are many sizes of water heaters, so choose the correct one for your household. Since a single-point model can only heat one source, you need multiple units to cover all the places in your house that use hot water. This heater works best for additions or as a supplemental unit. For most households, you need a whole-house model. They come in several sizes and are typically sized to the number of bedrooms. Most meet the needs of homes between 2 and 4 bedrooms. If you have a larger home, you may need to combine a whole-house heater with a point-of-use heater to meet your needs. If you have a larger-than-average family size and multiple people bathing while the laundry or dishwashing is going, you may also need to combine heaters.
Tankless heaters do not hold many gallons like a traditional tank-style unit. Instead, the unit heats the water as it enters. Each unit heats a specific amount, usually rated in gallons per minute (GPM). To determine the best size, take stock of all the appliances in your home and their water usage. Add the total GPM together of the appliances you plan to use at the same time to find out the unit capacity you need.
The table below shows the average number of GPM used by water appliances in the home. Only add up the numbers you plan on using at the same time. An appliance does not count toward your final number if it is used independently.
| | |
| --- | --- |
| Appliance | GPM Used |
| Shower Head | 2 - 3 |
| Older Shower Head (Rain/Deluge Style) | 4 - 6 |
| Faucet | 1 - 2 |
| Dishwasher | 1.5 - 2 |
| Washing Machine | 2 - 2.5 |
Most tankless heaters are sold with a recommendation for the number of bedrooms the heater can handle. However, your home may have higher or lower water needs, impacting the size.
| | |
| --- | --- |
| Number of Bedrooms | Recommended GPM Output |
| 1 Bedroom | 2 - 3 |
| 2 Bedrooms | 3 - 4 |
| 3 Bedrooms | 5 - 6 |
| 4 Bedrooms | 6 - 7 |
| 5 Bedrooms | 8+ |
Cost of a Tankless Water Heater by Size
Differently sized units have varying costs. Depending on the type, there can be an overlap in costs. Energy-efficient or budget brands impact the cost, and having a larger electric heater can be less expensive than a smaller gas one.
| | | |
| --- | --- | --- |
| GPM Output | Cost of an Electric Heater | Cost of a Gas Heater |
| 2 - 3 | $200 - $300 | $250 - $600 |
| 3 - 4 | $300 - $550 | $400 - $700 |
| 5 - 6 | $425 - $600 | $500 - $800 |
| 6 - 7 | $500 - $700 | $700 - $900 |
| 8+ | $600 - $1,500 | $900 - $2,000 |
Tankless Water Heater Output by Climate
Where you live can have a big impact on how well a tankless heater performs. The water goes through pipes from the ground, whether from a well or municipal source.
If you live in a warm climate, the water entering your home requires less heating to reach the optimal temperature for showering or washing clothes or dishes. This means that your heater often produces more GPM in a warm climate than the same heater could produce in a cold climate. For this reason, you may be able to size down in a warmer climate or need to size up in a colder climate. Otherwise, your energy bills could be too high in a warmer climate, while you may struggle to get the water hot enough or have an insufficient supply in a colder climate.
In a temperate climate, a heater might put out 4.5 GPM. That same heater produces up to 7.1 GPM in a hot climate and 3.5 GPM in a cold climate. The table below explains your expected GPM based on a unit designed for 4.5 GPM when used with varying groundwater temperatures. Refer to a map to see what the average groundwater temperature is in your area.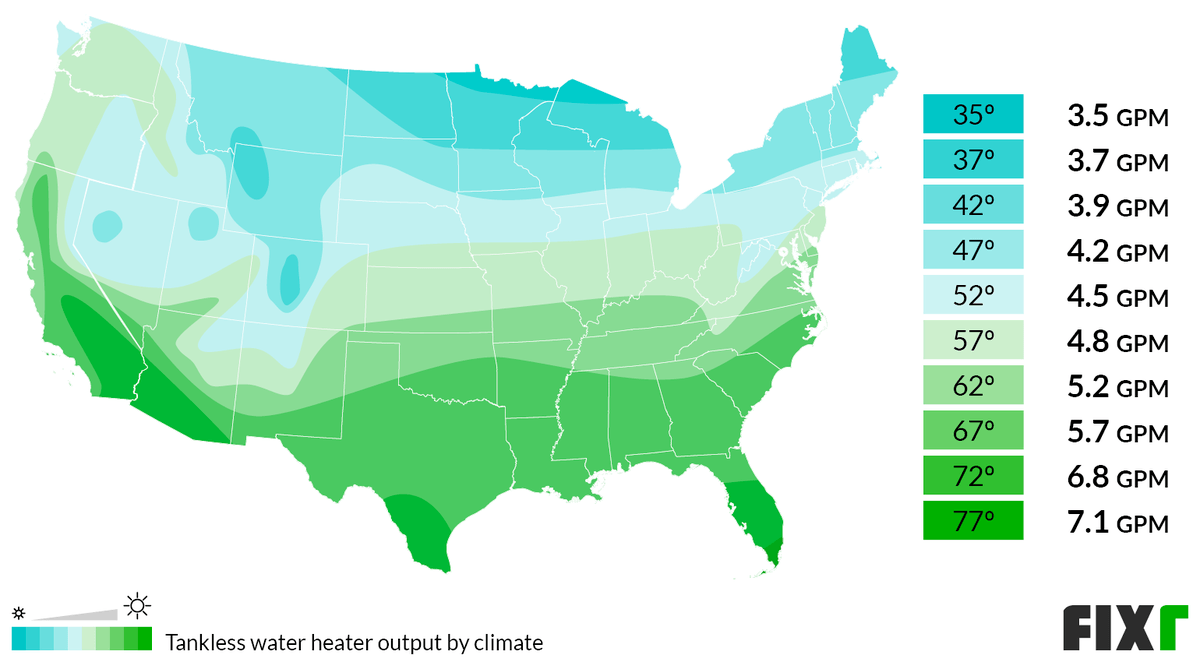 | | |
| --- | --- |
| Groundwater Temperature | Average GPM (4.5 GPM Unit) |
| 35º | 3.5 |
| 37º | 3.7 |
| 42º | 3.9 |
| 47º | 4.2 |
| 52º | 4.5 |
| 57º | 4.8 |
| 62º | 5.2 |
| 67º | 5.7 |
| 72º | 6.8 |
| 77º | 7.1 |
Tankless Water Heater Cost by Fueling Method
There are varying methods to fuel the heater. You can use the same fuel you use to heat your home, including electricity, natural gas, propane, and oil. You can also use a combination, such as installing an electric heater with a propane furnace. A solar heater is another option, which reduces energy bills. The following costs are for the needs of a 3 to 4-bedroom home with average water usage:
Electric Tankless Water Heater
The average electric tankless water heater ranges from $450 to $1,500. This type is widely available and one of the most popular choices of homeowners. It requires minimal maintenance and is environmentally friendly because it only needs electricity. It is difficult to find this heater type in outputs of more than 7 to 8 GPM. If you have higher needs and rely on electricity, consider a tank-style unit instead. Otherwise, consider a different fuel if you want to remain tankless.
Natural Gas Tankless Water Heater
The average cost of a natural gas tankless hot water heater is between $500 and $2,000. Natural gas tankless models are widely available and perfect for cold climates. The homeowner does not need to buy oil or pay a higher electricity bill. Gas tankless heaters can produce more GPM than electric heaters can. You can find natural gas tankless heaters that can handle 15 or 20 GPM without issue. This is ideal for cold climates, larger-than-average households, and households with above-average hot water needs.
Propane Tankless Water Heater
The average cost of a propane tankless water heater averages $500 to $2,000. Most units that run on natural gas can also use liquid propane. A few may need a converter if they are currently designed for natural gas. You can also find tankless heaters designed for propane. Propane is a good option for those who do not have access to natural gas or pay the higher electricity costs. Propane is more costly than natural gas, but it is usually cheaper than oil.
Oil Tankless Water Heater
The average cost of an oil tankless heater is between $600 and $3,000. Oil tankless heaters are not available everywhere, and most are available in limited sizes. It is most common to find oil tankless heaters for higher GPM output than lower output. Oil tankless heaters are not as efficient as other types. They are best for cold climates where the home is already heated by oil. These heaters may need more maintenance than others because they use oil.
Solar Tankless Water Heater
The average cost of a solar tankless water heater ranges from $1,000 to $4,000. Solar models are recommended in sunny areas. They are easy to maintain and offer quiet operation, but the initial installation and repairs are costly. However, they have very low ongoing costs once set up and running. They do not have ongoing energy costs because they use the sun's energy. This helps pay for the unit over time.
Tankless Water Heater Prices by Brand
As with most appliances, there are a plethora of brands to choose from. Obviously, some are less expensive, while the cost may be prohibitive on others. As always, buyers have to look at all aspects of the decision, not just cost.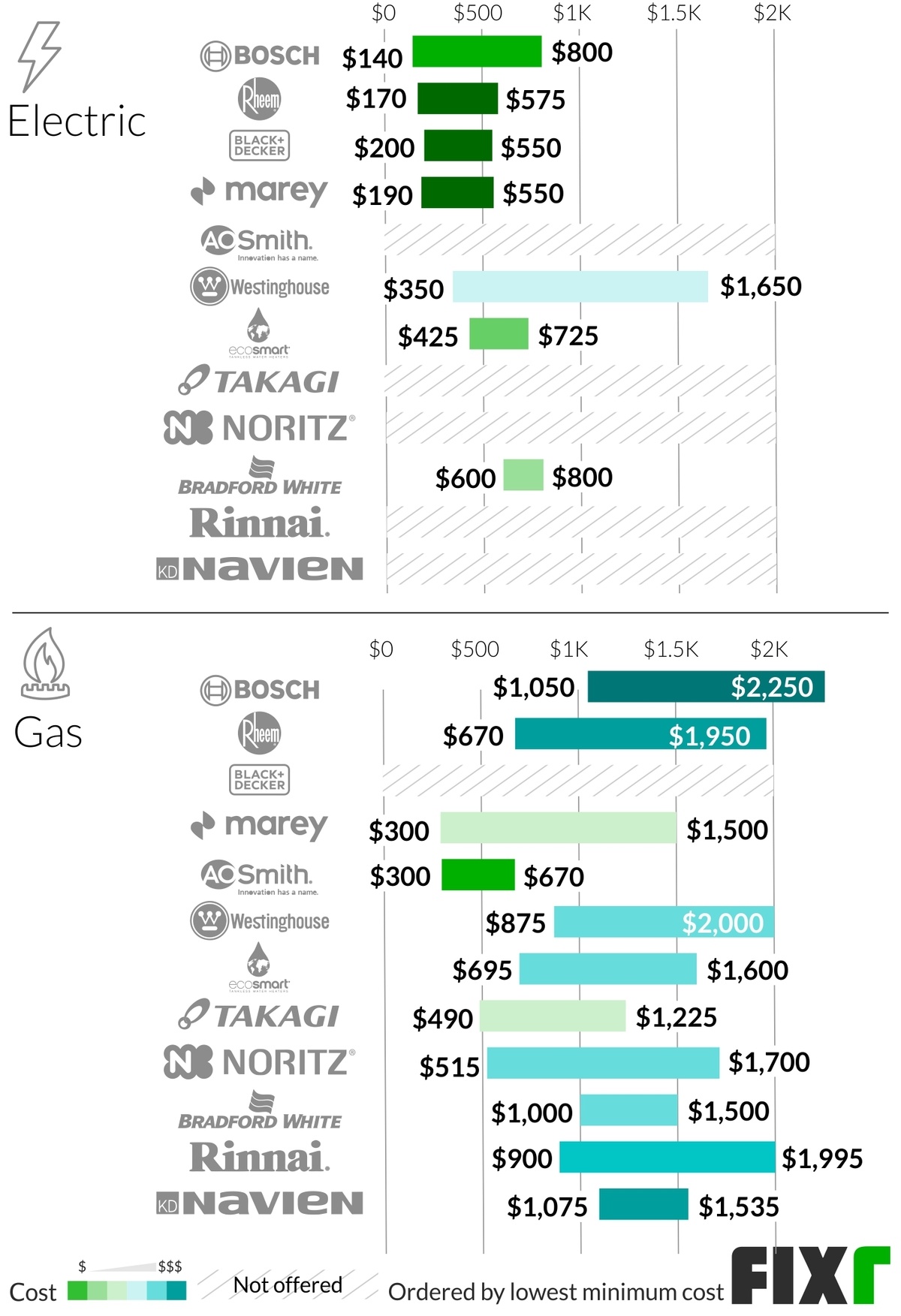 ​
Brand
Average Costs
Bosch

Electric: $140-$800

Gas: $1,050-$2,250

Rheem

Electric: $170-$575

Gas: $670-$1,950

Black and Decker

Electric: $200-$550

Gas: Not offered

Marey

Electric: $190-$550

Gas: $300-$1,500

AO Smith

Electric: Not offered

Gas: $300-$670

Westinghouse

Electric: $350-$1,650

Gas: $875-$2,000

Ecosmart

Electric: $425-$725

Gas: $695-$1,600

Takagi

Electric: Not offered

Gas: $490-$1,225

Noritz

Electric: Not offered

Gas: $515-$1,700

Bradford White

Electric: $600-$800

Gas: $1,000-$1,500

Rinnai

Electric: Not offered

Gas: $900-$1,995

Navien

Electric: Not offered

Gas: $1,075-$1,535
Bosch Tankless Water Heater
Bosch water heaters cost $140 to $800 for electric models and $1,050 to $2,250 for gas models. Founded in Germany in 1886, Bosch has a history of producing high-quality, technologically advanced products. Today, their products are sold in over 150 countries. The tankless model from Bosch comes in electric and gas. Though dependable, Bosch products are not as highly rated as some of their counterparts, particularly Navien and Rinnai.
Rheem Tankless Water Heater
Rheem water heaters average $170 to $575 for electric and $670 to $1,950 for gas. The company has been around since 1925 and originated in Emeryville, California. It is the largest manufacturer of water heating products. Their tankless units provide continuous hot water and save money on your utility bill. They are also available with the EcoNet WiFi system for maintenance reminders, automatic shut-off, and mobile temperature control.
Marey Tankless Water Heater
Founded in 1955 by Mariano Reyes, the company started in Puerto Rico and expanded around the world. It is a less expensive product, at $190 to $550 for electric and $300 to $1,500 for gas. While they have a low price, these tankless heaters are reliable. The economy-size heaters are not recommended for colder climates.
AO Smith Tankless Water Heater
An AO Smith tankless gas hot water heater costs $300 to $670. AO Smith features an economy and a pro line. The company only manufactures gas-powered models. The economy line features less expensive models with one heat exchange. The pro line has two heat exchangers: commercial copper and corrosion-resistant stainless steel. All units come with a 15-year warranty on the heat exchanger and a 5-year warranty on the other parts.
Westinghouse Tankless Water Heater
The cost of an electric Westinghouse tankless heater is between $350 and $1,650, while the gas heater averages $875 to $2,000. Founded in Pittsburgh in 1886, Westinghouse has been a household name for appliances for over a century. They make Energy Star tankless heaters that measure an Energy Factor of up to 0.98. They also provide a stainless steel heat exchanger to protect against corrosion.
EcoSmart Tankless Water Heater
Consumers can purchase an EcoSmart tankless water heater in a gas or electric version for indoor and outdoor units. Costs for the electric version range from $425 to $725 and $695 to $1,600 for the gas version. They are made by Rheem but do not offer WiFi control or adaptability to WiFi. Many electrical EcoSmart products come with a lifetime warranty on the heat exchangers, while gas models offer a 12-year warranty. All other parts typically have a 5-year warranty. Professional installation is required to keep the warranty valid.
Takagi Tankless Water Heater
The Takagi tankless gas water heater price averages $490 to $1,225. Takagi began manufacturing thems about 20 years ago in a joint venture with AO Smith. They make only gas-powered whole-house models and offer no WiFi control. However, many models have a remote to control the temperature. The Takagi model is well-known for having the lowest rate of mechanical breakdowns in the first decade of use.
Noritz Tankless Water Heater
The average cost of a tankless gas water heater is between $515 and $1,700. These heaters are not WiFi-capable, but you can purchase an adapter for an additional $100 to $150. Noritz has been manufacturing them for over six decades. Although the company manufactures products in the U.S., most of them are made outside the U.S. This brand only offers gas and propane heaters.
Bradford White Tankless Water Heater
Bradford White tankless water heaters are available in electric models for $600 to $800 and gas for $1,000 to $1,500. Bradford White has been making them since 1881. They are typically the first choice for subcontractors because of their high performance, durability, and long life.
Rinnai Tankless Water Heater
Rinnai only makes gas water heaters, with costs from $900 to $1,995. It has the only Canadian Standards Association (CSA) Certified Testing Laboratory, and all its products are approved by the American National Standards Institute (ANSI). It also has an in-house 24/7/365 support center that backs all products. Rinnai units are highly energy-efficient, Energy Star qualified, and most feature WiFi capabilities.
Navien Tankless Water Heater
The cost for a Navien tankless gas water heater is $1,075 to $1,535. All Navien units are gas-powered and Energy Star rated. While the company was founded in Japan in 1978, it began producing tankless heaters in 2006. It offers a 15-year warranty on the heat exchange only portion via controlled circulation. For uncontrolled/constant circulation, the warranty coverage is only for 5 years. Other parts are covered by a 5-year warranty.
Labor Costs to Install a Tankless Water Heater
Tankless water heaters are installed by a plumber, with costs between $75 and $130 an hour, depending on the location. Installation takes between 6 to 10 hours, depending on the heater type, location, and fuel source. Installation involves opening walls to install the heater in most cases. This means you may have additional finishing costs after the installation to repair and paint the affected areas for around $200. Also, add an access door nearby for repairs. This may need to be installed by a carpenter for $70 per hour or a handyman at a rate of $100 to $300 for the project.
You may have additional installation costs in a cold climate. Many cold climates heaters need a nearby vent. They also require proper insulation for the pipes running to the heater. This can add up to $400 to the project.
Each fuel type may impact installation costs because fuel lines may need to be run to the heater, depending on the location, which can increase the installation time and costs:
| | | |
| --- | --- | --- |
| Type | Labor Costs | Total Costs |
| Electric | $500 - $1,000 | $1,000 - $3,000 |
| Gas | $900 - $1,500 | $1,400 - $3,500 |
| Propane | $900 - $1,500 | $1,400 - $3,500 |
| Oil | $900 - $1,700 | $1,500 - $4,500 |
| Solar | $2,000 - $4,000 | $3,000 - $8,000 |
Electric Tankless Water Heater Installation
The labor costs for installing an electric tankless water heater are between $500 and $1,000, resulting in total costs of $1,000 to $3,000. Electric heaters are generally the least expensive to install. They can be placed anywhere and do not need an additional fuel line. This offers the most flexibility in where the installation can happen. This can keep your finishing costs down. Your total costs are dictated by the location, tank size, and installation area.
Gas Tankless Water Heater Installation
The labor costs for installing a gas tankless heater averages $900 to $1,500, leading to total costs of $1,400 to $3,500. Gas heaters require more work to install. This is because the pipe carrying the gas must be fitted to the heater. If you do not already have a line or offshoot where you want to install the heater, you need to run a gas line. This increases your costs by as much as $800. Gas heaters may have more restrictions on where they can be installed, particularly if they must vent outdoors.
Propane Tankless Water Heater Installation
The labor costs for a propane tankless water heater installation are between $900 and $1,500, resulting in total costs of $1,400 to $3,500. They need to have a branch run off of the line connecting your propane tanks. This line is usually separate from the line that powers your furnace or things like stoves and generators. The farther you need to run the line, the higher your total costs. This type of unit usually needs to be vented. This can influence your total costs, depending on how far the vent must travel.
Oil Tankless Water Heater Installation
The labor costs for installing an oil tankless water heater range from $900 to $1,700 with total costs of $1,500 to $4,500. Oil heaters are more costly to install because they need a line run to the heater. If the heater is close to the furnace and you can run a branch off the main line, your costs are lower. Your costs are higher if you need to run a line to the heater. Oil heaters often need to vent outdoors, which can limit placement. If you choose to move the heater farther indoors, your installation costs are higher to facilitate venting.
Solar-Powered Tankless Water Heater Installation
The labor cost to install a solar-powered tankless water heater averages $2,000 to $4,000, leading to total costs of $3,000 to $8,000. This is a fairly labor-intensive installation process. The tubes need to be angled and run at the correct angle to ensure the water gets and stays hot. While the plumber may run the lines, you need a specialist for the solar portion. This is where a large part of the installation costs come from. While the plumber may charge around $1,000, the solar installer makes up the difference.
Converting to a Tankless Water Heater
If you have a traditional hot water heater and want to switch to tankless, it usually costs extra for a gas-powered unit. The cost to add the gas line is approximately $500. The cost to install an electric unit is about the same as a traditional one, $90 to $450, with a gas unit installation costing about $1,700, including adding the gas line.
Tankless Water Heater Replacement Cost
The cost to replace a tankless water heater averages $135 to $1,200 for labor. This assumes the fuel lines are in good condition and can be reused. Your costs could be $800 higher if you need another fuel line added. This makes the total cost range to replace a tankless heater between $600 and $6,000, depending on the size, unit type, and how difficult it is to access.
Pros and Cons
Tankless water heaters have many benefits over standard versions. They take up less space because they are installed inside your walls. This can free some room in your utility closet. They can also save up to 50% on bills and last longer than standard tank-style heaters. Tankless heaters only work when you specifically need hot water. This means that they only work for a fraction of the time as a tank-style heater. This not only saves you energy, but it is also more eco-friendly than standard-style heaters.
When adding an addition to your home, adding a single point-of-use heater can be easier and less expensive than upgrading your tank heater and replumbing to expand from the tank heater to the addition. A point-of-use heater would provide hot water just to the new addition, saving money on the installation and going forward.
Tankless heaters are more expensive than tank heaters, and you do not have a hot water reserve for a power outage. You may also require more annual maintenance to keep the unit running smoothly. To install the unit and for any maintenance, you may need to open the walls in your home to reach the heater. This can have additional costs. It can be difficult to supply all your hot water needs from a single tankless heater. Each source will likely need its own, which means opening multiple walls and increasing overall costs.
Hybrid Tankless Water Heaters
Hybrid water heaters, also called heat pump water heaters, are the most expensive heater type and the most efficient. This unit uses up to 63% less energy than a traditional model. Energy Star states a family of 4 can save about $330 a year on their electric bill with a hybrid unit. With a tank to store water, it can function as a traditional unit during times of high usage but also does not run continuously and works like a tankless system during downtime. Using a compressor and coils filled with refrigerant, the hybrid uses the surrounding air to heat the water in the tank. These are not a good choice if you live in a region with cold winters because the unit needs warm or mild air surrounding it year-round. The hybrid is not a good replacement for a gas unit because you have to retrofit the connections. It is also a large unit requiring considerable space. Costs average $1,000 to $3,500. One major benefit is that its expected life span is 13 to 15 years.
Cold Climate Tankless Water Heater
It is more challenging for the heater to provide the hot water your household needs in cold climates with freezing temperatures. Consumers in cold climates need a natural gas or oil tankless heater because electric types do not perform efficiently in freezing temperatures. Another feature this type of units is an increased flow rate. Although most homes use models with flow rates of around 4 to 5 gallons per minute, households in northern climates should choose a model with a flow rate of 6.5 to 8.5 gallons per minute. On average, cold climate gas models cost around $800 to $2,000.
Energy Efficiency
Tankless water heaters save energy, equating to financial savings. This chart compares the operation costs for each type to help you determine how much savings there is when buying an Energy Star heater and finding the most efficient model.
| | |
| --- | --- |
| Type of Fuel | Cost of Operation per Year |
| Gas Tankless | $250 |
| Gas Tank | $275 |
| Propane Tankless | $350 |
| Electric Tank | $450 |
| Electric Tankless | $600 |
Natural Gas
Natural gas tankless water heaters are the least expensive option, costing about $250 per year to operate. This heater is powered by a city utility supply. The upfront cost of the heater is higher than electric, but you save money on operating costs.
Propane
A propane tankless water system costs about $350 annually to operate. Propane is a cleaner and more efficient fuel, so it is better for the environment. However, most heaters do not come as propane out of the box, but they can be adapted.
Traditional
Purchasing a traditional hot water heater costs less than its tankless counterpart, but the operating cost is considerably higher. The cost to run a traditional electric unit is $450 yearly, and a traditional gas-powered one costs $275 yearly.
Electric
The upfront cost for an electric tankless water heater is generally lower, but the overall savings are also lower. An electric unit costs around three times as much as a gas unit at a cost of $600 per year to operate. Installation may be less for an electric unit because gas and propane require fuel lines.
Tankless Water Heater Maintenance Cost
Tankless heaters are sometimes referred to as maintenance-free, but that is not always the case, particularly with hard water. Hard water packed with minerals can cause a buildup in the tank, leading to clogged passageways. Buildup can occur even without hard water, so it is advisable to do a yearly descaling. Those with hard water or if the temperature is kept high should consider maintenance every 6 months. Without proper care, your system has to work harder, meaning your utility bills are higher. This can be done DIY but can lead to damage when done incorrectly. This repair would not be covered under a warranty, so it may be best left to a professional. Periodic maintenance is recommended by the Department of Energy, and procedures vary based on the manufacturer's recommendations. Expect to pay standard hourly plumber fees of $45 to $200 an hour for maintenance, with most maintenance taking 1 to 2 hours for a total of $45 to $400 per visit.
Tankless vs Tank Water Heaters
Tankless water heaters are a newer concept than a tank model, but not by much. Tank units have been around for about 120 years, while tankless have been around for just under 100. Even though they are not a new invention, tankless heaters have only been popular in the last few decades because they were previously too expensive to run.
A regular heater is generally less expensive than a tankless one, but the tankless unit generates savings. Traditional models are larger, take up more space, and are prone to leaks as they grow older. Imagine a 30 to 50 gallon unit springing a leak while you are away from home for the weekend, meaning you could come home to a flooded house. Tankless models do not store water but heat it on demand, so a leak does not cause as much damage.
However, a traditional hot water heater stores heated water for several hours or days in power outages. A tankless unit does not work at all, resulting in cold showers. Also, they do not work as well with hard water. If you have hard water, you need to clean your system regularly to avoid calcium buildup. If the unit is not serviced regularly, it cannot work as efficiently or last nearly as long.
Tank-style heaters take up more room than tankless heaters, requiring a dedicated space. Tankless heaters install invisibly inside your walls. This means they take up less space but are harder to reach for maintenance and may require you to open your walls to reach them.
Tankless heaters that are designed to heat an entire house are usually more expensive than a tank-style heater. Below are the average costs for installing a heater that can handle the needs of 3 to 5 people with moderate usage.
| | |
| --- | --- |
| Style | Average Costs (Installed) |
| Tank | $800 - $2,500 |
| Tankless | $2,500 - $4,500 |
Electric vs Gas Tankless Water Heater
Like standard hot water heaters, tankless heaters can be powered by electricity or natural gas. In general, gas-fueled heaters cost less money to run monthly. However, they cost more money to install because you need to run a gas line to the heater.
Electric heaters, by definition, are more efficient, converting close to 100% of the energy they use into heat for the water. However, in most areas, the cost of electricity is higher than gas. In addition, while the heater itself can be efficient, this does not mean it is environmentally friendly because electricity providers can have multiple sources for producing their electricity. Some of these are worse for the environment than natural gas.
Natural gas is not available in all areas, however. If you live in a rural area, natural gas may not be available. This may make electricity a better choice than using propane or other heating fuels that may be in your area.
Electric heaters generally need less maintenance than gas heaters. Of the two, electric heaters are less expensive to purchase and install, so they can be a good option for those who have low electricity costs and want a less-expensive option upfront. Gas heaters, however, tend to cost the least long term unless you have a cheaper source of electricity.
The costs for both heaters of similar size ranges installed are below.

| | |
| --- | --- |
| Type | Average Costs (Installed) |
| Electric | $500 - $2,000 |
| Gas | $1,000 - $3,500 |
Additional Considerations and Costs
Additional materials. Some tankless systems will be incompatible with the location and setup of older storage tank models. This may require reconfiguration and additional materials such as insulation and piping.
Configuration. Some electrical systems and configurations may need to be updated to accommodate the voltage requirements of the new electric tankless system. While not always required, this is a potential cost that must factor in cost of materials plus that of an electrician ($65-$85 per hour).
Removal of the current system. Another issue to consider is that the removal and disposal cost of your current water heater, which can be upwards of $500, depending on your area.
DIY. There are many reasons the installation of a tankless hot water heater is not considered a do-it-yourself project for the average homeowner. For example, the high voltage of the unit (240 volts), possibility of gas lines for propane and natural gas-powered systems, and the required permitting in some jurisdictions will all require the expertise of a licensed and insured professional.
Permitting. All jurisdictions are different. Considering the code regulations for different cities, towns, counties, and municipalities, permits may be required to start this project. Many jurisdictions consider new water heater installation and replacement heater installation a different type of job (i.e., a permit may be required for one, but not the other). This should be taken into consideration to ensure the project remains above board.
Energy and costs savings. According to the Chicago Tribune, the average annual cost savings of a tankless water heater compared to a traditional tank storage is roughly $116 a year. Tankless water heaters are also objectively more energy efficient than traditional storage heater units.
Lifespan. Another important aspect to factor in is the expected lifespan of the unit. While traditional water heaters will typically have a lifespan of anywhere between ten and fifteen years, most tankless units can be expected to be in use for over twenty years.
FAQs
How much is a tankless water heater?
The average cost of a tankless water heater installed is around $2,500 to $4,500. The cost of a gas-powered tankless water heater costs around $1,600 without installation.
How does a tankless hot water heater work?
Tankless water heaters are installed near the point of use, or place where the hot water is needed. A heating element heats the water as it passes through the heater, rather than continuously heating the water like a traditional tank.
How good are tankless water heaters?
Tankless water heaters heat approximately 2-5 gallons of water per minute, which is sufficient for most uses at each point. They typically last around 20 years; about 5 years longer than a traditional heater.
How long does a gas water heater last?
A tankless gas water heater lasts around 20 years, while a traditional gas water heater lasts about 15.
What is a tankless hot water heater?
A tankless hot water heater is a heating element installed near the point of use. Water passes through the unit and is heated as needed, rather than continuously, saving on energy bills.
How much is a new hot water heater?
A new tankless water heater costs between $2,500 and $4,500 installed, while a whole house tank costs between $800 and $2,500.
Do tankless water heaters save money?
According to the Department of Energy, energy efficient tankless water heaters, while having a higher initial cost, will save money in the long run in terms of operation/maintenance and power costs.
Can I install a tankless water heater in the bathroom?
Yes, a tankless water heater in the bathroom can fit conveniently under the sink or on the wall near the shower. However, this type of fixture would be a single-point heater that would only heat the faucet water coming from the sink or the shower. This would be a nice addition to a whole house heater that is not keeping up with your family's current heated water needs.
References
The information provided by our cost guides comes from a great variety of sources. For more information, read our Methodology and sources.