How much does it cost to install a lap pool?
Get free estimates from swimming pool builders near you
Lap Pool Cost Guide
To provide you with the most accurate and up-to-date cost figures, we gather information from a variety of pricing databases, licensed contractors, and industry experts.
A lap pool provides people with the opportunity to swim "laps" without having to install or visit a large recreational pool that is big enough for regulation laps. This is ideal for older adults or those who need a convenient way to stay in shape from the comfort of their homes. Lap pools are uniquely designed to take up less space than even some recreational pools and still provide the benefits and simulated feeling of lap swimming. They come in several sizes and should always be installed by professionals because of their specialty nature.
The average cost to install a lap pool ranges from $40,000 to $65,000, with most homeowners spending $50,000 on installing a 45 x 8 foot fiberglass in-ground lap pool that is 4 feet deep, including a pool heater and other accessories. At the low end, some spend as little as $16,000 on a small above-ground lap pool with basic professional installation and limited additional features or finishing details. At the high end, you could pay as much as $100,000 for an indoor, in-ground heated lap pool that measures 45 x 8 feet wide and 6 to 9 feet deep and features tile decking and other finishing details.
Lap Pool Cost
Lap Pool Installation Cost
National average cost
$50,000
Average range
$40,000-$65,000
Low-end
$16,000
High-end
$100,000
Cost to Install Lap Pool by Size
The average cost to install a lap pool is $30,000 to $85,000, depending on the size. The dimensions of the pool impact how much you spend on the pool itself and the installation process. Several different sizes are available, including the professional size of 75 x 10 feet. However, because most homeowners don't have this kind of space, they stick with the more common residential lap pool dimensions with lengths of 30, 40, or 45 feet. The width of lap pools varies, but most will be 8 to 10 feet wide. In the table below, you'll see a selection of the most common lap pool dimensions and their average costs.
| | |
| --- | --- |
| Lap Pool Size | Average Cost (Installed) |
| 35' x 8' | $30,000 - $45,000 |
| 40' x 8' | $35,000 - $50,000 |
| 40' x 10' | $35,000 - $55,000 |
| 45' x 8' | $40,000 - $65,000 |
| 45' x 10' | $60,000 - $65,000 |
| 50' x 10' | $65,000 - $70,000 |
| 75' x 8' | $70,000 - $80,000 |
| 75' x 10' | $80,000 - $85,000 |
Cost to Install Lap Pool by Material
The average cost to install a lap pool ranges from $40,000 to $85,000, depending on the material chosen for the pool. Several different materials can be used in construction and these materials vary in cost, features, and benefits. In the table and subsections below, you see the most common materials used for lap pools and their associated costs, along with details about each to help you weigh the pros and cons when making your decision.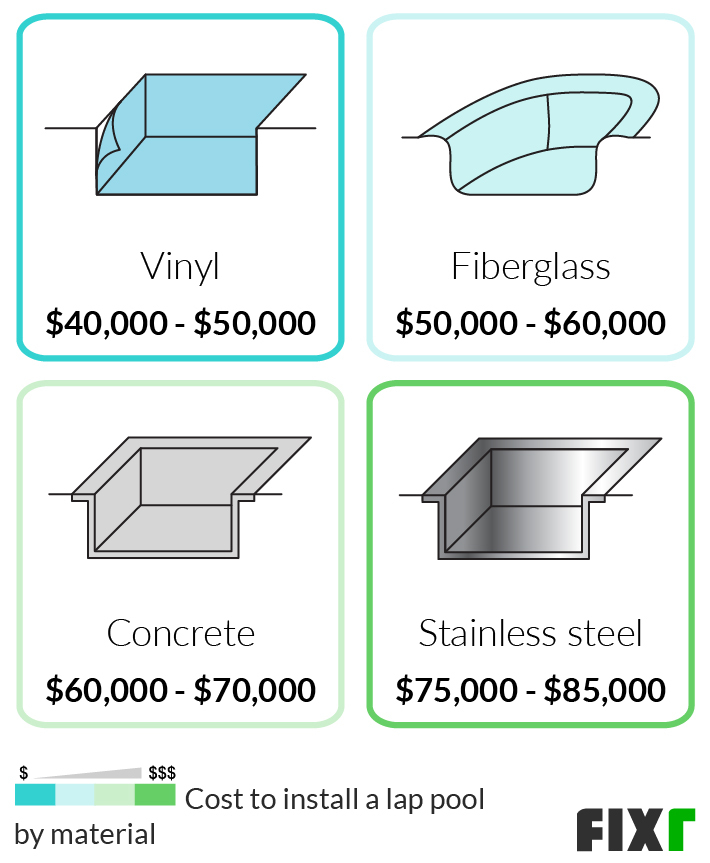 | | |
| --- | --- |
| Lap Pool Material | Average Cost (Installed) |
| Vinyl | $40,000 - $50,000 |
| Fiberglass | $50,000 - $60,000 |
| Concrete | $60,000 - $70,000 |
| Stainless Steel | $75,000 - $85,000 |
Vinyl Lap Pool
The average cost of a vinyl lap pool is $40,000 to $50,000 for a pool that measures 35 to 45 feet in length and 8 to 10 feet in width, with an average depth of 4 feet. Vinyl is less costly and is easier to use than fiberglass when it comes to installation. It is also less limited in size restrictions, which is often why it is chosen for all kinds of different pools by those on a budget and those who want more options than what can be found with other premium materials. Vinyl is durable to an extent, but it is also known to tear due to damage and may require more maintenance and care than other materials. It is most often found in outdoor pool designs.
Fiberglass Lap Pool
For those who want a premium investment, a fiberglass lap pool costs $50,000 to $60,000 to have installed. Fiberglass is restrictive because it is only available in lengths up to about 40 feet. So, those who want a 45-foot or larger pool will have to consider another material. However, fiberglass is a popular choice for durability and ease of installation. It requires less maintenance than other materials and may last longer without needing repairs or replacement compared to other materials. Fiberglass can be used for indoor or outdoor installations.
Concrete Lap Pool
A concrete lap pool offers one of the most expensive options, with the average cost running from $60,000 to $70,000, depending on the exact size of the pool, its depth, and any finishing details. Concrete is durable and offers plenty of flexibility for sizing since it can be designed in any size that you desire. The larger the pool and the more detailed the design, the more expensive the cost will be. If you choose to add built-in steps and other features, you will incur a premium cost when choosing a concrete finish. Concrete may crack or wear over time and require attention, but this is rare with proper care. Concrete is most commonly used outdoors but can be used as an indoor surface with a proper enclosure in a ground-level or basement space.
Stainless Steel Lap Pool
Stainless steel is a newer option for lap pools and comes at a premium, with people spending between $75,000 and $85,000 on a typical installation of a 45 x 8 foot pool. Stainless steel offers one of the most durable options and is a low-maintenance choice. Stainless steel is more restrictive in terms of sizes and designs that can be created. However, it offers the most sustainable choice for those who want something better than the standard options available on the market today. Stainless steel is the most expensive choice, but it offers several perks and very few disadvantages. Stainless steel is typically chosen for use with indoor lap style pools.
Cost to Install Lap Pool by Type
With different lap pools available, the average cost of installation ranges from $16,000 to $85,000, depending on the type of pool installed. Although lap pools tend to be long and rectangular without much variation in shape, different types are available that impact the cost significantly in some cases. There are also different benefits to consider for each, as well as some disadvantages. In the table and subsections below, we'll look at the common types of lap pools, their costs, and what each entails.
| | |
| --- | --- |
| Lap Pool Type | Average Cost (Installed) |
| Above-Ground | $16,000 - $55,000 |
| Endless | $20,000 - $55,000 |
| Saltwater | $30,000 - $75,000 |
| Heated | $30,000 - $80,000 |
| In-Ground | $40,000 - $65,000 |
| Infinity | $40,000 - $85,000 |
Above-Ground Lap Pool
An above-ground lap pool is another affordable option for those who want it, costing between $16,000 and $55,000. The final cost depends on the size of the pool, its depth, the materials used for construction, and other details or accessories included. Typically, people who want an affordable pool go this route. Some basic kits are available as low as $6,000. Still, you will also have to pay for professional installation, the decking, and finishing details to provide access to the pool, and any fencing required to keep the pool secure.
Endless Lap Pool
An endless lap pool costs between $20,000 and $55,000, depending on the length of the pool and the type of endless or stationary water flow system. These pools are ideal for people who want a full-length pool but may lack the appropriate space. These much smaller pools are available in several sizes, but typical endless pools measure 9 x 14 feet. These pools use less water and fewer chemicals, require less maintenance, and offer space-saving features that make them ideal for indoor installation in small or limited spaces.
Salt Water Lap Pool
The average cost of a saltwater lap pool is from $30,000 to $75,000, with the only additional cost being the saltwater-chlorine generator that is added to a typical lap style pool construction. Many people prefer saltwater because it is easier to clean and much lower maintenance than chemical chlorine pools. Saltwater reduces the number of chemicals that need to be used, which some homeowners appreciate.
Heated Lap Pool
The cost to install a heated lap pool ranges from $30,000 to $80,000, depending on the size of the pool, whether it is installed indoors or out, and whether it is an in-ground or above-ground model. Typically, the only factor that adds to the cost is the heater used. The size and type of heater you choose impact the price you pay for a heated pool. The climate where you live, as well as the time of year and day when you intend on using the pool most, will impact whether a heated pool is the right choice for your installation.
Lap Pool In-Ground
The cost of an in-ground lap pool runs between $40,000 and $65,000, depending on the size of the pool, the materials used for construction, and other factors. Pools made of fiberglass or stainless steel cost more than those constructed with a vinyl liner. You will also need to consider any site preparation and excavation that is needed. This adds to the cost for anything above and beyond "typical" excavation and grading before construction. In-ground lap style pools can be installed outdoors or indoors.
Infinity Lap Pool
The average infinity lap pool costs between $40,000 and $85,000, depending on the pool's size, the length of the infinity edge, and whether there is more than one edge done in this style. The additional cost here comes in the added construction considerations, including the fact that you need a secondary "pool" or basin to catch the overflow water from the pool under the infinity edge. Any other details or accessories add to the cost of the pool, and while it does not do anything for the function of the pool, it is a great way to add aesthetic appeal.
Cost to Install Lap Pool by Location
The location of your lap pool impacts the installation cost, which ranges from $40,000 to $100,000 based on whether your pool is installed indoors or outdoors. When choosing between installing a lap pool indoors or outside, several factors are involved. For starters, those who live in seasonal climates may want to choose an indoor installation to get more use out of their pool. If you live in an area with nice weather throughout more of the year (or the entire year), an outdoor installation may be the preferred choice. Most people also base their decision on their budget and whether there is a structure in place for an indoor pool because if not, that can add to the costs significantly.
| | |
| --- | --- |
| Lap Pool Location | Average Cost (Installed) |
| Outdoor | $40,000 - $65,000 |
| Indoor | $50,000 - $100,000 |
Outdoor Lap Pool
Installing an outdoor lap pool is far cheaper, with most people spending $40,000 to $65,000 on this project. The materials used for the outdoor pool will impact its cost, and whether it is installed above-ground or in-ground, with the latter being more expensive. You will also pay more for premium materials like fiberglass or custom concrete work. Some people incur additional costs because of the need for additional excavation, grading, and prep work, but this is not always the case. Aside from any major variables, it is usually the less expensive choice.
Indoor Lap Pool
An indoor lap pool is great because it can be used year-round without considering the weather or other elements and costs slightly more with prices ranging from $50,000 to $100,000, depending on the size of the pool, whether it is an in-ground or above-ground model, and whether there are any structural considerations involved in the project. Those who need to construct a cover for the indoor pool spend significantly more. Those who already have the indoor space spend less on minimal modifications like upgraded plumbing and an indoor dehumidification system.
Labor Cost of Lap Pools Installed
The average cost of lap pools installed ranges from $40,000 to $65,000. People spend about 25 to 50 percent of that on labor and the other 50 to 75 percent on the pool itself, including all materials and equipment needed to complete the project. There is a huge variance in percentages because it is relatively affordable to purchase an above-ground version for around $2,000 to $5,000. An in-ground pool could easily cost upwards of $65,000 for materials alone when it's constructed indoors or with premium materials.
Installing a lap pool is different for in-ground and above-ground installations. For an above-ground pool, the land will need to be graded, and the pool structure will need to be built, along with any decking that provides access to the pool (if it is being used). Some people install an above-ground pool with only a ladder or set of stairs for access, allowing for a cheaper cost and easier installation. In-ground lap pools require excavation and preparation of the site for the pool before the pool is constructed or set in place, as in the case of a fiberglass pool shell. When the pool itself is completed, the decking and finishing details will be added. It takes longer to install an in-ground pool made of concrete or vinyl than a fiberglass shell or a basic above-ground pool. The installation process takes from a single week for an above-ground model and up to 12 weeks or more for a detailed in-ground installation.
Several cost factors affect what you will pay to have a lap pool installed. Aside from the pool itself and the material you choose for construction, the size of the pool and any site prep or excavation work add to the labor costs. You pay more for any additional preparation beyond "typical" efforts, such as grading the land or excavating in the case of an in-ground pool installation. Whether your pool is built indoors or outside affects the cost, as well as the season in which you have it installed. Because there is more demand during the summer months, labor rates are typically higher during this time. Some people choose to have pools installed in the off-season (September to April) to save on labor costs.
Are Lap Pools Worth It?
Several benefits may be noted to installing a lap pool, including the numerous health benefits of swimming laps. These pools offer people the chance to swim regulation "laps" without installing a full-size regulation pool or investing in a premium gym or fitness club membership to have access to such a pool. These pools allow people to stay in shape and assist with rehabilitation and physical therapy after injuries or surgeries. It's a great exercise feature for professional swimmers and those who want a good fitness option. If you enjoy swimming and want to invest in a pool that's for more than just leisure, a lap pool could be the perfect investment. For those who want a "fun" pool or who might not use the pool often enough, the other options for pool installations or having access to a pool should be considered. Ultimately, though, lap pools are a great choice for those who want them. Plus, this could add significant value to your home, which is always a perk for homeowners.
Lap Pool Deck
The average cost of a lap pool deck or walkway is $2 to $25 per sq.ft. of decking materials. In addition to the pool itself, you will need to install decking, consisting of concrete, wood, or even composite materials or stone. The "decking" may not be an actual deck, such as in the case of an in-ground lap pool where this is the concrete or other material that goes around the edge of the pool where people walk. For above-ground pools, wood or composite wood-like material offers a classic deck look and provides access to the pool. Be sure to talk to your installer to discuss your decking options and determine what will be best.
Concrete is the most popular option, offering a smooth surface that's durable and low maintenance. However, some people also choose paving, which reduces maintenance for a slightly higher price than concrete. Wood is an option for outdoor installations, which is versatile and more resistant to the weather than some materials. It's also fairly simple to clean and maintain, although it requires more maintenance than concrete or paving. For indoor pools, tile is another option that can be used for lap style pool decking. Slip-resistant tiles are low maintenance and enhance the aesthetic appeal of the pool. You can even use the same tiles as those in the pool to create a seamless transition.
Lap Pool vs Endless Pool
An endless pool is a much more affordable option, and about half the cost of a lap pool at just $20,000 to $30,000 versus $40,000 to $65,000. Many people are confused by pool terminology. However, these two types of pools differ significantly. An endless pool includes a pump that cycles the water to create a current that people can swim against. For those wanting added resistance, an endless pool provides a great upgrade to a standard lap design. Lap pools can be installed without the endless feature, and endless pools can be designed in the long rectangular lap style or as standard pools smaller than the regulation "lap," as desired by the homeowner.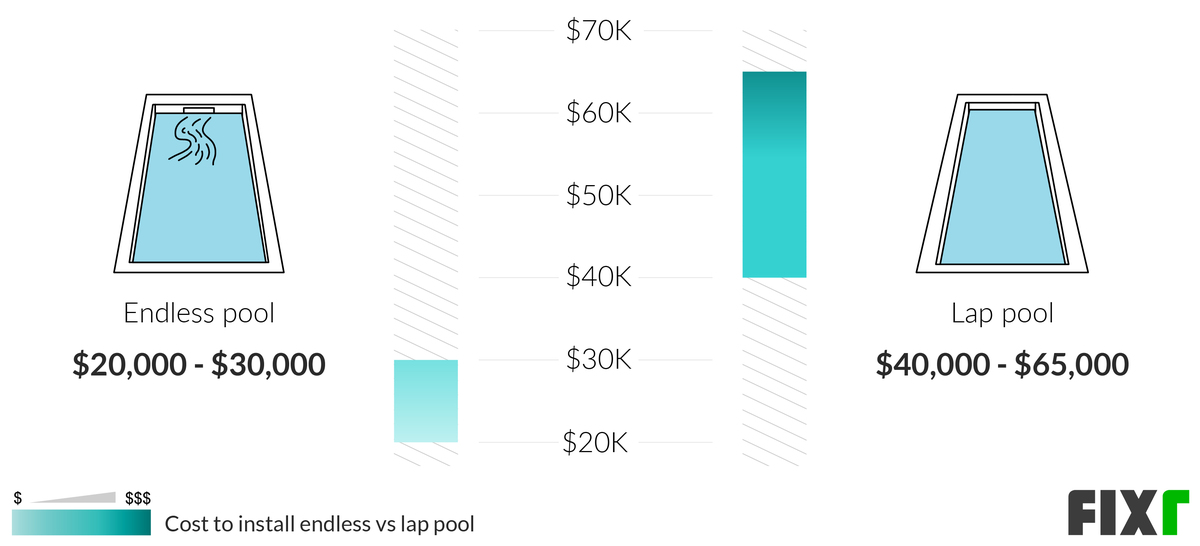 | | |
| --- | --- |
| Type | Average Cost (Installed) |
| Endless Pool | $20,000 - $30,000 |
| Lap Pool | $40,000 - $65,000 |
Lap Pool vs Regular Pool
A traditional pool ranges from $10,000 to $100,000 to install. A lap pool typically costs between $40,000 and $65,000. Although it was discussed briefly at the beginning, it is important to consider the differences between these two different types of swimming pools. For starters, a lap pool is designed to very specific length requirements to provide the regulated space needed for swimming laps. Another difference is that some lap pools have a rectangular shape. Regular swimming pools can be rectangular, oval-shaped, kidney-shaped, or any other number of freeform designs based on the materials used and the construction of the pool. A lap pool comes in standard lengths of 35, 40, 45, 50, and 75 feet and measures between 8 and 10 feet in width. The average standard swimming pool measures 12 x 24 feet but varies greatly in size with almost any size available.
| | |
| --- | --- |
| Type | Average Cost (Installed) |
| Regular Pool | $10,000 - $100,000 |
| Lap Pool | $40,000 - $65,000 |
Lap Pool vs Swim Spa
A swim spa costs an average of $20,000 to $40,000 to have installed, which is less than the average lap pool installation cost of $40,000 to $65,000. A lap pool is different from a swim spa, which is another name for an endless pool, to some. Spas are generally heated. When they are big enough to move around in and include an endless pump feature, they are known as swim spas. These are ideal for those who like the idea of a pool but want the benefits of the heated water, including therapeutic assistance and the opportunity to use the pool more of the year when living in colder climates. A swim spa typically measures 10 to 12 feet in length but can go all the way up to 19 feet or more. They typically run between 8 and 12 feet wide.
| | |
| --- | --- |
| Type | Average Cost (Installed) |
| Swim Spa | $20,000 - $40,000 |
| Lap Pool | $40,000 - $65,000 |
Enhancement and Improvement Costs
Lap Pool Jet Pump
A lap pool jet pump may be required for people who want an added fitness touch to their pool, at the cost of about $2,000 to $10,000. Professional models are designed for pro athletes and Olympic swimmers and can provide premium resistance and fitness support for as much as $30,000. A jet pump creates a current for the swimmer to swim against in the pool, adding resistance and an additional fitness element to the pool for those who want to take their exercise to the next level. This is also known as an endless lap pool and can be done at the time of installation or as a retrofitted addition later on.
Lap Pool Cover
Installing a lap pool cover ranges in price from $40 to $3,700 or more, depending on the type of cover chosen. Basic plastic solar covers are the cheapest option and protect from the elements. Solid covers and more fitted styles are available for a premium cost. Some people may even spend top-dollar on an automatic pool cover for their in-ground pool to ensure maximum protection from the elements. While this incurs the highest cost, it is also the best investment for long-term protection if you can afford the investment.
Lap Pool Enclosure
If you want to install an indoor lap pool but don't have an indoor space, you need to invest in a pool enclosure, which costs from $10,000 to $30,000 or more, depending on the type of enclosure and the features that it offers. Some people may spend upwards of $60,000 or more on a retractable enclosure or building an addition on their home to make a room for the pool. Various enclosure options are available in all sizes, styles, and materials to offer something for just about everyone.
Lap Pool Hot Tub Combo
Adding a hot tub to the lap pool costs an additional $4,000 to $8,500, along with the pool itself and any other installation costs. The cost depends on the size and style of the hot tub or spa you choose, any premium features like lights or premium jetting systems, and how it is installed near or with the pool you are constructing. This is more common with in-ground pools, but there are above-ground options to combine a pool and hot tub. Some manufacturers offer lap pool/hot tub combos that include a single shell with both pools included. This combo usually incurs a premium cost that adds $10,000 to $20,000 to the initial cost of the unit but saves on the cost of labor and materials involved in separate installations.
Additional Considerations and Costs
Permits. You cannot build a pool, indoors or out, without a permit in almost every location throughout the country. Typically, the pool contractors will take care of getting all necessary permits for the job. You should check with them to ensure that they were properly pulled and paid for to avoid costly fines and other penalties for working without permits.
Licenses. Always work with licensed, reputable pool installation professionals when you construct a lap pool or any other kind of swimming pool on your property. Pools are a unique product with many special considerations with installation. Lap pools require proper specifications and construction methods to ensure they meet regulatory size guidelines and more.
Insurance. Your home insurance company may have specific requirements or restrictions on how and where you can install a pool on your property or what is involved in the process of doing it correctly so that it is covered by your insurance. Be sure to check with them before beginning your project to ensure that everything is in order, and you aren't going to void your insurance coverage or cause other issues.
Estimates. You should always get at least three estimates when having a lap pool installed. This allows you to compare the options in your area and ensure that you are getting the best price for your installation and the most reputable installers for the job. It can be hard to ensure that you're paying a "fair price" for this project when you aren't sure what to expect, which is where estimates come in handy.
DIY. Installing a lap pool, even with a basic above-ground kit, is not something that should be a DIY project. There are several structural and safety concerns. It's always best to rely on professional installers to get the job done accurately, safely, and in the shortest amount of time. While you might handle some aspects of the project, such as the finishing details or helping with the equipment, it's always better to leave projects like this to the pros.
Winterizing lap pool. Those who live in seasonal climates need to consider the pool closing process. In the fall, the pool needs to be drained and chemically treated to protect it during the off-season. Then, it needs to be properly covered and secured from the elements.
Opening lap pool. In the spring, the pool needs to be re-opened, which is again a process that you can undertake yourself or hire someone to do. Opening a pool requires removing the cover(s), cleaning and chemically treating the water, hooking up any equipment that was unhooked or stored for the winter, and filling the pool and filtering it until the water is clear and ready for swimming.
Pool steps. Several different steps are available for pools today, including internal steps, offset steps, niche wall steps, and more. With a lap pool, it is easier to have wall steps or offset steps so that access to the pool is easy, but the steps do not impede the space needed for swimming laps.
Pump and filter space. When installing a lap pool, you need to make sure that you have the appropriate space for the pump and filter required to operate the pool. If you choose an endless pool, you'll also need to make room for the jet pump that powers that part of the pool. Your installation professional can help you address these concerns and ensure that you have the appropriate space available. This incurs an additional cost unless you already have the space available or get a package that includes installing all equipment with the pool itself.
Lap pool fence. Many pools require fences to keep them safe, both as a law in most cities and municipalities and as a requirement of several home insurance policies. Be sure to consider whether you need to add or upgrade your fencing around the pool area and what type of fencing you want to use. Chain link is the most durable and affordable in the long run, but several options are available, including wood, wrought iron, composite, and more.
Maintenance. Part of owning a pool is regular maintenance. Pools used more frequently, outdoors, or in climates with harsh weather will typically require more maintenance. In addition to proper filtration and chemical treatments, you need to skim and sweep the pool regularly to remove debris such as dirt, leaves, and insects that have fallen into the pool. Talk to your pool installer and make sure that you know what maintenance needs to anticipate so that you can protect your investment.
FAQs
How much does a 25-yard lap pool cost?
A 25-yard lap pool measures 75 feet in length and costs from $70,000 to $85,000, depending on the width, where it is installed, materials, and other details.
How much do inground lap pools cost?
In-ground lap pools have an average cost of $40,000 to $65,000, depending on the size, style, accessories, finishing details, and whether it is installed indoors or outside.
What is the best size for a lap pool?
There is no single "best size" for a lap pool, but to be effective at providing the distance required to swim "laps," it should be a minimum of 45 feet in length. The average size is 45 x 8 feet, although you could make it 12 feet wide if you want room for a second person.
Lap pools are typically only about four feet deep, although some may be as deep as six to nine feet, depending on the desires of the homeowner.