How much does it cost to install a saltwater pool?
Get free estimates from swimming pool builders near you
Saltwater Pool Cost Guide

To provide you with the most accurate and up-to-date cost figures, we gather information from a variety of pricing databases, licensed contractors, and industry experts.
For people who love to swim regularly and want to lower the amount of chlorine they use and the maintenance their pool needs, a saltwater pool is a great alternative. When it comes to building the pool itself, there are few differences between a chlorine and a saltwater pool. The difference is really in adding a salt chlorine generator and the fact that a few materials used around these pools may not hold up as well.
Therefore, the average cost to install a saltwater pool ranges from $30,000 to $70,000. The average homeowner spends around $50,000 to install a 15' x 30' vinyl in-ground family leisure pool with a diving board. The cost to install an above-ground fiberglass saltwater pool can be as little as $3,600, or it can reach as much as $100,000 for a concrete 14' x 9' infinity edge in-ground pool with enclosure.
Saltwater Pool Costs
Saltwater Pool Installation Costs
National average cost
$50,000
Average range
​$30,000-$70,000
Low-end
$3,600
High-end
$100,000
Saltwater Pool Cost by Type of Installation
The two primary methods of installing a saltwater pool in a homeowner's yard are new construction or conversion. With the first method, everything is done from scratch since there is not a pool already constructed. Everything from clearing the land to excavating dirt and connecting plumbing is a part of the process. For homeowners with a chlorine pool, it can be converted into a saltwater pool. This mainly involves installing a salt chlorinator, but other steps include adding pool salt, working with electrical wires, and looking for leaks. Below you can see the average cost to install a new pool vs converting an existing pool.
| | |
| --- | --- |
| Project | Average Cost (Labor Included) |
| Conversion | $600 - $2,500 |
| New Construction | $3,600 - $112,500 |
Saltwater Pool Conversion
Converting a saltwater pool typically ranges from $600 to $2,500. For current pool owners, converting your pool to a saltwater pool is often a good option. Any liner works with a saltwater pool, so vinyl, concrete, or fiberglass pools cost the same to convert. The main difference in saltwater pool conversion is the chlorinator and the salt versus chemicals. Each type of pool has the same conversion process: balance the water to remove the chlorine, add the required amount of salt for your size pool, and wait about 24 hours. Then, the chlorinator will be installed and wired to the existing plumbing. The table below shows the prices for different options.
| | |
| --- | --- |
| Type of Chlorine Pool | Conversion Cost (Labor Included) |
| Above-Ground | $600 - $1,200 |
| In-Ground | $1,200 - $2,500 |
Cost to Convert Above-Ground Pool to Saltwater
The cost to make your above-ground pool into a saltwater pool is $600 to $1,200. Above ground chlorine pools may be easier to convert. However, if you have lots of metal parts, these parts may rust. Resin pools are better for converting to avoid ongoing metal parts replacement issues. The main process involves installing a chlorinator so salt can be used to make chlorine to keep the pool clean.
Cost to Convert In-Ground Pool to Saltwater
The cost to convert an in-ground pool to saltwater is $1,200 to $2,500. In-ground chlorine pools typically require more work to convert to saltwater because the plumbing is in the ground. In addition to plumbing work, the salt chlorinator system needs to be installed and the appropriate amount of pool salt added to the pool. There is no need to drain the pool before starting the process, but the pool water will need to be balanced before use.
Install a Saltwater Pool
The cost to install a saltwater pool ranges from $3,600 to $112,500, with different options listed in the table below. The main choice you have when installing a saltwater pool is placing it above the ground or in the ground. The prices to install the pool are largely the same as for chlorine pools, although later maintenance costs may differ between the two. When installing a pool, a builder must dig up the area where the pool will be placed, install the pool deck and system, and add in any extras that you want for your new pool.

| | |
| --- | --- |
| Type | Average Cost (Labor Included) |
| Above-Ground | $3,600 - $24,500 |
| In-Ground | $41,500 - $112,500 |
Cost of Above-Ground Saltwater Pool
An above-ground saltwater pool costs $3,600 to $24,500 for installation. The price depends on the shape, style, size, and materials chosen for the pool. These offer many of the same options as an in-ground pool but cost less and are easier to install. Stairs, decks, or traditional frames can be used on the pools to access the water. The aesthetic appeal of an above-ground pool may not be right for every homeowner. The main characteristic that is different from a chlorine pool is using a chlorinator and salt instead of chlorine.
In-Ground Saltwater Pool Cost
The other option is an in-ground saltwater pool, which costs between $41,500 and $112,500. These prices are based on the materials used, the style chosen, and any extras included. In-ground pools are accessible without stairs and have no frame to climb up, making them more convenient. However, safety is important, especially if children are in the area. In-ground saltwater pools have extra customization and can be used as natural, infinity, and other styles.
Saltwater Pool Cost by Size
Owning a saltwater pool saves you money on maintenance, but the cost to have one put in depends on the size. Like chlorine pools, larger pools require more materials. The price goes up as you increase the pool size. Additions that you choose, above-ground or in-ground pools, and land preparation requirements increase the cost. Some popular inground pool sizes include:
| | |
| --- | --- |
| Size | Average Cost (Labor Included) |
| 10' x 20' | $15,000 - $25,000 |
| 12' x 20' | $18,000 - $30,000 |
| 12' x 24' | $21,600 - $36,000 |
| 10' x 30' | $22,500 - $37,500 |
| 12' x 30' | $27,000 - $45,000 |
| 14' x 28' | $29,400 - $49,000 |
| 15' x 30' | $33,750 - $56,250 |
| 16' x 32' | $38,400 - $64,000 |
| 16' x 36' | $43,200 - $72,000 |
| 20' x 40' | $60,000 - $100,000 |
| 25' x 45' | $84,375 - $140,625 |
| 20' x 60' | $90,000 - $150,000 |
Cost to Build a Saltwater Pool by Material
Next to size and type, the largest contributing factor to a saltwater pool is the material. Like chlorinated pools, saltwater pools can be made of various materials, each having positive and negative attributes. There are several different options ranging from fiberglass to vinyl and concrete. The shapes and sizes you choose, the texture inside the pool, the durability and strength, and other factors largely come from the choice of saltwater pool materials. Below you can learn more about each option and their average prices. This is based on a pool that measures 16' x 36'.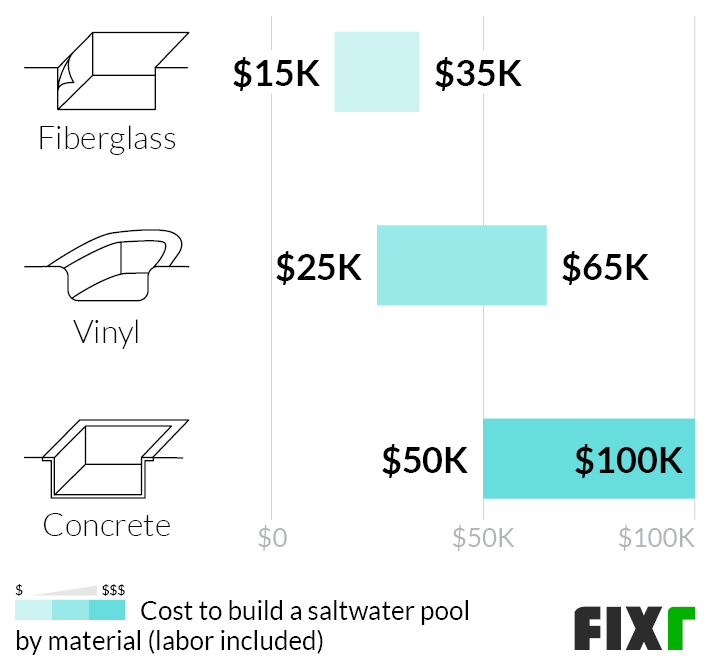 | | |
| --- | --- |
| Material | Average Cost (Labor Included) |
| Fiberglass | $15,000 - $35,000 |
| Vinyl | $25,000 - $65,000 |
| Concrete | $50,000 - $100,000 |
Saltwater Fiberglass Pool
A 16 x 36 foot fiberglass saltwater pool costs $15,000 to $35,000. Fiberglass material resists algae and maintains its coloring well. The shell comes already made, so installation is quick. However, buyers are limited on the size and shape of a fiberglass pool, and it may have a more slippery pool bottom. The maintenance of a fiberglass saltwater pool is easy. The main thing you have to do is make sure it has enough salt to keep the levels right.
Saltwater Vinyl Pool
You can expect to pay about $25,000 to $65,000 for a vinyl saltwater pool. A saltwater vinyl pool liner is the least expensive. They are easy and quick to install, and consumers can choose from several colors, sizes, and shapes. Vinyl liners tend to be less durable than other materials and need to be replaced more often. However, they can be formed in any shape for versatile use. Vinyl is ideal for preventing damage from salt and makes an excellent choice for a pool.
Concrete Saltwater Pool
A saltwater concrete pool costs $50,000 to $100,000 for a 16 x 36 foot size. A saltwater concrete pool (gunite) is probably the most versatile of all pools. There are many designs to choose from, and you can expect your pool to be long-lasting. These pools are very aesthetically pleasing, which makes them popular. The drawbacks are that they are expensive and take longer to install. Expenses to operate these pools are higher, and walking in the pool is rougher than on other materials.
Saltwater Pool Cost by Type
One of the most exciting things about saltwater pools is how customizable they are. You can choose the pool that best meets your specific needs. A saltwater pool can be installed to relax under the sun, exercise, or have fun with friends. The choice of style and shape ensures the pool works for you. Saltwater pools are available in many types, with varying costs based on materials, size, and tyle. This makes a saltwater pool a great option, no matter how large a lawn is. For instance, a long and thin yard might work well with a lap pool, while a small pool can accommodate a cocktail pool.
When selecting a saltwater pool, make sure it fits your needs, space, and plans. With so many pools to choose from, one is likely to work well for you and your family. Below are some of the most common types of saltwater pools and their prices, including labor and materials. The costs below are based on the average size of each type of pool.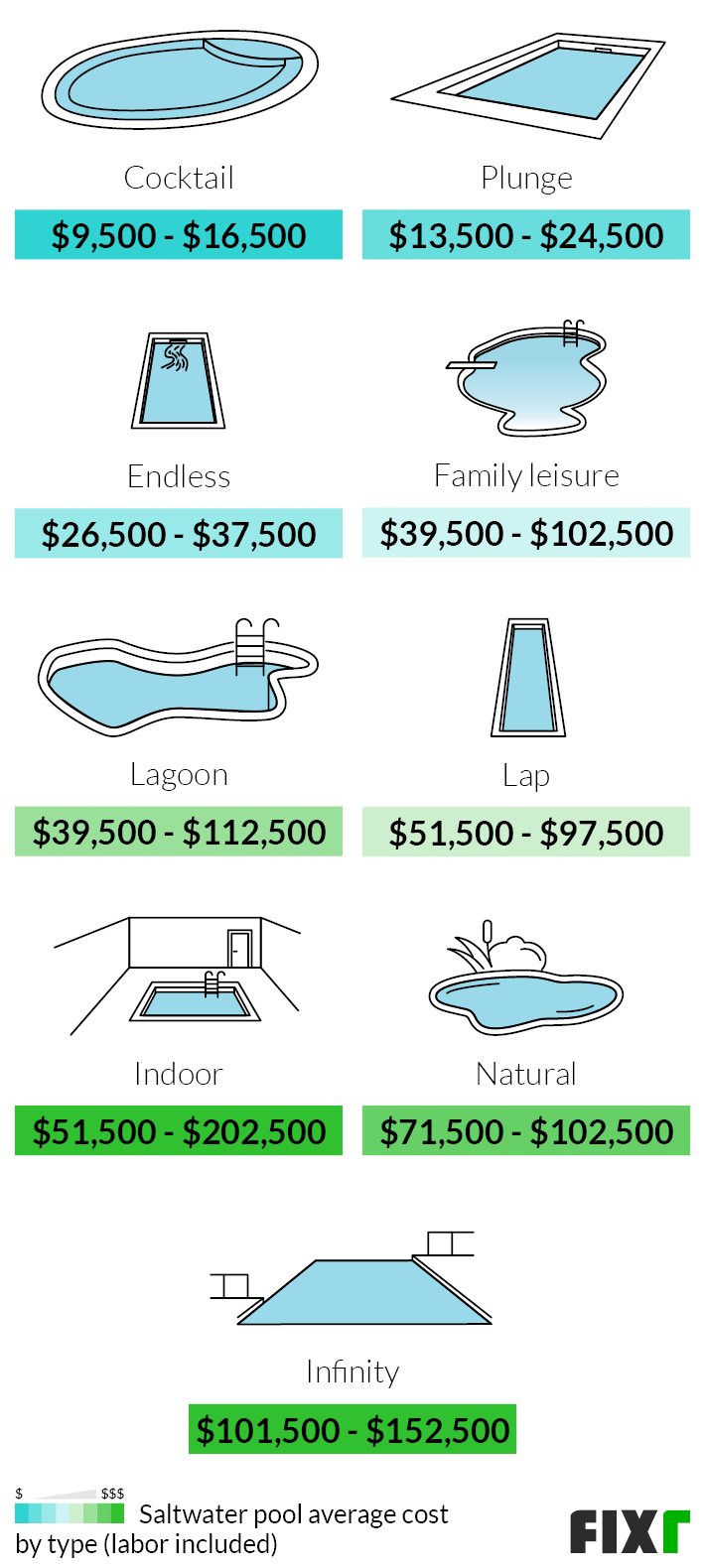 | | |
| --- | --- |
| Type | Average Cost (Labor Included) |
| Cocktail | $9,500 - $16,500 |
| Plunge | $13,500 - $24,500 |
| Endless | $26,500 - $37,500 |
| Family Leisure | $39,500 - $102,500 |
| Lagoon | $39,500 - $112,500 |
| Lap | $51,500 - $97,500 |
| Indoor | $51,500 - $202,500 |
| Natural | $71,500 - $102,500 |
| Infinity | $101,500 - $152,500 |
Saltwater Cocktail Pool
The average cost to install a saltwater cocktail pool is $9,500 to $16,500. These are made to fit into small spaces and freshen up a yard. There are many benefits to a cocktail pool. They make entertaining easy in any yard, are much more affordable than large pools, and have less effect on the environment than a massive pool. This pool is adaptable and can be constructed in many different designs.
Saltwater Plunge Pool
A saltwater plunge pool ranges from $13,500 to $24,500 and is slightly larger than a cocktail pool. These pools are made for small yards and can be used to cool off or soak. Most are three to five feet deep and up to 15 feet long. Extra features like waterfalls and landscaping rocks can be added for an enhanced aesthetic. These work well for small properties with families who do not mind not being able to swim.
Endless Pool Saltwater
An endless pool costs between $26,500 and $37,500. These can be both in-ground and above-ground based on homeowner preferences. An endless pool is approximately three feet deep and about 15 feet long. What makes them unique is the powerful jets that move water from one area to the next. You can swim against the jets for a workout. Different sizes and strengths are available depending on preference.
Family Leisure
When you think of a backyard pool, you might envision the family leisure pool, which ranges from $39,500 to $102,500. This is one of the most versatile options since you can choose the material, size, and shape of the pool. In addition, compared to smaller pools, this one can be used for swimming without jets. Many of these pools have a concrete deck for entertaining that can be used for loungers, chairs, tables, and more.
Lagoon Saltwater
Lagoon saltwater pools cost between $39,500 and $112,500. Lagoon pools are made to look more natural rather than being a specific square or rectangular shape. They can be made of several materials, such as concrete, vinyl, or fiberglass. Rather than a deck, many of these pools are landscaped up to the water. This is the ideal choice for someone who wants a reasonably-sized pool with a natural rather than standard look.
Saltwater Lap Pool
A saltwater lap pool ranges from $51,500 to $97,500. This pool is most useful for someone who wants to use the water to exercise. They are thin and long at around 8 feet wide and 50 feet long. Made of concrete, vinyl, or fiberglass, they often fit into spaces that family and lagoon pools cannot. However, they still require a fence for security and regular maintenance.
Indoor Saltwater Pool
As you might expect, an indoor pool is inside a home and costs from $51,500 to $202,500. These pools are excellent for avoiding extra cleaning associated with traditional saltwater pools since there are no leaves or limbs. It also makes a good choice for someone who wants to swim in any season. However, they can make the area nearby humid and may have extra heating costs to use.
Natural Saltwater Pool
Ranging in cost from $71,500 to $102,500, a natural saltwater pool is designed to have a gorgeous aesthetic that incorporates natural plants. These are used as an alternative to filtering the water with salt, so this pool is better for the environment. A swimming and regeneration zone are needed, so these pools take up a large amount of space. Features like infinity edges and waterfalls can be included. The maintenance needs are low, but insects may make a home in the pool.
Infinity Saltwater Pool
For a saltwater infinity pool, the costs will be between $101,500 and $152,500. The design makes an excellent addition to any property or yard. The main selling point of an infinity pool is the waterfall effect it offers as water constantly moves over the edge into a small container so it can be recycled. Maintenance is minimal for this pool, but it can be more expensive than other pools of the same size and shape. In addition, a slope is needed for an infinity pool to work correctly. The slope can be dangerous and should be avoided by children and pets.
Labor Cost to Install Saltwater Pool
The installation of a saltwater pool is identical to a chlorinated pool, except for the salt chlorine generator being added at the end of the installation. Labor costs range from $7,000 to $40,000 but may be higher in difficult locations with rocky terrain.
Saltwater pools can be made of various materials. These range in cost based on the size of the pool. Concrete costs $60 to $80 per sq.ft. Fiberglass shells range from $12,000 to $30,000, and vinyl liners can be $5,000 to $10,000.
In addition, not all projects need the same amount of work. Blasting might be needed for one pool but not another. The finish work varies based on materials. Concrete requires the most labor. Fiberglass needs minimal finishing.
Other costs depend on the specifics of the pool but may include things like landscaping, equipment, and decking. Costs will be based on level of finish, size, and type of pool. The table below provides insight into the costs of project steps needed to complete a saltwater pool.
| | |
| --- | --- |
| Project | Average Cost |
| Landscaping | $100 - $45,000 |
| Building Permits | $200 - $300 |
| Excavation | $500 - $3,500 |
| Blasting Rocky Terrain | $5,000 - $10,000 |
| Decking | $5,000 - $20,000 |
| Installation of the Material | $5,000 - $25,000 |
| Finishing | $5,000 - $30,000 |
| Equipment Installation (Heating, Filtration, Chlorinator, etc.) | $6,500 - $12,500 |
Saltwater Pool Cost per Month
Before choosing to install or construct a pool, it is important to be aware of the monthly and annual costs to run it. This includes the cost of electricity to run accessories and the pump as well as the salt and generator that turns it into chlorine. In terms of electricity, your generator should run 4 to 6 hours a day in the winter and 10 to 12 hours a day in the summer, according to most pool professionals. These numbers vary depending on climate, water temperature, and how often the pool is used. The average cost to run a saltwater pool per month is $40 to $60. Energy can be saved using a solar pool blanket which costs $50 to $200.
Saltwater Pool Equipment Cost
Like a chlorine pool, a saltwater pool has certain equipment necessary for proper operation and maintenance. These items will not last forever, so knowing what to expect regarding replacement cost is important. Some of the most important pieces of equipment for a saltwater pool include a salt chlorine generator, a pool heater, pump, and filter. Below you can find the prices for each of these items and more information about what they do.
| | |
| --- | --- |
| Equipment | Average Cost (Materials Only) |
| Filter | $30 - $1,600 |
| Pump | $300 - $1,200 |
| Heater | $1,250 - $9,000 |
| Salt Chlorine Generator | $1,500 - $2,500 |
Saltwater Pool Filter
Saltwater pool filter systems cost $30 to $1,600 and use sand, glass, or diatomaceous earth to filter pool water and make it sparkling clean. Pocket and cartridge filters can also be used. Pocket filters are small and inexpensive, while cartridge filters come in various sizes and are more expensive than pocket filters. The material used within the filter impacts the price.
| | |
| --- | --- |
| Type of Filter | Average Cost (Materials Only) |
| Pocket | $30 - $100 |
| Cartridge | $200 - $1,600 |
| Sand | $250 - $1,200 |
| Glass | $500 - $1,500 |
| Diatomaceous Earth | $520 - $1,600 |
Saltwater Pool Pump
A pump for a saltwater pool costs between $300 and $1,200. When choosing saltwater pool pumps, it is wise to consider one that has maintenance help capabilities such as telling you when the salt is low, self-cleans, has temperature detection, monitors water flow, and more. However, the main purpose of the pool pump is to work with the cleaning system. The main pump is needed to ensure the water is filtered and remains clean.
Saltwater Pool Heater
The cost of adding a pool heater to your saltwater pool is between $1,250 and $9,000 installed. This is the same price as heaters for chlorine pools since the process and equipment are similar. Although a pool heater is not a necessity, many people enjoy their pool more when they have one. Pool owners who live in areas where the temperatures get cold at night but warm up significantly during the day will want to have a pool heater. Keep in mind that a pool heater increases your electric bill unless you purchase a gas- or solar-powered heater. There are several different choices in pool heaters, including electric, gas, solar, and heat pump. If your pool is smaller, you may want to purchase a tankless water heater. The heated saltwater pool cost is often worth it to use the pool in any season.
| | |
| --- | --- |
| Type of Heater | Average Cost (Materials Only) |
| Electric | $1,250 - $5,800 |
| Gas | $1,350 - $5,500 |
| Heat Pump | $2,250 - $7,000 |
| Solar | $3,000 - $9,000 |
Salt Chlorine Generator
A salt chlorine generator, also known as a salt chlorinator, ranges in price from $1,500 to $2,500. The main purpose of this component is to take the saltwater from the pool and turn it into chlorine which helps keep the pool fresh and clean. The generator works through the process of electrolysis. The saltwater is electrically charged, which causes the salt molecules to split and turn into chlorine. Due to the use of a chlorinator, saltwater pools do not require the addition of extra chlorine.
How Much Salt Do I Need for My Pool?
While a saltwater pool uses a lot of salt to operate, that does not mean it has no use for chlorine. A salt chlorine generator converts salt into chlorine, so the salt in the pool is about 3,000 parts per million (PPM) of dissolved salt. This ensures the appropriate amount of salt is included to turn into chlorine. Around 200 pounds of pool salt is initially used. The salt chlorinator costs about $1,500 to $2,500 and turns the salt into chlorine to filter the pool.
The exact amount of salt needed is based on its size, whether this is the first fill, whether it has been converted from chlorine, and its annual usage amounts. Chlorinators come with a chart that shows the appropriate amount to add to reach the ideal levels. Levels should be checked before adding salt. The end result should be about 2,700 to 3,400 PPM to ensure appropriate levels.
| | |
| --- | --- |
| Size | Pounds of Salt Needed to Reach 3,200 PPM |
| 8,000 Gallons | 213 |
| 10,000 Gallons | 267 |
| 12,000 Gallons | 320 |
| 14,000 Gallons | 373 |
| 16,000 Gallons | 427 |
Cost to Maintain a Saltwater Pool
Saltwater pool cleaning helps keep your pool crystal clear and ready for swimming. Owners need to skim leaves, bugs, and debris and remove these items from the skimmer, pump baskets, and automatic pool cleaner. The pool should be vacuumed, and the walls brushed with a stiff brush. The filter will need backwashing, and salt cells should be routinely cleaned to avoid build-up.
Maintenance for a saltwater pool is generally less expensive than a chlorine pool with pros charging $25 to $40​ per hour. Annually, you can expect to pay $100 to $400 on salt, while the chemicals for a chlorine pool range from $370 to $900. Water should be tested weekly and monthly for different chemicals and substances to ensure the correct balance is present. Every year, the salt cells should be inspected. If one needs to be replaced, it costs $200 to $700. If a professional handles maintenance tasks, the cost will be $900 to $1,500 annually.
Add-Ons
Many people choose to add features to their pool based on their needs, the type of pool, and geographic location. In some cases, these are purely based on aesthetics, such as water features like waterfalls. Landscaping rocks can be used in the pool to create an impressive look and new texture at the bottom of the pool.
Items like lighting and covers are not specifically required for a saltwater pool but can make using and maintaining it more pleasant. For instance, a pool cover keeps the water cleaner longer. Lights make the pool more pleasant to use when it is dark. Ladders are another item that might be needed, especially in above-ground pools.
Recreation is a huge reason to add new items to a saltwater pool. Diving boards are a good example of that. Safety is also important with pools, especially if children or animals will be in the area. Many choose to add fences or enclosures around the pool so it is more private. A retaining wall is another way to block off the pool from kids. Below you can see the average costs to add any of these features to your saltwater pool:
| | |
| --- | --- |
| Add-On Project | Average Cost (Installed) |
| Landscaping Rocks | $200 - $400 |
| Ladder | $300 - $700 |
| Lighting | $450 - $1,200 |
| Diving Board | $500 - $1,000 |
| Waterfall | $1,000 - $3,000 |
| Pool Cover | $2,700 - $3,700 |
| Fence | $3,000 - $10,000 |
| Retaining Wall | $3,500 - $10,000 |
| Enclosure | $10,000 - $30,000 |
Saltwater Pool Cost vs Chlorine
Regarding the construction of the pool itself, there is little difference between a chlorine and saltwater pool. The biggest differences come from the maintenance of the pool, how much it costs to run, how many chemicals you use, and how the water feels.
Chlorine must be added weekly, which adds up to an annual cost of $300 to $800. It is irritating to the skin and eyes and changes the color and texture of human hair. Chlorine pool owners have to store dangerous chemicals. Safe storage is a vital part of chlorine because the fumes are harmful if inhaled. Chlorine pools also need to be shocked more often.
On the other hand, saltwater pools use a chlorinator to create chlorine from the salt. This device uses electricity, so you may see an increase in your electric bill, but it should not be significant. The chlorinator needs cells replaced every few years at the cost of $200 to $900. Running a saltwater pool costs $70 to $100 annually. However, costs for chemicals are lower than in a chlorine pool. Below you will find the costs for the two chemicals for pools.
| | |
| --- | --- |
| Type of Pool | Average Yearly Cost |
| Salt | $70 - $100 |
| Chlorine | $300 - $800 |
Enhancement and Improvement Costs
Self-Cleaning Saltwater Chlorinator
To reduce the amount of maintenance you do on your chlorinator, consider investing in a self-cleaning system. Saltwater pools have positively-charged calcium that is attracted to negatively-charged electrode plates. A self cleaning saltwater chlorinator uses reverse polarity to periodically change the charge of the electrodes to a positive charge so calcium does not build up as quickly. Although you still need to clean the cells, the self cleaning chlorinator eliminates much of the work. They cost between $1,500 and $2,500.
Winterize Saltwater Pool
Preparing your pool for winter is a vital part of pool ownership. Harsh winter weather can cause pipes to freeze and crack. In addition, concrete or fiberglass pools can crack in cold weather. Winterizing a saltwater pool has several steps, and a professional has experience with the process to ensure the best results. The cost for closing or winterizing is $125 to $375.
Pool Lift
An accessible lift can be installed for those who are wheelchair-bound or who do not have full use of the legs or arms. This mechanized seat can be easily lowered and raised to the water and makes the pool usable by everyone. A restraint is often included to ensure the safety of the person using the lift. You can expect to pay around $2,000 to $9,000 to add one.
Additional Considerations and Costs
Local ordinances. Saltwater can damage the landscaping around your pool and certain types of stone decking. Due to these issues and the toll it takes on soil nutrients, some communities ban saltwater pool systems. Always check your local ordinances before installing.
Needed maintenance items. While a saltwater pool does not require chlorine or shock, you need to purchase test kits, salt, and chemicals that balance the pH and prevent algae and other water issues.
Climate. The warmer your climate, the more chlorine your generator needs to produce to keep the water clear. This may mean that it will use more electricity or wear out and require repair or replacement more frequently, offsetting the lower maintenance costs of this pool type.
Home value. Having a saltwater pool adds to the value of a home, especially if it is an in-ground model. However, this only applies to a well-maintained pool. In addition, the amount of value it adds varies. In warm areas, the extra value may be more than in areas with cold climates.
Pool services. Several services may be needed for homes with a saltwater pool. For instance, if the pool is not used year-round, it needs to be opened and closed, which a professional can do. This is known as summerizing and winterizing the pool. It costs about $1,750 to $2,000.
Water bill. You can expect chlorine and saltwater pools to add to your monthly water bill. However, it may not be as much a rise as expected. Your bill may be $10 to $30 more, but the size of the pool plays a part in the extra cost you have on your water bill.
Water delivery. If you are not a fan of waiting, you should consider having a company deliver the water to fill your pool. Homeowners with well water may also want to have the water brought in. In most cases, you can expect to lose about two inches of water each month to evaporation. Filling a pool yourself might cost $25 to $75, while a delivery ranges from $500 to $1,250 for 15,000 to 30,000 gallons.
FAQs
Are saltwater pools worth it?
It depends on the homeowner, but for many people, yes. For instance, the day-to-day operations are less expensive for a saltwater pool. In addition, the smaller amount of chlorine is better for hair, swimsuits, eyes, and skin. The scent also is not as heavy as a chlorine pool.
Is a saltwater pool better?
Saltwater pools are less irritating to the skin and eyes and are usually lower in maintenance and related costs.
Are saltwater pools more expensive?
Saltwater pools cost marginally more in some instances, depending on the type of pool and salt chlorine generator involved. They typically cost less to run, however.
How much does it cost to convert to a saltwater pool?
To convert an existing pool to a saltwater pool costs around $600 to $2,500.
Is a saltwater pool easier to maintain?
In most cases, yes, a saltwater pool is easier to maintain. It requires fewer chemicals and less cleaning.​​
Is it possible to convert a hot tub to use saltwater?
It is possible and has been gaining popularity due to its advantages. It typically costs about $500 to $5,000. Converting a hot tub to saltwater provides the same benefits as a saltwater pool. However, hot tubs are smaller, and more body oils, sweat, and bacteria may be introduced during use. This makes it more challenging to maintain the right salt level.