How much does it cost to tile a shower?
Get free estimates from tile, marble and granite contractors near you
Shower Tiling Cost Guide
Showers are one of the most important and integral parts of the bathroom and to many people's daily lives. Over time, older showers often look dingy, out of date, or in need of a facelift. Tile is one of the most versatile materials for covering a shower, allowing you a nearly endless choice of colors, patterns, and styles. You can tile your shower in a variety of materials and create a tiled shower in several sizes and designs to suit your needs. This variety leads to a wide range of associated costs.
The average cost range for tiling a shower is between $1,800 and $5,000, with most people paying around $2,700 for a 3' x 4' shower with 8' walls tiled in ceramic with a running bond pattern and mosaic floor. This project's low cost is $900 for builder-grade ceramic tile walls in a 32" x 32" shower with an acrylic pan floor. The high cost is $10,000 for a 4' x 6' shower with a pebble floor and pebble accent wall surrounded by marble tile shower walls.
Shower Tiling Prices
Shower Tiling Costs
National average cost
$2,700
Average range
$1,800-$5,000
Low-end
$900
High-end
$10,000
Shower Tile Costs by Type
Besides the shower size, the biggest factor in determining the cost of this project is the tile material. Showers can be tiled in many different materials ranging from ceramic to many kinds of natural stone. Common materials in the shower include both machine made and handmade ceramic tiles, large format porcelain tiles, stone of many different forms, and glass tiles. Keep in mind that some materials - like stone - do require additional care in the shower, because they can absorb moisture and therefore stain. Other materials like glass and porcelain are very easy to care for in the shower and require no additional treatment or care. Below are the average costs for the various types of tile commonly used in the shower, as well as their costs installed.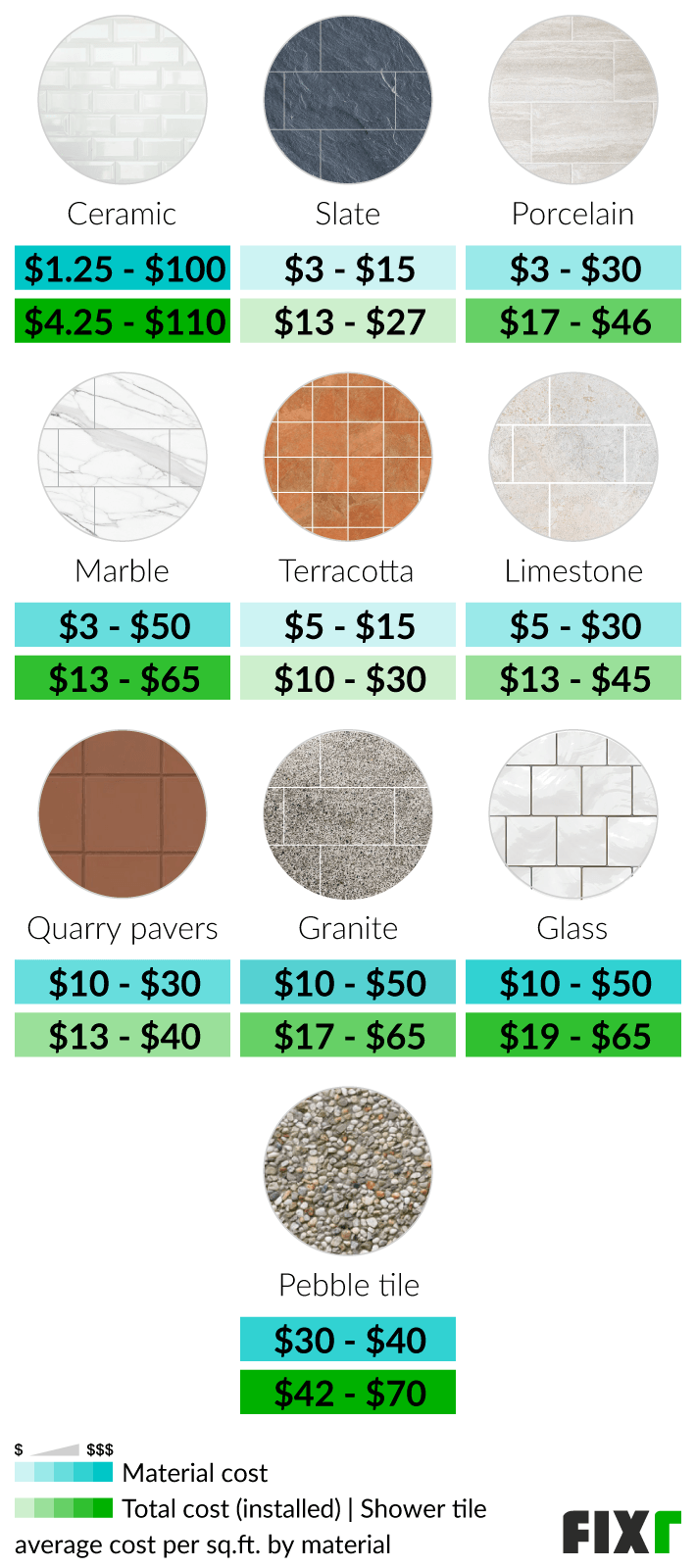 | | | |
| --- | --- | --- |
| Material | Average Cost per Sq.Ft. (Material Only) | Average Cost per Sq.Ft. (Installed) |
| Ceramic | $1.25 - $100 | $4.25 - $110 |
| Slate | $3 - $15 | $13 - $27 |
| Porcelain | $3 - $30 | $17 - $46 |
| Marble | $3 - $50 | $13 - $65 |
| Terracotta | $5 - $15 | $10 - $30 |
| Limestone | $5 - $30 | $13 - $45 |
| Quarry Pavers | $10 - $30 | $13 - $40 |
| Granite | $10 - $50 | $17 - $65 |
| Glass | $10 - $50 | $19 - $65 |
| Pebble Tile | $30 - $40 | $42 - $70 |
Ceramic Tile
The cost of ceramic tile is $1.25 to $100 a sq.ft. for material. Installed, these costs range from $4.25 to $110 a sq.ft. Ceramic tile comes in a wide range of colors, patterns, styles, shapes, and sizes. It is made of wet clay that has been fired to high temperatures and given a glaze. It may be fired once or twice, with twice-fired tile being more durable. Ceramic tile makes an excellent shower material, but the glaze may craze or crack over time. If this happens, the tile must be sealed when in a wet area like the shower. Ceramic tiles can be machine made and handmade. Of the two, machine made is less expensive and more uniform. Handmade has more variation, sizes, and colors, including many bright, bold colors.
Slate Tile
The cost of slate tile ranges between $3 and $15 a sq.ft. The cost of this material installed averages $13 to $27 a sq.ft. Slate is a metamorphic stone that does well in wet areas like showers. It can be gauged or ungauged and may have a naturally cleft, matte, or polished finish. The more "finished" the slate tile, the higher the cost. Ungauged, naturally cleft slate is relatively inexpensive to purchase but costs more to install. Many slate types have a rustic and natural appearance popular in many designs.
Porcelain Tile
Porcelain tile costs between $3 and $30 a sq.ft. The cost of this material installed averages $17 to $46 a sq.ft. Porcelain tile is made of compressed clay dust fired to very high temperatures. This renders it impervious to moisture, stains, scratches, and cracking. It may be glazed or unglazed and comes in a range of styles that mimic the look of stone, wood, or fabric. It comes in sizes of up to 36" square, so you can achieve the popular large format wall tile trend.
Marble Tile
Marble tiles cost between $3 and $50 a sq.ft. The cost of this material installed averages $13 to $65 a sq.ft. Marble is a metamorphic stone that may be cut and polished, honed and matte, or tumbled in appearance. It can be used to capture many of the natural-material trends and contemporary and rustic styles. Some marbles do very well in wet areas, while others have problems in the shower. For example, Bianco Carrara contains iron and may rust, and any green marble that contains serpentine may flake. If marble is used in the shower, it must be sealed during installation and resealed regularly to impede staining.
Terracotta Tile
Terracotta tile costs $5 to $15 a sq.ft., depending on the size and finish. The cost of this material installed averages $10 to $30 a square foot. Terracotta is a clay tile type that can be glazed or unglazed. It is known as a monocottura tile, meaning it was fired once. Unglazed terracotta is the most common and comes in a range of shades and sizes. It requires a sealant when used in a wet area like a shower because the tile's clay body is porous. Terracotta is generally thicker than most machine-made tiles, which makes installation more difficult.
Limestone Tile
Limestone tile averages $5 to $30 a sq.ft. The cost of limestone tile installed ranges from $13 to $45 a sq.ft. Limestone is a sedimentary rock made primarily of calcite. Some limestones should never be used in wet areas or showers, such as Lagos Azul that pits and dissolves in water. Others like Crema Luna are very hard, durable stones that hold up well, provided they are sealed periodically. All limestone must be sealed with an impregnating, silicone-based sealer during installation and resealed regularly to prevent stains. Travertine is a subtype of limestone formed inside hot springs. It is popular for creating a rustic stone bathroom design but should be treated like other limestones in wet areas.
Quarry Pavers
Quarry pavers cost between $10 and $30 a sq.ft. The cost of this material installed averages $13 to $40 a sq.ft. Quarry pavers are a unique tile made of clay that is fired to very high temperatures. Unglazed, they often resemble bricks or terracotta and can be used as a terracotta alternative for those wanting more options or a less-maintenance option for the shower. They can also be glazed in a wide range of colors and finishes. These are very thick, durable tiles that come in a wide range of patterns, sizes, and styles.
Granite Tile
Granite tiles cost $10 to $50 a sq.ft. The cost of this material installed is $17 to $65 a sq.ft. Granite is an igneous rock that comes in many colors, but it is not a very common material for showers. People use it in contemporary showers when they want the look of polished stone tile without the care and maintenance of marble or limestone. It is almost always sold in 12-inch polished squares, although some more popular colors may be honed or flamed and available in other sizes. If you like the look of the trendy black or dark-colored bathrooms, Absolute Black granite can help achieve that look.
Glass Tile
Glass tiles cost $10 to $50 a sq.ft. The cost of this material installed averages $19 to $65 a sq.ft. Glass tile is a great material for showers, either used alone or combined with ceramic, porcelain, or stone. Glass tile can be cleaned with any glass cleaner and is impervious to staining. Glass tile comes in a wide range of colors, patterns, and types. Some need special installation, setting materials, and grouts, which increases the installation cost significantly. Glass can be used on the shower walls and floor.
Pebble Tile
Pebble tile costs $30 to $40 a sq.ft. This material installed costs $42 to $70 a sq.ft. Pebble tile is made of rocks taken from beaches, usually around Indonesia, but they may be gathered from other areas as well. They are sorted for size and color and glued to mesh sheets. The sheets interlock into one another to produce a seamless installation. They require a great deal of grout to install and must be sealed to prevent staining. They can be used either underfoot for a massage, as an accent with other tiles, or cover a complete wall. They make a beautiful complement to many natural material-inspired bathrooms.
Shower Tiling Cost by Finish
Shower tile is available in an incredible range of finishes. Depending on the material, you may find several options for the tile's finish and appearance. For example, a glass tile may be frosted, clear, color-backed, glossy, or iridescent. A travertine tile may be honed and filled, polished and filled, cross-cut, or tumbled and unfilled. This gives you many options for how your shower looks.
While countless finishes are available, you can generally break your tiles into four broad categories - glossy, including polished tiles; matte, including honed, frosted, and flat finishes; rustic, including tumbled, chiseled, and handmade tiles; and metallic, which has a glaze containing metal.
Your costs range depending on the tile finish and type. For example, a glossy ceramic tile and polished marble tile have a shiny surface but different costs.
| | | |
| --- | --- | --- |
| Finish Type | Average Costs per Sq.Ft. (Material Only) | Average Costs per Sq.Ft. (Installed) |
| Glossy | $1.25 - $50 | $4.25 - $65 |
| Matte | $3 - $50 | $6 - $65 |
| Rustic | $3 - $100 | $13 - $110 |
| Metallic | $20 - $50 | $23 - $65 |
Shower Tiling Cost by Pattern
Showers can be tiled in plain or decorative ways. Sometimes, people create patterns out of tiles of the same size but different colors. Other times, they use tiles cut into unique shapes and designed to be pieced as a pattern, such as circles and diamonds. You can also create patterns using varying tiles installed in different directions, such as herringbone, running bond, or diagonal.
The cost of patterned tiles start at $3 to $30 a sq.ft or $7 to $40 installed. When creating a pattern out of plain tiles, keep in mind that while your base material costs will not differ, your total costs are 10% to 20% higher because you need additional material to complete the pattern and more labor to install it. You also have a higher installation rate for the shower if you add accents like a border or wall of mosaics that can be roughly 10% to 20% higher than if you did not include those details.
Below are some of the most common patterns or tile arrangements found in showers.
Straight Set
This is the most basic and least expensive tile installation. The tiles are installed straight up and down, stacked on top of each other. The tiles may be square or rectangular in shape. You can create more depth by mixing multiple colors in this design. Even tiles that are patterned on their surface are installed in this manner, so their installation costs are the same as for a non-patterned tile.
Diagonal
In a diagonal tile installation, the tiles are turned on their points. This creates a unique pattern but increases the total installation costs by about 20%. This is sometimes known as a diamond tile pattern. It can be done with any sized tile and makes plain tiles look more interesting.
Running Bond
The running bond design is arguably the most popular tile installation of all time. It is sometimes called an offset or subway pattern, and it can be made of rectangular or square tiles. It increases costs by 10% to 15%, depending on the tile size and shape. You can create this pattern using large format tiles to capture these trends.
Herringbone
The herringbone pattern is a decorative way to tile a shower. It uses rectangular tiles set at angles to one another. This is a very time-consuming pattern to create and increases project costs by roughly 20%. The herringbone is frequently used as an accent. It may be done on one wall or a portion of a shower wall with straight or running bond patterns surrounding it.
Large Format
A large format tile shower uses oversized tiles to create a contemporary appearance with few grout lines. Oversized tiles tend to cost more, averaging $10 to $40 a sq.ft. installed. This is a popular option for shower walls, but you cannot use these tiles on the shower floor because they cannot slope to the drain. Mosaics can be used on the floor in the same material as the large format tiles on the walls.
Mosaic
Mosaic tile showers are very popular, especially with glass tile. While the tiles are small, they install 12 inches at a time on a sheet, so they do not take considerably longer. They cost slightly more to install, about 10% more on average, because the mortar must be smoothed and flattened before the sheets can be pressed in. If the mosaics are paper-faced or have brown craft paper on the front, expect to pay 20% more in installation costs because it requires the paper to be removed after the mosaics are in place. It is very common to purchase mosaics in a pattern of their own. The sheets need to be installed in a specific order in this case so that the pattern can continue properly.
Accent Wall
An accent wall is a great way to add detail to a shower. A field tile is used for most of the installation, and then a smaller framed section is filled with a different pattern or tile. Accent walls increase the cost of the installation by about 20 to 30%, depending on the size and material used in the center.
Decorative Border
Decorative borders are a common accent in bathrooms. The most inexpensive way to add a border is to cut a sheet of mosaics into strips, which reduces the costs to about $2 a linear foot, but you can also purchase decorative tiles specifically for this purpose. Borders can add 10% to 30% to the project's cost, depending on the material and size.
Labor Costs to Tile a Shower
Just as there are many tile types you can install in your shower, there can also be a range of associated costs. Expect to pay between $4 and $15 a sq.ft. for the labor and installation of most tile showers. The more work a tile needs for installation, the higher the cost. For example, glass tiles need a very smooth mortar or the key marks in the mortar may show through the tile. The labor to install glass is higher because you need to smooth the mortar after keying it to depth. Large format wall tiles must be back buttered to prevent lippage, increasing labor costs. Porous tiles like stone and terracotta must be sealed before being grouted. Paper-faced mosaic tiles need to have key marks smoothed, and then the paper soaked off the sheets, which can dramatically increase the time needed to install them. For this reason, your installation costs vary depending on the tile. Below are the average labor costs for the different tile types.
| | |
| --- | --- |
| Tile | Labor Costs per Sq.Ft. |
| Ceramic Tile | $3 - $10 |
| Quarry Pavers | $3 - $10 |
| Terracotta | $3 - $10 |
| Granite | $7 - $15 |
| Glass | $9 - $15 |
| Slate | $10 - $12 |
| Marble | $10 - $15 |
| Limestone | $10 - $15 |
| Mosaic | $10 - $25 |
| Paper-Faced Mosaic | $11 - $25 |
| Pebble | $12 - $30 |
| Porcelain Tile | $14 - $16 |
| Large Format | $14 - $20 |
Tile Size
Tiles used in the shower range from small mosaics of ⅜" to large format tiles as large as 36" square. While many people use classic tile sizes, such as 4" square or 3" x 6", you can use any size you prefer on the shower walls. Large format tiles are particularly common in modern showers because they have fewer grout joints and can create a cleaner and minimalistic look.
While you can use any tile size on the walls, you need tiles that are 2" or smaller on the shower floor. This is to accommodate the slope of the drain. Larger tiles cannot slope without eventually cracking.
Which Are the Best Tile Colors for a Bathroom?
Many beautiful tile colors work well in a bathroom. The key is figuring out what your aims are for the space and what, if any, trends you want to follow. Bathrooms seldom get much natural light. For this reason, they use lighter colors like white because light colors make the space appear brighter.
However, this is not a hard and fast rule. Many people use black or dark colors as accents in the bathroom. Black and white bathroom designs are very popular and so are cobalt blue with white. In fact, 37% of experts in our 7 of the Most Popular Bathroom Tile Trends in 2022 report affirm that it is a popular trend for this year and that you can find black and white tiles in different patterns such as hexagons, octagon-and-dots, and basketweaves.
Currently, most green shades are popular, and very bright and bold colors are used as accents. Most cool colors recede from the eye when viewed, making small bathrooms seem larger. These are colors like white, gray, black, blue, and green. Warm colors make bathrooms feel cozier, including yellow, cream, tan, brown, orange, and red. So, depending on your bathroom size and how you want to feel in it, you may want to consider these colors.
The most common colors for bathroom fixtures are white, biscuit (cream), and tan. So, when choosing your color palette, make sure it coordinates with the room's fixtures for the best results.
Costs to Retile a Shower
If your shower is old, leaking, or dingy, you may want to retile it. Retiling allows you to see behind the tiles and address issues, such as leaking pipes or mold.
Removing old tile costs between $2 and $5 a sq.ft., depending on the tile type and shower age. Very old shower tiles cost more to remove than newer ones because very old tile was set in mud over a lath, which can be very hard to remove.
Removing the old tile from a 3' x 4' shower with 8' high walls and readying it for new tile costs $184 to $460. This makes your total average cost range $1,984 to $5,460 for the average shower.
You may have additional costs if mold or other issues are found when the old tile is removed.
Pros and Cons
Tile is one of the most popular methods for creating a shower or a tub/shower surround. Tile comes in many sizes, colors, shapes, and styles. This can give you endless combinations and designs to customize your shower. You can easily incorporate bathroom trends into your shower design by mixing and matching the colors and materials you use for the shower tile.
Tile is water-resistant and versatile enough to be installed in any sized space. This is beneficial if you want to create a custom-sized shower.
However, tile has some downsides. It is more expensive to create a tile shower than an acrylic or fiberglass stall shower. Tile can also be more maintenance, depending on the tile material. All tile has grout, which can stain and discolor, and many tiles like natural stone require sealing and care to look their best in a wet environment like a shower. This means having a tile shower can be more work than an acrylic or fiberglass stall.
Maintenance
All tiles need some maintenance when used in the shower. However, some require more than others. The maintenance, cleaning products, and maintenance schedule you must follow depend on the tile type.
Ceramic tile, porcelain tile, and glass are fairly low-maintenance. They can be cleaned with anything - and glass cleaner can be used on glass tiles - and do not require anything special. The one exception is choosing a ceramic tile with a cracked finish or the glaze on the ceramic cracks. In this case, the tile should be sealed yearly.
Natural stone tiles and other porous materials like terracotta should be sealed in the shower. This should be done before grouting and on an ongoing basis. A well-sealed tile beads water off its surface like a waxed car. If you no longer see water beading off the tile, it is time to reseal. Always use a tile sealer designed for the type of tile or stone in your shower. For example, limestone needs a sealer made for very porous natural stone, while terracotta can use an impregnator made for clay.
Even if your tile does not need sealing, your grout may. Some grouts can be presealed or do not require sealing, but others do or they may discolor.
Enhancement and Improvement Costs
Old Tile Removal
When retiling a shower rather than installing a new one, the old tile must first be removed. This costs $2 to $5 a sq.ft., depending on the tile type. Keep in mind that removing the old tile is only the first step. Inspect the walls behind the tile before installing new tile to ensure there are no issues.
Waterproofing Membrane
All tile shower installations need a waterproofing membrane installed over the studs to help prevent moisture damage. The membrane costs around $10 a roll. It is put on first, before the waterproof backer board is installed and the tile put up.
Heated Floor
While uncommon, an electric or hydronic in-floor heating system can be installed in your shower. This has a total cost of approximately $10 to $25 a sq.ft. Proper installation is necessary to ensure the safety of this project.
Threshold
It is common for tile showers to have a marble threshold. If you have stone elsewhere in the bathroom, such as a countertop, you may choose to use a piece of the same slab for the threshold. Readymade thresholds are available in a few colors and cost around $30 to $50. You can also use a flush threshold for zero-barrier entry showers, using the same material on your bathroom floor as your shower floor.
Additional Considerations and Costs
Extra tile. When purchasing tiles, always buy a minimum of 10% extra in case you break tiles during installation. It is also a good idea to have extra tiles leftover for future repairs.
Suitability. Some tiles are unsuitable for showers or wet areas, including green marbles and some limestones. In addition, not all tiles installed on shower walls can be used on a shower floor. Always check that the tile you purchase is designed for where you intend to use it.
Water resistance. To help ensure that your shower is water-resistant and does not leak, ensure all 90-degree angles are filled with caulk.
Sealing. Not all tiles need to be sealed. Terracotta and all-natural stone tiles, as well as any cracked or crazed glazed ceramic tiles, should be sealed with a silicone-based impregnating sealer.
Shower walls. If your shower walls are uneven, you may need to have a new backer board installed first to ensure a better installation and prevent uneven tiles.
Wet room. When retiling your shower, consider turning your bathroom into a wet room because they can add value to your home. To do this, you need to extend the shower material throughout the space.
FAQs
How much does tiling a shower cost?
Tiling a shower has a wide range of costs, depending on the size and tile. The average range is $1,800 to $5,000.
How long should it take to tile a shower?
This depends on the shower size and the materials you choose. At a minimum, expect three days before the shower can be used because the mortar and grout need to cure.
What do you put behind the tile in a shower?
A cement backer board that has been treated for use in wet areas is the best material to use behind the tile in a shower. This can be known as green board or purple board.
Do I need to waterproof shower walls before tiling?
You should cover your studs with a waterproofing membrane and use a cement backer board that is designed for use in wet areas, such as a green board or purple board.
The information provided by our cost guides comes from a great variety of sources. For more information, read our Methodology and sources.