House Siding Cost Cost Guide

Your home's siding is arguably its most important feature next to its roof. Siding protects your home from the elements, keeps out the rain, wind, and snow, and plays a role in energy efficiency. Your siding also helps your property's curb appeal - the first look dictates a large part of your home's value and saleability.
Many types of siding material are on the market today. You can choose from numerous materials, styles, and installation types for a range of looks. Each also has different maintenance, durability, cost, and other attributes to consider. Therefore, there is a wide range of associated costs. The national average range for installing siding is $7,500 to $22,500, with most homeowners spending around $13,500 for 1,500 sq.ft. of cedar siding in a Dutch lap installation. The lowest cost for a siding installation is $4,500 for 1,500 sq.ft. of hollow vinyl siding installed. The high cost is $60,000 for 1,500 sq.ft. of solid stone siding professionally installed.
Siding Installation Prices
Siding Costs
National average cost
$13,500
Average range
$7,500-$22,500
Low-end
$4,500
High-end
$60,000
Average Cost to Reside a House
The average cost for the most popular materials to reside a home ranges from $8,500 to $16,500. The cost to reside a home has the same costs of installing siding on a new home, along with the cost to remove and dispose of the existing siding and any repair costs. The average cost of removal and disposal is between $1,000 to $2,000. When disposing of a material that cannot be reused or recycled, such as vinyl, you may have an additional fee of around $500.
After that, your costs to reside include labor at between $1 and $10 a square foot, depending on the material, which ranges from $1.30 to $30 a square foot. You may have additional costs for house wrap, lath, furring strips, insulation, and repairs, depending on the siding. These can have additional costs of $0.50 to $2 a square foot.
While a few types like brick and stone last for centuries, most siding has a limited lifespan. Sometimes, you want a lower-maintenance material after spending years painting, patching, and repairing wood siding. Other times, you want a different look for your home. There are also times when the siding has reached the end of its life. Watch for signs like widespread issues with rot, cracking, splitting, and warping. Vinyl eventually becomes brittle and cracks and splits, while aluminum fades and develops dents and dings that become costly to repair.
When the cost to repair your siding exceeds $5,000, consider replacing it. This does not include the painting cost, which can easily reach $5,000 alone. The cost to repair and paint 1,500 sq.ft. of siding can be more than the cost of new siding in most cases, making this a good time to switch.
Compare prices from siding installers near you
Cost of Siding per Square Foot
The cost of siding per square foot has a wide range, depending on the siding. The most common sidings, such as vinyl, wood, fiber cement, metal, and stucco, have an average cost range of $1 to $10 a square foot for material and between $1 and $10 a square foot for installation. The combined range is $2 to $20 a square foot installed:
| | |
| --- | --- |
| Square Footage | Average Cost Range (Installed) |
| 500 sq.ft. | $1,000 - $10,000 |
| 1,000 sq.ft. | $2,000 - $20,000 |
| 1,500 sq.ft. | $3,000 - $30,000 |
| 2,000 sq.ft. | $4,000 - $40,000 |
| 2,500 sq.ft. | $5,000 - $50,000 |
House Siding Cost by Material
House siding comes in many materials. Each material breaks down into different styles, sizes, thicknesses, and manufacturers, which impacts costs. Each material has a range of costs and attributes to consider.
| | | |
| --- | --- | --- |
| Material | Cost Range per Square Foot (Installed) | Cost for a 2,000 sq.ft. home (1,500 sq.ft. of siding) |
| Plywood | $2 - $3 | $3,000 - $4,500 |
| Wood | $2 - $35 | $3,000 - $52,500 |
| Vinyl | $2.30 - $13 | $3,450 - $19,500 |
| Aluminum | $4 - $7 | $6,000 - $10,500 |
| Stucco | $6 - $8 | $9,000 - $12,000 |
| Steel | $6 - $9 | $9,000 - $13,500 |
| Brick Veneer | $6 - $9 | $9,000 - $13,500 |
| Fiber Cement | $6 - $13 | $9,000 - $19,500 |
| Engineered Wood | $6 - $17 | $9,000 - $25,500 |
| Stone Veneer | $12 - $22 | $18,000 - $33,000 |
| Brick | $12 - $35 | $18,000 - $52,500 |
| Solid Stone | $19 - $45 | $28,500 - $67,500 |
Plywood Siding
Plywood siding or T-111 costs $2 to $3 a square foot installed. This is the most basic siding. It has grooves running vertically through the plywood for texture and a more interesting appearance. It is frequently used in small areas as an accent or to cover outbuildings and sheds. It does not last as long as other sidings and may require more maintenance. It must be painted to disguise the plywood's texture and appearance and also to prevent swelling and warping.
Wood Siding
Wood siding ranges from $2 to $35 a square foot installed on average. This includes all types of wood siding, from basic pine and plywood to exotic hardwoods like ipe, with cedar being the most popular. Wood siding comes in many styles and forms. It can be sold in planks, panels, or shingles and shakes. It can be stained to show the grain or painted any color, depending on the wood's grade. This makes wood one of the most versatile materials on the market.
Vinyl Siding
Vinyl siding costs between $2.30 and $13 a square foot installed. Vinyl comes in several styles and colors. It can be thin and hollow, thicker and easier to work with, or come pre-insulated for better energy management. Vinyl is plastic, so it does not last as long as other sidings. It is also not easily disposed of, which means that it cannot be considered an eco-friendly or green material. It is lower maintenance than wood siding and does not require painting to maintain its color or appearance.
Aluminum Siding
Aluminum siding averages $4 to $7 a square foot installed. Aluminum is one of the first types of siding created as a lower-maintenance alternative to wood. Aluminum is more durable than wood but requires painting every few years. Aluminum also dents easily and can require frequent repair. It comes in many colors and a few styles of lap siding. It is not as versatile as other sidings, including other metals.
Stucco Siding
Stucco siding costs between $6 and $8 a square foot installed on average. There are three types, each with unique characteristics. Traditional stucco, or three-coat stucco, is the most common because it has the most variation in finish and texture. External Insulation and Finishing Systems (EIFS) stucco help with energy efficiency, while one-coat stucco keeps costs down. Any stucco gives you a long-lasting and durable finish. It can also be tinted or painted in a range of colors.
Steel Siding
Steel siding ranges from $6 to $9 a square foot installed. Steel siding is an incredibly durable and versatile material. It comes in lap siding that can float over the exterior and hide flaws. It also comes in insulated log-look siding that never needs painting. Steel siding is flame, moisture, and insect-resistant and can last for decades. It is fully recyclable, making it one of the greener materials.
Brick Veneer Siding
Brick veneer siding averages $6 to $9 a square foot installed. Brick veneer is a very thin brick, known as a face brick. It can be installed on any home's exterior. While not as thick as standard bricks, brick veneer is still very long-lasting. It is also flame-retardant and insect, water, and rot-resistant. Installed correctly, it can last for decades.
Fiber Cement Siding
Fiber cement siding costs between $6 and $13 a square foot installed. Fiber cement siding is made from cellulose fiber, sand, silica, and Portland cement. It is made in a mold to take on the shape and texture of other materials like wood, stucco, and stone. Fiber cement is more durable and lower maintenance than wood and vinyl. It can last for 50 years or more and comes in many styles. Depending on the type, it can also complement nearly any home, including historic properties.
Engineered Wood Siding
Engineered wood siding ranges from $6 to $17 a square foot installed on average. Engineered wood can be made in several ways. Most contain some wood pulp, along with things like wax, resin, and glue. This makes engineered wood more durable, lightweight, and lower-maintenance than standard wood. It is available in many styles and colors, depending on the type. It can have the same appearance and texture as natural wood because it is made in a mold.
Stone Veneer Siding
Installed stone veneer siding costs between $12 and $22 a square foot. Stone veneer siding comes in many forms. It can be cement, thin pieces of real stone, or a blend. Stone veneer can be classified as manufactured or natural. Each type has different costs and installation methods, with manufactured being less expensive and easier to install. All types of stone veneer can add value to your home.
Brick Siding
Brick siding averages from $12 to $35 a square foot. Brick siding can be made in several ways. It can be formed of panels, full bricks, or handmade bricks. Each material has its look, installation method, and costs. In general, brick siding is very durable and long-lasting. It is also fairly low maintenance and easy to care for. Most brick siding lasts for more than 100 years with basic care.
Natural Stone Siding
Solid natural stone siding costs between $19 and $45 a square foot installed. Natural stone siding comes in many styles and types. It can be made of natural "rocks" or cut pieces of stone formed into blocks. The stone can be granite, marble, limestone, sandstone, or slate, and each has beauty and characteristics. Stone siding is extremely heavy and may require reinforcement or wall anchors for installation. Some building codes limit the stone to 15 pounds per square foot.
Get free estimates from siding installation companies near you
House Siding Cost by Style
House siding is available in dozens of different styles. Not every material is available in every style, nor is every style suitable for every home. However, several styles are widely available in multiple materials. These styles tend to be popular because they work well in most regions and homes. Style has at least some impact on your siding's price, with the more complex siding types costing more than the most basic:
| | |
| --- | --- |
| Style | Average Cost Range per Square Foot (Installed) |
| Dutch Lap | $2 - $11 |
| Clapboard | $2.30 - $14 |
| Board and Batten | $4.50 - $16 |
| Shingle | $4.50 - $18 |
| Panel | $6 - $35 |
| Shake | $10 - $20 |
Dutch Lap Siding
Dutch lap siding costs between $2 and $11 a square foot installed, depending on the material. This is a horizontal lap siding with a concave section at each plank's top. This causes the row above to cast a shadow on the plank below, which gives the siding depth and interest. It is one of the most popular types of horizontal lap siding available. It can be found in metal, wood, vinyl, and fiber cement. This is also one of the more easy sidings to install, regardless of the material.
Clapboard Siding
Clapboard siding ranges from $2.30 to $14 a square foot to install on average. This is a more traditional style of horizontal lap siding. Each plank is shaped like a wedge, with the bottom being thicker than the top. Each plank overlaps the one below with the thick edge lapping the thin. This creates an even installation up the wall. Most materials are available in clapboard, with vinyl, wood, and fiber cement being the most common.
Board and Batten Siding
Board and batten siding averages between $4.50 and $16 a square foot. This is the oldest known siding in the U.S. It is traditionally made of a wide plank installed vertically from top to bottom, with a thin strip of furring called a batten fastened over the seams. It is still installed this way in wood and fiber cement. Vinyl and metal board and batten are sold and installed in sections for an easier installation. Board and batten works on many homes and is the most popular type of vertical siding.
Shingle Siding
Shingle siding costs $4.50 to $18 a square foot on average. Shingle siding is available in wood, vinyl, and fiber cement. Wood shingles are individual pieces that are fairly uniform in size and shape and install overlapping each other. Vinyl and fiber cement sell the shingles in rows, so they go up faster. They can have straight or staggered edges and be uniform or varied in size, regardless of the material.
Panel Siding
Panel siding ranges from $6 to $35 a square foot. Panels come in wood, fiber cement, and metal. They can be smooth, textured, corrugated, or ribbed or have standing seams or a wood grain. They work best in contemporary and modern styles. They are meant to be installed vertically and can give your home a sleeker, more minimalist appearance. Depending on the type, they may install seamlessly or need a reveal around their edges.
Shake Siding
Shake siding costs between $10 and $20 a square foot on average. Shakes are similar to shingles in some ways. But while shingles are traditionally machine-made, shakes are usually hand split. This makes them larger, thicker, and more irregular. Shakes are a good option for those who want a more rustic look. Shakes are sold and installed individually in wood and fiber cement. They often have a much larger, more irregular reveal and bottom edge than shingles.
Insulated Siding Costs
Having insulation below your siding creates a tight building envelope, which can reduce your energy usage and keep your home more comfortable. You can add insulation below any type of siding. This is typically done by using a rigid foam board, such as IPS or XPS. The cost of adding insulation ranges from $2 to $4 a square foot in addition to the siding.
You can also purchase insulated siding, which has the insulation as part of the siding. This means that there is less labor involved in insulating your home, which can mean lower costs. You can find insulated vinyl siding and insulated steel siding.
Insulated vinyl siding costs around $8 to $10 a square foot for materials and between $2 and $4 a square foot to install. Insulated metal siding costs around $5 to $6 a square foot and costs between $2 and $4 a square foot to install.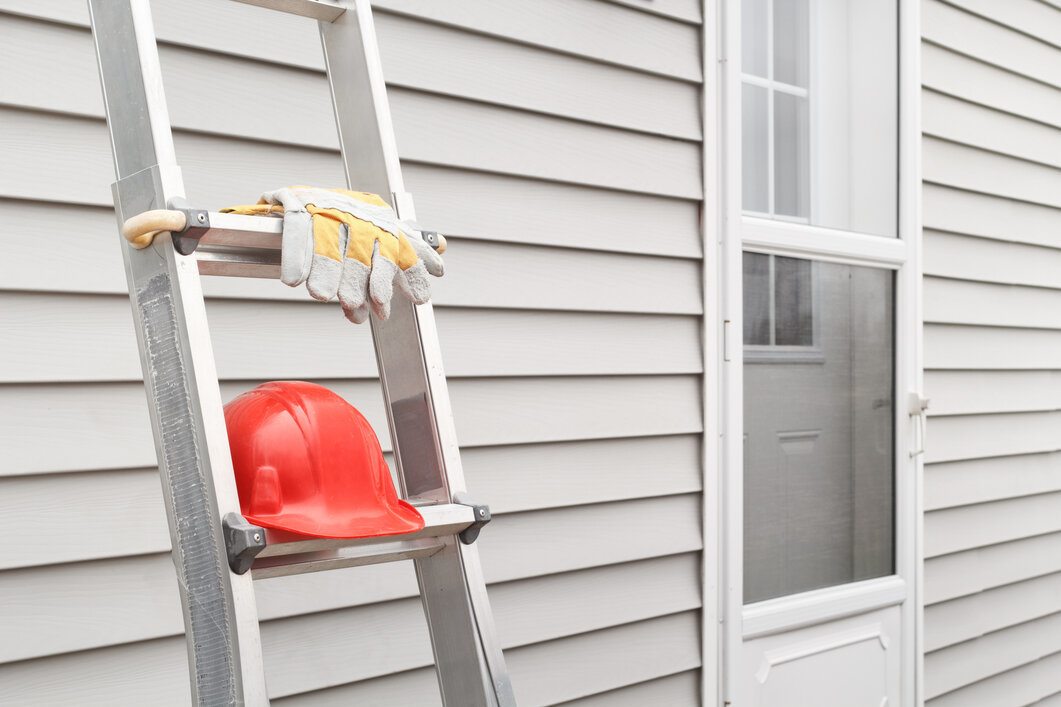 Labor Costs to Replace Siding
Labor costs to replace siding, vary depending on several factors. Your costs for installing the new siding are identical to the costs of siding a new home. The difference is you have additional costs with the removal of the old siding, potential costs associated with disposal, and costs for any needed repairs before the new siding can be installed. Below are the labor costs associated with replacing different siding types. These cost ranges include the removal and disposal of the old siding and the installation of the same type of siding, assuming there are no major repairs needed.
| | | |
| --- | --- | --- |
| Material | Labor Replacement Cost per Square Foot | Difficulty of Replacement |
| Wood | $2 - $8 | Low - Medium |
| Metal | $3 - $7 | Low - Medium |
| Fiber Cement | $3 - $6 | Low - Medium |
| Vinyl | $3 - $8 | Low |
| Stucco | $5 - $12 | Medium |
| Stone | $12 - $25 | Medium - High |
| Brick | $12 - $35 | Medium - High |
Labor Costs to Install Siding
Labor costs to install siding on a new home vary depending on the material. Even within a material, there may be a difference in labor costs, depending on the style and siding. Some brands and styles may have proprietary installation instructions to make things easier or more difficult for the installer, changing rates for that specific product. Below are the average labor cost ranges for each group of siding.
| | |
| --- | --- |
| Material | Average Labor Costs per Square Foot |
| Vinyl | $1 - $3 |
| Wood | $1 - $5 |
| Fiber Cement | $2 - $3 |
| Metal | $2 - $4 |
| Stucco | $2 - $10 |
| Brick | $2 - $20 |
| Stone | $7 - $15 |
Find top-rated siding installers near me
​
Average Cost of Siding and Windows
Whether you are siding a new home or replacing the siding, it is very common to need new windows at the same time. When you remove the siding from your home, it is an ideal time to install new windows.
There are many window types, which means a wide range of costs. Expect to pay between $500 and $1,500, with the average home having 8 windows for a total range of $4,000 to $12,000 for the windows, plus the new siding, which has an average cost of $13,500. This adds up to a total range of $17,500 to $25,500 for new siding and windows on the average home.
Siding Materials Comparison
Different sidings can have similar and disparate characteristics. When deciding on your siding, compare your choices on several levels, including maintenance, durability, and environmental impact. Some materials have overlap in areas, while diverging significantly in others. Consider the things most important to you when choosing your siding to find the right material.
Siding Maintenance
All siding needs maintenance. This may be cleaning and checking the caulk, or it can be more involved and include painting, scraping, and repairing regularly.
Siding that is considered low maintenance generally only needs yearly inspection and cleaning as needed. Siding considered low-to-medium maintenance may need painting after 10 to 15 years, but no other significant care beyond inspection and cleaning as needed. Siding considered medium-to-high maintenance needs more regular inspections, some regular repair or other care, and more frequent cleaning or painting. High-maintenance siding requires painting or staining every few years, along with regular inspections and potential repairs.
| | |
| --- | --- |
| Material | Maintenance Level |
| Brick | Low |
| Stone | Low |
| Steel | Low - Medium |
| Fiber Cement | Low - Medium |
| Vinyl | Medium |
| Stucco | Medium |
| Aluminum | Medium - High |
| Wood | High |
Energy Efficiency
No siding by itself gives a significant reduction or improvement of your energy or comfort levels. Some sidings may be slightly better at providing insulation than others on their own. Sidings with insulation on the back, such as insulated vinyl, EIFS stucco, and insulated steel, provide the best energy efficiency. Otherwise, if you truly want to increase your home's energy efficiency, add IPS or XPS foam insulation to your exterior before siding your home.
Below are the R-values for siding types. The higher the R-value, the greater the insulating properties and the better the material's energy efficiency:
| | |
| --- | --- |
| Material | Energy Efficiency (in R-value) |
| Stucco | 0.2 |
| Brick | 0.41 |
| Stone | 0.41 |
| Fiber Cement | 0.5 |
| Aluminum | 0.61 |
| Steel | 0.61 |
| Vinyl | 0.61 |
| Wood | 0.81 |
| Insulated Steel | 2 - 3.5 |
| Insulated Vinyl | 2 - 3.5 |
| EIFS Stucco | 4 - 5.6 |
Durability
Different siding types have different levels of durability. Durability takes on many forms. For example, some materials hold up well to impact but suffer in different climates. Others resist damage from many sources but may fail over time due to moisture. When looking at your siding's durability, consider two things - its maintenance and lifespan. Siding that is regularly maintained - even high-maintenance siding - typically lasts longer than neglected siding. If you choose a high-maintenance siding, make sure you are willing to put in the effort to meet its expected lifespan. Low-maintenance sidings usually have greater durability, lasting longer with little intervention. Below are the expected lifespans of most siding, with the understanding that proper maintenance is carried out for each:
| | |
| --- | --- |
| Siding Type | Lifespan |
| Vinyl | 18 - 20 years |
| Wood | 20 - 40 years |
| Metal | 20 - 100 years |
| Fiber Cement | 50 - 60 years |
| Stucco | 50 - 80 years |
| Stone | 50 - 100 years |
| Brick | 100 years + |
Eco-Friendliness
When comparing the environmental impact of any siding, weigh several things. The first is how it is produced. Responsibly harvested wood siding can be a sustainable material. Vinyl, which is a plastic that gives off many VOCs when produced, is not. Some siding types can also contain recycled content, such as metal and fiber cement.
The second thing to consider is how long it lasts. The longer a siding lasts, the less of an impact it has on the environment. Next is how it can be disposed of. Some materials can be reused, some can be recycled, and others break down easily. A few materials cannot be reused or recycled, and they remain in a landfill after use.
While every brand and subtype of each siding has variations in its environmental impact, you can generalize. The following table shows whether each siding type has a low, medium, or high environmental impact on the environment. The lower the impact, the more environmentally friendly the material is.
| | |
| --- | --- |
| Material | Environmental Impact |
| Brick | Low |
| Metal | Low |
| Fiber Cement | Medium - Low |
| Stone | Medium - Low |
| Stucco | Medium - Low |
| Wood | Medium - Low |
| Vinyl | High |
Sound Performance
For sound performance, you may find that your siding acts like energy-efficient siding. Except for very thick sidings, such as solid brick and stone, the same insulating properties siding has for thermal transfer can also impact sound. Thicker sidings and insulated sidings have better sound performance than thin and uninsulated sidings. If you are concerned about noise, adding an IPS or XPS insulation beneath your siding can reduce sound. Adding acoustic or sound-absorbing materials to your walls on the interior can also reduce noise.
Consult with a local pro when installing your siding
What Color Siding Has the Best Resale Value?
Color and siding vary in popularity. Regionally, colors tend to be different as you move across the country, with homes in the South tending to be darker. Homes in the Northeast tend toward whites and grays, homes in the Midwest having more whites and neutrals, and homes in the Southwest have more natural tones.
One color that does well universally in terms of resale value is white. White homes tend to do well in most areas. Many gray shades also do well in resale, as do shades of cream, beige, and taupe.
To get the best resale value, your siding should match your region or your home's architectural style. All architectures have a built-in color palette, meaning certain colors were designed to work on that style. Victorians, for example, have a somber color palette, with a small amount of black added to subdue the colors. Craftsmans look best with natural colors - browns, greens, and grays - and Capes tend to look best in white, gray, and cream.
With the exception of white, gray, and most beige variations, you must pay more attention to your area and architectural style for the best results to find the optimal color siding for resale value.
Installing Siding Over Existing Siding
Once homeowners become aware of the cost to remove existing siding, they often wonder if they can avoid this step and simply install new siding over existing siding. While this can be done in certain situations, it is often not recommended.
Existing siding can be at varying degrees of rot or damage. It can also contain mold or lead paint. Depending on the amount of damage, mold, and/or lead, it is possible to make small repairs. However, a homeowner must remove the existing siding completely and install new siding if these items occur in a significant amount.
If you have siding that is not completely compromised and have found a contractor that is willing to move forward, do not be surprised if the cost is almost the same or higher than a quote for installing new siding altogether. It is more labor intensive to work with an old, slightly destroyed base for your new siding rather than ripping it off and starting from scratch. Unless you are saving thousands of dollars, it is recommended to rip off the siding and start fresh.
Cladding vs Siding
The terms cladding and siding mean the same thing. They refer to the material covering your home's facade. One could "clad" a home in wood or "side" a home in vinyl - the definition is the same.
There are some styles and materials that are more likely to be referred to as siding, rather than as cladding. This includes things like wood, vinyl, metal, and fiber cement that are installed in a type of horizontal lap. Brick, stone, and any type of shingle are more frequently called cladding. However, this is a matter of preference and semantics and does not change what you are covering your home with.
Vertical Siding vs Horizontal Siding Cost
After choosing the material and color, you may think you are done with making decisions on your siding. However, one more choice must be made: horizontal or vertical? Horizontal siding is most often Dutch lap, clapboard, shingle, or shake. Vertical siding is typically board and batten or panel, and it creates a different aesthetic that can be quite lovely for those who want an unconventional home exterior.
Commercial buildings commonly use vertical siding, but it is not uncommon for residential homeowners to turn to vertical siding. Homeowners can see the differences in vertical siding vs horizontal siding costs below.
For those on a budget, horizontal siding is the way to go. Vertical siding has increased costs because it is more complex to install. Since your home is likely moving from horizontal to vertical siding, this means the horizontal furring strips must be removed. This takes time and additional resources to complete. Unless you have specified you are considering vertical siding, you will only receive quotes for horizontal siding.
However, homeowners who want to have their siding last longer will find vertical to be better. Horizontal siding is prone to rainwater damage. This is because the siding edge allows water to build up and seep in. Within a few decades, a total replacement may be required.
Fortunately, you do not need to restart your decision on material and color because nearly all siding can be installed either horizontally or vertically. You do need an installation team that is familiar with vertical siding. All siding companies have experience and knowledge with horizontal installation, but not all have installed vertical siding before.
Ultimately, you need to determine the pros and cons that matter to you. Do you want an unconventional vertical siding design that is more costly and lasts longer, or do you want a conventional siding design that is cheaper and easier to install? Remember to ask for proof of experience to avoid any costly mistakes being made to your home if you choose to go with a vertical siding design.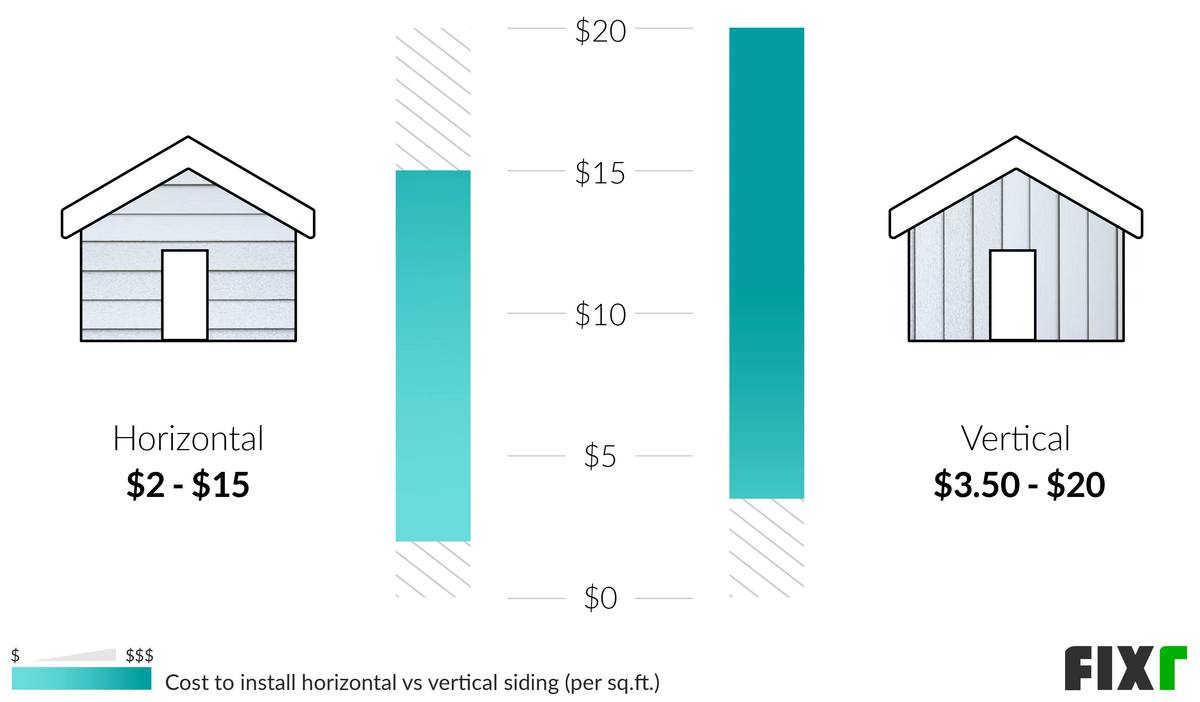 | | |
| --- | --- |
| Siding Type | Average Cost per Sq.Ft. (Installed) |
| Horizontal | $2 - $15 |
| Vertical | $3.50 - $20 |
Cost to Side a Garage
The square footage costs to side a garage are identical to those for siding a house. It is usually recommended to side your garage and your home in the same material. This gives your property a sense of continuity and a more cohesive curb appeal.
The average two-car garage measures 24 feet by 24 feet, assuming 10-foot walls and a double garage door, roughly 800 feet of siding, depending on the windows and roofline. The cost to side an average garage is around $5,600, assuming a mid-grade wood siding.
Find the best siding installation professionals near me
Enhancement and Improvement Costs
Paint Siding
Many types of siding come prefinished. Others do not require any paint. However, if you choose a siding that does not come prefinished, you need to paint it as part of the installation. Other sidings, such as wood and aluminum, also need ongoing maintenance that includes repainting. The average cost of painting siding is around $2,500 to $7,000.
Remove Siding
The cost to remove siding varies, depending on the siding type, its condition, and disposal method. Expect to pay between $1,000 and $2,000 for siding removal for the average home. Sidings that are heavy, dense, or difficult to dispose of may cost more to remove.
Flashing
Flashing is a layer of thin metal or other weather-resistant material installed around windows and doors. It stops water from seeping through the siding. It is also installed around the foundation to direct water away from the home. Installing flashing around the windows and doors in a 1,500 sq.ft. exterior costs between $200 and $400 on average.
Exterior Trim
Most siding types need trim to complete the installation. Trim covers the cut ends of the siding, and it finishes the edges of the home and window and door frames. The average cost to install trim is between $1,800 and $2,000 on average.
Soffit Installation
The soffit is part of your home's trim. It covers the underside of your rafters on the roof and plays an important role in ventilating your attic or crawl space. Soffits are generally made of the same material as your trim or siding. They can be wood, vinyl, metal, or fiber cement and come in several finishes and colors. They are typically included in the cost of installing trim. On their own, they cost roughly $200 to $400.
Gutter Installation
It is an ideal time to install new gutters when you install new siding. Gutters direct water away from your home's foundation, which helps it last longer. Gutters come in many styles and materials. The average cost to install gutters is $1,460.
Additional Considerations and Costs
Siding repairs. Part of maintaining your siding is making necessary repairs. The average cost of repairs is between $600 and $1,200 for most homes. Repairs help your siding last longer, avoiding replacement.
Siding disposal after removal. Siding installers remove your old siding and dispose of it as part of the project. Some types of siding can be easily recycled, but others must be disposed of in other ways.
Warranty. Most siding materials have a warranty. This warranty can be on the finish, installation, or against defects. These warranties last from 1 to 50 years, depending on the manufacturer and installer.
Permit. In most areas, you need a permit for siding installation. Speak to your town or city hall about whether there are any restrictions and for more information on the permit process.
Additional materials. Always ask your installer to put what is included in their quote and contract. This should include all materials, including the house wrap and trim. Ask about what other materials may be needed and their costs and the warranty.
Climate. Climate plays a role in how long your siding lasts. Some sidings do well in all climates, but others may do better in a moderate or dryer climate. Speak to your installer about what they recommend for your area.
Asbestos. If your home was sided before 1980 with masonite or another hardboard siding, it may contain asbestos. If you suspect this, have your siding testing before removal so that abatement teams can safely dispose of it.
Lead paint. If a homeowner suspects of or is aware lead paint was used on the home's exterior, it is their responsibility to let the contractor know. A responsible contractor always tests for lead paint to ensure their safety and avoid any EPA violations. The EPA's Renovation, Repair, and Painting regulations require a tarp to be laid down to catch any lead paint chips or dust if the siding is being removed. If new siding is being installed on top of existing siding, it is recommended (not required) to add insulation. Local ordinances can require the removal of lead paint, which contractors will be informed of when they acquire the project's permit.
FAQs
How much does it cost to side a 1,500 sq.ft. house?
The exact cost depends on many factors, such as the siding type and your home's condition. A 1,500 sq.ft. home needs roughly 1,000 feet of siding and has an average cost of $7,000 for a mid-grade wood siding installation.
How do I know how much siding I need?
Siding is sold and installed by the square foot. Estimate your siding needs by measuring each area's height and width and multiplying these numbers together. Add up all the various areas to get your total square footage, then increase by roughly 10% for waste.
What is the average cost to side a 2-story house?
Siding costs vary a lot, depending on your home's style, material, and size. The average cost to side a 2,000 sq.ft. home with a mid-grade wood siding is around $13,500.
Is new house siding a good investment?
In general, yes. Some sidings provide a better return on investment than others, with manufactured stone veneer, fiber cement, and vinyl getting the highest ROI.
What are the most common types of exterior home siding?
This varies by region. In general, wood, vinyl, and fiber cement are the most common, but steel, brick, and stone veneer are also common.
Does Home Depot do siding installation?
Home Depot does not do installations, but they contract with siding installers who can install the siding you purchase there.
What is the cheapest way to side a house?
The cheapest material for siding a house is T-111 plywood or pine lap siding.
What is the best low-maintenance siding?
The lowest maintenance siding is prefinished steel. It never needs painting, resists moisture and insects, and is also flame-retardant.
What is the easiest siding to install?
If you plan on installing siding yourself, vinyl is generally the easiest provided you have a second person on hand because the material is floppy and hard to move on your own.
Can you put new siding over old siding?
This depends on the siding and its condition. In some cases, yes, it is possible. In others, the old siding should be removed. Speak to a siding contractor to find out more information about your specific circumstances.
Find remodeling contractors near you
Get free estimates on Fixr.com from trusted remodeling contractors in your area
Find Contractors