How much does it cost to install a water softener?
Get free estimates from water filtration specialists near you
Water Softener Installation Cost Guide
Hard water makes it difficult to get your dishes and laundry clean and creates buildup in your appliances and pipes. If you have hard water, the most effective way of dealing with it is to install a water softening system in your home. Water softeners either remove or render harmless the minerals that cause hard water. For homes where hard water is an issue, installing a water softener could be a great investment not only to improve water quality but to prevent unnecessary buildup and wear on your pipes and appliances.
The average cost to install a water softener in the U.S. ranges from $1,100 to $3,000, with most homeowners spending $2,500 to install a dual-tank ion exchange system for a 3 to 4-bedroom home with all parts and labor included. This project's low cost is $600 for the installation of a small basic descaler system for a 1 to 2-bedroom home. The high cost is $7,000 for the installation of a multi-tank whole-home water softening and filtration system for a 5 to 6-bedroom home.
Water Softener System Cost
Water Softener Installation Cost
National average cost
$2,500
Average range
$1,100-$3,000
Low-end
$600
High-end
$7,000
How Does a Water Softener Work?
A water softener is a filtration system that uses salt or a salt-free chemical additive to remove high concentrations of magnesium and calcium that can cause hard water. The water in the home flows through a softener first, which filters out the excess minerals. Then, the water continues to flow through the plumbing to the various appliances and fixtures throughout the house. Different types of water softening systems have their own precise methods of application. However, they all reduce the hardness or mineral buildup in the water supply and provide better quality water to homes.
Water Softener Cost by Type of Tank
Most water softening systems in homes are tank-based systems. This means you have a single or dual-tank system with a brine tank. This also means you need 2 to 3 tanks, despite the single or dual-tank names. Tankless systems are available but work differently, are less common, and are designed to be installed for tankless water heaters. They are installed alongside them to soften the water before it goes through the heater. Single and dual-tank systems use ion exchange to soften the water, using negatively charged resin beads and salt or potassium chloride. This latter element is added by the homeowner into a brine tank. All three systems have benefits making one a better fit for your home.

| | |
| --- | --- |
| System Type | Costs (Installed) |
| Single | $650 - $1,500 |
| Tankless | $1,000 - $3,500 |
| Dual | $1,500 - $3,000 |
Single-Tank Water Softener
The cost of a single-tank water softener averages $650 to $1,500, depending on the system size and type. Single-tank water softeners are the most basic ion exchange system. They technically have two tanks - a holding and brine tank. Single-tank systems are less expensive and use less space than dual-tank systems. However, they do not hold as much water and your water supply interrupts when the system must be flushed. This is usually fine for small homes or homes with 1 to 2 people because you can schedule the flush for a time that best suits you. They require more softening pellets and frequent additions of pellets to the water.
Tankless Water Softener
The average cost of a tankless water softener ranges from $1,000 to $3,500 installed. A tankless water softening system is specifically built for tankless water heaters to be installed alongside them or as a part of the main unit to provide water softening. These tankless systems work differently from standard tank water heaters, so there are different softener systems. Ask your installer which system type is best or if you need a tankless unit.
Dual-Tank Water Softener
Installing a dual-tank water softener costs $1,500 to $3,000, depending on the tank and system size. These systems have a set timer to flush or can be flushed manually. However, unlike single-tank ion exchange systems, these have two tanks so that there is no interruption to the water supply during the flushing process. This system offers better features and performance than a single-tank ion exchange. Dual-tank systems need softening pellets added less frequently because they use additional stored water between flushes. Dual-tank systems can also soften more and harder water than single systems, so a dual system provides better results if you have very hard water.
Water Softener Cost by Type
The average home water softening system cost by type ranges from $200 to $4,000. Some systems cost more than others to install. Others offer a higher quality filtration system, so they come with a premium cost for the unit. It doesn't necessarily mean that cheaper systems aren't good enough to do the job. In fact, all of the systems on this list will provide good results. Each one has its pros and cons to consider. In the table and subsections below, you'll see the average cost of each type of system and what to know about them so that you can compare the different options.
| | |
| --- | --- |
| Type | Cost (Materials Only) |
| Magnetic | $200 - $400 |
| Electronic | $200 - $600 |
| Descaler | $200 - $2,000 |
| Ion Exchange | $500 - $2,000 |
| Water Distiller | $1,200 - $4,000 |
| Reverse Osmosis | $1,500 - $1,800 |
Magnetic Water Softener
The average cost of a magnetic water softener is $200 to $400, depending on the unit size and type. Magnetic water softeners use magnets around the pipes to neutralize the minerals. This prevents buildup, but after the water has been away from the magnets long enough, the minerals can leave a stain. So, leaving things to soak in water from this system can still result in residue. You may need several magnets, depending on your home size. They are not usually recommended for very hard water.
Electronic Water Softener
Electronic water softeners are a type of descaler and range in price from $200 to $600. These systems don't actually remove minerals but instead serve to de-ionize the water, make it less metallic or "hard," and provide slightly better quality. They work differently than full filtration and softener systems. They are more affordable because they don't offer as much softening ability or as many features as the other systems. Still, for those with minor issues, it could be an effective solution to alleviate mineral deposits or make water in the home better for everyday use.
Descaler Water Softener
You can expect to spend between $200 and $2,000 on a descaler water softener. Magnetic systems are considered one type of descaler. However, there are several other types. This includes electronic systems, salt-free chemicals for certain ion exchange & systems, and others. It is not usually recommended for those who have very hard water but provides results for those with less significant hard water issues in their home. The style and capacity that you choose impact the final cost.
Ion Exchange Water Softener
The most common system available, the ion exchange water softener, costs between $500 and $2,000. They may cost significantly more if you need two or three tanks instead of one. These systems take up a lot of space and use a lot of water, requiring constant replenishment of the salt or additives used to keep the water treated. These systems are fairly affordable to install. Also, they're easy to come by, making them a popular choice for many homeowners.
Distilled Water Machine
The average water distiller price is $1,200 to $4,000. The cost you pay depends on the type of distiller that you choose and the system that you have installed in your home. This treatment method converts water into vapor, removes the contaminants through filtration, and then returns it to a liquid state. This system yields highly purified water and some of the cleanest water available. This water is often worth the investment for those who worry about what might be in their tap water. It offers an alternative to a standard water softener that removes far more impurities.
Reverse Osmosis Water Softener
It will cost $1,500 to $1,800 to install a reverse osmosis water softener system in your home. This type of system is effective at removing up to 96% of the minerals from your water. This system takes up less space as it pushes the water through a membrane using extreme pressure. It removes everything from the water, so it is a good choice for people with wells with concerns about other minerals or buildup they want to remove from their drinking water and the other water used in their day-to-day lives.
Water Hardness Map in the USA
It is estimated that 85% of homes in the U.S. have hard water to some degree. Hard water is usually described in the number of grains per gallon (GPG) of minerals, such as calcium and magnesium found in the water. Because so much of the U.S. has these minerals present in the soil, hard water can be found in any area. Some areas have higher concentrations of these minerals, leading to higher rates of hard water. Even in an area with higher or lower amounts of GPG, your personal water supply may have a different rate. Always have your water tested to find the GPG to correct it effectively.
Slightly hard water has a GPG of 1 to 3.5. Areas with slightly hard water can include parts of New England, the Northwest, and the South. Moderately hard water has a GPG of 3.5 to 7 and can include some small areas of the South, Northwest, and Northeast. Water is considered hard with a GPG of 7 to 10, with parts of the country having hard water, including some areas of the Northeast, Northwest, South, and Midwest. Very hard water is shown as a GPG of 10 to 15 and is seen mostly in the Midwest and West but can also be found in the Northeast and Florida. Extremely hard water has a GPG of 15+ and is often found in the Midwest.
Water Softener Price Comparison by Capacity
The average cost of a water softener ranges from $400 to $2,500 for the unit, depending on the capacity. Larger units that process more water obviously have a higher price than smaller units. Other factors, such as the brand and extra features, impact the final cost. This explains the variation in the price ranges listed in the table. The capacity of a water softening system is measured in grains per gallon (GPG), which is determined by how many people are in your home and the hardness of your water, multiplied by the average gallons per day used by a person. The sizing chart in the next section provides a comparison of the average people in the home and the system size you need.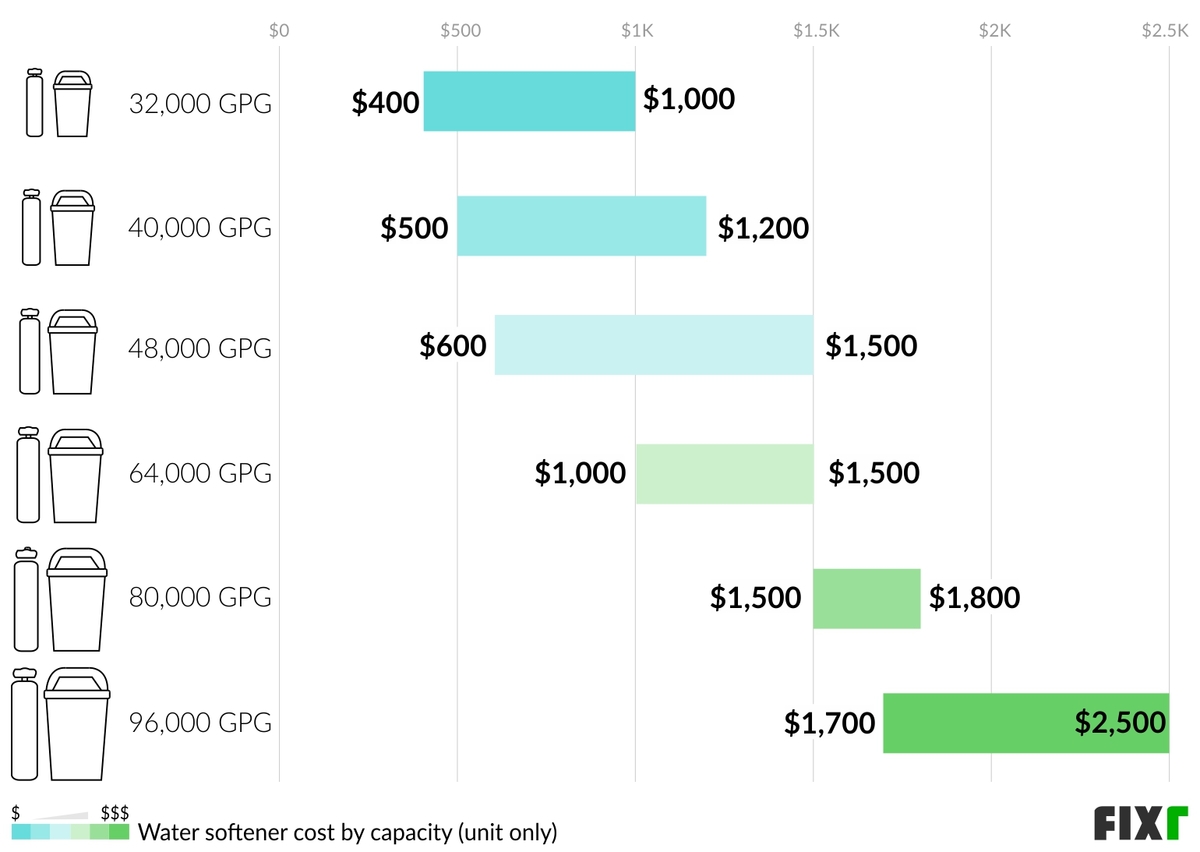 | | |
| --- | --- |
| Capacity | Cost (Materials Only) |
| 32,000 GPG | $400 - $1,000 |
| 40,000 GPG | $500 - $1,200 |
| 48,000 GPG | $600 - $1,500 |
| 64,000 GPG | $1,000 - $1,500 |
| 80,000 GPG | $1,500 - $1,800 |
| 96,000 GPG | $1,700 - $2,500 |
What Size Water Softener Do I Need?
Water softeners are only effective when properly sized. If they are too small, they cannot deal with the hard water and remove the minerals properly. To determine the total capacity needed for your home, you need to find out how much water you use a day. Look at your water bill to find the amount.
If you have a well, take the number of people living in your home and multiply it by 75 gallons to get the approximate number of gallons you use per day. Multiply this by the number of grains per gallon of water hardness you have, and then multiply this number by 10. The result is the unit size your home requires. For example, a 3-person household with a water hardness level 8 of 15 requires a unit that can handle roughly 35,000 GPG. This chart provides a basic idea of the capacity your home needs based on how many people are in your home and how much water you use each day.
| | | | |
| --- | --- | --- | --- |
| Water Hardness Level | Capacity for 1 - 2 People | Capacity for 3 - 4 People | Capacity for 5 - 6 People |
| 5 - 10 | 32,000 | 32,000 | 40,000 |
| 11 - 20 | 32,000 | 32,000 | 45,000 |
| 21 - 30 | 32,000 | 40,000 | 48,000 |
| 31 - 40 | 40,000 | 64,000 | 80,000 |
| 41 - 50 | 64,000 | 80,000 | 80,000 |
| 51 - 75 | 64,000 | 80,000 | 96,000 |
| 76 - 100 | 80,000 | 96,000 | 96,000 |
New Water Softener Cost by Brand
Several different brands of water softeners are on the market, with an average price range of $300 to $5,000. The price you pay varies, depending on the brand and its quality. This section reviews the top brands of water softening systems and their average costs for the unit only. This helps you better understand your options for different brands in terms of quality, style, price, and other factors. Labor costs are not included here because those are not dependent on the brand and should be similar regardless of which brand you choose. In the table and subsections below, you will see the top brands and their costs, features, pros and cons, and other important details.
| | |
| --- | --- |
| Brand | Cost (Materials Only) |
| Rayne | $300 - $4,000 |
| Sterling | $500 - $1,800 |
| Culligan | $500 - $5,000 |
| Kinetico | $500 - $5,000 |
| Dupure | $600 - $1,000 |
| Hague | $600 - $1,400 |
| Puronics | $600 - $2,000 |
| Nugen | $600 - $2,500 |
| Pelican | $900 - $2,600 |
| Hellenbrand | $1,200 - $2,500 |
| RainSoft | $1,700 - $2,500 |
Rayne Water Softener
The average Rayne water softener prices range between $300 and $4,000 for the unit only, with no installation costs included. The price range is wide because the brand offers a huge range of softener types and capacities to meet just about every need. These systems feature premium eco-friendly filtration methods to provide pure, clean drinking water and water for everyday use at a cost that's affordable for just about everyone. They have some models that might not be as high-quality in terms of filtration at the lower end of the price range. However, they're still affordable options for those who need something basic.
Sterling Water Softener
Sterling water softener prices are reasonable and range from $500 to $1,800 without installation. These water softening systems start at a higher price but have a more limited price range. They offer premium quality without breaking the bank. Sterling makes water softening systems in several types and sizes, offering something for all homes. The brand may offer special discounts or incentives for those who purchase through partner dealers.
Culligan Water Softener
People like brands like Culligan because it's a name they're familiar with, which is why the average person is willing to spend $500 to $5,000 on just a water softener unit alone. Culligan offers its own installation services. Third-party dealers and vendors sell softeners from this brand and are licensed and certified to install Culligan systems. There is a lot of variation because this company makes a wide range of products to fill as many needs as possible. The quality is unmatched, and their reputation certainly speaks for itself.
Kinetico Water Softener
The average Kinetico water softener cost is between $500 and $5,000. Again, this is such a wide range because Kinetico makes all kinds of water softening systems and purification solutions, including portable and other unique styles of systems. The brand even rents water softening systems so that you don't have to buy the unit outright. Instead, you pay a monthly rate to rent it and have it taken care of by a dealer. A premium whole-house water softening system from this brand incurs a premium cost, and that's without labor factored in.
Dupure Water Softener System
Dupure water systems typically range in price from $600 to $1,000 for a mid-range system. Some units have a higher price point. In terms of quality, Dupure doesn't get the best ratings compared to others on the list. However, it offers a water softening solution at an affordable price for those who choose it. These systems are usually simpler to install, reducing labor costs that add to your total. Be sure to compare models to choose one that has the best features for the money.
Hague Water Softener
A Hague water softener system costs $600 to $1,400. Hague offers several water softening systems to meet the needs of many households. This includes systems that use up to 50% less salt than most ion exchangers and less wasted water. They also have some compact designs, which can be good for homes without the space for a full-size water softening system. They also have filter options available for some models.
Puronics Water Softener
Puronics water softeners offer a higher mid-range option, with average costs ranging from $600 to $2,000 per unit. The cost of installation will be in addition to this price. Puronics systems are installed by professionals and come in all sizes, although they are typically made to be used as reverse osmosis systems. Several types are available to choose from, with each one having its pros and cons to consider. In terms of consumer ratings and quality, this brand ranks fairly high on the list.
Nugen Water Softener
Most homeowners spend about $600 to $2,500 on a Nugen water softener. These systems have basic models and premium systems from which to choose. They offer eco-friendly features, upgraded filtration, and more. You can choose from several styles, and most include an impressive warranty, along with simple installation, so there's not a lot of excessive renovations or retrofitting required. Nugen water softening systemsare available in reverse osmosis, as well as several other styles and product lines.
Pelican Water Systems
Pelican water systems cost $900 to $2,600, based on the size and type of system you choose. The installation cost will be separate, as with most of the options on this brand list. Pelican systems feature smaller profile tanks, as well as eco-friendly features and other premium upgrades. They come in several varieties to fit just about every need and budget. When you work with a licensed dealer for the brand, you can guarantee that you will get the perfect system with an in-home consultation.
Hellenbrand Water Softener
The average Hellenbrand water softener prices range from $1,200 to $2,500, with the actual cost depending on the size of the unit and the features that it offers. Hellenbrand makes some of the leading water softening systems on the market today that feature premium filtration upgrades and impressively sleek designs. These water softening systems are mostly made of reverse osmosis systems, but different models are available to suit just about any need that you may have.
RainSoft Water Softener
The average cost of a RainSoft water softening system is $1,700 to $2,500. These costs do not include installation. RainSoft water softening systems come in several sizes and configurations to meet many people's needs. The company is very attentive to their customers and is quick to address potential issues. Their installation costs are usually on the high end and require filter changes every few years. This means you have additional ongoing costs for these systems beyond the salt.
Labor Cost to Install a Water Softener
The average cost to install a water softener varies from $150 to $1,000, depending on the system size and type. Some brands and systems cost $3,000 to install and require their own circuit for electricity and pipe connections, accounting for the added costs. Plumbers typically charge from $100 to $1,000 for installation, depending on the system type and installation difficulty. You may also have a water softening company install the system with costs typically starting at $150. Magnetic and electronic systems can sometimes be installed by the homeowner, but most of the time, you need a plumber or handyman to set it up for you. They usually have lower installation rates. Larger systems require a water softener company or plumber for the installation. If more pipes need to be cut or the system is far from where the water comes in, additional installation costs are involved.
Get several estimates of the plumber's cost to install a water softening system and compare it to what stores or retailers might charge for the same installation. Some brands provide installation services along with the purchase of a system from their store. The cost to install a water softening system should not be a huge expense unless extensive renovations or plumbing rerouting is required.
Installing a water softening system is not complex. It starts by shutting off the water and nearby power supplies and mapping the necessary connections. The plumber makes the proper connections and installs necessary bypasses. The brine tank is filled halfway with salt. Then, they close the bypass and turn on the water to check for leaks. If there are no leaks, the setup and startup procedures are completed, and the installation is finished.
Water Softener Loop
Expect to spend $600 to $2,000 to install a water softener loop with a softener unit when an existing loop is not present. If this is the first time you install a water softening system in existing plumbing, you may need to install a water softener loop. This U-shaped set of copper or PVC pipes bypasses the original plumbing to allow the water to run through the softener before returning to the pipes and distributing it to the various appliances, sinks, and other plumbing fixtures. A loop keeps the water flowing and improves quality. While it is not required, avoiding water stagnation in the pipes is often recommended because it can lead to further mineral buildup.
Price to Install a Water Softener by Type
Various water softener types may have different labor costs. Some types, such as magnetic and electronic, are designed to be installed DIY. However, they can also be installed by a handyman. Other types require a plumber or water softener installation company to install the product correctly. Sometimes, these materials may have warranties that require professional installation. Many brands must be installed by an installer certified by that brand, increasing installation costs. Below are the average labor costs to install each water softener system type and their costs.
| | | |
| --- | --- | --- |
| Type | Labor Cost | Total Cost (Installed) |
| Magnetic | $50 - $150 | $250 - $550 |
| Electronic | $50 - $150 | $250 - $750 |
| Descaler | $150 - $450 | $350 - $2,450 |
| Ion Exchange | $150 - $1,000 | $650 - $3,000 |
| Distiller | $150 - $1,000 | $1,350 - $5,000 |
| Reverse Osmosis | $900 - $1,300 | $2,400 - $3,100 |
Cost to Replace a Water Softener
The average cost to replace a water softener is $700 to $1,000, which is generally less expensive than installing a new unit. Several factors impact your cost to replace water softening units, including if you buy one comparable to the failed unit or if it needs replacement. While a new installation may involve additional plumbing work and other considerations, a replacement likely has these things in place with minimal modification needed, making it more affordable. The old unit must be removed to install the new one. Depending on its type, you may have disposal fees associated with the replacement, raising the cost by $50 to $100.
Water Softener System Installation Cost by Company
The average water softener system installation cost ranges from $1,000 to $6,000, depending on the company you buy the water softener from. Different companies offer water softening system installation services when you buy a water softening system from them. In this section, we will explore the most popular stores and companies offering this service and how much they charge for installation in addition to the cost of the unit. The table and subsections below list each company and its cost for installing a water softening systems with purchase, the details of each, and any pros and cons you should know.
| | |
| --- | --- |
| Company | Cost (Installed) |
| Lowe's | $1,000 - $2,800 |
| The Home Depot | $2,500 - $6,000 |
| Costco | $4,000 - $6,000 |
Lowe's Water Softener Installation
Lowe's water softener installation costs $1,000 to $2,800, depending on the unit you choose and what the installation process entails. Lowe's sells a range of water softening systems in various sizes and types. They often run installation specials for new customers and those purchasing on a store credit card or account. For some people, having this done provides an alternative to hiring a private contractor or acquiring a water softening system and then finding someone to install it because it's all done with one company.
Water Softener Installation Cost The Home Depot
The average water softener installation cost for the Home Depot ranges from $2,500 to $6,000, which is at the higher end of the price range for this type of service. However, several of the brands and models available here are of higher quality. The installation costs may be slightly higher than they are at other stores. The Home Depot offers affordable solutions for people looking for one-stop shopping. It gives you another option if you are using a store credit card.
Costco Water Softener Installation
Costco members can purchase the Ecowater system through the store and have it installed for an average cost of $4,000 to $6,000, depending on the exact system that they purchase. Different systems are available to choose from in this product line, including basic softeners and combination filtration systems, and plenty of options in between. Although Costco offers the highest cost of all retailers, they have a premium system that is usually better-rated than most found at local DIY home improvement stores.
Water Softener Cost per Month
The average cost of a water softener per month is $10 to $40, covering the cost of the salt or salt-free chemicals. These systems require no electricity or fuel. In most cases, they do not incur additional costs. Talk with your plumber or installation professional to determine the costs you can expect to pay from using a water softening system. It is usually a nominal cost, making these popular for many homeowners.
Water Softener Rental Costs
Some people rent a water softener unit, costing $25 to $50 per month. Water softening systems rental is different from buying a unit. Renting allows you to lease a unit that includes salt and inspections so that you do not have to worry about maintenance, upkeep, or purchasing a full system. You pay an additional cost for repairs or added components, such as if you add a whole-home filter or if something needs to be fixed because it failed during your rental.
Signs You Need a Water Softener
Hard water can be caused by several minerals, including calcium and magnesium. You may see a film on your sink, tub, or dishes, or a stain or buildup on your showerhead or coffee pot. These stains and discolorations can be very hard to remove. They may also build up over time, becoming hard to the touch. Soap may not lather properly in hard water, and your laundry may not feel clean. Your laundry and clothes may also feel scratchy or stiff. Hard water can cause your skin to become dry and itchy and your hair to feel dry and tangle more easily. You may notice your water bills are higher because you need to rinse things more frequently to remove soap scum and film. Your water pressure could decrease, and you may find that your appliances no longer work or you need frequent plumbing repairs as the mineral deposits build up in the pipes and appliances. A water test can be performed if you suspect hard water.
Water Softener Maintenance Cost
You spend an average of $150 to $600 on water softener maintenance, which varies depending on the softener type and maintenance. Ion exchange and reverse osmosis systems require routine inspections every 2 or 3 years to ensure they are running and working. Your installer can advise the best maintenance schedule based on your unit. Beyond that, you only have to ensure the self-flush schedule is maintained and the chemicals or salt you use are added properly. Some companies offer yearly contracts, while others offer one-time services for chemical or salt delivery and more.
Salt-Based Water Softener vs Salt-Free
The most common water softening system type is called an ion exchange system. This system typically uses salt to exchange ions in the calcium and magnesium, making the water less hard. Salt-based systems are very effective and are made up of several parts. The brine tank contains the salt, and the resin tank exchanges the ions. Periodically, the brine tank is flushed through the resin tank to replenish the system.
Salt must be added regularly and raises the sodium content of your water. The water-flushing wastes water and puts salt into the environment near your home. You can use this system with a salt-free additive, usually potassium chloride, if you do not want to use a sodium-based solution. It is not as effective as salt, so you need to use more for the same results. While salt costs $10 to $15 a bag, potassium chloride costs $30 to $40 a bag, making it a more expensive choice considering more is needed. However, it eliminates the issue of having sodium in your water.
| | |
| --- | --- |
| Additive | Cost per Bag (Materials Only) |
| Salt | $10 - $15 |
| Potassium Chloride | $30 - $40 |
Water Softener vs Water Treatment
While the average cost to install a water softener is $1,100 to $3,000, the average cost of a full water treatment system is $2,100 to $3,300. A water softening system is different from a water treatment system, also called a water purification system. Water purification systems filter sediments, bacteria, and chemicals while removing calcium and magnesium that causes hard water buildup. While softeners focus on removing minerals, water treatment systems usually include a softener and a filter to ensure the water is of premium quality for drinking, cooking, and other needs. This table shows a cost comparison of the systems.
Water Softener vs Water Conditioner
A water softener and a water conditioner are essentially the same thing. Water conditioners may use salt-free chemicals and have additional filtration features. In several cases, it's just a matter of the name used because the systems actually provide the same type of solution required to deal with hard water. The cost range is comparable for these units, except for water conditioners that offer premium filtration features and may have a higher cost as a result. Be sure to talk to your restoration expert about the best course of action and which type of system is right for you, regardless of the semantics.
Enhancement and Improvement Costs
Water Well Inspector
It costs an average of $300 to $500 to hire a water well inspector. To determine the hardness level of your water, you need an inspection. You need to know the hardness of your water to purchase a softener of the appropriate capacity that can remove enough of the mineral deposits to provide you with better quality water. A water well inspector will come and take care of this for you, test the water for hardness and mineral content, and provide you with a report after the assessment and tests are complete. It is important to hire a professional for this test so that you get an accurate result.
Whole-House Water Filter and Softener System
The cost of installing a water softener and filter system ranges from $1,500 to $10,000. If you want to upgrade your entire home water system, you could choose to have a whole house water filter and softener system installed instead of just a softener. This allows you to filter and remove minerals that create hard water at the same time. However, it is a much bigger job since it involves installing two units and modifying the plumbing and electrical to get the systems in place. However, it guarantees that your family will always have clean, fresh, treated water to drink right at home, making the water softening and filtration system cost worth it for most people.
Additional Considerations and Costs
Sodium. Some water softening systems add sodium to your water. If you are on a low-sodium diet, you may need to avoid drinking this water entirely. Otherwise, it will be safe for anyone to drink.
Modifications. Suppose there are any modifications that you need in addition to the softener installation, including framing, electrical, plumbing, or HVAC work. Those are not included in the estimated installation costs and will incur an additional charge.
Permits. Some areas may require permits for the installation of water softeners. Always check with your municipality or town hall before proceeding with the installation.
Repair vs replacement. If your system is less than five years old and breaks down, consider a repair instead of a full replacement because it might still be under warranty.
Certification. Look for softeners certified by NSF International, an independent testing organization, or the Water Quality Association.
Portable distillers. If you need to soften small amounts of water for equipment use, portable distilling units are available that can make a difference. They are not effective at helping a home's water supply, however.
RV portable water softener. If you have an RV, you need a smaller system to prevent hard water buildups as you travel. These are small systems that cost $250 to $350 and can be hooked up by the owner or installed by a handyman for $50. They usually handle about 16,000 GPM.
Well water softener. A well water softener system costs $500 to $2,000 for the typical model. Most wells can use an ion exchange softening system. If you have other chemicals in your well water, you may need an additional system to deal with these. Or, if you have bacteria, you can use an ion exchange system with a UV light to kill bacteria as it enters the home. Otherwise, most homes with wells can use the same system as those with a municipal supply.
FAQs
Where do you install a water softener?
A water softener is typically installed in the basement or garage, further away from the living space. Some will be installed near the water heater, but the idea is to keep it away from the main spaces.
Can I install a water softener myself?
Although some units offer DIY installation, this is a major plumbing job that should always be left to trained professionals.
Does The Home Depot install water softeners?
Yes, the Home Depot installs water softeners at the cost of $2,500 to $6,000 installed, depending on the size of the unit and the installation work required.
Does a water softener need a drain?
Most water softener systems require a drain or sump pump to remove the backwash. The systems generally backwash every 2 weeks, so a drain is necessary to deal with the water.
Can water softeners be installed outside?​
These systems are designed for interior use only. They are not designed to withstand the elements, high winds, or freeze/thaw cycles.
How long do water softeners last?​
Water softeners last roughly 10 to 15 years. If your softener is more than 10 years old, you may want to inspect it to ensure it is working optimally and consider a replacement.
How long does salt last in a water softener?
Depending on the system size and how much water you use, you may need to replace the salt every 2 to 3 months. If you notice signs of hard water, you may need to add salt more frequently.
The information provided by our cost guides comes from a great variety of sources. For more information, read our Methodology and sources.