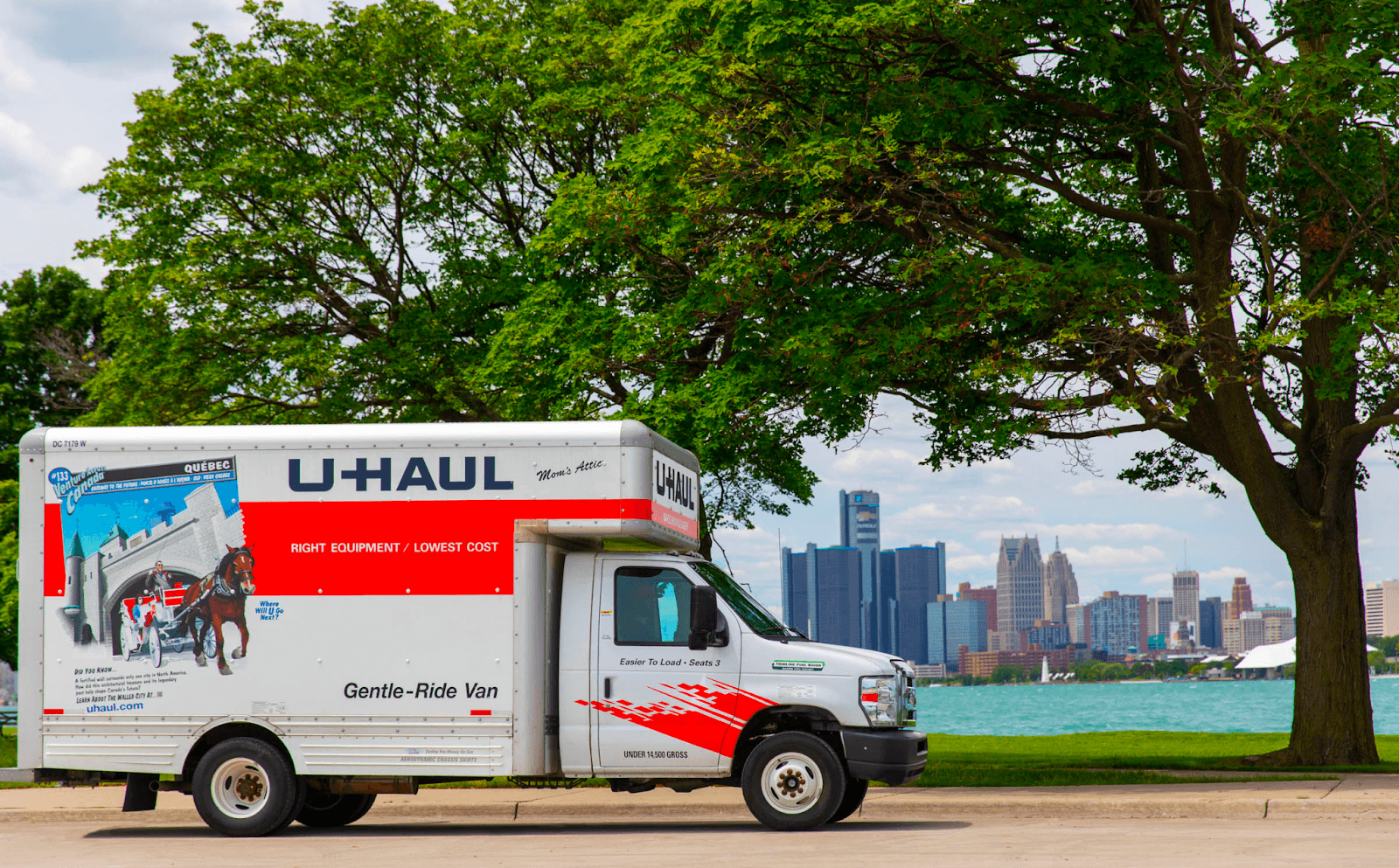 Renting a moving truck like this U-Haul model is one of the cheapest ways to move, but it's much less convenient than hiring professional movers. Image source: U-Haul
Any way you slice it, moving is an expensive hassle. Not all moving companies charge the same price, though, and some moving services are cheaper than others. Additionally, the size of your home, your moving date, and how far you're moving will all affect your final price.
The average cost for a local move is roughly $1,800 while long-distance moves cost about $6,060 on average. These averages cover a wide range of distances, home sizes, and additional services, though, so the price of your move will be at least slightly different. Unfortunately, you'll only know the exact cost of your move after you get a quote from a moving company.
Below, we break down the price ranges for various moving services and how different factors can impact your price. We'll even throw in some tips that can help you save money when you move to your new home.
In this guide
Moving costs vary by service
There are two types of moves: full-service moves and DIY moves. The type of move you choose is the single most important factor in your move's price.
When you hire full-service movers (sometimes called van lines), a professional moving crew shows up at your house and does all the work for you. This includes loading your stuff into their truck, driving it to your new home, and unloading it there. In some cases, professional moving packages also include packing services, though these are typically considered add-ons.
This makes full-service moving hands-down the most convenient way to move, but there's a catch. It's also far-and-away the most expensive way to move. Hiring the pros to do all the heavy lifting can cost more than $10,000 in some cases, though if you aren't moving very far or you don't have much stuff, your price probably won't be that high.
DIY moving, on the other hand, can be a lot less convenient, but it also has a smaller price tag. When you go DIY, you have a few options:
Rent a moving truck, do all the packing and loading with your own two hands (or enlist some friends), drive it to your new home yourself, and unload everything.
Rent a moving and storage container (also known as a moving pod) and do all the packing and loading yourself. The container company will then pick up and deliver your filled container to your new home where you can unload it.
Rent a moving trailer to pack and load, hitch it to the back of your car, drive it to your destination, and then unload it.
Pack as much stuff as you can into your vehicle, dump or donate everything else, drive to your new home, and unload.
As you can probably tell, the different DIY options have varying levels of convenience – and they have varying prices, too. Truck rentals can cost as little as $40, and they tend to be cheaper than container rentals. Trailers are usually your cheapest rental option, though most moving trailers are smaller than moving trucks and containers. While it requires the most downsizing and work on your part, moving with nothing but the space you have in your car will mean you really only have to pay for packing materials and gas.
Add-on moving services
On top of the typical services included in your full-service moving package—pick up, delivery, and drop-off—most moving companies also offer add-on services that you can get for additional fees. And while add-ons can eat up a decent chunk of your moving budget, they allow you to leave any unwanted task to the pros.
Here's a non-exhaustive list of add-on services that most professional moving companies provide for additional costs:
Packing and unpacking
Packing supplies
Storage unit rental at a secure storage facility
Moving coverage (insurance)
Vehicle shipping
Furniture assembly and disassembly
Custom crating for specialty items
Trash and debris removal
Electronics installation
Moving costs vary by distance
Unsurprisingly, the distance of your move is a big determiner of its price. If you're just moving across town or even a few hundred miles, your move will probably be thousands of dollars cheaper than a cross-country move out of a similarly-sized house.
Long-distance moving costs
There isn't a consistent definition of the term "long-distance move". Some moving companies call any move over 50 miles long-distance while others reserve the title for moves of 1,000 miles or more, and some simply use "long-distance moves" and "interstate moves" (moves across state lines) interchangeably. In this guide, we'll stick to the > 1,000 miles definition.
The price range for long-distance moves is immense. On the low end, some homeowners pay as little as $620 while those on the high end—typically people moving cross-country—pay $15,200 or more.
The reason this range is so large is that these prices include different home sizes, different move types, and different service packages. Your final price will be influenced by a lot of factors that are unique to your move, so you shouldn't just assume that moving thousands of miles will cost you several thousand dollars.
The only way to really know what you'll pay to hire long-distance movers is to get a moving quote or two.
Local moving costs
Local moves are far cheaper than long-distance moves. If you're moving up the street and you don't have a ton of stuff, you could pay as little as $40 for a small rental truck. However, local moves can cost as much as $5,500 if you go with a full-service mover.
As with a long-distance move, the price for a local move will be partially determined by other factors like how many services you get and how much stuff you own. Additionally, many local movers charge hourly rates instead of distance fees, so if your local move goes quickly, it should be on the cheap side.
If you're eager to know precisely how much your local move will cost, get free quotes from a few local moving companies to find out.
Moving costs vary by weight and home size
If you hire a full-service moving company, the total combined weight of everything you're moving is another key factor in determining the cost of your move. The more stuff you have to move and the heavier it is, the more you'll pay.
If you rent a moving truck or a moving container instead of hiring professional movers, the weight of your shipment won't really factor into your price. Rather, the space your stuff takes up once it's all packed will be more important, as this will decide the size of the rental you'll need. Larger rentals tend to cost more, though this isn't always the case.
Moving companies often use your home's size as a way to estimate your shipment's weight. The logic is that someone in a one-bedroom apartment probably has less stuff to ship than someone moving out of a five-bedroom house.
On average, someone moving out of a single-bedroom home should expect to pay anywhere between $400 and $2,800 for professional movers depending on how far they're moving. For a three-bedroom home, the range jumps up to $1,200–$9,600.
What is the cheapest way to move?
If budget is your sole concern and you're willing and able to take on all the hard labor involved in the moving process, then your cheapest option is to pack all your stuff into your personal vehicle and drive them to your new home. If you need more space for your household goods, then renting a moving truck or trailer is your second-cheapest option.
Truck rentals cost between $40 to $600 for local moves and $700 to $2,500 for long-distance moves. Prices vary by location, season, and truck size, though, so your actual price for a rental truck might fall outside these typical ranges.
How to make your move more affordable
Working with the pros doesn't have to break your budget. While full-service moves are the most expensive option, there are a few ways to make them more affordable.
Get quotes from several different moving companies
The first way to make your move cheaper is to get quotes from as many moving companies as you can. Movers typically offer different rates depending on the region, so getting multiple quotes is the only way to know which moving company is the cheapest in your area. The good news is that moving quotes are almost always free, so you won't invest anything into this but a little extra time.
If you find any companies that offer price matching, you can pit their prices against each other. A moving company with price matching will lower its own rate to match a competitor's price if it's lower. Getting several quotes from different companies will mean you have plenty of prices to choose from when you go to haggle with your preferred moving company.
Do some of the work yourself
When you move, you usually pay through the nose for every little bit of convenience you get, so one of the best ways to cheapen your move is to forego some convenience and do the heavy lifting yourself.
Packing is one of the first jobs you should take on to make your move less expensive. Paying your movers to pack your stuff for you can cost anywhere from $170 to $2,200 for a two-bedroom home, so packing your stuff yourself can save you thousands of dollars when you move.
Similarly, renting a moving container is another great way to get some convenience while still saving money. When you move with a moving container, you do all the work except the driving. If you don't mind lifting your heavy items and loading them all yourself but you'd rather skip the long drive, then this type of move was made for you.
This wide variety of moving types and services makes it possible to get exactly what you need from your movers while keeping within your budget.
Downsize before you get an estimate
Since moving prices are largely determined by how much stuff you have, downsizing before you move is one of the best ways to save money.
If you're getting rid of things someone else might want, take them to a donation center or a thrift store. If you don't think anyone else would want the items you're trying to get rid of, you can hire a junk removal service to take them off your hands.
Having a garage sale is always an option as well. This requires a little bit of work and time, but it's a great way to get rid of things you don't want while simultaneously bringing in a little cash to pad your moving budget.
Move during the off-season
Moving prices fluctuate depending on the time of year. Truck rentals, moving containers, and professional moving services all tend to cost the most in summer because that's when most people move. As such, you can save a lot of money by moving in winter, fall, or early spring.
Book your move in advance
Unfortunately, the day you move might not be entirely up to you. If you have to be in a new city by a specific date so you can start a new job, enroll in school, or sign a lease, you really can't wait until moving services will be cheaper.
Your best bet in these cases is to book your move as far in advance as possible. The prices for moving services of all types increase the closer you get to your move date. For example, if you needed to move on July 18 of next year, booking now would be much cheaper than booking on July 1.
Booking as soon as you can guarantees there will still be services available when you need them. Waiting until the last minute to book your movers might leave you up a creek without a van line.
Get a move on with multiple quotes
No matter how you move, you should expect to pay several hundred dollars at the very least. And if you're moving long-distance, you have a lot of stuff, or you want to get deluxe moving services, you should realistically plan on spending a few thousand dollars or more.
However, since so many factors can affect a move's price, it's impossible to really predict the cost of any move without knowledge of the details. In short, you won't know what your move will cost until you get a quote from a moving company. If you want to find the cheapest price available, we recommend getting multiple quotes.