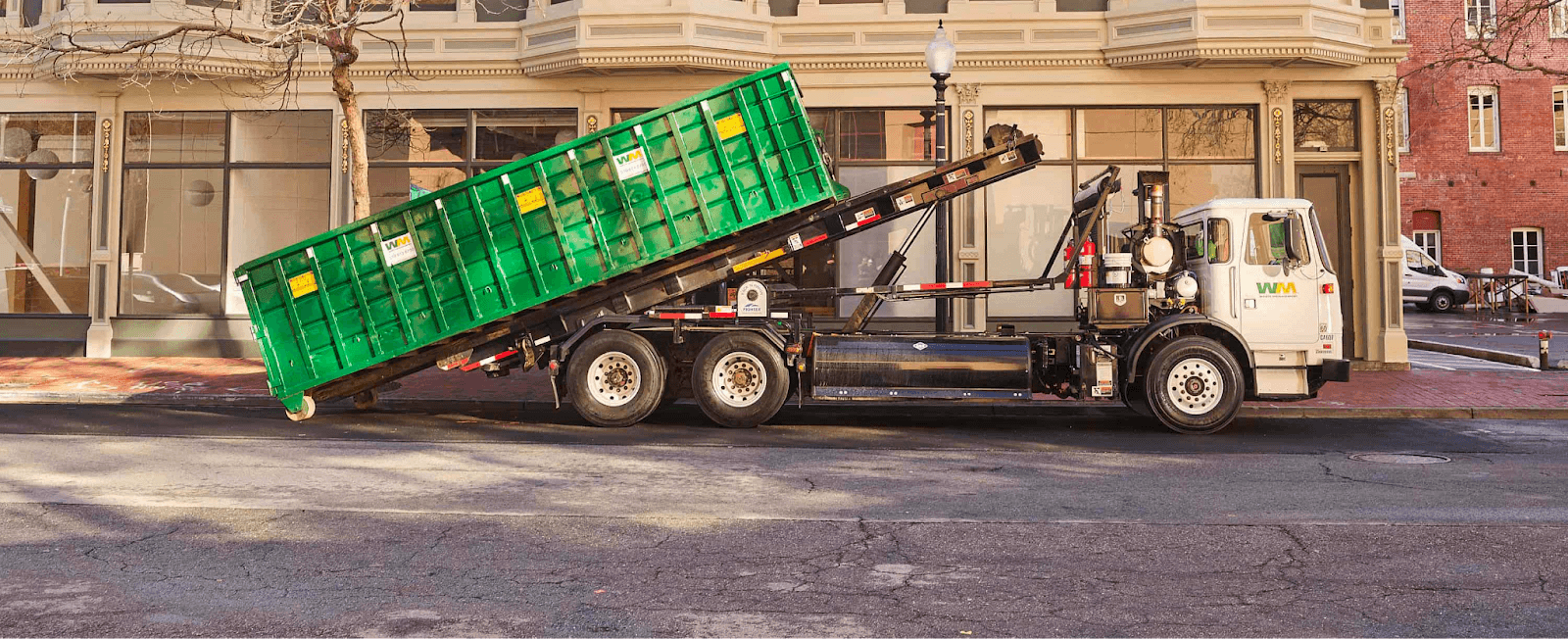 A roll-off dumpster rental is a perfect way to dispose of yard waste, trash from DIY construction projects, and other types of debris. Image source: Waste Management
Waste pileup can be a major concern during a home improvement project. Whether you're clearing undergrowth, remodeling a kitchen, or replacing rotten roofing shingles, debris can quickly amass underfoot. The best way to keep your job site clean and manage the waste is to rent a dumpster and fill it as you work instead of taking it all to a landfill.
However, since dumpsters come in a wide variety of different sizes, you have to plan ahead to estimate how much trash your project will create or you might pay for a larger dumpster than you need. Additionally, you have to find a space large enough for the dumpster to sit while you work or the delivery driver will be left without a spot to leave the dumpster.
Read on and we'll teach you how to pick the right size dumpster for your needs. We'll also go over average rental prices, common dumpster sizes, and what to do with the hazardous waste a dumpster rental company won't let you toss.
On this page
Common dumpster rental sizes
Dumpster sizes are typically listed in yards, and the number of yards in a dumpster's name describes the dumpster's capacity. For example, a 30-yard dumpster can hold roughly 30 cubic yards of trash, tree stumps, busted furniture, and construction debris.
Every dumpster company has its own list of dumpster sizes you can choose from, and not all rental locations that belong to the same company will always have each of that company's sizes. This might make it necessary to choose a dumpster size that's close to your ideal size instead of getting the perfect dumpster.
The residential dumpster sizes listed below are the ones most commonly offered by major dumpster companies, though depending on which company you rent from, you may find a wider or more limited selection of sizes.
Additionally, commercial dumpsters sometimes come in sizes larger than the ones we've listed here, but they're usually only necessary for professional construction sites.
Dumpsters smaller than 10 yards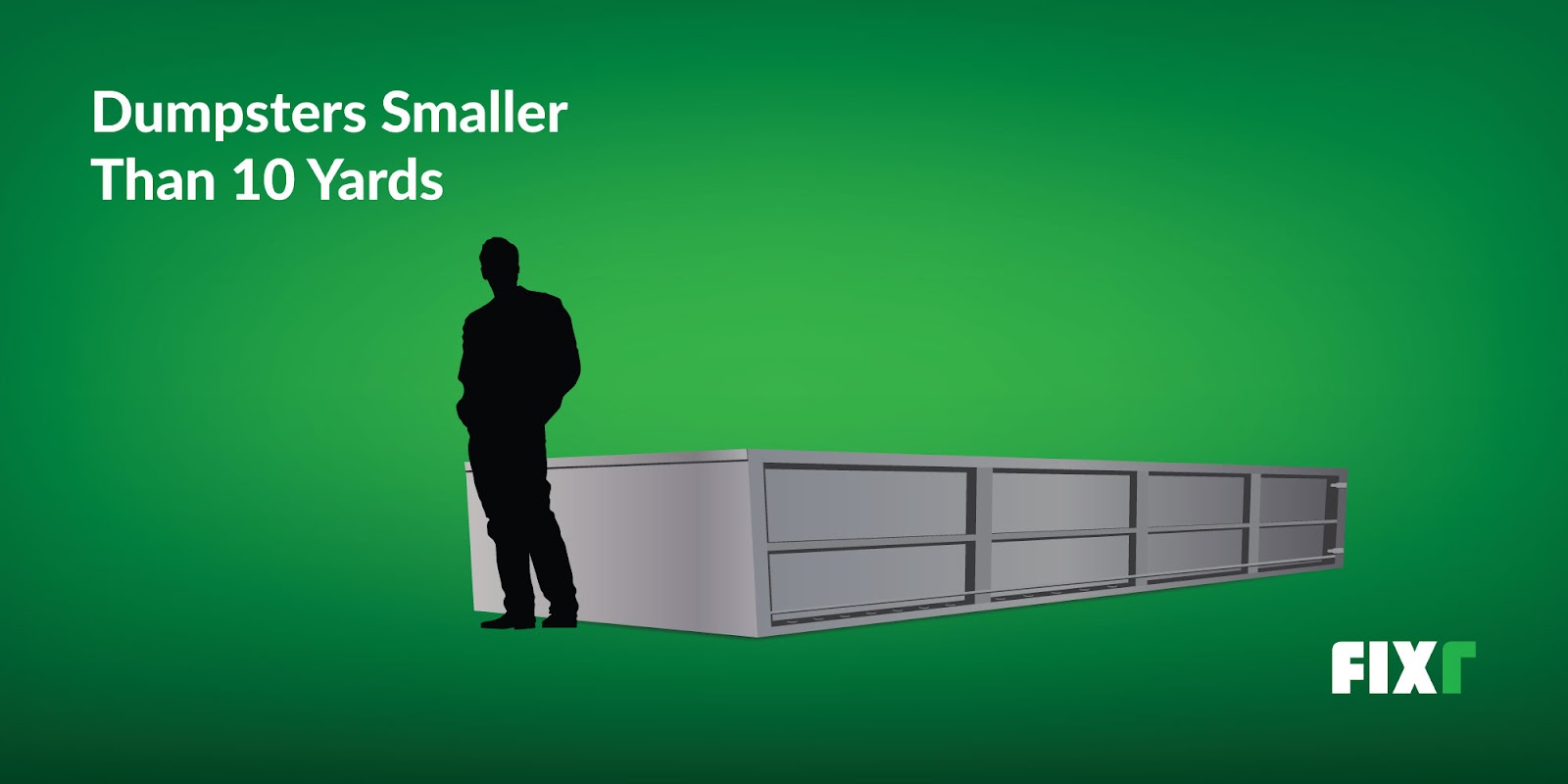 If your project is small—say you're just tearing out the shelves in a bathroom, cleaning out a single cluttered closet, or trimming your hedges—then you obviously only need a small dumpster. Luckily, residential dumpsters come in sizes ranging from one to nine yards, though it's uncommon to find dumpsters of these sizes listed on major rental company websites.
For perspective, the bed of an average pickup truck can hold about two and a half cubic yards of material. So, a two-yard dumpster can hold a little less than a flatbed truck while a five-yard dumpster can hold roughly twice as much, and so on.
10-yard dumpsters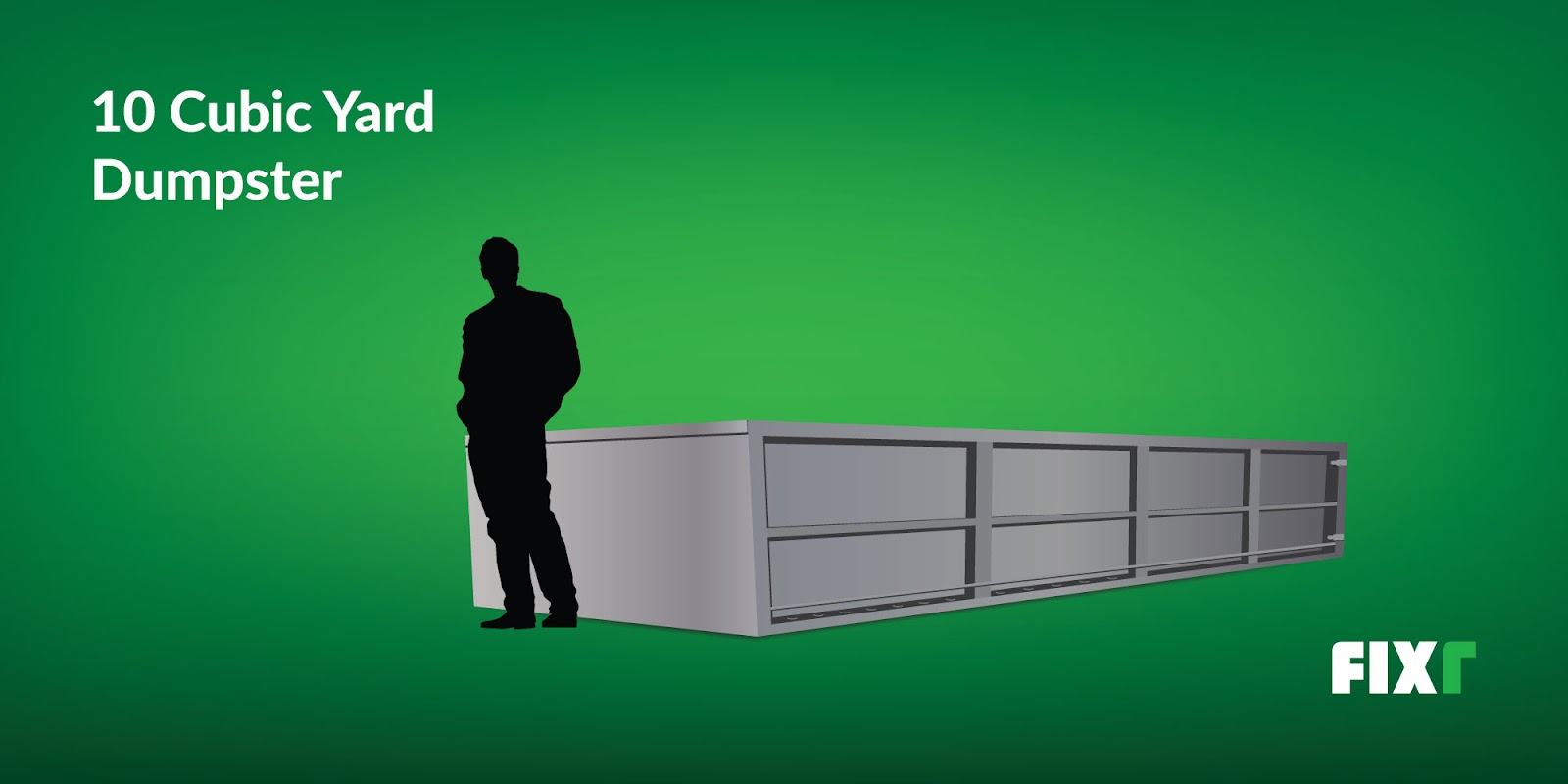 If you're tackling a more substantial demolition or cleanout job that still won't create lots of waste, a 10-yard dumpster might just do the trick. 10-yard dumpsters are typically designed under four feet tall, allowing you to easily heave concrete, piping, and green waste into them. However, their short, wide designs mean they aren't as good as larger dumpster sizes for holding bulky objects like trashed sofas.
Most junk removal companies estimate that their 10-yard dumpsters can hold the same amount of debris as three or four pickup trucks.
15-yard dumpsters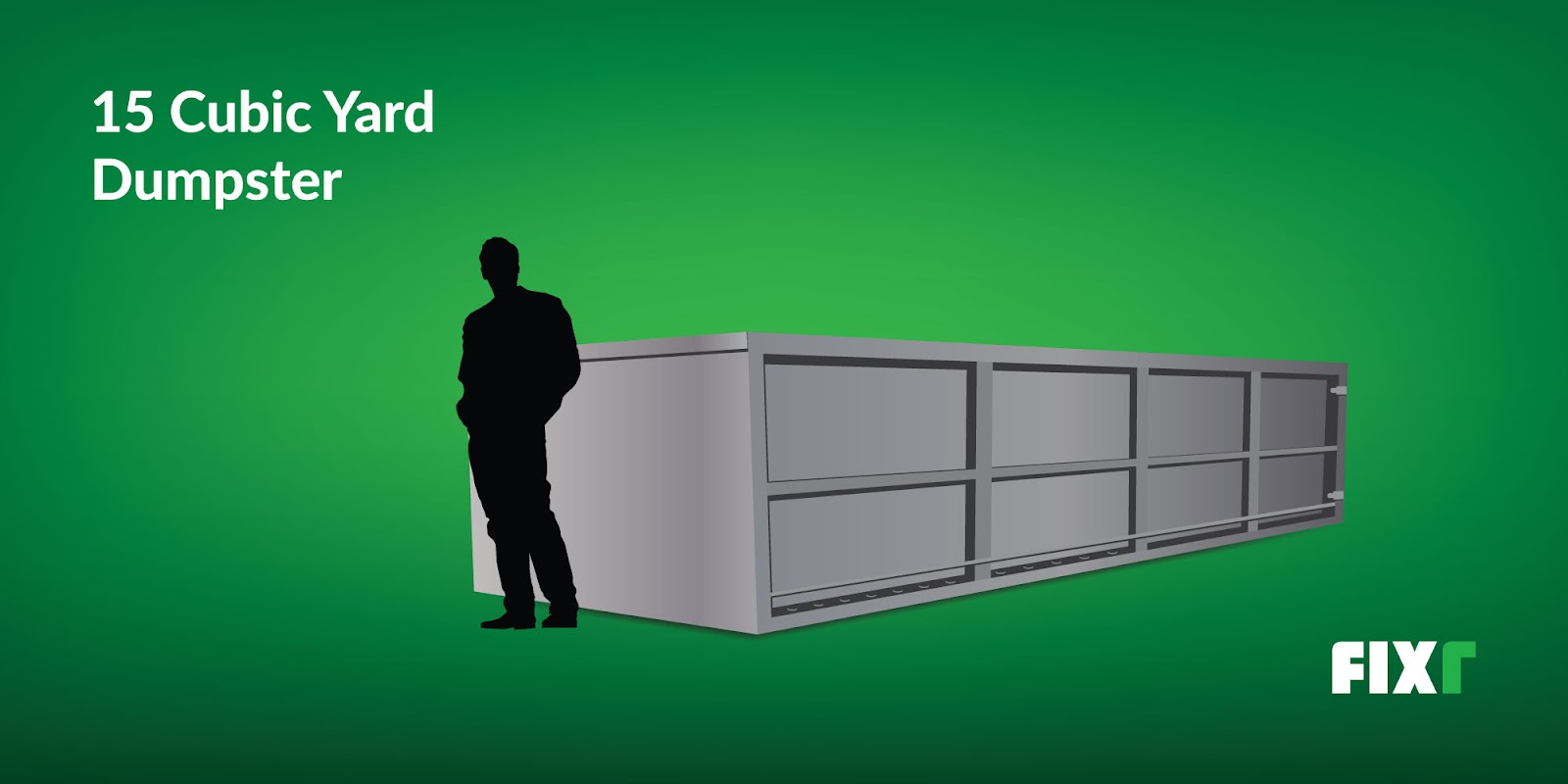 15-yard dumpsters are perfect for small- to mid-range remodeling projects, landscaping jobs, and garage cleanouts. Their walls are typically a little taller than 10-yard containers, so they can be harder to toss heavy materials into. However, this design means they can better accommodate furniture, large chunks of drywall, and tree branches.
A 15-yard dumpster can usually hold somewhere between four and six pickup truck loads.
20-yard dumpsters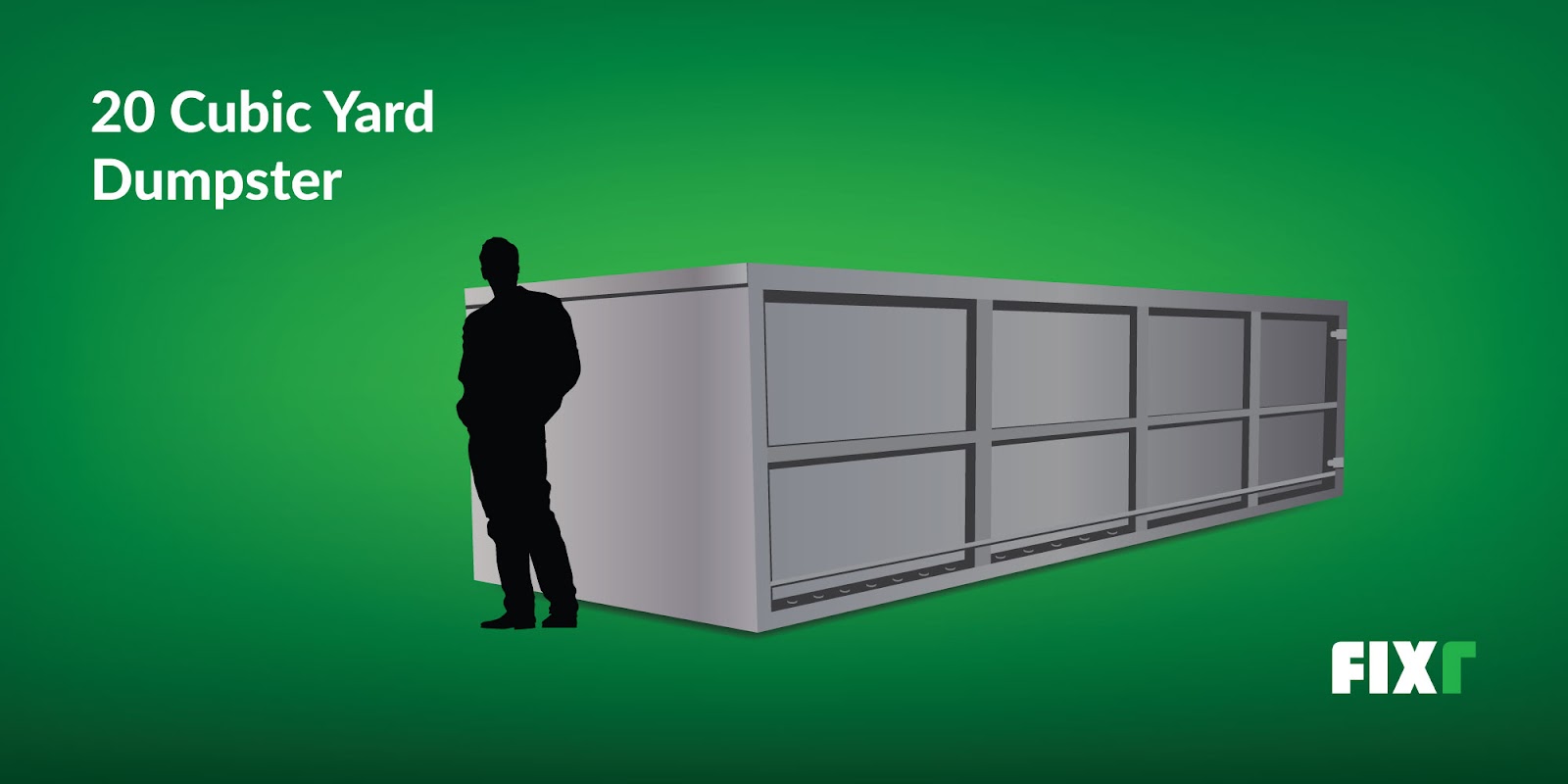 Most dumpster rental companies claim that their 20-yard dumpsters are their most popular. These versatile dumpsters offer plenty of space for all kinds of waste from shingles to furniture. And while their walls are taller than those of smaller sizes, they're still usually under five-feet high so you can hoist heavy waste into these dumpsters without too much difficulty.
A 20-yard dumpster can usually hold the same amount of waste as six to eight pickup trucks.
30-yard dumpsters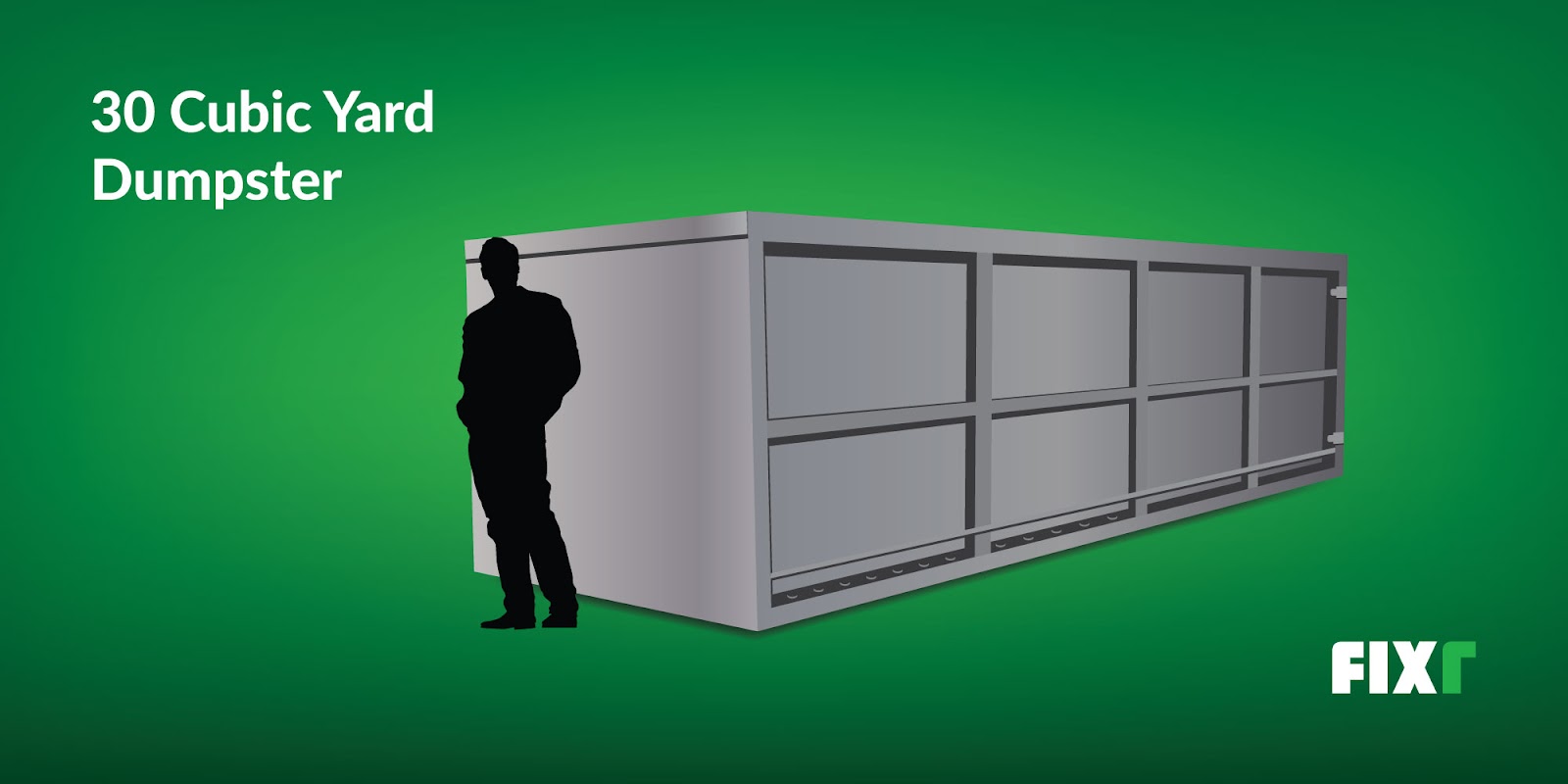 Some of the largest options available to homeowners, 30-yard roll-off dumpsters are ideal for most big projects like replacing your home's siding, tearing out all your carpet, and cleaning an entire attic or basement. Generally, their walls are five to six feet tall, which can make it hard to chuck heavy materials into them, but most feature built-in ladders for convenience.
A 30-yard dumpster can generally hold between 9 and 14 pickup truck loads.
40-yard dumpsters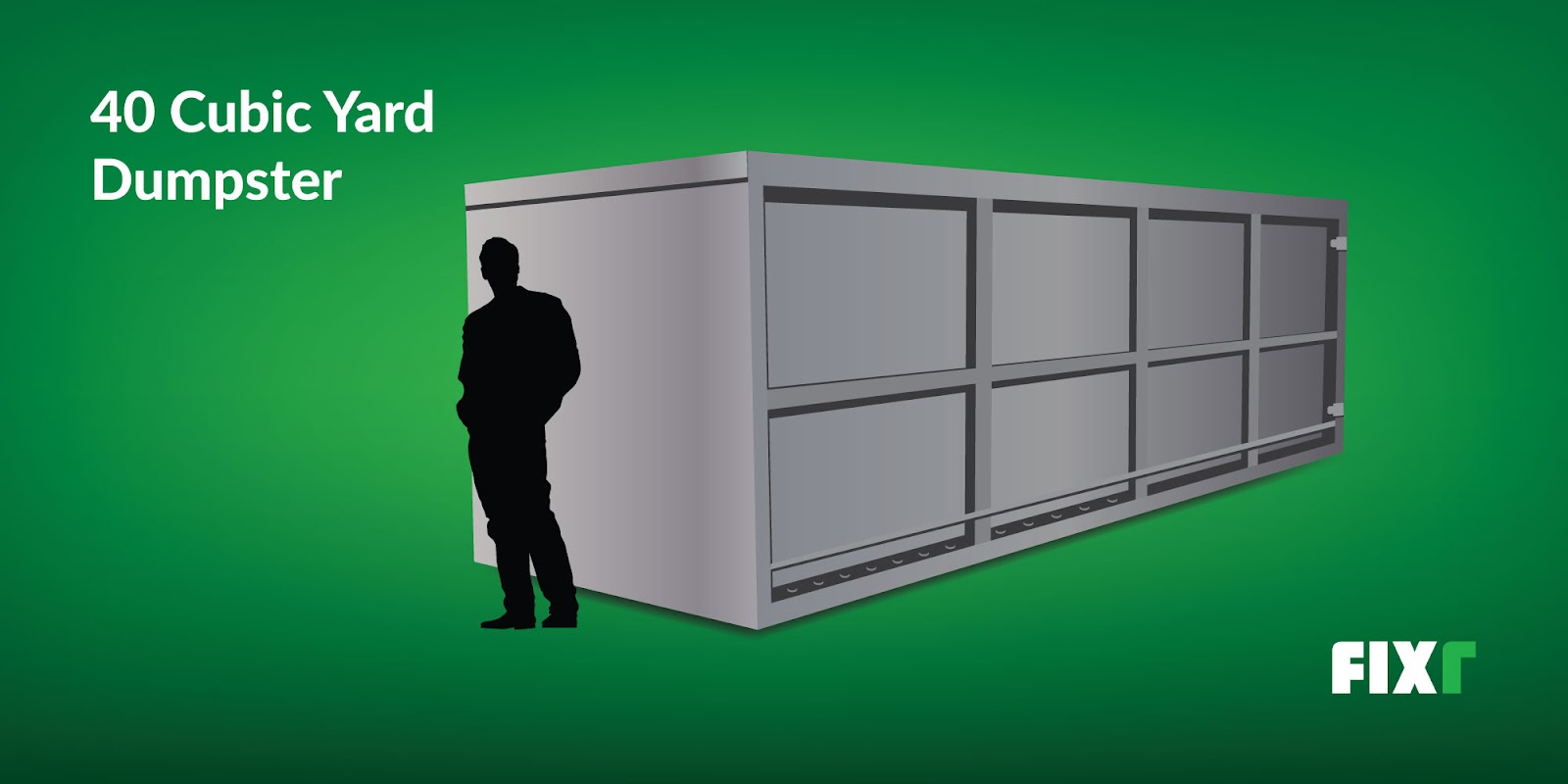 For large-scale home renovations, landscaping overhauls, and entire-house cleanouts, you might need nothing less than a 40-yard dumpster. These are the largest dumpsters homeowners can usually rent, and their walls are often over seven-feet high. Like 30-yard dumpsters, most 40-yard models feature built-in ladders you can climb to hoist trash inside.
These large dumpsters can hold 12 to 16 pickup truck loads worth of waste.
How to choose the right dumpster size
To choose which of these dumpster sizes will work best for your upcoming project, you have to balance two logistical concerns: how much you're throwing away and how much space you have for the dumpster on your property.
How much stuff you're throwing away
Volume
First, you need to determine how much space or volume your ideal dumpster requires. Since a dumpster's volume is typically listed in cubic yards, it can be helpful to visualize a single cubic yard and go about estimating from there. Imagine a box that's three feet long, three feet wide, and three feet tall. The volume of that box is one cubic yard.
From there, estimating is a matter of simple multiplication. A 10-yard dumpster can hold 10 of those boxes, a 15-yard dumpster can hold 15, and so on.
When you're looking at everything you're going to throw away, whether it's a wall in your home, a few trees in your yard, or some furniture in your basement, measure it all carefully and determine how many of the imagined boxes it would fill. The answer is how many cubic yards your dumpster's volume should be.
Here's a pro tip: when in doubt, it's better to estimate for more space instead of less. If you think you'll require somewhere between 9 and 13 cubic yards, it's safer to go with a 15-yard dumpster. It will cost you more, but it means you won't be left with too little space for everything you'll need to throw away.
Also, remember that when you break things down, they take up less space. When you cut a tree into smaller pieces with a chainsaw or demolish a wall with a sledgehammer, it will fit into a smaller space than it does while standing. However, the less space you fit more material into, the denser and heavier it will become, which takes us to the next consideration.
Weight
Every dumpster size has a unique weight limit, and larger dumpsters tend to have greater weight limits. Additionally, the same dumpster size can have a different weight limit depending on the brand you rent it from.
This makes it essential to learn the weight limit of any dumpster you might rent, and it could mean you have to rent a larger dumpster, even if you won't actually need all of its volume. For example, if you only need 10 cubic yards of space, but you're throwing away especially heavy debris like bricks or concrete that exceed a given 10-yard dumpster's weight limit, you may need to rent a 15-yard option instead.
Estimating weight can be even more difficult than estimating space, so do your best here. Use a scale to weigh a manageable piece of whatever you're throwing away, then multiply that weight by how much of that material you'll be chucking to get an estimate that's as accurate as possible.
How much space you have for a dumpster
The space your dumpster will take up in your yard, driveway, or street is just as important as—if not more important than—how much you can put inside it. Without a space that fits the dumpster you've rented, the delivery driver will be unable to leave it with you.
Your dumpster's dimensions
To find a space large enough for your dumpster, carefully read its listed dimensions. In particular, pay attention to its footprint (how much floor space it will take up). Check the dumpster's length and width and pick an empty space on your lot that has the same dimensions.
Also, if you'll be placing the dumpster under a deck or balcony, you may need to take the container's height into consideration, especially if it's a 40-yard container.
Be aware that the dimensions of dumpsters with the same volume can be different between brands. For example, a 10-yard dumpster from Waste Management measures 15' long, 8' wide, and 2' tall while a 10-yard container from Republic Services measures 12'8" long, 8'3" wide, and 4'4'' tall. When shopping between brands, check each dumpster's unique dimensions instead of expecting them to be the same.
Dumpster delivery and pickup
Delivery and pickup are some of the trickiest parts of the rental process since dumpsters are delivered and retrieved on large trucks that need to back into the designated spaces. This requires that your space has street access and that the driver has all the room they need to maneuver their truck throughout the procedure.
So, while you may have plenty of space on your basketball court for your dumpster, the delivery driver won't be able to put it there if it's uphill within an immense yard. The best places for dumpsters are typically driveways, but your street may also be an option. However, you usually have to apply for a permit from your city before you can put a dumpster on the street in front of your house.
How much does a dumpster rental cost?
On average, it costs between $200 and $550 to rent a residential dumpster for a single week, though prices can be as high as $800 per week.
One of the biggest factors that can affect your price is the size of your dumpster. Larger dumpsters almost always cost more, with the average price range for a 40-yard dumpster being $350 to $800 per week. In contrast, 10-yard dumpsters only cost somewhere between $200 to $550 per week. This is the reason it's best to get the smallest dumpster that will work for your project. Renting something larger than you need means paying for unused space.
Also, dumpster rentals can accrue additional fees depending on how you use them. Many waste disposal companies charge extra if you exceed your dumpster's weight limit or overfill it, and if you decide you need your dumpster longer than you originally rented it for, you can extend your rental period for a price. Lastly, you may need to pay extra to dispose of certain materials like appliances and mattresses.
To learn more about dumpster rental rates, check out our pricing guide for renting a dumpster.
Can you put anything in a dumpster?
Unfortunately, no. You can't put just anything into a rental dumpster. Customers are almost always prohibited from dumping hazardous materials like asbestos, batteries, and toxic liquids.
Not every rental company has the same restrictions, though. For example, Waste Management prohibits the dumping of bricks in its dumpsters, while redbox+ Dumpsters has no such restriction. This means you'll have to look over your rental agreement before you sign it to know exactly what you're allowed to put in your dumpster.
If one company won't let you dump the stuff you're trying to get rid of, you'll need to rent from a different one. And some materials—like transmission oil, tires, and paint—are prohibited by all dumpster companies. To get rid of materials like these, you'll need to contact your local landfill to discuss the proper disposal procedures and locations in your area.
Getting the right dumpster for your project
Estimating the best dumpster size for your situation can be tricky, but it's still important to plan ahead as best as you can. Getting the wrong dumpster size can mean either paying too much money or being left with too little dumpster space. Failing to think about where you'll keep the dumpster can mean you'll go without one on delivery day. But now that you know how to avoid these unfortunate outcomes, you're ready to start shopping for your rental!