Image source: Sears
The average cost of a bathroom remodel is between $4,500 and $9,000 depending on your budget, timeframe, and designs.
If you're looking to give your bathroom a makeover, the options are endless. Everything from choosing the bathtub, cabinets, sinks, countertops, toilets, and new tiles can increase your home's resale value, durability, and style. In this article, we break down how much a bathroom remodel costs, influencing factors, and more.
Let's jump in.
On this page
Remodeling vs renovation
Renovation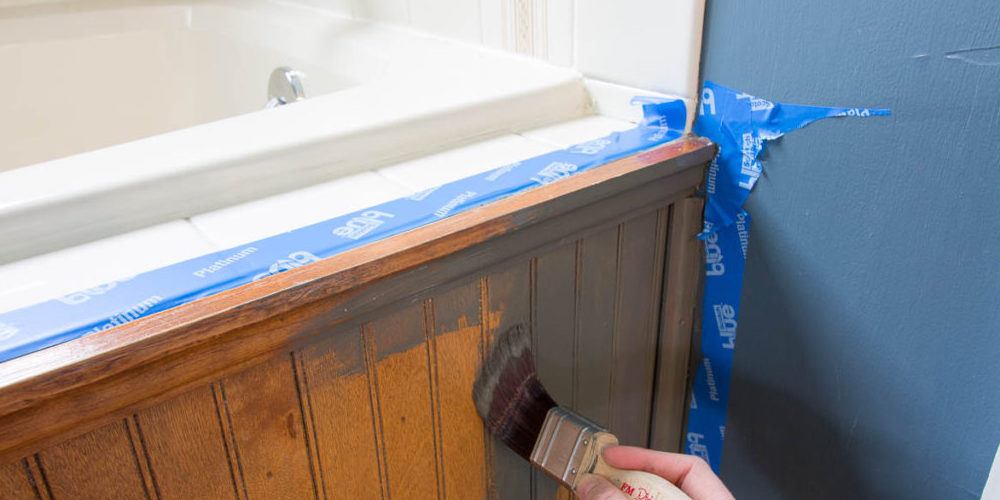 Image source: Roots & Wings Furniture
National average cost: $2,900 (varies depending on materials, labor, and extent of the job)
First, it's important to understand the differences between a bathroom remodeling project and a bathroom renovation. When you renovate something, you're essentially making repairs, repainting, or updating certain fixtures – but the structure or design never really changes. Renovations tend to cost less and can be done yourself.
Remodel 
Image source: Welter Construction
National average cost: $5,500 (varies depending on materials, labor, and extent of the job)
While some minor remodeling like tile work can be done yourself, anything that requires plumbing work or electrical work typically requires a general contractor. Remodeling essentially means you're significantly altering the design, layout, fixtures, and materials in your home. Like renovations, the cost range varies for home remodeling.
Bathroom remodeling cost factors
Location 
Labor and material costs vary depending on where you live. For example, labor costs are typically higher for homeowners in coastal areas than homeowners in the Midwest.
Permits 
Small remodeling jobs like installing new flooring or replacing faucets typically won't require a permit, but if you plan on making changes with electrical or plumbing, even as small as moving an outlet, you'll need a building permit which can cost $530, on average.
Image source: B&L Glass
Materials 
There are so many designs and materials to choose from. With common, low-end products like porcelain and fiberglass, you'll be able to update your bathroom with a modern look. With higher-end products like natural stone, patterned floor tile, wood, and granite, you'll be able to transform your bathroom into a spa, but for a more expensive price. Be aware that it'll also cost you to remove old tiles and materials before you begin work.
Repairs 
This isn't always the case, but when you're remodeling, you may run into some damage caused by mold or mildew that needs to be repaired. Costs will depend on the extent of the damage and labor.
Image source: HomeHow
Timeframe 
Remodeling your full bathroom all at once may seem appealing, but could result in a shoddy job if you rush it. Consider working on particular parts of your bathroom one at a time. With a single job to focus on, your remodeling job will receive more attention in the long run and potentially save you money down the road.
Size 
The size of your bathroom will help determine your price range. Remodeling small bathrooms and powder rooms with fewer fixtures can cost between $1,500-6,000. If you have a mid-range or master bathroom, you can expect to pay up to $40,000 or more depending on the materials and new fixtures.
Image source: Homedit
Electrical 
Most minor electrical changes like changing out lighting fixtures may be done yourself. But if any electrical outlets or light fixtures need to be moved, you'll likely need to hire a professional electrician, who typically charges between $40-$120 an hour.
Plumbing 
Similar to electrical work, if you decide to move specific plumbing fixtures, you'll likely need to hire a plumber to transfer the plumbing system and make sure everything works properly. On average, plumbing costs between $75-$130 an hour.
Fixtures and designs
Bathtubs and showers 
Image source: American Standard
Average cost: $700
The most common type of bathtub is an acrylic/fiberglass 3-wall alcove tub installed with a shower. Combining the tub with a new shower ultimately saves money and maximizes the space.
The styling of your bathtub or shower all depends on your personal preference. If you decide on more complicated plumbing fixtures like a jetted tub, drop-in tub, or other high-end freestanding tubs, you can expect to pay between $700-$21,800, depending on materials.
Sinks 
Image source: HGTV
Average cost: $750
While there's a large variety of sink designs to choose from, drop-in or self-rimming sinks are typically more common and affordable to install because they won't destroy the vanity or countertop. You'll be able to find drop-in sinks as low as $40 or as high as $1,089 at Home Depot, while high-end fixtures like a pedestal or double vanity sink can cost you between $250-$5,500.
Faucets 
Image source: FaucetList
Average cost: $447
Prices for faucets vary greatly depending on the size, material, and style. Chrome is significantly cheaper than other materials like brass, bronze, or nickel.
Cabinetry and vanities 
Image source: Plain & Fancy
The cost for cabinets and vanities depends on the size, material, and style. The cost of prefabricated cabinets start at about $200, on average but custom-made cabinetry can cost you up to $560 per linear foot.
| | |
| --- | --- |
| Material | Cost (per square foot) |
| Granite | $40 |
| Porcelain | $12 |
| Laminate | $20 |
| Corian | $70 |
| Marble | $40 |
| Quartz | $60 |
| Composite | $55 |
Toilets 
Image source: The Home Depot
Average cost: $600
Replacing toilets may not be a simple home improvement project, but it is DIY-friendly. Installations for both cheaper and luxury toilets aren't too expensive either, ranging from $234-$1,538.
Wall and floor tiles 
Image source: Good Housekeeping
Average cost: $7 per square foot
Materials like porcelain, stone, and ceramics are good options for wall and floor tiles. Stone and tiles with specific designs will cost more, but you can expect to pay between $3-$10 per square foot to tile your bathroom floor or walls.
DIY vs contractor
Image source: Sweet Teal
DIY 
While it is possible to remodel some parts of your bathroom yourself like installing tiles or swapping out faucets and vanities, anything that involves electrical or major plumbing changes will require a professional. Doing it yourself can cost around $75 per square foot, mostly for materials.
Contractor 
Installation costs will be higher when you hire a professional. But if you have a master bath where the work is more involved, it's worth the cost. Labor will likely cost you $40-$200 an hour, depending on the trade, which is typically 40-65% of the total cost.
Is now the time to remodel your bathroom?
With choosing between the fixtures and designs to the materials and labor, remodeling your bathroom can be a major project. A bathroom remodel isn't going to be cheap, but it all depends on the variables and what you can do yourself. When you're figuring out your budget, this cost guide will help you figure out what's best for you.