Kitchens are the place where the family gathers to cook, eat, converse, study, or simply spend time together. This means that your kitchen floor sees a lot of use over time. And with the splatters, spills, and other mishaps that can come from food, drink, and cooking, your kitchen floor can often age faster than the rest of the space. For that reason, the flooring that you choose needs to not only complement the rest of your kitchen design and style, it needs to be able to hold up to daily use without detracting from that style as it ages.
There are many different materials and styles that work well for kitchen floors, which can make it difficult to narrow down the options. We asked 49 experts in the home construction and flooring fields what they believe will be the most popular kitchen flooring trends of 2022. These trends are listed for you below, so you can get a better idea of what floors may be the right fit for your kitchen.
1. Hardwood Flooring
According to 70% of the experts surveyed, hardwood flooring will be the most popular kitchen flooring trend of the year. Hardwood floors are generally a popular homeowners' choice. They have warmth and character that are difficult to create with other materials, and they're known to hold their value. A hardwood floor can last for hundreds of years, refinished countless times if necessary.
Hardwood is always a good choice for kitchens where most homes already have a lot of wood with cabinetry. The hardwood helps create a cohesive look, as well as a warm, welcoming appearance. Hardwood can also be fairly easy to clean in the space, and many hardwood floors can handle the foot traffic of the area as well.
There are numerous ways to use hardwood floors in the kitchen. You can match your cabinet wood color and grain, or opt for a color that contrasts or complements it. Just make sure that the tone of the wood remains the same - warm or cool - so it doesn't clash.
The cost of installing hardwood varies greatly depending on the wood species you are opting for, the difficulty of the installation (for example, if you have tight angles or very small spaces), the availability of the wood and the type of installation, among other factors. The cost of materials can start at around $2 per sq.ft. for pine and get around $12 for more expensive wood species like teak or kempas. As for the labor, you can expect to pay between $3 and $6 per sq.ft. for an easy installation.
2. Geometric Tiles
Geometric tiles will also be a very popular material for floors in the kitchen this year according to 33% of experts. Geometric designs are popular in many ways in 2022, including patterns for wallpaper as well as for backsplash tiles. So it comes as no surprise that they make the list of flooring trends as well.
Geometric tiles come in many different patterns, colors, and materials. Concrete tiles are very popular right now, as they come in numerous bold geometric patterns and colors. Ceramic designs are also popular for those that want to create a retro look.
If you opt for a geometric tile floor in your kitchen, be sure to keep the rest of the style minimal. Having too many patterns in the space can make the kitchen appear too busy. The cost of geometric tiles can vary a lot depending on the material, but you can expect costs between $8 to $14 a square foot installed.
3. Wood-Look Vinyl
Wood-look vinyl flooring will be popular in kitchens this year according to 30% of experts surveyed. Vinyl flooring is proving to be a very popular material for most areas of the home this year, including the kitchen. Wood look vinyl is inexpensive, durable, easy to install, and very easy to maintain. It doesn't last as long as wood - about 20 years on average - but it's a great low-cost alternative for those that like the look of real wood. Wood-look vinyl is available in planks that lock together for a floating floor.
It comes in many of the same colors and styles as wood, but doesn't look as good next to real wood cabinets. For that reason, it's best used in kitchens that use MDF, Thermofoil, or other materials for kitchen cabinets.
Wood-look vinyl is a type of LVP - luxury vinyl planks - and costs between $1.50 and $10 a square foot. If you want a professional to install it for you, you will pay around $5 to $12 a square foot in total for labor and materials. The cost range is due to the thickness of the planks, as well as the overall style - thicker planks and those with more realistic wood textures cost the most.
4. Wood-Look Laminate
Another popular alternative to wood flooring is wood-look laminate, with 24% of experts agreeing that it will also be popular this year in the kitchens. Wood-look laminate is made of multiple layers of material laminated together with a long-wearing top coat over a printed layer with the design on top. It isn't as durable as either vinyl or natural wood, but it's an inexpensive option that's easy to install. Laminate doesn't do well in wet areas, so be sure to clean up any spills in the kitchen quickly, so it doesn't warp over time.
Like vinyl, laminate looks best in the kitchen when it's used with materials that are not real wood for the cabinets. If you have painted cabinets or cabinets made of MDF or another material, wood-look laminate can be a good way of adding some warmth and depth to the space without clashing with the cabinet material.
Wood-look laminate costs between $1.50 and $6 a square foot for the material, $6 and $14 if you add the labor.
5. Concrete Flooring
17% of experts think that concrete flooring will be a popular choice for kitchens in 2022. There are many types of concrete flooring that can be used in kitchens. Traditional concrete flooring - meaning a concrete slab - is a popular choice for industrial style homes as well as some contemporary spaces. Concrete can be colored and polished to create a sleek surface for the kitchen floor.
Concrete tiles can also be used to create a colorful geometric pattern on the floor that can give your kitchen a more whimsical or retro look depending on the pattern. These tiles can also help your kitchen meet the trend of using geometric designs on the floor. All concrete used in the kitchen should be sealed regularly to help prevent staining. Slab concrete may also crack over time if there is any shifting in the home.
Concrete flooring can have a wide range of costs depending on the type. For a plain concrete floor expect to pay around $2 to $6 a square foot, while more elaborate floors or concrete tile flooring can go a lot higher.
6. Wood Flooring Patterns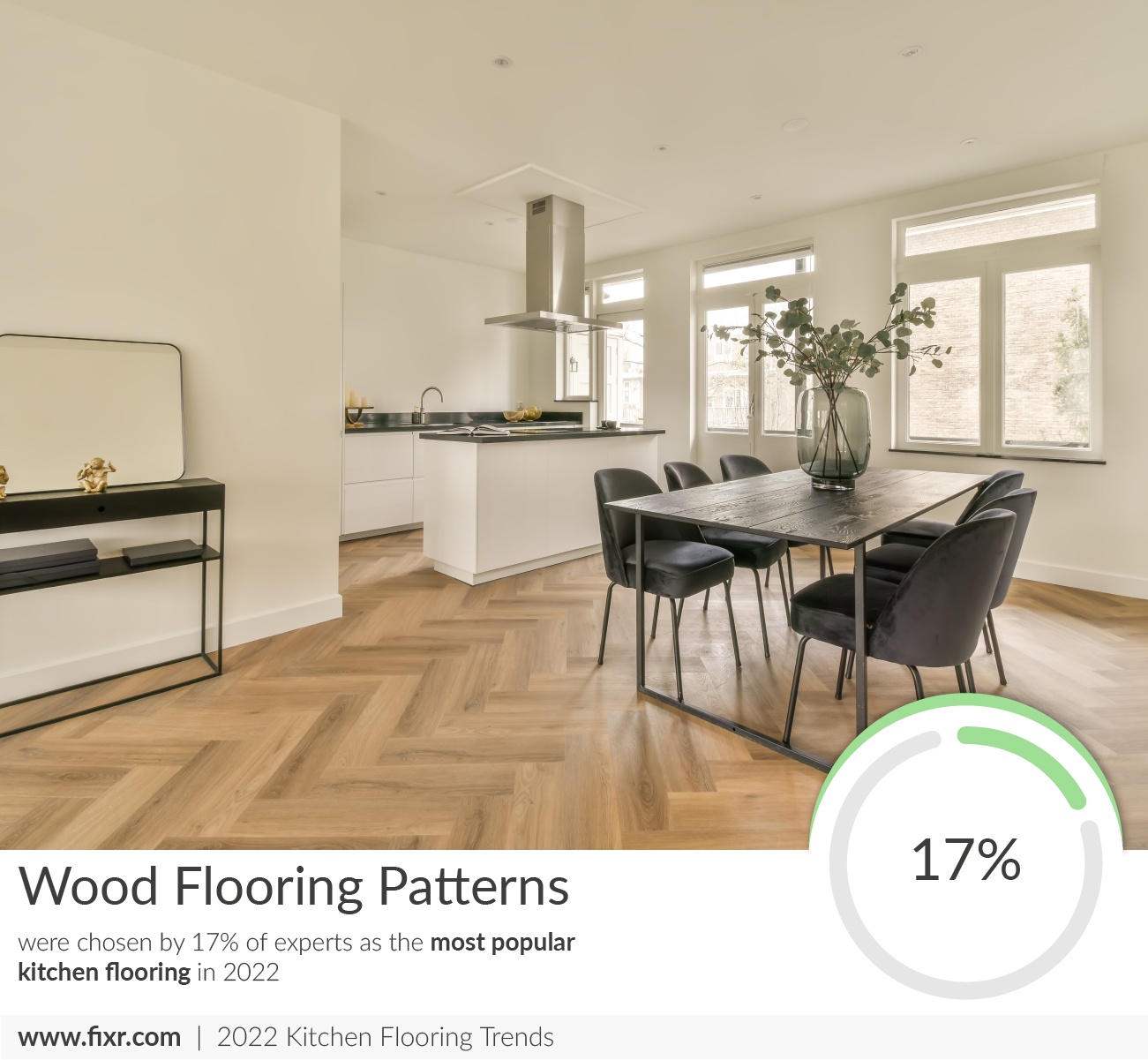 17% of experts also feel that wood flooring patterns will be popular in kitchens this year. Wood flooring can be arranged in many different patterns that can create stunning results in many spaces. While most wood floors are laid out in straight-set planks, those same planks can be used to create several designs including chevrons, herringbone, square basket patterns, and 3D patterns using three colors or shades of wood at once. It's also possible to inlay darker or lighter woods into the floor to create borders and to draw attention to areas like the dining table.
Keep in mind that wood flooring patterns work best in large kitchens. A small space may appear busy with some patterns, while kitchens with islands may not have enough unbroken floor space for the pattern to be appreciated.
Remember that when creating any pattern, your costs will be roughly 20% higher than if simply laying the wood straight. This is due to the extra material needed to create the pattern, as well as the additional labor needed to install it.
Author
Irena is an industry analyst at Fixr.com. She analyzes and looks for visual ways to simplify data. She is researching and writing about home improvement and personal finance. For this report she analyzed Fixr.com 2022 flooring trends survey data to present the homeowner's top floor material and style choices for the kitchen, according to the opinions of the experts surveyed.