How much does it cost to install a custom closet system?
Get free estimates from organizers near you
Custom Closet Installation Cost Guide
Updated: October 11, 2022
Storage space is a coveted thing and has often been the catalyst for homebuyers when it comes down to the details in choosing their new home. Closets, especially, are in high demand, and many people prefer to install custom closets that offer more function and custom use than a standard closet design. Of course, several types of closet systems are available with plenty of factors to consider in choosing your new closet solution. Typically, these custom closets are priced by size and style, although brand quality and additional customization could impact the costs.
The national average cost for custom closets is $2,500 to $5,000, with most people spending $3,500 for a custom closet system made of MDF with custom-painted shelves, accessories, and cabinets installed in an 8' reach-in closet. This project's low cost is $1,200 for a basic 6' laminate reach-in closet with shelving and partitioned hanging spaces but no accessories. The high cost is $20,000 for a boutique custom 100 sq.ft. walk-in closet with wood veneer shelves and cabinets, motorized accessories, jewelry storage, and a custom storage island.
Custom Closet Price
Custom Closet Installation Cost
National average cost
$3,500
Average range
$2,500-$5,000
Low-end
$1,200
High-end
$20,000
Custom Closet Cost per Square Foot
Custom closets may be priced in several ways. Because a custom closet may be a reach-in or walk-in, and these spaces are planned differently, there may be different costs. When it comes to square footage of the designed closet space, the average cost per square foot for custom closets is $17 to $50. This is the cost of the height times the width of the space. So, your total closet space may be 100 sq.ft, but you may have more than 600 total sq.ft. worth of cabinetry and shelving. For this reason, many closet manufacturers provide quotes by the linear foot, making it easier to estimate the amount of shelving and cabinetry.
Custom Closet Cost per Linear Foot
Depending on the design and materials, you may have costs per linear foot of between $150 and $450. For an 8' reach-in closet, your costs for a custom organization installation average between $1,200 and $3,600 for a basic setup. Linear footage is not used for all custom closets and depends on the setup. You are usually quoted a square foot cost, but linear costs may be given for specific types, cabinets or shelves. For walk-in closets, your linear footage cost refers to the length of each wall inside the closet on which you install your shelving, cabinets, and accessories. So, a 10' x 10' closet has a minimum of 30 linear feet of wall space - often more - and can also have room for an island, increasing the costs by size.
Custom Closet Prices by Type
A custom closet is built into your home. They may be reach-in, meaning you access the closet while standing outside, or walk-in, where the closet is a small room with the organization around the outside. The average price range for custom closets is $1,000 to $10,000. If your home does not have closets, a cabinet or furniture maker can build you a custom free-standing wardrobe. This is not the same as a custom closet, but it can provide additional storage and help customize options to meet your needs if closet space is at a premium in your home. Typically, the larger the closet, the more things you can add to it, increasing the cost. This is why walk-in closets have higher costs than reach-in. Below are the average costs of each, based on the most common sizes.
| | |
| --- | --- |
| Type | Unit Cost (Installed) |
| Free-Standing Wardrobe | $1,000 - $3,000 |
| Reach-In Closet | $1,200 - $5,000 |
| Built-In Closet | $1,200 - $10,000 |
| Walk-In Closet | $5,000 - $10,000 |
Custom Free-Standing Wardrobe
A custom free-standing wardrobe costs $1,000 to $3,000, depending on the size, materials, and complexity. People without much extra space in the existing closet to allow for a custom built-in design or who may not want to build into the structure of their home can design a custom free-standing piece. These are better than off-the-shelf furniture because they are designed to fit your needs and offer a custom closet feel even when you are not using an actual closet.
Custom Reach-In Closet
Expect to spend less on a reach-in closet design, which averages $1,200 to $5,000 depending on the included features and renovated space. This typically includes new shelving, hanging and other storage solutions, an updated coat of paint, or a closet door update. Most homes have at least one reach-in closet, and many homes have several. Custom reach-in closets can add many items to meet your needs, from cabinets to shoe racks, and they come in many styles and materials.
Custom Built-In Closet
A custom built-in closet costs $1,200 to $10,000, depending on the materials and the space size. All custom closets are built-in because they are permanent changes or additions to the home. This is different from installing temporary shelves or setting a prefabricated cabinet or shoe organizer inside your closet. All items added to the custom closet are built in place. This makes for a better-quality closet and one that makes the best use of the space and fits your needs. Custom walk-in closets have higher costs than custom reach-in closets, but both are considered built-in.
Custom Walk-In Closet
The cost of a custom walk-in closet is $5,000 to $10,000, depending on the size of the space and materials. Walk-in closets are much larger than reach-in, often ranging from 50 to 100 sq.ft. To create a custom walk-in closet, most of the walls are lined with custom shelving, cabinets, and other organizational systems. If you opt for a boutique custom walk-in closet, which is an extra large space, you may also have a custom island in the center for storage, jewelry storage, safes, mirrors, and other luxury additions.
Average Cost of a Custom Closet by Material
Your custom closet can be made from many materials. These range from affordable options like laminate and melamine in standard solid colors like white or oatmeal to luxury cabinets made from cedar or exotic wood veneers. Not every closet maker uses all materials, some specialize and offer a range of colors and textures in one or two. Others may have broader offerings. The material may be based on appearance, durability, cost, or a combination. Some materials can be painted to help with the customization, like MDF, plywood, or natural wood. Below are the average costs per linear foot installed for the various materials that custom closets may be made from.
| | |
| --- | --- |
| Closet Material | Cost per Linear Foot (Installed) |
| Laminate | $125 - $150 |
| Melamine | $135 - $175 |
| MDF | $140 - $240 |
| Plywood | $150 - $500 |
| Cedar | $200 - $500 |
| Natural Wood Veneer | $200 - $1,200 |
Custom Closet Cost by Accessory
The parts of a custom closet vary in price, ranging from $50 to $2,500. Several parts and accessories make the ideal custom closet design. Several factors are involved in choosing each. You may need a custom closet jewelry storage, shoe storage, or even an island in your new space. More good storage options are custom closet drawers and cabinets. In the table and subsections below, we look at the various accessories and most common parts you need for your custom closet project, including the average costs and what each entails.
| | |
| --- | --- |
| Closet Accessory | Unit Cost (Installed) |
| Shoe Racks | $50 - $75 |
| Hanging Rods | $50 - $75 |
| Shelving | $50 - $200 |
| Jewelry Storage | $75 - $150 |
| Drawers | $75 - $200 |
| Mirror | $100 - $300 |
| Cabinets | $500 - $1,500 |
| Island | $1,000 - $2,500 |
Average Custom Closet Price by Company
Many reputable companies design and install custom closets. Some companies offer a wide range of materials and styles, while others are more limited, using stock items in custom layouts to meet your needs. The more exotic the materials or unique the dimensions, the higher your overall costs. Most companies have quotes starting with their basic costs. This is the system's cost installed if you do not opt for extras like organizers, pull-out shelves, and full-extension drawers. Adding these elements increases the closet cost.
All companies offer installation services, but things vary by company. Some may assemble flat-packed items, while others install fully made cabinets. Speak with the company to find out what is included. For example, Closet Factory, Closets by Design, and California Closets offer mostly reach-in and walk-in custom closets of various sizes. Ikea offers custom cabinets and organization systems at a low cost. The Container Store offers high and low-end, depending on the closet type. Below are the starting price ranges per linear foot installed for some of the most popular custom closet companies.
| | |
| --- | --- |
| Company | Cost per Linear Foot (Installed) |
| Closet Factory | $135 - $330 |
| Ikea | $150 - $380 |
| Closets by Design | $150 - $400 |
| Container Store | $150 - $600 |
| California Closets | $175 - $350 |
Cost to Install a Custom Closet
If you are working with a custom closet company, the labor cost is generally rolled into the total project cost. It costs $60 to $90 per hour for installation in most cases, depending on the level of customization and work. If costs are priced per linear foot, labor often costs $55 to $200 a linear foot, depending on what you install. Because a custom closet can have many components, labor is generally not broken out this way. Closet companies may send their cabinets and shelves assembled, so the worker only needs to install them, cutting the time spent onsite. Other companies may send the various pieces flat-packed, so they take longer to assemble. Remember that costs per hour are per worker. So, when assembling a large walk-in closet, you may have two or more workers.

Most custom installations begin with a visit to the space for measurements. This is included in the total installation cost. Custom closet installers generally handle all parts of the installation, including the electrical work. However, if you change the flooring or want the closet painted before the system is installed, you need to contract with those installers separately.

​
Custom Closet Door Price by Type
Closet doors come in several styles. When you are doing a new closet design, it might be a good idea to consider upgrading the doors. Most doors can be used with any closet style, but the doorway size and width can sometimes work better with one type than another. Some people also like to match the door to their closet to the other doors in the room or nearby area for cohesion. Each has design features to consider. Bifold doors are great for homeowners who want something slightly different from their standard design. Sliding barn doors are perfect for a rustic look. Mirror doors are great to maximize space usage. Pocket options create a minimalistic-style closet. Many choose to upgrade to barn doors and other modern styles. Below are the average costs for the various door types you may install on your closet.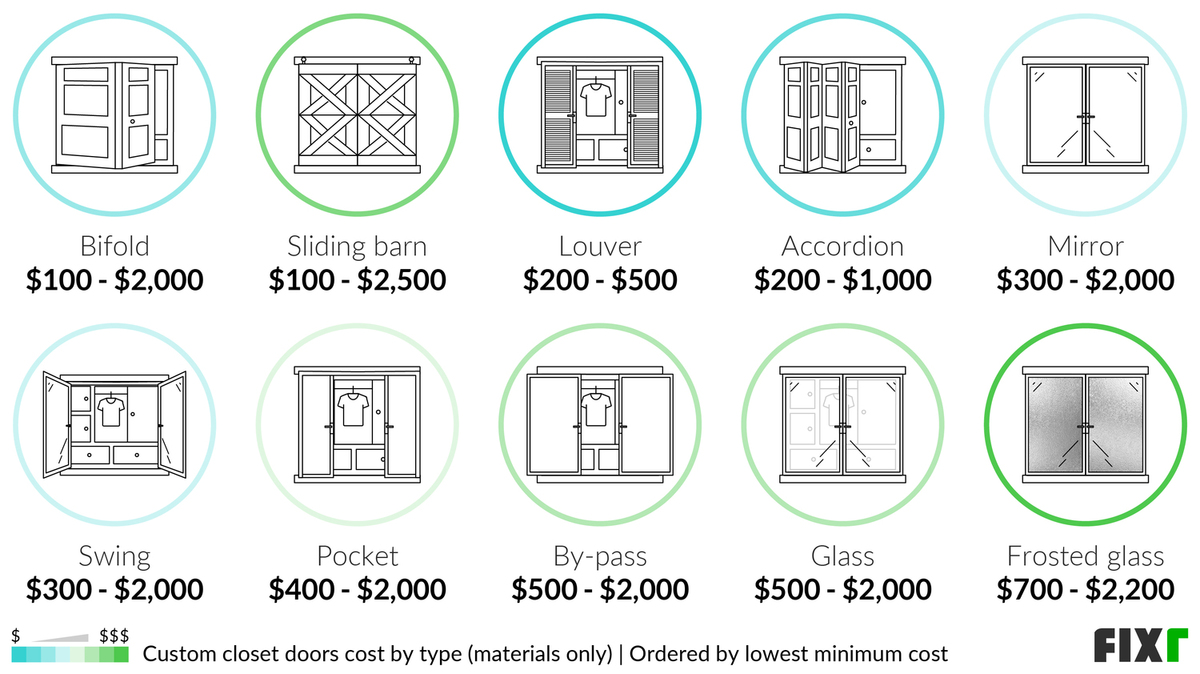 | | |
| --- | --- |
| Type | Door Cost (Unit Only) |
| Bifold | $100 - $2,000 |
| Sliding Barn | $100 - $2,500 |
| Louver | $200 - $500 |
| Accordion | $200 - $1,000 |
| Mirror | $300 - $2,000 |
| Swing | $300 - $2,000 |
| Pocket | $400 - $2,000 |
| By-Pass | $500 - $2,000 |
| Glass | $500 - $2,000 |
| Frosted Glass | $700 - $2,200 |
Custom Closet Organizer Cost by Material
Closet organizers are also available in many systems and solutions. They come in many materials and range from $1 to $10 a linear foot for the materials used to create them. People use closet organizers and systems to organize their clothes and other items. Organizers can be added to most custom closet solutions to help separate and hold various items. They include shelving, shoe holders, jewelry organizers, tie racks, belt holders, and bins for laundry or small items. The table shows the cost of each closet organizer based on the material.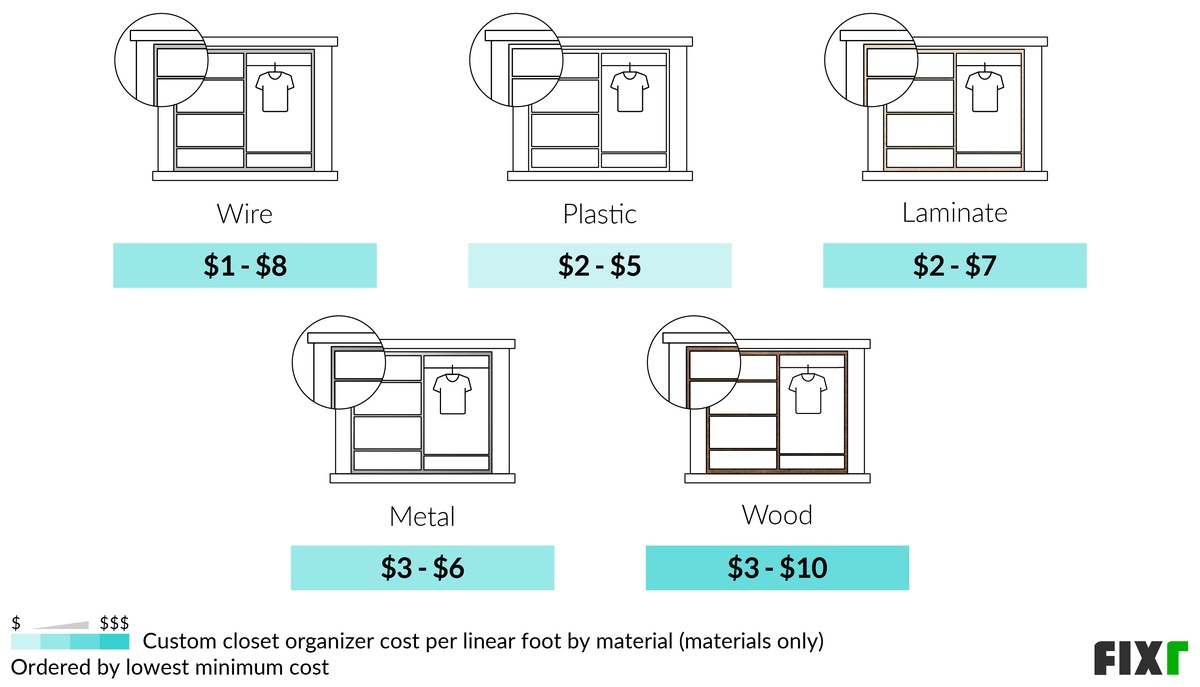 | | |
| --- | --- |
| Material | Cost per Linear Foot (Materials Only) |
| Wire | $1 - $8 |
| Plastic | $2 - $5 |
| Laminate | $2 - $7 |
| Metal | $3 - $6 |
| Wood | $3 - $10 |
Custom Closet Lighting Price by Type
The average cost of custom closet lighting ranges from $200​ to $2,000, based on the type of lighting you choose. The options for custom closet lighting will make sure that your space gives you the look that you want and the type of light you need. You can choose from standard recessed lighting or track lights to provide simple lighting with clarity or go for a dramatic chandelier or hanging light fixture to add a touch of style and elegance to the space. You could even choose detail lighting like sensor lights for drawers and under-cabinet lighting. Don't forget vanity lighting if you install a vanity in the space. In the table below, we'll take a look at the average cost of each lighting option, including labor and materials.
| | |
| --- | --- |
| Type | Cost per Light (Installed) |
| Sensor Lights | $200 - $500 |
| Under-Cabinet Lighting | $300 - $600 |
| Vanity Lighting | $300 - $600 |
| Track Lights | $300 - $800 |
| Chandelier | $500 - $1,500 |
| Recessed Lighting | $800 - $2,000 |
Closet Design Cost
The design fee is usually included in your final costs if you purchase a full custom closet. Some companies have free designs and 3D renderings that allow you to visualize your new closet before committing. Other companies charge a fee for this service of $100 to $500. If you go ahead with the plan, this fee gets rolled into your project's cost, meaning the design service was ultimately no cost. The upfront cost encourages you to go with that company and not shop around getting designs from multiple businesses.
The designs may be more limited until you commit to the project for companies that offer no-upfront-cost design services. This means you may get fewer options or chances to change a design until you commit to the project. Once the project starts, you have more color, design, and layout options and get the chance to see those changes in real-time in a 3D rendering. This can help you better assess how the final closet will look to be more comfortable with the final appearance.
Walk-In Closet Design
Walk-in closet designs come in several styles. These closets are coveted for their spacious nature, offering more room and design features than you might find in other closet styles. The walk-in closet you choose may be determined by how much space you have. For example, a walk-in closet with a sliding door is best used if you do not have as much space. Sliding doors do not need clearance, so they can be a better fit in tight quarters. They also come in many sleek designs for a polished look. A walk-in closet without a door or an open one can also be good if you want to make the space feel larger or do not have the space for a door.
Another good choice for making a space feel larger is to use mirror doors. This visually enlarges your space while concealing the closet and giving you the function of the mirrors. If you have the space, consider adding a vanity to the closet. This can enhance the closet's functionality and free up room in nearby spaces.
Pros and Cons
Custom closets offer many benefits for homeowners. A custom closet allows you to make the most out of your space. Most homes have reach-in closets, which only have a hanging rod and possibly a single shelf. Adding a custom closet solution gives you many more options for how you can use the space and store items. This often means you gain storage, even though the closet is not bigger.
For walk-in closets, custom solutions can help you organize the space better, helping you keep track of everything. This allows you to rotate your wardrobe, store clothing for multiple people, or store items like bedding or outerwear in one area. Custom closets are expensive and may not always be the best for the space, depending on the version. While a custom closet can help you keep organized, some layouts are not very versatile, so you may find that the current solution no longer works if your needs change, necessitating an update. However, most custom closets provide more benefits than drawbacks.
Tips for Building a Custom Closet
Custom closets offer many benefits, additional storage, and organization, but they can also be expensive and may not fit your needs if not laid out properly. Take the time to consider before going ahead with the project to ensure you understand your space and how it can be best designed.
Start with looking at your space. Make sure you know its dimensions. Height, depth, and width are very important, particularly for walk-in and reach-in spaces. Leave some parts for hanging items, but you may find that filling the rest with shelving and organizers may help, so consider how the space is currently sized and laid out and how you use it. Next, think of the things you store there - what amounts and how are they best stored? Make a note if you need more shelving for flat folded items than drawers or hanging space. The closet has to work for you when it is done, and it can only do that if you understand how you use it. Ensure that you leave some space for flexibility. If shelves can be moved or rearranged, this can be helpful in continuing to accommodate your needs. For things like shoe racks and other organizers, going slightly larger than you think you need gives you room for growth.
Communicate well with the company that designs your closet. Be clear in your needs and wants. You can ask for renderings or drawings of every iteration you discuss and their recommendations on how you can best meet your goals. This helps create your dream custom closet.
Enhancement and Improvement Costs
Decorating a Walk-In Closet
The average cost of decorating a walk-in closet is $500 to $2,500, depending on how much space you have to decorate and what you want to add. Once you have taken the time to install a custom closet system, you may also want to decorate the space with paint, new furnishings, and other decor. You can hire a designer to design the space or create your own design, impacting costs. Ask your installation professional if this is included or incurs an additional cost.
Paint a Walk-In Closet
It costs an average of $200 to $400 to paint a walk-in closet that measures less than 8' x 8'. Painters typically charge $25 to $100 per hour for their work, depending on the painting that must be done, the difficulty of accessing the space, and how much paint is required. Some homeowners supply their own paint to reduce costs or paint the walk-in closet as part of an entire room update to maximize the investment. Plus, a fresh coat of paint for the entire room can be a great touch when you install a new closet.
Automation
You can add smart features to your walk-in closet. This can include automating things like racks to extend or move down to be easily reachable before going back up for storage. Adding automation to your closet costs $500 to $3,000, depending on what area you are automating and how many parts are involved. Common areas to automate include shelving, shoe racks, tie racks, belt racks, lights, and doors.
Additional Considerations and Costs
Mount. Most custom closets are wall-mounted systems. This is the most cost-effective and uses the least space. However, floor-mounted systems may be available from some companies.
Laundry. Hampers are frequently included in custom closet layouts. These can include tilt-out and pull-out options concealed inside a cabinet to help organize the space.
Building permits. Some locations require building permits to install custom closets and other indoor renovations. Check with your local municipality to determine the building codes. A professional renovation expert or custom closet installer typically knows which permits are required and takes care of them for you.
Closet hanging heights. The standard closet hanging height for rods is 60" to 66" for single rods. Double rods are typically hung at 80" and 40" from the floor to allow for adequate space. It is best to leave at least 3' between the rods to allow room for clothes to hang freely. You can have shelves and rods hung at any height that suits your needs. Discuss this with your designer or contractor when planning your new custom closet design.
Vent work. Depending on the closet size and location, it may require new vent work or ducts to be run through the space to ensure proper airflow. This step requires an HVAC professional and has an additional expense, so consider it when planning your project.
ADA accessibility. Making an ADA closet compliant with laws requires understanding them. The act requires a minimum 30" x 48" walkway or doorway into the closet with a reach range of 15" to 48" off the floor, meaning shelves, hanging rods, and hooks must be hung within this height range to be compliant.
DIY. While some custom closet kits are designed for DIY installation, it is not recommended to do the work yourself. Free-standing and walk-in closets are often best designed by a professional and installed by people who know what they are doing. People might choose flat-pack assembled furniture instead. However, before doing any installation, homeowners need to prepare the floor space before starting the installation, during, and after to ensure minimal debris.
Warranties. Check the warranties on the custom closet system you choose. See what is covered, including longevity, damage, normal wear, and defects. Most custom closet systems have impressive warranties, with some offering lifetime coverage for certain incidents or damage types.
New construction. When building a new home, your costs may be potentially lower. It can be easier to build features you want from the beginning rather than adding them to an existing space. However, you need to know how you finish it before the space is framed to get potential savings.
FAQs
Are custom closets worth it?
Custom closets are an investment that offers several benefits. First, they give you more functional space in your home and allow you to have the closet of your dreams. They can increase your home's value, so yes, they are absolutely worth it for those who will use them.
Does Home Depot install custom closets?
The Home Depot installs a variety of closet systems sold by the store and offers helpful instruction and classes on closet organization and system selection. However, they will typically only install the products they sell. Also, they may not be the cheapest or best option, so be sure to shop around.
How much does it cost to customize a small closet?
Small closets typically have customization costs starting at $1,000, depending on the features you include. Small closets can also benefit the most from a custom system making the most of the space.
What is the ROI on custom closets?
Custom closets may have an ROI extending from 50% to 100% of the costs, depending on materials and placement. They typically add function to a home and may be more desirable in some areas than others.
How long does it take to build a closet?
This depends on the size, layout, and other factors. Most take between 3 and 5 weeks from start to finish, but some can be completed in 2 weeks.
How do you build a closet in an existing room?
In most cases, you need to sacrifice some space from the room or adjacent area. Current walls must be removed, or new walls for the closet framed, then drywalled and painted, and shelving, rods, and doors can be installed.
The information provided by our cost guides comes from a great variety of sources. For more information, read our Methodology and sources.