How much does it cost to install a garage door?
Get free estimates from garage door contractors near you
Install Garage Door Cost Guide
When you park at home, you probably enter through your garage door. Most people use their garage doors multiple times everyday, and they help secure everything inside and enhance your curb appeal. Your door can be made of many different materials, operate in various ways, and come in diverse styles, impacting the total cost.
The national average ranges between $700 and $2,000 to install a garage door, with most homeowners spending around $993 for a new sectional steel door installed in your garage. On the low end, you can purchase a non-insulated steel garage door for $474 without installation. At the high end, an installed custom redwood garage door with an automatic opener and glass windows costs around $4,118.
Garage Door Installation Costs
Garage Door Costs
National average cost
$993
Average range
$700-$2,000
Low-end
$474
High-end
$4,118
How Much Does Garage Door Installation Cost?
Garage Door Cost by Type
Different garage door types are classified on how they open and what they look like. One of the most common types are sectional doors because of their reliability and versatility. However, a variety of options are available on the market, and each has unique benefits.
| | |
| --- | --- |
| Type | Average Cost (Materials Only) |
| Single-Panel | $400 - $1,200 |
| Tilt-Up Canopy | $500 - $1,500 |
| Tilt-Up Retractable | $600 - $2,000 |
| Sectional | $750 - $2,500 |
| Roll-Up | $850 - $3,000 |
A Single-Panel Garage Door
Single-panel garage doors tend to be cheaper than sectional designs, ranging from $400 to $1,200. They are composed of one unit that slides up and into the space above your car when opened. They are generally fitted with springs and hung on a strong hinge system attached to the jamb, allowing it to open easily without an automatic opener. While they are stylish, they have a few drawbacks.
They are less safe than modern designs because the extension springs can fall off and damage your property when not properly maintained. They often look better on older homes, but properties with more contemporary aesthetics can also pull them off.
Tilt-Up Canopy Garage Door
Tilt-up canopy garage doors generally cost between $500 and $1,500. They are well-balanced and easy to manually open and close. They are made of one solid piece and feature the simplest lifting gear. They do not completely lift out of sight when opened. Instead, they form a canopy which is about a third of the door's height.
They are generally one of the most inexpensive to purchase and install, but they are a bit noisy when in use. Additionally, they swing out when opening, so allow for more space if you have a car parked in the driveway.
Tilt-Up Retractable Garage Door
On average, tilt-up retractable doors cost between $600 and $2,000. They are fitted with tracks that are mounted horizontally overhead, pivot arms that are mounted on the sides, and springs for additional support. When fully open, they almost completely disappear. They are very quiet in operation and can be used both manually and automatically.
They generally require more space than canopy garage doors. However, they are suspended independently from the frame, so they do not protrude past the front of the house. .
Sectional Garage Door
Expect to pay between $750 and $2,500 for a sectional garage door. They are one of the most popular throughout the country. They are usually constructed of four to six panels joined by hinges to allow it to bend as it opens and closes. They offer a great blend between style, durability, and performance, helping homeowners enhance their curb appeal and keep their homes safer and more secure.
They are more energy-efficient because they often have rubber seals along the perimeter to prevent drafts. They also help maximize the space since they do not need extra room when opening or closing. However, they take up extra room on the area ceiling. Sectional models are often more expensive than other doors, but they can add value to your home, which pays off in the long run.
Roll-Up Garage Door
Roll-up doors cost approximately $850 to $3,000. They open by rolling upward and there are two main types: section roll-ups and rolling steel doors. Section roll-ups are composed of four distinct sections that can be rolled onto the ceiling. Rolling steel doors have single panels of material that are rolled up above the door opening. These designs offer a distinct look for your home and can be made with various materials, including wood, aluminum, steel, and fiberglass. They are very sturdy, helping homeowners save on repairs and maintenance down the road.
On the flip side, they are extremely difficult to paint or upgrade once installed, so exterior renovations will be more difficult. Installation can also be a tedious process that requires an entire team.
Garage Door Price by Configuration
The size also factors into the overall cost. If your garage holds more than one car, you have options for configurations. Opt for two or more separate single or a wider double door that opens to expose the entire interior. These decisions impact the overall cost.
| | |
| --- | --- |
| Configuration Type | Average Cost (Materials Only) |
| Single | $600 - $1,500 |
| Double | $800 - $3,500 |
| Custom | $1,500 - $8,000 |
Single Garage Door
A single garage door costs between $600 and $1,500. It will be a great fit for smaller families. They offer ample space for a vehicle plus other belongings. While some families can get away with a this space, many bigger households need two of these designs next to each other to break up a larger space. These would be in place of a double garage door. It should ideally be at least 22 feet wide if you want to do this.
Double Garage Door
On average, double garage door prices range from $800 to $3,500. The ideal size is 18 feet wide. These convenient designs offer a larger open space, making them perfect for bigger families with younger children who still need car seats. They are also good for older people who may need more space to get in and out of the vehicle.
Custom Garage Door
Homeowners can expect to pay between $1,500 and $8,000 for a custom garage door. There are a few things to consider before installing this option. Even if you think you found a great fit, ask yourself if it will benefit your home's long-term value. To figure this out, assess where you live, your energy-efficiency requirements, existing aesthetics, and how much you are willing to spend.
Garage Door Pricing by Size
Every home is unique, which means each garage will be too. One major factor to consider when pricing out your new garage door is the size you need for your space. Below are common dimensions for garage doors:
| | |
| --- | --- |
| Size | Average Cost (Materials Only) |
| 8' x 7' | $400 - $900 |
| 9' x 9' | $450 - $1,000 |
| 10' x 10' | $490 - $1,100 |
| 12' x 7' | $500 - $1,300 |
| 12' x 12' | $600 - $1,500 |
| 16' x 7' | $650 - $3,600 |
| 16' x 8' | $700 - $5,000 |
8' x 7' Garage Door
Since these garage doors are smaller, they tend to cost less, ranging from about $400 to $900 on average. These dimensions are great for couples and smaller families because the garage can only fit one car. For the most part, you can park one car and have room on the sides for additional storage space. The biggest advantage of single-car garages is the price.
9' x 9' Garage Door
On average, 9' x 9' doors cost between $450 and $1,000. They also fit one vehicle easily, whether it be a small sedan or a large truck. The main benefit of having a bigger door is allowing for even more storage space on either side. They accommodate most couples and smaller families with ease. Since they are slightly larger, they generally cost a bit more.
10' x 10' Garage Door
Expect to pay between $490 and $1,100 for a 10'x10' garage door. They offer more space overhead and on either side of your parked vehicle. This can be extremely beneficial when you plan to store anything on the ceiling, such as bikes, tools, or canoes to name a few. Additionally, this is helpful for taller vehicles, especially lifted trucks.
12' x 7' Garage Door
These garage doors generally cost between $500 and $1,300. While they are a bit shorter, they are wide enough to accommodate two smaller cars. This can be extremely helpful if both you and a roommate, spouse, or partner have vehicles. While a bit smaller than standard double-car ones, which are 16'x7', they can still hold multiple vehicles. If you only have one car, these dimensions are useful for extra storage space.
12' x 12' Garage Door
These garage doors costs between $600 and $1,500. They offer a fair amount of room from side to side for either two vehicles or storage space. What really makes them stand out is how tall they are. This can be extremely helpful if you own lifted vehicles or need to store a taller trailer under a roof. Additionally, you can use the ceiling space for additional storage.
16' x 7' Garage Door
16'x7' garage doors cost around $650 to $3,600 on average. This size comfortably fits two cars. They generally have more style variety, and your choice completely depends on your personal preferences. Larger garages allow for more space, which can be more expensive upfront. However, the advanced features and space increase the value of your home.
16' x 8' Garage Door
They are comparable to 16'x7' garage doors in price, ranging between $700 and $5,000. They also fit two cars comfortably and allow for extra overhead clearance. You need a bigger budget for the luxury of more space, but it can be a huge advantage based on your family's needs. This is especially true if you have larger vehicles like SUVs, trucks, or trailers.
New Garage Door Cost by Material
Garage doors can be made out of various materials, which factors heavily into the overall cost. Each type comes with benefits and setbacks. Ultimately, the right choice depends on your style and performance preferences. Below are popular options with prices shown for average single-car (8' x 7') and double-car garages (16' x 7'):
| | | |
| --- | --- | --- |
| Material | 8' x 7' Garage Door Cost (Materials Only) | 16' x 7' Garage Door Cost (Materials Only) |
| Steel | $450 - $1,500 | $700 - $3,500 |
| Aluminum | $500 - $2,000 | $800 - $3,800 |
| Vinyl | $700 - $1,500 | $950 - $2,500 |
| Composite | $750 - $1,600 | $900 - $5,000 |
| Fiberglass | $800 - $2,000 | $1,300 - $3,000 |
| Glass | $900 - $2,000 | $1,500 - $4,500 |
| Wood | $1,000 - 3,500 | $2,000 - $6,000 |
Steel Garage Door
Steel doors range between $450 and $3,500 on average. It is one of the most common materials. It is sturdy, fairly inexpensive, and readily available in the sectional style that most homeowners are familiar with. While they are one of the most cost-effective options, they may not insulate your space as well as other materials, which can increase your energy bills. They are also more difficult to customize and have limited styles.
Aluminum Garage Door
Aluminum doors cost more than steel on average, ranging from about $500 to $3,800 for a basic option. They are a good alternative to steel for manual doors because it is lighter in weight and easier to use. Aluminum is very durable and less likely to sag over time due to weight issues, and it can be insulated. They are easy to customize and do not rust. However, aluminum can dent much easier when compared to other materials.
Vinyl Garage Door
Vinyl doors generally cost between $700 and $2,500. They are an attractive option for anyone who wants a door with the appearance of wood and the lightweight and low-maintenance properties of more modern materials. It often has a foam core for good insulation and is fairly inexpensive. However, vinyl can warp in high temperatures and crack at low temperatures, so it is best used in moderate climates. There are also stock models available, with basic options being the most common.
Wood Composite Garage Door
Composite is considered a low-maintenance alternative to wood. They can be insulated but tend to be pricey, with costs ranging between $750 and $5,000. They are made with a blend of fibers and resins, and they can have a natural-looking wood grain for a pleasing aesthetic that can enhance your curb appeal. They do not require as much painting as wood, but they also are not as customizable, so you have fewer options to choose from.
Fiberglass Garage Door
Fiberglass doors range between $800 and $3,000, on average. They are also a good alternative to wood if you want the appearance without the associated maintenance. Fiberglass can be painted or not, depending on your style preferences. It can be insulated as well. It is lightweight and does not dent or rust over time. However, it is prone to cracking, especially in cold weather. There are not many custom options, so you will most likely have to choose from stock models.
Glass Garage Door
Glass garage doors are more expensive, ranging between $900 to $4,500. They can enhance your curb appeal and open up your interior space by allowing more natural light inside. These are often made out of tempered glass, which compete against wood and aluminum in strength. Additionally, they are low-maintenance and never require painting. On the flip side, they are heavy, making installation more of a hassle. They also lack the insulation that vinyl and fiberglass provide.
Wood Garage Door
Wood doors range from $1,000 to $6,000, depending on your customizations. They can be used in a wide variety of styles, and it has become very popular in recent years for its beauty and versatility. There are also a lot of options when it comes to the species of wood you use. Wood is one of the most expensive materials, and it requires a lot of maintenance to look its best from season to season.
Average Cost of a Garage Door by Style
Like the front door on your home, garage doors come in a range of unique styles. Some may only be available with custom options, but you can also find many stock options in a variety of styles. Each style outlined below offers features and benefits. Choose the right fit for your home based on your personal style.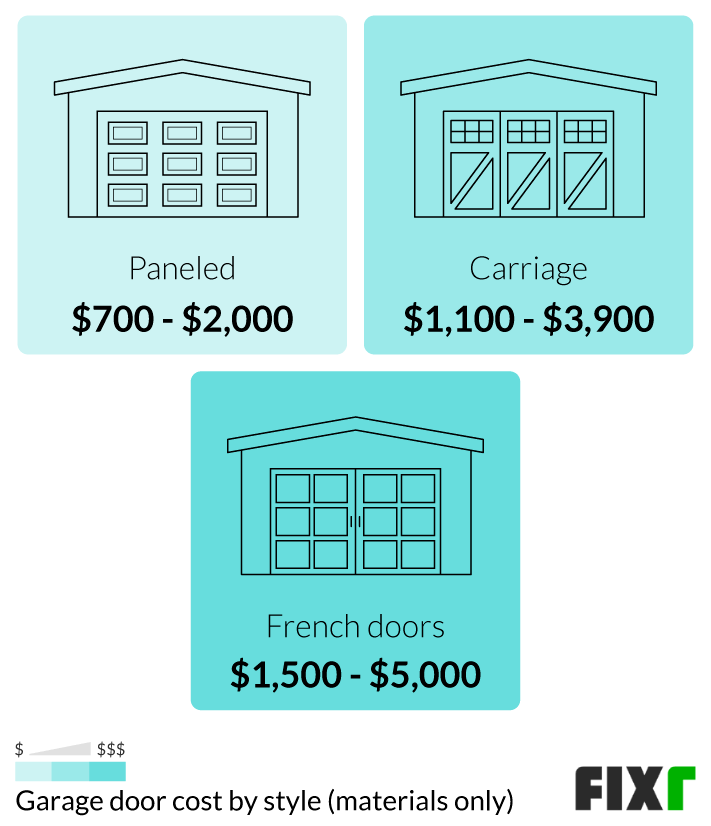 | | |
| --- | --- |
| Style | Average Costs (Materials Only) |
| Paneled | $700 - $2,000 |
| Carriage | $1,100 - $3,900 |
| French Doors | $1,500 - $5,000 |
Paneled
On average, most people spend between $700 and $2,000 on paneled garage doors. This is one of the most common styles. Instead of being one single unit, they are broken up into different sections, giving it more dimension and depth. They are easier to customize, and they make a great fit for many homeowners, depending on their home's overall style.
Carriage Garage Doors
Carriage doors cost between $1,100 and $3,900, on average. They have gained in popularity over the last 10 years. It opens outward rather than upward, which is unique for garage doors. These designs can add to your curb appeal and give your home a more elegant appearance. The carriage style is usually custom wood or wood-like and may have panels, crossbeams, or a variety of other designs. They may also have glass inserts and often have a curved or arched top.
French Garage Doors
On average, French garage doors range between $1,500 and $5,000. If you want to take advantage of natural light and enjoy a classic appearance, they will be a great fit. They look and operate like standard French doors but on a larger scale. Due to the amount of glass, they often do not insulate as well as other styles. In some cases, they may not have glass. They may look similar to a carriage door without the arched top. Either way, they can greatly enhance your home's curb appeal.
Garage Door Costs by Brand
One of the hardest parts about choosing a new garage door is figuring out which brand to trust. There are many top brands available on the market, and each comes with features that benefit homeowners in different ways. The difference between brands can affect the quality, style, and warranty protection. Based on your needs, there are a variety of different options that will be a great fit.
| | |
| --- | --- |
| Brand | Average Costs (Materials Only) |
| Amarr | $500 - $1,500 |
| CHI Overhead Doors | $600 - $2,000 |
| Clopay | $700 - $3,500 |
| The Overhead Door | $750 - $4000 |
| Wayne Dalton | $800 - $9,000 |
Amarr Garage Door
Amarr doors cost between $500 and $1,500. As one of the most cost-effective options on the market, Amarr products focus on insulation and noise reduction. Additionally, they are eco-friendly because most of their products are made from recycled materials. Many of these feature automated openers and a lifetime warranty. You can insert window panels, specialty glass, and additional exterior hardware options.
CHI Overhead Doors
Most people spend between $600 to $2,000 on CHI Overhead Doors. It has contemporary, carriage, and timeless designs in various materials, including steel, aluminum, and fiberglass. They offer window panels and specialty glass options. They also have a wide selection of colors so that you can completely personalize it. This brand also offers a lifetime limited warranty on all their products.
Clopay Garage Door
Clopay is one of the largest garage door manufacturers in the U.S. Their products cost between $700 and $3,500, on average. They offer a variety of energy-efficient door designs, including modern, carriage house, and traditional styles. With Cloplay, choose from wood, composite, glass, steel, or aluminum doors. All are built-to-order, meaning you can find one that meets all your design and performance needs.
The Overhead Door Garage Door
The Overhead Door products cost between $750 and $4,000 on average, depending on if you buy a single-car or double-car garage door and what other features you add on. They offer a variety of materials, including steel, vinyl, fiberglass, wood, and aluminum. They have a range of diverse styles, and their team offers 24/7 maintenance and repair services.
Wayne Dalton Garage Door
Wayne Dalton doors cost between $800 and $9,000 on average. They have a large selection of residential designs in diverse colors and options, including steel, wood, and aluminum. They are built to enhance your home's curb appeal and overall value. Before you commit to one, use their building software to test different styles on a photo of your home.
Garage Door Opener Costs
Most can be opened manually, but many people opt to have an automatic opener installed to open the door with ease. Garage door openers come in many forms to meet the needs of different types. Belt-drive and chain-drive openers are the most popular with homeowners. Belt drives are great for single-car garages, but they can struggle when it comes to lifting bigger doors. For heavier glass or wood garage doors, screw drives or chain drives are a better choice.
| | |
| --- | --- |
| Type | Average Cost (Only Unit) |
| Chain-Drive | $130 - $200 |
| AC-Power | $130 - $270 |
| Screw-Drive | $150 - $250 |
| Belt-Drive | $170 - $350 |
| DC-Power | $300 - $350 |
| Direct-Drive | $300 - $500 |
| Jackshaft-Drive | $550 - $640 |
Labor Costs to Install a Garage Door
Most professionals charge a flat rate for the installation of a new door. For single doors, the cost is usually around $100 to $300. Installation costs for a double door start at about $375 to $575 on average. For custom installations, and for more difficult projects, your installer may charge by the hour with costs between $65 and $85 an hour.
The main aspects that affect cost are whether or not the door is custom and which material and weight it has. If you have unusual garage door wraps or specialized hardware, your costs for installation can be higher, simply because this type of project can take longer to complete. In addition, you can expect to pay an additional $100 to $200 if you choose to install an opener. If the project consists of a single garage door with an automatic opener, the installation costs will make up around $350 out of the $1,000 total.
| | | |
| --- | --- | --- |
| Type | Average Labor Cost | Total Costs |
| Single | $100 - $300 | $400 - $1,800 |
| Automatic | $150 - $725 | $680 - $5,725 |
| Double | $375 - $575 | $1,175 - $4,075 |
Single Garage Door Installation
The cost to install a single garage door is around $100 to $300 for the labor, and $400 to $1,800 in total. They can come in many different shapes, sizes, and styles. The larger, the more expensive both the material and the labor will be. Likewise, a smaller, more simple option will cost less for both labor and material. Expect installation to take between 2 to 4 hours on average. If you include an opener, your costs and the timing of the project will both be higher.
Automatic Garage Door Installation
Automatic garage door installation costs between $150 and $725 in labor on average. The total installation costs including material are between $680 and $5,725. Just like manual doors, automatic ones come in a range of styles. In addition to the door itself, you also have a range of different openers to choose from. Together, they can give you a lot of different choices, which in turn can create a wide range of total costs. It will cost less than a double, for example, while custom and unique installations will cost the most.
A Double Garage Door Installed
The cost of a double garage door is between $375 and $575 for the labor. Total costs range from $1,175 and $4,075 on average. Installations are usually more complicated than single. Not only is there more material to contend with, the double doors can often mean that more people need to be involved in the installation for it to go smoothly. They do have more configuration possibilities than single, with carriage doors being an option. This can mean that timing can be between 4 and 8 hours for total installation, depending on type.
Garage Door Installation Process
The process for installing any garage door starts with measurements. While most are a standard size, some homes need a custom door. After measuring and ordering, the installation process varies depending on the type. Carriage doors are installed with hinges on either side like a standard door. Therefore, the frame is installed first, and then the door is hung and leveled.
For most types, the panels are installed first, then the track that it will slide in, along with the hinges. The spring assembly that raises the door is attached, the tracks are bolted together, and then, the spring is installed and tightened.
The rod and pulleys and cables are installed last. It is then tested to make sure it slides properly and has the right tension. If an opener is being installed, it will be done at this time.
Garage Door Replacement Cost
The cost of replacement will include not only the costs of the new door and installation, but also a removal cost for the old one. This ranges from $50 to $200, depending on the size and type. This makes the total average costs for garage door replacement between $550 and $2,200.
They may need to be replaced for several reasons, including boosting the home's curb appeal. However, there are times when you may need to replace it because the existing one is damaged. Not all types of damage can be repaired, such as a cracked vinyl door. While something like that should be replaced, some damage can be easily repaired, usually for less than the cost of a new one.
Most problems come from the springs and torsion, which lift the doors. This repair can be done for around $200 on average. This assumes, however, that it is in good condition, and the only issue is with this mechanism.
If it is rotting, corroding, rusting, or has cracks or broken sections, you may want to replace it. These issues can compromise the security of your home and its curb appeal. If it is in good condition but simply not operating properly, repairing it is usually the best choice.
Replace Garage Door and Opener
The cost to replace a garage door and opener will be between $940 and $2,590 on average. This includes the $390 that it will cost to remove and replace the opener, and the costs of removing and replacing the door itself. Costs can range depending on the type of opener you choose, as well as the type of door. The more complex the installation, the higher your total costs will be. Likewise, larger and double doors will also raise your costs, while a single, simple installation will have the lowest costs
Insulated Garage Doors Pricing
Most garage doors today are insulated, which is a good idea if your garage is attached to your home. The insulation is usually polystyrene - with a few using polyurethane - and is typically added to the core of the door. The material wraps over the insulation and is not seen. Some have layers of insulation added, which increases how well they insulate. If you use your garage as a living space it is probably worth insulating the door as well as other elements of the garage. Like all insulation, they have an R-rating. The higher the number, the better the insulation.
Doors range from R values of 0 for unattached garages to 20 for doors used in very cold climates. Costs for insulated doors begin at around $600 for steel doors and about $800 for vinyl. Fiberglass and composite doors containing insulation start at approximately $1,500, and insulated wood doors begin at $2,000. The higher the insulation level, the higher the cost. For example, a steel door with R-8 costs around $600, while a similar door with R-16 is about $1,000.
Garage Door Screen Cost
If you work in your garage and want the door open, you may want to invest in a garage door screen. Screens keep out insects while allowing air to circulate throughout your space. Like window screens, they come in different styles, and some of them can be motorized:
| | |
| --- | --- |
| Type of Screen | Average Costs (Materials Only) |
| Walk-Through | $40 - $170 |
| Retractable | $100 - $1,400 |
| Motorized | $500 - $1,400 |
Garage Door Materials Comparison
They come in many materials, sizes, and styles. Sometimes, the material is secondary to the size or style you want. Other times, it may be the first choice when deciding on the right garage door for your home.
Below, we compare the materials in three areas. This allows you to see how they stack up against one another at a glance.
Maintenance
No matter the type of material, you have at least some maintenance for your garage door. However, some types require more care and maintenance than others. For example, vinyl does not require painting and can be easily cleaned, while wood must be painted or stained regularly. Metals like steel and aluminum can have their color fade, meaning you need to paint them eventually, but not as often as wood. While glass does not require painting, it needs to be cleaned more often than the other materials to stay looking its best. We rank the various materials that garage doors can be made from by maintenance level, from the least to highest.
| | |
| --- | --- |
| Material | Difficulty of Maintenance |
| Vinyl | Low |
| Fiberglass | Low |
| Steel | Low-to-Moderate |
| Aluminum | Low-to-Moderate |
| Composite | Low-to-Moderate |
| Glass | Moderate-to-High |
| Wood | High |
Energy Efficiency
If your garage is heated, air conditioned, or attached to your home, you may want to ensure your door is energy efficient. It makes a full wall in your garage, and it has the potential for energy transfer around the opening and through the material.
Some materials are naturally insulating, such as fiberglass and wood. Others like steel, aluminum, and vinyl are not naturally insulating but can come in energy-efficient forms. This is generally when adding insulation to the door's interior, where it can prevent thermal transfer.
Below, the different materials are ranked from high to low on how efficient they can be. A steel or aluminum door without insulation is inefficient, while those with insulation can be much more efficient. Pay attention to the material and other attributes it may have.
| | |
| --- | --- |
| Material | Energy Efficiency |
| Fiberglass | High |
| Wood | High |
| Steel | Moderate-to-High |
| Aluminum | Moderate-to-High |
| Vinyl | Moderate |
| Composite | Moderate |
| Glass | High |
Customization
Some can be found in a range of readymade styles. Others are found in readymade or custom styles for your home. Depending on the material, you may find many options for customization or very few.
For example, wood can be nearly endlessly customized. You can have doors made to fit any size opening in many wood species and styles. Glass is also highly customizable, and you can add glass to many doors.
Materials like vinyl, steel, aluminum, and composites have the fewest options for customization. While you can make some changes to a design, you cannot change everything about it.
Below are the different materials ranked from high to low in how customizable that material may be for your project.
| | |
| --- | --- |
| Material | Customizability |
| Glass | High |
| Wood | High |
| Fiberglass | Moderate |
| Steel | Low |
| Aluminum | Low |
| Vinyl | Low |
| Composite | Low |
Insulated vs Uninsulated Garage Door
If you live in a colder climate, you may have to consider the choice between an insulated and an uninsulated garage door. They are large areas to leave exposed without any insulation. If you have pipes or utilities inside your garage, leaving them without insulation in this area could cause problems like freezing and burst pipes. Insulating the door helps keep the temperature inside more moderate.
Likewise, if your garage is heated or cooled with the rest of your home, you will want to have an insulated door. This can prevent your heating and cooling bills from getting out of control, by stopping thermal transfer through the door itself.
The only time you may want to opt for an uninsulated door is if your garage is detached from the home, and is not heated and cooled. Insulated doors will cost more than uninsulated, with costs depending on how much insulation the door has and the material. The higher the R-value on the door, the higher the total costs are for an insulated door.
Below are the average costs for installing a single garage door in uninsulated and insulated materials.
| | |
| --- | --- |
| Type | Average Costs (Installed) |
| Uninsulated | $400 - $1,800 |
| Insulated | $700 - $2,300 |
Fiberglass vs Steel Garage Cost
Another choice that you will likely need to make when choosing a garage door is the material it's made from. Yours can come in many materials, but two of the more popular are fiberglass and steel. Steel is the least expensive material for garage doors. It's durable and long lasting, which is one of the reasons it's so commonly used.
Fiberglass is more expensive, but it can take on a wider range of appearances. It can easily look like a wood door, but with lower maintenance than wood or steel. It's also more naturally insulating than steel, so it's less likely to raise your energy bills over time. Fiberglass is also durable, and is often considered the gold standard material for use on windows and doors due to its longevity and combined with its low maintenance care.
Both materials are available in insulated and non-insulated doors. Fiberglass tends to provide higher R-values and a more pleasing appearance. Steel is much less costly but may cost more in maintenance because it dents and requires painting, and fiberglass does not.
Below are the average costs to install a single door made of steel or fiberglass.
| | |
| --- | --- |
| Material | Average Costs (Installed) |
| Steel | $550 - $1,800 |
| Fiberglass | $900 - $2,300 |
Enhancement and Improvement Costs
Removing and Disposing of the Old Door
Unless this is new construction, you will have an old door that needs to be removed and disposed of or recycled. This is usually done for a fee, ranging between $30 - $50, but some companies may charge more for heavy or oversized doors.
Lighting
It is common to have new lighting installed in the garage when adding a new door. Because an electrician is usually on-site to install the opener, having lighting put in at the same time can reduce costs. Electricians charge $40 to $120 an hour for labor, plus the price of your light, which can add $200 to $500 to the total project cost.
You can also add lights to your exterior to brighten up the space in front of your garage. On top of improving your curb appeal, this keeps your home safer. On average, outdoor lights range from $70 to $150 per fixture.
Resizing the Opening
If you had a custom door size in the past and want to make it standard or combine two single ones into a double door, you need to have the opening resized. This cost varies from $500 to $2,000, depending on the project scope.
Add Windows to Garage Door
Windows can enhance the interior of your garage by letting in natural light and improving your curb appeal. You can choose to install different styles, ranging from basic rectangles to intricately designed windows. When adding windows, it is best to match the rest of the frames on your house.
On average, installing new windows costs between $30 and $60 per window. However, you may need to adjust the spring system that lifts your garage due to the weight change. The hourly labor costs for these specialists range from $20 to $30 on average.
Garage Door Safety Features
There are several safety features you can add to your garage door to increase safety for you and your family. These parts generally cost between $4 to $10 per hinge. Pinch-resistant doors are a good place to start if you have small children. These serve as a buffer to prevent fingers from getting caught in the garage door panels.
You can also add a special kind of bracket to the base of your door to prevent the cables from loosening over time. Many manufacturers now include this hardware in their doors. Even with these features, replace old springs and routinely check your cables.
Additional Considerations and Costs
High-wind states. Many states in high-wind regions, such as California, Kansas, Missouri, Nevada, Utah, and Florida, have wind-load reinforcement requirements for garage doors. Ensure that yours is wind-load certified with the relevant building code for your area.
Climate. Not all materials work in all climates. Seaside and doors in very hot or cold climates must handle the local conditions. Ask your installer which material will work best for your area.
Home value. They can add value to your home. This can be helpful as costs start to pile up when you choose to sell your home.
Damage. Since they're exposed to the outdoors and are bigger than most other parts of a house, wind damage can be common on garage doors, depending on where you live. It's advisable to increase your garage door bracing and use sturdier gauge tracking to prevent as much damage as possible.
Hire a professional. When installing an electric opener, you need a professional to assist you. On average, electricians charge between $40 and $120 an hour. The opener cost ranges from $300 to $350.
FAQs​
How much does it cost to install a two-car garage door?
Two-car garages are generally about 18 feet wide and can easily accommodate two vehicles with extra room for storage space. Since they are larger and heavier, it will take more time and manpower to install it. The average cost of a two-car garage door installation is around $1,600.
How long does it take to install a garage door?
The time it takes to completely install a garage door varies, depending on the type. For example, a simple steel single door is much faster to install than a wooden double-car door. On average, it can be installed in approximately 1 to 3 hours.
Can you install a new garage door on old tracks?​
If your current tracks are in decent condition and they are compatible with your new door, then you should be able to install a new garage door on old tracks. However, it's important to note that some companies create tracks that are only compatible with specific types. Generally speaking, it is safer to use new tracks, which cost between $50 and $200.
Does homeowners insurance cover a garage door replacement?​
This depends on the reason you want to replace your garage door and what caused the damage. If you or someone in your family damages the door, your insurance will generally cover it. If a neighbor hits your garage, that person's auto insurance would be liable. Speak to your insurance agent for more information.
Should I get an insulated garage door?​​
If you have an attached garage, installing an insulated garage door would be advisable. ​On top of keeping your space more comfortable, this saves on your monthly heating and cooling bills. They range from $600 to $2,000, depending on the material.
How much does it cost to repair a garage door?
The most common garage door repairs include fixing locks, sensors, tracks, cables, springs, and openers. On average, repairs range from $140 to $350, including labor. Depending on the repairs, the process can take anywhere between one and four hours. Always expect at least one hour of work.
How much does it cost to replace one section of a garage door?
If one part of your sectional garage door needs an upgrade, you can choose to replace only that part of your door. Prices vary based on which section you replace. The top part should have a strut and operator bracket installed, and the bottom section may have a seal installed. Based on your replacement needs, costs range from $350 to $1,500 with labor included.
How much does it cost to convert two garage doors into one?
Converting two single-car garage doors into one double-car garage is an investment, but it can pay off in the long-run. This remodel makes more room for wider vehicles and gives you more walk-around space. Additionally, you use less electricity powering one door versus two. Converting your garage doors costs approximately $2,000 to $4,000.
References
The information provided by our cost guides comes from a great variety of sources. For more information, read our Methodology and sources.