How much does it cost to build a wooden carport?
Get free estimates from garage, shed and enclosure contractors near you
Wooden Carport Cost Guide
Wood carports are a great addition to any home. They provide a safe place to store your vehicles to protect them from damage that exposure to the elements can cause. They also can be the ideal storage for other vehicles such as boats and RVs. By using wood for your carport material, you can customize the look of your carport to match your desired aesthetics. The cost to construct your wood carport depends on your design, the size, and the wood used to construct it.
The average national range to build a wood carport is between $5,000 and $10,000, with most homeowners paying around $7,500 for a 20' x 20' two-car wood carport made of cedar with a vertical roof. Prices can run as low as $3,600 for a 12' x 20' single-car carport made of spruce with a flat roof to as high as $24,000 for a 40' x 20' four-car carport constructed with redwood with a gabled roof.
Cost to Build a Wooden Carport
Wood Carport Cost
National average cost
$7,500
Average range
$5,000-$10,000
Low-end
$3,600
High-end
$24,000
Custom vs Prefab Wood Carport
When choosing your carport, you will also need to decide whether you want a prefab wood carport, which costs from $2,500 to $7,000 and requires building and installation, or a custom wood carport built that costs from $5,000 to $10,000 installed. This cost guide focuses on the price of custom wooden carports.
Prefab wood carports are essentially building kits that provide you with all the wood and hardware you need to build the carport. Many homeowners are attracted to prefab carports because they appear cheaper at the outset. They are durable and typically made with quality material. However, unless you are an experienced builder, you will likely have to hire someone to build it for you, bringing the price closer to a custom carport build.
Custom wood carports are a little more expensive. By choosing this option, you can customize all of the features, including the design, wood, and hardware choices. This helps you to fit all of the items you intend to store there.
| | |
| --- | --- |
| Type of Wood Carport | Cost (Installed) |
| Prefab | $2,500 - $7,000 |
| Custom | $5,000 - $10,000 |
​
Wooden Carport Prices per Square Foot
Wooden carports can be built from various materials and come in many sizes. While there can be many things that can be taken into account, one of the most common ways to price a wood carport is by square footage. A homeowner can expect to pay between $15 and $30 per sq.ft. to have a wood carport installed. Sq.ft. prices may be higher or lower depending on your location and any additions you plan to include.
Wood Carport Cost by Number of Cars
When determining how much you may pay for your carport, you need to consider the type and number of vehicles you plan to store in it. A carport for small recreational vehicles will be the least expensive, with carports holding RVs or multiple cars being more costly. Below you will see the average cost you may expect to pay based on the number of vehicles you plan to store.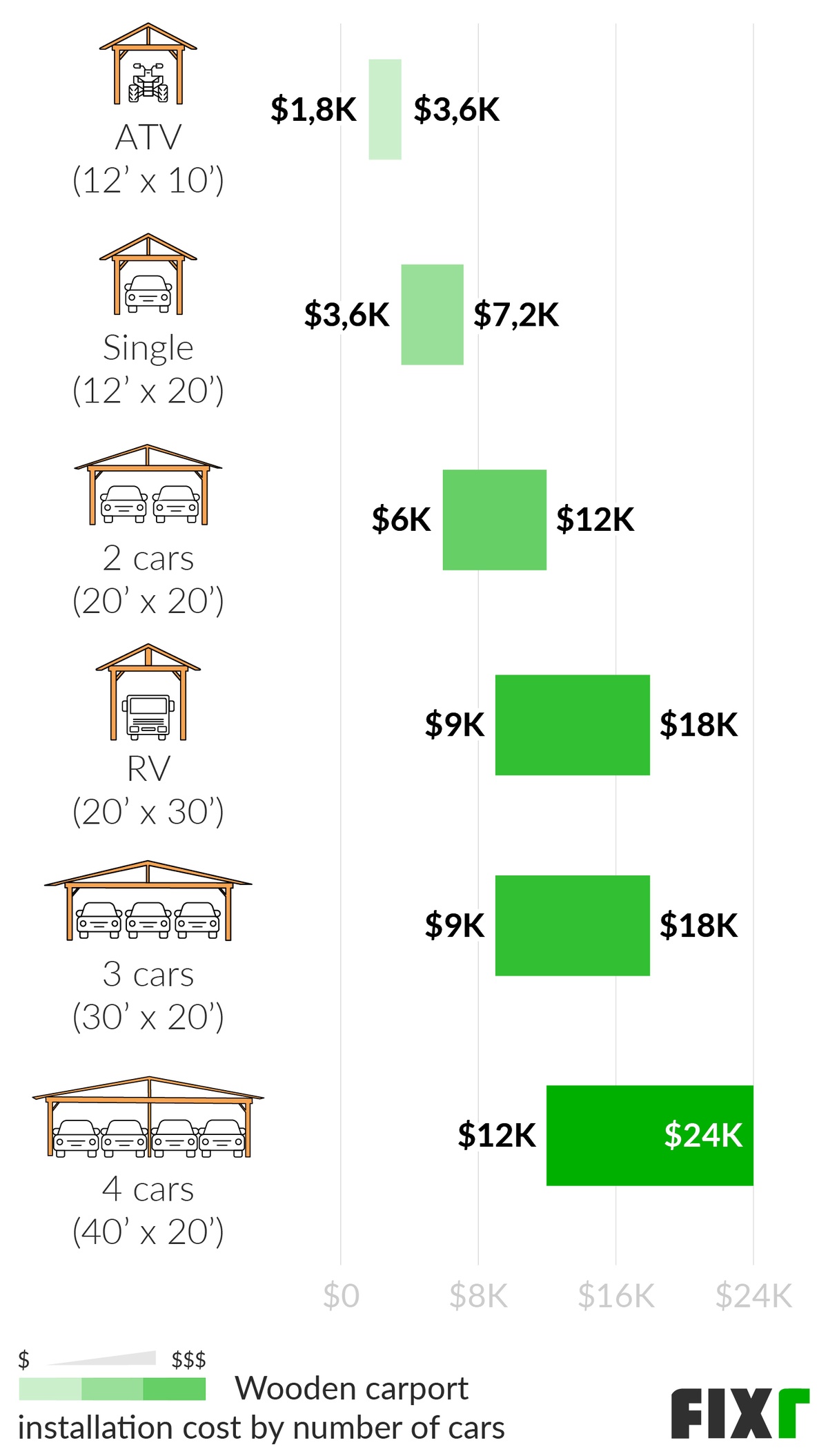 | | |
| --- | --- |
| Number of Cars | Average Cost (Installed) |
| ATV (12' x 10') | $1,800 - $3,600 |
| Single (12' x 20') | $3,600 - $7,200 |
| Two-Car (20' x 20') | $6,000 - $12,000 |
| RV (20' x 30') | $9,000 - $18,000 |
| Three-Car (30' x 20') | $9,000 - $18,000 |
| Four-Car (40' x 20') | $12,000 - $24,000 |
ATV Wood Carport
A wooden carport to store an ATV or a motorcycle costs $1,800 to $3,600 installed. In most cases, a shed-sized carport, 12' x 10' or slightly smaller, would accommodate either of these vehicles and provide it with the protection it needs from the elements. Carports are a great option for both ATVs and motorcycles because it offers easy access while keeping it out of intense sun and rain.
Single Wooden Carport
A wood carport that is 12' x 20' easily accommodates any single vehicle. The cost to have one of these installed costs from $3,600 to $7,200. Single carports are sometimes installed as the main protection option for a vehicle. They may also be used as an addition when the garage will not accommodate all of the household vehicles.
Two-Car Wooden Carport
A two-car wooden carport costs between $6,000 and $12,000 to have installed. The most common size for a two-car carport is 20' x 20'. However, they can be made larger if you wish to use the area under the carport for additional storage or want more space between vehicles. Two-car carports are probably one of the most common sizes installed for homes that do not have a garage.
Wooden RV Carport
If you install a wood carport to protect an RV, you can expect to pay between $9,000 and $18,000. RV carports need to be a little wider than traditional carports for a single vehicle. They are traditionally longer than other carports. The average size for an RV carport is 20' to 30'. Carports for RVs must have a higher roof to accommodate the additional height of the RV.
Three-Car Wooden Carport
A three-car wooden carport costs from $9,000 to $18,000 installed. The most common size for a carport that holds three vehicles is 30' x 20'. However, some homeowners choose to go wider. Three-car carports are often chosen by homeowners who have additional vehicles that need to be stored during the winter or have recreational vehicles, such as boats and ATVs, to store alongside their cars.
Four-Car Wooden Carport
It costs from $12,000 to $24,000 to have a four-car wooden carport installed. Four-car carports average 40' x 20', depending on the type of vehicles you are storing. These carports are most popular for homeowners who work on vehicles or need to store multiple vehicles at different times throughout the year.
Wooden Carport Prices by Size
One of the main factors determining the final price that you pay for your carport is its overall dimensions. The size you choose will most likely be linked to the number of cars, items, and other vehicles you plan to store under it, as well as the size of the area you have to build it. Below you will see some of the most common sizes for carports and the average cost you can expect to pay for each with installation.
| | |
| --- | --- |
| Dimensions | Average Cost (Installed) |
| 12' x 20' | $3,600 - $7,200 |
| 15' x 20' | $4,500 - $9,000 |
| 16' x 20' | $4,800 - $9,600 |
| 18' x 20' | $5,400 - $10,800 |
| 10' x 40' | $6,000 - $12,000 |
| 20' x 20' | $6,000 - $12,000 |
| 20' x 24' | $7,200 - $14,880 |
| 24' x 24' | $8,640 - $17,280 |
| 20' x 30' | $9,000 - $18,000 |
| 20' x 40' | $12,000 - $24,000 |
| 30' x 40' | $18,000 - $37,200 |
Cost of Wood Carport by Type
The type of carport you choose factors into the total cost you pay. The type of carport you choose needs to be determined by your primary use of the carport, the type of weather in your area, where your carport is located, and how long you hope the carport will last. While you will not often find portable wood carports as you would with metal ones, you can still choose between having a freestanding or attached carport. Below you will see the three main types of carports and the average cost for a 20' x 20' carport, including construction costs.
| | |
| --- | --- |
| Type of Carport | Average Cost (Installed) |
| Freestanding | $5,200 - $6,800 |
| Attached | $6,500 - $8,000 |
Freestanding Wood Carport
Freestanding wood carports for a 20' x 20' size cost between $5,200 and $6,800, including installation. Freestanding carports are one of the most popular choices for carports that are added to already constructed homes. A freestanding carport will often be installed on a concrete slab and have a rounded, A-frame, gabled, or vertical style roof, making it appear to be a complete building on its own.
Attached Wood Carport
Wood carports attached to the house are the most expensive type of carport, running anywhere from $6,500 to $8,000. Attached wood carports will be joined to your home or garage and appear to be an addition to the home structure. You will typically only see flat roofs on attached wood carports, though they are occasionally seen on freestanding models. Attached wood carports typically will only have supports on the side of the house but may have a wall added on to the opposite side to create a more enclosed look.
Wood Carport Prices by Type of Wood
While you may have limited options when framing your carport, you will enjoy a wide range of options when it comes to finished wood. Each e of wood has its own pros and cons and unique look, allowing you to customize the aesthetic appearance. Below you will see the average cost to build a 20' x 20' wood carport based on the finishing wood you choose.
| | |
| --- | --- |
| Type of Wood | Average Cost of Carport (Installed) |
| Timber | $4,000 - $9,000 |
| Spruce | $4,000 - $5,000 |
| Pine | $4,200 - $5,000 |
| Fir | $4,500 - $5,300 |
| Bamboo | $5,800 - $7,200 |
| Cedar | $6,000 - $7,000 |
| Oak | $7,000 - $8,000 |
| Redwood | $7,000 - $9,000 |
Timber Carport
When using timber for the exterior of your carport, you can expect to pay anywhere from $4,000 to $9,000 to have a 20' x 20' carport installed. This includes the timber frame carport price and all exterior wood. The term timber encompasses all types of planked wood which includes both soft and hardwoods. Since carports are exposed to the elements, all timber will need to be treated. The pros and cons of choosing timber depend on the type of timber you choose. Softwoods are lightweight and aesthetically appealing, but they tend to scratch easily. Hardwoods are durable and long-lasting, but they are more expensive and heavier.
Spruce Carport
Having the exterior of your carport built with spruce is one of the least expensive options and costs from $4,000 to $5,000 installed. Spruce is very popular because of its affordable cost and ability to hold up well. The main drawbacks to this type of wood are that it wears down easier in more intense weather and has many knots visible in the design.
Pine Carport
Another affordable option for carport wood is pine. A pine carport costs from $4,200 to $5,000 to have a two-car carport installed. Aside from its price, many homeowners choose it for its more rustic appearance. It is also lightweight, which can make building with it easier. There are a few drawbacks to pine. It is a very knotty wood and is more prone to warping and twisting due to its softness.
Fir Carport
Another softwood option is fir. Having your carport made using fir will cost from $4,500 to $5,300 for an average 20' x 20' design. Fir is one of the strong types of softwood that holds up well for a long time without warping or twisting. The main drawback to this option is aesthetic. Even though the wood tends to have few distinguishing marks, it can be very bland looking.
Bamboo Carport
Having your two-car carport made with bamboo costs from $5,800 to $7,200. Bamboo is not the most common option for a carport but is ideal for homeowners who enjoy a more Asian design to their aesthetic or want a carport that blends in with the natural surroundings. Bamboo is strong and will not break. However, it twists under pressure and is more costly than other options.
Cedar Carport
Cedar is one of the most common choices for a carport and costs an average of $6,000 to $7,000 installed. Cedar is a softwood but is more expensive than other softwood options as it has greater durability. It stands up well in all types of weather and is lightweight. Most homeowners find the color and markings of the wood aesthetically pleasing. The main drawbacks to cedar are that it dents and scratches easily.
Oak Carport
Having a 20' x 20' carport made of oak installed will run anywhere from $7,000 to $8,000. Oak is a hardwood that is extremely durable and can stand up to almost any type of weather. It is aesthetically pleasing and comes in a few available colors so you can customize your look. The main drawbacks to oak are that it is very expensive and can be very heavy.
Redwood Carport
Redwood is another hardwood and one of the most expensive. The cost to install a two-car carport using redwood ranges from $7,000 to $9,000. Redwood is one of the most aesthetically pleasing options. Its unique reddish color works well with almost any type of design. It is durable, long-lasting, and extremely weather resistant. The main drawback to redwood is that it is expensive and not always available due to its endangered status.
Wood Carport Prices by Roof
Regardless of whether your carport is open or enclosed, a key component to the structure is the roof. Carport roofs come in many different styles and configurations, from simple to elaborate. However, in most cases, carports are likely to use some type of roofing panel, either metal or plastic. It is possible, however, to give your carport a different roof, including one that matches the shape, slope, and material of your home. The size of the carport's roof largely dictates the cost. Below you will see the various types of roofs you can choose from for your carport and the average cost to build a 20' x 20' carport with that type of roof.
| | |
| --- | --- |
| Type of Roof | Average Cost (Installed) |
| Flat | $5,000 - $6,500 |
| Rounded | $6,000 - $8,000 |
| A-Frame | $6,200 - $8,500 |
| Vertical | $6,500 - $9,000 |
| Gable | $7,500 - $10,000 |
Flat Rood Wood Carport
Flat roofs are the least expensive roofing option. A 20' x 20' carport with a flat roof costs between $5,000 and $6,500. Flat roofs provide sufficient protection from the sun and elements but are not the best option in areas that see heavy snow. When snow is abundant and heavy, the build-up on a flat roof can cause pressure on the wood and lead to warping. If you have a flat roof on your carport in an area that sees a lot of snow, you will need to remove the snow regularly to prevent roof damage.
Rounded Roof
A 20' x 20' carport with a rounded roof costs between $6,000 and $8,000. Rounded roofs are a popular option due to the low cost and barn-like look they create. Rounded roofs are slightly better with snow than flat roofs, but snow and ice can still build up and should be removed regularly. Rounded roofs provide your carport with a more streamlined look, giving it a more classic aesthetic.
A-Frame Carport Wood
Carports with an A-frame roof run from $6,200 to $8,500 for a 20' x 20' carport. A-frame roofs can either be vertical or box-eaved, with the primary difference being the former has vertical panels, and the latter has horizontal panels. A-frames can have more pronounced or mild peaks that can give it different looks and make it easier to blend in with the aesthetic of your current home. A-frame roofs are perfect for any type of weather, including snow and ice. The most common type of A-frame roofs is a vertical roof.
Vertical Roof Wood Carport
A 20' x 20' carport with a vertical roof costs between $6,500 and $9,000. This type of roof uses vertical panels to create a stronger peak at the top. Vertical roofs are ideal for areas with a lot of snow and when homeowners are looking for a more traditional look. Their design also helps the structure to become more rigid, which can give the roof added strength.
Gable Roof Wood Carport
Gable roofs are the most expensive type of carport. Average costs for a 20' x 20' wooden carport with a gabled roof run from $7,500 to $10,000 installed. Gabled roofs give your carport a more finished look by enclosing the roof structure for a more finished appearance. Gabled roofs are ideal for traditional aesthetic looks and when you want the carport to be seen as an extension of your home.
Cost to Build Wooden Carport
Building a wood carport costs between $5,000 and $10,000. This price includes materials, transportation of materials, and labor. In most cases, the project takes one to two days, though it may go longer if the carport is large or has a shed attached. Labor costs for your builder or carpenter can range from $8 to $13 per sq.ft.
Your professional will start by making sure that the area is level. Often, minor leveling of the ground is required before the building can begin. In most cases, a wooden carport needs to be installed on a concrete pad. This is done for a few reasons: it gives greater support to the structure, holds up better long-term, and creates a level surface on which to build. In some cases, a small carport can be built on concrete pillars or posts, but this is not generally recommended. The cost of creating a concrete base for your carport is $2,400 to $4,800 for a 20' x 20' slab if you do not already have a level slab to build on.
Once the base for your carport has been prepped, they will install the main support and then finish with the roof.
Wood Carport Replacement Cost
Replacing a wooden carport costs slightly more than constructing it originally because the old carport must be demolished and removed. You can expect to pay from $5,500 to $11,000 to have a carport replaced, with $800 to $2,000 of that cost going towards the removal, depending on the size and type of wood it is made of. Replacing a wood carport should only take one to three days, with the first being primarily demolition.
Wood carports last a long time if properly maintained, but a homeowner may choose to replace it if they want a larger or smaller design, if it has become damaged due to falling trees or other debris, or if the wood has begun to rot and cause weak points.
Wooden Carport Design
While most carports follow a square or rectangular pattern, they can be built to unique specifications, providing an amazing aesthetic appearance. Different wood options can change the look of your carport, along with the use of different stains and paint colors.
When it comes to creating the perfect design, focus on which type of roof gives you the aesthetics you're looking for. Picking the right type and style of roof is important as it will give you the overall shape and silhouette of your carport. You can choose from flat roofs to more peaked designs that match your home's roof.
Another consideration to make when creating your design is whether or not you want your carport to have additional functions, such as storage space. Sheds can be easily added to a carport design to give you the desired space you are looking for.
Wooden Carport Add-On Costs
Some homeowners choose to add other components to their carport. In some cases, they may be looking to convert their carport to be more like a garage. Or they may want to enhance the carport aesthetically. Walls are a common add-on to carports. Adding three walls to your carport provides protection from the elements and makes the area warmer. A homeowner may choose to add windows or doors to their carport to allow for better air circulation and access once walls have been added.
Some add-ons are designed to change the strength, shape, or durability of the carport roof. Adding a truss provides greater stability while having a gable added closes in the roof and alters the aesthetic appearance.
If you decide to enclose your carport completely, you may consider adding insulation to the walls and ceiling to keep it warmer. Below you will see some of the most common add-ons and what you can expect to spend on each.
| | |
| --- | --- |
| Add-On Project | Average Cost (Installed) |
| Window | $250 - $800 |
| Door | $400 - $1,200 |
| Additional Truss | $500 - $950 |
| Gable | $1,200 - $3,000 |
| Walls | $1,500 - $4,500 |
| Insulation (Walls and Ceiling) | $3,500 - $8,000 |
Pros and Cons of a Wooden Carport
Carports have many positive attributes that make them a great addition to a property. They are fast and easy to construct, going up in a matter of days, and costing less than half of a garage of the same size. Wooden carports can be designed in many styles and wood species and be attached to your home or built freestanding, so you have options for its appearance and placement. Carports may be open on all four sides, connected to a house on one side with the other three open, or they may have three walls and an open door as well as a roof. This allows you to customize the amount of protection it provides.
Carports cannot offer storage or security, however, as the structure is left open. And while it protects your vehicle from the elements, rain and snow can still infiltrate the area. Wooden carports can be made of many species of wood. Carports made from tropical hardwoods are becoming more popular for this purpose. They can last for decades with little maintenance. Other woods, such as softwoods, may need more upkeep and care to keep them looking their best. Any wooden carport requires painting or staining regularly to protect it from the elements. Wood may be impacted by insect activity and rot. Wood is also not fire-retardant like a metal carport would be. However, wood is less likely to be dented by opened car doors the way an aluminum carport would be, and wood is not affected by rust.
Maintenance
One consideration that needs to be made when installing a wooden carport is the associated maintenance. Like all wood products exposed to the elements, it requires some level of care to ensure its longevity.
Wood products must be painted or stained to protect them from moisture. Therefore, the carport will need to be periodically scraped and repainted or stained to protect it from the elements and keep it looking its best. You may also want to clean the wood from time to time using a gentle pressure wash to remove dirt and debris. You can expect to pay around $625 for two hours of pressure washing.
In addition, the roof needs to be regularly inspected for leaks. On average, you can expect to pay $350 for a roof inspection. One reason why metal and plastic panels are so popular as carport roofing materials is that they require less maintenance than asphalt and other roofs.
Keep vegetation away from the carport because this causes the wood to rot if plants or vines trap moisture against the wood. You should also keep trees closer to the carport trimmed to prevent damage from falling branches and other debris. Expect to pay around $450 to have a 20 ft. tree pruned. If a tree leans toward your carport or is close enough that the roots may be a problem, you may want to consider removing the tree. Tree removal costs an average of $435 for an average-sized tree.
Metal Carport vs Wood Cost
While a metal carpet requires less maintenance and is sturdier, a wood carport is quaint and warm. For a home that is all wood, a carport made out of the same material looks more aesthetically pleasing. A wood carport will be a heavier, more permanent structure. There are some drawbacks as a solid wood carport is more expensive and will need to be treated to protect it from insects, moisture, mold, and mildew. The cost for a wood carport is $15 to $30 per sq.ft. compared to a metal structure at the cost of $10 to $30, including installation and delivery.
| | |
| --- | --- |
| Material | Cost per Sq.Ft. (Installed) |
| Metal | $10 - $30 |
| Wood | $15 - $30 |
Enhancement and Improvement Costs
Additional Parking Spaces
While most carports are single or double, it is possible to make them even larger. At the cost of about $18 a sq.ft., you can add a spot for around $2,000. Additional spaces can be used for extra cars and recreation-type vehicles, including campers and ATVs.
Carport Painting
If you have a wooden carport, you will likely want it painted or stained to protect it. Painting costs are around $450 for most carports. Having the wood stained or painted improves the aesthetics and helps it to better match your home. If you choose to paint it, you need to maintain the paint, requiring some sanding and repainting every five to ten years to keep it looking fresh.
Solar Carport
Solar carports provide a cover or shade for your car while also harnessing the sun's rays to help power your home. Solar carport costs start at around $5,000 for the panels added to the price of the rest of the structure. Solar carports can be less expensive than adding solar panels to your current roof, making it a good option for homeowners looking to take advantage of solar power without paying the high price.
Wooden Carport with Storage
While carports are a common addition to provide added protection to your car, they also can be a great area for protected storage. You can even have a wood carport with a storage shed built to accommodate your vehicles and lawn care or other equipment. These carports feature the main carport structure with an enclosed shed under the roof, either to the side of the carport or directly behind it. The design is a popular option because it gives the shed more stability than a traditional one. Adding a 10' x 10' storage shed to your carport increases the cost by $2,000 to $6,000, depending on the type of wood used and the roof design.
Carport Lighting
One thing to consider adding to your carport is lighting. Lighting enhances a carport in many ways. Interior lighting allows you to see better when you are moving around the inside of the area. External light fixtures provide added lighting for entering and exiting the carport at night and providing extra security. If you choose to have a motion security light installed, you can expect to pay $220 to $550. An electrician can help you determine the best options to achieve your desired carport lighting. For their services, you can expect to pay between $40 to $120 per hour.
Additional Considerations and Costs
Treated wood. Wooden carports may not resist bad weather as well as other materials. Purchasing weather-resistant wood and keeping it well-maintained can help.
Location. The location of your carport can also vary. Many people attach them to their homes, but the only requirements are that the area is level 2 and convenient to where you want to park. If you are using an open structure, you may want it to be protected from the wind as well.
Permits. Depending on where you live, you may need a permit for your carport. Temporary or portable carports do not typically need permits, but permanent structures are likely to require them. Always inquire with your city or town before you begin.
Home value. Carports do not increase the value of your home the way that a garage will. However, a wooden carport makes your property seem more attractive to buyers, particularly if there is no other parking on the property.
DIY. You can build a carport on your own if you have experience in structural building, but the process can be almost as costly as hiring a professional. You will need to create a solid plan if your carport requires permits to ensure it can pass inspection.
Warranty. Many companies provide warranties for their carports. The length of the warranty depends on the materials they are using and their company policy. You can find warranties ranging anywhere from 10 to 20 years for wood carports.
FAQs
How much does a wood carport cost?
The average cost to build a wood carport is between $5,000 and $14,000, including materials and installation.
How much does it cost to build a 20' x 20' wood carport?
A 20' x 20' wood carport costs $6,000 to $12,000 and is one of the most common sizes because it accommodates two vehicles.
What is the best wood for a carport?
Cedar is one of the best options for building a carport. It is naturally rot and insect resistant and lasts many years without maintenance.
What direction should a carport face?
Your carport should face the road and be open to your driveway area. If your carport is next to a garage, the opening should be facing the same way as the garage door.
What size wood carport should I build?
Most homeowners build a 20' x 20' carport since most households have two cars. If you want to have even more space for some larger lawnmowers or other equipment, you may want to consider a 20' x 30'.
How long does a wood carport last?
Depending on the type of wood used, a wood carport can last 30 years or longer with regular maintenance. Maintenance typically involves pressure washing, minor sanding, and repainting or staining.
The information provided by our cost guides comes from a great variety of sources. For more information, read our Methodology and sources.