How much does it cost to install a security entry door?
Get free estimates from door contractors near you
Security Entry Door Cost Guide
A security entry door is the first line of defense against burglars. Security entry doors also serve the purpose of protecting against severe weather damage from storms. With these doors, you have a much higher level of protection against unlawful home entry at a minimal price point. Security doors are more protective than traditional doors because they are crafted from sturdier materials such as steel and wrought iron instead of plastic or wood fibers.
The national average cost range for security entry doors is $525 to $1,200. On average, you will pay $975 to install a standard exterior steel security door with a lock, including all parts and labor. At the lowest end of the cost spectrum, you can expect to pay $250 for a fiberglass security door to be installed. At the most for the project, you could pay upwards of $3,000 for wrought iron double entry doors installed with all parts, including locks and hardware.
Security Door Installation Cost
Safety Door Prices
National average cost
$975
Average range
$525-$1,200
Low-end
$250
High-end
$3,000
Security Doors Prices by Size
You can expect to spend $150 to $1,200 for the door alone when shopping by size. Security door prices vary in price based on the size of the door. As long as it's a standard opening, the height of the door will always be 80 inches. However, the width can vary and change the overall cost of the project. If replacing an entry door, you can measure the size of the old model to determine your security door needs. For new construction or remodeling, you'll need to know the opening size for the entry door. The following are some common sizes for security doors and average costs without installation.
| | |
| --- | --- |
| Size | Cost (Materials Only) |
| 30" x 80" | $150 - $250 |
| 32" x 80" | $200 - $400 |
| 34" x 80" | $325 - $500 |
| 36" x 80" | $400 - $1,000 |
| 72" x 80" (French and Double Doors) | $550 - $1,200 |
Security Door Cost by Width
The thickness of a security door will be a determinant in the project cost. Thicker doors provide a higher level of protection. Thicker security doors are resistant to heavy-duty tools such as crowbars and axes. The thickest doors can even remain unbreakable against ballistics. The following are the average prices you'll pay for security doors based on the width of the model. The prices do not include installation costs.
| | |
| --- | --- |
| Width in Inches | Cost (Materials Only) |
| 30 Inches | $250 - $475 |
| 36 Inches | $800 - $1,200 |
| 42 Inches | $1,500 - $2,500 |
| 44 Inches | $1,800 - $2,750 |
Security Door Price by Type of Door
You will spend between $200 and $6,500 for security doors based on the type of door chosen. Security door styles can be tailored to your particular tastes. When many homeowners think of exterior security doors, they picture traditional steel models. However, exterior security doors come in various types that homeowners can select based on protection needs and design preferences. Security door companies can review the disadvantages and advantages of each type and recommend a selection that fits your budget. The following are top styles and burglar door prices without installation.
| | |
| --- | --- |
| Type | Cost (Materials Only) |
| Accordion | $200 - $500 |
| Reinforced | $400 - $1000 |
| French | $500 - $1,100 |
| Double | $550 - $1,200 |
| Prehung | $800 - $2,000 |
| Sliding | $950 - $1,700 |
| Pocket | $1,500 - $2,500 |
| Bifold | $2,500 - $6,500 |
Accordion Security Door
An accordion security door has an estimated cost between $200 and $500. Accordion security doors are not typically used for entryways and are more often seen as interior security doors. The accordion security door will normally be constructed out of steel or aluminum and operated using a track system. Opening and closing are done by sliding across the track with a locking mechanism at the latch.
Reinforced Security Door
A reinforced security door costs approximately $400 to $1,000. A reinforced security door refers to the standard model most homeowners choose when outfitting their homes with burglar-proof entry doors. Steel plates and channels are used inside the door to reinforce the structure and prevent it from being destroyed. The doors undergo testing to see how they withstand the force of blunt objects, ballistics, and storm damage.
French Security Door
The average cost of high-security French doors ranges from $500 to $1,100. French security doors are two doors that protect from break-ins and weather damage. Steel is the most common material for this type of anti-theft door. The majority come in the standard size of 72 in. x 80 in. Extra features can be included with high-security French doors, such as a lockbox or a metal screen. Outswing styles are mostly seen on this type of security door, but you can look into custom options.
Double Door Security Doors
Double door security doors cost around $550 to $1,200. Double door security doors are needed if you're looking to replace your current double exterior doors with a burglar-proof option. You can replace a single traditional door with a double door, but the project's cost increases substantially since you will need to expand the door frame to accommodate the new size. Double door security doors may require custom fitting depending on the size of your entranceway, but most have a standard width of 72 inches. Since the double door design leaves potential security vulnerabilities, manufacturers include features like tamper-proof hinges. Double door security doors are typically not sold in prehung styles.
Prehung Security Door
On average, you'll pay $800 to $2,000 for a prehung security door. A prehung exterior door comes with a frame that makes it easy to mount in one single piece. The benefit of a prehung security door is that everything comes with the kit: door slab, hinges, and the frame. The doorway will be prepped so that the security door can just be hung in a few simple steps. The only drawback to consider about a prehung security door is that they can be more costly due to the extra parts that come with the purchase.
Sliding Security Screen Doors
A security door for sliding doors will cost homeowners around $950 to $1,700. These types of security doors can be used for front or patio entrances into the home. To provide security, the door will be covered with steel mesh or metallic grates. A multiple locking system will be included since sliding glass doors are among the most vulnerable for break-ins. A mounting frame and track system will be needed to install a security sliding glass door.
Pocket Security Door
Pocket security door prices range from $1,500 to $2,500. Pocket security doors are rarely used by homeowners but can be a custom option. Pocket doors don't operate like traditional doors with hinges but slide into a pocket in a wall cavity. The type of security door isn't very popular because interior spaces are usually designed to accommodate these required pockets. However, a steel pocket security door option can be an attractive and unique home feature.
Bifold Door Security
Bifold security doors cost homeowners in the range of $2,500 to $6,500 and are among the most expensive options. These entry doors are typically not used as front doors but seen on patios or decks in homes. Extra security for bifold doors includes steel mesh to prevent them from being kicked in. Bifold security doors are costly because of their larger size and expensive materials like shatterproof glass.
Security Doors Prices by Material
The cost for security doors, based on their material, ranges from $200 to $2,000. Security doors typically come in sturdy materials to stand up if burglars use any tool to attempt entry into a home. Metal was one of the first materials used to create security doors. However, newer models have modern styles and can be crafted from composite materials. Several different materials can be used to construct security doors today, including fiberglass, steel, iron, aluminum, and more. Remember that steel security door prices will typically be lower than a safety door wooden price, for example. Steel security doors can also be covered in hardwood to have the strength of steel and the aesthetic of wood.
Aluminum and steel are popular because metal is durable and gives the appearance of security. These doors may not be as aesthetically appealing as wooden doors or newer composite models, but they let people know that the place is secure. If you want premium security and decorative style, the higher end iron safety door price might be something to consider. The following are the most common security door materials used and the average price you'll pay without installation.
| | |
| --- | --- |
| Material | Cost (Materials Only) |
| Fiberglass | $200 - $600 |
| Steel | $700 - $1,900 |
| Aluminum | $850 - $2,000 |
| Wood | $1,000 - $3,000 |
| Iron | $1,050 - $1,400 |
| Composite | $1,375 - $2,000 |
Security Door Cost by Door Swing
The way that the door swing could affect the overall cost of the project. Outswing security doors are much more commonplace. Therefore, they will have a lower price point due to widespread availability. They also offer better protection in several cases because they are difficult to force open from the outside. Add extra security by making sure the pins are not removable. Inswing doors are easier to force open, but they can be upgraded with deadbolts and doorstops. These doors provide better weather protection in hurricane-prone areas. The following are the anticipated costs without labor that you can pay for an outswing and inswing security door.
| | |
| --- | --- |
| Swing | Cost (Materials Only) |
| Outswing | $200 - $600 |
| Inswing | $350 - $775 |
Safety Door Price by Brand
When shopping by brand, you can expect to pay between $250 and $5,000 for your security door, which is only for the cost of the door itself. Labor incurs an additional cost. Research brands of safety doors to choose one that fits your budget and needs. Check out what styles are available and the warranty that comes standard with purchase. Pella and Unique Home Designs offer affordable security doors, while brands like Prosteel might have higher costs because of their premium features.
Other popular brands like Titan and Crimsafe provide a wide selection of security doors for the home that come with different features. They also offer their own warranties, such as the Crimsafe two-year or ten-year warranty and the Tru Frame five-year warranty. For ultimate protection, choose brands like Shield or Prosteel. The following are the well-known top providers of security entry doors and what you can expect to pay without installation for their products.
| | |
| --- | --- |
| Brand | Cost (Materials Only) |
| Unique Home Designs | $250 - $500 |
| Pella | $300 - $600 |
| Titan | $400 - $800 |
| Larson | $450 - $1,000 |
| Crimsafe | $1,000 - $1,500 |
| Tru Frame | $1,200 - $3,000 |
| Shield | $1,800 - $4,000 |
| Prosteel | $2,000 - $5,000 |
Safety Door Lock Price by Type
You will spend between $25 and $550 on safety door locks, depending on the type of lock you choose. For example, while a simple knob lock or deadbolt could be less expensive, you may pay a premium price for a triple lock security door. A safety door lock is a standard part of installing an anti-theft door for the exterior of your home. Safety door locks ensure that tools and other devices can't be used to gain entry into the property. Most security doors won't come with a safety lock. You will need to purchase it separately.
Security knobs are just standard door knob locks and are very common and inexpensive. They do not provide much in the way of premium protection, though. You may want to upgrade to a deadbolt or padlock, adding an extra layer of support. Deadbolts are the most secure locks for any door, even with smart technology available today. Some doors use a level lock, while pocket doors require their own specialty security lock that works with the track. Then, you have many touchpad options, including a standard touchpad, electronic locks, and even smart locks and fingerprint security door locks. If you want premium security in a package, a grip set would be ideal because you get all the hardware and locks for the entry door in a single set. In the table below, you will see all these locks and their average costs for materials only.
| | |
| --- | --- |
| Lock | Cost (Materials Only) |
| Knob | $25 - $55 |
| Padlock | $30 - $80 |
| Deadbolt | $40 - $75 |
| Lever | $65 - $85 |
| Pocket | $100 - $200 |
| Keyless | $150 - $300 |
| Smart | $160 - $325 |
| Touchpad | $175 - $250 |
| Electronic | $200 - $400 |
| Grip Set | $225 - $550 |
| Fingerprint | $250 - $425 |
Labor Cost to Install a Security Door
Security doors should always be installed by a professional security door specialist or a handyman that is experienced with security doors. With a professional on hand, you can confirm that the security door is installed properly and won't be compromised during an attempted robbery. The professional can install any additional components, such as locksets and deadbolts. Expect to pay an average of $200 to $350 to have a professional install your security door. It will take most professionals half an hour to install a security door in your home. Additional time will be needed if any framing alterations need to be done. For example, if you need to reframe the doorway, you'll have to pay around $250 to $325, including labor and materials. Handymen will usually charge an hourly rate of $50 to $100 to perform the job. If you need to remove and dispose of the existing door, the professional will charge you extra for the service. You can anticipate paying around $30 to $50 for the removal of an exterior door.
You may also choose to have specialty hinges, a security jamb, or a security frame installed along with your door at an additional cost, but talk to your installer about what you need. Typically, they will be more than willing to walk you through the process. Security door companies typically provide free quotes and in-home consultations. They will come to your home and measure the door space, determine what you need (door, new frame, locks, etc.), and then advise on what type of door to install on your home. Once that is decided, they will set an installation date, deliver the door, and install it at the scheduled time.
Security Door Replacement Cost
In some cases, you may find it's time to replace your security door. For instance, if the door was damaged during an attempted forced entry, you will probably need a replacement. Depending on the damage, you may need a small part changed, like a security door handle replacement or the entire door replaced. Handle and lock replacements average between $50 and $150. Replacing a total security door with labor will be around $525 to $900.
Security door removal isn't typically included and costs about $30 to $50. Security door replacement will take less than two hours if no reframing work is needed to make the switch. If the door needs to be reframed, it could add another hour to the job. Reframing costs upwards of $250 if it's required during the replacement.
How to Measure for a Security Door
Professionals normally advise homeowners to take measurements before ordering a new security door. The measurements confirm that the exterior door will fit your home and require as little reframing as possible. To start, measure the width and height of your old entry door. Always round the number up in inches to order the correct size door. You'll also need to measure the jamb before ordering the security door. To do this, measure the width from the back of the exterior trim to the back of the interior trim. You should also have the opening size of the doorway without the trim—height and width. The good news is that you can also have your door installer or handyman measure the various parts of the security door when they do your in-home consultation to ensure that it is a perfect fit and that you do not mess up the math and buy the wrong size door.
Custom Security Door
Custom security doors are intended for homeowners with unique needs. You may have an unusual-sized entry door. Another reason for custom-made security doors is that homeowners may have difficulty finding the style they want. For example, you could choose a wrought iron security door with a design aesthetic that matches the rest of your exterior, including your windows. Custom security doors can be costly, likely at least double the cost of standard versions depending on your needs and door builder. You can save some since you won't need to make alterations to have a prefabricated type fit your home.
Maintenance
Follow all manufacturer directions to maintain your security door. If you use any unauthorized cleaning products, you could void your warranty coverage. In most cases, clean the door with mild soap and warm water using a microfiber cloth. Rinse with clean water and pat dry with a towel.
Check the rollers if you have a sliding glass security door and replace them as needed. Keep the tracking system clean of any debris. Lubricate the locks and hinges of your security door using a dry-based formula like powdered graphite. Lubrication normally is needed every six months. At the time, check to ensure all screws are secured for the door and all other parts.
Storm Door vs Security Door Cost
Storm doors are inexpensive and usually cost between $300 to $750 installed. Security doors cost an average of $525 to $1,200. A storm door is different from a security door. Storm doors are a second backup door, not used as the main entry door like a security door. In poor weather, storm doors provides extra protection to the home and stops rain and wind from penetrating the interior. They can provide added security by having another door and lock to go through before entering the home. They offer protection for the main entry door, which keeps it in better condition. Although security doors provide some weather protection, they are thicker and not used primarily for storm control purposes. They are installed for security only, but you can also use a storm door with a security door if the weather is a concern. The table below shows a breakdown of the costs of each type of door, including labor and materials.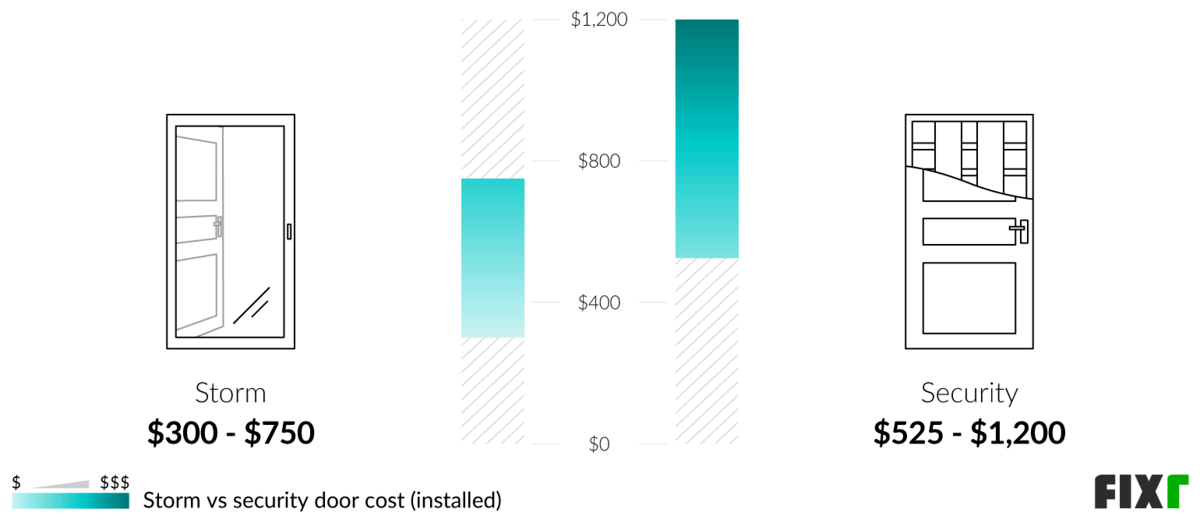 | | |
| --- | --- |
| Type | Cost (Installed) |
| Storm | $300 - $750 |
| Security | $525 - $1,200 |
Screen Door vs Security Door Cost
Installing screen doors costs between $150 and $500, while installing a security door costs $525 to $1,200. Screen doors are not designed for protective purposes. The screen door will usually have a wire mesh screen that may or may not include decorative metal. Any security door will have mesh constructed from metal like stainless steel or even wrought iron. Screen doors are made from thin materials and won't withstand being kicked in or even compromised with tools. Screen doors are usually put on a door during the summer months and then removed in the winter. Security doors remain in place all year round and offer premium protection from unwanted entry for those who need more than a traditional door or lock could provide. Some security doors also have a screen that allows airflow in the warmer months, but some are solid materials. Similar to storm doors, a screen door can be used in conjunction with a security door. The table below shows the average cost of each type of door installed.
| | |
| --- | --- |
| Type | Cost (Installed) |
| Screen | $150 - $500 |
| Security | $525 - $1,200 |
Enhancement and Improvement Costs
Security Gates
Average prices for security gates will be between $500 and $2,000 installed. Security gates are sometimes used by individuals wishing to block entrance to their front door. Most residential gates are crafted from wrought iron and mounted directly to the home's siding. Most security gates for the front entryway are black but can include some design elements like fleur de lis. These can be chosen for added security alongside security doors and may include various opening methods, such as accordion gates or swinging gates, all with premium locking mechanisms and opening features.
Safety Door Grill
A security grill door enhancement costs around $75 to $300. A security grill door is another upgrade to consider when installing a new entry door. By adding grilles, you're maximizing the security of the entry point and confirming that the front door can't be kicked in. Grilles will be welded onto the door to remain in place and can be riveted. Grilles provide open air and ventilation if you select an open-air model.
Home Security System
Home security systems cost $750 to $2,000 for a professionally installed system. Home security systems are commonly seen with entry doors. If you want even more protection from potential intruders, a security system is a great addition. You can even find a doorbell camera that alerts you when it detects motion outside of the security door. These systems come in several types, including systems with marked zones and protection for all the entry doors in the home and a modern system with smart features, biometrics, and integration with other home systems for peace of mind.
Paint Security Door
The average project cost is $150 to $350 for a professional to paint your security door. Depending on the material of the security door, you may be able to paint it to match the exterior of your home. Most homeowners pay a professional painter for the job, which requires the contractor to use a primer and exterior paint color. Typically, security doors are ordered in the color desired, usually a black or white option. However, some people may want to change the color to enhance the curb appeal and remove the stark contrast of the security door.
Security Shutter
Roll down security shutter prices range from $350 to $600 per shutter. These roll-down shutters provide full coverage and protection for the windows in the home. They may be installed at the same time as security doors. They will usually be handled by a door and window professional or a general handyman with experience installing security products. This enhances a security door by giving the home even more protection. The visual deterrent alone is often worth the expense for most homeowners.
Additional Considerations and Costs
Permits. Most contractors don't need a permit or license to install a security door. However, you may need to check with your HOA before changing your front door type.
Home value. Security doors add home value at a modest cost. Buyers like to purchase properties with increased security protocols already in place.
Safety standards. Manufacturers usually refer to certain ASTM test methods to confirm the safety of their doors. For example, ASTM F3038 is used to confirm forced entry protection for security doors.
DIY. In most cases, you want to avoid DIY for installing a security door. If you don't install the door correctly, it may compromise its ability to protect against intruders.
Infills. Infills are security features that are inside the core of the security door. These upgrades enhance the safety of the door and prevent it from being compromised by criminals. Infills are a range of security items, including stainless-steel bars, mesh, and heavy-duty aluminum pieces.
Doggy door. You cannot install a doggy door on a security door, or it will no longer be "secure" because the pet access door compromises the protection. If you need to install a doggy door in your home, consider doing it on a door where you do not need security coverage or installing it in the siding of the home.
FAQs
A security door provides enhanced protection against unlawful entry into the home. The door can also protect against weather hazards like high winds.
Are security doors worth it?
Security doors are worth the investment for those who live in high crime areas or for those who have concerns about protecting valuables in their homes.
What doors are best for security?
Steel core doors are considered the best type of security doors because of their forced entry resistance. They cost upwards of $1,900 for a single door without installation.
Does a security door add value to your house?
Yes. A security door adds value because it's an extra security measure that doesn't have an annual cost to the buyer.
Can I paint a security door?
Yes, you can paint a security door. However, you should speak to a professional about using certain products to paint a metal door. Glidden and other painting professionals recommend using a primer and exterior paint on a metal security door.
How long does it take to install a security door?
Depending on the type of door being installed and who is doing the work, allow one to three hours to install a security door. If it is more complex or the entire jamb and frame are being replaced, it could take up to 4 hours.
The information provided by our cost guides comes from a great variety of sources. For more information, read our Methodology and sources.