How much does it cost to install stone siding?
Get free estimates from siding contractors near you
Stone Siding Installation Cost Guide
Updated: January 11, 2023
To provide you with the most accurate and up-to-date cost figures, we gather information from a variety of pricing databases, licensed contractors, and industry experts.
Stone siding has a beauty and character that is hard to match. Stone siding and stone veneers are beautiful, durable, and available in many styles and colors. Your contractor can install the stone or stone siding alone or with other siding materials to create unique cladding styles. Stone and stone veneer sidings come in many types and styles, so there is a wide range of associated costs. Homeowners often choose stone siding to upgrade the appearance of their home because stone is considered an upscale and quality material. Stone is also available in so many different patterns, textures, and colors that it offers significant potential for customization during the remodeling process. Stone siding also represents a safe option because it is fire retardant and reduces the chance that a fire will harm the home or its occupants.
The national average cost ranges between $30,000 and $55,000. Most homeowners pay around $37,500 for 1,500 sq.ft. of manufactured stone veneer siding professionally installed. This project's lowest cost is $5,625 for 500 sq.ft. of faux stone veneer installed as an accent. The high cost is $75,000 for 1,500 sq.ft. of installed solid stone siding.
Stone Siding Prices
Stone Siding Installation Costs
National average cost
$37,500​
Average range
$30,000-$55,000
Low-end
$5,625​
High-end
$75,000​
Solid Stone vs Stone Veneer Siding Cost
You have two basic choices for getting the look of stone. The first is stone veneer, which can be made of many things, including natural stone. The second is solid stone siding, which is 100% natural stone. Stone veneer is thinner, lighter, and easier to install. It is also less expensive than solid stone siding. Solid stone siding is thicker, heavier, and restricted due to the material's weight and building codes. Both provide durable, long-lasting cladding for your home. They are also fairly low maintenance. With proper care, homeowners can expect their stone veneer to last anywhere from 20 to 75 years. On the other hand, solid stone lasts for more than 100 years but comes with a higher cost and stricter installation requirements.
Natural stone is considered one of the most expensive options for homeowners. Stone veneer is an excellent way for homeowners with a strict budget to enjoy the beauty of a stone exterior on their home. Stone veneer is much easier to install than natural stone, which helps homeowners save money on labor costs. Stone veneer is an excellent alternative for homeowners who do not want to reinforce their homes to support the weight of natural stone.
| | |
| --- | --- |
| Type | Cost per Sq.Ft. (Materials Only) |
| Stone Veneer | $3 - $20 |
| Natural Stone Siding | $5 - $30 |
Stone Siding Cost per Square Foot
Homeowners may choose between stone siding or stone veneer when upgrading their siding or replacing the existing stone on their homes. Each option offers various benefits, looks, and costs. Stone siding generally ranges between $5 and $30 per sq.ft. Stone veneer cost per square foot usually ranges from $3 to $20. Cost is often one of the primary factors homeowners consider when deciding between stone siding or stone veneer. However, additional factors exist that homeowners should consider.
For example, installation costs may change depending on whether the job requires additional materials like mortar, lath, or supports. Stone siding and stone veneer may each require some or all of these materials. These additional materials may increase the cost per square foot. These costs should appear on the initial proposal from the contractor. An additional factor for homeowners who choose solid stone siding is the weight. Although code limits weight to 15 pounds or less per square foot, some older homes can support the additional weight. However, heavier stone generally comes with higher costs per square foot.
| | | |
| --- | --- | --- |
| Size | Natural Stone Cost (Siding Only) | Stone Veneer Cost (Siding Only) |
| 500 sq.ft. | $2,500 - $15,000 | $1,500 - $5,000 |
| 1,000 sq.ft | $5,000 - $30,000 | $3,000 - $10,000 |
| 1,500 sq.ft. | $7,500 - $45,000 | $4,500 - $15,000 |
| 2,000 sq.ft. | $10,000 - $60,000 | $6,000 - $20,000 |
| 2,500 sq.ft. | $12,500 - $75,000 | $7,500 - $25,000 |
Solid Stone Siding Cost by Type
Many options exist for homeowners with houses that can support the weight of real stone siding, like slate, basalt, and marble. Additional options include sandstone, granite, and limestone. Solid stone siding has a rather impressive range from $5 to $30 per sq.ft. Therefore, homeowners have many options depending on their budget. Slate siding is on the affordable end of the scale and offers a classic look for the home's exterior. On the other hand, granite siding is more expensive but is beautiful, long-lasting, and eco-friendly. Homeowners who live in a hot region may choose sandstone siding for its reflective properties. Basalt might be the best choice for homeowners who want an ultra-modern exterior.
Each type of stone siding also offers a different look and may complement a particular type of architecture. Many stone siding options require substantial support, limiting what types of homes can have solid stone siding installed. For example, it may prove difficult to install heavy marble solid stone siding on a home as a replacement for existing vinyl siding unless the home has sufficient strength to support the heavier solid stone siding. One of the defining characteristics of solid stone siding is that it undergoes minimal processing from when it is mined from the earth until it is installed on a home. The goal is to ensure the stone is as natural and beautiful as it was when it was first brought out of the earth. Examine the table below to get an idea of the solid stone siding costs by type.
| | |
| --- | --- |
| Stone Type | Cost per Sq.Ft. (Materials Only) |
| Slate | $5 - $10 |
| Basalt | $7 - $11 |
| Marble | $10 - $25 |
| Limestone | $14 - $30 |
| Sandstone | $15 - $30 |
| Granite | $20 - $28 |
Stone Veneer Siding Cost by Type
Stone veneer siding is usually made of simulated stone. Real stone options exist, too, such as natural stone wall cladding, which is a thin piece of natural stone put on a backing. Whether real or simulated, stone veneer siding offers homeowners the opportunity to get the exact look they want, whether their home can handle heavy natural stone walls or requires a lighter stone veneer siding option instead. Stone veneer is also easier to install than solid stone siding, which some homeowners may appreciate if they want a swift conclusion to their home remodeling project. Consider the following types of stone veneer siding to get an idea of the costs of the material.
| | |
| --- | --- |
| Stone Siding Type | Costs per Square Foot (Materials Only) |
| Faux Stone Panel | $3 - $5 |
| Cultured Stone | $5 - $10 |
| Natural Stone Cladding | $9 - $15 |
| Versetta Stone | $17 - $20 |
Faux Stone Panel
Faux stone panel siding costs between $3 and $5 per sq.ft. This is a very lightweight material made of polyurethane. The panels are easy to install because they are easy to lift and handle, although they install similarly to other stone and stone veneer siding. The panels vary less in color and texture than other types and may not be as realistic up close. Polyurethane is also not as eco-friendly or flame-retardant as other types of stone and stone veneer. However, their lower cost makes them a good option for anyone wanting to add stone detail.
Cultured Stone Siding
Cultured stone siding prices range from $5 to $10 per sq.ft. This is most often referred to as manufactured stone veneer or stone veneer. This material is more similar to fiber cement siding than anything else. It is a blend of Portland cement with aggregates like sand and silica. It is pigmented and agitated so that the pigments go through and produce natural-looking effects. This material is flame-retardant and very durable. It installs similarly to natural stone veneer and comes in many colors and styles.
Natural Stone Wall Cladding
Natural stone wall cladding ranges from $9 to $15 per sq.ft. This is a natural stone veneer, or thin pieces of natural stone, put on a backing. They go up more quickly in sections rather than installing individual pieces of stone. This can make installation faster, easier, and also makes it easier to wrap corners for a more natural-looking installation in less time. Cladding comes in several colors and styles. You can also purchase special sections for corners and trim for a complete installation with less work.
Versetta Stone Siding
The cost for Versetta stone is $17 to $20 per sq.ft. Versetta stone mortarless stone veneer panels are made of a concrete product. This stone comes in panels that are held together with metal flanges. It contains no mortar and is easily installed with screws or nails. It has a built-in waterproofing system and can withstand all types of weather. Versetta stone is suitable for use inside the home, around a fireplace or as an accent wall. You can use Versetta stone outdoors on the patio walls or as a barbeque accent. The possibilities for this durable and long-lasting material are endless!
Stone Veneer Siding Prices by Brand
Natural stone siding is quarried and sold directly to distributors, who sell it to you or your contractor. But stone veneer siding made of polyurethane or Portland cement is produced by different companies. Every brand has different price points, looks, and formulas that set them apart. For example, Eldorado stone veneer cost starts at $6 and caps out at $10, but Silvermine starts at $16 and reaches $20 per sq.ft. For budget-conscious homeowners, great options include Cast Natural Stone and Black Bear, which both start at $5 and reach $10 per sq.ft.
Stone veneer options in the middle of the cost range include Ply Gem and Eldorado. At the top end of the scale, options include GenStone, NextStone, and Silvermine. However, the cost is not the only reason to choose one or the other. Some stone veneer options feature quick installation, reducing installation costs even if the siding is on the higher end of the price scale. Homeowners who want stone siding that does not look like it has mortar may want to look at GenStone. Meanwhile, NextStone is a great option for homeowners who want one of the top-end stone siding options but who do not want to spend too much on installation.
| | |
| --- | --- |
| Brand | Costs per Sq.Ft. (Materials Only) |
| Cast Natural Stone | $5 - $10 |
| Black Bear | $5 - $10 |
| Ply Gem | $6 - $10 |
| Eldorado | $6 - $10 |
| NextStone | $9 - $15 |
| GenStone | $10 - $16 |
| Silvermine | $16 - $20 |
Labor Costs to Install Stone Siding
Labor costs are between $3 and $15 a square foot on average, depending on the siding type. To calculate your project cost, add the cost per square foot for your siding and the cost per square foot for labor and multiply the sum by the total square feet you need to be installed. The key to any successful stone siding installation is to ensure the installer is familiar with the siding type. Because not all stone sidings and stone veneers are equal, find someone knowledgeable in the exact type you choose for the best results. Masonry companies and exterior siding professionals have the expertise to install natural stone siding and stone siding veneer.
Stone veneer siding options are generally less expensive to install than solid stone because the installation process of the latter takes longer. The weight of the stone usually means more than one installer is necessary. Faux stone panels have lower installation costs because they are designed to install directly onto the home. Stone wall cladding, too, is designed for quick installation with its large sectional design. However, it weighs more than faux stone, so homes must be able to support the weight. Homeowners who choose cultured stone veneer should find an installer who has experience with the material because the installation process is mildly complex.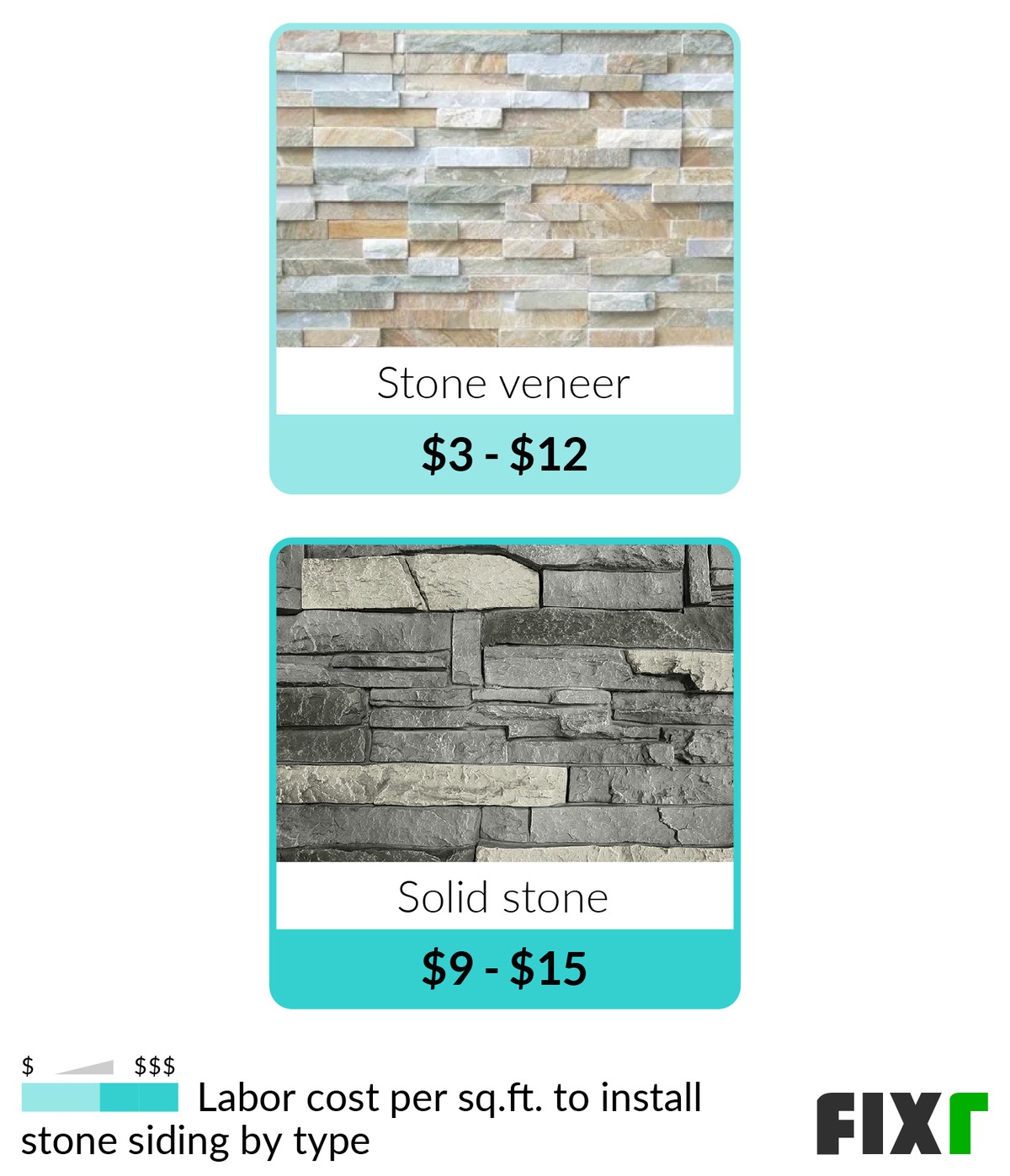 | | |
| --- | --- |
| Type of Siding | Labor Costs per Square Foot (Installed) |
| Stone Veneer | $3 - $12 |
| Solid Stone | $9 - $15 |
Stone Siding Replacement Cost
If you want to replace stone siding or vinyl siding with stone, you may incur additional costs to remove and dispose of the old material. This can have a wide cost range, depending on the material and how it is installed. Lightweight stone panels add between $1,000 and $3,000 to your total costs. However, any material with lath or anchors costs significantly more - between $3 and $4 a square foot in extra labor and disposal fees. For a 1,500 sq.ft. area, this means an additional cost of $4,500 to $6,000 for complex siding removals. If you have old siding in good condition, your contractor may attach the new panels to the existing siding, which lowers replacement costs. However, siding that needs repair or is in poor condition must be removed before new siding is installed.
Stone Veneer Over Siding Cost
To install stone veneer over siding, the cost is $7 to $13 per sq.ft. with the cost depending on what type of siding the veneer will cover. Typically, it is recommended that the existing walls be encased in metal lath. The only exception to this rule is if you are installing over brick or concrete unless there are any pre-existing problems with the walls. The next concern is to ensure that a moisture barrier is used to avoid any possibilities of water entry. Moisture inside the walls will deteriorate the home quickly.
Stone veneer over brick exterior cost and installation over concrete are the easiest and start at just $7 per sq.ft. and top out at $12. The process becomes a little more complex with other materials. Installing stone veneer over stucco or plywood jumps up to $9 to start and reaches $13. Overall, the difference is not significant between installing over one material or another. However, stay aware of the cost, especially if you have a particular budget.
| | |
| --- | --- |
| Stone Veneer Over Material | Cost per Sq.Ft. (Installed) |
| Brick | $7 - $12 |
| Concrete | $7 - $12 |
| Plywood | $9 - $13 |
| Stucco | $9 - $13 |
Stone Siding Finishes
Stone is an interesting product because it comes in various textures and finishes. The natural adaptability of stone allows for it to be used in many different places, including indoor and outdoor areas. Finishes are achieved by various techniques and mechanical processes that all result in unique and versatile outcomes.
Flamed Stone Finish
A flamed or thermal stone finish is created by using a hot torch to change the texture of the stone. The process creates a non-slip surface that can be used for walkways or driveways. It is also a beautiful addition for a modern feel to the outside of the home. It is often used to alter the color of the stone, adding more dimension. This type of finish requires a skilled craftsman as the stone can be damaged by the flame.
Honed Stone Finish
An abrasive pad is used to achieve a honed stone finish. This produces a more smooth, consistent surface. It will look more matte and feel velvety to the touch. The change reduces the appearance of bumps or scratches on the stone. It makes the stone stain-resistant and more natural-looking.
Bush Hammered Stone Finish
Bush hammered stone finish is reached by using a mechanical or manual tool called a bush hammer. The process induces a uniform pattern of indentations or pits on the surface of the stone. It is a great way to add tonal variations and a rough, weathered quality. This method is great for outdoor use as it provides beautiful aesthetics.
Sandblasted Stone Finish
While similar to a bush hammered finish, the sandblasted finish is executed with a high-pressure tool using air, sand, or other gritty material. The method produces pitting or small craters that enhance the color and texture of the surface. If desired, this process can be used to create a design as well. When used over a large space, it resembles a finely combed beach. This makes it a great choice for a beach cottage or home.
Aged Stone
Using a method much like natural aging, water and sand are mechanically applied to the stone to change the texture and look. This is a classic finish that contains remnants of the past and the present. This process is perfect for older homes to keep consistency and uniformity with the aging of the home. Homeowners will enjoy this unique way to make the home appear as if it has aged naturally.
Tumbled Stone Finish
The tumbled stone finish is accomplished by using smaller, less resistant stones and tumbling them inside a large plastic or rubber-coated drum with the larger stones. Sand or another type of grit is added. It fabricates an antique or aged look. The edges and surfaces are softened in the process. The tumbled stone finish results in a chalk-like appearance with muted tones.
Brushed Stone Finish
To attain the brushed stone finish, wire wheels and brushes are used. The tools create a textured surface that gives off a warm vibe. This finish is often used alongside others, such as a sand-blasting or flamed finish. The combination makes for a softer, more antiquated result. Homeowners looking for a worn look will enjoy the brushed stone finish.
Natural Cleft Stone
Natural cleft isn't a manufactured finish. It is a naturally occurring process that often happens when the stones are being harvested from the earth. A crack appears and changes the look of the stone. This is most often seen in blue stone or slate. Each natural cleft stone is unique and has its own pattern and texture. Consumers who aren't concerned with perfection and want a more raw look will enjoy this type of finish.
Leather Stone Finish
Leather stone finish has a slight sheen to it but isn't mirror-shiny. The process seals the pores of the stone and maintains the original color. Several brushes are used to create texture with this finish. A leather stone finish is soft and velvety, similar to real leather. While a flexible finish, you will typically only see this used on certain materials.
Sawn Stone Finish
Using a saw tool with diamond disc teeth and grit, marks are made on the stone to get the sawn finish. This method makes the finish rough and highly irregular. It adds a dull white tone that gives a matte look. If the stone is of a harder consistency, you may see the disc markings. This type of finish is unique and presents a more rustic appearance.
Pros and Cons
As with any product, there are pros and cons. Stone veneer is no exception to this rule. As opposed to stone, the veneer is less expensive, lighter weight, and easier to install. Because it doesn't require mortar, a contractor who is not a mason can install stone veneer. The drawback is that because it is a produced material, many pieces look alike. With real stone, there are many variances in the look and feel. A plastic veneer will not be a sustainable product because it is man-made, but some may be recyclable. Concrete veneer looks more like natural stone than other forms of veneer.
Maintenance
Stone siding is relatively low maintenance. The exact cleaning depends on the stone siding type. In general, use a bristle brush, water, and a pH-neutral cleaner to clean stone siding. Avoid pressure washers and materials that contain acid because these can damage some types. If you choose a manufactured material, follow the manufacturer's instructions for cleaning and care because they may differ.
Cost of Brick vs Stone Exterior
Brick and stone exteriors provide two different types of siding. Most brick siding is added to a wood frame home, but a home could be built from bricks. Bricks are sturdy, long-lasting, and timeless. You can paint brick to change the look and feel of the home completely. Stone has the same characteristics but is sometimes more expensive. Stone veneer is a great option for homeowners who want the look of stone but not the cost. Both choices are flame and insect resistant, hold up well in all kinds of weather, but each lends its own look and feel. Brick homes are more traditional, while a stone home is more versatile. Stone is generally more textured and is often used only as an accent, such as columns or just the front of the home. Natural stone can be installed at the cost of $9 to $15 a square foot. Stone veneer creates a stone look and costs $7 to $12 per sq.ft. compared to brick siding at $9 to $17 per sq.ft.
| | |
| --- | --- |
| Type of Exterior | Installation Cost |
| Stone Veneer | $7 - $12 |
| Natural Stone Siding | $9 - $15 |
| Brick Siding | $9 - $17 |
Enhancement and Improvement Costs
Stone Chimney
Stone chimneys are very popular because they are charming and long-lasting. Adding a stone chimney can be expensive at $4,000 to $8,000. A large chunk of the costs of this project has to do with the labor. Masonry takes time and costs $80 to $90 per foot. However, the rewards for this type of addition are many, including the warmth it provides, the ambiance, and the ROI should you decide to sell in the future.
Paint Stone Siding
Special masonry paints adhere well to stone siding. Painting your stone siding results in an updated look and provides a new waterproof layer. The cost is $2.40 to $5.00 per sq.ft. for this type of painting. Before painting, the siding should be thoroughly cleaned with a non-residue product and water to make certain the paint adheres properly.
Treatment and Weatherproofing
Most manufactured stone veneers do not need any treatment or sealants. However, some natural stones benefit from a waterproofing sealer. This prevents some discoloration over time. Applying this costs between $1 and $4 per sq.ft. Basalt and granite do not require treatment, only porous stones like limestone and marble.
Additional Considerations and Costs
Return on investment. Manufactured stone veneer has a ROI of 95.6%. This is the material made of Portland cement. No other type of stone siding currently raises your home's value significantly.
Flame-retardant. Some types of manufactured stone veneer are flame-retardant. Faux stone made of polyurethane is not flame-retardant and may melt.
DIY. Install your stone siding with an expert in that material. If installed incorrectly, stone veneer can lead to serious problems with moisture inside the walls.
Environmentally friendly. Natural stone veneers, cladding, solid stone, and manufactured stone siding are considered environmentally friendly. Faux stone siding, made of polyurethane, is considered less sustainable and eco-friendly than other types.
Permits. More often than not, permits are required for work on the exterior of the home. Sometimes, permits are required for siding that reaches a certain weight. Others for the type of material. Always ensure you or your contractor has secured the right permits.
Codes. Building codes exist for virtually every facet of homebuilding, so the stone siding you use needs to adhere to your local codes. Most reputable companies manufacture their products to adhere to local codes, but it is important for your contractor to confirm.
Colors. The beauty of stone is that it comes in many colors and accommodates many home types. From brown to gray to white, don't forget to choose a color after choosing your siding type.
FAQs
How long does stone veneer siding last?
This depends on the veneer. It may last 50 years or more than 100. Portland cement-based materials tend to last closer to 50, while natural stone claddings last longer.
How long does stone siding last?
Solid stone siding can last for hundreds of years. Stone veneers made of natural stone can last 100 years or longer when properly installed.
Is there siding that looks like stone?
Yes, manufactured stone veneer, made of Portland cement, looks and feels like natural stone.
How much does it cost to put stone on the front of a house?
Stone siding costs between $11 and $50 per sq.ft. fully installed, depending on the material and quality. For 1,500 sq.ft. of home facade, this would mean a range of $16,500 to $75,000.
Is stone veneer cheaper than real stone?
Some types of stone veneer are made of real stone, while others are manufactured. However, yes, stone veneer is less expensive than solid stone siding, which is thicker and heavier.