How much does it cost to install wood siding?
Get free estimates from siding contractors near you
Wood Siding Cost Guide

Wood siding is the oldest siding in the U.S. still in use today. Wood has an appeal so popular that most other sidings mimic its appearance. Wood is endlessly versatile, coming in various species forming many types of planks, shingles, and panels. It can be painted or stained in various finishes and complements nearly any home type and style.
With all these variations comes a wide range of associated prices. The national average cost range for wood siding is $10,500 to $22,500, with most homeowners spending around $13,500 for 1,500 sq.ft. of standard cedar siding installed in a Dutch lap style. This project's lowest cost is $3,500 for 1,500 sq.ft. of unfinished T-111 plywood siding, while the high cost is $30,000 for 1,500 sq.ft. of grade A, thermo-treated cedar siding installed in a shiplap style.
Wood Siding Prices
Average Cost of Wood Siding
National average cost
$13,500
Average range
$10,500-$22,500
Low-end
$3,500
High-end
$30,000
Wood Siding Cost per Square Foot
There are many types of wood siding with different associated prices. Wood species vary in costs, such as the style of the boards or shingles. Wood siding costs range from $1 to $30 a square foot for materials. Installation adds another $1 to $5 a square foot, depending on the material, style, and how difficult it is to cut and work with. This gives wood siding a cost range of $2 to $35 a square foot.
| | |
| --- | --- |
| Square Footage | Average Cost Range (Installed) |
| 500 sq.ft. | $1,000 - $17,500 |
| 1,000 sq.ft | $2,000 - $35,000 |
| 1,500 sq.ft. | $3,000 - $52,500 |
| 2,000 sq.ft. | $4,000 - $70,000 |
| 2,500 sq.ft. | $5,000 - $87,500 |
Wood Siding Cost per Linear Foot
When shopping for wood siding, you will see pieces sold by linear foot. Linear footage is less common than square footage, though, because most contractors need the height of the home's exterior to determine how much siding to order. Linear feet are calculated by taking the length only measurements of your home. Start at one end of the home and use a long measuring tape until you reach the other end. If you measure the exterior length in inches, you'll divide each side by 12 to determine the total linear feet for your siding project. Wood siding material costs vary. You can expect to pay anywhere from $3.50 to $25 per linear foot for your siding project, including labor and materials.
Wood Siding Cost per Inch
The total width of each siding piece affects the total project cost for your wood siding job. Wider pieces of siding mean fewer sections are needed to complete the job because they cover more square footage per piece. However, this doesn't mean the price will be discounted. Oversized siding pieces may be considered special order and reflect a higher cost, despite covering more square footage.
Aesthetics is typically the reason that you choose one width over another. Wider pieces of siding have a cleaner look with fewer breaks. Shorter pieces of siding offer a textured style. The following are popular width options for wood siding and the average cost per square foot for project materials.
| | |
| --- | --- |
| Siding Width | Average Costs per Square Foot (Materials Only) |
| 3 Inches | $1.25 - $12.50 |
| 4 Inches | $1.75 - $15 |
| 5 Inches | $2.50 - $16.25 |
| 6 Inches | $3.50 - $17 |
| 7 Inches | $4 - $17.75 |
| 8 Inches | $4.25 - $18 |
| 9 Inches | $5 - $19.50 |
| 10 Inches | $5.75 - $21 |
| 12 Inches | $6.50 - $23.50 |
Wood Siding Cost by Type
Many wood species can be used as siding. There are also some wood-based products, such as plywood and engineered siding, that can be used. Each has unique characteristics and costs.
| | |
| --- | --- |
| Type of Wood | Average Costs per Square Foot (Material Only) |
| Plywood/T-111 | $1 - $2 |
| Pine | $1 - $5 |
| Fir | $2 - $6 |
| Douglas Fir | $3 - $5 |
| Cedar | $3 - $30 |
| Engineered | $4 - $12 |
| Redwood | $4 - $20 |
| Accoya | $5 - $10 |
| Teak | $5 - $12 |
| Cypress | $5 - $12 |
| Spruce | $6 - $11 |
| Ipe | $8 - $18 |
| Garapa | $9 - $20 |
T-111 Plywood Siding
T-111 plywood siding is the least expensive at $1 to $2 a square foot. These are large sheets of unfinished plywood that have been grooved. The grooves are designed to install vertically. This gives the panels a cottage appearance or beadboard look. The siding is not extremely durable or long-lasting and must be painted or stained to hide imperfections and increase longevity. It is typically used in small sections or on outbuildings rather than as a full house cladding.
Pine Siding
Pine is one of the most common types of wood siding, ranging from $1 to $5 a square foot. Pine is a softwood that is easy to cut and install, so installation costs are usually low. However, pine does not perform well long-term and must be painted or stained for protection. It is susceptible to insect activity and moisture. It also frequently has flaws in the wood that need paint.
Fir Siding
Fir is another softwood, costing between $2 and $6 a square foot. Fir is less commonly used than other woods, but it has fewer knots than pine. It also comes in much longer board lengths than pine. It can be stained more easily and used for more applications. Fir is easy to cut and work with, so its installation costs are usually fairly low.
Douglas Fir Siding
Douglas fir costs a homeowner an average of $3 to $5 per square foot for siding projects. Douglas fir is a soft wood and considered an economical option for wood siding. Despite the name, Douglas fir isn't a true fir tree. Unlike other firs, a Douglas fir is an evergreen from the pine family with cones that hang from its branches. Douglas fir siding pieces are usually sold in longer lengths and are a very popular style for lakeside and pastoral homes. Douglas fir can be milled and customized for patterned styles. Although Douglas fir is a soft wood, it is fairly durable and will not split or crack easily.
Cedar Siding
Cedar is the most popular wood siding, ranging from $3 to $30 a square foot, depending on the type. Cedar has a beautiful red tone that works well with stains. It is easy to work with and is naturally insect and moisture-resistant, so it is less likely to rot than other wood sidings. Cedar is very expensive to paint because it tends to bleed, so it is most commonly stained.
Engineered Wood Siding
Engineered wood siding, including hardboard and composite siding, costs $4 to $12 a square foot on average. Engineered wood siding means that the wood has been modified. That can mean using wood pulp with glues to create hardboard, or it can mean layering the wood with different materials to increase strength, durability, and longevity. All composite and engineered wood sidings can be different, so pay attention to the brand and what it offers, rather than relying on a general description. Most engineered wood siding is available prefinished or painted. This means that the cost to install composite wood siding will be less than other wood products.
Redwood Siding
Redwood is very similar to cedar, although slightly higher in starting costs at $4 to $20 a square foot. Redwood is popular for its rich red color and straight even grain. Like cedar, redwood is resistant to rot, insect activity, and moisture. It can also bleed, which makes painting difficult and expensive. For that reason, it is most commonly stained rather than painted. Redwood costs are mostly tied to the location: costs on the East Coast are higher than the West Coast.
Accoya Siding
Accoya siding has an average cost of $5 to $10 per square foot. Accoya siding is a modified wood option available for homeowners. Accoya siding starts as sustainably sourced pinewood. The pine will then go through processing with the use of non-toxic treatment agents. The treatment increases the stability and durability of the wood, extending the lifespan up to decades. Several shingle and slate styles are available in a range of color options, including grays, browns, and blacks.
Teak Siding
Teak siding is a very durable and long-lasting material, costing $5 to $12 a square foot. Teak is a tropical hardwood containing oil and silica. This makes teak naturally resistant to nearly everything - rot, moisture, sunlight, warping, cracking, and splitting. It is hard, durable, and lasts longer than many softwoods. It is more expensive because of limited availability. It is also more difficult to work with because it is so hard to cut and shape. Installation costs are usually more expensive.
Cypress Siding
Cypress siding is an incredibly durable and long-lasting wood, ranging from $5 to $12 a square foot on average. Cypress is resistant to fungus, insect activity, and rot. It is also moisture-resistant and resists cracking and splitting. It is one of the longest-lasting wood sidings, with some cypress-clad homes lasting more than 100 years. It is very common to find reclaimed siding made of cypress. Cypress is very hard to work with, so installation costs are often much higher than other woods. It can be one of the most expensive woods to install with its initial price and high installation cost.
Spruce Wood Siding
On average, expect to pay $6 to $11 per square foot for spruce siding projects. Spruce falls into a category of trees known as whitewoods and has a distinct coloring when used as a siding option. If the natural color is used for siding, the white will become weathered and silvery gray. Spruce can be stained or painted to expand style options. Spruce siding pieces come with a lot of texture and visible knots. The wood offers moderate protection against rot and other forms of environmental damage.
Ipe Siding
Ipe siding is one of the more expensive tropical hardwoods at $8 to $18 a square foot. Ipe is unusual for most homes but is a beautiful and durable option for modern styles. The wood has a rich, distinctive color and grain, which usually show. This wood is highly durable and resists many issues other wood may develop. However, it is difficult to cut and work with. Most installers charge an additional fee with this siding.
Garapa Wood Siding
Garapa pricing falls between $9 and $20 per square foot. Garapa is a hardwood option that may be considered when putting on new siding for a home. Naturally, garapa has a light blond coloring and is very dense. Garapa can become weathered, so a UV-protective sealer is applied unless customers prefer the coloring to fade to a grayish silver shade. Garapa siding has a fast and easy installation process and comes in enough styles to suit any exterior.
Wood Siding Prices by Style
Wood siding can be cut and shaped in many ways. This can create subtle or dramatic differences between installation styles. Each type has a different look, with some also having different costs.
| | |
| --- | --- |
| Installation Type | Average Costs per Sq.Ft. (Material Only) |
| Dutch Lap | $1 - $8 |
| Sheet | $1 - $18 |
| Clapboard | $3 - $12 |
| Bevel | $4 - $12 |
| Board and Batten | $4 - $12 |
| Tongue and Groove | $5 - $15 |
| Channel Rustic | $5 - $15 |
| Shingles | $5 - $15 |
| Shakes | $6 - $17 |
| Shiplap | $7 - $18 |
| Log | $8 - $20 |
Wood Dutch Lap Siding
Dutch lap siding is one of the most common and popular styles, costing between $1 and $8 a square foot on average. This is horizontal lap siding, meaning each board overlaps the one below. A Dutch lap is different because of the slight concave at each course's top before the overlap. This creates a shadow on the siding that has a distinctive appearance. Dutch lap is readily available in many wood species. It is also easy to install, which makes it a popular choice with contractors.
Wood Sheet Siding
Sheet siding prices range from $1 to $18 a square foot, depending on the wood type. Plywood or T-111 is the most common sheet siding. This has vertical grooves running through the siding for a cottage look. It is commonly used in small areas and outbuildings. You can also find sheet siding in higher-end materials, such as ipe. These are often used in contemporary homes, where a smooth panel or sheet of siding have a minimalist appearance. They can be used over the entire home, but this becomes expensive, so they are often combined with other materials like glass or metal.
Wood Clapboard Siding
Clapboard siding is one of the oldest types of horizontal siding, with costs between $3 and $12 a square foot on average. Clapboard is also a type of lap siding, with each board overlapping the one below. The difference with this type of siding is how each plank is made. The wood is wider at the bottom than at the top, so each plank is slightly wedge-shaped. This creates a fairly flat installation with a plain appearance. It is common to use this siding on historic homes and cottages.
Wood Bevel Siding
The bevel is a subtype of clapboard siding and ranges from $4 to $12 a square foot. The bevel is different because of a slight beveling of each course's bottom edge. The bevel forms a 45-degree angle at the edge, where it overlaps the course below. It is a subtle distinction and gives more interest to the siding than the standard clapboard. The rest of the bevel plank is the same as clapboard, wider at the bottom than at the top. It is common to see this siding on many historic homes.
Wood Board and Batten Siding
Vertical board and batten siding costs between $4 and $12 a square foot on average. This is the oldest type of wood siding used in the U.S. It is made of two pieces - a large board installed vertically top to bottom on the home and a batten. The batten is a thin strip of furring fastened over the joins between the boards. This creates a more air and watertight installation. Because it is two different pieces, it costs more to install than other types.
Tongue and Groove Wood Siding
Expect to pay $5 to $15 a square foot for tongue and groove wood siding. This siding can be installed horizontally, vertically, or diagonally. Each plank is milled with a groove along one long edge and a corresponding tongue on the other edge. The planks are designed to fit together tightly, forming a durable and air and watertight installation. The planks can be milled to be smooth or rustic in appearance. This versatility means that you can use this siding on nearly any style of home.
Channel Rustic Wood Siding
Channel rustic is a drop channel siding and costs between $5 and $15 a square foot. Drop channel sidings can be installed horizontally, vertically, or diagonally, like tongue and groove. One side is milled down to be much thinner than the other. The other end has a groove cut into it. The thin end fits into the groove but continues on to create a drop or a channel. This casts a shadow and adds interest and texture.
Wood Shingle Siding
Wood shingles range from $5 to $15 a square foot. Shingles are long pieces of wood that are thicker on one end than on the other. They are meant to overlap, with the thick end installing over the thin end of the course below. While the actual shingle may be 12 inches or more, you only see roughly 5 to 7 inches at the bottom. Shingles can be uniform in shape and size or slightly irregular for a more rustic look. Some shingles can also be decorative and have a half-round or scalloped bottom.
Wood Shake Siding
Wood shakes are similar to wood shingles but have a cost of $6 to $17 a square foot. Where shingles can be uniform and fairly even in size and thickness, shakes are usually hand split. They have a more rustic and uneven appearance. Shakes tend to be larger than shingles and often have a larger reveal of 8 inches or more. They are commonly made out of cedar, which resists rot without painting. Wood shakes take more time to install than shingles due to their uneven nature.
Shiplap Wood Siding
Shiplap is one of the tightest milled types of siding, costing between $7 and $18 a square foot. Shiplap siding is milled so that each end is thinner than the middle. The difference is that each end is milled thinner on opposite sides. This allows the boards to overlap one another behind each course of siding. The appearance is of a very tightly, smooth installation. With the overlaps hidden at the back, it makes the siding very watertight. It also makes for the cleanest looking siding installation, which has gained popularity. It can be installed horizontally, vertically, or diagonally.
Log Wood Siding
Log siding gives any home the look of a log cabin for between $8 and $20 a square foot. There are many types of log siding. The split log is most common. This is a log that has been split in half, with the flat sides facing in. This gives the thickest, most realistic log cabin appearance. You can also find quarter logs, which are thinner and only give the rounded exterior. These are less expensive and easier to install than the split log. Any log siding is much lower in maintenance and costs.
Wood Siding Prices by Wood Grade
The term "grades" describes the wood's appearance. Many associations have joined to govern wood grades. These associations include the Western Wood Products Association (WWPA), National Lumber Grades Authority (NLGA) (a Canadian group), West Coast Lumber Inspection Bureau (WCLIB), and National Hardwood Lumber Association (NHLA). Grading systems are used for marketing wood and pricing it:
| | |
| --- | --- |
| Grade | Average Cost per Sq.Ft. (Material Only) |
| Low-Grade | $1 - $3 |
| Mid-Grade | $2 - $12 |
| Premium | $3 - $30 |
Low-Grade Wood
Low-grade wood is around $1 to $3 a square foot. This wood is usually filled with knots and is frequently known as "knotty grade." Knotty grades of wood are called: Select Tight Knots (STK), Select Knotty, 2&Better, and 3&Better. Knotty grades of wood need paint to hide the knots and defects. Many of these woods are considered green, which means that they are more likely to swell, shrink, or crack over time. Most pine siding sold falls into the knotty grade category.
Mid-Grade Wood
Mid-grade wood siding typically costs between $2 and $12 a square foot. These types of siding are often referred to as "select grades" and sometimes called Superior and Prime. These have also been aged and kiln-dried, making them stable and less prone to shrinking, swelling, cracking, and splitting. Many people who paint their homes choose this grade. It looks good with paint or stain and comes in nearly all types and styles. This is a good choice if you want a good-character wood without knots.
Premium-Grade Wood
Premium grades of wood range from $3 to $30 a square foot. They are considered to be virtually defect-free. They are made from the heartwood, but some trees may offer premium sapwood. Premium grades of wood include specifications like Clear Heart, Heart, and Clear. If you want to stain your wood siding, consider purchasing premium-grade wood to show the wood's beauty and appearance after staining. This siding is usually kiln dried and aged for stability and longevity.
Wood Siding Cost by Brand
If you want standard wood siding, you most likely are not looking for a name brand. Most wood sidings are simply sold by the wood's type or species. However, if you want an engineered or treated wood, search by the brand to get the right characteristics. Each of the following companies has a different process or type of wood and different price points to consider.
| | |
| --- | --- |
| Brand | Average Cost per Sq. Ft. (Materials Only) |
| Maibec | $6 - $12 |
| TruWood | $7 - $12 |
| Resysta | $7.50 - $9 |
| Thermory | $8 - $18 |
| Kebony | $12 - $15 |
Maibec Siding
Maibec white cedar shingle siding costs between $6 and $12 a square foot on average. This is a uniform, ready to install, fully finished cedar shingle. While most types of cedar sold for siding are red cedar, Maibec specializes in producing white cedar shingles. They have a lighter color without the red undertones of other cedar shingles. Maibec finishes them in many paint colors and stains. This gives a long-lasting finish without worrying about the cedar bleed.
TruWood Siding
TruWood engineered siding ranges from $7 to $12 a square foot on average. They make a full line of siding, shingles, and trim. Their products have been treated with zinc borate to prevent insect activity and prolong the appearance. Their material is lightweight, easy to install, and more durable than most standard wood sidings. Their siding is made from residual wood shavings, which helps make it a greener siding option. Their products come in a wide range of colors and finishes to match any home.
Resysta Siding
Resysta siding and wall cladding costs between $7.50 and $9 a square foot on average. Their engineered wood siding is made to look and feel like real wood while being more durable and longer-lasting. They also ensure that their siding is fully recyclable, unlike materials that contain plastics. They have a full line of contemporary and traditional siding styles. This includes several profiles in a range of natural colors. They also have some more colorful options for a unique look.
Thermory Siding
Thermory thermally modified wood siding prices are around $8 to $18 a square foot. This puts them on par for ipe in cost, durability, and appearance. Thermory is a heat-treated wood modified to be more durable and longer-lasting. This does not change the wood's appearance so that you can get a beautiful finish that does not split, crack, or rot. Their siding has a contemporary appearance with a smooth finish and deep color. It comes in several sizes and profiles so that you can create many looks.
Kebony Siding
Kebony modified wood siding costs between $12 and $15 a square foot on average. Kebony is made of softwoods with a natural, non-toxic bio infusion. This makes the wood resistant to rot, mold, and insect activity. Kebony wood is meant to be installed unpainted or stained. It naturally weathers in patina to a silvery gray color. Their materials come in several shades and profiles and work well in various installations, from rustic to contemporary.
Moisture Barrier Under Wood Siding
Moisture can penetrate even professionally installed wood siding, so include a moisture barrier to protect your home's exterior beneath the wood siding. The most common forms of moisture barrier are house wrap, plywood sheathing, and felt paper. House wrap, such as Tyvek or R-Wrap, offers the greatest moisture protection and is the most common. A roll of Tyvek or R-Wrap that measures 9' x 150' averages $165 per roll. Plywood sheathing is another option for a moisture barrier, but since plywood is made from wood, it is still susceptible to water and insects. A sheet of plywood sheathing averages $26 for a 4' x 8' piece. Classic tar paper is another low-cost option that has proven effective at creating a moisture barrier. A roll of tar paper averages $75 for 250'.
Labor Cost to Install Wood Siding
Labor costs for wood siding ranges from $1 to $5 a square foot, depending on the wood and style. Softwoods, T-111, and most lap sidings tend to be the easiest and least expensive to install. Hardwoods like teak, ipe, cypress, and more complicated installations, such as shiplap and shake, cost the most to install because they are difficult and time-consuming.
Most siding is installed by siding professionals. Not all siding installers work with all materials or have experience installing all styles. If you want something difficult to work with, such as ipe in a shiplap installation, find an installer who has worked with this material and style before.
The labor portion is between $1,500 and $7,500 for a 1,500 sq.ft. siding installation, depending on the siding. For a mid-grade cedar siding installation in Dutch lap, expect the labor to make up around $3,000 to $4,000 out of the total $13,500.
Cost to Replace Wood Siding
If you already have wood siding and want to replace it, you have additional costs. Removing and disposing of current wood siding adds $1,000 to $2,000. Hardwoods and intricate installations cost more to remove than softwoods and standard lap installations.
Total costs for replacing the siding on 1,500 sq.ft. are between $14,500 and $15,500 for a mid-grade cedar installation.
Cost to Install Wood Siding Over Existing Siding
Instead of removing old siding and starting from scratch, a contractor may leave existing pieces and place new boards on top. However, the professional must closely look at the integrity of the current siding. You can't cover up rotted or damaged siding pieces with new pieces because that will cause structural issues. Certain materials must be first removed before new installations. One example is vinyl siding. Vinyl is too soft and becomes damaged if you try to install siding on top of it. The following are the different sidings that you may install wood siding over.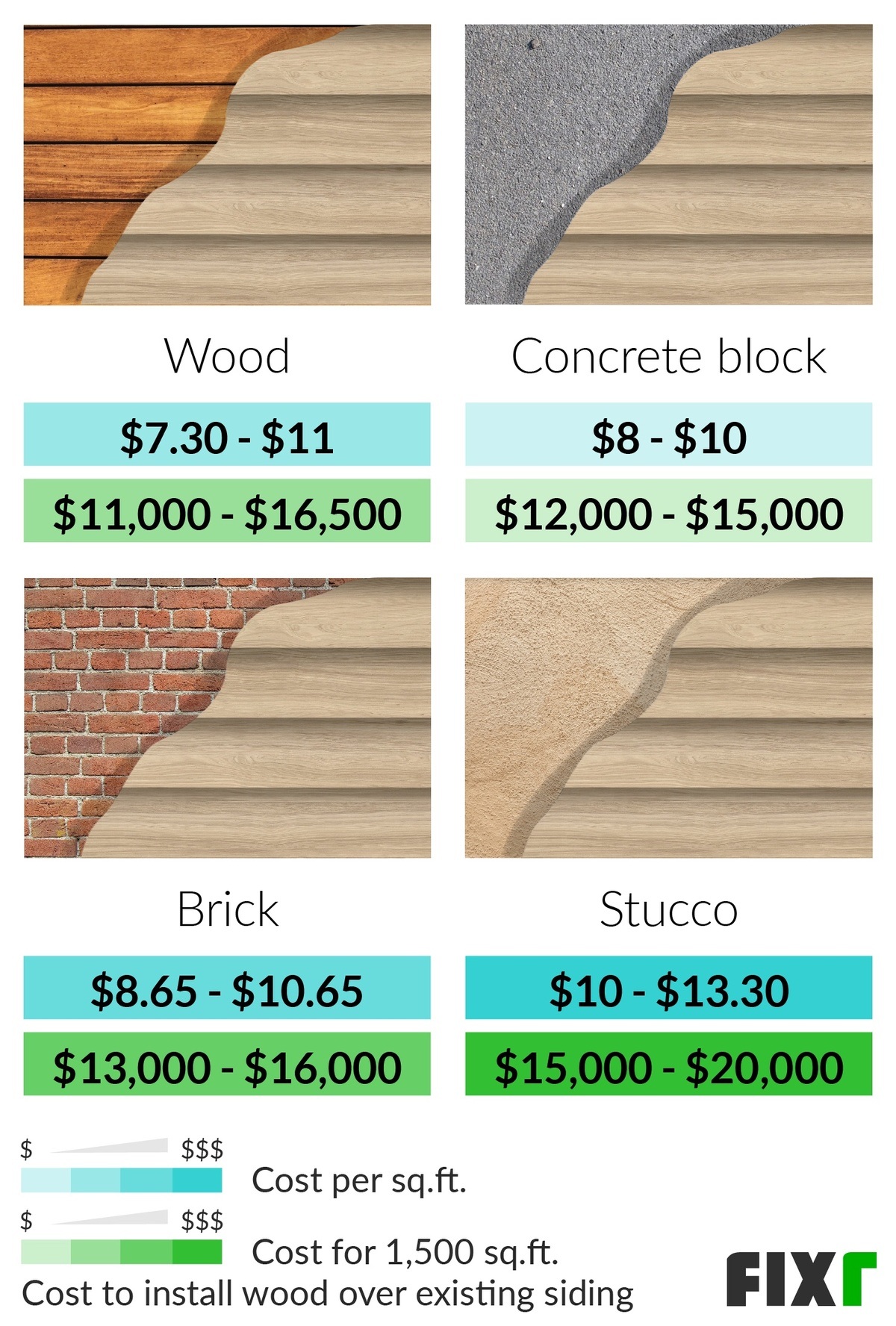 | | | |
| --- | --- | --- |
| Existing Siding | Cost per Sq.Ft. (Installed) | Cost for 1,500 Sq.Ft. (Installed) |
| Wood | $7.30 - $11 | $11,000 - $16,500 |
| Concrete Block | $8 - $10 | $12,000 - $15,000 |
| Brick | $8.65 - $10.65 | $13,000 - $16,000 |
| Stucco | $10 - $13.30 | $15,000 - $20,000 |
Wood Siding Over Wood Siding
The average cost to install wood siding will be $11,000 to $16,500 for a 1,500 sq.ft. installation. Depending on the type of wood that is already on the side of the house, you may be able to install new siding over the top of it. The old siding needs to be in good condition and can't have any rotting or softened areas. The sections must also be flat to install the new wood pieces. Furring strips may be recommended by a contractor to make the surface level before the new siding is installed over the wood sections.
Wood Siding Over Concrete Block
Costs for a 1,500 sq.ft. run $12,000 to $15,000 for a mid-grade cedar installation over a concrete block. If your home is made of concrete block or ICF, you can also install wood siding right over this. The concrete may need a plywood sheath like with brick, but it often does not. The blocks are usually wrapped, and furring strips are installed to make the siding easier to install.
Wood Siding Over Brick
For 1,500 sq.ft., the average cost is around $13,000 to $16,000 for a mid-grade cedar installation over brick. If you currently have a masonry brick home, meaning that your home is built of brick rather than sided with brick, you can install wood siding over it. Generally, the brick is sheathed in plywood first and wrapped for a watertight installation. Costs for siding over brick are fairly comparable to siding over a stick-built home.
Wood Siding Over Stucco
Homeowners will pay $15,000 to $20,000 to have 1,500 sq.ft. of wood siding installed over stucco. Wood siding over stucco is possible, but you would never install it directly to the old material. The stucco should be in good shape without any cracks or holes. If there are issues with the stucco, then wall integrity is compromised. You'll also likely have heating or cooling problems. Furring strips will be installed as a leveler and base before the new wood siding is put on top of the stucco.
Wood Siding Repair Cost
Wood siding is subject to wood rot and insect activity, so it is common to make repairs over the years. If you have isolated areas that need repair, most siding installers charge between $100 and $150 per section. If you have several areas or large sections that need repair, the installers usually charge $50 to $70 an hour. Repairs involve removing the affected sections of the siding and replacing them.
Wood Siding Colors
Wood siding color choices are seemingly endless. Many choose the wood color based on the overall design aesthetic they want to achieve. Homeowners usually settle on a wood color based on a few key factors. For one, they may look at the style of homes in their neighborhood and want to blend in. For example, if your neighborhood has farmhouse style homes, you may want to look at wood siding in whites and blues. If the homes have a more colorful look or you want to stand out, you might look at wood siding options in reds and blacks. Browns have a very vibrant and textured appearance if you're looking to stand out.
Brown is the most popular color choice for wood siding. Natural wood coloring allows you to highlight the material you have selected for your exterior. Wood siding in browns and reds is common for craftsman, adobe, or ranch homes. Additional wood siding color choices are gray, white, silver, and blue. These are all potential selections for contemporary exteriors.
For a cooler look or coastal property, you may select a lighter natural color wood. Another option is to allow the wood to go through the natural weathering process and change to a gray silverish shade.
For more color options, you could paint or stain your wood siding. Speak to a painter about using exterior acrylic paints to change the look of your siding. Stain-resistant primers must first be applied before painting work can be completed.
Wood Siding Pros and Cons
Wood siding is a popular siding choice because of the attractive nature of the material. When placed on the home, it provides major curb appeal. The material is very customizable. The homeowner can paint and stain the wood in their preferred shade. Wood is also an environmentally friendly choice for siding because it's a renewable resource and completely biodegradable. For wood siding, several affordable options and luxury styles are available to suit all budgets.
One drawback to consider is that wood siding requires a significant amount of maintenance. At a minimum, you must stain or paint the wood siding every two to five years. Ignoring the maintenance schedule could cause costly water damage. Also, wood siding is prone to insect damage, depending on the type you use on the home. Furthermore, buyers must consider the fire rating of the wood siding before installing the material.
Wood Siding Maintenance
You may need maintenance over time, depending on the wood. Wood varies in maintenance, with softwoods like pine and T-111 requiring more maintenance than others.
If you paint your wood siding, prepare to repaint it every 5 years on average. This costs around $5,170 for 1,500 sq.ft. If you choose to paint cedar or redwood, your costs could be higher because a special primer is needed to prevent the sap from bleeding through.
Clear sealers prevent moisture damage and are used to maintain the natural coloring of the wood siding. These sealing products are applied every two years by a professional. You'll spend an average of $500 to $1,000 in labor and materials to seal wood siding with clear coating.
All wood siding should be inspected annually. Speak to a professional to see about any home inspection services that evaluate the exterior siding of your property. Home inspections cost an average of $400. These professionals look for any potential structural problems that could lead to expensive fixes down the road.
All wood siding should be inspected annually. Look for missing caulk, wood rot, and insect activity. Most wood can be cleaned with pressure washing. Pressure washing costs an average of $625 and removes dirt, debris, and mold.
If you notice signs of softening or rot, replace these areas as soon as possible to keep the problem from spreading.
Horizontal Wood Siding vs Vertical Wood Siding Cost
Horizontal and vertical wood siding is more than just a style choice to evaluate. Both types also have structural considerations. Horizontal is the most common type of siding for wood, but you may want to stand out in your neighborhood by choosing a vertical type for your home.
Horizontal has an easier install process and has widespread availability. You may find it more challenging to locate a professional with experience hanging vertical wood siding pieces. Professionals who install vertical wood siding will submit a higher quote because the installation process requires furring strips. Most horizontal siding jobs don't require furring strips unless a leveling issue is present.
Vertical wood siding has greater durability than horizontal types. The vertical design permits water to run straight off of the boards. With the horizontal wood siding, moisture becomes trapped in the edges. The following are the average costs per square foot you can expect to pay based on each type of siding:
| | |
| --- | --- |
| Type | Cost per Sq.Ft. (Installed) |
| Horizontal | $3 - $9 |
| Vertical | $5 - $12 |
Pine vs Cedar Siding
Two of the most common types of wood siding are pine and cedar. Both are types of softwood, but the similarities end there. Pine is a low-grade wood that usually contains many knots. It costs between $1 and $5 a square foot on average and requires painting after installation.
Cedar can be low, mid-grade, or premium grade. It is naturally rot-resistant, fungus-resistant, and insect-resistant, while pine is not. Therefore, cedar tends to last much longer than pine. Cedar is more expensive to paint because the sap bleeds through the paint and often requires a primer. It costs between $3 and $30 a square foot on average, depending on the grade.
Cost of Wood Siding vs Vinyl
Vinyl siding was first created in the 1950s as an alternative to wood siding. While wood must be repainted every few years, vinyl is considered lower maintenance because the color goes through. While wood is a natural material with variation in durability, vinyl is plastic. Wood decomposes naturally, but vinyl does not break and is difficult to recycle. Vinyl lasts about 20 years on average. Some woods like pine also last that long, but other woods like cypress can last over 100 years.
Vinyl costs about $9,000 for a 1,500 sq.ft. installation, compared to the average cost of $13,500 for wood, making vinyl a more affordable option.
Engineered Wood Siding vs Fiber Cement
Two materials that many people like to use as an alternative to natural wood siding are engineered wood and fiber cement. Both are lower maintenance and longer-lasting options than some traditional wood siding. Both also contain some amount of wood pulp. But while engineered wood siding uses waxes, resins, and glues, fiber cement uses sand, silica, and Portland cement. This makes the fiber cement harder, denser, and more durable than the engineered wood siding. It also means that fiber cement is more difficult to install than engineered wood siding, which is lighter. Both materials can last up to 50 years and have similar costs. A 1,500 sq.ft. installation of either costs $15,000 on average.
Enhancement and Improvement Costs
Old Siding Removal
Removing old siding typically costs between $1,000 and $2,000 on average. The variation is due to the type, amount, and species of wood. Hardwoods tend to cost more to remove and work with than softwoods. Because wood can be reused or easily disposed of, there are few disposal charges.
Wall Repairs
To repair a section of wall of wood siding, expect to pay $100 to $150 per area of repair. If you have a large area or widespread issues, your siding installer charges by the hour at a rate of $50 to $70 an hour. A repair usually involves removing the affected section and replacing it.
Painting Wood Siding
Some types of wood siding can be purchased already painted, but many are sold unfinished. You can apply a stain or paint at the time of installation. However, every 4-7 years, the wood siding must be stained or painted. Most painters charge $49 per hour to prime or stain your home's exterior.
Charred Wood Siding
Shou sugi ban is the Japanese process of burning wood to preserve it. The charred wood has a blackened finish that seals the surface of the wood, so it is impervious to moisture and insect activity. The process can be done during the installation, or you can purchase the boards prepared. The prepared boards have a cost of around $8 to $12 a square foot on average.
Wood Gutters
Wood gutters are a way to enhance the appearance of your new wood siding. The types of wood used to craft the gutters include pine, cypress, fir, redwood, and cedar. These woods are tolerant against moisture and divert rainwater away from your new siding. Wood gutters have an average installed cost between $4,000 and $5,200.
Wood Soffit
The wood soffit is placed on the exterior of the home, usually under the gutters. Wood can be used by contractors as long as the type selected is moisture-resistant and won't attract wood-boring insects. Wood soffits protect the siding from moisture damage and prolong the lifespan. Wood soffits are measured by the linear foot and cost around $4.50 to $8 per linear foot installed.
Wood Fascia
Wood is a popular choice for fascia board because it's considered an affordable option that provides water protection. The fascia board diverts water away from the siding to protect it from mold and moisture damage. Cedar and redwood are the ideal types for fascia boards and cost $3 to $8 per linear foot installed.
Wood Trim
A variety of woods can be used for exterior trim, but redwood is considered the best type to choose for this type of project. The wood is very durable and highly weather-resistant. For a more affordable option, fir is often selected for exterior trim due to its clean look with very few visible knots. You'll pay an average of $2 to $7 per linear foot for wood trim as an enhancement.
Additional Considerations and Costs
Estimate comparisons. Before hiring any contractor, get at least three to five estimates to determine acceptable compensation for the project.
Shop local. Buying locally is environmentally friendly and supports local businesses. Purchasing your wood siding from a local distributor is usually cheaper.
Grain option. If you decide to purchase the wood siding yourself, discuss wood grain with the siding salesperson. Usually, the best wood siding has a visible vertical grain. Less expensive types of wood siding have a flat or smooth grain.
Building codes. Always take the time to check your local building codes before installing wood siding. You may be required to obtain a building permit when installing wood siding.
Waiting period. If you decide to use hardwood siding, let the hardwood siding sit for at least 7 days before installing it so that the boards acclimate to the temperature and humidity. This prevents the boards from bending or warping. Never store the siding directly on the ground or a concrete surface where it can absorb water and warp.
Measurement formulas. Square foot vs Board foot vs Linear foot is a formula that comes in handy for DIYers. Contractors usually price the job based on the square foot. If you plan to do the project yourself, you must buy the siding, so you need to understand the formula.
Eco-friendly choice. Wood siding is highly sustainable. If it goes to a landfill, it breaks down. The best grades of wood siding are obtained from old-growth timber. This means that old-growth trees are harvested using formulas to make room for new growth and prevent forest fires. When buying wood siding, make sure that the wood is certified by the Forest Stewardship Council. Certification means that the wood was harvested from sustainable forests.
Painting. Priming and sealing your wood siding ensures long life. Paint, stain, and seal the wood to prevent rotting, cracking, and drying. It is typically recommended to stain your wood siding every 4 years and paint every 3-7 years. Most painters charge $49 per hour to prime or stain your home's exterior. The average cost to paint a 1,500 sq.ft. house exterior averages $5,171.
Lifespan. The lifespan of the wood siding depends on how well the homeowner maintains the exterior. With routine painting and sealing, the siding could last an average of 20 to 40 years.
Wind resistance. Wood siding is considered a better option for wind protection than vinyl and asphalt. The type of wood determines how well it withstands high winds, with cedar and redwood performing the best in stormy conditions.
FAQs
Is wood siding expensive?
The cost of wood siding depends on how much you want to budget for the project. The siding can be very expensive if you choose an expensive wood such as spruce or ipe. The project can also be expensive if you want a pricey style such as shiplap or log. However, lower grade wood makes the project fall in the range of $1 to $3 per square foot installed.
What is the best wood siding?
This depends largely on your goals. Cypress can last for more than 100 years but is difficult to install. Pine is easy to install but requires paint and does not last as long. The most popular wood for siding is cedar, which is naturally rot and insect-resistant and comes in many grades. Mid-grade to premium grade cedar looks and performs the best.
How much does it cost to install wood siding?
The average cost of labor to install wood siding is between $1 and $5 a square foot. The material itself costs between $1 and $30 a square foot, making the total range between $2 and $35 a square foot.
How do you install shiplap siding outside?
Shiplap siding is installed using ribbed galvanized siding nails. Two or three nails are used per board. With shiplap, each board is hung independently if you use true rabbit edge shiplap, or you can use tongue and groove shiplap, which fits one board into the other for easier installation.
Which nails should I use for wood siding?
Use rust-resistant nails. They should be either hot-dipped galvanized, stainless steel, or high-tensile aluminum. The nails should have spiral shanks or rings.
Can you put wood siding over wood siding?
Yes, you can put new wood siding over existing wood siding. Ideally, remove the old wood siding before installing the new wood siding. Once the old wood siding is removed, a moisture barrier should be laid, and then the new siding can be installed.
Is wood siding better than vinyl?
This depends on your goals. Wood siding is more sustainable and environmentally friendly than vinyl. Some types of wood, like cypress, can last more than 100 years, while vinyl only lasts 20. However, vinyl is less expensive on average than wood, and it does not require frequent painting or staining.
The information provided by our cost guides comes from a great variety of sources. For more information, read our Methodology and sources.