How much does it cost to install a trellis?
Get free estimates from landscapers near you
Trellis Installation Cost Guide
Trellises have a dual purpose: they provide function and a beautiful design aesthetic. They are a simple garden structure and a favorite tool used by many gardeners and to encourage and support the growth of climbing plants or flowers and add height to any landscape. Trellises can be used as an accent piece in your garden on their own. By adding a trellis or multiple ones to your yard, you are instantly improving your landscaping. The type you choose to get installed depends on your style preferences, intended use, and available budget.
The national average cost for installing a trellis is between $650 and $950, with most people paying around $800 to install an 8-foot triangular vinyl trellis. At the low end of the spectrum, you can opt for a 6-foot fan-shaped metal trellis for $350. At the high end, you can pay up to $2,000 to have a custom 8-foot wooden arch trellis.
Cost to Install Trellis
Trellis Installation Costs
National average cost
$800
Average range
$650-$950
Low-end
$350
High-end
$2,000
Trellis Prices by Size
The cost of a trellis varies depending on the size and runs from $250 to $3,500. The size of the trellis you choose for your landscape is one of the largest determinants of cost. Although installation times may remain similar, larger trellises cost more due to the materials needed for project completion. The following prices are based on the purchase and installation of vinyl trellises in a variety of sizes.
| | |
| --- | --- |
| Trellis Size | Cost (Installed) |
| 4 Foot | $250 - $550 |
| 6 Foot | $350 - $700 |
| 8 Foot | $800 - $2,000 |
| 10 Foot | $1,200 - $3,500 |
Trellis Cost by Material
The type of trellis material influences the cost, ranging between $350 and $1,150 for a prefabricated trellis. Trellises are manufactured from different materials. Typically, metal ones are at the lower end of the price range, while wood and vinyl are at the higher end. Found in the sections below are the pros and cons of each material which helps determine which one better suits your project.
| | |
| --- | --- |
| Trellis Material | Cost (Installed) |
| Stainless Steel | $350 - $450 |
| Iron | $400 - $600 |
| Metal | $500 - $625 |
| Plastic | $500 - $685 |
| Composite | $500 - $700 |
| PVC | $700 - $820 |
| Vinyl | $800 - $1,025 |
| Wood | $1,000 - $1,150 |
Steel Trellis
Steel trellises are another option for those who want to add a trellis to their yard. Steel trellises are often selected when the property owner wants a style that truly stands out because of the bright metallic sheen. With this metal type, you are provided with plenty of support for your plants. The metal is also longer lasting than wood versions. Stainless steel trellises are one of the less expensive metal types offered for trellises and normally run around $350 - $450 for an 8 foot version installed.
Iron Trellis
A wrought iron trellis has similar pros and cons as a metal trellis. Plants will be at risk due to the changing temperatures in the absorbent metal. However, it could work in a shaded area since a reduction in the amount of sun could help regulate temperatures.Wrought iron trellises offer a high value since they come in many styles and will have a price point between $400 and $600 for an 8 foot version.
Metal Trellis
One of the major advantages of a metal trellis is the widespread availability of the material. Metal trellises are available in all shapes and sizes and sold at retail home improvement stores. Homeowners can choose classic design styles or select intricate customized types. Metal trellises are durable and hold up in extreme weather conditions. The only thing to keep in mind is that since metal absorbs the heat and cold, plants growing on the structure may not thrive due to the extreme temperature changes. You can expect to pay around $500 - $625 for an 8 foot metal trellis.
Plastic Trellis
With a plastic trellis, you're choosing a material that lasts longer than wood. Like vinyl, plastic versions don't need painting and often come in neutral colors such as brown and white. Regular maintenance is not needed since you don't need to seal the material annually. A disadvantage is that the material is flimsy and can become damaged, especially if you plan to hang heavier plants and vines on the structure. Plastic trellises are less expensive than vinyl with pricing around $500 - $685 for an 8 foot version installed.
Composite Trellis
Composite trellises combine both the advantages of wood and vinyl versions. With a composite trellis, you can get the classic appearance of wood, but made from manufactured materials that won't rot or warp while outdoors. This type of trellis is maintenance free and will last years to come. The material is also suitable for all plant types. Expect to pay around $500 - $700 for an 8 foot installed composite trellis.
PVC Trellis
PVC is a preferred material by many contractors because the material is easy to work with and very durable. PVC is very similar to vinyl, but costs slightly less. PVC trellises are not susceptible to warping or rotting. The material also requires very little maintenance besides the occasional cleaning. A drawback for PVC trellises is that style choices are limited. The cost for a PVC trellis to be installed will be around $700 - $820 for an 8 foot sized type.
Vinyl Trellis
When you choose a vinyl trellis for your landscaping, you're selecting an ornament that is both attractive and long lasting. Vinyl trellises require very little maintenance and are not easily susceptible to environmental damage. The vinyl material doesn't crack easily and doesn't require any painting or staining. The material is lightweight too, which makes installation easier. However, since vinyl trellises are lighter than other versions, they need to be anchored to stay in place. Another drawback is that vines don't have a tendency to stick to vinyl in the same way they remain on wood. Expect to pay around $800 - $1,025 for a vinyl trellis to be installed for 8 foot models.
Wood Trellis
Prefabricated trellises are usually less expensive than hiring a contractor for wood trellis construction (around $1,000 to $1,150). A wood trellis is one of the more expensive structures you can choose for your property, costing upwards of $2,000 for a custom 8-foot structure. Wooden trellises are attractive and transform a garden space for the better with their inclusion. A wood trellis provides solid support for any plants and vines you plan to use with the trellis. The only major downside of a wooden trellis is that the structure sustains damage easily. With routine exposure to the elements, wood trellises can warp and weaken over time.
Trellis Cost by Shape
The cost of a trellis is influenced by its shape, ranging in price between $150 and $950. They are sold in different shapes to fit any style preference. Along with your landscaping design goals, homeowners should consider how much support the trellis provides for their plants. Some may only be appropriate for ornamental purposes. The table below lists the most popular types of trellis shapes and their respective costs.
| | |
| --- | --- |
| Shape of Trellis | Cost (Installed) |
| Cone | $150 - $200 |
| Fan | $175 - $275 |
| V | $180 - $285 |
| Triangular | $200 - $380 |
| Diamond | $340 - $400 |
| Heart | $375 - $475 |
| Tree | $400 - $520 |
| T | $500 - $675 |
| Leaf | $525 - $680 |
| Oval | $600 - $850 |
| Arch | $700 - $950 |
Cone-Shaped Trellis
A cone-shaped trellis is exactly like the name states, in the shape of a cone. It has a wide base diameter and comes up to a point at the top. It is available in both wood and metal versions. A cone trellis is perfect to use as a structure for climbing plants such as tomatoes and beans, or it can be used as a centrepiece in a garden. This type of trellis costs around $150 to $200 .
Fan-Shaped Trellis
Fan-shaped trellises have a slender lower body with a top half that elongates the shape. They are ideal for supporting and displaying lightweight vines, such as climbing roses and raspberries. They can also be used as a decorative piece. This trellis is not intended to stand on its own and should be installed against a wall or fence. Fan-shaped trellises are relatively inexpensive, with a price range of around $175 to $275.
V-Shaped Trellis
V-shaped trellises are usually crafted from metal or wood. These trellises are most commonly used as support devices for vegetable gardens. They are good for supporting tomatoes, squash, and beans. V-shaped trellises are more traditional and are not as often seen in gardens as a decor piece as they once were. They can incorporate style and functionality into your garden. This type of trellis costs around $180 to $285.
Triangular Garden Trellis
Triangular garden trellises are also known as pyramids, obelisk, or tuteur trellises. This trellis style is a distinctive type used in many English gardens, where it gives clematis and other climbing and flowering vines a sturdy platform to grow and have exposure to the sun. With this shape, vines are trained to climb easily. They are sold in various metals, plastics, and wood materials. You can expect to pay around $200 to $380.
Diamond-Shaped Trellis
Diamond-shaped trellises are an extremely popular design choice for landscapers. With this type of trellis, you can find styles made from all material types. They can be mounted to walls and the ground with stakes, as they can't stand on their own. Diamond-shaped trellises work with a variety of plant types or are simply used as a decorative piece. Prices are between $340 and $400.
Heart-Shaped Trellis
The heart-shaped trellis is more of a decorative element than support for plants and vegetables. They add a stylish touch to your garden with climbing plants or without and make a stunning accent in the garden, lawn area, or in a large pot near an entrance. Heart-shaped trellises are almost always crafted out of metal. They are most commonly inserted into the ground rather than the wall. The unique shape makes them priced at $375 to $475.
Tree-Shaped Trellis
Due to the unique shape, tree-shaped trellises range between $400 and $520 in price. Tree-shaped trellises are typically used exclusively for ornamental purposes. They are often seen with pot holders on each one of the branches to display flowers or plants. These versions are sold mostly in metal and fasten up against a wall.
T-Shaped Trellis
T-shaped trellises are very simple designs that are usually sold for garden support. They are commonly used to support raspberries grown in gardens as they make it easier to harvest and prune them and help produce high-quality fruit. A T-shaped trellis is typically available in wood or plastic. Sometimes they are seen used side by side with other T-shaped trellises. This type of trellis retails for $500 to $675.
Leaf-Shaped Trellis
Another style choice when choosing a trellis for decorative purposes is a leaf-shaped version. They are normally sold exclusively as metallic. Leaf trellises are delicate with vein detailing resembling a leaf and can support your climbing vines or flowers or act as a stand-alone outdoor art piece. Their study prongs make it easy to stake them into the ground. The cost for a leaf-shaped trellis is about $525 to $680.
Oval-Shaped Trellis
An oval trellis is one of the least popular choices of all available style options and can be harder to find. If selected, the type is usually made from wrought iron or another metal. Oval trellises are typically for decorative purposes only as they aren't as suitable for support climbing plants. They cost between $600 and $850.
Arch-Shaped Trellis
Arch trellises are arched structures used as a gateway into a yard or a support structure for ivy, climbing roses, or flowering vines. Some property owners also choose to put a freestanding arch in the yard to direct foot traffic. Arch-shaped trellises are available in a variety of materials. They are one of the most expensive trellises on the market and are sold at prices around $700 to $950.
Trellis Costs by Type
The type of trellis you choose for your landscaping directly influences the cost ranging from $200 to $950. Smaller trellis items like screens and planters are less expensive compared to intricate structures like arches. Each type of trellis differs in its style, size, and purpose. The chart below highlights the different types of trellises and their respective costs.
| | |
| --- | --- |
| Trellis Type | Cost (Installed) |
| Folding Screen | $200 - $400 |
| Column | $400 - $575 |
| Planter Box | $500 - $750 |
| Ornamental | $650 - $800 |
| Half Arch | $700 - $800 |
| Arch | $700 - $950 |
Folding Trellis Screen
A folding trellis screen has a similar appearance to a privacy screen and is made up of three panels. In between the panels are the hardware that allows the screen to be adjusted. Most folding trellis screens are made from metal but come in a variety of other materials. Folding trellis screens can be purchased for around $200 to $400.
Column Trellis
Trellis columns are freestanding structures used for climbing plants, as a pedestal for display, or as a decorative plant stand. Normally column trellis sets come with three different units in various sizes. To install, the columns would need to be built and anchored to prevent them from falling. Column trellises are suitable for both indoor and outdoor use. The price is around $400 to $575 for each.
Trellis Planter Box
A trellis planter box is a simple design with a small- to medium-sized planter box at the base and a square-shaped trellis attached to it. Installing a planter box with a trellis can be great for supporting plants that climb or sprawl along with the ones planted in the box. Trellis planter boxes are usually self-standing or set against the side of a home. You can expect to pay around $500 to $750 for a trellis planter box, depending on its size.
Ornamental Trellis
An ornamental trellis is usually the standard style used in gardens. This type of trellis will have a size range usually between 4 and 8 feet. Many different types of ornamental trellises come with different design aesthetics. Ornamental trellises can be installed with ground spikes or secured to the exterior of a building. These trellises are on the expensive side and have a price of $650 to $800.
Half Arch Trellis
A half arch trellis is normally a style used around door frames or window frames. Instead of making a full arch, the arch remains open on one side. Half arch trellises need to be secured using hardware against a doorway or fence. Half-arch trellises are most commonly made out of metal but also come in a variety of different materials. This type of trellis averages around $700 to $800 each.
Trellis Arch
The trellis arch is one of the most requested lawn ornaments by homeowners. Arches can welcome visitors into the backyard or provide an entry point into another section of the property like a flower garden. Whether standing alone or covered with climbing vines and colorful flowers, these outdoor structures add a striking focal point to your yard. An arch trellis has a price point of around $700 to $950.
Trellis Cost by Design
The price of a trellis varies depending on the design, ranging anywhere from $200 to $800. Talk to your landscaper or builder about the different designs available for backyard trellises. Custom creations can be built at a higher pricing point, but these are common prefabricated styles you'll likely find. Although they are prefabricated, professional installation is needed to secure the trellis to the selected location within your yard.
| | |
| --- | --- |
| Trellis Design | Cost (Installed) |
| Convex | $200 - $375 |
| Concave | $200 - $375 |
| Abstract | $500 - $615 |
| Modern | $600 - $800 |
| Farmhouse | $675 - $800 |
Convex Trellis
With the convex trellis, the top has a distinct arch over the top of the classic diagonal design. A convex trellis is usually made from pressure-treated wood or vinyl. They are incredibly versatile with a range of uses, from decoration to screening or security. A standard convex trellis section measures around 6 feet. A convex trellis will cost at least $200 to $375.
Concave Trellis
For the concave style of trellises, the design is the opposite of the convex. Instead of the top of the structure arching over, the concave trellis slopes down over the diagonal latticework panel. Concave trellises are great for adding additional screening and shape above fencing or walls and are popular among homeowners who want to add flair to their gardens. This is normally made from wood or vinyl and costs about the same as the convex trellis--$200 to $375 per installed unit.
Abstract Trellis
Abstract trellises blend different design elements to make them appealing to the eye. It could include arches, circles, interwoven decor items, and more to stand out in your yard space. Abstract trellises are usually more specialized. You may find yourself trying to keep your plants away from it or allow them to weave their way through the intricate designs. The cost for an abstract trellis starts at $500 to $615 or more.
Modern Trellis
Modern trellises have a more industrial design style than classic versions. With this type, expect to see simple geometric shapes and black metallics in the build. These trellises add a unique decor feature to any outdoor or even indoor location. Modern trellises are very versatile with a range of uses, from decoration to screening or security. Most can be mounted into the ground or to a wall or fence. These trellises will be around $600 to $800 to install.
Farmhouse Trellis
When choosing a farmhouse style for your trellis, you're opting for a very rustic look. These trellises are normally made from wood and feature standard lattice panels in shades of brown and white. This type of trellis can be staked into the ground or mounted to a wall or fence. The farmhouse trellis is crafted from wood and will be priced upwards of $675 to $800.
Trellis Arch Cost by Material
The cost of a trellis varies depending on the material ranging anywhere from $310 to $2,000. There are six common materials for trellises, including PVC, wire, metal, steel, iron, and wood. These materials differ in their pros, cons, lifespan, and cost and are known for their appearance, structural integrity, and ability to withstand harsh weather. Similar to other types of trellises, metal arches are less expensive than wood backyard arches. The table below lists the most popular types of arbor materials available and their cost.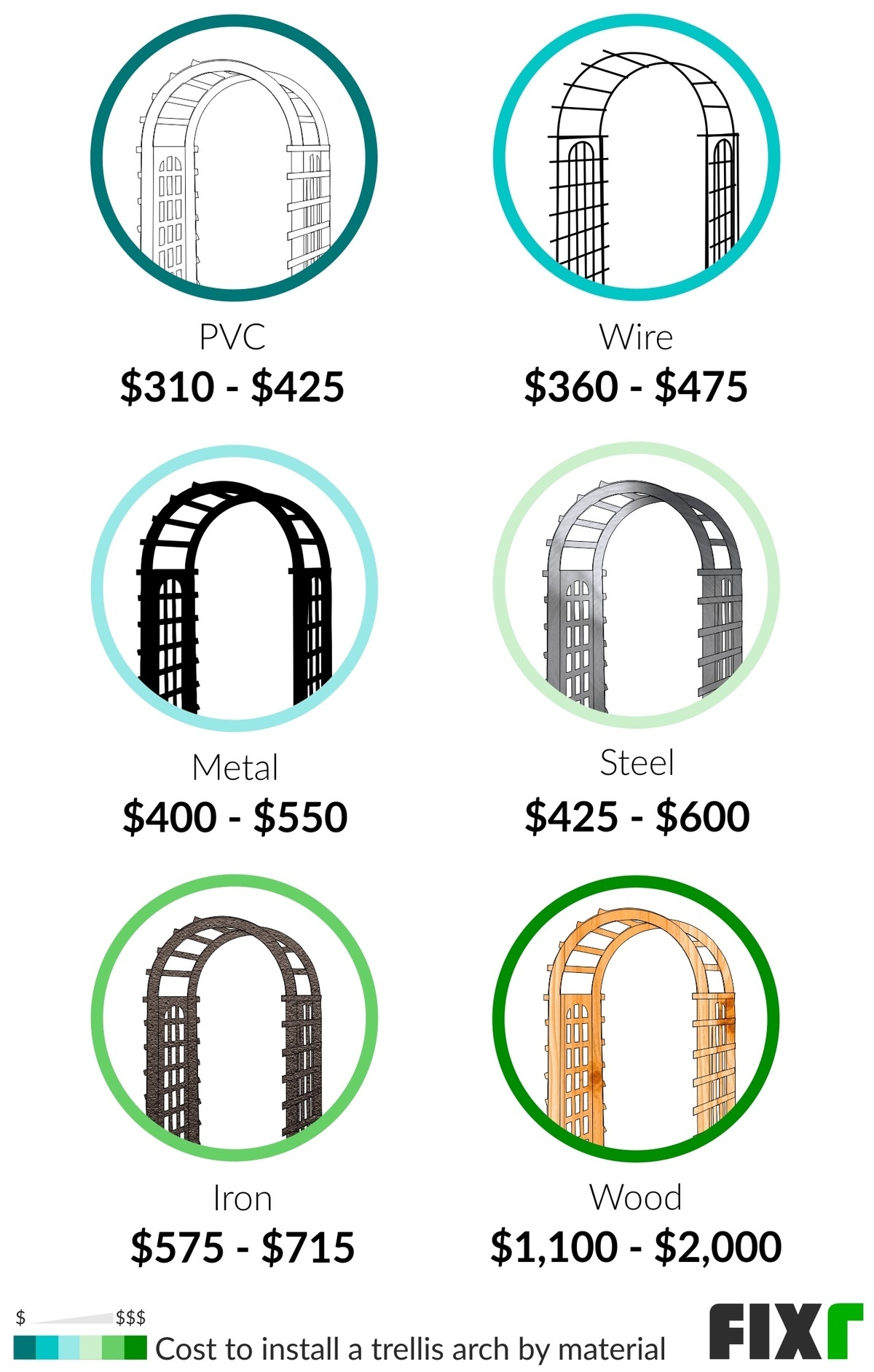 | | |
| --- | --- |
| Trellis Arch Material | Cost (Installed) |
| PVC | $310 - $425 |
| Wire | $360 - $475 |
| Metal | $400 - $550 |
| Steel | $425 - $600 |
| Iron | $575 - $715 |
| Wood | $1,100 - $2,000 |
Trellis Installation Price
The national average cost for installing a trellis is $800 for an 8-foot triangular vinyl trellis. Of that cost, approximately $650 accounts for the materials. The labor makes up the remaining $150. Materials make up most of the project, around 75%. Labor makes up for the additional 25%. Professional trellis installers are usually from landscaping companies charging an average of $50 to $100 per hour, depending on where you live. For a standard trellis installation, the landscaper needs about two hours to complete installation and may charge a total of $100 to $200. Trellis installations are subject to a flat installation fee unless the structure is being built. In that case, if you want a custom one, you would have to receive a quote from a custom carpentry company and pay $100 or more per hour.
Trellis Installation Cost by Location
The cost to install a trellis varies based on the location of installation ranging anywhere between $50 and $2,800. Installing a downspout trellis or vegetable garden trellis costs a lot less than installing a walkway trellis or trellis fencing. The larger space and the harder the location is to access, the more you can expect to pay. The chart below highlights some common locations for trellises and their respective costs, followed by an explanation of each.
| | |
| --- | --- |
| Location | Cost (Installed) |
| Downspout | $50 - $175 |
| Vegetable Garden | $80 - $350 |
| Garden Bed | $80 - $400 |
| Over Window | $80 - $700 |
| Over the Door | $80 - $700 |
| Indoor | $200 - $450 |
| On Side of the House | $200 - $450 |
| Over Garage Door | $200 - $450 |
| Patio | $350 - $500 |
| Hot Tub | $400 - $625 |
| Trellis Fencing | $400 - $2,800 |
| Walkway | $700 - $915 |
| Rooftop | $800 - $1,200 |
| Deck | $1,500 - $2,200 |
Downspout Trellis
A downspout trellis is great for covering unattractive downspouts with beautiful flowering vines. They are great for growing clematis, moon vines, morning glories, and Dutchman's Pipe. They also work well back to back to cover mailbox posts with vines. These trellises are often secured using twist ties. The cost for a downspout trellis depends on its size but averages around $50 to $175.
Vegetable Garden Trellis
Trellises have been used in vegetable gardens for many years. Even if you have a ton of space to garden, growing plants upwards using a trellis offers many benefits to your vegetables. Some of the benefits include saving space and growing more food, easy harvesting, reducing disease and damage, and producing clean, straight fruits. Before deciding what type of trellis to pick for a vegetable garden, you must consider what types are the best based on the crops and how they climb. The cost for a garden trellis ranges considerably, costing anywhere from $80 to $350.
Garden Bed Trellis
Garden beds are an attractive and functional alternative to in-ground gardens. Incorporating a trellis into the garden bed can be a great way to take advantage of unused space and support growing plants. For sprawling plants such as cucumbers, it can be unhealthy to let these plants crawl on the ground without any support. The soil can pass diseases and infections to the plants. Pests can attack them much easier when they are spread out on the ground. A trellis reduces these issues by supporting them and keeping them above the ground. Trellises can be ideal for tomatoes, beans, and climbing plants and can be freestanding or staked into the soil for a price of around $80 to $400.
Over Window Trellis
Trellises are fantastic structures that enhance the beauty of your home. Not only are they great in the garden or ground, but they also are great over exterior windows. Trellises over windows can be great for creating shade or even enhancing the aesthetic appeal. Trellises come in various shapes--flat or arched--to meet any outdoor vision. They are also available in several different materials. Over the window, trellises range in price depending on their size from $80 to $700.
Over the Door Trellis
Similar to over window trellises, trellises can also be placed over any exterior door for decoration. They come in a wide variety of styles, some with striking detailing. Depending on your outdoor vision, over the door trellises come in a variety of different materials. Climbing plants or hanging flowers can be added to any over the door trellis to create shade or a beautiful touch. Over the door trellises range in price from $80 to $700.
Indoor Trellis
An indoor trellis could be installed to display climbing plants that grow inside, such as philodendron or spider plants. An indoor trellis is also a common decorative item used for enclosed porches and sunrooms. An indoor trellis is typically smaller than an outdoor type and comes in various shapes and types. Indoor trellises usually cost less than $200 to $450.
Trellis on Side of House
Installing a trellis is a simple and cost-effective way to add style to your outdoor space. A trellis can be attached to the side of your house to encourage plants to grow up the side of your home, hide an ugly wall, burst curb appeal without hurting your siding, increase privacy, or add some dimension to space. Many varieties of trellises can be mounted to the side of the house, all differing in size, type, material, height, and cost. The average cost for a trellis on the side of a house is around $200 to $450.
Trellis Over Garage Door
The garage door is the first thing people see, so you want to make sure it has a good curb appeal. Adding a trellis above the garage door adds some dimension and nice architectural features to the front of a home. It can be left on its own or decorated with climbing vines, flowers, or hanging plants. The cost of a trellis over the garage door depends on the size, type, and material and averages around $200 to $450.
Patio Trellis
Trellises are a great addition to any patio space for use as a privacy screen or decor piece. They come in several sizes, types, colors, and shapes to fit any patio decor and space. Trellises can be covered in climbing vines or flowers for privacy or left on their own for a visual piece. Patio trellises range in price but average around $350 to $500 each.
Hot Tub Trellis
Hot tubs are an enjoyable way to relax in the privacy of your own backyard. They can be unenjoyable, however, with neighbors peeking over to watch you as you soak. With the help of a trellis, you can create a more private environment around your hot tub. A trellis can be covered with climbing vines and/or flowering plants to act as both functional and decorative ways of providing privacy while bringing an appeal to your landscape design. Hot tub trellis ideas are unlimited. The cost for a hot tub trellis depends on its size and material but averages $400 to $625.
Trellis Fencing
For a 200 linear foot 4 trellis 9 fence, the total cost would range between $400 and $2,800. Plastic trellis 9 fencing materials start at around $2 per linear foot 4. Wood and vinyl 7 trellis 9 fencing costs $10 to $14 per linear foot 4. A trellis 9 fence is similar to a standard fence, with the only difference being that a trellis 9 fence has latticework built into the design. Wood and vinyl 7 trellis 9 fence panels also typically cost less since a reduced amount of material is required in manufacturing and require a fencing company to install. Trellis 9 fences provide some privacy, but the latticework doesn't completely obscure the area behind the fence from view until plants are fully grown. Some homeowners choose to build a trellis 9 fence around small sections of their yard, such as the patio, pool, or garden.
Walkway Trellis
Give your walkway a boost of style and appeal with a beautiful walkway trellis. Whether standing alone or covered with climbing vines and colorful flowers, these outdoor structures add a striking focal point to your yard. They can be a freestanding or attached structure that is placed to serve as an entranceway or passage. Walkway trellises can be many different sizes and made out of a variety of materials. The cost you pay depends on many different factors but average around $700 to $915.
Rooftop Trellis
Trellises aren't just for looks but can provide relief from strong rays while allowing a beautiful breeze to pass through. Thus, trellises are commonly seen on rooftop patios creating a relaxing space to gather or as a cover to a dining space. Rooftop trellis styles are endless and can act as a freestanding structure or a support structure to climbing vines and beautiful flowers. Rooftop trellises range in price but average $800 to $1,200.
Deck Trellis
With a deck trellis, you can use the structure to protect your outdoor entertainment area from the elements. Although a deck trellis won't completely protect against weather, it reduces the rain and snow that collects on the deck. You could also purchase a covering for the trellis to provide more weather protection. If you plant around the trellis, the growing vines will eventually provide shade and weather protection. Deck trellises can be anchored directly on the deck using the appropriate hardware. A full trellis covering a 10 x 10 deck would cost at least $1,500 to $2,200.
Best Plants for a Trellis
Plenty of climbing plants and flowering vines are suitable for growing on a trellis system, ranging in price between $10 to $60 each. Choosing the ideal trellis plants can be a challenging decision. Each type of plant and flower has its own beauty and characteristics. Whether you are looking for perennial flowering vines that grow back every year, annuals, or climbing vegetables, there are many great options. The subsections below highlight some of the most common plants used on trellises, a description of each, and their respective costs.
| | |
| --- | --- |
| Type of Plant | Cost (Materials) |
| Honeysuckle | $10 - $15 |
| Mandevilla | $10 - $18 |
| Bittersweet | $10 - $20 |
| Climbing Roses | $15 - $30 |
| Bougainvillea | $15 - $30 |
| Morning Glory | $15 - $30 |
| Boston Ivy | $25 - $40 |
| Dutchman's Pipe | $30 - $60 |
Honeysuckle
Honeysuckles plants are around $10 to $15 each and make a great addition to any landscape. Their sweet nectar and yellow to bright-red blossoms are very attractive and help draw in an abundance of wildlife. Over 180 different honeysuckle varieties consist of hardy shrubs and vines. Their versatility makes growing and caring for these vines very easy. Honeysuckles prefer full sun but will tolerate some shade. They grow best with some type of support, such as a trellis.
Mandevilla
Mandevilla vines are an ideal option for your trellis, which average $10 to $18 per plant. They are known for their brilliant, tropical trumpet-shaped flowers and glossy oval leaves. Mandevilla vines grow the best with a support structure, such as a trellis. They will climb and reach the top of any trellis with ease. Mandevilla enjoys indirect sunlight and shade to thrive and will be burned in direct, full sunlight.
Bittersweet
Bittersweet is a very sturdy vine that works well for use with any type of garden trellis. It grows fairly quickly and is great for covering unsightly features in the garden or landscape. Bittersweet vines have attractive foliage that leafs out in the spring and orange berries that hang from the vines. Keep in mind that the flower is poisonous if ingested by humans and pets. The average cost of a bittersweet plant is around $10 to $20 each.
Climbing Roses
Climbing roses can be purchased for around $15 to $30 per plant. They are always a popular choice for installation with trellises. Climbing roses provide a brilliantly colored garden backdrop and are the defining feature of many gardens. There are several varieties to consider for your garden. The climbing roses grow in most regions and are hearty enough to survive year to year with proper care and maintenance.
Bougainvillea
Bougainvillea plants cost around $15 to $30 each. They are a type of climbing plant that grows in full sun and a warm climate and blooms beautifully, making a great display. They come in many colors, types, and sizes. Colors run from white all the way to purple. Double-flowered styles are also available. These plants can be pruned and trained to climb up a trellis. The plant features distinctly curved shape thorns on its vines.
Morning Glory
Morning glory grows best on trellises that provide access to full sun and cost around $15 to $30. However, hotter climates can benefit from placing morning glory in shaded areas. Morning glories bloom from early summer to fall and feature slender stems and heart-shaped flowers in shades of magenta, white, pink, purple, and blue. Their flowers are not only attractive to the human eye but also loved by hummingbirds and flowers. This plant grows up to 10 feet in one season.
Boston Ivy
Boston Ivy costs around $25 to $40 per plant. It is considered one of the true climbing vines. Native to Asia, they are known for their trifoliate leaves and vibrant colors. The green leaves turn red or purple in the fall, and yellowish-green flowers bloom in the spring. The plant is hearty enough to attach not only to trellises but masonry walls as well. They can act as a great privacy screen. Boston Ivy grows as high as 30 feet when left to expand wildly.
Dutchman's Pipe
Dutchman's Pipe can be found in different climates around the globe and is very hearty due to its wood vines. The plant produces large heart-shaped leaves and flowers shaped like curve pipes. The vine grows around 10 to 15 feet long but can grow as big as 25 feet. Growing this type of plant requires a trellis to support the twining stems and wide foliage. Dutchman's pipe plants produce a strong, pungent odor when pollinating, similar to rotting meat. Expect to pay upwards of $30 to $60 per plant.
Climbing Hydrangea
Climbing hydrangeas cost around $30 to $60 per plant. These plants grow very slowly and may take 3 to 5 years just to reach the flowering stage. Once established, they are very eye-catching, massive plants with a growth potential of more than 50 feet. The hearty vines are very heavy and can be trained to climb along a trellis. At maturity, climbing hydrangeas produce small fragrant white flowers.
Blue Moon Wisteria
The average cost for a blue moon wisteria plant is $30 to $60. This very fragrant flowering plant drapes in stunning chains of lavender pea-like flowers with powder blue overtones from mid to late spring. At the end of the blooming season, the flowers are replaced with a seed pod that lasts into the winter months. Wisterias are vigorous climbers growing up to 25 feet at maturity. They require a structure such as a trellis for the support of their vines.
Trellis vs Pergola
Trellises are structures used to support climbing plants and vines. Pergolas have a similar top design and can also support climbing vines. However, pergolas are made up of four posts to support the structure and will include a roof with the same lattice design as a trellis. Pergolas are used in different areas of the yard than a trellis. Installers will place a pergola usually over a deck or patio in lieu of a trellis. Small box gardens also provide good placement for pergolas. Trellises have more flexibility and can be used anywhere in the yard. Pergolas will provide shade in an area while trellises are rarely used to increase how much shade is in a yard. Pergolas cost much more than trellises with pricing for wooden types costing $3,000 or more.
Arbor vs Trellis
Trellises are included as a part of arbors. With an arbor, it has an arched shape with pieces of lattice interwoven to form a tunnel. Also, like a trellis, an arbor supports climbing plants and vines. With an arbor, only select areas of the yard are used for installation. For instance, an arbor can define an entry point within an outdoor space. Arbors may cost upwards of $1,500 for wooden versions.
Trellis Care
Trellis maintenance depends largely on the material used to build the structure. If you have a wood trellis, it should be treated and sealed prior to plants being grown on it. An exterior wood stain or sealant used on fencing materials can also be utilized for trellises. Keep in mind that cleaning and staining requires you to remove any growing plants. Cleaning should be done every couple of years but will require replanting after the job. Every two years is also a good timeframe for sealing. Between cleanings and sealings, remove any debris and dirt with a garden hose. If there is any mold or mildew, check the ingredients of any cleaning products to make sure it won't damage the plants.
Enhancement and Improvement Costs
Paint Trellis
Over time, elements such as rain, sleet, snow, and wind deteriorate the appearance of your trellis. Adding some paint to your trellis keeps it looking its best and protects its structural integrity. It is important to use the correct type of paint depending on the material of your trellis. Otherwise, it is likely to chip and deteriorate more quickly. A coat of primer is key to making sure the paint lasts a long time. If you choose to paint the trellis yourself, you can expect to pay between $40 and $100 for the paint and additional costs for materials, including brushes, rollers, and drop cloths.
Trellis Water Feature
Adding a trellis water feature to an outdoor space is not only beautiful but injects some tranquility into your outdoor space. They are also likely to attract wildlife and birds. Trellis water features include fountains set upon a freestanding wood or vinyl lattice structure. Depending upon the size and layout of your space, many styles and sizes are available. Expect to pay at least $500 to include a water feature with your trellis project.
Custom Trellis
Several styles and types of trellises are on the market. However, if none suit your space perfectly, then there is always the option of investing in a custom trellis. Custom trellis projects are the most expensive since they require the assistance of a carpenter who can design and build the structure. Custom trellises allow you to customize every detail, including size, shape, material, and type, to meet your vision. Expect to pay upwards of $2,000 for a custom wooden trellis that measures 8 feet.
Stained Glass Trellis
Stained glass panels are an aesthetic upgrade you can make when installing a new indoor or outdoor trellis. A mix of colored glass panels of different shapes and sizes creates a decorative trellis that will be a lovely addition to any garden space. The vibrant discs of colors become even more radiant when they catch the sunlight. Stained glass trellises are an aesthetic art piece on their own. Adding some climbing vines will make it even more visually appealing. Each stained glass panel costs an average of $150.
Trellis Lighting
Outdoor lighting is always a great way to draw attention to structures like a trellis arch. Lighting a trellis has the benefit of highlighting any climbing vines or flowers that it supports. Many different lighting options are available, including string lights, spotlights, chandeliers, overhead lighting, and lanterns. Depending on your electrical and light fixture needs, you can pay between $100 to $500 to include outdoor lighting elements nearby your trellis.
Additional Considerations and Costs
Climate. If the structure will be installed in a soggy environment, choose vinyl or plastic to reduce environmental impact. Metallic versions could rust quickly before the structure is completely shrouded with vines. The climate also determines the best plants to grow with your trellis.
DIY. DIY trellises are usually temporary supports that won't last as long as a professional type. DIY trellises are usually versions that have spikes on the ends and are set in the ground. Most DIY trellises require replacement annually since they are not stabilized enough to last for an extended timeframe.
Prefabricated. Prefabricated versions can be built on site and usually have a reduced price point than custom types that need to be designed to accommodate your specifications. Since there are so many shapes and designs available for trellises, you can usually find a type to work with your landscaping.
FAQ
How much does it cost to install lattice?
You will pay around $800 to install 8 foot of vinyl ornamental lattice work to your yard space.
What can I use for a trellis?
There are a range of materials that can be used for a trellis project. These materials include PVC, vinyl, wood, stainless steel, and wrought iron.
Does climbing hydrangea need a trellis?
Yes, climbing hydrangeas requires a trellis. If you allow the vine to grow against a house, it will lead to issues with mold and rot.
A trellis roof is another name for an arbor. An arbor contains a lattice roof supported by four posts.
A garden arbor is a tunnel made up of lattice with an open framework that leads to a garden.
How much does a 12 x 12 pergola cost?
The average cost of a 12 x 12-foot pergola made of cedar is $4,100.
How much does it cost to install lattice around the deck?
Many people choose to place lattice around the base of their deck. The price of wood lattice averages $30 per piece. Vinyl lattice averages $15 per piece.
How much does it cost to build a 10 x 12 pergola?
The average cost to build a 10 x 12-foot pergola is around $3,500, depending on the material.
The information provided by our cost guides comes from a great variety of sources. For more information, read our Methodology and sources.