Bay Window vs. Bow Window: Which is Best?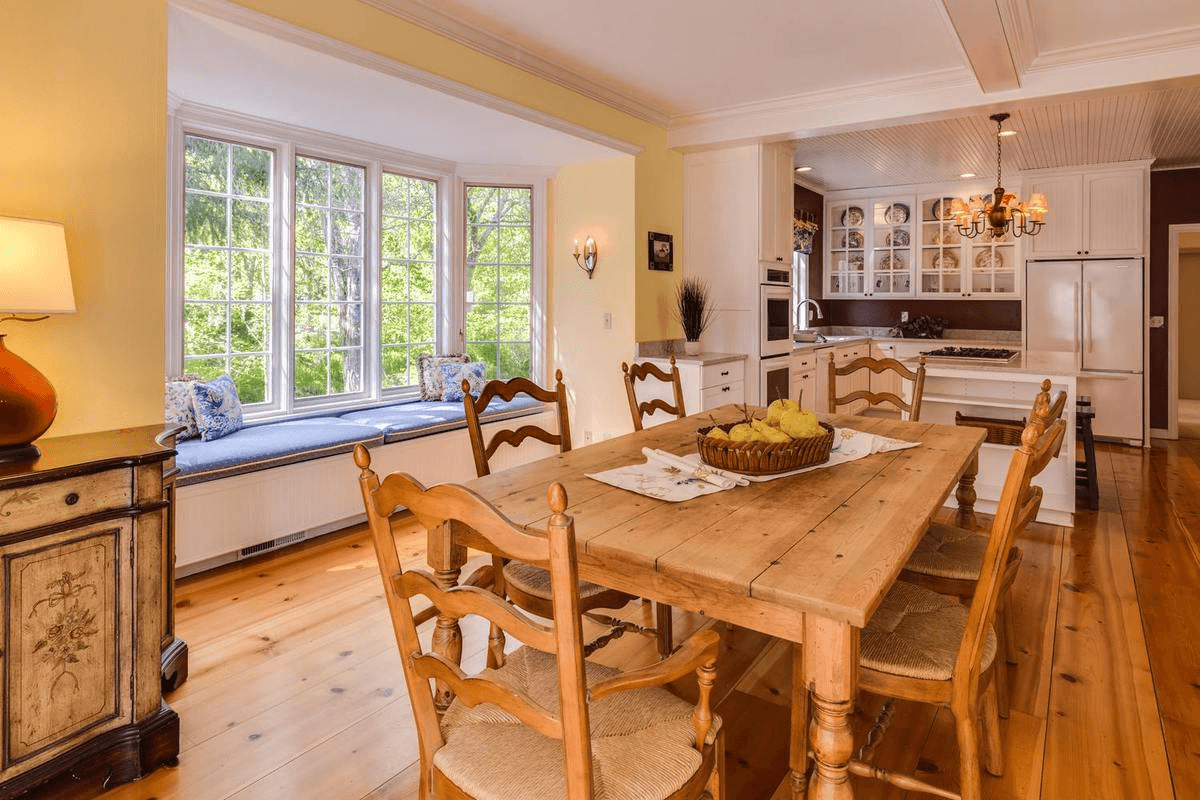 A bay or bow window has been a popular addition among homeowners for many years and can still be seen in new construction today – and when you look at what bay windows bring to the table, it's easy to see why. Whether it's letting in more natural light, boosting your curb appeal, or increasing a room's functional living space, a bay or bow window can do it all.
While many people see a bay and bow window as the same thing, there are actually some key differences that you should be aware of. To help you decide between a bay window and a bow window, we're going to take you through some of their key differences such as cost, appearance, and installation.
Let's dive in.
On this page
Bay windows
What is a bay window?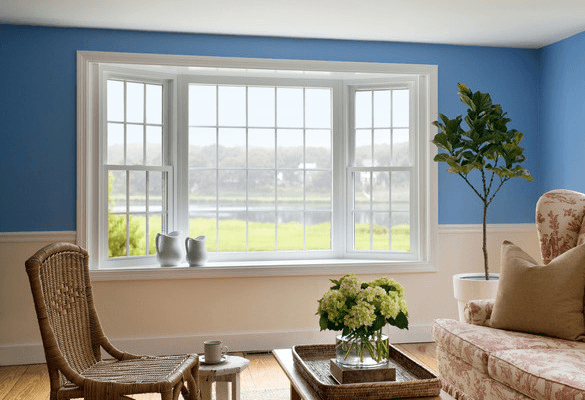 Image source: Harvey Windows
A bay window is a protruding window feature that extends from a wall in your home. This can create an additional surface area on your wall and increase the natural light in your home. A bay window will usually consist of three sections, a center window, and two identical angled windows on either side.
The centerpiece of any bay window will be the larger picture window. A picture window is a single pane of glass without any rails or features obstructing the view, therefore creating the perfect picture of the outdoors. A picture window may also be known as a fixed window as it cannot open.
On either side of the picture window will be a smaller angled window. These side windows will usually be of the same type with common choices, being double-hung windows or casement windows. These side windows will usually sit at a 30-to-90-degree angle, depending on the style of the bay window.
Cost
The average cost for a bay window can vary depending on several factors, including the type of bay window, the material used, size, and location. For example, a full fiberglass bay window measuring 6' x 8' with double-pane glass will cost approximately $2,400. However, the national average cost to install a bay window is between $1,350 and $3,600.
If you are on a very tight budget, then a box bay vinyl window measuring 4' x 3' with single-pane glass is a durable and low-maintenance option that can cost as low as $900. On the other end is a 7' x 9' solid wood circular bay window with krypton-filled triple-pane glass which will fetch a high cost of $6,500.
Appearance
Bay windows are an incredibly versatile and customizable home feature, and with all the different types and styles, they can be made to match any design.
For the interior, a bay window offers a wealth of different design options such as a reading nook or cozy window seat. Homeowners will also experience the benefits of their interior being flooded with natural light.
Not only can a bay window do wonders for your interior, but it can also improve your home's exterior. A bay window can provide a classy and unique appearance to the outside of your home and have a big impact on your curb appeal.
Styles
Not only do bay windows come in different materials and sizes, but they can also come in varying styles. The most common bay window styles are box, full, oriel, and circle.
It is important that you understand the different bay window styles available, as each of them will have a different appearance, cost, energy efficiency, and installation considerations.
Full bay window
A full bay window, also known as a canted bay window, is the most common style and is likely the one you will be most familiar with. The standard full bay window comprises three panes: two of which are angled at 30 to 45 degrees on the side and the third one connects them together.
A full bay window is the largest of the bay window styles, which makes it the best for filling a room with natural light. It is important to note that a full bay window can only be installed on the first floor due to the way it is constructed.
Box bay window
The box bay window consists of three to four windows that are oriented at 90 degrees, therefore creating a box-type shape. This type of bay window must also be incorporated into the construction of your home, so it is not suitable for window replacements.
A box bay window will usually be the most affordable bay window style. So, if you are on a small budget, then the box bay window might be the best new window for you.
Oriel window
Oriel windows are considered the original style of this type of window and started appearing in luxury homes as far back as the English Renaissance. These bay windows can also be added to any floor as they are constructed using a bracket which is often decorative and is not required to touch the ground.
The decorative bracket is one of the best features of an oriel bay window. Whether it is an ornamental bracket, or a cornice of wood, masonry, or stone, it provides a classic and traditional look to any building.
Circle bay window
Circle bay windows became prominent during the Gothic epoch, frequently used to encase house corners. Now, a circle bay window is far less common than any of the other styles, but depending on your home's configuration it can still be a great option.
This style of bay window is fully curved to create a half-circle with the panes of glass. They are often ornamental with complex and intricate moldings and other decorative features. You will also find that circle bay windows are far larger and more embellished than other styles.
Bow windows
What is a bow window?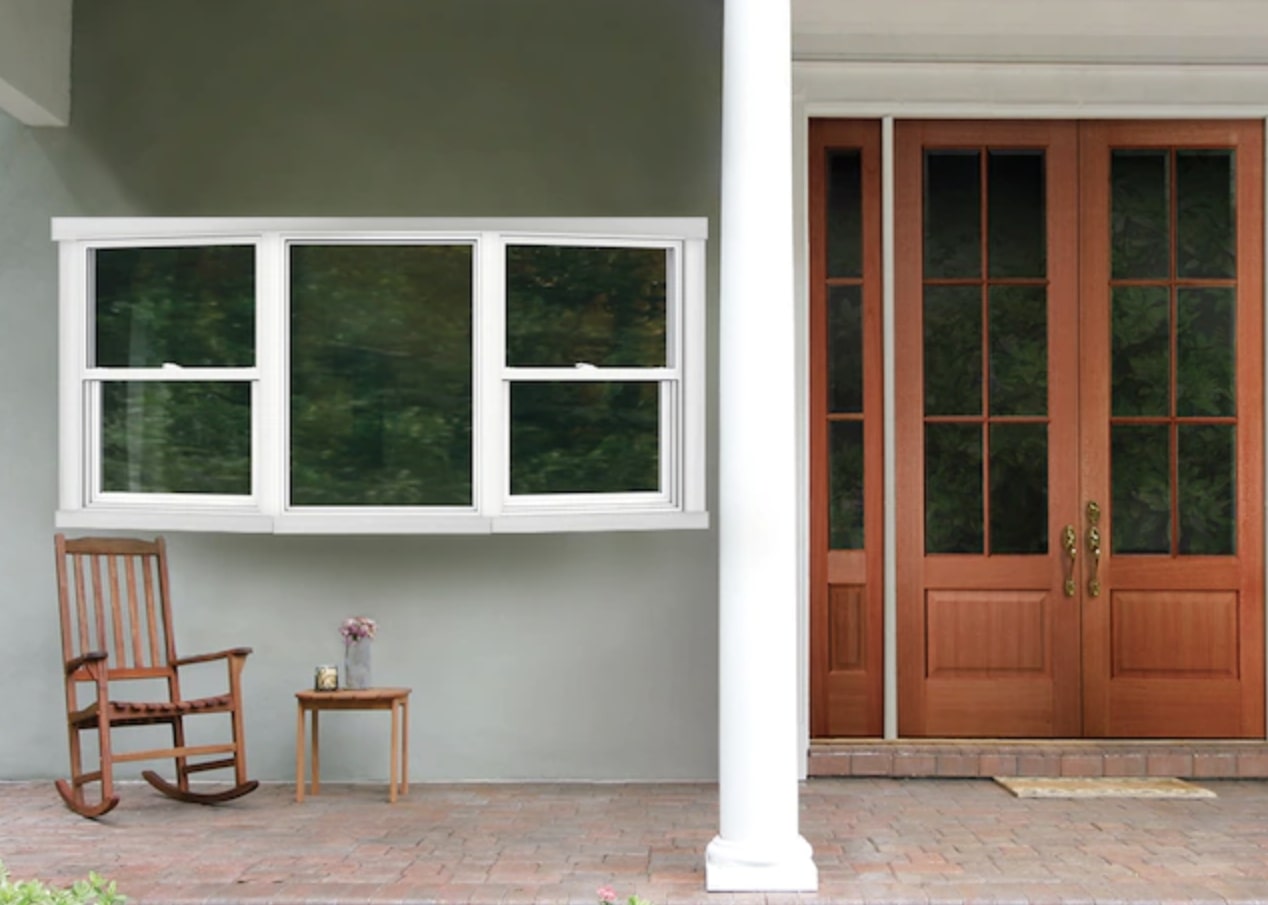 Image source: Lowes
Often considered a subtype of bay window, a bow window is made up of four or more windows of identical sizes and shapes sitting side by side. Similar to bay windows, a bow window will protrude (less than a bay window) from your wall with the windows creating an arc shape from the wall.
The four-two-six windows that are used in bow windows can be varying window types but, in most cases, they will be casement windows. A casement window is a tall and narrow window that can swing open outwards exactly like a door.
Just like a bay window, a bow window increases your wall's surface area and lets in more natural light. With the added space a bow window can also create a seating area or extra storage.
Cost
The cost for the materials of a bow window can range between $1,200 and $3,600. The exact price will depend on the type of window frame you choose. For instance, a steel or wood bow window will be the most expensive while fiberglass or vinyl bay windows will be the most affordable.
The national average cost for both materials and installation of a bow window is between $1,800 to $5,800.
Appearance
A bow window can make a striking addition to your living room, kitchen, or bedroom. Similar to a bay window, it can completely change the look and feel of your interior while also being a real eye-catcher from the outside.
With a bow window being slightly wider and more open than a bay window, it can provide you with a wide view of the outside. This can add a lot to your interior design, especially if the window is on the second floor.
Styles
There are not any notable styles of bow windows as many consider a bow window to be a style of a bay window. The main variations you will come across with bow windows relate to their custom sizes and the number of window panes.
Differences between a bay and bow window
Number of window panes: A bay window will usually comprise three window panes with one being a larger picture window and then two smaller angular windows. In contrast, a bow window will have 4 or more windows of identical size and shape.
Bay windows protrude out further from the wall: The two side panes of a bay window are set at an angle of between 30 and 90 degrees. This makes the bay window eat into more of your exterior space than the more mildly curved bow window.
Bow windows offer more ventilation and light: Where bay windows have a large fixed picture window and then two smaller casement windows, bow windows have individual operable windows. This means that all windows can be opened to allow for airflow and ventilation.
Bay windows offer more styles and variations: As we have mentioned, a bay window can come in a range of styles and types which provides you with a selection of design possibilities. Your options with a bow window are far fewer, with the main variation being in size.
Installation considerations
If you are looking at installing a bay or bow window, there are a few key considerations. While both types of windows are able to be installed as replacement windows in an existing home, they should be incorporated into new construction. This will make the process far less of a headache and will also provide you with more design possibilities.
There will also be particular installation considerations that are attached to different bay window styles. For example, a full bay window can only be installed on the first floor of a home or building while an oriel bay window can be found on any floor.
If you are planning on a bay window installation, you should be aware that in almost every circumstance, you will require a window installation professional and a structural engineer. This is due to both bay and bow windows being notoriously difficult to DIY and a botched installation can cause all kinds of issues.
What window is best for you?
Installing either a bay or bow window could be a great addition to your home for a whole host of different reasons. It could be that you are looking to increase the space in your home, make use of a picturesque view, or let in more natural light. All this can be achieved by installing a bay or bow window.
Whether you go with the bay window or the bow window will depend on your personal preferences, your home's design, and your budget.
Some of the reasons why a bow window may be your best option are if your main intention is to fill the room with natural light and make the interior space feel larger. This is due to bow windows often being wider than bay windows and having more glass surfaces to let light in. A bow window may also be more suited to Victorian-style homes.
While a bay window will also let in large amounts of natural light and make the room feel bigger, the main benefit of choosing a bay window is the design possibilities. A bay window has several different types and styles to choose from meaning that you can customize the design to fit your home. Bay windows are also more frequently incorporated into homes with a transitional or contemporary home style.