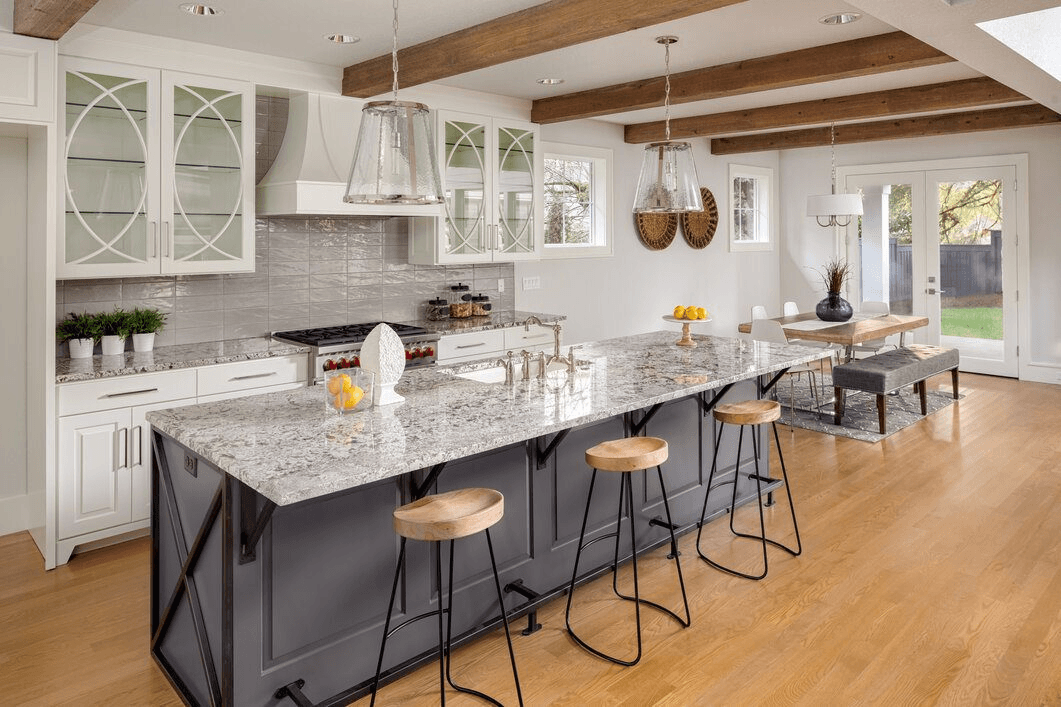 Choosing the right countertop is one of the most important decisions of any kitchen renovation or design. But, with so many different options available, it can be a bit of a headache to find the countertop that is right for you.
When looking for the best kitchen countertop, there's a lot to consider, from style and aesthetics to the functionality of the surface. So, whether you decide on a natural stone countertop or a polished concrete slab, you want to make sure it's meeting your needs.
With style and functionality comes cost. While you might fall in love with a marble countertop (as many do), the heavy price tag could blow your budget sky-high.
To help you sort through the endless countertop options, we've provided a list of both luxurious and budget-friendly suggestions. We'll explore the cost of each material as well as what you can expect from the countertop's surface.
On this page
Best luxury kitchen countertops
Granite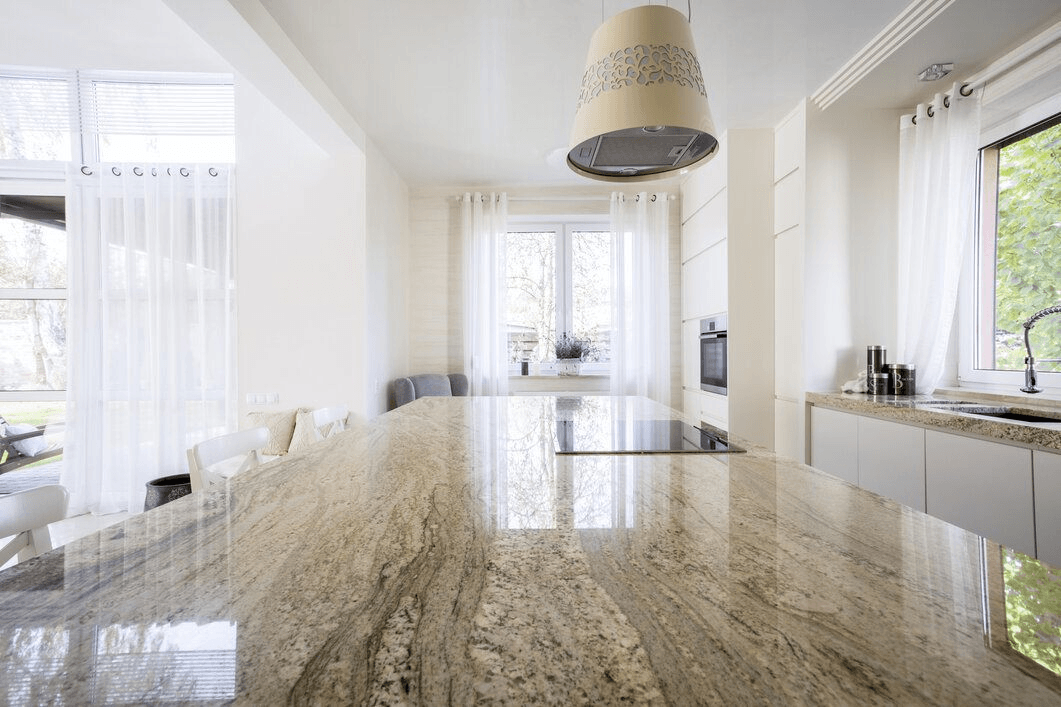 There's a lot to like about granite countertops, which is why there is no surprise that they're one of the most popular luxury options.
While granite is a strong and stylish kitchen countertop, it is one of the more expensive materials. The national average price range for a granite countertop is between $2,500 to $5,000.
Granite countertops have an elegant and timeless appeal with every slab of natural material being unique. This material will also bring its rare colors and patterns to your kitchen and can make even the most basic kitchen look luxurious.
Besides being a visually appealing kitchen countertop, granite is also one of the strongest and most durable materials available. Granite is almost impervious to heat and very resistant to many other kitchen mishaps, such as cuts and scratches. However, due to its porous nature, there can be some staining issues if liquids are left on the countertop for extended periods.
Quartz
While quartz is seen as more of a high-end kitchen countertop, it does not have quite the price tag of some of the other luxury options. A quartz countertop has a modest price range of between $1,750 to $3,000.
Quartz countertops are a manmade product that is a form of engineered stone made from ground-up quartz particles bound together with resin. This manufacturing process allows for an unlimited range of colors and designs to be created.
A quartz countertop has long been one of the most desirable materials available when creating a luxury kitchen. Its clean and crisp look can give your kitchen a stylish and modern look. Quartz is also a relatively maintenance-free material with no sealing or special care required to keep your countertop looking great.
Soapstone
You may be noticing that natural stone kitchen countertops are some of the most popular and luxurious options, and soapstone is no exception. Soapstone is a less common countertop material, but is also one of the most functional.
The cost of a soapstone countertop can vary depending on the color and construction type with the national average price range being $2,100 to $3,600.
A soapstone countertop is made from a steatite stone consisting of chlorite, magnesite, and dolomite. This creates a countertop with a rustic, elegant, and simplistic appeal. Soapstone's deep, rich colors can also offer more natural warmth and charm to your kitchen.
Aside from its visual appeal, soapstone countertops are also an incredibly durable and low-maintenance material. Not only will soapstone not crack easily, but it is also a non-porous natural stone, so you will not have to worry about any spills leaving stains. While soapstone is prone to scratches, any scratches can be easily removed with light sanding and/or mineral oil.
Marble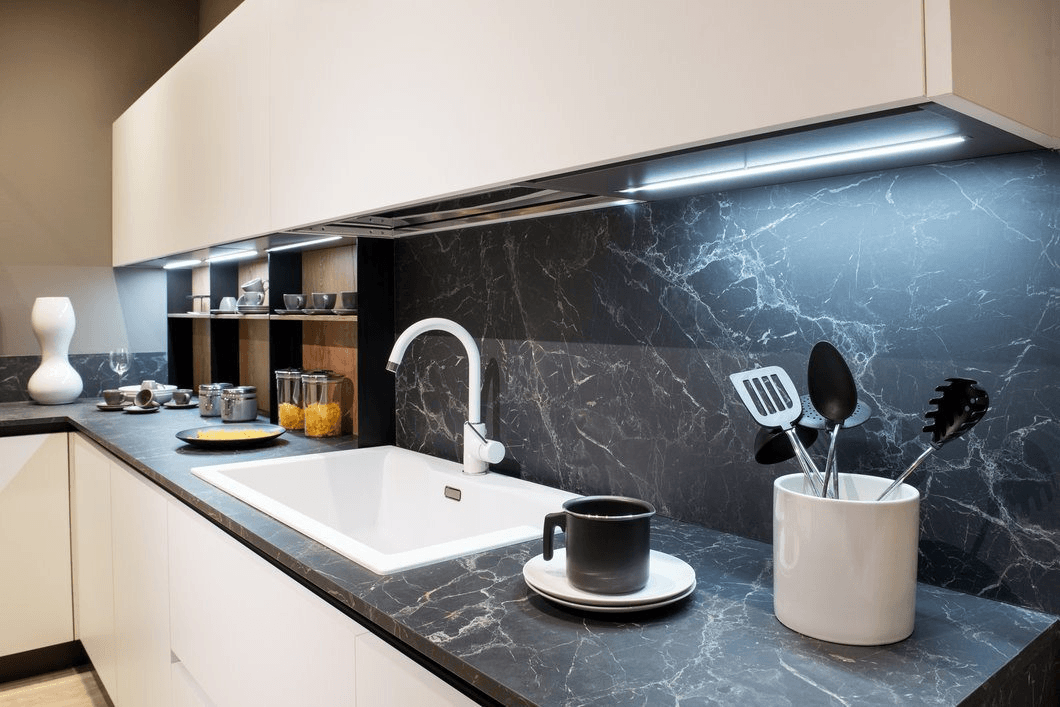 One of the most popular and high-end kitchen countertops is marble. Marble is a natural stone that offers a luxurious and unique appearance with no two countertops being the same.
The price for a marble countertop can range anywhere from $2,000 to $7,000 with the high-end cost being $12,000. The exact price of your marble countertop will depend on the type, thickness, and design of the marble you opt for.
Along with being an aesthetically pleasing material, marble also has several other benefits. While marble is not as durable as granite or soapstone, it is still an incredibly strong and sturdy stone which is why it has been used as a building material for centuries. A marble countertop will be able to handle any of the usual kitchen mishaps like cuts and grazes.
The longevity of marble countertops is also one of its biggest benefits. You can expect a marble countertop that has been expertly installed and sealed to last a lifetime.
Concrete

You may think concrete does not scream luxury quite like some of the natural stone options, concrete offers flexibility and creativity that other materials simply cannot.
While not as expensive as luxury options like marble or granite, concrete countertops can come at a high price. Depending on your customizations, a concrete kitchen countertop can cost as much as $7,000.
With a concrete countertop often being cast in forms on site, it can be made to fit even the most unique of configurations. You will also be able to make other customizations such as color, edge profile, and sheen to create your own modern and stylish look.
It comes as no surprise that a concrete countertop is incredibly durable. Concrete will resist scratches and dents remarkably well, especially if maintained properly.
Best budget-friendly countertops
Ceramic tile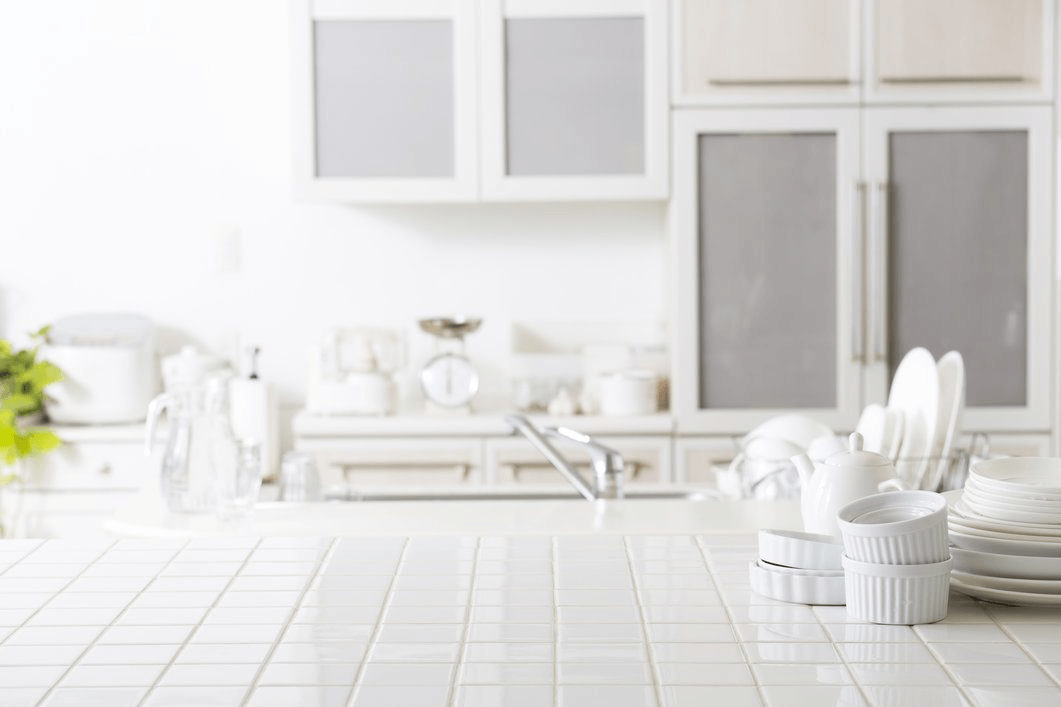 You will often see ceramic tile used for bathroom floors, backsplashes, and shower walls, but it can also make a fantastic budget-friendly option for a kitchen countertop.
Along with ceramic tiles being one of the most affordable countertop options at an average cost of $1,500, it is also a DIY-friendly home improvement project for an experienced and handy homeowner.
Ceramic tiles are easy to clean and are heat resistant, so you won't have to worry about where you put your hot pots and pans. Also, unlike some other countertop options, ceramic tiles offer an unlimited number of styles, designs, and colors, so finding the right tile will not be a problem.
But, while It may seem like ceramic tiles are the perfect affordable option, there are some downsides. Ceramic tiles are relatively brittle and can crack under impact or excessive pressure. Being a porous material, you will also have to seal grout lines annually to prevent staining.
Laminate
Laminate is generally the most affordable kitchen countertop material available. Laminate countertops consist of multiple layers of plastic bonded to a particle board to form a solid surface.
For 30 square feet of custom-made laminate with a sink cut-out and a three-and-a-half-inch backsplash, you should expect to pay approximately $1,900.
Laminate comes in a wide range of colors and patterns, including designs used to mimic more expensive countertops such as granite or marble. While you will not have the high-end finish of some of the other options, laminate can still provide a clean and smooth finish at a very low cost.
While laminate is very affordable, it does come with some major drawbacks. Perhaps the biggest is that the surface can be relatively easily scratched and chipped. Large scratches and chips will also be unfixable and can often lead to the countertop needing to be replaced.
Solid surface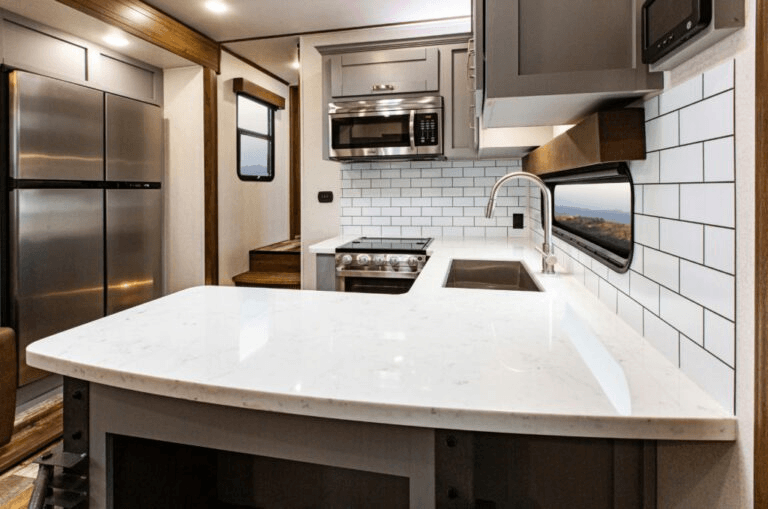 Image source: Genesis Products
Most people will pay around $3,000 for a solid surface countertop, which makes it a great option if you are looking for a high-end finish but do not have the budget for marble or granite.
Solid surface counters are a mix of mineral particles, resin, and added pigments and have consistently been a popular option among homeowners. While it does not have the visual appeal of a natural stone countertop, a solid surface counter can still provide a seamless and high-end look to any kitchen design.
Solid surface countertops are available in many designs, colors, and styles, with many imitating natural stones. A solid surface countertop will also often have a relatively matte appearance, however, if you buff the surface, you can achieve a gloss finish.
One of the biggest advantages of solid surface countertops is that they are nonporous and easy to clean. This means you will not have to worry about any additional sealant to protect your counter from spills.
Butcher block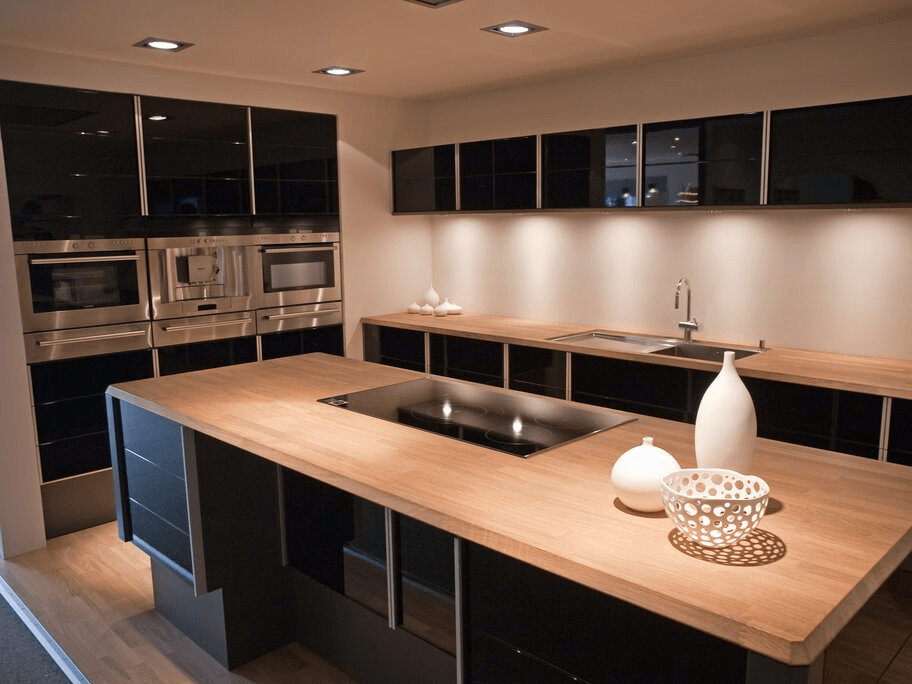 A butcher block is a popular countertop option if you are designing a farmhouse-style kitchen or looking for more of a rustic feel. With a variety of wood options such as cherry, oak, or maple, you can easily find a countertop to match your desired scheme.
While butcher block countertops are not as affordable as laminate or ceramic tile, they are generally a much cheaper option than granite, marble, or concrete. A butcher block kitchen countertop will cost upwards of $900 depending on the wood type, size, and customization.
When properly cared for and maintained. wood countertops can last over 20 years. However, if not looked after the wood can be subject to scratches, cracks, and staining. You will also have to be careful when using hot items as scorch marks can easily be left on the wood.
Refinish
It may not be the most glamorous option, but if you are on a tight budget then refinishing your current countertop is a great, affordable way to revitalize and restore your kitchen.
To refinish a kitchen countertop, you should expect to pay between $300 and $500 depending on the material and desired method. So, if you are not in a position to pay $1,500 to $4,500 for a new kitchen countertop then refinishing is a great alternative.
Refinishing your kitchen countertop involves completely re-covering it with a fresh layer. There are three main options for refinishing your kitchen countertop which include applying an epoxy coating, polymer resin, or using refinishing paint.
It is important to note that not all countertops can be refinished. Certain types of countertops are not suited for refinishing, while some surfaces are beyond repair where replacement is your only option.
When is it time to replace a kitchen countertop?
Replacing your kitchen countertop can be an expensive and inconvenient project, so, it's no surprise that you may be trying to put it off or ignore it. If you are one of those people deciding whether or not to take the leap, here are some of the best times to get a new kitchen countertop.
Your countertops are damaged beyond repair
Several things could result in your countertop being damaged beyond repair. These include cracks, stains, burn marks, or just general wear and tear. While occasionally these issues can be repaired, it is often the case that you will need to replace your countertop.
You are selling your home
Replacing your kitchen counters might not be the first thing that comes to mind when selling your home but that does not mean it cannot make a big difference.
When selling your home, if your kitchen countertops are worn or outdated, it might be best to look at replacing them. By replacing your kitchen countertops, you not only spruce up one of the most important rooms in your home, but you may also increase its value to potential homebuyers as well.
Your kitchen needs an update
If your kitchen needs an update but you do not have the budget for a full kitchen remodel, new countertops could be just what you need. Just by installing some new kitchen countertops, you can change the entire look and feel of your kitchen at a fraction of the price of a remodel.
What is the best material for kitchen countertops?
The best kitchen countertop you can buy will depend entirely on your own individual preferences and requirements. While countertop materials such as marble, granite, and quartz are some of the most popular options, you have to consider what type will fit your needs and budget.
Factors such as the style of kitchen you're designing as well as the configuration of your counter will contribute to what material is your best option.
For example, if you're planning on designing a farmhouse-style kitchen then a marble or granite countertop may look slightly out of place. Whereas, for contemporary or modern kitchens, marble or granite might be your best choice.
Other than the aesthetics of the countertop, you will also have to consider the material's design possibilities. If you want to get creative with your kitchen countertop and are looking for a custom shape or mold, then a concrete countertop is a perfect choice.
If you're searching for a new kitchen countertop make sure to do your research to ensure you find a surface that will reflect your style and hold up to how you want to use the space.