When you're ready to sell your home, you want it to sell as quickly as possible for the maximum amount of money. To that end, most homeowners will undertake some type of home improvement project, whether this is simply cleaning and depersonalizing or something more involved. But determining and prioritizing what needs to be done and what it will all cost can be both confusing and overwhelming.
The National Association of REALTORS®, in its 2021 report Profile of Home Staging, has revealed what projects realtors recommend for homeowners to complete prior to listing their home for sale. Because of the wide variety and cost of these projects, we have created an in-depth visualization that depicts the most recommended home improvement projects for four different budgets. We hope that this will serve as a guide you can use to better plan your home improvement and staging projects before selling.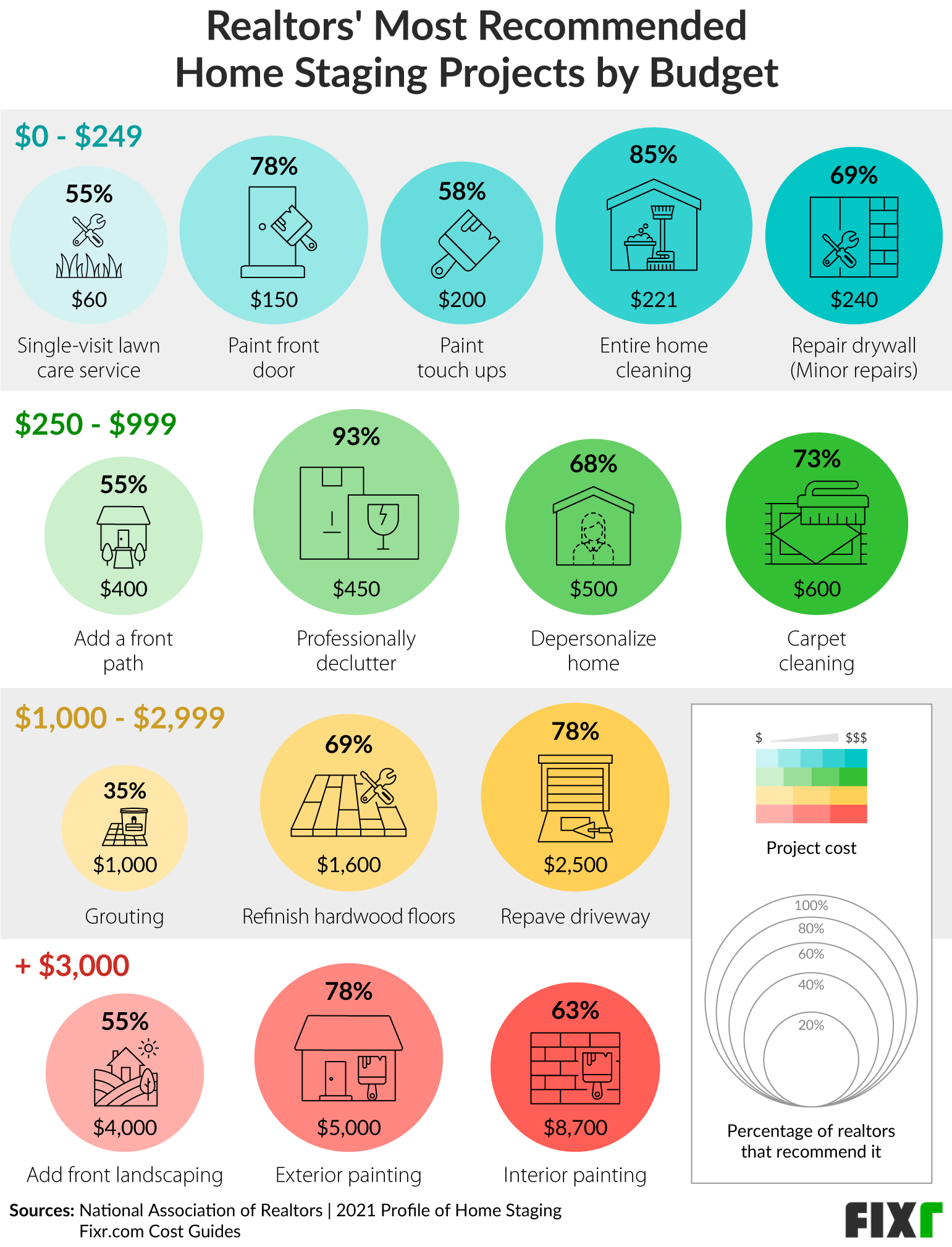 The Most Recommended Projects for Selling a Home in 2021
We combined data from the National Association of Realtors' 2021 Profile of Home Staging with Fixr.com's cost information to create this graphic. Where costs for the recommended projects varied too much, two or three different projects that fell into a category were listed, showing low cost to high cost options. This makes it easier to see what may be possible and to budget for each project better.
The graphic is laid out from the least expensive projects to the most, with costs ranging left to right and top to bottom. The size of each circle represents the percentage of realtors that recommended it, while the colors show which are the most expensive and which are the least within each budget category. As the colors get darker, the projects become more costly to undertake.
| Remodeling poject | % of realtors that recommend it | Average cost |
| --- | --- | --- |
| Professionally declutter | 93% | $450 |
| Entire home cleaning | 85% | $221 |
| Paint front door (curb appeal) | 78% | $150 |
| Repave driveway (curb appeal) | 78% | $2,500 |
| Exterior painting (curb appeal) | 78% | $5,000 |
| Carpet cleaning | 73% | $600 |
| Repair drywall (Minor repairs) | 69% | $240 |
| Refinish hardwood floors (Minor repairs) | 69% | $1,600 |
| Depersonalize home | 68% | $500 |
| Interior painting | 63% | $8,700 |
| Paint touch ups | 58% | $200 |
| Single-visit lawn care service (Landscape) | 55% | $60 |
| Add a front path (Landscape) | 55% | $400 |
| Add front landscaping (Landscape) | 55% | $4,000 |
| Grouting | 35% | $1,000 |