How much does it cost to hire a home inspector?
Get free estimates from home inspectors near you
Home Inspection Cost Guide
To provide you with the most accurate and up-to-date cost figures, we gather information from a variety of pricing databases, licensed contractors, and industry experts.
A house inspection involves a professional and systematic evaluation of the condition of a residential property. This thorough physical exam of the house includes the general functionality, overall safety, and integrity of a house and its components. The purpose of this process is to ensure that a home buyer knows the status of the house being purchased before completing the transaction. But what do these inspectors look for? They look for any signs of damage or safety issues that buyers should be aware of before proceeding with the purchasjobe.
A thorough house inspection is the best way to protect a major real estate investment and ensure buyers are happy and comfortable in their new place. The price of a home inspection depends on the size and type of house and the location. On average, homeowners spend between $300 and $500, with the average homeowner paying $400 for a full home inspection that covers the HVAC (heating, ventilation, and air conditioning), plumbing, electrical, roof, insulation, foundation, and basement. If only a 4-point inspection is required, you can budget slightly less, around $125. Thermal imaging inspections cost $800 on the higher end. Inspections for larger houses in neighborhood areas cost more than small houses in rural locations. It will require anywhere from two to six hours to complete.
Home Inspection Cost
Home Inspection Prices
National average cost
$400
Average range
$300-$500
Low-end
$125
High-end
$800
Home Inspection Prices by State
The cost varies by state since labor costs are different in different places. In addition, there may be different procedures and regulations for each state. For instance, house inspection fees tend to be less expensive in Midwestern states than in the Pacific Northwest, and the Southwest tends to cost more than in the Southeast. The map below gives insight into what to expect for costs for house inspections in your state. A table will also be provided to give more accurate pricing information.
| | |
| --- | --- |
| State | Average Cost |
| Alabama | $325 - $450 |
| Alaska | $350 - $450 |
| Arizona | $350 - $425 |
| Arkansas | $375 - $475 |
| California | $325 - $450 |
| Colorado | $375 - $525 |
| Connecticut | $325 - $400 |
| Delaware | $350 - $425 |
| Florida | $325 - $425 |
| Georgia | $325 - $400 |
| Hawaii | $350 - $450 |
| Idaho | $425 - $550 |
| Illinois | $350 - $425 |
| Indiana | $350 - $425 |
| Iowa | $350 - $425 |
| Kansas | $350 - $425 |
| Kentucky | $300 - $375 |
| Louisiana | $425 - $475 |
| Maine | $350 - $475 |
| Maryland | $325 - $425 |
| Massachusetts | $350 - $450 |
| Michigan | $300 - $350 |
| Minnesota | $375 - $475 |
| Mississippi | $375 - $425 |
| Missouri | $325 - $400 |
| Montana | $350 - $450 |
| Nebraska | $350 - $450 |
| Nevada | $325 - $400 |
| New Hampshire | $350 - $450 |
| New Jersey | $400 - $600 |
| New Mexico | $450 - $500 |
| New York | $350 - $450 |
| North Carolina | $325 - $425 |
| North Dakota | $350 - $450 |
| Ohio | $325 - $375 |
| Oklahoma | $400 - $475 |
| Oregon | $425 - $550 |
| Pennsylvania | $350 - $425 |
| Rhode Island | $400 - $450 |
| South Carolina | $275 - $400 |
| South Dakota | $350 - $450 |
| Tennessee | $400 - $475 |
| Texas | $375 - $475 |
| Utah | $375 - $450 |
| Vermont | $350 - $450 |
| Virginia | $325 - $400 |
| Washington | $425 - $600 |
| West Virginia | $350 - $450 |
| Wisconsin | $325 - $375 |
| Wyoming | $350 - $450 |
Typical Home Inspection Cost by Size of the House
Many factors go into the overall price of home inspections, but one you can count on is the size of the house. The cost is often calculated by the square footage, which determines how much space the inspector needs to look at and how much time will be required for their services. The average cost per square foot in a home inspection is $0.18 to $0.25. The below table demonstrates how the general cost increases depending on the size of the house.
| | |
| --- | --- |
| House Size | Average Cost |
| 800 sq.ft. | $145 - $200 |
| 1,000 sq.ft. | $180 - $250 |
| 1,200 sq.ft. | $215 - $300 |
| 1,400 sq.ft. | $250 - $350 |
| 1,600 sq.ft. | $290 - $400 |
| 1,800 sq.ft. | $325 - $450 |
| 2,000 sq.ft. | $360 - $500 |
| 2,200 sq.ft. | $395 - $550 |
Home Inspection Cost by Type of House
The average home inspection cost varies based on the type of house. A small condo in the city will cost less to inspect than a sprawling single-family house in a sought-after subdivision. Houses with basements and crawl spaces will be more expensive to inspect because crawl spaces are tight areas and more difficult to reach. A basement or crawlspace means more square footage to cover and more to report on overall. The basement inspection cost varies based on the number of rooms and whether it's a finished or unfinished basement. Here are some of the most common types of houses and the average cost to inspect each building design.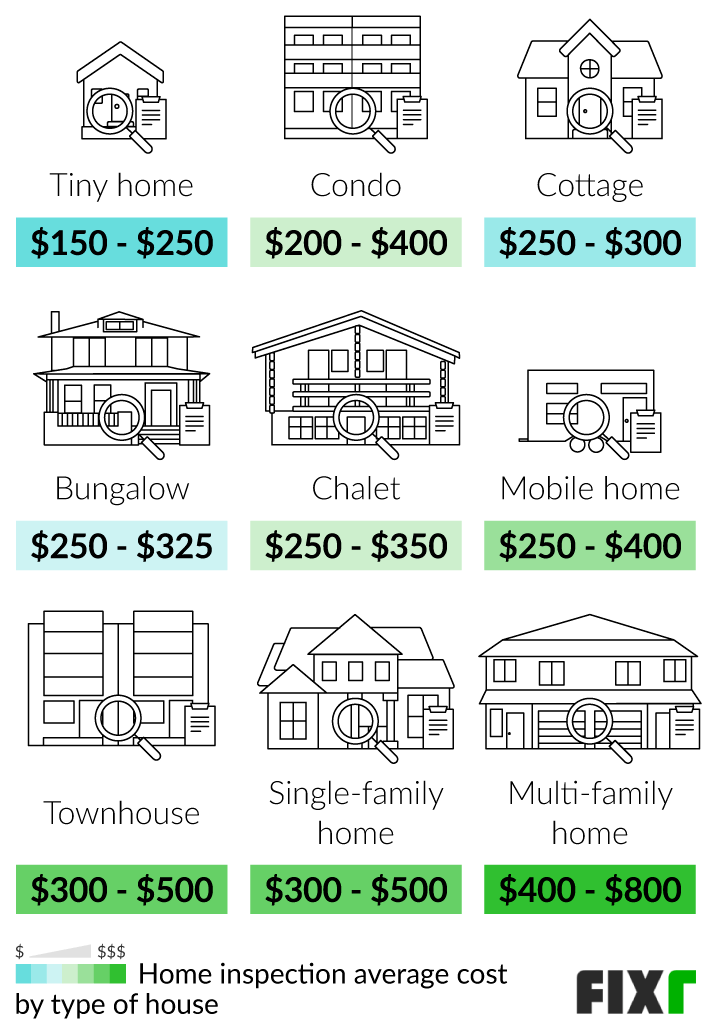 | | |
| --- | --- |
| House Type | Average Cost |
| Tiny Home | $150 - $250 |
| Condo | $200 - $400 |
| Cottage | $250 - $300 |
| Bungalow | $250 - $325 |
| Chalet | $250 - $350 |
| Mobile Home | $250 - $400 |
| Townhouse | $300 - $500 |
| Single-Family | $300 - $500 |
| Multi-Family | $400 - $800 |
Tiny Home
Considering the small size and minimal components in these structures, the average cost for a tiny house inspection is around $150 to $250. There is simply less to look at in these houses and not much space to move around, so the process is quick. This evaluation ensures that their quick construction lives up to the quality standards and provides a safe place to live as an alternative form of housing.
Tiny houses are becoming more popular as people realize the benefits of these miniature houses. These houses can be as small as 80 square feet or up to 400 square feet. Everything is on a smaller scale in these buildings. They often include just one section for sleeping and another for cooking and cleaning up. Little staircases, windows, nooks, and crannies make these houses ideal for those who want to downsize and live a minimalist lifestyle. They are often situated on trailers to be moved around or placed on a spacious lot of land to encourage a life spent in the great outdoors rather than inside.
Condo Inspection
Most buyers pay around $200 to $400 for a condo inspection, with the final cost depending on the condo's square footage and age. A one-bedroom condo in a new unit may take less time to inspect than a three-bedroom penthouse in a historic building.
A condominium building contains individually-owned units, which may be inspected before purchase. A homeowners' association covers the exterior and building-wise maintenance issues and many problems pertaining to the overall construction and building structure. Some buyers choose to forgo this process for that reason. They trust the association to take care of any major issues. Even so, it's best to get a professional condo inspection to ensure all of the electrical, plumbing, and HVAC fittings are intact and floors, walls, and ceilings meet the standard.
Cottage
The average cost for a cottage house inspection is $250 to $300. The size of a cottage keeps the costs down. Many cottages are older and may have plumbing and electrical systems that need repairs or do not necessarily meet modern standards.
A cottage style house may be less expensive to inspect than a traditional single-family house due to the smaller size. Cottages are small, simplistic houses with a straightforward layout. They are often located in small towns and rural locations, such as lakeside or farming communities. Most cottages have just one or two bedrooms with a bathroom, kitchen, and living space. Others have additional rooms tucked away in a tidy upstairs.
Bungalow
This type of evaluation ensures that the bungalow is still in good condition and usually costs $250 to $325. The inspector needs to check the entire bungalow, especially if it has historical systems that haven't been upgraded in a long time. Bungalows are often situated close together in neighborhoods or by the beach and are common in humid areas where there may be moisture or mold issues.
Bungalows are similar to cottages. The main difference is that a bungalow has a signature low style sloping roof with a broad front porch. As seen in the famous California bungalow style, these houses are usually all one level, or they may have a room in the roof with dormer windows. Bungalows are usually quite small in terms of square footage, which means a more affordable inspection price. However, older bungalows may have more issues with the electrical wiring and HVAC systems.
Chalet
Plan to pay between $250 and $350 for a standard chalet inspection. It is usually less than a single-family home inspection due to the slightly smaller size.
Another type of house that may be inspected is a chalet. Typically thought of as a ski lodge or cabin, a chalet is built of wood with a wide, sloping roof and eaves coming out at a right angle from the house. Chalets may be single or double story and have several bedrooms, bathrooms, and living spaces. Chalets are sometimes susceptible to termite infestations and mold growth due to the timbre construction. Homebuyers may opt for a thermal imaging inspection to better detect pests and fungi beneath the floors and walls.
Mobile Home Inspection
The inspection of a mobile home varies from $250 to $400, with mobile homes in urban and resort areas on the higher end of the range. Mobile homes are actually more common than people think. More than 21 million people in the US live in mobile homes. It is as important to have an inspection for a mobile home as it is for a regular house. This process, for the most part, is just like a regular house inspection. Mobile homes do, however, have some unique features that are different and require special examination. Many things are looked at during a mobile home inspection, including electrical wiring, AC systems, plumbing, roof, switches and faucets, foundation, and so on.
Townhouse Inspection
Many townhomes have similar square footage to single-family houses with a smaller yard, which explains why the average cost is very similar, around $300 to $500. Most companies will charge more for a four-bedroom, three-bath townhome than a one bed, one bath, as it all depends on the square footage.
Townhomes are typically single-family residences in terrace-style housing, where at least two houses are connected side by side. Some townhomes may only have two units, while others are in rows of three, four, five, or even six or more. Like condos, townhomes usually have homeowner associations that manage the outside upkeep, but the inside of the home is the owner's responsibility.
Single-Family House
The average cost for a single-family house inspection is $300 to $500. With well over 80 million single-family homes across the U.S., home inspection companies stay busy looking at the electrical, plumbing, roofing, heating, cooling, and structural systems in these houses.
There are close to one million new single-family houses built in the U.S. every year, thanks to the high demand for these standalone houses. Single-family houses are found in cities, suburban neighborhoods, and rural areas and are detached houses with small, medium, or even large yards depending on the property. Many companies base their pricing around single-family houses due to the frequency of inspection requests for these properties.
Multi-Family House Inspection
Most buyers looking at multi-family houses pay around $400 to $800 for a full inspection. The final total is based on the overall square footage and how much time is required to investigate all areas of the house.
Multi-family homes are similar in design to single-family houses. But, as the name suggests, they accommodate more than one family. They are typically split into two, three, or four units, such as a duplex with two separate dwellings or a small building with several apartments. The cost to inspect these houses is typically higher due to the larger square footage. Many of them are older, meaning the likelihood of finding issues to report on in the house inspection is higher.
Home Inspection Price by Type
Standard house inspectors look for defects throughout the house. If an inspector sees that something is wrong or unusual, they will recommend a more specialized evaluation. For instance, if windows have damage to the frames, a window inspection might be needed. A foundation inspection might be required if abnormal cracking is noticed. Below is a chart illustrating some types of inspections and their average cost.
| | |
| --- | --- |
| Type | Average Cost |
| Windows | $75 - $150 |
| Insulation | $100 - $200 |
| Plumbing | $100 - $225 |
| Roof | $100 - $600 |
| Electrical | $125 - $250 |
| HVAC | $250 - $400 |
| Foundation | $300 - $1,000 |
Window Inspection
The average cost for window inspections is $75 to $150. Windows are the main source of light in every house. They play a major role in the house's heating and cooling capacity. Poorly sealed windows let out climate-controlled air from inside the house and make the HVAC system work harder than necessary, therefore raising the energy bill. In a window inspection, the inspector closely examines each window for damage or structural issues. Potential problems include damage to the window frame or pane, air leakage, and poorly constructed caulking that becomes less effective as it ages. Malfunctioning locks, missing handles, and stuck windows will also be noted on the inspection report.
Insulation Inspection
The average cost for an insulation inspection is $100 to $200. Insulation is a huge component of a house, as it offers protection against the elements and minimizes heat exchange. Insulation acts as a barrier between your house and the outside, preventing cold or warm air from escaping depending on the season. The right insulation keeps heating and cooling costs under control and prevents drafts. During an insulation inspection, the inspector checks the insulation, particularly in the attic, garage, and basement. They look for thin insulation that points to an under-insulated house. Further, they note water damage and other insulation issues.
Plumbing Inspection
Plumbing inspections average $100 to $225 and are part of most house inspections. The plumbing system includes all of the pipes, valves, pumps, and drains that support the daily use of fixtures like toilets, sinks, showers, and bathtubs. Not only will the inspector examine these fixtures for cracks and connection issues, but they will also look at the shut-off valves, traps, and water filtration systems. They note any damage or aging systems so that buyers can be aware of the possible plumbing repairs or upgrades needed in the future. This information allows the buyer to make an educated decision on their purchase.
Roof Inspection
Professional roof inspection companies charge around $100 to $600 for roof inspections, depending on the roof's size and slope. As one of the most important parts of a house, the roof needs to be inspected every few years, especially before selling a property. This inspection includes a close-up look at all roofing components, including shingles or tiles, flashing, fascia, soffit, gutters, and chimneys. The inspector looks for broken, chipped, or cracked shingles and warped or blistered sections that may need replacing.
Electric Inspection
Plan to pay at least $125 to $250 on average to cover the electrical safety inspection cost. Electrical systems are also thoroughly inspected by professional house inspection companies. The inspector looks at the wiring, light fittings, sockets, and switches. They note faulty components and determine whether or not the electrical system is adequate and easily serviceable. An electrical inspection looks at the main switchboard and all electrical parts within the house, garage, and backyard.
HVAC Inspection
An HVAC inspection typically costs $250 to $400. Heating, ventilation and air conditioning are the keys to a comfortable, climate-controlled house. This is one of the main parts of a full home inspection and included in a 4 point inspection as well. The inspector will test the functionality of the furnace, AC unit, heat pump and thermostat while also checking the visible insulation. The inspector should also keep an eye out for indications of gas or carbon monoxide leaks. Sometimes the AC system may just need a bit of fine-tuning, and in other cases a full replacement may be required. The inspector should provide all of the information on the HVAC findings in the report.
Foundation Inspection
Homebuyers should expect the average basement inspection cost to fall between $300 and $1,000 due to the scope of work involved and the time necessary to investigate the foundation thoroughly. All houses have a foundation. This structural support lays the framework for the entire house and prevents the building from caving in and collapsing. The average structural inspection cost is more than other inspections due to the high level of care and extensive area that needs to be covered. As part of a foundation inspection, the inspector checks to ensure the foundation is still structurally sound. They ensure that no major chips, cracks, or broken sections need to be addressed. Foundation repairs require a lot of work and can be very costly, which is why these inspections are so important.
Specialty Home Inspection Cost by Type
Specialty inspections can also be conducted on a house as needed. These are not typically part of a standard house inspection but can provide extra information for homebuyers or homeowners. They are carried out by specialists in their fields and can cost extra. However, choosing to have one of these performed makes it more likely that you make the required changes to keep your house in the best possible shape. Below are some common specialty inspections.
| | |
| --- | --- |
| Specialty Inspection | Average Cost |
| Wind Mitigation | $75 - $150 |
| Radon | $125 - $400 |
| Pool | $150 - $300 |
| Septic | $150 - $300 |
| Sewer | $200 - $1,000 |
| Asbestos | $250 - $750 |
| Well | $300 - $500 |
| Lead | $350 - $500 |
| Mold | $450 - $800 |
| Soil | $700 - $1,800 |
Pest Control Inspection Cost by Pest
Many homeowners deal with pests at some stage, whether creepy crawlers scurrying across the kitchen floor or tiny bugs wreaking havoc hidden behind walls and floors. That's why pest control inspections are important so that homebuyers can rest assured their new property is free from pests. If any pests are found, it's best to get them removed right away to avoid high extermination fees and damage repairs if they repopulate and spread throughout the rest of the house. Here are examples of common pest control inspections and the average costs for these services.
Home Inspector Fee
Typically depending on which company or inspector you go with, they use different methods for determining fees. Some charge a flat rate based on square footage and living area where others charge based on the amount of time for the inspection. A house inspection can cost from $80 to $150 per hour. If a house inspector charges based on time spent, the larger the house or living area, the more it will cost you.
The age of the home can also play a factor in the cost in an inspection. Some newer houses can be inspected in around 2-3 hours, but older houses can take up to 4 hours or more. The reason for this is that older houses usually have more issues that need a closer look. More time may be needed if additional features, such as pools, gardens, garages, and sewers, need to be inspected.
It is important to remember that cheaper isn't always better in the case of house inspections. You want to make sure that the company is doing a good job. Take time to do your research before making a decision.
There is also the option of an annual home inspection checkup. Many people suggest doing this so that if there are any repairs necessary, they can be completed right away. For older houses, annual checkups are a good idea in case of possible mold growth, asbestos, foundation issues, etc. During an annual checkup, the same procedure and inspections will take place. A report will be completed and provided to the homeowner. An annual checkup averages $175 to $225.
What Should I Expect From a Home Inspection Report?
The house inspection report is a document that the inspector provides to you after the conclusion of the evaluation. These can vary in terms of the information provided and how it is laid out for you to review. Ask a company for a sampler report before hiring them. This is important to make sure the information is presented in a format that is clear and easy to understand. Most modern reports are available in PDF digital formats to view from any mobile device. It should be visual and easy to navigate with a summary and table of contents.
When you receive the report, it should include several components. The first is a summary that lets you know about the most crucial issues found during the inspection. You can also expect to receive photographs that show any areas that need attention. Descriptions of all of the issues and what impact they could cause should also be included.
The top of the report might have the name of the inspector followed by information about the property being reported on and the recipient of the information. This is followed by a table of contents. The body of the report has general information, followed by specifics about different areas and components of the house, such as the exterior, foundation, crawl space, basement, roof system, plumbing system, heating, cooling, electrical system, interior, appliances, bathroom, radon testing, and sewer scope.
Is a Home Inspection Required?
There are no situations where a home inspection is required by law, but that does not mean that they have no place. There are all sorts of situations where they can be highly useful. For instance, a new construction home inspection gives insight into whether a brand-new house has any hidden issues. A pre-listing house inspection is also useful to get an idea of the state of a house before it is placed on the market.
A buyer's inspection is another situation where this process is useful. The person interested in a house can learn more about any problems associated with the property. Then, depending on the terms of the contract, the buyer or seller can take care of the issues before the buyer moves into the house. It is essential to determine whether repairs, renovations, or replacements are needed with plumbing, structural issues, electricals, fixtures, appliances, and more.
Another situation where you may want one is house maintenance. It is a way to clear up any concerns about house problems. For instance, you can learn whether your foundation is worse than it was years ago or if the roof needs to be replaced. The main thing that distinguishes a house maintenance inspection is that it is not used for a house being sold. However, it goes through all the same steps.
Inspection teams can also look over your house after bad weather, such as a tornado, hurricane, or earthquake. Some damage, like broken windows or shutters, may be obvious, while others can best be found by a professional. Elements that will be looked at during a storm damage house inspection include foundation failures, flooded fixtures, basement issues, wind damage to the roof and siding, and other specialized problems associated with large storms.
New Construction Home Inspection Cost
New construction is booming in the U.S., with over 1.4 million new homes completed monthly, according to the U.S. Census Bureau and the U.S. Department of Housing and Urban Development. This fast rate of new builds means there's a high demand for new house inspections.
A new construction home inspection occurs when an inspector signs off on the building and confirms that everything meets strict quality standards. A pre-drywall inspection costs between $100 and $300 and covers a walkthrough before the drywall is put in place. During this inspection, the inspector observes the overall structure of the house and checks out how the electrical, plumbing, roofing, and exterior are coming along.
The full new general house inspection cost, which is relatively the same price as inspecting existing houses, averages $300 to $500 per inspection. The best time to get this inspection done is just after the house is completed. This way, buyers can see the house in its final condition and ensure everything was built properly without any structural defects. Remember that the inspector looks for the same things in both new and older properties, bearing in mind the general wear and tear evident in an aging house.
Pre-Listing Home Inspection Cost
The pre-purchase inspection cost is almost always well worth it. Even if the inspection report comes back clean, at least homebuyers can have greater peace of mind about their exciting next step, whether it's a dream family house or a promising investment property. The real estate inspection costs less than an expensive repair bill that many people face when buying a house without an initial inspection. This is the buyer's chance to see the house up close and look for any damage or areas of concern before closing. Pay attention and do the necessary due diligence to ensure complete satisfaction with the house or at least have an understanding of what work needs to be done. The average pre-listing house inspection cost ranges from $300 to $500.
The seller has no obligation to repair anything, the buyer will have to make the decision following the inspection whether they want to buy or not. A buyer can certainly try to negotiate with the seller based on the repairs needed according to the inspector's report after paying the pre-sale house inspection cost. They could negotiate a credit for the work to be done or drop the offered purchase price for the house. If neither party wants to budge, the realtor can help move negotiations along and develop a plan that hopefully suits both the seller and the buyer.
Ask the seller or property insurer for a copy of the house's CLUE report. CLUE stands for Comprehensive Loss Underwriting Exchange. This is a report that lists insurance claims for that property in the previous five years. The report lists insurance companies involved, dates of claims, types of policy, what the loss was related to (tornado, etc.), location of the loss, the amount paid, and cause of the loss. In a real estate transaction, this is important as it could provide information that may cause a homebuyer to reconsider purchasing a house. For example, if there was a loss paid due to water damage and mold, the buyer might pass on a deal as it could hurt them in getting insurance in the future.
Who Pays for a Home Inspection?
In some situations a lender might require this as part of the mortgage application process and sometimes it may be unnecessary. In many states throughout the US, there is a "buyer beware" policy that means it is their responsibility to identify problems before signing the dotted line. This also means that buyers are most commonly required to pay for a house inspection. However, the seller can choose to pay for it, depending on the specific situation. The contract will include a deadline for how long a buyer has to have it done. The same applies when an appraisal is done for the property.
Thermal Imaging Inspection Cost
Thermal imaging technology consists of non-invasive cameras that detect potential problem areas that cannot be seen by the naked eye. One of the main advantages of thermal imaging is its ability to highlight differences in temperatures and moisture levels. These variances point to the possibility of mold growth behind walls and under floors. The detection of mold and moisture problems is a significant issue. Thermal imaging can identify insulation issues affecting heating and cooling efficiency, roof leaks, and electrical defects.
For a thermal imaging inspection, the company sets up cameras and records the images in each area of the house. Then, they evaluate the images for any signs of water damage, mold growth, or other concerns. All findings will be put in their final report. While thermal imaging inspections are typically an add-on to a regular house inspection, homeowners who live in areas with high humidity or those concerned about the inner systems of their house may want to invest in this detailed inspection. On average, these evaluations cost $200 to $800 depending on the number of scans and the time required.
VA Home Inspection Cost
A VA home inspection is part of the United States Department of Veterans Affairs (VA) Home Loans program, providing guaranteed mortgages for $0 down payments. While the VA home inspection is usually not mandatory unless specified by the lender, it is recommended for veterans and their families when purchasing a house. Many companies work with VA lenders to complete house inspections. Check with the lender to ensure any requirements are met.
If the inspection findings indicate the need for certain repairs, the finalization of the loan and closing of the sale may be affected. VA home inspections are generally the same cost as a regular one, averaging $300 to $500 depending on the size of the house and scope of the inspection.
What Do Home Inspectors Look For?
Home inspectors pay close attention to many items in the house, most involving the building's overall structural integrity and safety. Their inspection checklist includes looking at every room and system for possible defects, such as water damage, cracks or leaks in the plumbing system, and chips or cracks in the foundation. They also look for frayed or hanging wires, insect infestations, broken floorboards, ceiling panels, or cabinets, and anything else that requires the homebuyer's attention. The reports aren't pass or fail, but rather a detailed account of all the main features and fixtures in a house. Any damage or issues are reported accordingly.
Home Inspection Process
During a home inspection, the inspector's main job is to evaluate the house. They evaluate several different areas within the home, including roofing, framing, the foundation, attic, drainage, plumbing, electrical systems, heating, pavement, fireplaces, stairs, doors, patios, decks, walls, ceilings, floors, appliances, and several other fixtures and components. By evaluating these things, they locate any issues or repairs that may be necessary.
During the evaluation of the house, the inspector notes all pertinent findings and creates a detailed written report for the buyer to review and reference. The inspector verbally presents the conditions and issues they may have found for those who attend the inspection. This information is very important as it enables a buyer to decide on a house purchase and whether to complete the transaction or not. It also gives buyers the information to determine how much repair and renovations need to be done after taking possession of the house.
During this process, it is important to arrive early to ensure the house inspector is on time with all the equipment they need to perform the inspection. Don't forget to obtain a repair items list and follow the inspector around the house, asking any questions that come up along the way. The inspection should not be over until you are confident all areas have been meticulously evaluated and inspected.
What to Do Before a Home Inspection?
You can do some things that speed up your home inspection. This reduces the time it takes to buy or sell a house. One of the best things to do is get rid of locks from any areas inspectors will access, such as fence gates, doors and access hatches to attics, specialty closets, electric panels, and crawl space openings. You should also repair or replace missing, damaged, and otherwise malfunctioning items, including doorknobs, broken glass, window locks, locks and latches, exterior faucet anti-siphon items, window screens, rain gutters, downspouts, and chimney flue caps.
The next step is to make sure that the electricity, water, and gas are turned on, and pilot lights are functional. Head outside and cut back tree limbs and shrubs from the house to allow easy access.. Inside, test the carbon monoxide and smoke detectors and replace batteries if needed. In addition, replace or clean used HVAC air filters. Make sure these are properly secure and fit well.
Back outside, check the downspouts to make sure they discharge away from the foundation and there are no holes or bends in the spouts. This can cause leakage of basement flooding if not properly maintained. Clean the outside air conditioning unit using a hose to spray out and eliminate any built-up debris. The sump pump should also be checked to ensure it is functioning correctly. Finally, prune any foliage that reaches the home to keep animals and insects out.
What to Do After a Home Inspection?
After the home inspection is complete, you should know and expect a few things. You should be aware of the condition of the house you wish to purchase. Make a list of all the positives and negatives, such as any repairs needed, inadequacies, and unsafe conditions.
After it is complete, expect to receive a clearly written and detailed inspection report. The report should note any defects that the inspector found and any repairs that may be needed. They should give you a realistic cost for repair and the level 8 of urgency for each issue. It should answer any questions or concerns you may have with the house.
Within a few days following the house inspection, you should have all of your questions answered by the inspector. You should not expect the inspector to offer to repair any of the noted issues for a fee. Any repair offer could indicate a conflict of interest and might be a reason to doubt the inspector's findings.
Who Pays for Repairs After a Home Inspection?
The person who is required to pay for needed repairs varies based on the sales contract that has been drawn up. In some cases, the seller may be responsible, and in others, the buyer will be. There can also be a clause that says the seller is responsible up to a certain amount, after which the costs are split between the buyer and seller. If the house is being sold "as is," the buyer is the one who is required to pay for any repairs. These properties typically have needed repairs, and the seller does not want to be responsible for the costs associated with them.
Common Repairs Following a Home Inspection
Some problems are more common than others following a house inspection. Having an idea of what to expect helps you budget for any needed repairs. While other issues can come up during a home inspection, these are most likely and can give you a heads up on what you might expect if problems are uncovered. Illustrated in the table are some possible repair projects that take place after. The table also illustrates the average price of the repair per project.
Home Inspector Certification
There are two major organizations which provide credentials for home inspectors: InterNACHI and ASHI. Both of these organizations define house inspection standards and exclusions but differ in their missions and methods for providing home inspector memberships.
InterNACHI Home Inspectors
InterNACHI stands for International Association of Certified Home Inspectors. This organization, founded in 1990, has a stated mission to provide its members with certification and continuing education and improvement in their trade. They provide free online training, certificate programs all over the world, business training, software products, student services, and more.
To maintain their membership with InterNACHI and enjoy the many benefits, especially heightened visibility with discerning homeowners, inspectors have to pass the free online exam, complete and pass the InterNACHI Code of Ethics and Residential SOP online courses, and submit mock inspection reports.
ASHI Home Inspectors
ASHI is different in that it is an American, rather than international, organization. ASHI stands for American Society of Home Inspectors. ASHI was developed with a mission of enhancing professionalism and excellence in the house inspection field. They want to help to promote standards for inspections and provide educational programs and learning experiences to enhance excellence in their profession for all members.
To get the highest designation by ASHI, ASHI Certified Inspector, a home inspector has to pass the proctored National Home Inspector Exam consisting of 200 questions in 4 hours. They must complete the Code of Ethics and ASHI SOP online training courses. Also, they must complete a minimum of 250 fee-paid home inspections with reports, plus other training.
How to Hire a Home Inspector?
If you are looking to get the most out of your home inspection, it is a good idea to ask questions. If you are unsure of what questions to ask or where to start, consider asking what it covers, how long they have been in the home inspection field, and how many houses they have inspected previously. You can also inquire about their experience in residential inspections and determine whether they complete any repairs or improvements based on the inspection results.
Be proactive about getting the most out of your home inspection. Ask for a time and cost estimate. Inquire about the report and how long it will take to receive it. Make sure to ask your home inspector about being present for the inspection. Ask if they are members of any professional home inspector associations or educational programs. You can feel comfortable you are making the right choice of home inspector if they are readily engaged in professional development to keep their knowledge up to date.
Cost of Home Inspection and Appraisal
When buying or selling a house, an inspection and appraisal are typically done. These two services help a buyer understand what to expect of a home and ensure no negative surprises are found after the house has been sold and move-in is complete. The cost for both ranges from $475 to $1,450, depending on your location.
Often, people confuse the terms home inspection and appraisal. A home inspection gives the details needed when buying or looking into buying a house. It can indicate issues with the structure of the house but it does not provide a person with a market price for the property. They can range from $175 to $1,000 in price and will require anywhere from two to six hours to complete.
An appraisal is the assessed market value of the house. Banks usually require appraisals when determining whether they will approve a loan. An appraisal gives the value of the house without a detailed assessment on the condition of the house or what needs to be repaired. An appraisal by a licensed professional averages from $375 to $450 in price and requires roughly two hours to complete.
Four Point Inspection vs Full Inspection
Homeowners may choose between a full or a four point inspection. The full inspection is more comprehensive and costs more than a four point evaluation. The purpose of a four point inspection is to gauge how structurally sound an older house is, while a full inspection is used to get information on the condition of the entire house. A four point inspection is required to get insurance coverage in some states.The average four point inspection cost ranges from $50 to $175, depending on where you live while a full inspection runs $300 to $500.
| | |
| --- | --- |
| Type | Average Cost |
| Four Point Inspection | $50 - $175 |
| Full Home Inspection | $300 - $500 |
4-Point Inspection
A basic four point inspection costs around $50 to $175. As the name suggests, it covers four main areas: HVAC, electrical, plumbing, and roofing. The home inspector looks at the heater, air conditioner, and ventilation to ensure the systems are running properly. They also pay attention to all the wiring, electrical panels, plumbing pipework, and fixtures along with shingles or other roofing materials. This is typically chosen for older houses, particularly those 25 years or older, that insurance companies may be reluctant to insure. That's because these four systems may have been installed or repaired improperly over the years and require a detailed inspection to check if everything is acceptable.
Full Home Inspection
The average cost of a full home inspection averages $300 to $500. While a four point evaluation focuses on those core areas, a full inspection covers all these items plus the rest of the house, such as the floors, windows, doors, appliances, foundation, basement, and the overall structure. A four-point inspection takes about 30 to 45 minutes to complete. It can take two to four hours to complete a full home inspection. Since it takes longer and is more expensive than a four point inspection, you may wonder when a full inspection is the better option. This tends to be the case when a potential or current homeowner wants to know about all aspects of the house, not just the roofing, plumbing, electrical, and HVAC. It provides a more detailed understanding of the house and its weak and strong points.
Enhancement and Improvement Costs
Earthquake Strappings
Earthquake strappings can be installed by a contractor and cost an average of $75 to $115 per strapping. Adding an inspection to check for other retrofitting techniques for your house can cost an average of $200 to $400. Earthquakes are natural disasters that can cause rupture to all sorts of structures, especially a house. Retrofitting a house for an earthquake is important to be prepared if ever an earthquake was to occur. One part of retrofitting your house for an earthquake includes earthquake strappings. These can help to restrain items from falling or damaging pipes during an earthquake.
Safe-Room Inspection
An inspection of a safe room in your house can cost an additional $200 to $500. More and more houses these days are designing safe rooms, also known as panic rooms. These are rooms that are installed in a residence house to provide a safe shelter or hiding place in the event of a tornado, terror attack, hurricane, home invasion or other threat were to occur. Inspecting a safe room requires some extra time for a home inspector. They need to check the walls, locks, and many other areas of the rooms to make sure they are very secure.
Additional Considerations and Costs
Licenses. There are 35 states that have standards about licensing or training for home inspectors. The states with training or licensing include Alabama, Alaska, Arkansas, Arizona, Connecticut, Delaware, Florida, Illinois, Indiana, Kentucky, Louisiana, Maryland, Massachusetts, Mississippi, Montana, Nevada, New Hampshire, New Jersey, New Mexico, New York, North Carolina, North Dakota, Ohio, Oklahoma, Oregon, Rhode Island, South Carolina, South Dakota, Tennessee, Texas, Vermont, Virginia, Washington, West Virginia, and Wisconsin.
Consent. A house inspector should only enter a property with the written consent of the homeowner. They should not make holes in the walls or pry shingles; they may recommend that more invasive examinations are required.
Compare quotes. It is important to request a list of all the home inspectors in your area. Do not just use the ones that a real estate agent may recommend. Get some different quotes.
Contingency. A home inspection contingency is also known as a due diligence contingency. The purpose of this type of contingency is to give the buyer a right to have the house inspected within a specific time period. This helps to protect the buyer and gives them the option to cancel the contract or renegotiate to have the seller complete repairs based on the findings of the home inspection. Adding contingencies into a home sales contract will have no impact on the cost.
Duration.Completing a professional home inspection takes a few hours, so it's best to set aside a morning or afternoon to get it done. Most require two to four hours, considering that the average home has around 500 components to inspect. A comprehensive house inspection takes longer than a targeted one in just one area. The overall time depends on the size of the house, its age, and its current condition. After the inspection, it usually takes three or four days for the inspector's report to be finalized with all the relevant details.
FAQs
What is the purpose of a home inspection?
The purpose of a home inspection is to ensure that a home buyer knows the status of a house before purchasing and completing the transaction. This will give the buyer detailed knowledge of the condition of a residential property including: the general functionality, overall safety, and integrity of a house and its components.
What does a home inspection cover?
During a home inspection, the home inspector will cover many areas of the house. They will evaluate a bunch of different areas within the house including roofing, framing, the foundation, attic, drainage, plumbing, electrical systems, heating, pavement, fireplaces, stairs, doors, patios, decks, walls, ceilings, floors, appliances, and a number of other fixtures and components.
How do you become a home inspector?
There are some programs and organizations that you can look into if you are interested in becoming a home inspector. Two of these include the International Association of Certified Home Inspectors (InterNACHI) and, in the United States, the American Society of Home Inspectors (ASHI). Both of these organizations involve online training courses and final exams.
How much does it cost to become a home inspector?
A high school diploma or GED is required to apply for a home inspector training course. The training course costs around $1,500. After your course you will need to pass a certification exam in the state you are in.
Is the home inspection part of the closing costs?
In most cases, it is not part of the closing costs, as it's not related to the seller and should be paid directly by the prospective buyer. It is technically an optional service but is often a part of the homebuying process. Buyers should expect to pay for the house inspection at the time of the service.
What kind of inspections should I get when buying a home?
When buying a house, it's best to get a comprehensive home inspection covering all areas of the property. This includes plumbing, electrical, HVAC, insulation, and foundation evaluations.
If something goes wrong with my home, is the inspector responsible?
If problems are found during a home inspection, the homeowner will likely be responsible for fixing them. The inspector only acts as a professional who can determine what issues might be present. They are not tasked with making changes to fix these problems.
What fixes are mandatory after an inspection?
Lenders require some fixes before they will finance a house. These are related to safety issues, building code violations, and structural defects. These will often relate to the basement, crawl spaces, or the attic but can also relate to the furnace or chimney. Some examples include pest issues, major HVAC or plumbing problems, and damage to the roof or electrical system.
Do I need to be present for a home inspection?
In most cases, you will need to be present for a home inspection. However, there are exceptions. For instance, due to the pandemic, homebuyers do not need to attend. Inspectors can provide the results of the inspection through digital reports or video conferencing software. Most homebuyers prefer to be present to learn more about the house. In addition, you can mention any worries you have and make sure the inspector spends extra time looking over those areas.