How much does it cost to replace a window glass?
Get free estimates from window installers near you
Window Glass Replacement Cost Guide
To provide you with the most accurate and up-to-date cost figures, we gather information from a variety of pricing databases, licensed contractors, and industry experts.
If you have window issues or windows older than 10 years, it might be time to consider replacing the glass. This project can greatly benefit homeowners, such as lowering energy costs, reducing outside noise, UV protection, easy maintenance, enhancing curb appeal, and increasing home value.
The cost to replace a glass window depends on the size, type, tint, and features. The national average ranges from $300 to $880, including labor, with most homeowners spending about $375 to replace clear glass on one standard-size 30" by 36" sliding double-paned window. If you just want to replace clear glass in a standard single-hung, single-pane window, expect to pay around $200. Replacing all the triple-pane glass panes in a bay window costs around $4,100.
Window Glass Replacement Cost
Window Glass Prices
National average cost
$375
Average range
$300-$880
Low-end
$200
High-end
$4,100
Window Glass Replacement Cost by Size
One factor in window glass replacement cost is the size. Size is measured by calculating the width times height. Thickness is also a factor and usually ranges from ⅛ of an inch to 1 inch. If the frame is still intact, you can save money by replacing it with the same thickness as you had before because different thicknesses require different frames. The prices in the chart below are based on double-pane glass with each pane being ½-inch thick:
| | |
| --- | --- |
| Size | Average Cost (Material Only) |
| 24" x 36" | $130 - $180 |
| 30" x 36" | $160 - $270 |
| 24" x 54" | $200 - $285 |
| 36" x 42" | $320 - $420 |
| 28" x 58" | $330 - $440 |
| 46" x 46" | $380 - $520 |
| 46" x 54" | $650 - $810 |
Window Glass Replacement Price by Window Type
There are many window types to choose from. Each type has a different number of panes. This affects the project's steps and cost, depending on the window type. Below are some of the most common types and the average cost to replace them:
| | |
| --- | --- |
| Type | Average Cost (Material Only) |
| Storm | $100 - $400 |
| Egress | $100 - $800 |
| Sash | $100 - $950 |
| Casement | $150 - $1,190 |
| Skylight | $150 - $3,500 |
| Picture | $175 - $925 |
| Bay | $320 - $3,800 (all panes) |
| Storefront | $500 - $3,000 |
| Bow | $690 - $1,800 (all panes) |
Storm Window Glass Replacement
The average price for replacing the glass in a storm window ranges from $100 to $400. These are installed on the outside with the primary windows for extra insulation. They are often used with single-pane models and are more efficient than regular windows with double-pane glass. Many of them have superior air sealing and eliminate noise and condensation. These features affect the price.
Egress Window Glass Replacement
The average price range for egress window glass replacement is $100 to $800. Egress models are designed to provide an emergency exit from a building. Building codes often require them in bedrooms and basements. They can be of various types, such as double-hung, single-hung, or casement windows, and they must be able to fit a human.
Sash Window Glass Replacement
Replacing the glass in sash windows typically costs between $100 and $950. These open by sliding and can be single or double-hung. Most often, they slide vertically, but occasionally, they slide horizontally. These models are characterized by moving panels known as sashes. Each sash is a conventional paned window but may have its own sheet of glass inside.
Casement Window Glass Replacement
The average cost to replace a pane in a casement window is usually $150 to $1,190. Casement models are attached with hinges and open like a door. There are different types of casement windows, and each type usually has one to three panes. Some have a crank for opening and closing, while others have a latch that allows you to push and pull it open by hand. This is the only option on the market that fully opens away from the home.
Skylight Glass Replacement
Replacing the glass for a skylight window costs between $150 and $3,500, depending on the size and if you use single, double, or triple-pane glass. These models are located on the roof for light and ventilation. They can be opened with a pole or crank or with an electric motor or pneumatic device. Skylights range from small windows that only let in a little light to bigger windows that provide enough natural light to illuminate a large room.
Picture Window Glass Replacement
Typical prices for replacement glass for a picture window range from $175 to $925. These are large fixed pane windows, usually with clear glass, designed to give you a "picture" view of the outside. Because of their size, the panes may be slightly more expensive to replace than other models in the market. These are made to remain stationary and will not open.
Bay Window Glass Replacement
The average cost to replace all three panels of a bay window is $320 to $3,800. These projects outward, usually at an angle. It has three panels, typically a fixed picture model and one narrower window on each side. Sometimes, the smaller ones open to vent. They are made to extend beyond the walls of a home and create extra airflow and additional light. They are angular and fit a variety of home types.
Storefront Glass Replacement
The average range to replace storefront glass ranges from $500 to $3,000, depending on the size and type. Storefront windows are large fixed-pane display windows. For these models, the cost runs about $5 a square foot, but tempered glass costs approximately $25 a square foot. They are often built around wood or aluminum framing and comes in various styles and colors.
Bow Window Glass Replacement
You can replace the glass in one panel for a bow window, but the average cost to replace it in all panels is around $690 to $1,800. These models are similar to a bay window in that it projects outward. However, these have four, five, or six panels and are generally more rounded than bay options. Bow windows are typically used for exterior corners or walls with at least 80 inches of space available.
Broken Window Pane Replacement Cost
The cost to replace a broken window pane varies based on the thickness and glass type. If one pane of a double or triple-pane window breaks, replace the entire piece instead of fixing the damaged pane. Here are the average costs to replace one to three panes.
| | |
| --- | --- |
| Type | Average Costs (Material Only) |
| Single-Pane | $150 - $400 |
| Double-Pane | $150 - $600 |
| Triple-Pane | $400 - $950 |
Single-Pane Glass Replacement
Single-pane glass costs about $150 to $400. A single-pane window is the most basic of all designs and only has one glazing or layer. Because there is only one pane, they offer the least insulation and noise reduction. Due to this, they are not as common and are found mostly in older homes.
Double-Pane Window Glass Replacement
Double-pane, or insulated glass windows typically cost around $150 to $600 to replace. They have two layers of glass or glazing. They have become the standard in most homes. This specific design is popular because there is an air pocket between the two panes for insulation. Double-pane windows also increase energy efficiency significantly. They are a cost-effective way to decrease thermal loss while remaining budget-friendly.
Triple-Pane Replacement Windows
The average cost for a triple thermopane window glass replacement is around $400 to $950. Triple-pane glass, also called thermopane, has three glazing layers and is the most energy-efficient design. This also means it is the most expensive option. If the efficiency of your windows is a top priority, triple-pane is the best choice.
Window Glass Cost by Type
Many glass types must be considered in this type of replacement, including safety options like laminated and tempered and coatings. Dual-pane and triple-pane models can also include gases between the windows, which impact the final price.
| | |
| --- | --- |
| Type | Average Costs (Material Only) |
| Tempered | $180 - $700 |
| Laminated | $275 - $625 |
| Frosted | $350 - $800 |
| Low-E Coating | $350 - $840 |
| Argon Gas | $375 - $850 |
| Krypton Gas | $525 - $1,190 |
Tempered Glass Window Replacement
Tempered glass window prices average from $180 to $700, depending on the size and type. Special effects like polarized glass can raise the price to over $1,000. This is a safety glass made by strengthening the standard material through a process involving heat, pressure, and chemicals. It can shatter but is less likely to break than laminated or standard glass.
Laminated Glass Replacement Windows
The average cost to replace laminated glass is $275 to $625. It helps prevent forced entry and is produced by bonding one or two layers of glass with resin. It is about five times stronger than standard models and can survive a rock or bullet. It also reduces noise. It tends to cost about $125 to $150 more than the same-size glass without lamination.
Frosted Glass
The average cost to replace frosted window glass ranges from $350 to $800. Frosted glass is used for decoration and privacy. This glass uses sandblasting or acid etching to make it more opaque. It is commonly used because it prevents outsiders from looking in but can still let light through.
Low-E Window Glass Replacement
The average cost for a low-E coating is between $350 and $840. A low-E coating can be applied to window glass to restrict sunlight and UV rays from entering. Low-E stands for low emissivity, which means it decreases the amount of energy the glass radiates. The layer is metallic oxide that can reduce energy loss significantly, sometimes even by 30% to 50%.
Argon Glass Replacement
Argon glass typically costs about $375 to $850. Argon gas is often located between panes in double or triple-paned windows. Argon is typically used in windows with more than a ¼ inch of space between the panes. This gas is less expensive than krypton, which is another popular option. Argon provides good insulation in wider windows, but it is not effective in windows under a ¼ inch.
Krypton-Filled Windows
The cost of a krypton gas-filled window averages between $525 and $1,190. Krypton gas is more expensive than argon, but it provides better insulation because it is denser. This makes it more energy-efficient and is recommended when the space between panes is small, less than a ¼ of an inch. Even in those with such a small volume of space between panes, krypton gas can provide thermal insulation.
Window Door Glass Replacement Cost by Door Type
Similar to window glass replacement, door glass replacement is another project that may need to be completed to keep your doors working efficiently. This type of replacement for doors depends on the door's size, glass, and type. Sometimes, it may be better to replace the entire door rather than just the glass because it is usually similar in price.
| | |
| --- | --- |
| Door Type | Average Cost (Material Only) |
| Back | $100 - $300 |
| Shower | $120 - $200 |
| Storm | $125 - $290 |
| Front | $150 - $600 |
| French | $200 - $400 per pane |
| Sliding | $200 - $600 per panel |
| Patio | $200 - $1,200 |
Back Door Glass Replacement
The average cost to replace back door glass ranges from $100 to $300. Back doors help keep the elements out of your home. They can be damaged by wind-blown or thrown objects, or they can become foggy from moisture. They are typically less decorative than front doors, and buying a new door is often the same price as replacing the glass.
Shower Door Glass Replacement
The average replacement cost for shower door glass is between $120 and $200. Shower doors separate the shower area and prevent water splashing. They commonly use fogged glass for privacy. Because of this, the cost to replace a shower door may be slightly higher than replacing other glass types. The door's size also impacts the price.
Storm Door Glass Replacement
Costs to replace the glass in storm doors range from $125 to $290. Storm doors are exterior doors on the primary door for additional insulation. Wind-blown and thrown objects can break this glass, and moisture can creep into it and fog or chip the glass. Often, replacing the entire door is the same price as replacing the glass.
Front Door Glass Replacement
Typical costs to replace the glass in a front door usually run from $150 to $600. The front door is the entrance to your home. Environmental factors can chip this glass or cause it to become foggy. Balls and other objects also can damage it.
French Door Glass Replacement
The average cost to replace French door glass ranges from $200 to $400 per pane. A French door is a door on hinges with glass for the full length, and they usually come in pairs. They are typically used as an entrance to a balcony or patio but can be used in other spots. Heavy wind-blown articles and other severe weather can break them. The glass can also become murky and require replacement.
Sliding Glass Door Glass Replacement
The cost to replace the glass in sliding glass doors is usually $200 to $600 per panel. These types of doors often are used at the entrance to a patio or deck. The glass to these doors can be broken by balls and wind-blown objects, and it can become foggy, broken, or chipped from environmental factors.
Patio Door Glass Replacement
The price range to replace patio door glass depends on the door's type, size, and glass type, but it usually averages between $200 and $1,200. Patio doors provide an entrance to the patio, deck, or gardens. Objects hitting the surface can break it, and moisture can leak in between panes and cause the glass to fog.
Replacement Window Glass Cost by Brand
The cost of replacement glass varies by brand, and many brands offer products across a wide price range. For some brands, installing replacement glass without installing a new sash is not recommended and may void the warranty. The average costs listed are for double-pane glass.
| | |
| --- | --- |
| Brand | Average Cost (Material Only) |
| Pella | $200 - $290 |
| Jeld-Wen | $220 - $330 |
| Harvey | $250 - $300 |
| Simonton | $250 - $400 |
| Alside | $250 - $500 |
| Milgard | $300 - $600 |
| Andersen | $400 - $600 |
Pella Window Glass Replacement
Expect to pay $200 to $290 for windows from Pella. Pella is a well-known manufacturer that makes windows across many price points. They are known for allowing customers to personalize their choices beyond the standard. Pella focuses on offering products in all shapes, materials, and styles to match the modern home. Some of the models available include casement, single-hung, bay, picture, specialty, double-hung, awning, bow, sliding, and custom.
Jeld-Wen Window Glass Replacement
The average price for Jeld-Wen replacement windows is $220 to $330. Jeld-Wen is a large producer of windows and replacement glass. They are known for their energy-efficient options and innovations in glass protection. Their prices tend to be lower than many of their competitors, but they are mostly a new construction company, so you may have to replace the entire window rather than just finding replacement glass.
Harvey Window Glass Replacement
Average costs are $250 to $300 for Harvey window glass replacement. Although the company makes windows out of various materials, they are best known for vinyl windows. They are a solid mid-range option but without a lot of frills. Many of their products are top-rated in energy performance and can be used as replacement or new construction windows. They include several vinyl double-hung windows and picture, hopper, rolling, awning, and casement styles.
Simonton Window Glass Replacement
The average price is $250 to $400 for glass replacement from Simonton. Simonton is known for its vinyl windows. They have many year-round thermal options and are nationally available. They are sturdy and reliable, and the company stands behind their product. However, they do not offer a particularly wide range of glass. Replacement glass without the frame is difficult to locate.
Alside Window Replacement
The average price to replace an Alside window is usually $250 to $500. Alside is a large building supply company specializing in vinyl models known for energy efficiency. The brand also offers many quality, stylish new construction windows, sliding patio doors, and insulated glass packages. All products from Alside meet Energy Star performance requirements for all United States climate zones.
Milgard Window Glass Replacement
Milgard window glass replacement prices range widely depending on the model and series, but expect to pay $300 to $600. Milgard is a trusted manufacturer known for quality vinyl models and innovation. They also manufacture custom windows and doors and extend the lifetime warranty to new homeowners. However, they are sold only through authorized dealers, which are not located in every city.
Andersen Window Glass Replacement
The average price for a replacement from Anderson is $400 to $600, although replacement for bay windows runs significantly higher. Andersen products are popular, dependable, and sold in national stores like Lowe's and Home Depot. They are known for top-quality materials and excellent warranties on replacement windows. However, replacing only the glass without replacing the sash in Andersen models can sometimes leak at the glazing point, and the company only guarantees replacing the whole structure.
Window Glass Replacement Labor Costs
Labor costs add about $50 to $125. For example, the average cost for replacing clear glass on one standard-size 30" by 36" sliding double-paned window, including labor costs, is around $375.The replacement requires removing the existing pane, installing a new one, and sealing it in place. This cost includes removal and fitting. It takes approximately 45 to 60 minutes to install each pane. A person who performs this type of job is often referred to as a glazier or glass technician.
The process of window glass replacement starts with the removal of the old glass. Once it is removed, the technician cleans the area to remove debris or old putty. The new one can then be put into the frame, and putty is applied around the edges to keep it in place. The putty is left to dry and can be painted or covered once dry.
Energy-Efficient Window Glass Replacement
When replacing your window glass, you may want to consider the costs and benefits of upgrading to energy-efficient models. Choosing an energy-efficient option can be very beneficial. Energy-efficient models reduce energy costs by more than 30%, helping lower your monthly energy bills. They are expensive but a great investment and save money in the long run. The EPA estimates that replacing all single-pane windows with double-pane can save the average family $125 to $340 a year, but double-pane windows cost an extra $100 per pane. The federal government and some states offer tax credits for installing energy-efficient windows, which might help you recoup the cost faster.
Emergency Window Glass Repair
Expect to pay between $120 to $150 per hour for emergency window glass replacement services. Glass replacement companies understand the importance of having functional windows. There are specialists to call who work 24 hours a day, providing emergency repair and replacement in the case of a break-in or emergency. Emergency repair technicians typically come out immediately to repair the problem at an additional cost.
Despite the cost, consider replacing a cracked window as soon as possible. They tend to result in air leaks, meaning your heating and cooling systems must run overtime. It also allows for more sunlight, which can fade furniture and leave your home at risk for break-ins. If the weather is extremely hot or cold, it can also become more prone to shattering.
Window Reglaze Cost
Reglazing costs between $250 and $500 per window for materials and labor. The glaze is the putty between the panes and frame for an air-tight, water-tight seal. Over time, the glaze can deteriorate. Reglazing is putting new putty over deteriorated spots to seal it. It can improve the energy efficiency and may be an option rather than replacing the window if the only issue is deteriorated putty. It is also an eco-friendly option. If it has other issues, such as a rotting wood frame, poor casing, broken glass, or inoperable sash, the window or glass should be replaced.
Replace vs Repair Window Glass
The average cost to repair a window glass is $100 to $500 while replacing it averages $300 to $880. Sometimes, the pane only has a small crack, such as a pebble tossed from a lawnmower. You may be able to fix this crack rather than replace the entire pane if you do so immediately. You or a professional must first wash and dry the window and apply a mix of resin and hardener with a putty knife. The excess resin is then removed, and the repaired glass needs to cure for 24 hours before the pane is cleaned. However, repairing is typically not a good option if the crack is larger than an inch. Cracks also tend to worsen over time.
| | |
| --- | --- |
| Project | Cost (Labor Included) |
| Repair | $100 - $500 |
| Replacement | $300 - $880 |
Replacing Glass vs Replacing Whole Window
Replacing only the glass or the whole window depends on many factors, such as the extent of the damage, your budget, and whether the frame has sustained any damage. If the glass needs replacement, the materials cost averages $300 to $880. Replacing an entire window usually costs between $3,500 and $8,500.
If someone has thrown a baseball through your window, replacing the glass can be less expensive than the entire structure. Keeping the frame means it still matches the others in your home, which is more aesthetically pleasing. However, replacing the whole structure may be a better long-term solution for energy savings, particularly if the frame is old or of poor quality material. Some manufacturers do not honor warranties if the glass is replaced without replacing the sash. Finally, it is usually not worth saving if the seal is broken, the dividers or muntins are broken, they are going to need replacement in less than 3-5 years, or you have low-quality windows.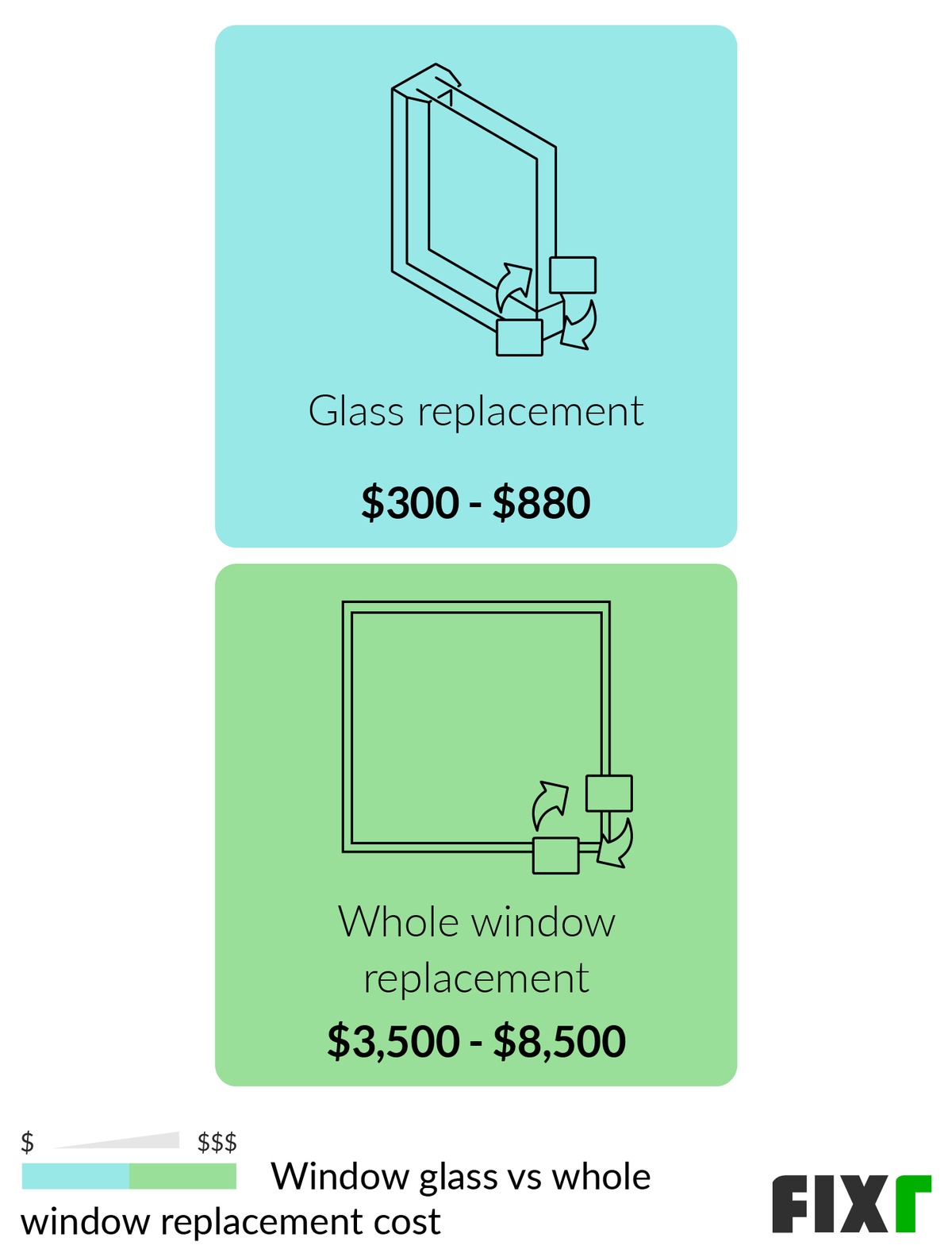 Enhancement and Improvement Costs
Window Frame Replacement
If your wooden frame breaks, expect to pay between $175 and $300 in repairs, including labor. For frames made of vinyl or fiberglass, repair costs range from $300 to $600. For broken aluminum frames, expect to pay $250 to $500, including labor costs. Frames play an important role in the structural support of your windows, while reducing heating and cooling costs. It is very important to keep them free of cracks and gaps to perform well.
House Window Tinting
Glass tinting costs roughly $7 per sq.ft. Tinting can be a very smart investment for homeowners. It also provides several benefits, such as reducing your energy bills, lowering window glare, and improving your home's safety and privacy. It even reduces UV exposure.
Window Seal Replacement
The average cost to replace a window seal is $70 to $120. Double and triple-pane windows contain a seal around the perimeter to make them airtight. When seals fail, condensation, dirt, and grime can build up. Once the seal fails, the outside elements can come into your home more easily. To repair a failed seal, you or a professional need to remove the pane of glass to find the break, clean the inside of the panes, replace the gas and seals, and reinstall them.
Window UV Film
UV Film can be applied to window glass to reduce UV rays. While the film can be purchased separately from the window at nearly any hardware store, it is recommended to be applied by a professional for the best outcome. This film can be non-reflective or reflective and even different colors. There is some variation in the UV film that can be purchased, and it can be chosen to suit any home or building. It can block 99% of UV rays and cut solar heat by up to 82%. Due to the various styles, colors, and quality, the cost of UV film ranges from $5 to $12 per square foot.
Spectrally Selective Window Film
Spectrally selective coatings are a unique style of low-E coating that allows in more light than a standard low-E coating. Low-E coatings themselves are very energy-efficient but decrease visibility. A spectrally selective coating allows for energy efficiency while providing good visibility. A spectrally selective coating is not as energy*efficient as a normal low-E coating. These coatings usually cost between $8 and $16 per square foot.
Additional Considerations and Costs
Annual inspections. Having strong and efficient windows is very important for any home. Experts recommend that they are checked yearly for leaks, damage, cracks, and water-softened wood.
DIY. Although this type of replacement could be a DIY project, it is best to opt for professional installation for the best results. This project may sound easy, but you may experience some issues with fitting the frame properly, mold and condensation, or building codes. Hiring a professional company for this eliminates the headache of dealing with these issues and often offers a great warranty.
Warranty. Most companies offer a good warranty on the glass. Most warranties range between 10 and 20 years. This warranty usually does not include damage due to nature. Always ask about the warranty before you select the company.
Discounts. Ask the company if they have discounts available. Many companies offer discounts if you decide to replace all the windows in your house instead of just a few. If you need door glass replacement, this may be the time to do so. In many cases, the more you replace, the better discount you receive.
Door glass replacement. Similar to window glass replacement, door glass replacement is another project that may need to be completed to keep your doors working efficiently. This type of replacement for doors ranges in price from $200 to $800, depending on the door's size and window type. Sometimes, it may be better to replace the entire door rather than just the glass because it is usually similar in price.
FAQs
Can you replace one pane on a double-pane window?
It is generally not recommended to replace a single pane on a double-pane model. To ensure both panes are effective, they require an airtight seal. This is not possible when you replace a single pane. Both panes should be professionally replaced to ensure a tight seal and proper insulation.
IGU, which stands for insulated glass unit, typically consists of two panes with a filling material in the middle and an airtight seal. The airspace that acts as an insulator is filled with a noble gas like krypton or argon, or simply air. Each pane has two surfaces, so a double-pane IGU has four.
What is the difference between IGU and DGU?
An insulated glass unit (IGU) is the same as a double glazing unit (DGU). This simply means that there are multiple panes of glass with a spacer between them. A layer of air is inside to add additional insulation. The construction reduces the amount of heat transfer possible.
Can a cracked window be fixed?
On a short-term basis, they can be repaired. Resin and putty can fill the crack, so a complete replacement is unnecessary. However, when the crack becomes too large, a replacement is recommended.
How much does it cost to replace glass in a window?
The average cost to replace glass in a window ranges from $300 to $880. The cost depends on the size, whether it is single-pane, double-pane, or triple-pane, the brand, and the type.
Can you replace just the glass in a window?
Yes, you can replace just the glass in many cases. The current frame can be kept in place. In some cases, replacing the entire window makes sense. This is true if it has only a few years remaining in its lifetime, the frame is rotting, or it needs more energy savings. Some warranties may be invalidated if they are not fully replaced.
How much does it cost to replace the glass in a double-glazed window?
The average cost to replace the glass in a double-glazed model is from $150 to $600. This includes labor costs. The price varies based on the size and possibly the brand.
Is it cheaper to replace glass or the entire window?
In most cases, replacing the glass is cheaper than replacing the whole window. On the other hand, sometimes replacing the entire structure is a better long-term option. For example, if it is old or the frame is beginning to deteriorate, it may make sense to replace both at the same time to reduce costs.
Can you fix foggy double-pane windows?
Sometimes, fog in double-pane windows results from seal failure and can be repaired by replacing the seal. Remove the pane, find the break in the seal, clean the inside, replace the argon gas, replace the broken seal, and reinstall it.
References