How much does it cost to purchase a home warranty?
Get free estimates from remodeling contractors near you
Home Warranty Cost Guide
If you have built a new house, had a significant remodel or upgrade, or have invested in new appliances, you may want to consider a home warranty plan. Home warranties cover repair costs on plumbing and electrical systems, HVAC systems, and many appliances. There are different types and levels of plans, allowing you to customize your coverage for the areas you feel may need it most.
Costs vary by state, company, and plan, leading to a wide range of associated costs. The national average cost range for an annual home warranty plan is $400 to $700, with most people paying around $600 for a combined system and appliance plan. This project's low cost is around $300 for a 2-year combined service plan for a new house. The high cost is $1,000 for platinum-level coverage for all systems and appliances in an existing house.
Cost of Home Warranty
Home Warranty Prices
National average cost
$600
Average range
$400-$700
Low-end
$300
High-end
$1,000
What Is a Home Warranty?
Home warranties offer repair coverage on various appliances and systems in your house. This includes major kitchen and laundry room appliances like ovens and washing machines and major systems, such as plumbing, electrical, and HVAC. Each home warranty is generally a contract, covering the appliance or system for one year. For some new houses, this can be a longer period.
If a covered appliance or system breaks, call your home warranty provider. They send a technician out to diagnose and fix the problem. If the problem cannot be fixed, you usually receive a payout for a replacement, typically clarified in your contract.
They vary by company, plan type, and plan level. Most include a deductible you must pay to cover the service call, much like a co-payment you make when you visit a doctor's office.
Basically, a home warranty helps offset major repair costs, making them more affordable if something wears out or breaks.
Compare prices from home warranty companies near me
Home Warranty vs Home Insurance
Home warranties and home insurance sound similar, but they cover different parts under different circumstances. In home insurance, your house is covered in the event of an outside force causing damage. This includes storm damage, a tree falling on your roof, or a burglar breaking in. Home insurance is usually required by your mortgage company and ensures you have the necessary funds to repair or rebuild if a disaster strikes.
Home warranties are optional and not required by lenders. They cover appliances, wiring, and plumbing systems for a specific time, usually one year. During the coverage period, the warranty helps cover repairs if the system breaks down. Unlike insurance, which needs an outside event to cover the repair, such as a storm tearing the electrical wiring off the side of your house, warranties do not require an outside event.
Home Warranty Cost by State
The cost of your home warranty can be impacted by where you live. The cost of home warranties varies by state, with some states costing significantly more than others.
This is because some states have many more companies offering warranties. The more companies, the more competition there is for the best cost, meaning you can shop around for the best rate. States with fewer companies offering plans may have higher costs and fewer options.
Costs ultimately depend on the company, however. Some companies offer services in many states and charge the same rate in each. Others offer coverage in a smaller area or change rates based on the location.
Below is an average breakdown by Review Home Warranties of costs by state, providing a general idea of the costs in your area. However, your plan may have more or less coverage than the average in your area, so your costs could vary.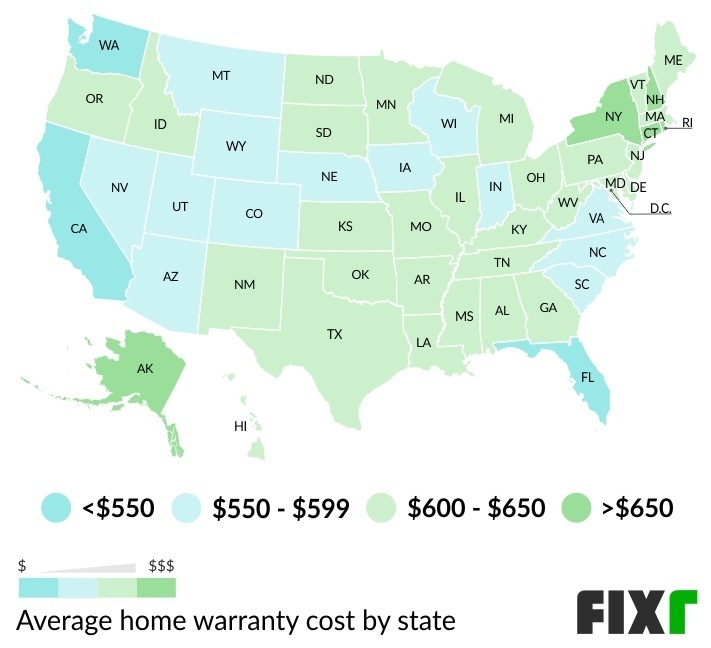 | | |
| --- | --- |
| State | Average Costs |
| Alabama | $600 - $650 |
| Alaska | >$650 |
| Arizona | $550 - $599 |
| Arkansas | $600 - $650 |
| California | <$550 |
| Colorado | $550 - $599 |
| Connecticut | >$650 |
| D.C. | $600 - $650 |
| Delaware | $600 - $650 |
| Florida | <$550 |
| Georgia | $600 - $650 |
| Hawaii | $600 - $650 |
| Idaho | $600 - $650 |
| Illinois | $600 - $650 |
| Indiana | $550 - $599 |
| Iowa | $550 - $599 |
| Kansas | $600 - $650 |
| Kentucky | $600 - $650 |
| Louisiana | $600 - $650 |
| Maine | $600 - $650 |
| Maryland | $600 - $650 |
| Massachusetts | $600 - $650 |
| Michigan | $600 - $650 |
| Minnesota | $600 - $650 |
| Mississippi | $600 - $650 |
| Missouri | $600 - $650 |
| Montana | $550 - $599 |
| Nebraska | $550 - $599 |
| Nevada | $550 - $599 |
| New Hampshire | >$650 |
| New Jersey | $600 - $650 |
| New Mexico | $600 - $650 |
| New York | >$650 |
| North Carolina | $550 - $599 |
| North Dakota | $600 - $650 |
| Ohio | $600 - $650 |
| Oklahoma | $600 - $650 |
| Oregon | $600 - $650 |
| Pennsylvania | $600 - $650 |
| Rhode Island | >$650 |
| South Carolina | $550 - $599 |
| South Dakota | $600 - $650 |
| Tennessee | $600 - $650 |
| Texas | $600 - $650 |
| Utah | $550 - $599 |
| Vermont | $600 - $650 |
| Virginia | $550 - $599 |
| Washington | <$550 |
| West Virginia | $600 - $650 |
| Wisconsin | $550 - $599 |
| Wyoming | $550 - $599 |
Talk to local pros to get quotes for your home warranty plan
Home Warranty Cost by Time Period
Most home warranty plans are designed to offer coverage for one year. You can pay that cost upfront or monthly. In some rare cases, you can purchase single months of coverage, which may be used for specific situations like selling a house.
In addition to typical home warranties, 10-year warranties are also available for new houses on the house's structure. This is a different type than most home warranties and covers different things.
Costs for each period vary by the company, plan type, coverage level, and coverage areas.
| | |
| --- | --- |
| Time Period | Average Cost |
| Per Month | $25 - $100 |
| Per Year | $300 - $900 |
| 10-Year | $500 - $1,500 |
Home Warranty Cost per Month
The cost of home warranties per month averages $25 to $100. Most plans offer a monthly payment to make the costs more affordable. In most cases, you agree to a one-year contract and break the fee into 12 monthly payments. Some companies may charge more for this than a one-time payment, while others have no difference in costs. Nearly all companies price various plans on a monthly basis. The exact cost per month depends on the plan, what it covers, and the protection level.
Home Warranty Cost per Year
The average cost of home warranties per year is $300 to $900. Some companies provide the option of a one-time fee for coverage for the entire year. Those that do often offer a small break on the total costs versus paying monthly. Because most warranty plans last for an average of one year, this is one of the most common payment methods. You make a one-time payment, covering for the term indicated. In many cases, you can renew the plan at the end of one year, sometimes at a different rate.
10-Year Structural Home Warranty
The cost of a 10-year structural warranty plan ranges from $500 to $1,500. Home structural plans are different from most home warranties. They do not cover the appliances or systems but cover the foundation, floor framing, walls, and other parts of the structure. This type is only available on a newly built house. This is considered a very good idea for most new houses because the cost to repair these areas ranges from $50,000 to $150,000, making the investment in a warranty worthwhile. These are good plans to invest in if you live in an area where soil erosion and other issues frequently impact your house's structure or foundation.
Home Warranty Plans Cost
There are several types of home warranty plans. Some protect a portion of your house, such as your roofing or appliances. Others cover multiple areas at once, including appliances, major systems, roofing, and other parts. Nearly all companies offer plans by the month and year, with yearly prices being slightly less expensive than the monthly costs. Below are some of the most common plan types and their average costs.
| | | |
| --- | --- | --- |
| Plan | Average Cost per Month | Average Cost per Year |
| Roofing | $30 - $50 | $350 - $600 |
| Appliance Protection Plan | $35 - $45 | $400 - $500 |
| Extended Warranty | $35 - $45 | $400 - $500 |
| Systems Protection Plan | $35 - $50 | $400 - $600 |
| Basic Protection Plan | $35 - $50 | $400 - $600 |
| Total Protection Plan | $40 - $75 | $450 - $900 |
Roofing Home Warranty
The cost of roofing home warranties averages $30 to $50 a month. Annual costs range from $350 to $600 a year. Roofing warranties are generally separate from other home warranties. They cover new roofs and offer coverage for issues like leaks. These warranties are generally good for one year, but some companies offer extensions. Your roof may need to be installed by a roofer certified by the roofing manufacturer to qualify for a warranty. This varies by provider, so research coverage before getting a new roof.
Home Appliance Warranty
The cost of a home appliance warranty is $35 to $45 a month. Annual costs average $400 to $500. Appliance warranties vary by company but generally cover the appliances in your kitchen and laundry room. Some appliances may fall under system protection plans by some providers. Others may be covered under basic or total protection plans, depending on the provider. Many appliances are also eligible for extended warranty plans if you purchase the plan with the appliance.
Extended Home Warranty
The monthly cost of extended home warranties ranges from $35 to $45. When paid at one time, the annual costs are $400 to $500. Extended warranties are normally only for appliances and can be purchased when the appliance is new and installed. They extend the appliance's normal warranty for a longer time period, covering repairs for 2 or more years. This is not an option for all hosues or plans. Check with your home warranty provider about this option before purchasing new appliances to see if this is something they offer. Costs are generally the same as other appliance warranties, but they are good for more than one year.
Systems Protection Plan
System protection plans cost $35 to $50 a month. Annual costs average $400 to $600. System protection plans can offer a plumbing, electrical, and HVAC home warranty at once. Most also cover other components of house systems, including doorbells and some hardwired appliances, such as a dishwasher. System protection plans vary on the level of protection they offer. For example, some plans offer HVAC coverage for a furnace but not a central air conditioner. To get complete coverage, you often need to upgrade to a premium package.
Basic Protection Plan
A basic protection plan ranges from $35 to $50 a month. Annual costs average $400 to $600. Most companies offer basic protection as an entry-level plan. These plans are sometimes known as bronze, silver, or basic. A basic plan generally covers appliances with a few minor systems or most major systems with a few minor appliances. The exact details vary by the company offering the plan. This is a good entry-level plan for most homeowners who want to cover some of the more expensive repair areas but do not wish to cover everything.
Total Protection Plan
The cost of a total protection plan is $40 to $75 a month. When paid at one time, these plans cost $450 to $900 annually. Total protection plans are sometimes called combination plans, gold plans, or platinum plans. They offer combined protection for appliances and systems. Some companies also offer add-on areas of coverage for an additional fee. This could include pools, smart home systems, and garage door openers. Other plans also offer coverage for these additional areas in the total protection plan. Always ask for a detailed list of what is included to be sure of your coverage.
Home Warranty Cost by Type of House
In some cases, the house type impacts the cost of your home warranty. This can be due to size. For example, apartments, condos, and mobile homes are smaller than single-family ones. Therefore, system warranties may be cheaper. In other cases, it may be due to the building type. Apartments, duplexes, and other buildings with multiple living spaces can have lower costs per unit because the cost can be spread over the entire building. You have a wide range of costs, depending on the system types you want covered, regardless of the house type.
Home Warranty for Mobile Homes
The cost of a mobile home warranty is $300 to $600 a year. They tend to be smaller than the average single-family home. Therefore, they have less plumbing and wiring and smaller HVAC systems. Many often have fewer appliances or smaller appliances. You can usually find lower rates on home warranties. You still have the same options for types of plans and coverage. This means you can use appliance or system plans or combined plans.
Condo Home Warranty
Condo home warranties usually range between $400 and $750 a year. This covers the appliances and systems inside your condo. It does not affect shared systems in the condominium building. These are still covered by your condo fee and are the responsibility of the condo board. Since condos are usually smaller than single-family homes, the annual costs are usually lower. They are not substantially lower in most cases because of the shared space logistics.
Single-Family House Warranty
Most single-family home warranties cost between $400 and $900 a year. Single-family homes have the most options for home warranties. You can choose from a wide range of plans, including those for appliances, systems, or a combination. Many single-family home warranties also cover a range of other systems and areas, including ducts, garage door openers, pools, and other areas. The exact plan cost depends on the coverage level. Your house's age and systems also impact your final costs.
Modular Home Warranty
The cost of a modular home warranty is $500 to $1,500 for a 10-year structural warranty. Modular home warranties are different from standard home warranties. This plan does not include systems or appliances. A modular home can have the same warranty types as any single-family home. However, many manufacturers offer an extended plan on the structure because of how the house is constructed. Structural warranties are separate and can be covered under a typical single-family home warranty. The modular home warranty is only good for new houses and not existing structures.
Home Warranty for a Duplex
The cost of a home warranty for a duplex averages $700 to $1,200 a year. This covers both sides of the duplex. If you own a condex or half a duplex, your costs are similar to those of a condo. Duplexes are 2-family homes owned by a single individual or family. Because the same person owns both sides, it is common to put the same warranty on both. Shared spaces tend to have shared cost areas. A duplex home warranty ensures that no matter where a system issue arises, it is completely covered.
Home Warranty for an Apartment Building
The cost of a home warranty for small apartment buildings with up to 4 units is $1,200 to $1,600 a year. Larger buildings no longer qualify for home warranties but may be eligible for different or individual-unit plans. Many companies cover small buildings with up to 4 units owned by a single individual or corporation. You can have all the appliances covered, all the systems, or a combination. Shared systems can complicate the cost of repairs. So, warranting the building can make the repair costs easier to handle. Putting single units under warranty can complicate the repair and coverage process.
Get free estimates from trusted home warranty companies near me
Average Cost of a Home Warranty by Company
Many companies offer home warranties. Some are available in multiple states and areas, while others may only be available in select areas. Each has plans, coverage levels, and costs. Some specialize in covering areas that others do not, allowing you to add different plans for full coverage. Most have basic plans that allow you to cover your appliances or systems, combination plans that cover both, and additional areas as needed. Below are some of the most popular plans and their average monthly costs. Not all these companies are available in every area.
| | |
| --- | --- |
| Company | Average Cost (Monthly Rate) |
| HomeServe | $7.99 - $18.99 |
| 2-10 Home Buyers Warranty | $19.99 - $49.99 |
| Cinch | $27.99 - $39.99 |
| First American | $28.00 - $42.50 |
| Fidelity National | $30.40 - $45.83 |
| Select | $35.83 - $62.42 |
| Choice | $36.17 - $54.99 |
| American Home Shield | $39.99 - $58.99 |
| America's First Choice | $43.18 - $59.09 |
| Old Republic Home Protection | $50.83 - $67.08 |
HomeServe Warranty
The cost of a HomeServe home warranty averages $7.99 to $18.99 a month. HomeServe does not offer the same level of home warranty as other companies. They offer specific appliance and system warranty and protection plans, however. Some of their specific warranties include the water main line, water heater, and interior plumbing. Their monthly costs are considerably lower than other companies because they are so specialized. However, while other companies bundle multiple systems and areas, it can be more difficult to get complete coverage with HomeServe.
2-10 Home Buyers Warranty
The cost of home warranties from 2-10 is $19.99 to $49.99 a month. 2-10 Home Buyers Warranty is aimed at new homeowners. They offer plans for those selling a house, which is a guarantee for the buyer, and plans for the new homeowner. They offer basic plans covering appliances and more detailed plans covering major systems and appliances. They have service fees or deductibles on most of their plans. These costs vary based on the plan and the system needing service.
Cinch Home Warranty
The cost of a Cinch home warranty plan ranges from $27.99 to $39.99. Cinch offers two basic plans, plus the ability to add different options. Their lowest-cost plan is their appliance plan, covering major and minor built-in appliances. Their higher tier plan covers all systems and appliances. You can also add specific areas, such as swimming pools and well pumps. Their whole-house plan offers many other options, such as toilets and garbage disposals, that some companies do not.
First American Home Warranty
The cost of First American home warranties averages $28 to $42.50 a month. First American also generally charges a flat rate service fee of $75. First American offers two service plans. Their basic plan covers most appliances and ceiling fans, minus ovens and cooktops. Their more complete plan covers all systems and appliances. This includes ducts, attic fans and exhaust, and hot water dispensers.
Fidelity National Home Warranty Pricing
The cost of Fidelity National home warranties is $30.40 to $45.83 per month. They also charge a flat rate service fee of $75 per visit. This company offers plans in 12 states, making them one of the smaller warranty companies. They require a home inspection before starting a plan. All systems and appliances must be in good working order before the plan can be started. They have two basic plans, one including appliances and the other including appliances and systems.
Select Home Warranty
The cost of a monthly Select Home Warranty is between $35.83 and $62.42. Select is one of the few plans offering roof coverage at no additional cost. They also have a flat service fee of $75 per visit. They offer three different plans. Their basic and gold plans are the same cost, but basic covers only appliances, and gold covers only systems, such as plumbing and electricity. Their platinum plan covers appliances, systems, and other areas.
Choice Home Warranty
The cost of Choice Home Warranty averages $36.17 to $54.99 a month. The cost of their service fees ranges from $60 to $85 per visit. Choice offers two plans for their customers - a basic plan and a total plan. Both cover appliances and systems. The difference is the basic plan does not cover refrigerators, washers and dryers, or air conditioning systems. The total plan covers everything the basic plan does and these three additional systems.
American Home Shield
American Home Shield costs $39.99 to $58.99 a month. They also have home service fees ranging from $75 to $125 a month. American Home Shield allows for some customization in their plans by allowing you to add to any plan for an additional fee. They have three basic plans - silver, gold, and platinum. Their silver plan covers most house systems but no appliances. Their gold plan covers all house systems and appliances, while their platinum plan offers extended warranties and roof coverage.
America's First Choice Home Warranty
The cost of America's First Choice home warranty ranges from $43.18 to $59.09 a month. They also have a service fee of $75 to $125 per visit. AFC offers four plans. The first covers systems, except plumbing stoppages. The second plan covers most appliances, except microwaves and ice makers. The third covers systems and appliances with the exceptions already listed. Their top-tier plan covers all systems and appliances, including areas exempt from their lower-tier plans.
Old Republic Home Protection Warranty Plan
The cost of Old Republic Home Protection Warranty plans is $50.83 to $67.08. They also have a service fee ranging from $75 to $100 per visit. This company is available in 28 states. They have five plans to choose from - standard, ultimate, ultimate with washer, dryer, and refrigerator, platinum, and platinum with washer, dryer, and refrigerator. Their standard plan covers most systems, with their ultimate plan covering additional systems exempt from the first, such as enhancements and mis-matched system upgrades to existing areas of the house. They also have an ultimate plan that covers washer, dryers, and refrigerators, which are exempt from the standard and the regular ultimate plan. Their platinum plan covers all these areas, plus extended warranties on appliances, enhanced protection for plumbing, modifications and customizations to the plan, and increased coverage for unusual HVAC systems. Their platinum plan with washer, dryer, and refrigerator coverage also covers these areas, which are not included in the regular platinum plan. All plans cover plumbing stoppages, toilets, air conditioning units, and limited pest control.
Home Warranty Deductible
All home warranty companies charge a service fee or deductible with each call. Think of this as your co-payment. The company covers the repair costs, including the bulk of the labor. However, you are responsible for the service call fee where the technician diagnoses the problem and presents the plan to fix it.
Some plans also have additional deductibles for lower-tier plans. In these cases, you may have to pay a larger portion to have the rest of it covered. This percentage varies depending on the company and plan. The average cost range of these deductibles is $75 to $125, but some plans cost more or less.
Home Warranty Coverage Limits
Like any warranty, most of these plans have coverage limits. This varies from company to company and from plan to plan. For example, if a problem is found with an appliance or system during the initial inspection, this specific issue is covered under warranty. So, if your dishwasher has a minor leak, future issues stemming from this leak are not covered.
In other plans, very specific issues may be covered. For example, plumbing clogs and stoppages are usually separate items from general plumbing. A clog will not be covered if you do not have plumbing stoppages in your plan.
In addition, not every home warranty is eligible for renewal at the term's end. Some older houses and appliances may have limited coverage or may not be eligible for renewal after one year.
Always ask to see the terms and conditions of any contract you sign to see what may or may not be covered under your warranty.
Home Warranty Additional Coverage
Some home warranty companies offer custom packages to add coverage for areas not included in the standard plan. This may include your well pump, swimming pool, pest control, and whirlpool bathtubs. Not all these areas are eligible for coverage under every plan. Generally, you can upgrade to a better plan offering coverage for these areas, or there may be a few you can add for an additional cost. Not every company offers add-ons, so find out what may be eligible for coverage in your area.
Some common additions that many companies provide include:
| | |
| --- | --- |
| Add-On | Average Monthly Cost (Additional) |
| Second Refrigerator | $2 - $4 |
| Well Pump | $8 - $10 |
| Roof Leaks | $8 - $10 |
| HVAC Maintenance | $10 - $15 |
| Electronics | $15 - $20 |
| Pool and Spa | $20 - $40 |
| Guest Units | $25 - $30 |
Pros and Cons of Home Warranties
Like anything, home warranties have positive and negative attributes you should consider. In many circumstances, the warranty can save you thousands of dollars if something goes wrong. The company you have the contract with can also facilitate repairs and help you find the right professionals. This can save time and money. Home warranties provide you with peace of mind, knowing that you can afford the repairs if something happens.
On the other hand, home warranties are like health insurance. They are nice to have if you need them but an ongoing expense if you do not. There is a chance you will pay a yearly fee and never use the warranty. You also need to pay the service fees when you use it. You may also find that the issue may not be covered.
Sometimes, you receive money toward a replacement if something cannot be repaired, but the installation and setup are your responsibility. Once you get the new part or appliance installed, you need to start a new contract to cover it because the old one is null and void.
What to Consider Before Buying a Home Warranty
Do your research and consider many things before purchasing a home warranty. Think about the age of your house and appliances and whether you could afford to make repairs if they are needed. For some people, paying a monthly fee is easier to budget than a major repair cost.
You should also think about areas to prioritize coverage on. Things that need more upkeep and repair may make sense to put a warranty on, while other things may not be worth the cost.
Always research the company, what they offer, their terms, and check reviews from other customers. Look at independent websites and the Better Business Bureau to get a sense of how easily this company pays out. For new houses, home warranties can be a good investment, especially structural warranties. For other situations, you may find that you pay far more than you receive. Think carefully and read your contract thoroughly to ensure you understand what you are paying for.
Compare quotes to get the best price on your home warranty plan
Additional Considerations and Costs
Compare quotes. While some states have more home warranty companies than others, most have a few to compare. Compare quotes from at least three for the best value.
Added value. When selling a house, a home warranty may add value. This may help you sell for a higher price or make your property more attractive to buyers.
Peace of mind. Home warranties can bring peace of mind to many homeowners, helping you avoid expensive repairs that may otherwise surprise you.
Warranty for home sellers. You can purchase a home warranty when you sell a house. This transfers to the new owner and allows them to feel more comfortable with the sale.
Timing. You need to purchase a home warranty before there are issues with your house. Pre-existing issues are not covered.
Inspections. Most, but not all, companies conduct a home inspection before providing a warranty. These can be invasive because pre-existing issues cannot be covered.
FAQs
How can I find out if my house has a warranty?
Unless you purchased a warranty or one was in place when you purchased the house, it is unlikely that it has one now. Home warranties are fairly finite in their terms, so existing warranties may also have expired if time has passed.
What is the point of a home warranty?
They are like health insurance. They help you avoid major repair bills if something breaks.
When should you use a home warranty?
There are many times you may want a home warranty. If you bought a new house and want peace of mind or just built a house and want to warranty the structure, it can be a great idea. You do not want to purchase a home warranty after there are issues, but it can be a good idea going forward once issues are repaired.
What does a $500 home warranty cover?
This depends on your plan. For this cost, you may cover most major systems and appliances, except air conditioners, refrigerators, and roofs.
Will a home warranty cover an old HVAC?
Possibly, but your system must be inspected to ensure there are no existing issues. If there are no issues, it can be covered.
Who typically pays for the home warranty?
The homeowner pays for the warranty. When selling a house, the seller pays for the warranty so that the buyers have some guarantee.
Can you buy a home warranty after something breaks?
You can purchase a home warranty only after the issue has been repaired. Pre-existing issues are not eligible for a warranty.
Find remodeling contractors near you
Get free estimates on Fixr.com from trusted remodeling contractors in your area
Find Contractors