How much does it cost to install an oven?
Get free estimates from remodeling contractors near you
Oven Installation Cost Guide
Ovens are an important and desired feature in most residential kitchens. Every model cooks and bakes things differently, so it is important to find the right fit for your home. Many different factors should be considered when it comes to installing an oven in your home - type, kitchen placement, and heating method. The oven varies greatly based on brand, size, heat source, cleaning type, range type, and more. Installations range from straightforward replacements to complex new installations. Your oven may stand alone or also be paired with a cooktop or range element.
The national average cost range to install an oven is $750 to $3,000. Most homeowners pay $2,000 to install a 27" single slide-in convection gas oven. However, prices can be as low as $550 to install a 24" freestanding single conventional oven or as high as $4,700 to install a 30" double wall-mounted convection gas oven with self-cleaning feature.
Cost to Install an Oven
New Oven Prices
National average cost
$2,000
Average range
$750-$3,000
Low-end
$550
High-end
$4,700
New Oven Costs by Type
Ovens come in all shapes and sizes and are categorized based on how they cook food. Both conventional and convection ovens can be gas or electric, allowing you more cooking versatility. Although conventional and convection models look similar on the outside, you can easily notice the differences once you open them up. Depending on your needs, either of these options will be a great fit for your home.
​
| | |
| --- | --- |
| Type of Oven | Average Costs (Only Material) |
| Conventional Oven | $500-$2,000 |
| Convection Oven | $820 - $3,300 |
Conventional Oven
On average, conventional ovens cost between $500 and $2,000 and are generally a less expensive option. Conventional ovens use a stationary heat source that rises as your oven heats up. While it is a standard way to cook food, this form of heating can produce little pockets of air that fluctuate your oven's temperature as you cook. That is why it is important to turn your dish around halfway through the cooking time. This avoids undercooking some parts and burning others.
Convection Oven
Convection ovens cost $820 to $3,300 on average. These efficient ovens help save on monthly energy bills. While higher in cost, these ovens are often preferred by chefs and everyday kitchen users. The heat source in a convection oven is blown by fans that circulate the hot air throughout the space, allowing food to cook more evenly and quickly. Since most recipes are written for conventional ovens, you should adjust your cook time accordingly. This can be an advantage for most foods, but a drawback when it comes to baking. To avoid cooking the outside of your baked goods before the middle, turn the fan off and use your convection oven as a conventional oven.
Compare prices from oven installers near me
Oven Prices by Heat Source
There are a few main types of heat sources that most ovens use. Each has benefits and drawbacks, depending on what you are cooking or baking. Many people choose between gas or electric ovens, but steam models are rising in popularity. Pizza ovens are also available for more specialized cooking needs: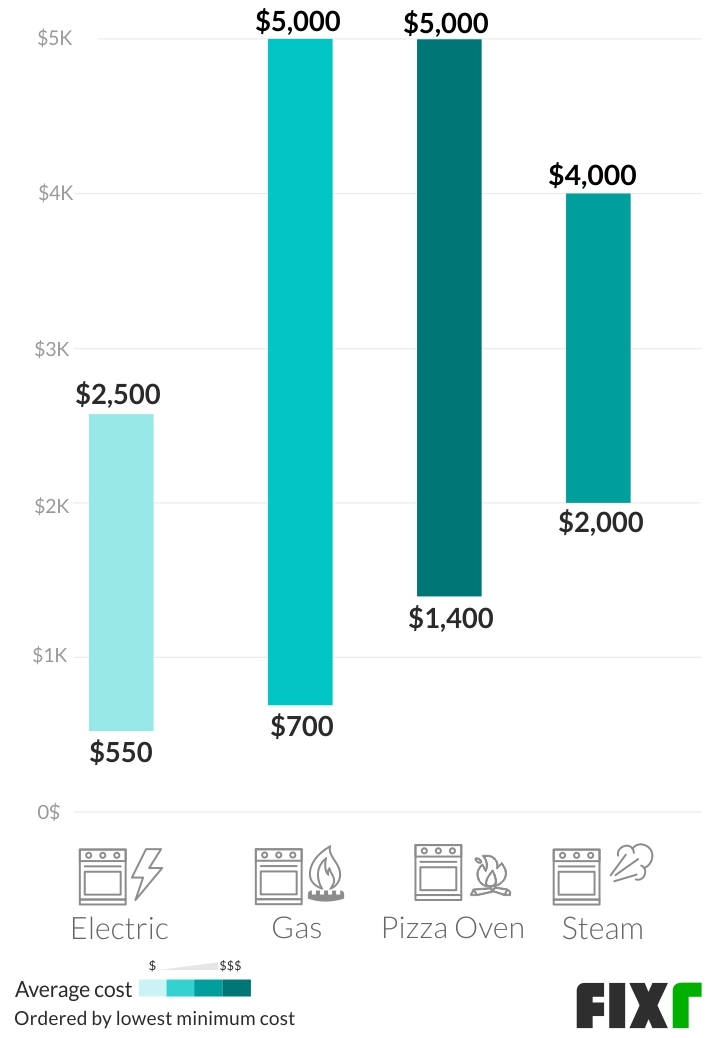 | | |
| --- | --- |
| Heat Source | Average Costs |
| Electric | $550 - $2,500 |
| Gas | $700 - $5,000 |
| Pizza Oven | $1,400 - $5,000 |
| Steam | $2,000 - $4,000 |
Electric Oven
On average, electric ovens range from approximately $550 to $2,500. However, they can be more expensive than gas options in the long run because they contribute to your monthly electric bills. These ovens use metal heating elements in or underneath the oven floor and on top of the oven. In convection ovens, there is also a fan that blows the hot air throughout the enclosed space. Electric ovens offer more stable temperatures since the elements can hold a lot of heat even once turned off. This makes cooking faster and more consistent.
Gas Oven
On average, gas ovens cost $700 to $5,000. The cost variance depends on whether it is a single or double oven, self-cleaning or manual-cleaning, and many other variables. Gas ovens use a tube burner underneath the floor of the oven. This tube burner is started either by a spark igniter or an electric glow bar and heats up, eventually igniting the gas within the oven. This burner can be on or off, but there is no in-between. That means you can experience a greater variance of temperature when cooking and baking. However, the naturally occurring moisture you get from using gas ensures your food does not dry out while it is heating up.
Pizza Oven
Pizza ovens cost between $1,400 and $5,000. These wood-fired ovens are designed specifically to handle the high temperatures needed to make a crispy pizza crust. They utilize three types of heat - conductive, radiant, and convection flow - to produce perfect cooking results every time. Once your oven is fully heated, everything inside is affected by the temperature of the floor and flame size.
Steam Oven
Steam ovens usually range between $2,000 and $4,000, on average. Rather than only using heat, steam ovens use steam to cook food by injecting water into a broiler. They are becoming a more popular choice because they conduct heat more efficiently and never dry food out. They also make it easier to cook healthier items since you do not need to use oil or butter to keep the food moist. Steam ovens are great for many things, but they cannot do everything. For example, they are not very useful for browning meat. This is why it is important to assess your everyday cooking needs to decide if you want a combo-steam oven or another alternative.
Cost of an Oven by Size
When it comes to purchasing an oven, size is incredibly important. One of your first steps is to figure out what meets your needs and fits inside your kitchen. Before you make your choice, here is what you should know about both single and double ovens:
​
| | |
| --- | --- |
| Size | Average Costs |
| Single Oven | $415-$2,900 |
| Double Oven | $1,200-$5,000 |
Ovens usually come in three standard sizes - 24, 27, or 30 inches. However, you can also find both residential models that are as small as 20 inches and as large as 36 inches. Most 24-inch models are useful for smaller kitchens in apartments or studios. These are generally single ovens that are more compact. You will find 27-inch and 30-inch single or double ovens in most larger kitchens. When you need extra space, 30-inch ovens have the added benefit of fitting a third rack.
Single Oven
Single ovens cost between $415 and $2,900 on average and are usually less expensive than double ovens. They provide one oven space and generally a warming drawer beneath it so that you can keep food warm after it is finished cooking. Single ovens are great for small families with tighter kitchen spaces. If simplicity is your style, a single oven will be the perfect fit for you.
Double Oven
On the low end, double ovens cost about $1,200. From there, they range to about $5,000. Double ovens offer double the space for cooking and allow you to cook items at different temperatures at the same time. These streamlined designs come in many versatile shapes and sizes so that you can find the right fit for your home. They are either installed on top of one another or side by side. You also have the option to install two full-size ovens or one full-size and one-half size model.
Oven Costs by Type of Mounting
The overall cost of your oven is also determined by how your oven needs to be mounted. Wall ovens offer a more modern look, where a freestanding oven is more traditional. Slide-in and drop-in ovens are also great alternatives that blend in seamlessly with your kitchen countertops. The table below shows the average costs for each type:
| | |
| --- | --- |
| Type of Mounting | Average Costs |
| Freestanding Oven | $500 - $1,600 |
| Wall Oven | $600 - $4,700 |
| Slide-in Oven | $800 - $3,000 |
| Drop-in Oven | $1,400 - $1,750 |
Freestanding Oven
Freestanding ovens cost anywhere from $500 to $1,600, depending on whether it is a replacement or new installation. Freestanding ovens are the most common due to their convenient designs and affordable prices. They can be located anywhere throughout the kitchen and are easy to move if you have the correct hookups and outlets.
Wall Oven
On average, wall ovens cost between $600 and $4,700. Wall ovens offer ample cooking space and much more flexibility than you would find with a range. Since you do not have to bend down to use a wall oven, it is easy for anyone to use, even if you have problems kneeling or bending over.
Slide-in Oven
The average cost range for a slide-in oven is $800 to $3,000. Slide-in ranges have a slightly protruding cooktop that rests on each side of the countertop. This feature keeps food and debris from falling between the range and the adjacent cabinetry, saving time and energy on cleaning days.
Drop-In Oven
On average, drop-in ovens cost between $1,400 and $1,750. Drop-in ovens are raised off the ground and are similar to slide-in ranges in that they give the kitchen a custom look. The main difference is drop-in ovens do not have a drawer beneath the oven. Instead, they are mounted on a base cabinet rather than installed directly on the floor. Today, they are not as popular due to the installation requirements and are usually used as replacements in older kitchen units.
Get free estimates from trusted oven installation companies
Oven Installation Cost
Once you find the right fit for your kitchen, you have to figure out the best installation plan. Even the best oven is useless when not properly installed. That is one reason it is important to find trained and certified professionals in your area. If you do not need to modify any cabinets, it generally takes about one to two hours for a basic oven installation with an average cost range of $75 to $250 per hour for labor.
For a basic 24-inch oven that costs $400, expect to pay from $475 to $900, including installation. For a new installation with an upgraded oven, the unit price alone can be well over $1,000. Add in labor costs, and the cost range is $1,600 to $4,500.
When replacing an existing oven, you already have the space, support system, and electrical outlets or gas lines ready to go. However, if you need a new electrical outlet, expect to pay between $120 and $200. Installing a new gas line costs about $15 to $25 if you already have a gas line to your house.
Wall Oven Installation
Wall ovens can be installed on almost any wall in your kitchen. It is designed to fit within specific cabinet dimensions. Single-wall oven costs range widely, depending on the size and features. When installing a larger 27-inch wall oven in the same location as your current one, expect to pay between $750 and $2,700. Installation alone costs about $100 - $250.
Labor for a wall oven and freestanding model are fairly similar, but a wall oven may take longer overall. When installing a wall oven and separate cooktop, you must budget for the installation of both. There will most likely be an extra fee for cutting and installing the cooktop between your cabinetry.
Double Oven Installation
Since double ovens offer more space and versatility, they are generally more expensive than single ovens. In general, expect to pay $1,200 to $5,000. However, installation costs do not vary greatly. Expect to pay about $100 to $250 for installation.
Gas Oven Installation
Gas ovens cost between $700 to $5,000, but add about $150 for labor and installation costs on top of that. Gas oven installations are generally a bit more expensive because you may have to reroute the gas line or completely move it.
When installing a basic replacement in the same space as your existing oven, you may not need to move the line, but you may need an extension. This costs about $200 per 10 feet of gas line extensions.
Oven Replacement Cost
There are two main reasons why you may need an oven installation. Either you are building an entirely new kitchen or need an older oven model replaced. Generally, a direct replacement costs less than a new addition. Existing ovens already have the space, support system, and electrical outlets or gas lines in place. So, the installation solely involves removing the old oven and replacing it with the new model.
If you are not switching from one utility to another - electric to gas or vice versa - and the new oven is the same size as the old one, expect to pay less for the entire installation. On average, a replacement costs between $600 and $1,600, including the labor cost, which is usually about $75 to $250 an hour. The farther away your new oven is from the gas or power lines, the more expensive the project.
Cost of Stove and Oven
When buying a stove and oven together, keep in mind the size and layout of your kitchen and budget. Buying a gas or electric freestanding range with both a stovetop and oven costs about $800 to $2,000 on average. Opt for slide-in or drop-in options for approximately $500 to $1,000 more. When installing a wall oven, you must purchase the stove separately. This will take up more space in your kitchen and be more expensive.
Compare prices from local oven installers
Cost of Moving the Oven in Your Kitchen
Moving an oven can be a pain, but it is doable. When it comes to moving your oven, it is always best to trust qualified professionals for part of the process. For example, if you have a gas oven, always hire a technician to disconnect and reconnect the gas line. Disassembling and moving a gas line generally costs between $15 and $25 a linear foot. And for electric ovens, let an electrician do all the rewiring. Electricians typically charge between $40 and $120 an hour, depending on where you live and the electrician's license grade - apprentice, journeyman, or master.
After that, you can move your oven on your own. However, it may be better to leave the heavy lifting to the professionals. This way, you do not have to worry about damaging your walls, flooring, or the oven. On top of saving you time, you can have peace of mind knowing the job was done right. Moving an oven in your home costs about $110 per hour. Moving a gas oven can be a bit more complicated because you have to reroute the gas lines. On average, this process costs another $500.
Range vs Wall Oven
In many cases, people opt for a range oven installation. If you are thinking about installing a range vs a wall oven, it is important to assess all your cooking needs beforehand. A range includes an oven with a combined cooktop in one single model. The oven is usually free-standing, but it is typically installed between two rows of cabinets. It is also possible to find models that slide or drop into the countertop. When dropping in an oven, you need a specially cut counter for this, which can cost an additional $100 to $200, depending on the material.
In many modern kitchens, homeowners separate their cooktop from their oven. One example of this may be to install the cooktop on an island where there is no room for the oven. In this case, the oven is installed either inside a wall or tall kitchen cabinet.
Without the cooktop, you have extra space, meaning you have the option to install a double oven or warming drawers beneath the oven.
To do either of these, the cabinets around your oven need to be built specifically to the oven and cooktop that you select. This greatly impacts the cost, depending on the size of the cabinet and oven, wood species and stain color, and door styles if you have the oven concealed beneath an appliance panel. It is not uncommon for the cabinet's cost to range from $1,000 to $5,000, depending on these features. Wall-hung ovens are more costly to install, running around $200 for a single oven and $225 for a double.​
Price of an Industrial Oven
Industrial ovens are used in restaurants and other commercial areas to feed many people at once. An industrial oven is a heated chamber that is usually used to process raw materials at high temperatures to perform a heat treatment process. There are several different types, including curing ovens, drying ovens, batch ovens, and continuous ovens. These high-tech ovens cost anywhere from $2,000 to $8,000.
Hire an oven installer in your area
Enhancement and Improvement Costs
Carpentry Work
When installing a wall-hung oven or an oven that does not fit properly, you may need to have additional carpentry work done. This could mean adjusting cabinet sizes or completely removing some cabinets. On top of the extra cost, you may also lose storage space. Carpentry costs begin at around $70 an hour.
Range Hood Installation
When installing a range with your oven, the average cost is $750. This depends on the type of hood, exhaust style, materials, finishes, labor, and maintenance. Installation time ranges from 1-4 hours, with labor generally costing approximately $100 per hour.
Warming Drawer
Many ovens come with a warming drawer underneath, so you can keep food warm after it finishes cooking. This comes in handy when cooking a large meal or preparing things in advance. Between labor, materials, and installation, this process costs between $1,330 and $2,500.
Storage Drawer
A storage drawer is a convenient space to store baking and broiling pans. While they will not keep food warm like a warming drawer, they can be a great addition to any kitchen when you are low on space for all your cooking equipment. On average, they cost between $450 and $650 to install.
Self Cleaning
Self-cleaning ovens have a feature that cleans the inside of your oven at high temperatures. They usually make quick work of stubborn stains that would take hours to clean by hand. On average, a self-cleaning oven is approximately $100 more than a manual-cleaning model. For a basic 24-inch single oven, the difference would be $510 vs $700 - $800.
Proof Mode
If you enjoy baking homemade bread, proof mode is a must. During proof mode, the halogen light inside your oven provides the warm temperatures needed to help yeast rise. For convection models, both the fan and oven light come on. The temperature ranges from about 80 to 95 degrees F.
Multiple Cooking Functions
When it comes to finding the right oven, you may not need to make a decision. Many ovens can boil, simmer, bake, fry, deep fry, grill, roast, stew, steam, and brown food. These functions may cost more upfront, but you save on not buying a variety of cooking appliances.
WiFi
Smart appliances help you cook like a professional. On top of preheating your oven from remote locations, you can also change the temperature and set cooking times. Smart appliances are more commonly installed in modern kitchens, with smart lighting leading the trend. The goal is to make cooking more simple and straightforward for homeowners. WiFi-enabled ovens generally cost between $1,170 and $3,960.
Delay Bake
If you are a busy person, a delay bake function is essential for your oven. These controls can be preset to start and stop your oven automatically. Delay bake ovens cost anywhere from $750 to $3,400.
Large Window
Having a large oven window makes cooking easier and gives your kitchen a more modern look. These windows generally do not impact the cost. The total price is mostly impacted by the oven type and other additional features.
Additional Considerations and Costs
Inspection. If your oven has a cooktop, you need to install a hood above it to pass building inspections. The hood must be a total of 6-inches wider than the oven when installing a standard range. You may also choose to have a microwave hood installed, which requires special cabinetry and ventilation above it. This design is worth the extra cost if you want both appliances in the same spot rather than having a microwave take up space on the counter. A range hood costs between $400 and $1,500 to install, depending on the installation type and complexity.
Mobility problems. If you have back pain or mobility problems that prevent you from bending over to access a freestanding range oven, you may want to consider having your oven installed in a cabinet or wall at an easier-to-manage height. Stand-alone double-range ovens can be particularly tricky due to the low nature of the lower oven.
Warranty. Your oven may come with a warranty that is dependent in part on how it was installed. Always choose a certified installer who has worked with this brand before to ensure that your warranty remains intact.
Baking oven. If you are a baking enthusiast, the right oven means everything. Many homeowners find that electric convection ovens are ideal for baking. Gas ovens can heat your oven more quickly, but they do not heat as evenly. These fluctuating temperatures are crucial when following a recipe. Electric ovens, on the other hand, provide a steady and even heat and remain relatively dry so that you can get a nice golden brown on the outside. The only thing you need to watch for is over-browning your baked goods.
Difficulty of installation. The more straightforward your oven installation, the less expensive it will be. The price for an oven going on the ground floor will be cheaper than if it has to be taken up or down stairs to be installed. Much of this has to do with how far your oven has to travel between the delivery truck to your kitchen. This generally means longer installation times and more labor needed to complete your installation. Expect to pay at least $100 more if your oven has to travel to a different floor.
Additional costs. An oven installation may require additional charges for parts, such as gas or electricity line connectors, ignitors, and ventilation ductwork.
Cleaning. Keep your oven clean. On top of ensuring your health and safety, this helps avoid grease fires. To avoid the extra hassle, look into buying a self-cleaning oven.
FAQs
How much does it cost to install a new oven?
The cost of installing a new oven in an existing space is $750 to $2,700 on average, including labor costs and minor adjustments for the fit.
How much does it cost to install a double wall oven?
Installation fees do not vary greatly between single ovens and double ovens. For the most part, expect to pay between $100 and $250 for installation alone.
How much electricity does an oven use per hour?
The average wattage for an oven is 3,000 watts. Assuming an electricity rate of 12 cents per kilowatt-hour (kWh), a 3000-watt oven costs about $0.36 per hour at high heat.
How much does it cost to move an oven?
When you move an appliance, you also have to move the utilities needed to run them. Typically, you need at least two workers to complete the job. On average, moving your oven should take about 2 hours minimum. The average is approximately $110 per hour. Electric ovens are easier to move and less expensive if you move the electrical lines yourself. Gas stoves can be a bit more complicated if you have to move or re-route a gas line, which can be another $500. How far you move your stove also factors into this cost.
Do electric ovens need to be hardwired?
Most electric wall ovens must be hardwired into an approved junction box. Free-standing ranges, on the other hand, may require only a basic outlet receptacle. For your safety, ensure your oven is installed by a certified professional.
Do electric wall ovens have vents?
Electric wall ovens do not vent to the outside, but they have an internal vent. Wall ovens made before 2007 were vented through a tube directly underneath the control panel. After that, both single and double wall ovens have a vent below the door. This keeps electronics cooler, provides a better seal, and improves overall appearance.
How much does it cost to replace oven door glass?
Broken oven door glass is one of the most affordable repairs when it comes to ovens. A typical glass replacement costs anywhere from $50 to $300.​
Find remodeling contractors near you
Get free estimates on Fixr.com from trusted remodeling contractors in your area
Find Contractors