How much does it cost to install landscape stones?
Get free estimates from lawn care and gardening professionals near you
Landscaping Stones Cost Guide
Landscaping rocks add color, interest, and utility to your yard. You can use them as long-lasting mulch around garden beds, to create paths and walkways, to make a dry creek river bed for drainage, and more. They come in a wide range of colors, sizes, and textures, so you can mix and match to get the ideal appearance for your project.
The national average cost of landscaping stones is between $250 and $2,500. Most homeowners pay around $600 for a 20 sq.ft. dry river bed made of pea gravel and mixed river stones. At the low end of the spectrum, you will pay around $120 for a 25 sq.ft. patio seating area of pea gravel three inches deep. At the high end, you may pay up to $4,000 for a 200 sq.ft. patio seating area of Mexican river stone three inches deep.
Cost to Install Landscaping Stones
Landscaping Stones Cost
National average cost
$600
Average range
$250-$2,500
Low-end
$120
High-end
$4,000
Landscaping Rock Cost per Ton
The cost of landscaping rocks averages around $25 to $900 per ton. You can expect to pay less for decomposed granite or pea gravel than lava rock or Mexican beach pebbles, which are on the pricier end of the scale. Landscape rocks come in various options differing in their heights, textures, and colors to meet any requirements for an outdoor project. They are an aesthetically pleasing and cost-effective choice for many projects, including driveways, walkways, retaining walls, and garden beds. No matter your vision, landscaping rocks bring it to life.
River Rocks Cost per Ton
The cost for river rocks per ton runs from $80 to $280. River rocks are smooth stones that come in many colors and sizes. Colorado and rainbow are less expensive options. Cherokee and salt and pepper are on the higher end of the pay range. Since river rocks are taken from the bottom of rivers or beds, you can expect to pay more for rare colors. Depending on the size of the rocks, a ton can cover 70% to 75% of a cubic yard.
Cost of Landscape Rock per Square Foot
The cost of landscape rock per square foot ranges between $1.24 to $8.64. While you can pay for rock per square foot, it is not uncommon to purchase by the ton. Most companies offer a discount based on the amount of rock you purchase. The more square feet of rock purchased, the better the discount. A cubic yard yields from 81 to 162 sq.ft., depending on the size of the material and depth you want it to cover.
River Rocks Cost per Square Foot
The cost of river rocks per square foot ranges from $2.75 to $6. River rocks are small and excellent for backyard landscaping and come in a wide range of different types. You can expect to pay more for rare colors and types such as salt and pepper and Cherokee. The more sq.ft. of rocks purchased, the better the price you will pay.
Landscaping Rock Cost per Yard
The cost of landscaping rocks per yard ranges from $122 to $800. Decomposed granite or pea gravel is at the cheaper end of the scale. Lava rock or Mexican beach pebbles are more expensive. The cost is reflective of the color, size, and type of rock. Some companies opt into charging by the yard rather than by ton or sq.ft. A cubic yard of rocks can be spread to cover 100 sq.ft. at three inches of depth.
River Rocks Cost per Yard
A cubic yard of river rocks has a wide range of costs, starting at about $130 a cubic yard and going up to around $910 a cubic yard. The cost depends on the color and size of the rock. You can expect to pay more for rare colors compared to those more readily available. Similarly, the larger the rocks, the higher the cost.
Landscape Stone Pricing by Type
The cost of landscaping stones is directly influenced by the type of stone, ranging anywhere between $25 to $900 per ton and $30 to $1,000 per cubic yard. Each type of stone differs in its appearance, use, size, and cost. You can expect to pay more for stones that are rarer and not as readily available. The chart below illustrates the different types of stones and their respective costs. The subsections below give a brief explanation of each.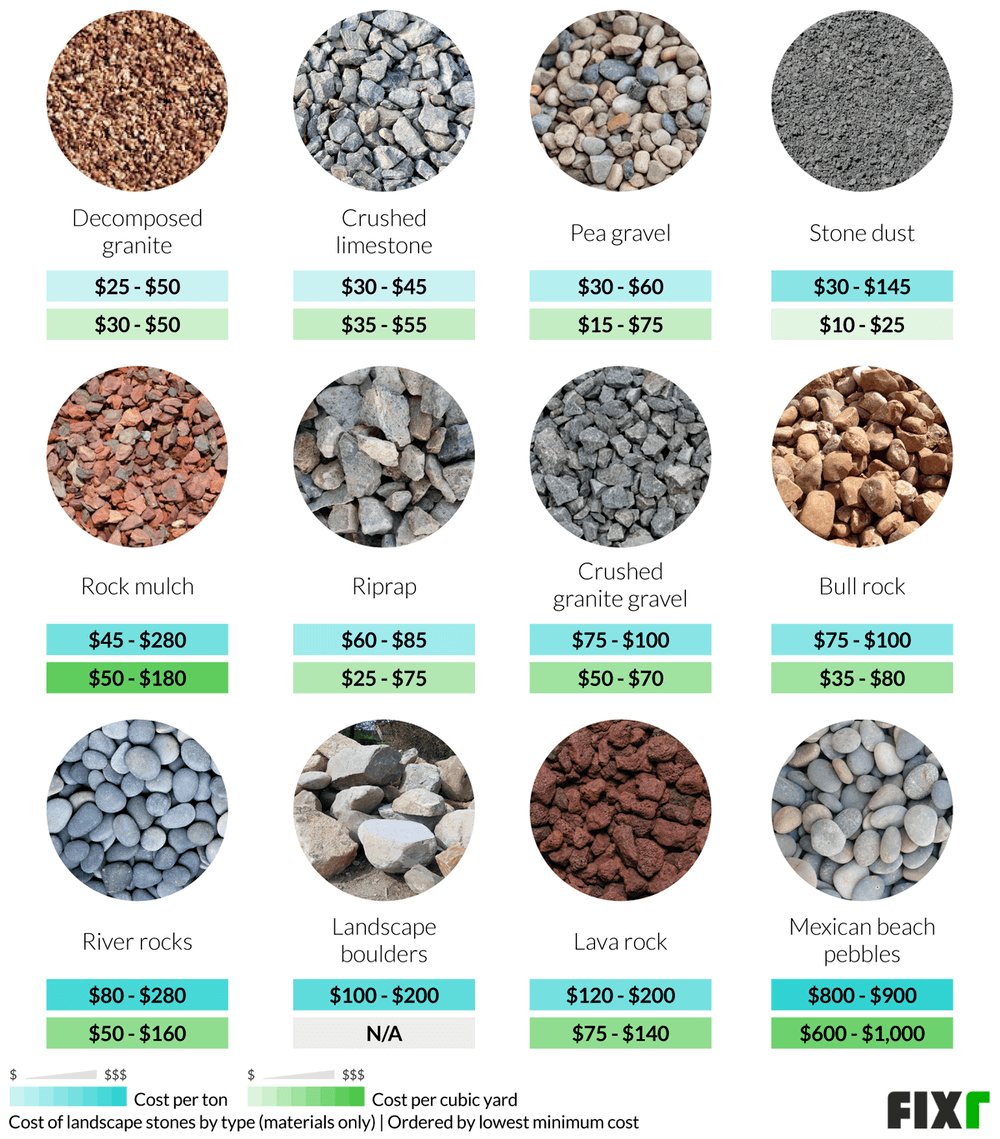 | | | |
| --- | --- | --- |
| Type of Stone | Cost per Ton (Materials Only) | Cost per Yard (Materials Only) |
| Decomposed Granite | $25 - $50 | $30 - $50 |
| Crushed Limestone | $30 - $45 | $35 - $55 |
| Pea Gravel | $30 - $60 | $15 - $75 |
| Stone Dust | $30 - $145 | $10 - $25 |
| Rock Mulch | $45 - $280 | $50 - $180 |
| Riprap | $60 - $85 | $25 - $75 |
| Crushed Granite Gravel | $75 - $100 | $50 - $70 |
| Bull Rock | $75 - $100 | $35 - $80 |
| River Rocks | $80 - $280 | $50 - $160 |
| Landscape Boulders | $100 - $200 | N/A |
| Lava Rock | $120 - $200 | $75 - $140 |
| Mexican Beach Pebbles | $800 - $900 | $600 - $1,000 |
Decomposed Granite
Decomposed granite costs between $25 and $50 per ton or $30 to $50 per cubic yard. This type of stone is fine and most commonly used for driveways, walkways, and patios. It comes in a wide range of colors and can be sifted or unsifted. The sifted varieties cost more. Decomposed granite is a derivative of granite that erodes and endures weathering over time.
Crushed Limestone
Crushed limestone costs around $30 to $45 per ton or $35 to $55 per cubic yard. It is available in different sizes and styles, and the price you pay depends on the quantity. It is readily available in many different shades, from light to pale grey to dark grey colors. Due to its versatility, availability, affordability, and attractiveness, crushed limestone has become one of the go-to materials for landscaping. The natural coloration of limestone gives off a beautiful curb appeal and is used as a loose-fill in driveways, paths, and patios.
Pea Gravel
The cost of pea gravel averages between $30 and $60 per ton or $15 and $75 per cubic yard. Just as the name states, pea gravel is about the size of a pea. It tends to be too large for driveways; however, it works great for pathways, drainage beds, or patio surfaces. Pea gravel comes in several colors to complement any landscaping theme.
Stone Dust
Stone dust costs $30 to $145 per ton or $10 to $25 per cubic yard. It is a byproduct of crushed stone and a coarser version of sand. Homeowners widely use it in small outdoor projects or as a material below patios and pavers. Stone dust can be smoothed down to create a strong surface to support the weight of pavers or for filling empty spaces.
Rock Mulch
Rock mulch has a starting cost of $45 per ton, with some varieties up to $280 per ton. You could also pay anywhere from $50 to $180 per cubic yard of rock mulch, a decorative style of rock with various styles, sizes, colors, and textures. Compared to other mulch, rock mulch has a higher upfront cost but can last upwards of 15 years without maintenance. Rock mulch is great for drainages and in landscaping beds, gardens, and pathways.
Riprap Stone
Riprap stone costs between $60 and $85 per ton or $25 and $75 per cubic yard. It is a rough, rock stone used to line slopes and large areas. They come in several sizes ranging from 6 to 30 inches in diameter. They also vary in shape as they can include a variety of stones, including trap rock, limestone, granite, and many more. It is less decorative than other stones and more uniform in color. It has a very natural appearance that works well in many landscapes.
Crushed Granite Gravel
Generally, crushed granite is more expensive than its decomposed alternative, ranging in price between $75 and $100 a ton or $50 and $70 per cubic yard. Crushed granite is similar to decomposed granite but is slightly larger and chunkier overall. The colors are similar, coming in various shades of red and beige, but are slightly more upscale. Crushed granite gravel can be used as a liner for drainage areas or on walkways, driveways, and patios.
Bull Rock
You can expect to pay between $75 and $100 per ton or $35 and $80 per cubic yard for bull rock. Bull rock is a recycled material that comes in various shades of brown and ranges from three to five inches in size. The pieces are large and rough and are more rounded in appearance than riprap. It creates a rugged and natural-looking bed and landscape when used as filler and in conjunction with other rocks.
River Rocks
River rocks cost between $80 and $280 a ton or $50 and $160 per cubic yard. They are smooth stones in various sizes and colors taken from the bottom of rivers and old creek beds. They are often used in landscaping where water needs to be drained to prevent flooding. River rocks are used to attract the eye, create a contrast to green grass or shrubs, and reduce maintenance.
Landscape Boulders
Landscape boulders cost between $100 and $200 a ton. These rocks are typically larger than 10 inches in size, some small enough to carry on your own, and others needing a crane or machinery to move them. Their shape can be categorized as either round or angular. Boulders make nice accents, usually placed in dry beds or the middle of rocky landscaping. They can be used to accent ponds and water features as well. They start at sizes of roughly 16 inches.
Lava Rock
Lava rock is a pricier type of landscaping stone, ranging in price between $120 and $200 a ton or $75 to $140 per yard. Lava rock is an igneous rock formed from cooled volcanic lava. It is a type of foamed obsidian and has a mixture of textures from glassy to rough. It is porous and durable, making it good for drainage and mulching. Lava rock is a more permanent solution to mulching.
Mexican Beach Pebbles
Mexican beach pebbles are one of the most expensive landscaping rocks, ranging between $800 and $900 per ton and $600 to $1,000 per cubic yard. These rocks are very smooth, small, and rounded and look almost polished. They may be uniform in color or have a variation between them. These rocks are hand-picked from beaches and tropical coastlines and sorted for uniformity. Mexican beach pebbles look stunning next to pools or in pathways.
River Rock Prices by Type
River rock prices vary depending on the type, averaging between $80 and $500 per ton and $65 to $675 per cubic yard. They have a wide range of costs, depending on the location they were taken from, color, size, and uniformity. When it comes to landscaping, river rocks are one of the best options on the market. River rocks are stones taken from the bottom of rivers and creek beds or old, dried beds. They are round and smooth in appearance and range in size from one inch up to several inches. They can be matte or glossy and come in a variety of colors. Their durability and long-lasting coverage make them a popular choice among homeowners. There are many types of river rocks on the market, outlined in the chart below with their respective cost.
| | | |
| --- | --- | --- |
| River Rock Type | Cost per Ton (Materials Only) | Cost per Yard (Materials Only) |
| Colorado | $80 - $280 | $65 - $350 |
| Delaware | $95 - $130 | $130 - $160 |
| Rainbow | $100 - $200 | $85 - $225 |
| Tennessee | $110 - $130 | $130 - $160 |
| White | $150 - $200 | $100 - $190 |
| Arizona | $150 - $200 | $160 - $300 |
| Cherokee | $150 - $200 | $115 - $170 |
| Salt and Pepper | $175 - $280 | $200 - $300 |
| Flat | $190 - $500 | $230 - $675 |
​Labor Cost to Install Landscape Rocks
The average cost to install landscaping stones ranges between $50 and $100 per hour. Most professional companies charge on a per-hour basis. Installing rocks can take anywhere from two to eight hours. For a 20-foot dry river bed installation, expect to pay roughly $150 in labor costs. Larger jobs take longer and cost more than smaller jobs. The more detailed the work, the higher the costs. For delivery of stones, you can expect an additional cost of $200 to $400.
The cost of labor involves putting down any weed-blocking fabric and moving and arranging the rocks to the desired area. The majority of the project cost is made up of materials, while approximately 20% of the job accounts for labor costs. While landscaping is a job that you can do yourself, hiring a professional landscaping company has its benefits. Installing and transporting heavy rocks can be difficult and dangerous. Hiring a professional company ensures that the job is done with safety measures in place and at a high-quality standard.
Landscape Rock Removal Cost
If you have a rock you want to be removed from your property or have a lot of gravel to be moved, expect to pay $150 for a single boulder removal and $450 for a patio of gravel. The bulk of rock removal costs is in labor. Small rocks can be picked up using a rock vacuum, but larger rocks may need excavators or heavy equipment, influencing the price. Most rocks are removed due to aesthetic or functional reasons, like changing the landscaping or making room for a new deck or pool.
How to Landscape With Rocks
Rocks have many creative uses within landscaping. Rock is an ideal hardscape material that can add a sense of beauty and definition to an outdoor space. They can be used as the main attraction, an accent, a border, or a field for other features. Compared to other materials, rock may be less durable than other materials but is an all-natural material giving a space a natural touch. It also requires no maintenance, which is a bonus to homeowners.
Landscaping Stepping Stones
Landscape stepping stones are an important addition to any landscape project. Stepping stones create a pathway through your yard among the grass and landscape that allow one to make their way across with ease, all while acting as a decorative accent to a landscape design. Stepping stone pavers come in various types and styles, including natural rock stepping stones, flagstone stepping stones, and river rock stepping stones. They can be cut to whatever diameter and shape you want to suit your needs. Stepping stones are often used for walkways, patios, and stair treads.
Crushed Stone Driveways
Crushed stone is an ideal form of construction aggregate that creates a unique and attractive driveway. Typically produced by mining suitable rock deposits, crushed stone is produced by the natural process of weathering and erosion. Many people associate crushed stone driveways with rural residences. However, crushed stone is a beautiful addition to any landscape or style of exterior home. A gravel driveway is an inexpensive method of creating a road. A gravel driveway is derived from layers of stone, with the capability to drain and withstand the weight of cars driving on it.
Boulder Border
Boulders are an excellent decorative rock that can be used for both front yard and backyard designs. They enhance your yard due to their texture, height, and natural organic appearance. Boulders are most commonly used to anchor your beds, traverse small hills, create a privacy screen, and create a more defined area within your garden or yard. Boulders make excellent steps providing a more inviting entry into any outdoor space. While improving your home's curb appeal, boulder steps make walking through the yard or garden easier and safer.
Stone Mulch
Stone mulch is a great option and alternative to typical wood mulch. It has many benefits which make it a popular choice among gardeners. One of the main benefits is its long-lasting life span. When you mulch with stone, you don't have to reapply it regularly as you do with other varieties. Stone mulch is superior in erosion prevention and keeping the soil moist. River rocks are a form of stone mulch that can be used around your beds. River rocks have a higher upfront cost than other types of mulch. However, their lifespan averages 15 years. They require little to no care or maintenance, making it a one-time investment.
Landscaping Walkways
Adding landscaping to a walkway adds a magical touch to any space. This can be done using different types of rocks by themselves or by combining them with larger stepping stones to highlight the walk. Working rocks into your outdoor garden is a beautiful way to add texture and versatility to the design. Due to the wide range of rock materials available, the opportunities of different combinations for a rock garden walkway are endless and will work with all different garden styles.
Rock Water Features
Water features are a great way to add a beautiful tranquil flare to your backyard or garden. While a pond is one of the most popular water features, there are plenty of other ideas for incorporating a water feature, such as a birdbath, bubbling rock, or water statue. Boulders or many other types of rocks can be used as part of the water feature design. They are great for building up the edges and adding a dynamic design to surround the structure. The numerous color and style rock variations make it easy to choose a rock that works well in your space.
Garden Seating Areas
If you want an attractive backyard garden sitting area, consider using gravel and some flat stones. Instead of grass, using rocks help to delineate the space. Rock provides an appealing touch and character, plus it is relatively easy to maintain. Chairs, a bench, or a swing can be placed right within the rocks. Sometimes, the stones themselves are used as a seating space.
Landscaping River Beds
A river bed is one of the most fascinating ways to liven up your outdoor area. Not only do they make a beautiful addition to any outdoor landscape, but they also act as a solution to many issues. You can make a dry river bed or border of stones to separate areas or act as a drain, directing water flow within your yard. This is a great fix to drainage problems in the yard and provides a great way to reuse rocks that have been removed from your yard.
Crushed Stone Patio
Crushed stone is a portable and flexible material that can make for a functional surface for hanging out or entertaining in your yard. Rather than using pavers or larger stones, this is a much less expensive way to cover a large area. Crushed stone can be purchased by the bag and directly poured to make a patio in the yard. There are many color and size stone options. Crushed stone provides a solid base for a patio, even though it can be hard on bare feet.
Maintenance
One of the key advantages of installing landscape stones is low maintenance. Most landscape stones do not need any maintenance and last for decades, thanks to a natural wash from rainwater or the occasional spray down with a garden hose. These stones are also highly durable, so they are unlikely to break. However, if they do end up damaged for whatever reason, a simple replacement keeps the overall stone landscaping looking great. You may also want to replenish with more stones every five to ten years, depending on the type of stone you choose, but it is up to your personal preference.
Cost of River Rock vs Mulch
Mulch has a starting cost of $25 a cubic yard. Some more expensive varieties cost $180 a cubic yard, while stone landscaping is $130 to $910 per cubic yard. Wood mulch needs to be topped up every one to two years, making rocks less costly in the long-term.
River rocks and chipped wood are two varieties of mulch. These materials may be used to conserve water, prevent erosion, and line garden beds. Wood mulch is one of the most common types because it is inexpensive and helps your garden beds retain moisture. However, it needs to be replenished frequently, so it has long-term costs to consider.
Rocks have a higher upfront cost but last 15 years or more without needing any maintenance or care, making it a one-time investment. Rocks help with water drainage and conservation but do not enrich the soil in the same way that wood mulch does. So, it is important to consider what you want the mulch to do.
| | |
| --- | --- |
| Type of Stone | Cost per Cubic Yard (Materials Only) |
| Mulch | $25 - $180 |
| River Rocks | $130 - $910 |
Enhancement and Improvement Costs
Boulder Retaining Wall
It can cost anywhere between $20 and $50 per sq.ft. for a boulder retaining wall. Retaining walls are useful if you have any issues with drainage or soil erosion or different levels to your landscaping. They help to hold back higher levels of soil elevation while also facilitating drainage. Boulders can be used to create a stacked stone wall. A wall can then be used to build a tiered wall, decorative wall, and taller walls. They can be stacked to create walls of different lengths and heights.
Glow in the Dark Garden Pebbles
If you want to have your garden path show up at night, add glow-in-the-dark garden pebbles, which are a type of glowing resin shaped like rocks. These stones last approximately two to three hours in the dark after being exposed to full sun. Scatter them on top of your landscaping pebbles to light up the area at night. Multiple packs can be used for larger areas. They cost around $20 to $40 for 100 rocks.
Additional Considerations and Costs
Snakes. Any type of mulch, including rock mulch and larger rocks, may attract snakes. If you live in an area with venomous snakes, you may want to consider other landscaping options.
Buying in bulk. Rocks are generally cheaper when purchased in bulk directly from suppliers. This can be by the pallet or truckload, depending on your needs.
Local stones. Look for stones mined from your local area to keep costs down and to create a color palette that blends in with your natural landscaping. You can also use native rocks in drought-ridden areas to help reduce water usage while complementing your existing landscaping.
High-traffic areas. If you have high-traffic areas in your landscaping, such as walkways and driveways, rocks hold up better to trampling than other ground covers.
Rock temperatures. Pea gravel, lava rocks, and other similar stones absorb and retain heat. They release this heat when the sun goes down, warming the area. This increases both day and nighttime temperatures around and in your home.
Estimates. It is important to get at least three written estimates for the work. Sometimes you may be dealing with the wrong company or person that will charge you a lot more than they should.
Warranties. Most landscaping companies offer warranties against defects and workmanship, and materials for approximately three years. This warranty does not apply against effects of erosion or wear and tear or against damage caused by failure to maintain the landscaping by the owner or other party.
DIY. Landscaping with stones can be a DIY project. However, hiring a professional is the best option. Many homeowners believe it is as simple as unloading stone and flattening them out on any surface. In reality, the project involves much more and can be difficult and dangerous if carried out incorrectly. Hiring a professional ensures that the job is done safely and at a high-quality standard.
Alternatives. The type of landscape you add to your garden gives it structure and aesthetic appeal. Before you decide on what landscaping type you prefer, it is important to know your options. As an alternative to stones in the garden, other options such as turf, sod, grass pavers, landscape timbers, landscape fabric, and dry stack stones may be considered. These materials bring something different to your space, varying in their material, appearance, texture, and cost.
FAQs
Should I put landscape fabric under rocks?
Yes, landscape fabric keeps weeds from growing up through your rocks.
What is the cheapest rock for landscaping?
This depends on your area, but generally, decomposed granite or pea gravel are the least expensive.
Does rock landscaping attract bugs?
Rocks do not attract bugs as much as earth, plants, and wood mulch landscaping. Some bugs may burrow beneath the rocks, however.
How much does a ton of stone cost?
Depending on the type of stone, you can expect to pay anywhere between $25 and $900 per ton.
How much does a truck load of rock cost?
Assuming that a truck delivers approximately 90 cubic feet of rocks, expect to pay between $2,700 and $18,000. Ordering a truckload of rocks has a wide range of costs, depending on the rock type, rock size, and the size of the truck. If you order rocks in larger quantities, most landscaping suppliers offer a discount for volume.
How many square feet does a ton of rock cover?
One ton of rock covers approximately 240 sq.ft.
What color landscape rock should I use?
Landscape rocks come in a wide range of colors, from single color to mixed palettes. When it comes to choosing a color, there is no right or wrong answer. Many people like to use rocks from nearby areas so that they blend in with the existing natural landscape features, while others choose a rock that will stand out. Most landscapers recommend not becoming too picky about the color because the more exacting you become, the higher the cost goes when attempting to match it.
The information provided by our cost guides comes from a great variety of sources. For more information, read our Methodology and sources.