How much does it cost to build a porch?
Get free estimates from deck, patio and porch contractors near you
Build Porch Cost Guide
Porches add style, utility, and value to homes. Whether you add a front porch, back porch, or sunporch, this extra outdoor living space enhances your property. Porches come in many shapes, sizes, and styles. They can be large wraparound front porches in a farmhouse style, or they can be small entryway porches that shelter visitors from the rain. They can be made of many materials and placed anywhere. For this reason, the cost to build a porch has an enormous range of associated costs.
The national average range is between $15,000 and $35,000. Most people spend around $20,000 for a 16 x 20-foot front porch with asphalt roofing, wood decking, and laminated wood pillars. This project's low cost is around $5,000 for a simple portico with sheet metal roofing and a single concrete step. The high cost is $50,000 for a 20 x 25-foot wraparound porch with exotic wood decking, metal tile roof, decorative elements, and wide front steps.
Porch Addition Cost
Cost to Build Porch
National average cost
$20,000
Average range
$15,000-$35,000
Low-end
$5,000
High-end
$50,000
Cost to Build a Porch by Type
Front porches come in all shapes and sizes. They can be simple front steps with a small roof for visitors or large farmer-style porches. The type you choose can vary, depending on your home's architecture and the space size and function. Simple stoops or porticos can give visitors a place to stand out of the rain. A large front porch gives you a place to entertain or relax. While many people think of them as being on the front, you can also create different types in other areas, such as back porches, sunporches, and lanais. Each has different appearances, attributes, and cost ranges to consider:
| | |
| --- | --- |
| Type | Average Costs (Labor Included) |
| Front Stoop | $4,000 - $10,000 |
| Portico | $4,000 - $20,000 |
| Rain | $10,000 - $25,000 |
| Back Porch | $12,000 - $30,000 |
| Lanai | $12,000 - $30,000 |
| Sunporch | $12,000 - $30,000 |
| Sleeping | $15,000 - $30,000 |
| Wraparound | $20,000 - $60,000 |
| Veranda | $20,000 - $60,000 |
Front Stoop
The cost of a front stoop ranges from $4,000 to $10,000. Front stoops are not porches because they often do not have a roof. They may have an awning to provide shade. They usually do not contain columns but may have a railing. They are comparable with small porches because they have a standing area at the front door. This area can be large enough for one or two people or hold a few chairs.
Front Door Portico
A front door portico costs between $4,000 and $20,000 on average. This is a front stoop with a roof and supporting columns. It may be elevated or ground level , and it can have a railing or be open. Like the front stoop, it can be small enough to hold one or two people or large enough to hold several chairs. Porticos are often added as a more decorative way of bringing attention to the front door area than as a usable porch. Porticos can add dimension to the front of a home and increase curb appeal.
Rain Porch
Rain porches average $10,000 to $25,000. This type is a standard front porch large enough to hold seating. The roof extends past the edge of the porch's floor so that the rain flows away from the porch interior. Anyone sitting on this area in the rain will not feel any spray from the falling rain. This can be good for homeowners in warm climates that see frequent rainstorms.
Back Porch
A back porch costs between $12,000 and $30,000 on average. There can be many types of back porches. They can be identical to standard front porches - essentially a deck with a roof. Or they can be a screened-in sunporch or another structure. Some are even situated away from the home, with a small walkway connecting them. Back porches are a good alternative for homeowners who want more shade in aggressively sunny climates.
Lanai Porch
A lanai ranges from $12,000 to $30,000 on average. Lanais are similar to sunporches or ground-level porches used near pool areas in warm climates. They may be screened in or have movable glass walls that can be opened or shut. Many are a blend of an indoor and outdoor living area. They are often an extension of a patio or indoor flooring. A roof and possible walls protect the area from the elements.
Sunporch
A sunporch or Florida room averages $12,000 to $30,000. Sunporches have many names, from Florida room to 3-season porch to screened porch. They can even be in the same category as a lanai, depending on the area where they are installed and what is beyond them. Screened-in porches costs are similar to the costs of other porches. The screening-in does not add considerably to the costs, mostly because they do not have columns or other items. The absence of these often makes up for the increased cost of screening.
Sleeping Porch
Sleeping porches cost between $15,000 and $30,000. Sleeping porches are typically larger or wider than other porches. They are usually positioned for the best airflow. They are screened in and may have a larger rain-porch overhang to keep them dry. They can be installed at ground level or on an upper floor in some cases. However, costs increase anytime they are raised.
Wraparound Porch
Wraparound porches range from $20,000 to $60,000 on average. Wraparound porches line at least two sides of a house. They often wrap at least three sides and, in some cases, all four. Wraparound porches are frequently seen on farmhouses. For this reason, they are often referred to as "farmer's porches." They are often wide and long, so their costs are usually much higher.
Veranda
A veranda costs between $20,000 and $60,000 on average. Verandas are a subtype of wraparound porches. They are large open-air porches that may be elevated or at ground level. They wrap at least two sides of a building and may extend all the way around. They usually have a decorative railing extending around the entirety. Verandas may also be wider than other porches.
Porch Addition Cost Breakdown
Many porches have similar components, such as flooring, roofing, stairs, and columns. The materials and the size and amount used differ, meaning that costs vary.
Because there can be so many variations, it is difficult to give a cost breakdown that encompasses them all. The following breakdown is for a standard 16 x 20-foot front porch with wooden decking and basic materials in a classic elevated style. Costs include material and labor prices where applicable:
| | |
| --- | --- |
| Project | Average Costs (Installed) |
| Permit | $100 - $500 |
| Railing | $400 - $1,200 |
| Columns / Posts | $350 - $4,000 |
| Foundation | $1,000 - $3,000 |
| Roof | $3,200 - $6,000 |
| Skirt | $200 - $5,000 |
| Steps | $500 - $2,000 |
| Flooring | $500 - $10,500 |
Porch Railing Cost by Material
For safety, most porches have a railing. This is particularly true for elevated porches because ground-level porches are more likely to be screened. Like the columns, the railings can be made of many materials and come in many styles. It is common for your railing material to match the other components on the area. For example, you should use wood railings if your porch, columns, and flooring are wood. If you use vinyl columns or have vinyl siding or fencing, you may want to use vinyl railings.
Material can have different considerations beyond how it looks. For example, wood railings need more maintenance than vinyl and metal. Railings with traditional appearances can also obscure your view, so you may want to consider wire or glass if you are building your porch to view your surroundings.
Most railings have options for being plain or decorative, allowing you to adapt to your home. Consider your home's design and architecture to ensure your railings match the style and material.
| | |
| --- | --- |
| Material | Average Costs per Linear Foot (Installed) |
| Wood | $6 - $30 |
| Vinyl | $15 - $50 |
| Aluminum | $30 - $120 |
| Wrought Iron | $40 - $60 |
| Wire | $90 - $120 |
| Glass | $150 - $175 |
Cost of Porch Columns by Style
Columns are highly visible parts of your design. Therefore, the style is important to reach your home's full potential. Columns come in several styles and materials to complete the look.
The most simple columns are called posts and may be described as the "farmhouse style." This is a straight, often squared-off post that complements many homes. It may be tapered, but it is often the simplest design you can find.
If your home already has architectural elements you want to play up, you can do that with the columns. This includes using Colonial, Victorian, or Craftsman-style columns on homes of those styles. You are not necessarily tied to using those columns only on those home styles, but they match those well.
Otherwise, you can mix materials for decorative-looking columns that can enhance many homes, regardless of the style or material. Whenever possible, ensure your columns coordinate with your railing or home for the best design.
Your porch may need two to six columns, depending on the shape and size. Below are the costs per column installed.
| | |
| --- | --- |
| Style | Average Costs (Installed) |
| Farmhouse | $175 - $900 |
| Colonial | $175 - $900 |
| Victorian | $175 - $1,000 |
| Decorative | $275 - $1,000 |
| Craftsman | $275 - $1,000 |
Porch Foundation Costs
Every porch needs a foundation for support and stability. Depending on the type of porch and land, there are two options for building a foundation. The first is a pier style with a concrete post in the ground and a beam supporting the porch. This is similar to the foundation type most decks use. It leaves the underside of the area open and elevates the floor off the ground. This type is used for most porches and requires stairs or steps to get from the ground to the porch. This foundation must be larger and stronger than the same posts for a deck because the supports must hold the decking and roof.
The second type of foundation is a slab foundation. This is used for a lanai, some screened porches, and other ground-level porches. This foundation is poured from concrete onto the ground, so you enter from the ground level rather than using steps.
On average, pier-style foundations cost $5 to $8 per square foot installed. A slab foundation costs $3 to $5 a square foot installed.
| | | |
| --- | --- | --- |
| Foundation Size | Pier Average Costs (Installed) | Slab Average Costs (Installed) |
| 24 sq.ft. | $120 - $192 | $72 - $120 |
| 100 sq.ft. | $500 - $800 | $300 - $500 |
| 200 sq.ft. | $1,000 - $1,600 | $600 - $1,000 |
| 400 sq.ft. | $2,000 - $3,200 | $1,200 - $2,000 |
| 600 sq.ft. | $3,000 - $4,800 | $1,800 - $3,000 |
Porch Roof Types
In most cases, your porch's roof style should match your home's roof style. This means that its material and shape should match your home for the most cohesive look. However, you can give your porch roof a different style, depending on your needs and the porch size and shape. For example, your roof may have a different pitch than your home's roof. It may also benefit to have a different roofing type in some cases. You may use a simple shed roof on your porch while your home has a hipped roof to continue the front slope rather than adding another peak.
Most porches are built with a wooden frame like the roof of your home. This costs $4 to $6 a board foot on average. You can also build your roof with a metal frame, such as if you wanted to have a clear glass roof. In this case, your costs are closer to $8 to $10 per board foot.
Like the roof of your home, your roof can be finished in various ways, which completes it and gives your porch style and durability. Below are the most common styles for roofs.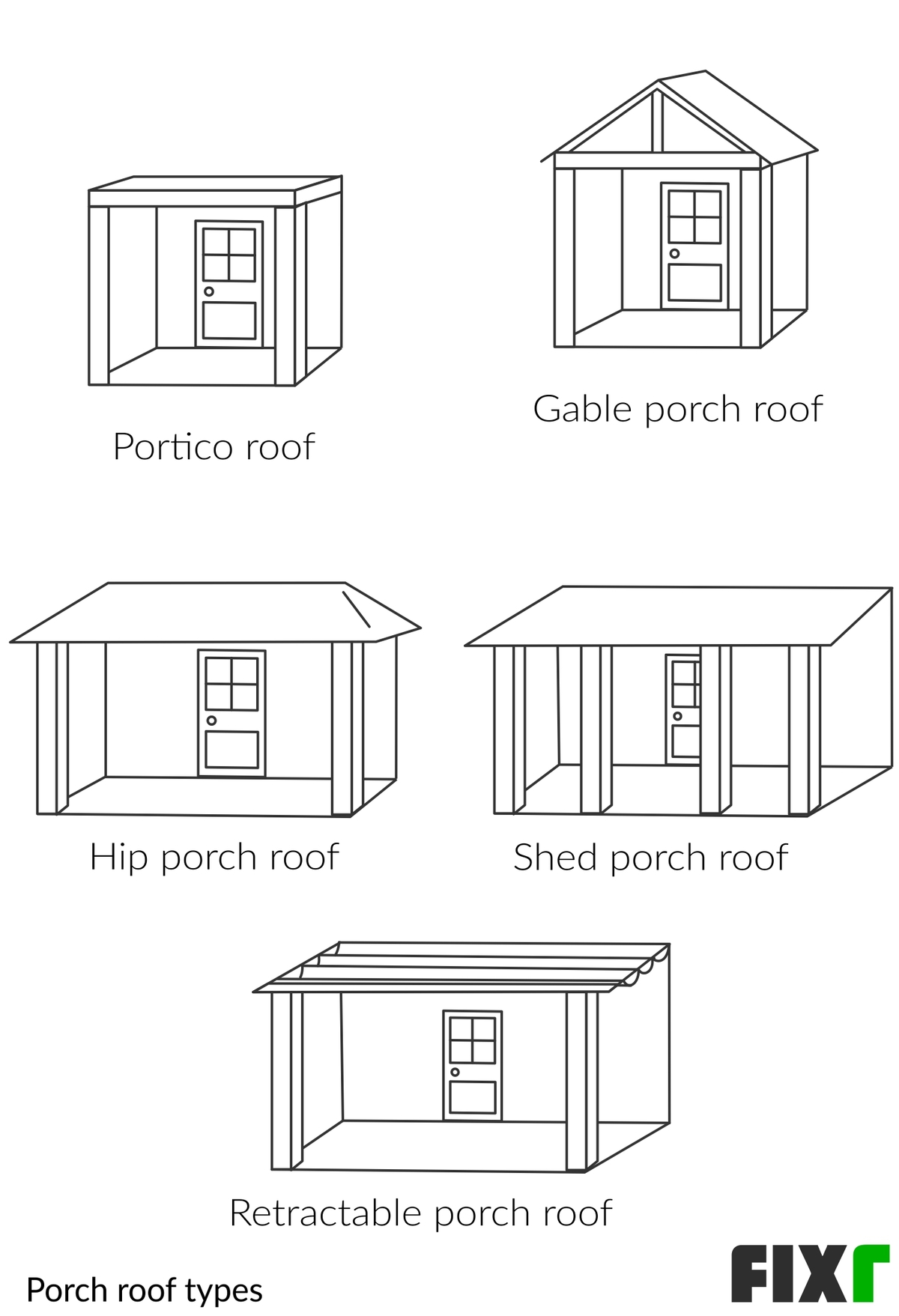 Portico Roof
Porticos are small porches, so the roof is also small. It is usually a very simple gable roof. This means it has a single peak in the center so that the rainwater drains to the sides. However, a portico can have a shed roof. These are usually used if your home is modern or the portico is smaller.
Gable Porch Roof
Gable roofs are fairly common. Gable roofs have a single peak in the center. The roof slopes down in two directions from that slope. They are more frequently seen on smaller porches than on wraparound porches. Remember that the roof must extend past the porch slightly on all sides. Therefore, gables work best for front porches, but not necessarily for those that continue around corners.
Hip Porch Roof
A hip roof is a popular roof style. In this case, your roof forms more of a pyramid than a triangle. It slopes evenly to the front of your porch and each side. While a hipped roof on a house slopes to the back, the roof usually starts at the house and slopes outward. This is a great roof for adding substance to the front of your home. If you have a larger porch and want to build up the roof to become part of the architecture, this type of roof is a good choice.
Shed Porch Roof
Shed roofs are the most simple. They are good for modern porches and those who want to use an unusual roofing material like glass. For a shed roof, the roof attaches to the house and extends outward to the edge. If the porch is narrow enough, you may not even need columns to hold it up. This is often the case for glass roofs, which use metal supports attached to the house and do away with columns altogether. Shed roofs can also be used with columns for wider roofs as a very simple, functional roof that slopes away for drainage.
Retractable Porch Roof
Retractable roofs come in several forms. When people discuss retractable roofs, they usually mean some type of framed retractable awning. In some cases, you can have a fully retractable hard roof. These can be extremely expensive, up to $30,000, for the roof alone. These roofs do not have columns for support, but they have a permanent frame. The roof retracts into a space below the home's roof, leaving the frame in place. This can be a good option for back porches where people may want sun occasionally but not regularly.
Porch Roof Cost by Material
Your porch roof can be finished in many materials. It is most common to match your porch's roof to your home's roof. This gives you the most cohesive look. However, you can mix and match, particularly for modern homes where you may want a different look.
Shingle roofs are generally the most common. This can be inexpensive asphalt, architectural shingles, or solar shingles. Shingle roofs come in many colors and include some types of cool roofing for hot areas.
You can use the same material if your home has a metal roof, including aluminum, steel, or stone-coated metal tiles. These can have a wide range of costs, depending on the roof style. Standing seam metal roofs are common for their strength and ease of installation, but metal roofs come in many forms.
You can also use wooden roofs with cedar shingles or shakes as the roofing material. This is a good choice for homes in rustic areas but can require more maintenance than other roofing materials. If your home has cedar shingles, your porch shingles may not necessarily match because they need time to weather.
Finally, consider a glass roof if you do not need shade but want something more modern in appearance. Glass roofs keep the rain off your porch without impeding your view. They often use large metal supports, enhancing the contemporary appearance.
Porch Skirt Price by Type
If you have an elevated porch, you may want to put a skirt around it. A skirt covers the area beneath your porch and hides it from view. Skirts are not necessary to the porch's function. They are strictly decorative, and you can add one at any time. They come in a range of styles and materials and have varying costs.
The least expensive option is a lattice skirt. This can be made from several materials but most commonly wood. This is a criss-cross of materials forming an open lattice over the underside of your deck. It is easy to install and remove.
Vinyl is good if you want something you never have to paint. There are vinyl lattice skirts and more solid options. This goes well with vinyl siding and other vinyl exteriors.
Brick and faux stone are also low-maintenance options. These are more costly and harder to remove if you need to reach the area beneath your porch. However, they are very decorative and give your porch a more permanent and built-in appearance.
Finally, there is Victorian-style skirting if you have a Victorian home or like the look. This is more decorative than other types and is meant to stand out. There are many patterns and styles, some of them handmade. These are usually made of wood and require regular maintenance.
| | |
| --- | --- |
| Type | Average Costs per Linear Foot (Installed) |
| Lattice | $1 - $50 |
| Vinyl | $4 - $10 |
| Brick | $20 - $50 |
| Faux Stone | $20 - $50 |
| Victorian | $40 - $100 |
Front Porch Steps Price by Material
Like your porch can be built of many materials, so can the steps leading to it. Since the steps are a prominent and visible area of the porch, you may want to use a more eye-catching material or pattern to improve curb appeal.
You can create steps in many ways. You can match your decking material with wood or composites. You can also match other features nearby, such as bluestone or paver walkways or patios. This style can help create the most cohesive look, tying the areas together.
However, you can also make your steps stand out by using something completely different - a different type of wood or color or a material like tile or concrete that can become a focal point. Concrete can also be colored, stained, or stamped for the appearance of other materials, including wood and stone. So, concrete can be a good alternative if you want a look that is not readily available.
Below are the average costs per square foot to build your steps using the most popular materials.
| | |
| --- | --- |
| Material | Average Costs per Square Foot (Installed) |
| Concrete | $5 - $30 |
| Tile | $6.50 - $20 |
| Wood | $12.50 - $40 |
| Bluestone | $15 - $35 |
| Paver | $15 - $35 |
| Composite | $15 - $60 |
Labor Costs to Build a Porch
The average labor costs to build a porch range from $60 to $70 a square foot, or between $20 and $40 an hour, depending on how your contractor charges. These prices do not include the material costs but cover all the labor, from the foundation pouring to the finishing.
Because porches can be complex projects, it is very common for a team to consist of many specialists. These include framers, roofers, carpenters, and general contractors. Depending on the type, you may also need a mason or someone specializing in glass, concrete, or stone.
While you are likely quoted an hourly rate for labor that averages out all the parts, you can break down the various sections by what you pay in labor. Below are the average labor costs for installing a 16 x 20-foot standard front porch.
| | |
| --- | --- |
| Part of the Project | Average Costs (Labor Only) |
| Columns | $70 - $500 |
| Skirt | $70 - $500 |
| Steps | $270 - $400 |
| Railing | $300 - $500 |
| Foundation | $400 - $750 |
| Roof | $400 - $1,600 |
| Flooring | $400 - $2,400 |
Install Porch Columns
The labor cost to install porch columns is between $70 and $500. This depends on the material and number of columns. Heavier columns cost more to install than lightweight columns. Likewise, the more columns it needs to support it, the higher your overall labor costs. On average, most basic wood columns can be installed for around $35 apiece, with a minimum of two columns needed per porch. If you use materials other than wood or have special requirements, the costs are higher.
Install a Skirt
The average cost to install porch skirting ranges from $70 to $500. Costs depend on the type and amount. Lattice is quick and easy to install. Brick and faux stone can take longer, particularly if they need backing. Victorian skirting can be painstaking to install. Each piece must line up perfectly with the next so that the pattern continues uninterrupted. These, combined with the amount of skirting, dictate the final cost.
Build Front Steps
The labor costs to install front steps average $270 to $400. Like the other components, costs range depending on the material. They also range based on the steps' length and pitch. If your steps need railings or are made with things like tile, expect your labor costs to increase. Simple steps made of wood or concrete tend to cost the least. The more decorative and the higher your steps, the higher your costs.
Install a Porch Railing
Average labor costs to install a porch railing are between $300 and $500. Railing installations can become labor-intensive. The more spindles your railing has, the higher the costs. This is also true of the railing length. Custom-made railings or railings built to order on-site cost more than ready-made railings, which are simply attached. Some materials may also cost more in labor to install than others.
Build a Porch Foundation
Labor costs to build a porch foundation range from $400 to $750. In this case, costs vary depending on the foundation and size. Pier and beam foundations have costs per beam. A slab foundation has costs per square foot or cubic yard, depending on how it is sold and poured. The foundation's size and type can also impact the cost. Foundations must be strong enough to hold the weight of the porch and roof. Therefore, they tend to be bigger than other foundations and cost more.
Build a Porch Roof
The average labor cost to build a porch roof is between $400 and $1,600. Roofs come in different shapes. Some are more labor-intensive than others. Hip roofs cost more in labor than shed roofs. Likewise, things like the material also impact costs. The more labor-intensive a material is to install, the higher the costs.
Install Porch Flooring
The average labor cost to install porch flooring ranges from $400 to $2,400. Flooring tends to be fairly labor-intensive to install. The decking needs to be tongue-and-groove and slanted slightly away from the house. This makes it more costly to install than deck flooring. If you have a non-elevated porch, installation costs for the flooring may be lower because they can be as simple as the concrete slab. Material and amount matter as they do in all areas of the porch build.
Average Porch Size
There are many sizes. Sometimes, your porch's size is dictated by a few things, such as what you intend to do there like adding seating or tables that extend the width. The total length can be dictated by your home's length, the length of the house section the porch is attached to, or the porch type. Length is more up to personal taste, while width may be more important based on the function.
| | | |
| --- | --- | --- |
| Type | Length | Depth |
| Portico | 3 - 6 feet | 4 - 5 feet |
| Seating | 10 - 20 feet | 6 - 10 feet |
| Dining | 10 - 20 feet | 12 - 14 feet |
| Sunporch | 12 - 16 feet | 12 - 14 feet |
| Wraparound | 20 - 100 feet | 10 - 14 feet |
Screened-In Porch Cost by Type of Enclosure
Not all porches are enclosed, but if you intend on having an enclosed porch, the enclosure material makes a difference in the price. Screen enclosures come in several types and materials. Each has attributes and costs to consider, which impact your project and costs.
| | |
| --- | --- |
| Type | Average Cost per Square Foot (Installed) |
| Aluminum | $2.50 - $4 |
| Premium Metals | $3 - $6 |
| Fiberglass | $4 - $5 |
| Sun-Blocking Screen | $4 - $5 |
| Retractable Screen | $20 - $30 |
Porch Door Cost by Type
While you do not necessarily need a door to enter your porch from the outdoors, you need a door separating it from your home if you have a screened-in porch. This is important because it can keep energy costs down for screened-in areas that cannot be heated or cooled. You may also want to add a storm door to the screened outdoor area for exiting the screened area directly outside.
| | |
| --- | --- |
| Type | Average Costs (Material Only) |
| Storm Door | $100 - $900 |
| French | $500 - $3,000 |
| Double | $600 - $5,000 |
| Sliding | $800 - $3,000 |
Replace a Front Porch Cost
The cost to replace a front porch includes the costs of building and demolition. The average demo cost for a porch is between $500 and $1,000. This makes the total average cost to replace an existing porch between $15,500 and $36,000, depending on the size, material, and style.
Some areas may have additional disposal fees, depending on the material your old porch was.
Porch vs Patio
Porches and patios both meet similar needs. They are both outdoor spaces used for relaxing and entertaining. However, they are built and used differently.
Patios are usually installed at the back of the home and are frequently ground level. They can be raised on a platform, but this is generally only one step high. Patios may have an awning or cover but do not usually have roofs or large permanent structures overhead.
Porches are usually installed on the front of the home. Although, a lanai or sunporch may be installed in other areas. Most porches are elevated, requiring steps or stairs to access, but some are ground level.
However, all porches have a roof. This is the biggest difference between a porch and patio. The porch needs a strong foundation and has higher costs than a patio. Both come in many styles and use different materials.
Below are the average costs for building an average-sized porch and patio onto an existing home.
| | |
| --- | --- |
| Project | Average Costs (Labor Included) |
| Patio | $2,000 - $8,000 |
| Porch | $15,000 - $35,000 |
Porch vs Deck
Porches and decks also have a lot in common. Elevated porches and decks are both wooden structures that attach to the house. They are both used for relaxing, entertaining, eating, and sometimes grilling.
Porches are usually installed on the front of the home and are a feature that can influence your home's curb appeal. Some porches can work on the back of the home, such as lanais and sunporches, but these are different from a deck.
The biggest difference between the two is that a porch has a roof, and a deck does not. Decks are usually considered a more open space, and while they may have an awning or pergola, they generally do not have a full roof. The porch's foundation must be stronger than the deck's to hold the roof's weight. Porches also typically cost more than decks for this reason, with the foundation and the roof making up the difference in costs.
Below are the average costs for a porch and deck of similar dimensions added to an existing home.
| | |
| --- | --- |
| Project | Average Costs (Installed) |
| Deck | $5,500 - $16,000 |
| Porch | $15,000 - $35,000 |
Enhancement and Improvement Costs
Wheelchair Ramp
A wheelchair ramp may be necessary for your household, but this adds significantly to your costs. A wheelchair ramp must conform to ADA guidelines and be no more than 30 feet long, and at the top, it can be no more than 30 inches high. This costs between $1,400 and $3,000 on average.​
Porch Awning
While most porches have roofs, you can install an awning instead. Awnings have a range of costs, depending on the type and style. Metal awnings cost around $400 to $1,200, while retractable awnings cost $500 to $4,000.
Built-In Seating
If your porch is wide enough to have seating, you may choose to have it built-in. This has a wide range of costs, depending on the material, sizing, and how many seats. Costs typically start at around $500 to $1,000 and can go much higher, depending on the different variables.
Additional Considerations and Costs
Insurance. Before you add on to your house, consider contacting your homeowners insurance company. Some policies are set to specific house sizes, so an expansion may not be covered under your existing plan. Work with your agent for policy-specific information.
Permit. Permits are required in most areas for porch construction. Speak to your contractor or local municipality about what may be required before construction can begin.
Regulations. Most areas have regulations and building codes you must follow. This may impact things like your porch size or placement. Speak to your contractor or local municipality for more information.
Style. There are many styles, and not every style matches all house types. Consider your house's aesthetics before building. A porch that looks out of place could deter a potential buyer or lower your home's value.
DIY. Most porch projects are not recommended to DIY. You need some knowledge of the structure and how much your foundation can hold for the roof. It is recommended to work with professionals on this project.
Materials. Choose materials in the style you want that can withstand your climate and lifestyle. Opting for cheaper materials may not always be the best choice if you need to replace them often.
FAQs
What is the difference between a porch and deck?
A porch has a roof, and a deck does not. Otherwise, they are similar structures and can be made of the same materials.
How much does it cost to build a 10 x 10-foot porch?
The cost of a porch depends on many things beyond size, including the style and materials. For a porch of this size, there can be a cost range of between $5,000 and $11,000.
Do you need permission to build a porch?
Yes, you need a permit and to follow building regulations. If you have an HOA, you may also need to get permission from them first.
Does adding a porch increase home value?
Yes, porches increase home curb appeal and have been known to increase overall value.
How much does a concrete front porch cost?
Concrete front porches have a range of costs, depending on the size, style, and other materials for roofing, railings, and columns. The average front porch costs are $15,000 to $35,000, and your project could be anywhere in that range.
What is a good size for a porch?
This depends on the home's size, but the average full-sized porch is around 16 feet by 20 feet.
How far apart should porch posts be?
Many calculations go into this, including the post size, porch size, and the load the posts carry. Speak to an engineer or qualified builder to find out your project's needs.
References
Craftsman Book Company. National Construction Estimator, 69th ed., Ed. by Richard Pray (Carlsbad, CA, 2021).
Craftsman Book Company. National Renovation & Insurance Repair Estimator, Ed. by Jonathan Russell (Carlsbad, CA, 2021).
Craftsman Book Company. National Repair & Remodeling Estimator, Ed. by Joshua Paxton (Carlsbad, CA, 2021).
Decks.com. "Different Types of Porch Roof Designs."
https://www.decks.com/how-to/articles/different-types-of-porch-roof-designs
FIXR Cost Guides and Cost Database.
Green Living Advisor. "Decks and Porches."
https://www.greenbuildingadvisor.com/green-basics/decks-and-porches-2
HGTV. "​​Budgeting for a Porch Project."
https://www.hgtv.com/outdoors/outdoor-remodel/budgeting-for-a-porch-project
Homedit. "What is the Difference Between a Porch, Balcony, Veranda, Patio and Deck?"
https://www.homedit.com/what-is-the-difference-between-a-porch-balcony-verandapatio-and-deck/
The Spruce. "43 Porch Ideas for Every House Style."
https://www.thespruce.com/porch-ideas-4139852
The Spruce. "Porch Flooring Options."
https://www.thespruce.com/porch-flooring-options-1315041
This Old House. "All About Porches."
https://www.thisoldhouse.com/porches/21072538/all-about-porches
United States Department of Justice Civil Rights Division. "Department of Justice ADA Responsibilities: ADA Certification of State and Local Accessibility Requirements."
https://www.ada.gov/certcode.htm
The information provided by our cost guides comes from a great variety of sources. For more information, read our Methodology and sources.