Window Blinds Cost Guide
Window blinds are a type of window covering that allows you to control the light coming in through windows, as well as visibility both inside and out. They not only add privacy and decorative appeal, but also help insulate windows, resulting in higher home energy efficiency.
The average cost to install window blinds ranges from $300 to $1,000, with the average homeowner spending around $700 to install faux wood vertical blinds on 8 windows of 24 x 36-inches. Costs can be as low as $160 to install vinyl slat rollers on 8 windows measuring 18 x 48-inches, although on the high-end, prices can be as much as $6,000 to put motorized wood cellular blinds across 8 windows measuring 48 x 36-inches.
Window Blinds Prices
Window Blinds Installation Cost
National average cost
$700
Average range
$300-$1,000
Low-end
$160
High-end
$6,000
Ready-Made vs Custom Blinds Cost
One of the first things to consider when purchasing blinds is whether prefabricated or custom blinds are desired. Ready-made or prefabricated blinds are often chosen due to their lower costs and excellent availability. However, custom blinds are also a good option for those with specific size and design needs. These blinds are created specifically for a home's windows, so they come in various sizes, materials, colors, and more. Below, you will see the average cost range per blind based on a 24" x 36" window with a moderately priced material.
| | |
| --- | --- |
| Type | Cost per Window (Materials Only) |
| Ready-Made | $30 - $125 |
| Custom | $50 - $300 |
Ready-Made Blinds
Prefabricated blinds have an average price of $30 to $125, although some materials make the price a bit higher or lower. For example, vinyl blinds are on the lower end of the scale, while some fabric blinds are much more costly. Premade blinds are available in a much larger number of styles and varieties than custom blinds. In addition, prefabricated blinds are much less expensive, which is another reason homeowners choose to use them in their homes. Consumers can purchase these blinds easier. Custom blinds require more planning.
Custom Blinds
Custom blinds are more expensive than ready-made blinds at $50 to $300. These blinds have value for those who want a certain aesthetic in their home. Instead of being available in only the most common materials and sizes, these blinds can be made using other options. However, it takes longer to get the blinds when they are custom since someone creates them for specific windows.
Compare quotes from blind installation companies in your neighborhood
Window Blinds Cost per Square Foot
Although it is more common to price blinds based on their size in inches, some professionals may use the square footage measurement. You should expect the window blinds price for materials only to be between $2.50 and $5 per sq.ft. Also, these prices are not for custom options, which costs are usually higher. You should keep in mind that the price for blinds depends on their size and the material chosen.
Window Blinds Cost by Size
One of the first steps in any installation project is understanding the standard window blinds size. Window blinds come in many different sizes. Finding the right size for your home windows is key to a successful and stylish project. Common blind sizes range from 18 x 48 inches to 60 x 72 inches. However, other blinds are available in some cases, especially when you choose to have them made custom.
| | | |
| --- | --- | --- |
| Size in Inches | Ready-Made Cost per Window (Materials Only) | Custom Cost per Window (Materials Only) |
| 24" x 36" | $30 - $45 | $60 - $90 |
| 24" x 60" | $40 - $70 | $80 - $120 |
| 36" x 48" | $50 - $80 | $100 - $150 |
| 36" x 72" | $60 - $90 | $120 - $180 |
| 48" x 36" | $50 - $80 | $100 - $150 |
| 48" x 60" | $70 - $100 | $100 - $210 |
| 60" x 48" | $80 - $110 | $160 - $240 |
| 60" x 72" | $90 - $120 | $180 - $270 |
Window Blinds Cost by Material
Window blinds can be made of different materials, which have several pros and cons. Some materials are advised for certain kinds of blinds. For example, slat blinds are usually made of aluminum, vinyl, faux wood and wood. On the other side, vertical blinds are often made of fabric, and roller blinds may be made of other materials, such as bamboo. The following table may help you choose. These costs are for materials only for a single 24" x36" window being covered with blinds.
| | | |
| --- | --- | --- |
| Material | Ready-Made Cost per Window (Materials Only) | Custom Cost per Window (Materials Only) |
| Vinyl | $11 - $120 | $20 - $250 |
| Plastic | $20 - $50 | $30 - $100 |
| Synthetic | $25 - $50 | $40 - $90 |
| Aluminum | $25 - $75 | $50 - $125 |
| Bamboo | $30 - $75 | $60 - $150 |
| Faux Wood | $30 - $125 | $75 - $200 |
| Wood | $30 - $225 | $60 - $300 |
| Fabric | $50 - $100 | $100 - $200 |
| Leather | $75 - $100 | $150 - $300 |
Vinyl
You should pay $11 to $120 per window for premade vinyl window blinds. Custom blinds range from $20 to $250. Vinyl blinds are the most affordable blinds, although they don't last long. They are well-known for their easy maintenance and are available in many colors and designs. You can find vinyl blinds that will work in just about any space. Most vinyl blinds are made of PVC due to their durability and strength.
Plastic Blinds
The average price range for ready-made plastic blinds is $20 to $50. Custom plastic models are between $30 and $100. Plastic blinds are lightweight and more commonly used in homes with pets or young children as they are inexpensive to install and replace. Plastic blinds are manufactured to resist UV rays protecting you and your family from too much sunlight.
Synthetic
Most retailers offer synthetic blinds for prices around $25 to $75, typically cheaper than natural materials. When custom made, these blinds range in price from $40 to $90. Synthetic blinds are made to last with affordable materials that block the light and create a stylish environment. There are many different colors and designs to choose from, including those that mimic some more expensive materials.
Aluminum Blinds
The cost to purchase aluminum window blinds for a room is $25 to $75 per window when premade, and $50 to $125 when made custom. Aluminum is an inexpensive material, but it can be dented easily and damaged. These blinds are lightweight and slim for simple installation and operation. The small slat size makes aluminum a good option for doors.
Bamboo Blinds
Expect to pay $30 to $75 per window for ready-made bamboo blinds or $60 to $150 for custom. Bamboo is an eco-friendly material regarded for its aesthetic appeal but it can warp or fade, especially when exposed to the sun and other elements regularly. As a natural wood, bamboo offers an elegant, luxurious look that's easy to maintain and complements many interior design choices.
Faux Wood Blinds
The average cost of faux wood blinds is $30 to $125 per window when premade or $75 to $200 for custom. One of the main characteristics of faux wood blinds is their durability. Their appearance is very similar to real wood without the higher price tag. They are readily available from nearly all blind retailers, so they make a good choice for quick projects. It is an affordable alternative to wood, and it's easier to maintain. They are made from a wood substitute such as PVC, vinyl, composite, or foam wood.
Wooden Blinds
Real wood window blinds cost you $30 to $225 per ready-made blind and $60 to $300 per custom blind. These traditional, old-world feel blinds lend a sense of sophistication to any home. They are made of natural hardwoods and come in various colors and stains, ranging from white up to dark mahogany. Wood blinds provide a long-lasting, durable product that won't bend or bow over time. These blinds are a favorite among high-end interior designers.
Fabric
The cost to purchase fabric blinds is $50 to $100 per window when premade or $100 to $200 for custom. Sheer fabrics allow light to come through. However, fabric blinds can be stained or acquire mold. Woven fabric resists dust quite well. These blinds produce a soft, filtered, sunny glow for those who prefer more light.
Leather
While it's not as common as some of the other blind materials, leather blinds are available and priced around $75 to $100 when premade and $150 to $300 when made custom. Luxury living often requires leather window blinds made from a fine material for a beautifully smooth finish. Featuring a soft touch, leather blinds can be purchased in a wide variety of embossed patterns or textures that lend a personal characteristic to your living space.
Compare prices from window blind installers near you
Window Blinds Prices by Type
There are many different types of blinds to choose from, depending on your style preferences and overall interior design in each room. There are traditional styles like Venetian blinds, or more modern touches such as cordless blinds, and they come in so many different colors to match each space. You can see the differences and select which variety best suits your needs. The costs below are based on a single 24" x 36" window covered with blinds.
| | | |
| --- | --- | --- |
| Type | Cost for Ready-Made per Window (Materials Only) | Cost for Custom per Window (Materials Only) |
| Roller | $10 - $140 | $50 - $300 |
| Venetian | $11 - $215 | $50 - $350 |
| Cordless | $12 - $135 | $50 - $275 |
| Solar | $30 - $120 | $60 - $300 |
| Shoji | $35 - $60 | $75 - $200 |
| Vertical | $50 - $115 | $100 - $300 |
| Pleated | $50 - $125 | $100 - $300 |
| Cellular | $50 - $125 | $100 - $325 |
| Roman | $50 - $130 | $100 - $350 |
| Panel | $120 - $300 | $200 - $600 |
Roller Blinds
The roller blinds price is $10 to $140 per window when premade and $50 to $300 when custom. Roller blinds most closely resemble standard window shades. They usually don't have slats, instead featuring a material made to lay flat, like woven bamboo or fabric. Usually these work best for bedrooms and office windows. Roller blinds are priced per square foot and are slightly cheaper than other blinds.
Venetian Blinds
Venetian blinds price is $11 to $215 per window when premade and $50 to $350 for custom. Also known as Persian or Slat blinds, these are the most common types of blinds you'll find. The classic style features horizontal rows of slats that can be tilted at angles to let in more light. The entire body of the blinds can be lifted up as well. You can select from several nice choices with natural stain finishes and cordless and security options.
Cordless Blinds
The price for cordless blinds is $12 to $135 when ready-made and $50 to $275 when custom per window. Cordless blinds work best for rooms where privacy and light-control are top priorities. So, TV rooms, offices, bedrooms, and bathrooms are ideal. Homes with pets and/or children also benefit from the added safety of cordless blinds, since the cords on normal blinds are known to be strangulation hazards. Cordless blinds can be adjusted easily by lifting them up or pulling them down. Some models are adjusted by remote controls. This type of blind can be more expensive than other designs, but the cost varies depending on material.
Solar Blinds
Depending on the quality of the solar blinds, expect to pay between $30 and $120 for ready-made blinds and $60 to $300 if custom made. These window blinds for the future are well-suited for sunny environments where homeowners want to reduce their energy bills and harness the sun's natural energy. A roller and tube mechanism allows for a single sheet of fabric to cover the window.
Shoji
Shoji blinds are gaining global popularity, especially with their affordable average price of $35 to $60 per blind when premade or $75 to $200 if custom. Shoji blinds are unique in that they are made out of rice paper. They block bright sun rays while letting in light for a bright, airy living space. This window treatment is common in Japan, where it originated.
Vertical Blinds
You will pay $50 to $115 per window for premade vertical blinds, but the price increases to $100 to $300 for custom. Vertical blinds have large vertical slats that reach from the floor to the top of the window/door. The slats can be tilted like horizontal slat blinds, and can be pulled back to uncover the window/door. These suit more dramatic interior design and bigger spaces. They are often found in dining rooms, living rooms, or kitchens leading to an outdoor terrace or patio.
Pleated
The average price range for pleated window blinds is $50 to $125 when ready-made or $100 to $300 for custom. When looking at louver window blinds, many homeowners are intrigued by the pleated variety. Unlike other types of blinds, pleated blinds are made from one continuous piece of material without slats. The fabric adds texture and dimension to many rooms, which explains its popularity.
Cellular Blinds
A fairly reasonable price for cellular blinds available in various colors is between $50 and $125 for ready-made and $100 to $325 for custom. Cellular blinds are often referred to as honeycomb shades with individual cell shapes within the blinds to contain trapped air and serve as a barrier between the window and the inside of the home. Cellular blinds reduce heat transfer and help with energy efficiency and insulation in most homes.
Roman Blinds
The normal range for Roman blind prices is $50 to $130 when ready-made and $100 to $350 if custom-made. Roman blinds are produced from one piece of fabric without pleats for a smooth, stylish look when opened or closed. A few elegant fabric folds and easy-to-use mechanisms for pulling the blinds up and down mean Roman blinds are a top choice for minimalist modern homes.
Panel Blinds
Plan to pay at least $120 to $300 for panel blinds that have been premade and $200 to $600 when created custom. Panel track blinds are used to cover large sliding glass doors, such as those that open onto a deck or patio. They are usually mounted on the ceiling or high up on the wall and slide across on a track allowing people to go in and out. They stack completely to the side or stay closed across the entire window or door for more privacy.
Blinds Cost by Type of Window
The average cost of window blinds by the type of window ranges from $50 to $500. One of the most exciting features of building a new home is adding your own personal touches such as colors, styles, and textures. Window types are a way to customize your home and provide light in places where it may not exist. Obviously, if you have windows, you will want to have coverings that fit specifically in that area and block out light when appropriate. Prices are based on the average size of each window with blinds.
| | | |
| --- | --- | --- |
| Type of Window | Ready-Made Cost per Window (Materials Only) | Custom Cost per Window (Materials Only) |
| Slider | $50 - $75 | $150 - $300 |
| Transom | $50 - $75 | $150 - $300 |
| Double Hung | $50 - $75 | $150 - $300 |
| Casement | $75 - $100 | $200 - $400 |
| Awning | $75 - $100 | $200 - $400 |
| Egress | $75 - $100 | $200 - $400 |
| Bay | $150 - $200 | $350 - $500 |
| Picture | $150 - $250 | $350 - $500 |
| Arch | $150 - $300 | $350 - $550 |
| Skylight | $200 - $250 | $400 - $500 |
Slider
To outfit a slider window, blinds are an excellent choice at $50 to $75 per ready-made blind or $150 to $300 for custom models. Unless you have a custom size window, you should be able to use a pre-made blind to save a little money. Sliders are regular windows that slide horizontally rather than vertically. Newer homes or renovations often offer these types of windows.
Transom
Transom window blinds cost $50 to $75 in ready-made versions or $150 to $300 for custom blinds. However, transom windows do not typically have a window covering as the sole purpose of a transom in older homes was to provide air circulation between rooms. These windows are installed above doors and hinged at the bottom. If not left open, a blind could be used to block out too much light coming into a room.
Blinds for Double Hung Windows
Double-hung windows should be covered with your choice of blinds for $50 to $75 ready-made or $150 to $300 when made custom. These types of windows have two sashes that move up and down within the window frame. While a nice feature for cleaning, safety, and air movement, double-hung windows may feature a narrow mounting depth, so an outside mount window treatment is best.
Casement
Depending on the size of your casement windows, you should only pay $75 to $100 for premade blinds and $200 to $400 for custom models. Casement windows are a beautiful choice as they open in or out and feature a crank to open and close. This makes them a charming choice for any home. To install blinds in a casement window, you need an outside mount to allow for free movement of the top of the window.
Awning
Awning window blinds cost $75 to $100 when premade and $200 to $400 when created custom. You need a special type of blind as the window opens at the top and pushes outward. Used mainly in bathrooms or basements, these windows are smaller and need room outside the home as they push out. They require an outside mount to allow for proper opening and closing.
Egress
To purchase window blinds for an egress window, expect to pay $75 to $100 for ready-made and $200 to $400 for custom. An egress window is an emergency exit window located in your home's basement. Older homes often do not meet the code requirements for basement windows with a hopper or awning window. To meet these codes, larger windows were manufactured called egress windows. The window must open from the inside without the help of any tool or special key to make it a safe exit window. It must be 20 inches wide, 24 inches high, and have a clearance of at least 5.7 square feet. The window sill cannot be more than 44 inches from the floor.
Bay Window Blinds
You should budget at least $150 to $200 to purchase premade bay window blinds, but the price is $350 to $500 if you choose custom. Homeowners with bay windows appreciate the sweeping views and natural light flooding in, but the right blinds help by providing privacy and insulation. Bay windows with blinds add a layer of security and sophistication. Mini blinds for bay windows are available if light control is a concern. The impressive size and scale of bay windows mean they require tall blinds. Professional installers will measure and ensure that the blinds are appropriate for the space. Adding blinds to bay windows is slightly more complicated than traditional windows.
Picture
Due to the large size of a picture window, panel track blinds are an attractive, versatile choice at the cost of $150 to $250 when ready-made and $350 to $500 if made custom. These blinds can be purchased in various styles, colors, and materials to create a lovely backdrop for your picture window. Picture windows are fixed and do not open. Their sole purpose is to provide a beautiful view with lots of light.
Arched
A beautiful addition to any home, arched windows require a special type of blind, which runs $350 to $500 for ready-made and $200 to $500 for custom. An arched window lends grandeur to a home and provides height in any room. Many people leave the arched area uncovered, but this can be problematic. Too much sun fades furniture, increases the electric bill, and creates an entrance for cold or heat to your home.
Skylight Blinds
Expect to pay upwards of $200 to $250 each for blinds for your skylights when ready-made or up to $400 to $500 for custom. Blinds for skylights are a special order item from window treatment specialists. Due to the unique size and shape of skylights, these blinds are custom-made. Since skylights are not easily accessible, motorized blinds are typically preferred for remote operation. Most skylight blinds are cellular blinds with light-filtering features.
Find the best window blind installers near me
Blinds Cost by Opacity Level
Privacy options are the best features of window blinds. Not only do blinds block out the light, but they also stop people from looking into your home. There are many possibilities to choose from, such as room darkening window blinds that help with sleep and security and help control the amount of sunshine that comes into a room. The blackout blinds cost is around $40 to $150 per blind just for materials. An extra $50 to $100 may be charged for labor for every blind.
Translucent blinds are another in-demand choice, with sheer layers surrounding the blinds which can be rotated for a soft, muted view or full light. For homeowners who want privacy without the dark living spaces from blackout blinds, translucent window coverings are a good option. These light filtering blinds are between $45 and $160 plus the additional $50 to $100 per window for installation.
Out of all the window opacities, sheer blinds let in the largest amount of light. They are thin and modern with different filtering options so homeowners can get their desired amount of light. Semi-sheer blinds are another choice that is light and modern but slightly denser than sheer blinds to keep out a bit more light. These are ideal for some privacy while plenty of light comes in.
On the other hand, opaque blinds are room darkening and keep most light from entering the room to offer a high degree of space. It can be difficult to create a bright space when using them unless they are partially or fully open. Semi-opaque blinds let in some sunlight but block anyone looking in from seeing you, although some shadows may be visible depending on the blinds. Prices are based on a 24" x 36" window covered with blinds.
| | | |
| --- | --- | --- |
| Opacity Level | Ready-Made Cost per Window (Materials Only) | Custom Cost per Window (Materials Only) |
| Sheer | $50 - $100 | $150 - $300 |
| Semi-Sheer | $55 - $110 | $155 - $310 |
| Opaque | $65 - $150 | $165 - $350 |
| Semi-Opaque | $75 - $175 | $175 - $375 |
| Blackout | $90 - $250 | $190 - $450 |
| Translucent | $95 - $260 | $195 - $460 |
Average Cost of Window Blinds by Brand
There are many leading blind manufacturers known for quality materials that go well in any home. Some brands are more affordable than others so your budget may determine which brands work for you. For more affordable blinds, consider Hampton Bay, Achim, Chicology, Bali, Blinds to Go, Bella View, or Bali. These range from $10 to $90 for ready-made blinds and $50 to $225 for custom models. Most of these brands are available at one or more major home improvement stores and online.
The mid-level blinds are available from Levolor, 3 Day Blinds, and Hunter Douglas. These often have extra features like motors and range in prices from $60 to 250 for ready-made options. The custom versions are created to meet the needs of a specific home and cost about $150 to $700. There are also extremely high-quality models from Graber, Budget Blinds, and Somfy. Somfy makes fully motorized blinds for ultimate convenience. Ready-made options from this brand are $130 to $400, while custom models range from $200 to $1,000.
The warranty period is also important. Many have a limited lifetime warranty, including Hampton Bay, Achim, Blinds to Go, and Graber. Chicology blinds are guaranteed for one to three years. Bella View, Bali, and Levolor have a three-year warranty. Softy blinds feature a five-year warranty. Hunter Douglas ranges from five to seven years, and Budget Blinds have a warranty based on the specific franchise where they are purchased. Below is more information based on 24" x 36" windows with blinds.
| | | |
| --- | --- | --- |
| Brand | Ready-Made Cost per Window (Materials Only) | Custom Cost per Window (Materials Only) |
| Hampton Bay | $10 - $75 | N/A |
| Achim | $10 - $80 | N/A |
| Chicology | $15 - $170 | $60 - $225 |
| Bali | $20 - $60 | $50 - $200 |
| Blinds to Go | $30 - $80 | $50 - $200 |
| Bella View | $30 - $90 | $70 - $200 |
| Levolor | $60 - $200 | $200 - $700 |
| 3 Day Blinds | $100 - $150 | $150 - $300 |
| Hunter Douglas | $100 - $250 | $200 - $500 |
| Graber Blinds | $130 - $250 | $200 - $600 |
| Budget Blinds | $200 - $400 | $300 - $1,000 |
| Somfy | $275 - $400 | $300 - $1,000 |
Labor Cost to Install Window Blinds
Professionals usually charge $15 to $50 per standard window to install blinds. For a one-story house with 8 windows of 27-inches, the labor cost would be $120 to $400. Check with your contractor because most offer to remove old blinds for $10 to $30 per window. Some professionals install blinds by the hour. However, this is fairly uncommon. The cost will typically be $35 to $100 per hour.
When looking at the labor cost to install window blinds, keep in mind that this depends on where you buy your blinds. Some companies include the installation cost if they offer professional installation services. It may cost $50 to $100 per standard window for labor and materials. If you purchased blinds on your own, a handyman could install them for $10 to $25 each. Prices vary slightly per contractor. Installation materials like mounting brackets, screws and power drills are usually provided by the professional installation team. Many will also measure your windows for you.
Cost to Replace Blinds
It's important to replace blinds if they are damaged or no longer open or close properly. You may also wish to replace blinds to increase your home's energy efficiency or update your interior design. Prior to installation, old blinds can be removed by unmounting them from the brackets. It's possible to recycle blinds if they are made of aluminum. You will need to remove all strings and non-aluminum parts before recycling.
Most blinds last around seven to ten years. If your blinds are reaching that age, check out the condition and think about a replacement. Professionals charge between $10 and $25 per blind replacement, plus the cost of the new blind, which usually falls between $50 and $250 depending on the type of blind. Extra fees may be charged for trimming blinds or blind disposal. This could add $20 to $30.
Inside vs Outside Mount Blinds Cost
You should determine whether you want to hang your blinds on the inside or outside of your window casings. This is important for establishing how you should make your measurements. Measurements should be made prior to purchasing your blinds so that you can have a perfect fit. In most cases, you should know whether you want the blinds inside or out before you call a professional to do the work.
Hanging your blinds outside the casing can make both the blinds and your window look larger. For outer hangings, you should measure from the outer edges of the casing. If your window has a sill, measure from the outer top edge of the casing to the sill. Outside mount blinds cost around $60 to $125 per blind while inside mount blinds may be slightly more around $75 to $150 per blind.
Hanging your blinds inside can give them and the entire room a tidier appearance. They also allow for more light to come through. For inner hangings, measure the edges of the window glass where it meets the casing. Professional window installation companies recommend inside mounts 1 as long as the window frame is deep enough. Otherwise, they use outside mounts for shallow windows or when window cranks get in the way.
| | |
| --- | --- |
| Type of Mount | Average Cost per Window (Installed) |
| Outside Mount | $60 - $125 |
| Inside Mount | $75 - $150 |
Get free estimates from trusted window blind installation companies near me
Cost of Blinds for the Whole House
Adding blinds to each additional story of windows increases the total cost by 100%, or less if you can get multi-window discounts. Because upper stories tend to be warmer than lower stories, you may also want to invest in energy-efficient blinds for these levels. If you decide to do multiple blind installations at once, you may be able to take advantage of lower blind costs per window, depending on the installation company you choose. Whether it's a new house or a renovation of your current property, it's often worth it to get all the blinds at one time. Here are the average costs for installing faux wood blinds on four 27-inch windows in each room.
| | |
| --- | --- |
| Number of Bedrooms | Cost (Installed) |
| 1 Room | $325 - $375 |
| 2 Rooms | $675 - $725 |
| 3 Rooms | $980 - $1,020 |
| 4 Rooms | $1,180 - $1,220 |
| 5 Rooms | $1,450 - $1,525 |
Blinds for a 1 Bedroom House
The cost of installing blinds in a one-bedroom house is $325 to $375. A one-bedroom house contains around four to five windows. There are usually two in the living room, one in the kitchen and one or two in the bedroom, and maybe one in the bathroom. Choosing light-colored blinds is the best choice for this smaller home to make it look larger.
Window Blinds for a 2 Bedroom House
Purchasing and installing blinds in a two-bedroom house will cost you around $675 to $725. Typically in this size home, you will find five or six windows. Of course, it depends on the type of home, as a condo of this size will most likely have fewer windows. Larger windows or sliding doors, which are often present in condos, could also add to the cost.
Average Cost of Blinds for a 3 Bedroom House
A three-bedroom home would cost about $980 to $1,020 to purchase and install blinds. Most homes this size have six or seven windows and may contain a sliding glass door or French doors. One option for these types of doors is permanent blinds installed inside the glass. Sliding panels are also a good alternative for sliding glass doors. The total cost depends on what you choose.
Blinds for a 4 Bedroom House
The pricing for blinds and installation in a four-bedroom house is $1,180 to $1,220. You will most likely see seven or eight windows in this size home. You may see a picture window, bay window, or other specialty custom windows in larger homes. These additions increase the pricing. Patio doors may be upgraded to triple sliding doors and require a larger blind budget.
Blinds for a 5 Bedroom House
Getting into larger homes means more money for blinds at the cost of $1,450 to $1,525. A five-bedroom home could have 8 to 12 windows, and some or all could be a custom size. Luxury blinds are often the choice for more expensive homes where the windows are usually larger. The blind choice should coordinate with the home's decor and colors to complete the look.
Blinds Installation Prices by Location
Another way to look at window blinds installation is by location. The cost varies depending on where you are installing the blinds if the window is hard to reach, and how many windows there are to cover. Your contractor may offer special pricing for certain areas or projects, so always be sure to ask.
Kitchen blinds are a go-to choice for most homeowners who want to maintain a sense of privacy and control their heating and cooling costs. If you want to install blinds in your bathroom you need to bear in mind that the various bathroom window sizes impact the final price whether you choose regular or waterproof options. It's a good idea to put blinds in bathrooms with larger windows for privacy. Another option is to install blinds in attic windows, these are not the easiest to reach and may require a ladder and several trips up and down the stairs for access, although some homeowners prefer to install blinds to increase security in their home's upper level.
Bedroom and living rooms are two of the most important rooms where homeowners spend a lot of time. Privacy is of utmost importance in the bedroom, which is why so many homeowners invest in quality blinds to help them sleep soundly at night. Also, you want to be able to relax in front of the TV at night with the blinds drawn for added security. Patio blinds are another popular option due to the sliding glass doors that often lead from kitchens to backyard living and entertaining spaces. Most homeowners feel more comfortable with vertical patio blinds that protect the home's security and lighting near such a large window. For garage and basement blinds, the pricing depends on whether you need them to match blinds in other parts of your home, and how many windows are in each location Here are the average costs per location for premade blinds. Custom blinds are available and often cost $100 to $200 more than ready-made options.
| | |
| --- | --- |
| Location | Cost per Window (Installed) |
| Kitchen | $60 - $100 |
| Bathroom | $75 - $125 |
| Garage | $75 - $125 |
| Bedroom | $85 - $150 |
| Living Room | $90 - $175 |
| Basement | $100 - $150 |
| Patio | $120 - $200 |
| Attic | $125 - $160 |
Motorized Blinds Cost
Motors can be added to many models of blinds to make them controllable via remote. Each window will need an individual motor. The cost of professionally installing the motors with a remote is $150 to $300 per motor. Motorized and electric blinds refer to the same type of window coverings, and blinds may be marketed as either.
Motorized blinds operate without cords, which is a major benefit for homes with small children. Depending on the features included, the blinds may even be programmed to open and close at set times throughout the day. They are also a good option for windows that aren't easy to reach.
Many homeowners are willing to pay around $200 to $300 for remote control blinds. Electric blinds cost $350 to $700 per blind and require a main power outlet and wiring. Fully automatic blinds that run solely on batteries cost between $250 and $400 per blind.
To take your window coverings to the next level, you may want to consider smart blinds, which have WiFi connectivity so you can close your blinds anytime from your phone. This is great for busy households where people are always on the go and may rush off and forget to close the blinds. Smart blinds are priced around $300 to $500 per blind.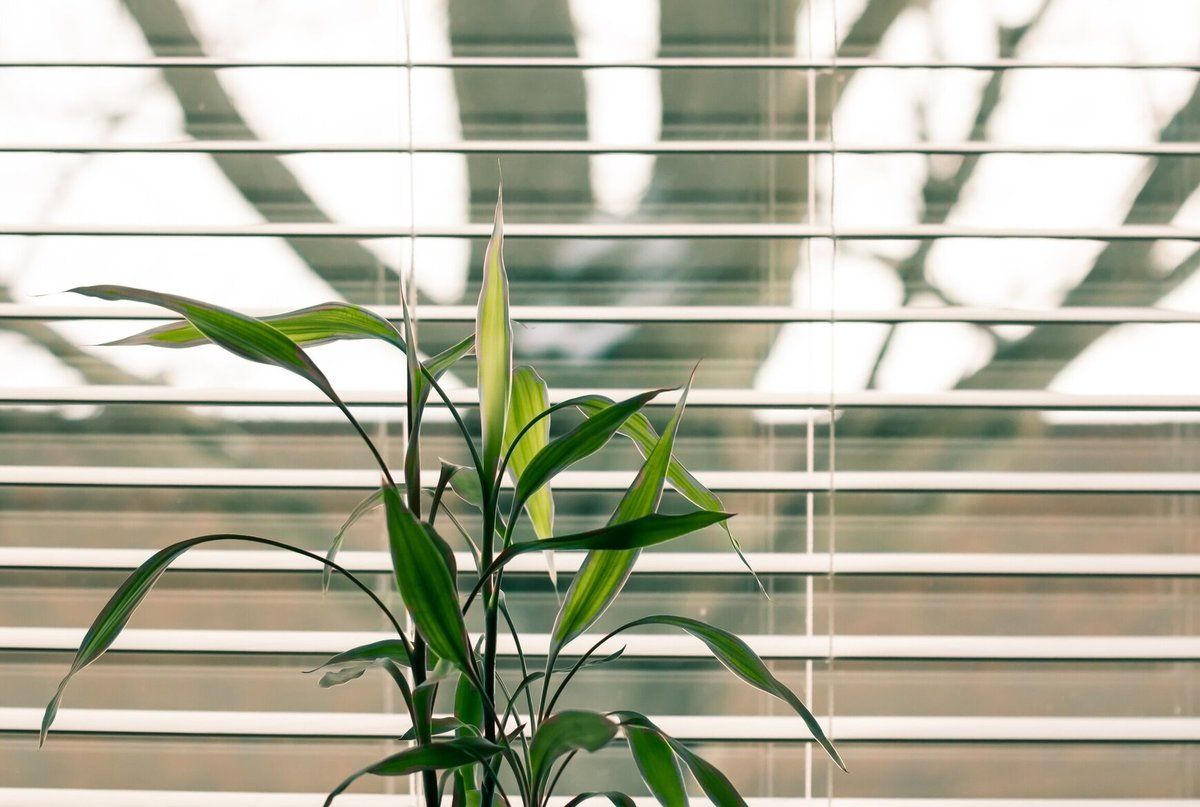 Smart Blinds Cost
To take your window coverings to the next level, you may want to consider smart blinds, which have WiFi connectivity so you can close your blinds anytime from your phone. This is great for busy households where people are always on the go and may rush off and forget to close the blinds. Smart blinds are often used in conjunction with Alexa, Google Assistant, and other virtual assistant AI technology. The cost of smart blinds is around $300 to $500 per blind. Although smart blinds are also motorized, motorized blinds are not always smart blinds. The difference is the smart blinds can connect wirelessly to the blinds from anywhere, while the motorized only blinds require the use of a remote control, and the user must be in the room.
Hire a local pro to install your window blinds
Outdoor Blinds Cost
Outdoor blinds are a smart choice for decks, patios, and porches. These blinds promote privacy and protect against the sun and pests. They can be easily opened or closed so families can enjoy their outdoor time without being overly exposed to the elements. Patio blinds cost around $75 to $250 each. The higher quality materials and added automation features increase the price.
Bamboo and other natural materials are ideal for outdoor blinds. By keeping them well-maintained, you ensure they will last for a long time and hold up in all four seasons. However, these are made of soft materials and may become damaged more easily than other window coverings. Compared to outdoor shutters, blinds also take more effort to clean. When choosing outdoor blinds, the window needs to be set up with outdoor mounting, so the blinds have somewhere to attach.
Window Blinds Insulation
Window blinds help with insulation and can keep heating and cooling costs down by absorbing light. The preferred energy efficient window blinds are blackout blinds, which do a great job of preventing light and heat from entering rooms, or motorized blinds that can be automated to close in the peak hours of sunlight. While all blinds offer quality insulation, these are the most efficient options on the market today.
Keep in mind that blinds naturally let in a tiny bit of light even when they are closed. For the best results with insulation, keep the blinds closed on days with extreme temperatures.
Safety Regulations
Window blind cords have been listed as one of the top five household hazards for children. The hanging cords become a noose for a curious toddler. Due to this danger, corded blinds are no longer sold in stores as of December 2018. Customized blinds still contain cords but have been shortened to avoid dangling. The alternative to cords is motorized blinds with a remote control, smart blinds, or blinds with a wand rather than a cord. Some blinds offer a spring-loaded mechanism that causes the blind to go up with the bottom rail is pulled. The cords were also a hazard for pets, cats in particular.
Micro Blinds vs Mini Blinds Cost
Micro blinds have much smaller slats to prevent more light from coming through and offer enhanced light control and insulation. These blinds are typically used on shallow windows and cost around $50 to $125. Micro blinds are often used instead of traditional blinds because the slats are smaller, making it easier to keep light out of a home.
Micro blinds have the thinnest slats available, around half an inch. Mini blinds are around an inch thick, so they are larger. Mini blinds essentially do the same thing as micro blinds, providing more light control than traditional blinds for windows with little depth, although with slightly more width than the micro alternatives. Mini blinds cost between $45 and $100.
| | |
| --- | --- |
| Type of Window Covering | Price per Window (Materials Only) |
| Mini Blinds | $45 - $100 |
| Micro Blinds | $50 - $125 |
Blinds vs Shades Cost
Because of their adjustable slat design, blinds give more control over how much light and air comes in through the windows. You can have the blinds pulled down and still enjoy a view, along with plenty of light and air. Since shades are typically solid, the only way to control the light, air, and view they permit is to pull them closed, open, or partially open. Fabric is often used for shades and adds insulation value. However, they are more likely to be worn and damaged with the soft fabrics compared to the hard surfaces of blinds.
The average cost to install window shades is around $700 to $900 for eight shades on 27-inch windows. This price can be compared to $600 to $800 for faux wood slat blinds for the same project.
| | |
| --- | --- |
| Type of Wall Covering | Price per Window (Installed) |
| Blinds | $300 - $1,000 |
| Shades | $350 - $950 |
Cost of Shutters vs Blinds
Shutters are some of the most durable window coverings. They can last for a lifetime when properly installed and maintained. The lack of cords eliminates the choking hazard for families with young children. The strong insulation properties make shutters an attractive investment for some homeowners, although there are a few downsides. Shutters let less natural light in than blinds and are often used for more formal areas. Plantation shutters are one of the most common types--wooden coverings fitted to the frame that open out similar to blinds with tilted louvers. The cost of shutters vs. blinds makes some homeowners think twice. Shutters may cost $1,300 to $3,500 each for materials and labor compared to the blinds at $300 to $1,000.
| | |
| --- | --- |
| Type of Window Covering | Price per Window (Installed) |
| Blinds | $300 - $1,000 |
| Shutters | $1,300 - $3,500 |
Blinds vs Curtains Cost
Blinds give you more flexibility in terms of light control, but some light will always peek through because of the slat design. In comparison, curtains made of fabrics like cotton, linen, silk, or velvet completely block the light from coming in with full coverage. Curtains are more likely to stain and tear and may not last as long as blinds. However, curtains improve soundproofing and offer better insulation.
The cost to install curtains with materials and labor averages between $50 and $600, with $300 being the average for a set of professionally installed linen curtains on a single rod for a standard-sized window. Meanwhile, blind installation is similarly priced with the average range between $300 and $1,000 depending on the number of blinds and materials needed.
| | |
| --- | --- |
| Type of Window Covering | Price per Window (Installed) |
| Curtains | $50 - $600 |
| Blinds | $300 - $1,000 |
Consult with a pro when purchasing window blinds
Enhancement and Improvement Costs
Waterproof Blinds
The cost for waterproof blinds is $30 to $50. Moisture is a conduit for mold and bacteria. Areas such as bathrooms, indoor hot tubs, or patios can quickly become riddled with ugly mildew and smells. That is where waterproof blinds come in. The blinds are made from special moisture-resistant materials to protect against build-up. Aluminum, faux wood, and vinyl blinds are the best choices for areas that accumulate moisture or are humid.
Soundproof Blinds
Soundproof blinds can be used to keep noises from coming through your windows. They are often used in areas with high traffic or excessive noise, such as near parks or roads. While the blinds will not stop all noise, they make it more reasonable and easier to ignore. The typical price for soundproof blinds ranges from $35 to $150, depending on the material and other features.
Additional Considerations and Costs
DIY. Window blinds can be DIY, but this process takes a lot of time, materials, and proper measurements. You need to select your fabric and attach it to a mini-blind. It's easier and more reliable to have professionals install window blinds so you can trust that they are sturdy and won't cause damage.
Buying in bulk. Ask your window blind dealer about price deals for buying multiple sets of blinds. Some providers give discounts when you purchase blinds for all of the windows in your home.
Alternatives. Sometimes homeowners choose temporary window blinds made from materials like paper. These paper blinds can be purchased at most major home improvement retailers and installed DIY. Most have an adhesive strip at the top. All you have to do is attach them to the window frame and unfold.
Eco-friendly window blinds. There are many benefits to having eco-friendly window blinds, as they help conserve energy and keep bills down while protecting the environment. Certified green materials such as bamboo or natural wood are popular choices for eco-friendly blinds. Professional companies can help you pick the right energy-efficient blinds and install them too.
Cost to clean blinds. Like any part of your home, it's important to regularly clean blinds to maintain their style and functionality. Blinds collect dust easily, so it's recommended to dust them at least once a month. Wipe them down with a cloth, rag, or old sock, preferably soaked with water and vinegar. Consider the cost to clean blinds professionally as well. Drapery cleaning companies charge between $100 and $200 on average to clean each set of blinds. Plus, blind cleaning is a great opportunity to notice any damage and basic repair needs, such as replacing slats or fixing tangled cords.
Home value. Quality blinds add value to your home. Choosing blinds that are easily adaptable to others' tastes and complement the home increases appeal and aesthetics.
FAQs
How much should I expect to pay for blinds?
It depends on the size of your windows, the style of blinds you like, and their materials.. For instance, inexpensive blinds for four windows might be as little as $40. However, more intricate or custom designs could make the price as much as $800 or more.
Basic blinds are typically not expensive, but more intricate blinds of unique size or custom blinds made specifically for a homeowner can be expensive. Inexpensive blinds start at as little as $10, but more expensive versions can be over $450 plus any installation fees.
How much do blinds cost per window?
While the cost of blinds per window varies depending on the size and materials, you can expect to pay between $10 and $50 per window on the low end. On the high end, blinds may cost as much as $150 to $300 for just the blind materials without installation.
How much does window treatment cost?
Single window treatments can start at $11 for low-cost materials like vinyl and as much as $300 for treatments made from luxury materials like leather.
How much does it cost to have someone install blinds?
Professional installation can average between $10 and $20 per window for standard horizontal wood and vinyl blinds. Installers are usually hired to put up blinds for multiple windows simultaneously. To install blinds on eight windows, you can expect to pay around $100.
How do you install window blinds?
Horizontal and vertical window blinds are installed using different methods. However, both involve installing a bracket to mount the blinds. Horizontal blinds are secured at each end of the mount while each blind for the vertical style must be mounted separately.
How far should window blinds be from the window?
For most blinds, you need to leave at least 2.5 inches of space for mounting purposes.
How much do blinds cost for a new house?
Installing blinds in a new house costs between $400 and $1,000 on average, with most homeowners paying around $700 to install popular blinds with faux wood slats on eight windows.
Find remodeling contractors near you
Get free estimates on Fixr.com from trusted remodeling contractors in your area
Find Contractors