How much does it cost to replace windows in Florida?
Get free estimates from window installers near you
Window Replacement in Florida Cost Guide

To provide you with the most accurate and up-to-date cost figures, we gather information from a variety of pricing databases, licensed contractors, and industry experts.
Your windows play an important role in your home's design, function, and energy efficiency. They allow you to view the outside, let in natural light and fresh air, and enhance the appearance of your home. But older windows, particularly in a hot state like Florida that also sees extreme weather and high winds, may let you down. Older windows do not always insulate well against the hot Florida sun, causing your energy bills to climb. And they are not protected from impacts and high winds that may come during hurricanes. This means that many Florida homeowners with older windows may want to consider replacement.
There are many different types of windows, frames, and glass you can choose from, leading to a wide range of costs. The national average cost range for replacing 5 to 7 windows in Florida is $2,750 to $4,000, with most homeowners paying around $3,250 for 5 impact-resistant, insulated, vinyl-frame replacement windows. This project's low cost is $1,720 for 5 aluminum-frame, standard-glass replacement windows. The high cost is $11,000 for 10 wood-frame, impact-resistant, thermally treated replacement windows.
Average Cost of Window Replacement in Florida
Cost to Replace Windows in Florida
National average cost
$3,250
Average range
$2,750-$4,000
Low-end
$1,720
High-end
$11,000
What Is the Window Code in Florida?
Every few years, Florida updates their building codes to help address issues that may occur during hurricanes. This process began in 2000 in response to the 1992 Hurricane Andrew.
The current Florida Building Code (FBC) requires new construction within one mile of the coast where the wind speed is 100 mph or greater to install either impact-resistant windows or some type of window protection, such as hurricane shutters.
Existing homes in the same areas are encouraged to update their windows accordingly. Homeowners not within this radius are also encouraged to upgrade to impact-resistant windows. This can help prevent serious damage to your property during a storm and make your home safer from burglaries and other potential disasters.
Cost to Replace Windows in Florida by Type
Windows in Florida need to do more than in some other areas and climates. They need to deal with the heat and UV rays of the climate and ideally withstand the impact of hurricane-force winds and items thrown by those winds.
There are two methods for creating impact protection. You can install regular windows and put hurricane shutters over them. Or, you can install impact-resistant windows, which are tempered and laminated to help prevent them from shattering on impact. Impact-resistant options are more expensive than standard ones. There is some cost overlap between the most expensive standard windows and the lowest cost impact-resistant models because factors like energy efficiency and window frame also drive costs. Below are the average installed costs per window for both replacement window types.
| | |
| --- | --- |
| Type | Average Cost per Window (Installed) |
| Regular | $355 - $1,500 |
| Impact-Resistant | $750 - $3,500 |
Regular
The average cost of standard window replacements in Florida ranges from $355 to $1,500 per window. They are available in all frame and glass types. This includes windows with inexpensive aluminum frames and those treated with special hot-climate specific low-E coating. Therefore, you have a wide range of costs associated with this project. Most people in Florida choose an energy-efficient option like low-E coating with a vinyl frame. This combination offers good performance in the climate at a moderate price.
Impact Windows in Florida
The cost of impact-resistant windows in Florida averages $750 to $3,500 per window. They use laminated glass to help prevent the glass from shattering on impact or in high winds. This can make your home safer during hurricanes. They come in many of the same frames as standard models, with aluminum and vinyl frames being the most common, but steel and wood are also options. They can also be treated with options like low-E coating to help make them energy-efficient as well as impact-resistant. Like standard ones, most people in Florida tend to use vinyl-framed windows that have also been treated to be energy-efficient.
Average Cost of Window Replacement in Florida by Size
Florida homes can have windows of many sizes, from small single-hung windows to massive picture windows to let in the views. No matter which glass and frame type you choose, the window size will be a big part of your total costs. The larger the window, the more glass required and the higher the costs. This is true of the window and installation costs.
They can generally be grouped into three categories - small, average, and large. Small windows may be fixed or transoms above doors or other windows, small fixed decorative, or basement non-egress windows. Generally, anything considered small is usually decorative and not meant to be functional or an egress.
Medium or average-sized windows are the ones you use throughout most of the home. This includes sash, casement, and some types of sliding windows. They are meant to open and, in many cases, can be used as an egress. They are usually operational and can be opened, increasing their costs.
Large windows include oversized sliding, picture, and bay windows. These have more complex installations and often require thicker glass or stronger frames, increasing the project cost.
Below are the average installed costs for standard and impact-resistant windows in these three sizes. There can be overlapping costs because the frame and glass type influence the final project cost.
| | | |
| --- | --- | --- |
| Size | Average Cost (Regular) | Average Cost (Impact) |
| Small | $150 - $800 | $350 - $1,500 |
| Average | $355 - $1,500 | $750 - $3,500 |
| Large | $500 - $4,000 | $1,000 - $6,000 |
Windows Cost in Florida by Frame Material
The window size and type are only one part of the cost. The other part is the window frame material. They can have different frame types, each with its own attributes and considerations.
The most common window frame in Florida is vinyl. Vinyl frames are low maintenance and can be used with both standard and impact-resistant glass. The only drawback is that they cannot be painted, and some companies may have limited colors.
Aluminum is another common material because it is inexpensive. However, it is not as energy-efficient unless you choose aluminum with a thermal break or insulated core. Because there are two options to choose from with aluminum, there is a wide cost range. Aluminum can be painted and used with both window types. Fiberglass is a very popular window material with installers. It looks a lot like wood, but it is durable and insulating. It does not warp in the Florida humidity and does not need to be painted, but you may have a harder time finding impact-resistant windows with a fiberglass frame.
Wood and steel are the two most costly options for window frames. Wood does not always handle the humidity well, and it can warp if not properly installed. Wood also requires more maintenance and needs to be painted. However, it is a good insulator and can add a lot of charm to your home. On the other hand, steel is very durable and a good choice for large windows that need a sturdy frame. It is not as common as the other materials, so it may be more difficult to find.
Below are the average installed costs for the different window types based on the material.
| | | |
| --- | --- | --- |
| Material | Average Cost (Regular) | Average Cost (Impact) |
| Aluminum | $355 - $550 | $550 - $750 |
| Vinyl | $550 - $750 | $750 - $1,200 |
| Fiberglass | $550 - $950 | $750 - $1,500 |
| Wood | $600 - $1,200 | $800 - $2,100 |
| Steel | $700 - $3,000 | $1,000 - $5,000 |
Windows Cost in Florida by Style
Homes in Florida come in many different sizes and styles, meaning you will likely also use a mixture of different window types. The most common window in Florida is the sash, followed by sliding and picture windows. Sash windows can be single or double-hung, meaning only the window bottom or both the window bottom and top move independently of one another.
Sliding windows are optimal for larger spaces, and they open from side to side on a track. This is a good choice for those with a view they want to capture but still want an operational window. Picture windows are a great choice for those wanting the view and sunlight that comes from a large unbroken piece of glass. Pictore models are not operational, so they tend to be flanked by smaller windows that can open like a sash or casement-style window.
In addition to these types, some homeowners also like casements, which open outward, and arched windows, which can add curb appeal and detail to the home.
Many Florida homes mix different window styles throughout to maximize light and airflow. Therefore, when replacing windows, you may have a mix of different costs. Below are the most popular styles in Florida, along with their installed costs for standard and impact-resistant variations.
| | | |
| --- | --- | --- |
| Style | Average Cost (Regular) | Average Cost (Impact) |
| Picture | $235 - $1,225 | $325 - $1,825 |
| Sash | $315 - $600 | $475 - $2,050 |
| Arched | $325 - $1,500 | $505 - $2,500 |
| Sliding | $350 - $1,175 | $715 - $1,725 |
| Casement | $365 - $1,200 | $845 - $1,850 |
Average Cost for New Windows in Florida by Type of Pane
The glass type affects several things, including function, energy efficiency, and cost. Impact-resistant windows are tempered and laminated, giving them their strength and helping prevent them from shattering. Standard models use regular glass.
Both window types come in a range of efficiencies, including double glazing, gas-filled, and using a specialty coating. Double glazing is often chosen for better efficiency because the two glass layers help insulate better than a single pane. You can also choose to increase this efficiency by having either argon or krypton gas between the panes. This helps create better resistance against thermal transfer, helping keep your home more comfortable and energy bills lower.
You can also choose to use a coating on the glass. While traditional low-E coating is designed for northern and colder climates, some companies offer a low-E coating in Florida for hot climates that help absorb some of the heat from the sun and keep it from entering your home. In addition, you can also have spectrally selective glass, which helps block some of the UV rays from entering your home. Both glass types can be found in all these different types, although not every manufacturer of impact-resistant glass offers every type, so you may need to shop around if you are interested in a specific glass. At a minimum, most people in Florida choose an energy-efficient glass, such as double glazing with or without a coating and gas. Single-pane glass is very uncommon in this area because of the heat.
Below are the average uninstalled costs for the different glass types available in Florida for both window types.
| | | |
| --- | --- | --- |
| Glass | Average Costs (Regular) | Average Costs (Impact) |
| Single Pane | $100 - $1,200 | $200 - $1,800 |
| Double Pane | $150 - $1,800 | $300 - $2,200 |
| Spectrally Selective | $300 - $2,200 | $500 - $2,700 |
| Low-E Coated | $350 - $2,600 | $550 - $3,000 |
| Argon Filled | $375 - $2,720 | $600 - $3,200 |
| Krypton Filled | $500 - $3,000 | $800 - $4,000 |
Windows Costs by Florida-Available Brands
Many reputable brands of windows are available in Florida. Because of the growing recommendations to use impact-resistant glass in your windows, most companies that sell windows in Florida make a line of impact-resistant options to choose from. These companies are also more likely to have better energy efficiency options, including low-E coating designed for hot climates rather than cold.
Each of the following brands carries a specific line of impact-resistant glass designed for use in areas like Florida. Simonton calls this line StormBreaker Plus, and all their products are rated to withstand hurricane-force winds. Soft-Lite has a line called Barcelona Hurricane Windows, which is designed specifically for use in areas like Florida. They have two lines - one designed to be installed on the coast and one inland where the winds may not be as strong but where there can still be concerns.
PGT makes a line called WinGuard Aluminum, an aluminum-framed window with impact-resistant glass rated for the worst storms. The aluminum frames make this line more affordable while still offering great quality.
Andersen Windows offers Stormwatch protection on their windows and doors. They have different ratings, so you can choose to put the strongest glass in the areas that need it most.
Each company also makes a full range of standard glass windows with varying frames and energy efficiencies. It is important to make sure you use a brand that makes glass designed for your climate to ensure you get the best results. The following window companies are some of the most recommended in Florida. Their costs for both types of windows are below.
| | | |
| --- | --- | --- |
| Brand | Average Cost (Regular) | Average Cost (Impact) |
| Andersen | $215 - $3,000 | $340 - $4,500 |
| Simonton | $250 - $2,700 | $360 - $3,775 |
| PGT | $300 - $1,700 | $450 - $2,165 |
| Soft-Lite | $300 - $1,750 | $450 - $2,200 |
Labor Costs to Replace Windows in Florida
Labor costs to replace windows in Florida vary greatly, depending on the window type and number of windows being replaced at one time. The average labor cost to replace a single window is $250 to $350 per window, but some types can cost as little as $100 in labor and others as much as $500.
In addition, the cost per window tends to go down if you have multiple windows replaced at one time. For this reason, many people have between 5 and 20 windows done at one time to lower the project cost. Costs start to drop at 5 windows done at a time. This is because to replace them, the old ones must be removed first and disposed of before the new ones can be put in. This means a minimum of two trips for the technician, whether you install one window or 10, so it is usually in the homeowners' best interest to replace several windows at once.
Below is the average labor cost per window for replacement in Florida broken down by the number of windows being replaced at one time.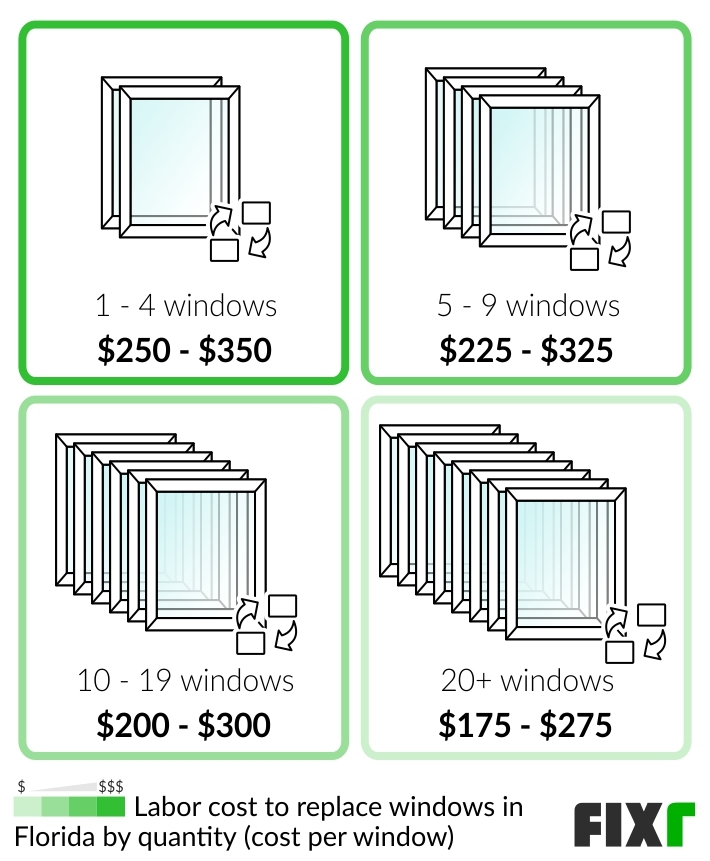 | | |
| --- | --- |
| Quantity | Average Labor Costs per Window |
| 1 - 4 | $250 - $350 |
| 5 - 9 | $225 - $325 |
| 10 - 19 | $200 - $300 |
| 20+ | $175 - $275 |
Cost to Replace All Windows in a House in Florida
The average home has roughly 20 windows of varying sizes and shapes. Some smaller homes may have as few as 15 windows, while very large homes may have 30 or more. When you replace all of them at once, you will have a wide range of costs, depending on the type of window, glass, and frame.
However, it can be marginally less expensive to replace all the windows in your home at one time than if you do it piecemeal. This depends on the company, how many total windows, and their cost. Below are the average costs to replace all the windows in a Florida house, depending on the number of windows.
| | |
| --- | --- |
| Quantity | Average Cost (Labor Included) |
| 15 | $8,250 - $12,000 |
| 20 | $11,000 - $16,000 |
| 25 | $13,750 - $20,000 |
| 30 | $16,500 - $24,000 |
Enhancement and Improvement Costs
Storm Windows
If you have standard windows on your home, one way of increasing their resistance to impact and storms while improving your energy efficiency is to install storm windows over them. They add a layer of protection and efficiency to your existing windows and can be left in place or removed as desired. The average cost of storm windows in Florida ranges from $2,000 to $5,000, depending on the size and number.
Hurricane Shutters
Hurricane shutters are also recommended for homes in Florida that do not have impact-resistant windows. Hurricane shutters are put up to cover your windows for a major storm. They have an average cost of $15 to $240 a sq.ft. installed, depending on the style.
Additional Considerations and Costs
Permits. Florida Building Codes stipulate that you must take out a permit when replacing any windows in Florida. This is true whether you choose impact-resistant or standard windows.
Warranties. Most window companies offer a warranty on their labor and the windows. Expect a minimal warranty on labor of 1 year and 10 years for them.
Resale value. In areas like Florida, impact-resistant windows have a much better resale value than standard models. As the building code continues to be updated, regular windows are quickly falling out of fashion and out of code. If you plan on updating your windows before a sale, impact-resistant glass will give you a better return.
Contractor. Get at least three quotes from different companies when hiring your installer. This gives you a way to compare quotes and information to make the best choice.
Lien release. In a time of increasing costs, it is important to ensure you have a lien release in your contract. This helps prevent the window manufacturer from coming after you if your contractor fails to pay or prices rise, and they try to make you pay the difference.
FAQs
Is a permit required to replace windows in Florida?
Yes, Florida building code stipulates that you need a permit for all window replacements in Florida. Speak to your local municipality for more information.
What type of window is best in Florida?
The best window type for Florida is an impact-resistant window that has been treated for energy efficiency. This may mean using a low-E glass or argon-filled glass.
How long do windows last in Florida?
Windows should last a minimum of 10 years, with many lasting much longer. Keep in mind that unless they are impact-resistant, they may not last as long if a storm comes through.
Are vinyl windows better in Florida?
Vinyl windows are a good choice in most parts of Florida. They are a mid-grade material with some insulating properties. They are not a good choice for Miami and the very south of Florida because they can warp in the extreme heat.
Do vinyl windows warp in Florida?
If you live in the very south of Florida near Miami, then yes, you may see some softening and warping. If you live in the middle to north of Florida, it is less likely that the temperatures will get high enough to melt the vinyl.