The home improvement market remains as strong as ever with predictions that homeowner improvement and repair spending could reach $430 billion by the second half of 2022. In order to understand which projects will bring the most value to a home, we have analyzed the data compiled in the Remodeling 2022 Cost vs. Value Report.
Chart: Cost vs Value of Home Improvements in 2022
The below graphic details the 22 home remodeling projects analyzed. Projects' total costs are represented by the length of the wedge. ROIs (%) are illustrated with colors, where the lighter blue projects have the lowest ROIs and the darkest green retain the highest ROIs.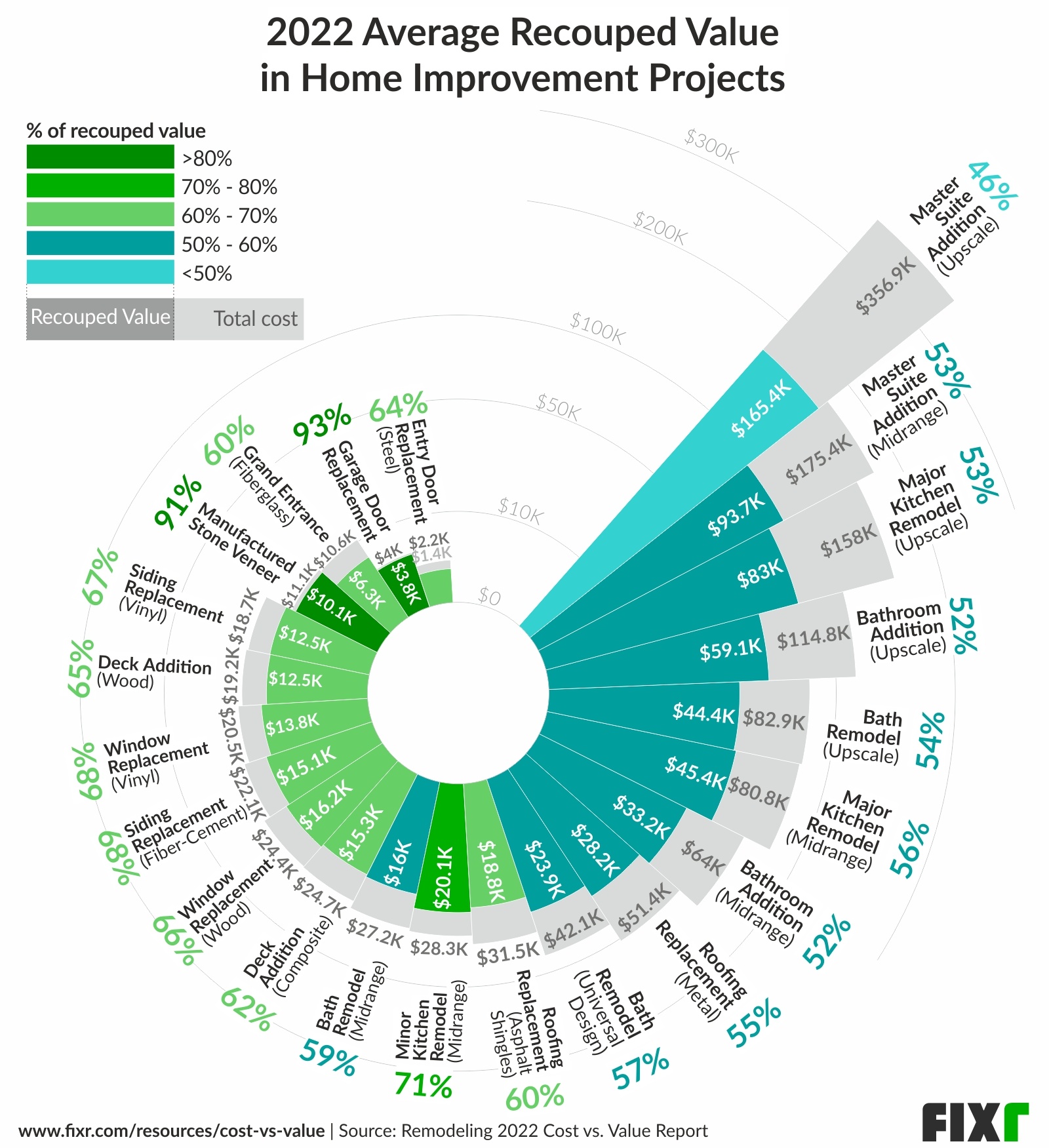 In the table outlined below, the top 10 projects based on ROI are listed. It is noteworthy that 90% of the top 10 (nine projects in total) are exterior projects and only one interior project is included (a midrange minor kitchen remodel).
| | | | |
| --- | --- | --- | --- |
| Project | Project Cost 2022 | Resale Value 2022 | ROI |
| Garage Door Replacement | $4,041 | $3,769 | 93% |
| Manufactured Stone Veneer | $11,066 | $10,109 | 91% |
| Minor Kitchen Remodel | Midrange | $28,279 | $20,125 | 71% |
| Siding Replacement | Fiber-Cement | $22,093 | $15,090 | 68% |
| Window Replacement | Vinyl | $20,482 | $13,822 | 68% |
| Siding Replacement | Vinyl | $18,662 | $12,541 | 67% |
| Window Replacement | Wood | $24,388 | $16,160 | 66% |
| Deck Addition | Wood | $19,248 | $12,464 | 65% |
| Entry Door Replacement | Steel | $2,206 | $1,409 | 64% |
| Deck Addition | Composite | $24,677 | $15,315 | 62% |
More expensive projects do not always equate to a higher ROI. In the data we've analyzed, the most expensive four projects have costs over $100K each with an average ROI of 49.8% (range 46.3% to 53.4%); whereas, the four projects at the lower end of the cost spectrum, ranging between $2.2K and $11.1K, boast an average ROI of 77.5%. Two of these low-cost projects, replacing your vinyl siding with stone veneer and replacing your garage door, have ROIs above 90%!
In general, and as supported by the data, lower cost projects have a better chance of recuperating the investment than higher cost projects and may be a good option when making improvements to sell your home.
What Has Changed Since the Pandemic?
To better understand how the pandemic has affected home improvement projects' changes in ROIs and overall costs, we have included data from 2019 through 2022 in the below graphics.
General Drop In ROI for All Projects
Each of the 22 home improvement projects analyzed in the Remodeling 2022 Cost vs. Value Report have experienced a decrease in ROI as compared to their pre-pandemic levels. The below graphic illustrates the top 15 projects that experienced the largest percent decrease in ROI during this time period. Fiberglass grand entrances had the largest drop from 71.9% ROI in 2019 to 59.7% ROI in 2022. This equates to a 12.2 percentage point decrease.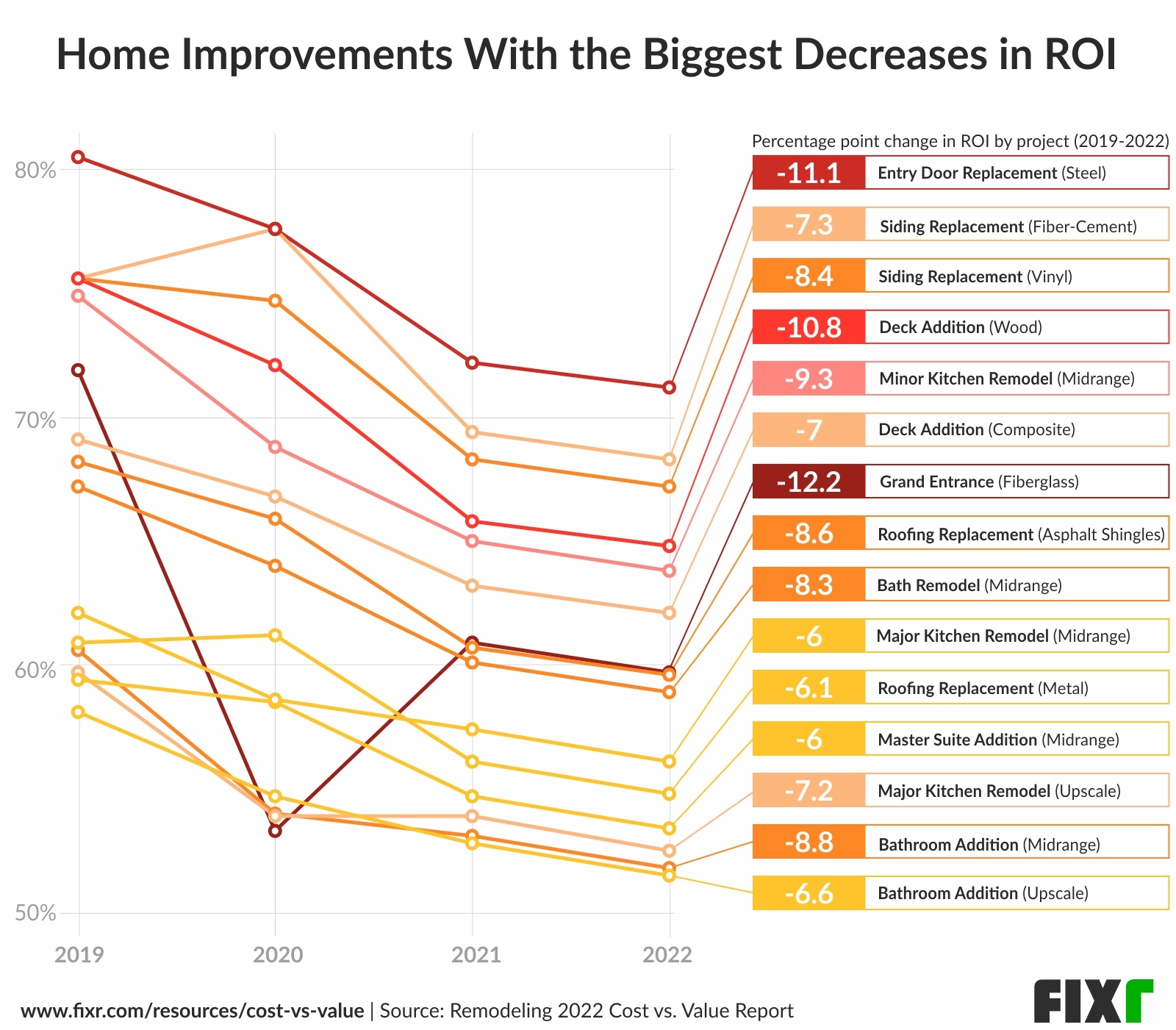 | | |
| --- | --- |
| Project | Percentage Point Change in ROI (2019-2022) |
| Grand Entrance | Fiberglass | -12.20 |
| Entry Door Replacement | Steel | -11.10 |
| Deck Addition | Wood | -10.80 |
| Minor Kitchen Remodel | Midrange | -9.30 |
| Bathroom Addition | Midrange | -8.80 |
| Roofing Replacement | Asphalt Shingles | -8.60 |
| Siding Replacement | Vinyl | -8.40 |
| Bath Remodel | Midrange | -8.30 |
| Siding Replacement | Fiber-Cement | -7.30 |
| Major Kitchen Remodel | Upscale | -7.20 |
To examine the data in a simpler way, we've listed the 10 projects whose ROI decrease has been the greatest in terms of percentage points. These top 10 had a range of decrease between 7.2 and 12.2 percentage points.
Interestingly, neither the project's type (interior vs. exterior) nor the project's cost bracket (low cost vs. mid cost vs. high cost) contributed to how much the ROI decreased.
Project Costs Are up 31.2% on Average Since 2019
The graphic below helps to visualize the 'perfect storm' that has formed in recent years in the home remodeling and construction industries. In 2018 a shortage of tradespeople who perform home improvement projects began. The impact was not immediate as supplies were still plentiful and demand was not at the levels it is today. As 2020's pandemic came about, demand for home improvements rose, supply chain breakdowns occurred, and a shortage of materials resulted. These factors compounded together to cause costs to catapult upward. The availability of tradespeople and supplies are not the sole issues affecting cost. Labor costs across all US workers increased by 2.6% from March 2020 to March 2021 and again by 4.5% from March 2021 to March 2022.
Oftentimes, when costs increase, so does resale value; however, if they do not increase at the same rate, the ROI will change. For the projects analyzed, the recouped values have increased between -2.54% (a decrease) and 24.52% while the costs have increased between 11.9% and 112.8%. This resulted in ROIs decreasing across all projects.
Some increases have been exorbitant. An upscale bathroom remodel's costs went from $38,952 in 2019 to $82,882 in 2022. This is more than double (112.78%). Others have been more moderate, like a garage door replacement which increased by only $430 from 2019 to 2022 resulting in a more modest 11.9% increase. On average, across all projects, costs have risen 31.2%.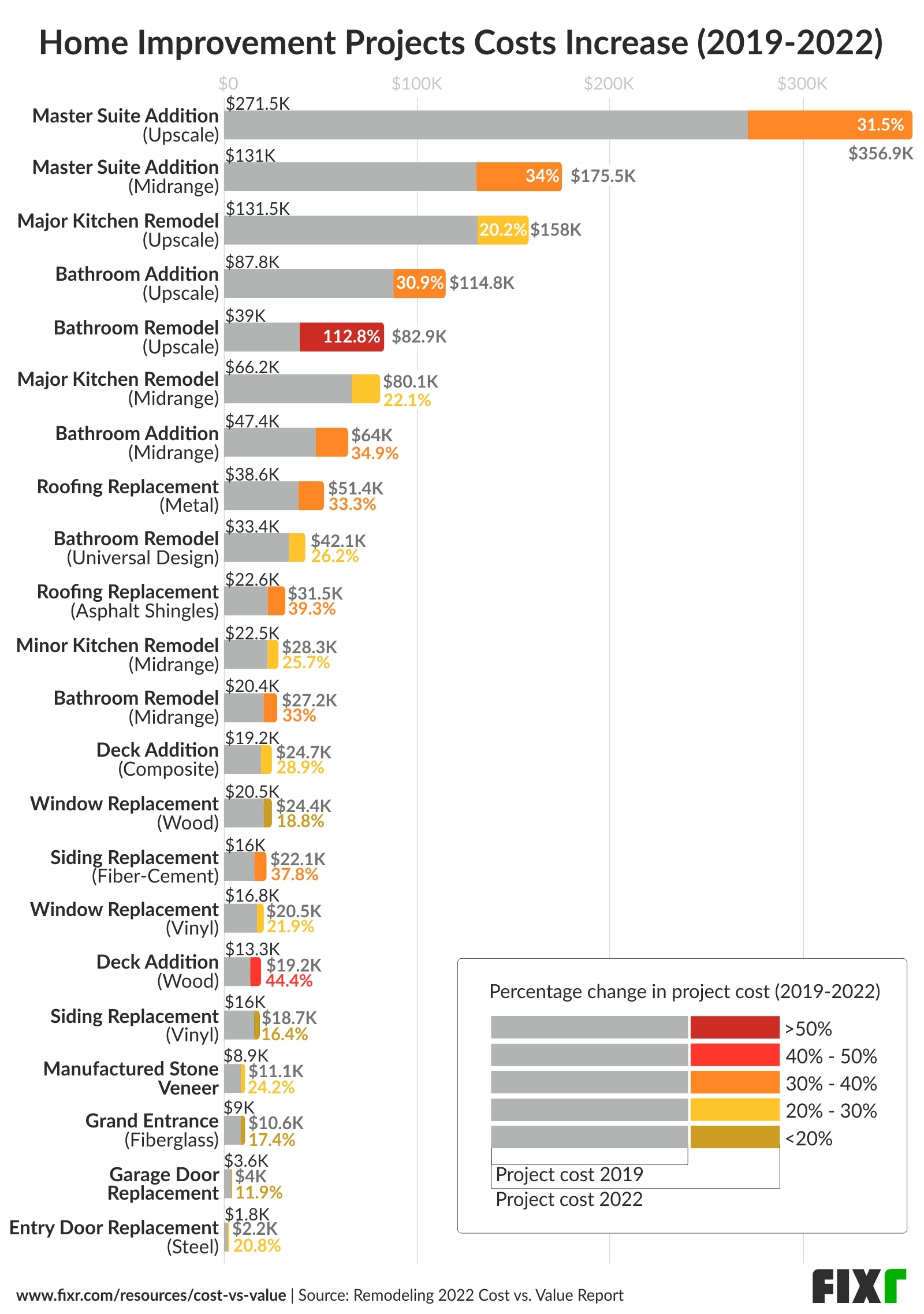 What Does It Mean?
As labor and supply shortages and increased costs along with rising fuel prices continue, we should not expect home improvement project costs to decrease in the near term. While not the best news for budgets, it can be helpful in planning.
For those preparing to list their home for sale, considering a mix of what is selling in the local market along with the project's ROI is imperative. If the time and investment for a project will not help your home sell more quickly or garner a high ROI, it may not be worth the effort or cost.
For those looking to stay a while, the ROI may not be as important as the end-result itself; however, one should still pay close attention to the costs of the project and potential delays from shortages as we continue to deal with current market conditions.
Author
Irena is industry analyst at Fixr.com. She analyzes and looks for visual ways to simplify data. She has been researching and writing about personal finance since 2018. For this article she compiled the latest Cost vs Value Report data from Remodeling and combined it with the pre-pandemic statistics to give a full picture of how costs, resale value and ROI have changed in just a few years.