When COVID-19 began to sweep across the globe at the end of the first quarter of 2020, many people suddenly found themselves working from home for the first time. After the initial scramble to get set up and find ways to do their job in this new setting, most people are finally beginning to settle in for the long haul. With the future still unclear, a lot of homeowners are making the commitment to begin working from home indefinitely, which includes creating a home office if they didn't already have one.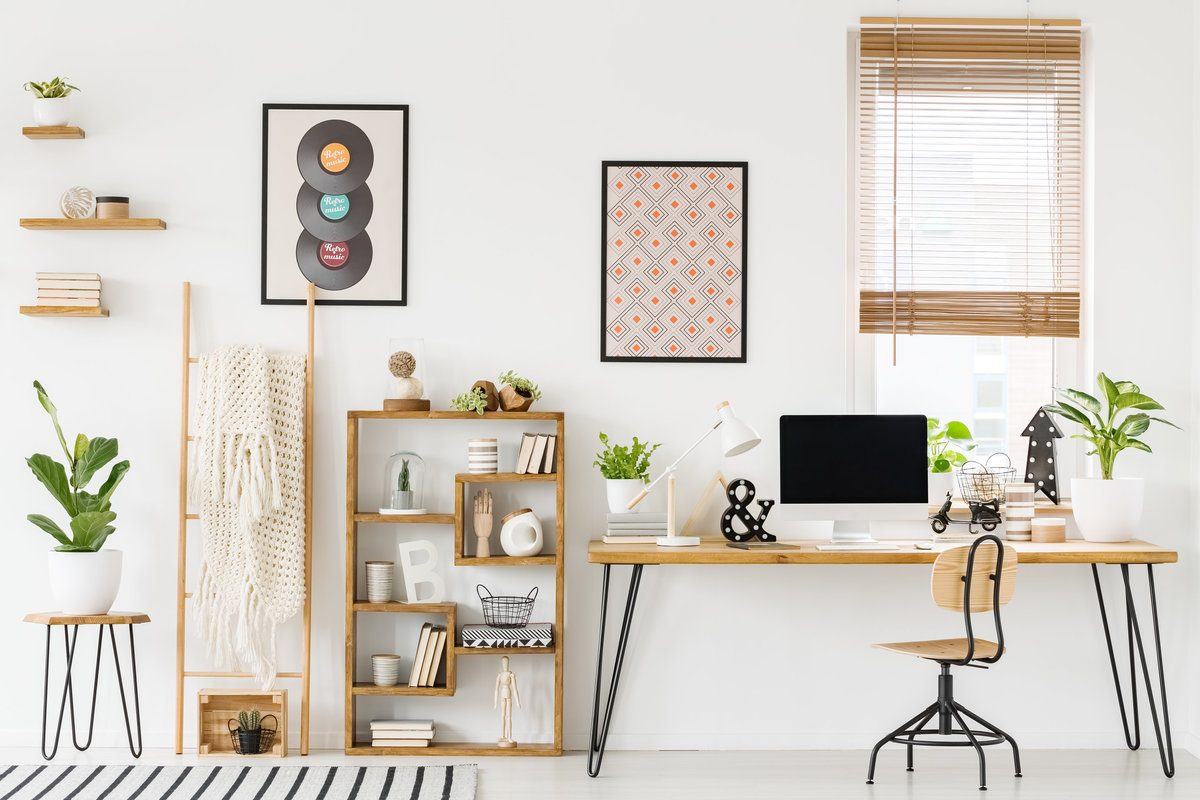 Any homeowner who is currently working from home or who may be making the switch to working from home long-term, as well as those builders and designers whose job it is to make these conversions happen, may want to pay attention to which way the trends seem to be pointing. To that end, we asked 31 experts in the industry to weigh in on where they think home offices are heading. They were asked a series of questions, including some multiple choice and some open-ended questions, and other questions had sliding scales to help give the bigger picture to those looking for this information.
Survey Highlights
The biggest challenges that people face in creating a home office is lack of space
Isolation from household distractions is the best way to increase productivity at home
Comfortable and ergonomically-designed furniture is an essential upgrade to invest in
Desk lamps are the most recommended task lighting source
Noise-canceling headphones are the most recommended way to reduce noise
Soft white is the color most recommended to help increase productivity in the home office
The Top Home Office Solution Is A DIY Conversion Of An Existing Room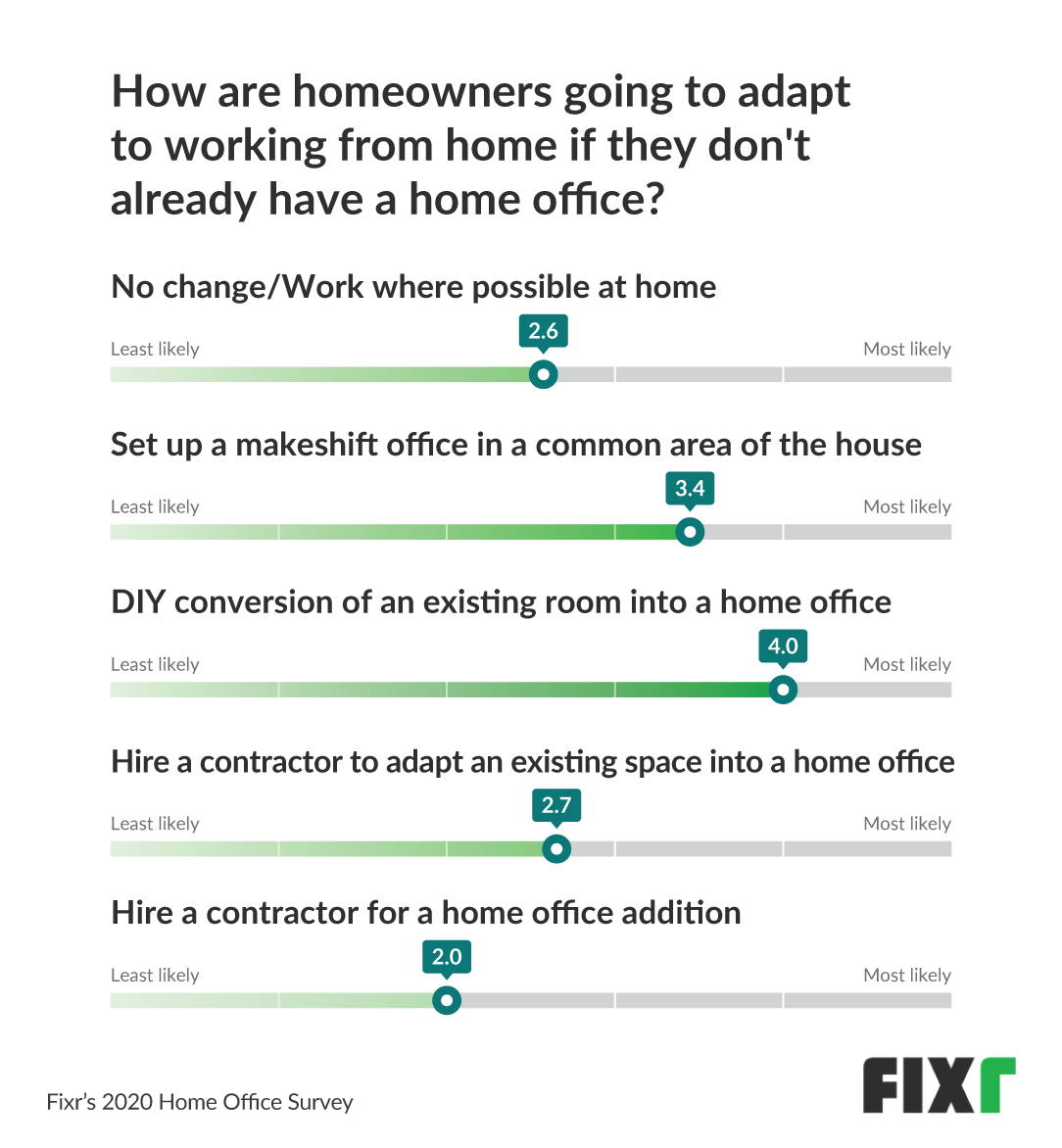 Experts were asked to rate on a scale of 1 - 5 what they felt was the most likely scenario for people expecting to work from home long term. While some felt that people would continue to work wherever they could and others believed that a makeshift office would be the way to go, most felt that a DIY conversion of an existing room in the home into an office would be the most likely method homeowners would take. This makes sense as it gives homeowners the privacy and set up they need, doesn't bring outside workers into the home, and still allows for the space to be converted back again if the need to work from home ends.
Michelle Minch of Moving Mountains Design explains: "If you are unable to build additional space, try to commandeer an existing room with a door you can close. If possible, choose a room for which the only purpose will be your home office (for example, not a guest room/office combination) to eliminate distractions. If you have the space and are able to do an office addition, create a space that has plenty of natural light, good sound dampening and sufficient built-in storage, so you aren't looking at piles of bankers boxes stacked up against the wall. Make sure it has a door you can close to block out household distractions. My dream office would have French doors that open onto a garden, for fresh air and occasional breaks."
Lack of Space is the Biggest Challenge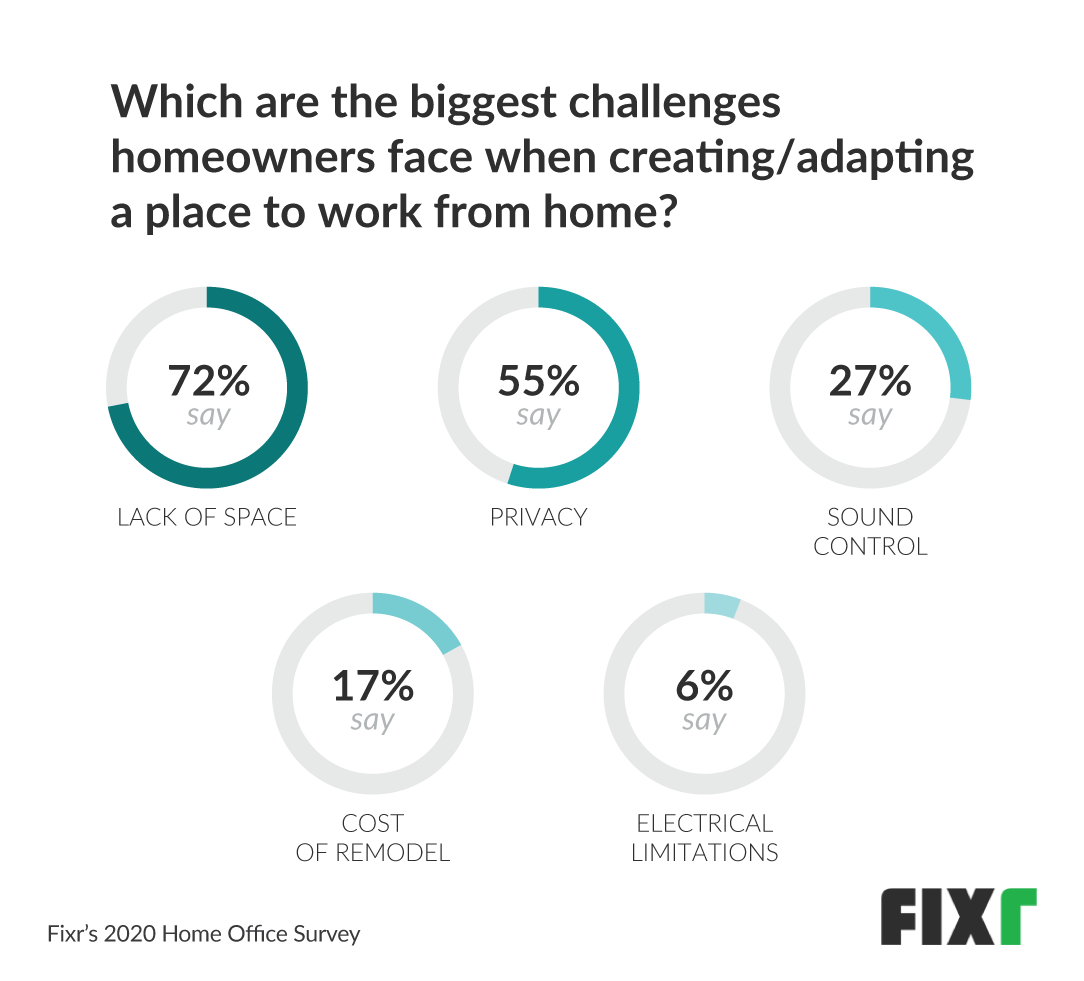 Experts felt that a lack of space was the biggest hurdle that most homeowners would need to clear to make working from home a long-term prospect. This was followed by a lack of privacy as well. Since most people will have had the spaces in their homes already allocated for other purposes, many will need to get creative to carve out the space that they need. This may mean some hard decisions for homeowners about how they use their existing spaces and whether they'll need that home office in the long term. It may also mean creating areas that are multi-functional as Ana Donohue from Ana Donohue Interiors advises: "Don't overlook areas that can be truly dual functional."
If you need help identifying such areas, it is possible to have virtual consults with designers, who have the ability to see your interiors with a fresh eye, helping you figure out which areas can be converted more easily.
Technical Upgrades and a Dedicated Office Space are Top Priorities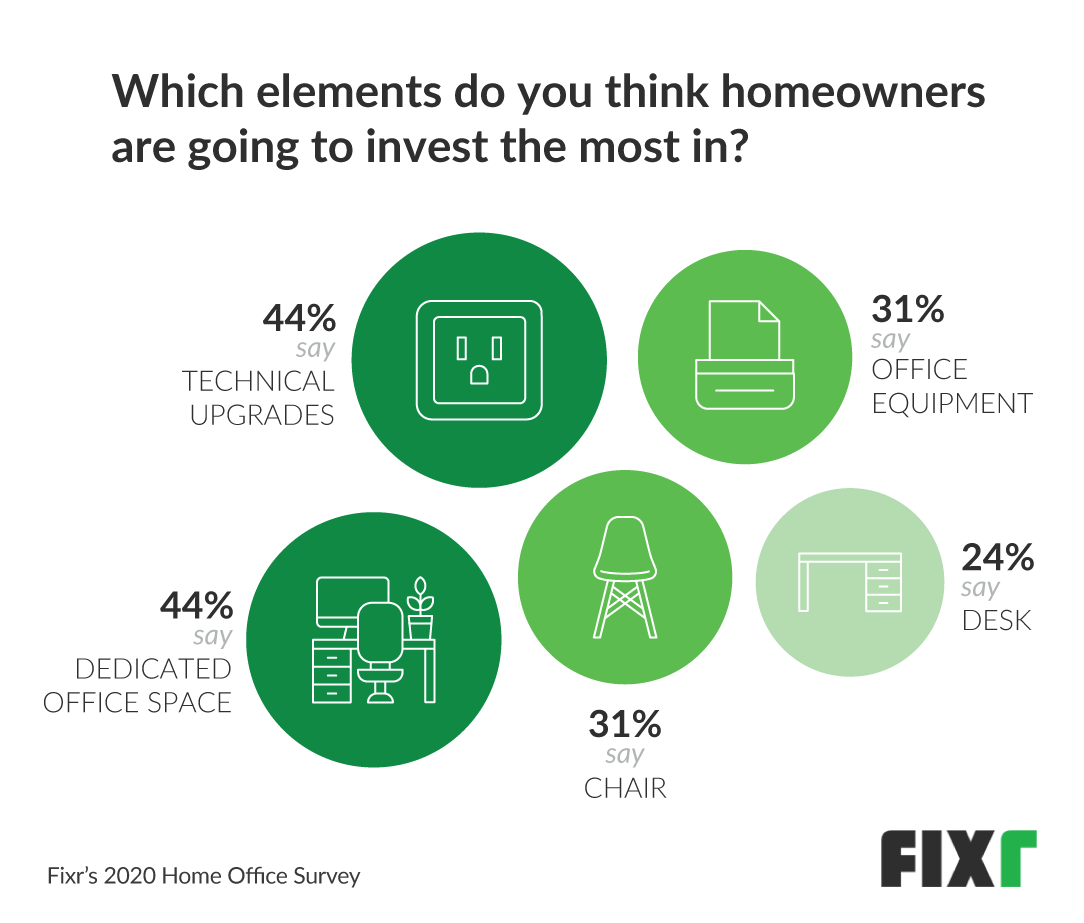 When experts were asked what elements they felt that homeowners would be most likely to invest in in order to work from home, their answers were split. 44% felt that technical upgrades would be the way to go, while 44% also felt that a dedicated office space was most needed.
Barbara Segal of Barbara Segal and Associates elaborates on the technical aspects: "Most home offices aren't equipped with the technology required for today's work demands. If your work requires calls or Zoom meetings, a good headset and Bluetooth speaker can enhance sound quality."
Susan Serra, CKD from Susan Serra Associates adds: "Adequate tech, especially good quality monitors, should be a priority for eye comfort since a monitor is in use all or much of the day."
On the other hand, Lynda Quintero-Davids from Focal Point Styling makes this point, "Shop consignment for a desk - but invest in a good back supporting chair #splurgeandsave".
Isolation is the Most Important Aspect of a Home Office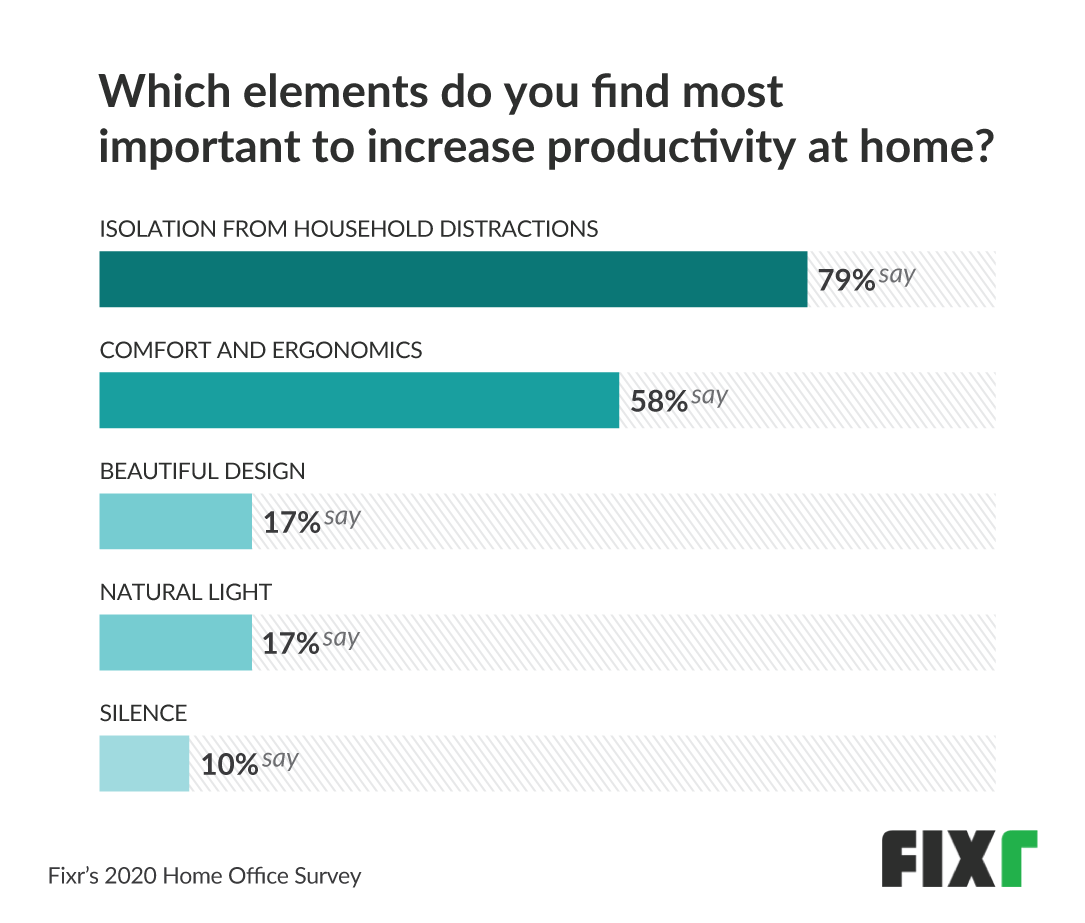 To increase productivity when working from home, experts feel that being able to isolate yourself from household distractions is key. While a dedicated office space is one way to help achieve this goal, it may not always be necessary, as Joan Kaufman from Interior Planning & Design, Inc. explains: "Reducing visual distractions can be accomplished with screening, sliding doors and other movable dividers. Headphones are still one of the best ways to reduce acoustic distractions for a limited budget."
Comfortable and Ergonomic Furniture is a Necessity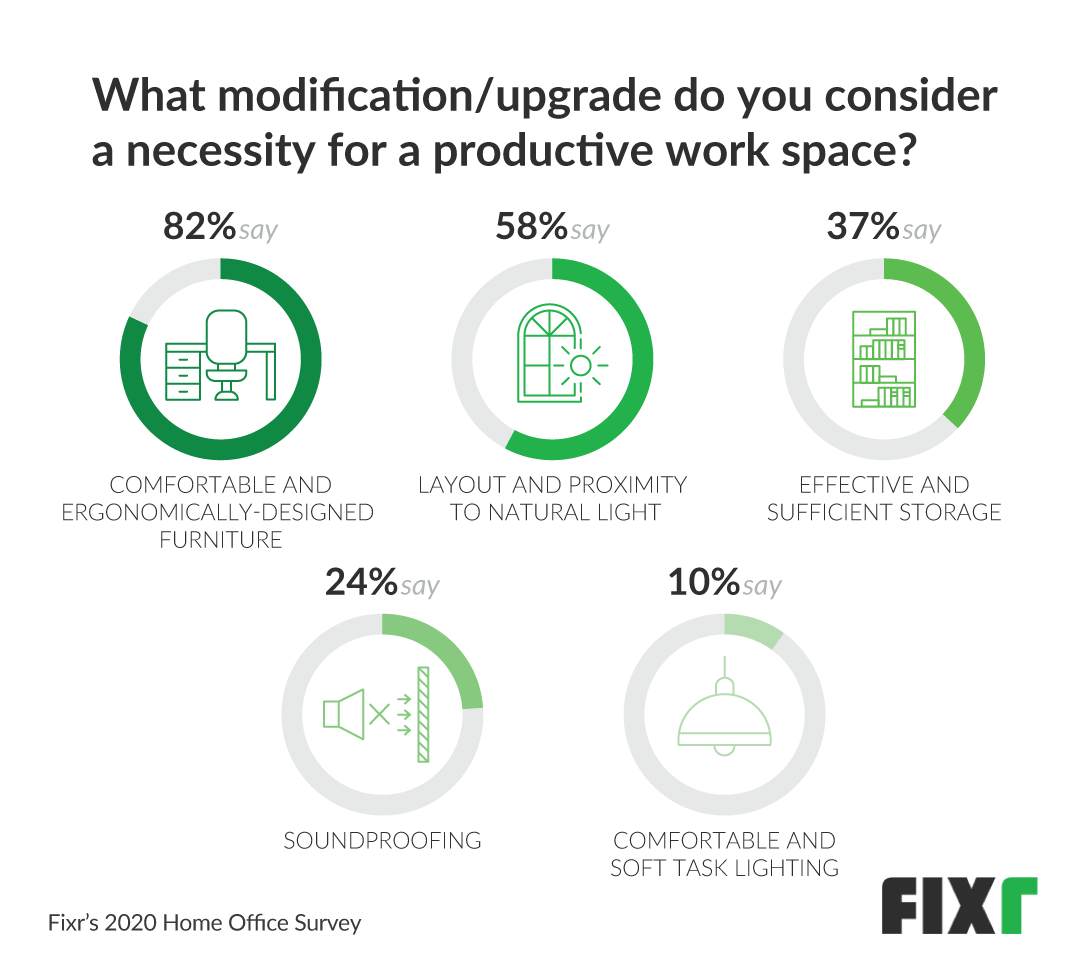 82% of experts feel that comfortable and ergonomic furniture are the most necessary modification/upgrade for a productive work space. Given that so much of the work day is spent on specific furniture, making sure that you're comfortable should rank high.
Pat Valentine Ziv from PVZ Design expands: "Make the space ergonomically comfortable so that you don't compromise your posture while working. You need a good supportive and adjustable chair along with a height adjustable desk. These can be found at a reasonable price."
Desk Lamps Help Increase Productivity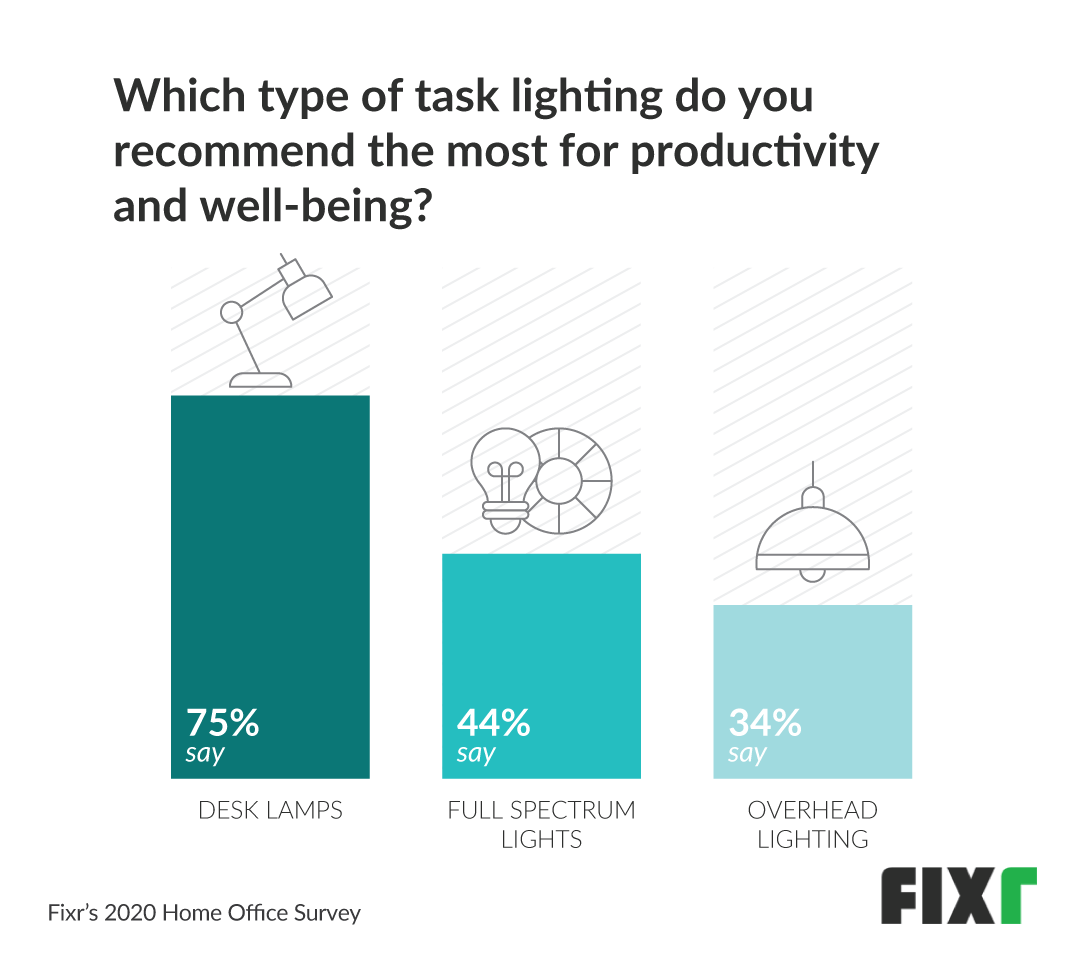 When asked, most experts agreed that desk lamps were the best option when it comes to productivity. They also agreed, however, that good lighting is important no matter where it comes from. Garrison Hullinger from Garrison Hullinger Interior Design explains: "Find the best lighting for your space, adding a floor lamp if you don't have the ability to have overhead lighting near your work space."
Kerrie Kelly, FASID, NKBA adds: "...situate yourself near natural light. This way you'll be comfortable, illuminated and have access to a view, fresh air and vitamin D."
Noise-Canceling Headphones Provide Effective Sound Control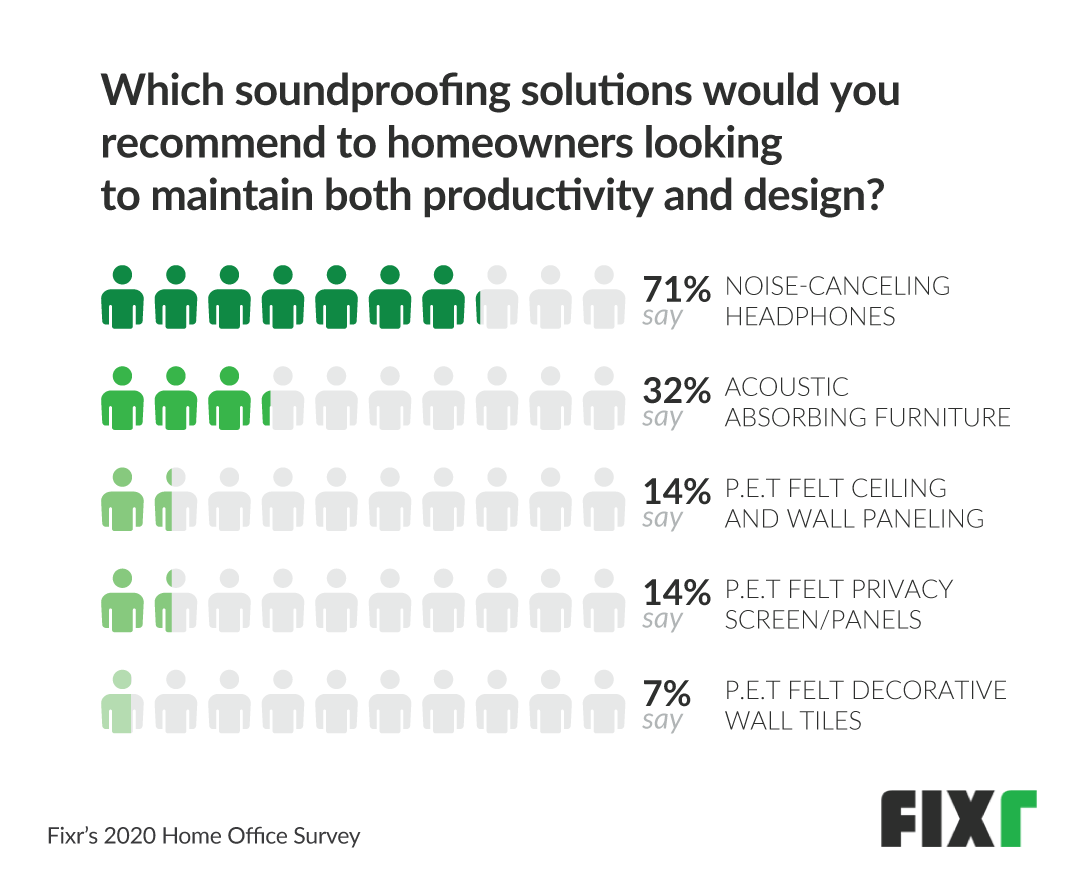 Most experts feel that if you need sound control for working from home, a pair of noise-canceling headphones is the method to invest in. This is an easily reachable solution for many that means not needing to invest in wall, floor, or ceiling coverings that could up the cost of the project. They also say that sound absorbing furniture would make a good investment. This can be furniture specifically made of acoustic absorbing material, or you can design your own by adding PET felt to the exterior of your desk.
Soft White Encourages Productivity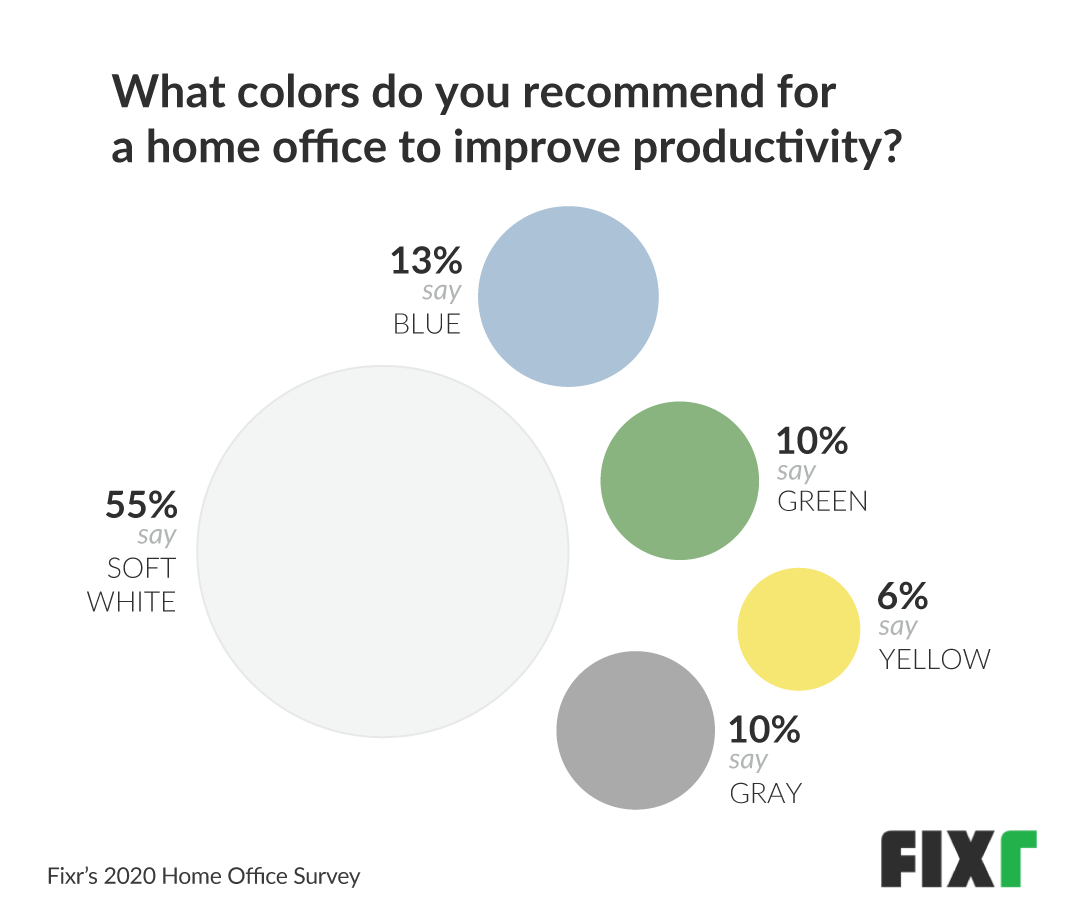 Most experts agreed that when it comes to colors that will help boost the productivity in your home offices, soft white is the right choice. While other colors may be tied to productivity in some studies, soft white is a good neutral color that can be used as a background for virtual meetings and it can become the backdrop for personal wall art.
Barbara Segal agrees on the subject of a good neutral background for home offices today: "Pick out a spot in your home for videoconferencing and think about the background behind you. Having a plain wall behind you might be ideal, with solid paint, or wallpaper, to convey a neutral message."
Creating Your Home Office - Tips from the Experts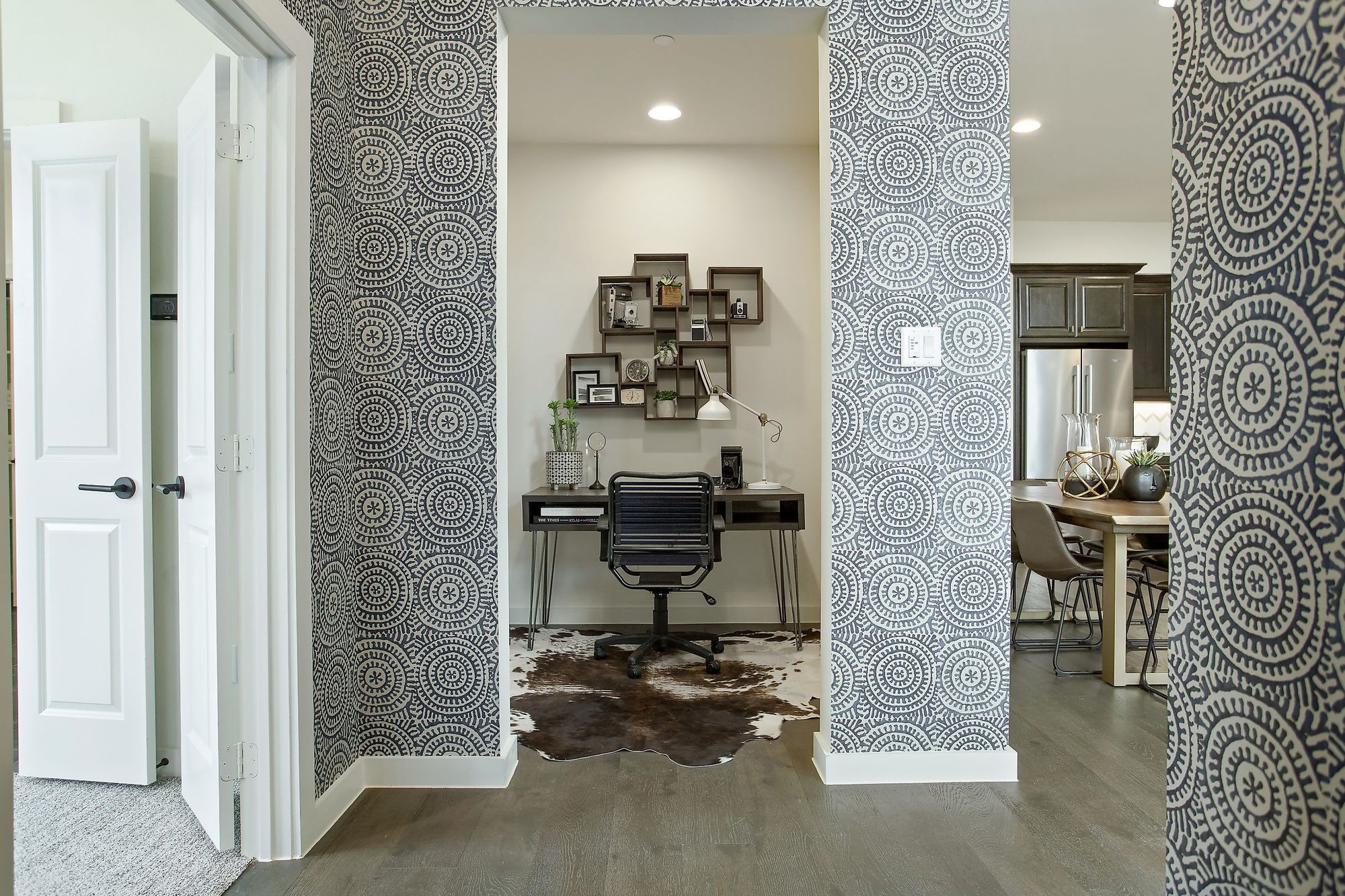 As part of the survey, experts were also asked what tips they would give to homeowners looking to create their ideal home office space. The following tips will help you get up and running smoothly, helping you create the ideal office for your home.
Focus on Function
Function has to come before form, especially when it comes to the home office. As Toni Sabatino from Toni Sabatino Style explains: "Considering your actual needs can't be overrated. Function has to be the most important factor for the home office to be truly productive. Investing in yourself, your space, your career and your future is a wonderful thing!"
"Think about what you really need before you buy anything. Consider storage needs, network and hardware needs, and sensible placement. Feel good about investing in a productive work space! You deserve it!"
Start Small
Many experts feel that you don't need to tackle this project all at once. You can start slowly, adding to your home office over time as you find the things that work for you. Dahlia Mahmood from Dahlia Design LLC explains: "Start small so you don't become overwhelmed. Grab a corner and make it your office sanctuary. These times are unprecedented... allow yourself grace and time to adjust. Whether it is a fresh coat of paint to spark your creativity, grabbing a few accessories for a clean virtual meeting backdrop or new organizational tools - make it about and for you."
Sarah Fogle of Ugly Duckling House agrees: "Start small. Paint a thrifted piece of furniture, add a calming color to your walls, or install new shelves for organizing your essentials. And don't forget about good lighting!"
Reuse and Repurpose
You may have many of the elements you need to start your home office right at hand. Whether it's an underused portion of your home or some furniture that can be shifted around. Dahlia Mahmood advises:
"Take an inventory of elements you already have in your home. You can swap out lighting from one room to another, move around accessories and play with new furniture placements. Your workspace should be a priority by setting the tone... with paint, fresh flowers and natural elements and accessories... you can still keep a mindful budget."
Karen Otto of Home Star Staging adds: "Know your limits and budget. If you can find a spot or nook in your home and utilize the space efficiently for your office, then start there before making major renovations or additions to your home. Simple changes like painting, upgrading lights, new furnishings & decor can go a long way to making your home office a reality!"
Have a Plan of Action
Sometimes knowing where to begin is the hardest step. Birgit Anich of BA Staging & Interiors explains: "First make a list of what you need to run your office efficiently. Figure out where in the house/apartment is the space that you feel energizes you the most and you can see yourself being all day long."
Ana Donohue of Ana Donohue Interiors adds: "Think about the footprint you have and the existing spaces that are not functional and create areas within those spaces that are truly functional."
Don't Forget The Basics
While your home office is going to be tailored to your needs, there are some basics that every space will have. Helen Bartlett of Refined Interior Staging Solutions says:
"Get a desk with enough workspace to do your work and stay organized. Invest in supplies to keep your workspace clear of clutter and distractions. If possible, have a workspace with natural light or ample lighting. Have comfortable seating and try and find a space dedicated solely to your work so that you can walk away at the end of the day to enjoy your home for personal time rather than still be reminded of work."
Susan Serra, CKD expands: "Comfort, storage, natural light and adequate tech are all important attributes of a home office. Look for the first two in estate sales, FB marketplace, etc. Any size window will offer a lovely connection to the outdoors. Upgrade tech via refurbished products, sales and price trackers."
And if you're unsure of what a basic office can look like, David Mann adds that, "A highly functioning home office can be as simple as a well-placed desk, a chair and a lamp."
Design Your Ideal Home Office
Whether you'll be working from home for a short time or permanently, having a dedicated space to do your work can help make your time at home more comfortable and productive.
Some home office projects can be done DIY, and some need the help of professional designers to help them achieve their best results. As Michelle Minch explains, "The opportunities to create a functional and attractive home office are endless, from converting a closet to building a stand-alone workspace building in your backyard. You can try to go it alone, or you can hire a professional designer to help you along the way."
We hope you can use these tips and guidelines to better inform your decisions about your own home office space and get more out of your home office environment than you may have thought possible.
Finally, as Dahlia Mahmood puts it, "During these unprecedented times, your home has truly become your safe space, your sanctuary. Working from home can be overwhelming... with so much to juggle take it one step at a time. From home offices to cozy corners, remember to find a moment to breathe. Listen to what you and your family needs and take it from there... we are all in this together."
We'd like to extend our thanks to the experts who took the time to answer these questions and lend their invaluable advice to homeowners during this new phase in their working lives.
Survey Contributors