According to the Census, more than 14 million homes reported seeing some type of pest in the last year. Pests come in many forms from rats and roaches to bats and bees. And while dealing with an infestation may not be the most simple and straightforward project you'll undertake as a homeowner, many of the ways that you can help lower the odds of their entry can be.
Therefore, we have gathered data from the latest American Housing Survey, conducted by the U.S. Census Bureau, highlighting the likelihood of seeing roaches or rodents in your home when your property is in need of certain structural repairs. Seeking out and addressing these spots in your home could help you reduce the odds of pests showing up.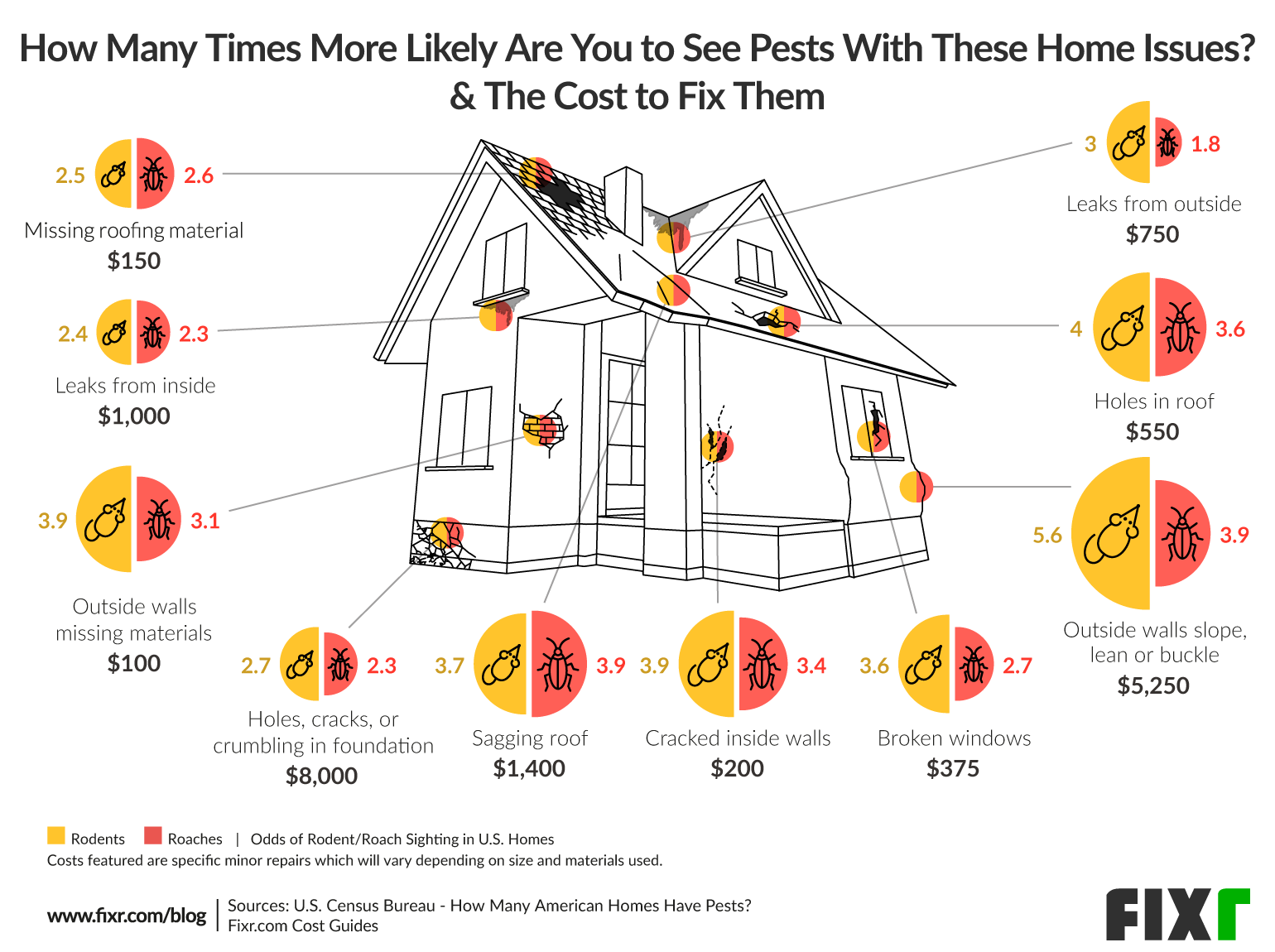 The graphic above features different structural problems represented in the illustration, which connect to the amount of times more likely you are to see a rodent (yellow) or roach (red) while these issues remain unfixed, represented in semi-circles. The larger the semi-circle and the higher the number next to each section, the higher the odds are that you will see that pest in your home. Beneath the colored half-circles, you can see the specific home issue and its cost. Note that the costs featured in the visualization are specific for minor repairs and will largely depend on the size and scope of the repair, and materials. For a more accurate and personalized estimate, we advise you to get in contact with a contractor in your area.
Keep in mind that these are not the only issues that may pose a threat from unwanted pests. Where you live and your climate may mean that you have other issues to contend with as well. In addition, the Census mentions that things like trash or abandoned buildings on your street may also be impacting the likelihood of pests entering your home. Because these are often beyond a homeowner's control, however, they have not been shown here.
Which Problems Will Most Increase the Odds of Seeing Rodents and Roaches?
Walls in need of repairs
As we can see, if your home has a sloping, leaning or buckling outside wall, you are potentially 5.6 times more likely to see the presence of rodents and 3.9 times more likely to see roaches. Fixing the problem may not necessarily prevent the issue directly, but the data suggests it could cut down the chances. Repairing an exterior wall carries a multitude of costs depending on the severity of the problem. In some cases it will be necessary to replace the wall, which costs on average $5,250, which can increase or decrease depending on the size and material used.
If an exterior wall is missing materials, the odds of sighting a rodent can increase to 3.9, and a roach to 3.1. Fixing this issue will often mean replacing whatever siding is missing. Ideally, you should have some leftover material from the last time your home was sided. If not, however, there are many companies that specialize in matching existing siding including vinyl and aluminum.
Again, costs can fluctuate depending on the material your home is clad with and how large or small the area of missing material is. At the low end of the scale, for a minor repair in vinyl siding like a hole, crack or a small section of flashing,  you can expect an average cost of $100. On the other hand, if you have a stucco home, you may find that your costs can be a lot higher, reaching around $5,000 due to how labor intensive this repair can be.
Cracked inside walls could heighten the odds of seeing a rodent by 3.9 and a roach by 3.4. Fixing this issue can mean many different things depending on the age of your home, where the cracks are located, and what the materials in question are. For example, if you have a hole in your drywall, this is a fairly easy repair, costing around $200 on average. However, if it's a hole in an interior foundation wall, it can be more difficult to fix and therefore more costly. Some of these cracks can be repaired with spackle, caulk, or insulating foams, while others may require the area in question to be replaced by fresh material.
Roof issues
A hole in the roof is the second highest score when it comes to the likelihood of spotting a rodent or roach in your home, with 4 and 3.6 respectively. How the hole will be fixed can depend on many different things. The first is the type of roofing material you use, while the second is the condition of your roof deck. For example, if your deck is in good condition, and you have asphalt shingles that have come loose, replacing them is a quick and easy repair. However, removing clay roof tiles, repairing the deck beneath them, and reinstalling them is a more difficult, time consuming, and costly repair. How easy the area is to access and how large it is can also play a role in your final costs. For a small roof repair, expect to pay around $550.
A sagging roof can come about from excessive rain or snowfall piling weight onto the structure. The issue means you are possibly 3.9 times more likely to see a roach (the highest odds featured), and 3.7 times more likely to see a rodent. This is one of the costliest roof repairs. If only a small part of the roof is damaged, costs may be kept low. However,  if work is needed on beams and sheathing, costs will go up. Keeping this in mind, the average cost to fix a sagging roof is $1,400.
Other Reasons for Making These Home Repairs
It's not only the chances of pests making their way into your home increasing when having structural problems, other issues can arise. A lot of the issues depicted in the graphic relate to water. Leaks and holes can allow moisture to get in, which in turn can lead to mold build up. These problems can lead not only to sustaining pests, but can also create respiratory problems such as asthma to occur.
If structural damage is not repaired the results can be both dangerous and costly. Pests are one issue that can occur from the problems shown in the visualization, however they can also lead to further, more extreme issues and should therefore be repaired as soon as they appear.
Importance of Home Fixes in Pest Prevention
It should be noted that whereas there is a positive increase in the odds of a roach or rodent sighting when certain house problems are present, it may not be a direct or the only reason, but rather that the conditions can favor the arrival of unwanted guests. Weighing up the costs of repairs while considering the chances of having potential unwanted visitors, gives homeowners an idea of where and which projects need seeing to.