How much does it cost to install an egress window?
Get free estimates from window installers near you
Egress Window Installation Cost Guide

The word egress can be defined as "to emerge" and "a path out." This is the main function of egress windows in any home. They are installed in specific locations to provide an emergency exit in case of a fire or any other accident. They must meet specific requirements and be the correct size to be an egress window. Residential building codes require at least one of these. Including one must be a primary consideration during construction and design.
The national average cost of installing a prefabricated below-ground egress window ranges from $2,500 to $5,000. Most homeowners pay around $3,500 for one prefabricated casement prefabricated installed below ground. Costs can be as low as $900 for one prefabricated, single-hung egress window installed above ground. Prices can go as high as $10,000 for one custom awning egress window installed below ground with excavation and installation of a window well.
Cost to Add an Egress Window
Egress Window Prices
National average cost
$3,500
Average range
$2,500-$5,000
Low-end
$900
High-end
$10,000
What Is an Egress Window?
According to the International Building Code, basements and sleeping rooms below the fourth floor of a home must have one emergency escape. This escape can be in the form of a skylight, patio, or window that is large enough for one adult to escape directly to the outdoors in an emergency. It must be large enough for an emergency worker to enter the room, if necessary. The opening must meet a minimum net clear opening of 5.7 feet.
Egress Window Size Requirements
While each county, state, or municipal government has different requirements for egress window placement, the International Residential Code (IRC) developed some board standards which should be used as guidance. The minimum height to qualify as an egress window is 24 inches, while the minimum width is 20 inches. The minimum clearing when opened is 5.7 square feet. In addition, the sill height cannot be more than 44 inches from the finished floor.
In addition, depending on sill height, they need a minimum net clear opening of 820.8 (5.7 sq.ft.) square inches or 720 square inches (5 sq.ft.) for a grade level opening. For example, If a grade level window is 20 inches wide, it should be at least 36 inches high to meet those requirements. They must be operational from the inside and must not need a tool or key to open. You may add grates or bars around the window, but they should be easy to open and not require keys or tools.
When placed in a basement, the well around it must also meet specific requirements. It has to allow the window to fully open and offer at least 9 square feet of floor. It needs to measure at least 36 inches in length and width. In addition, steps or a ladder need to be available if the well depth is more than 44 inches.
Prefab vs Custom Egress Window Cost
The main difference between prefabricated and custom egress windows is that the latter is made specifically to meet your needs. Prefab units can be ordered online or bought at home improvement stores and come in standard sizes, materials, and colors. They are more convenient and inexpensive. On the other hand, custom units are more expensive but can be created to fit any room in your home perfectly.
| | |
| --- | --- |
| Type | Average Cost (Materials Only) |
| Prefab | $100 - $800 |
| Custom | $500 - $2,000 |
Prefab
Prefabricated egress windows range in price from $100 to $800, with more intricate models in unique sizes made of rare materials making up the high end of that cost range. One of the reasons to choose prefab windows is because they are ready to buy immediately. They are also less expensive than custom models. Since they are required in certain spaces, many types and sizes are available on the market. These are an excellent option for the typical homeowner.
Custom
On the other hand, custom egress windows can be made in any shape, size, or material that a homeowner likes and are priced between $500 and $2,000. Each window is made specifically for the homeowner and comes in types that cannot be found in traditional prefab models. If you want vinyl, fiberglass, or larger sizes of wood, these customized options are the best option. In addition, these come in special shapes with angled or curved frames. Homeowners can also choose beveled glass, stained glass, or an intricate grille design to customize the unit fully.
Egress Window Prices by Size
The cost of these types of windows has more to do with the type of window than their size. To be a true egress window, it must be at least 20 inches wide or 24 inches high. Prices range $100 to $800 for prefab models and $300 to $1,500 for custom units. It must be large enough for an adult to escape outside in an emergency. The table below reflects the cost for various sizes of single-hung egress windows. The cost does not include installation. Custom models are a standardized size but include other options, such as special materials, shapes, decorations, stains, and more.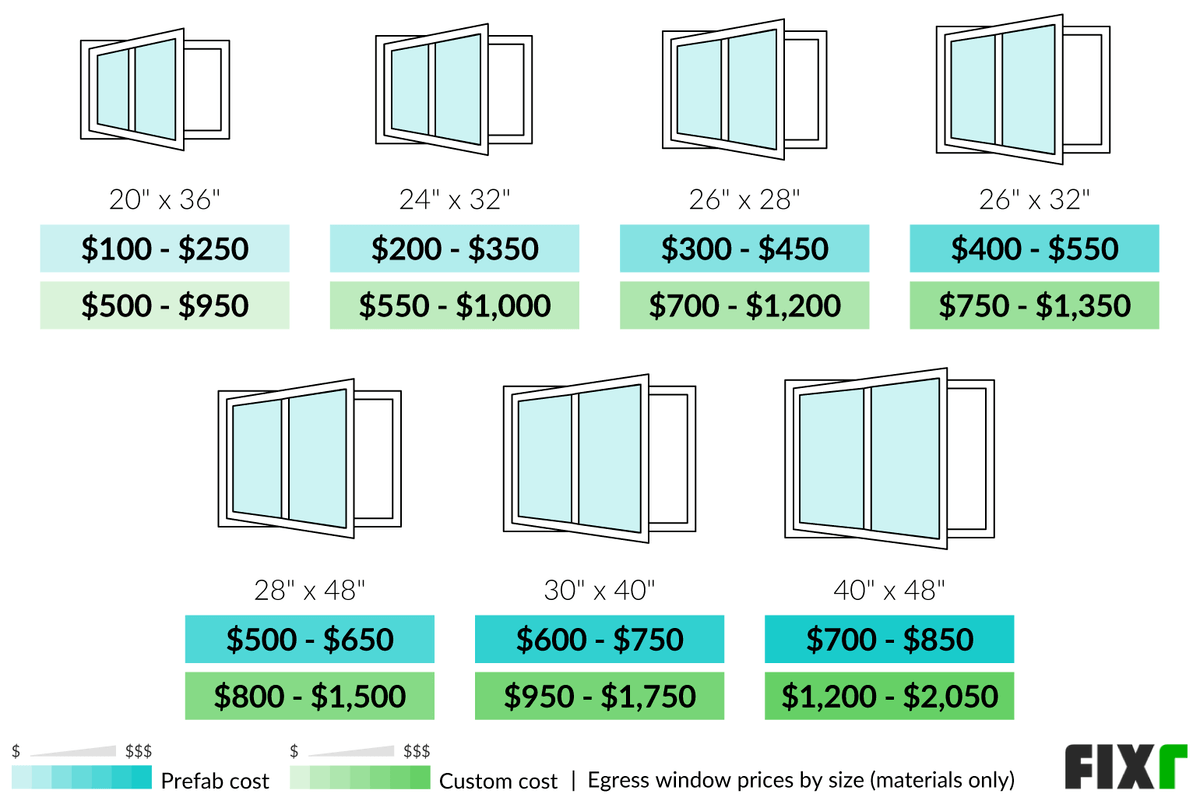 | | | |
| --- | --- | --- |
| Size | Prefab Cost (Materials Only) | Custom Cost (Materials Only) |
| 20" x 36" | $100 - $250 | $500 - $950 |
| 24" x 32" | $200 - $350 | $550 - $1,000 |
| 26" x 28" | $300 - $450 | $700 - $1,200 |
| 26" x 32" | $400 - $550 | $750 - $1,350 |
| 28" x 48" | $500 - $650 | $800 - $1,500 |
| 30" x 40" | $600 - $750 | $950 - $1,750 |
| 40" x 48" | $700 - $850 | $1,200 - $2,050 |
Average Cost of Egress Windows by Type
Many types are available. All of them can be opened wide enough for an adult to climb through. When purchasing one, the type you choose is one of the biggest pricing factors. The table below reflects the cost of a single unit. These amounts do not include the cost of installation. Prefab units range in price from $100 to $800, while custom models range from $500 to $1,000.
| | | |
| --- | --- | --- |
| Type | Prefab Cost (Materials Only) | Custom Cost (Materials Only) |
| Single-Hung | $100 - $400 | $500 - $800 |
| Horizontal / Sliding | $150 - $700 | $700 - $1,000 |
| Casement | $200 - $500 | $800 - $1,200 |
| Double-Hung | $250 - $500 | $850 - $1,300 |
| In-Swing | $350 - $700 | $775 - $1,300 |
| Awning | $600 - $800 | $800 - $2,000 |
Single-Hung
Single-hung models are the least expensive models and cost between $100 and $400 for prefab and $500 to $800 for custom. Single-hung units have two panes of glass. The top half is stationary while the bottom half moves up and down. They are best suited for large rooms and living spaces. Single-hung sizes variy depending on the size of the existing window. However, it must be at least 20 inches x 24 inches to be a true egress window.
Horizontal / Sliding
Horizontal egress windows cost between $150 and $700 for prefab and $700 to $1,000 for custom. Horizontal models are also known as sliding because they slide open like a sliding glass door. Sliding models must be at least 4 feet x 4 feet to qualify as a true egress window. Because they are so large, they are ideal for the largest rooms in your home, including living and family rooms.
Egress Casement Window
Casement windows cost between $200 and $500 when prefab and $800 to $1,200 for custom options. Casement windows for the basement are the most common option in American homes. An egress window is considered a casement when it has at least one hinge at its side, which allows it to swing open like a door. These are popular designs because, unlike other types, the outward swing of a casement model allows them to fit in small areas. For this reason, they are the most popular type for basements.
Double-Hung
Double-hung egress windows cost between $250 and $500 for prefab models and $850 to $1,300 when choosing custom models. They are identical to single-hung models with one important difference. Both the top and bottom panes (called sashes) move independently. With double-hung models, you can have both sashes open simultaneously, allowing the full length of the window to open. They must be quite tall to meet the minimum window requirements. It is not unusual to see double-hung models around 28 inches to 60 inches wide and 24 inches to 60 inches high.
In-Swing
In-swing models cost between $350 and $700 for prefabricated units and $775 to $1,300 for custom options. As their name suggests, in-swing models are distinct from other models because they open inward. This feature makes them a favorite for sub-floor spaces like cellars and basements. A major advantage to models that swing in is that you can have a smaller window well because it does not have to clear the well sides when open. The International Building Code (IBC) stipulates that these wells have a minimum of 9 sq.ft. of clear surface area plus 36 inches of projection from the foundation. With a door that swings in, you can build a well that only meets the minimums.
Awning
Awning egress windows cost between $600 and $800 when prefabricated or $800 to $2,000 if created custom. Awning models are at the high end of the cost range and are less popular than other types. Their defining feature is the hinge at the top, allowing them to tilt outward when open. They are called awning because they resemble an awning from the outside. They are on the larger end of the spectrum because of how much space they require to open. For example, while the smallest casement egress windows are 20 inches x 27 inches, the smallest awning models are 36 inches x 24 inches. Because they are large, they are not recommended for basement installation. You would also need to excavate an extra-large well to accommodate the window swinging out.
Egress Window Cost by Frame Material
Frames can be vinyl, fiberglass, wood, or aluminum. Vinyl is a versatile plastic used to make thousands of everyday items. Fiberglass is made from heated glass extruded while in liquid form. Aluminum is a soft metal. Of the three frame materials, fiberglass has a slight advantage for durability because of its resistance to weather and temperature changes.
Homeowners should expect to pay the most for windows with a wood frame. They range between $400 and $2,000. The least expensive frame material is vinyl, with a cost range between $100 and $850. Aluminum ranges from $150 to $1,250, fiberglass costs $200 to $1,500, and steel runs between $400 and $1,750.
| | | |
| --- | --- | --- |
| Frame Material | Prefab Cost (Materials Only) | Custom Cost (Materials Only) |
| Vinyl | $100 - $200 | $500 - $850 |
| Aluminum | $150 - $400 | $700 - $1,250 |
| Fiberglass | $200 - $800 | $850 - $1,500 |
| Steel | $400 - $600 | $950 - $1,750 |
| Wood | $400 - $1,000 | $950 - $2,000 |
Labor Cost to Install Egress Window
Installing an egress window requires complicated handiwork. Therefore, you should hire professional help. The installation includes several tasks. First, the professional must cut a hole in case of a fully submerged basement. Next, the window is installed, and the well is set up, ensuring it meets the grade code for steps/ladders and drainage. Finally, the interior is cleaned up, including trimming the egress window and adding the drywall wrap, casing, trim, and insulation. The same process is followed whether the unit is prefabricated or custom.
Keep in mind that because of the need for "extra" features such as window wells, it is less costly to install them above ground (e.g., in a living room) than in sub-floor rooms like a basement. Installations are usually billed by the hour. Homeowners should expect to pay around $50 to $100 per hour.
Other factors, such as where the window is to be installed, affect the cost. Initial installation may require grading, a drainage system, and evacuation to create a safe space outside, making exit and entry easier. Some other factors which may increase the cost include additional labor, engineering, and equipment.
Window Well Installation
A window well is a square or semi-circular pit surrounding your below-ground egress window. Wells are required to open the window and climb out. You do not need to hire an specialist to excavate a well. An experienced handyman, landscaper, or general contractor can handle the job. The well allows sunlight to enter sub-ground floors and keeps moisture away from the foundation. You should expect to pay between $3,000 and $7,000 for someone to dig/install one well.
Egress Window Replacement Cost
Unless you are building a new house or cutting a hole for a new window, the replacement cost will be the same as for the unit itself, plus labor costs to remove the old unit and install the new one. You should expect to pay between $150 and $200 for a replacement window to be installed. You may choose to keep it if you would like, but most companies dispose of the old one for you. If your home is older and you need a new opening size, there will be a cost to enlarge the opening that ranges from $150 to $200.
Cost to Install an Egress Window by Location
When considering the cost to put in an egress window, the primary concern is whether the location is above or below the foundation of the house. If a professional needs to dig into dirt or a foundation to install a sub-ground window, labor costs increase. If it is simply a replacement or new installation on a ground floor or above, the cost will be less. Depending on the location of the installation, a prefab model averages $900 to $5,000, while custom is $1,400 to $7,500.
| | | |
| --- | --- | --- |
| Location | Average Prefab Cost (Installed) | Average Custom Cost (Installed) |
| Living / Family Room | $900 - $1,500 | $1,400 - $3,000 |
| Attic | $900 - $3,000 | $1,400 - $4,500 |
| Bedroom | $900 - $3,000 | $1,400 - $4,500 |
| Skylight | $900 - $4,000 | $1,400 - $5,500 |
| Basement | $2,500 - $5,000 | $3,000 - $7,500 |
Living / Family Room
To install a horizontal prefabricated egress window in your living or family room, you can expect to pay between $900 and $1,500, while custom will be closer to $1,400 to $3,000. Unless your family room is especially small, a sliding/horizontal model is a popular choice. They are some of the largest windows and thus complement larger spaces in the home. Most living/family rooms are above ground, making installation costs less than other rooms.
Attic
Homeowners should expect to pay between $900 and $3,000 to have one installed in the attic. If it needs to be custom made, the cost ranges from $1,400 to $4,500. Attics are a popular location for single-hung egress models because they are the least expensive prefabricated model. They allow for an evacuation route from fire and airflow when left open year-round.
Bedroom
Homeowners pay between $900 and $3,000 to have a prefabricated egress window installed in the bedroom. Custom models may be installed for $1,400 to $4,500. Like other above-ground locations, installing a prefabricated egress window in a bedroom is a simple job. Casement, double-hung, or awning are popular models for the bedroom.
Skylight
The average homeowner can expect to pay between $900 and $4,000 to have a prefabricated skylight egress window installed, while a custom model could cost $1,400 to $5,500 for the process. They are becoming more popular, but they are still not as common as in other locations. When an egress is a skylight, it is an awning window. Awning windows open outwards on a top hinge.
Basement Egress Window Installation
It will cost between $2,500 and $5,000 to install a prefab casement egress window in the basement. Custom models can be installed for around $3,000 to $7,500. Putting an egress window in the basement will be more expensive than above the ground. This installation requires the professional to dig a window well, at the very least. If the window is new, they must cut into the foundation of a home. The process of adding one to the basement should only be performed by a professional skilled in sub-ground window installation.​
Maintenance
Several maintenance tasks are associated with egress windows on a home. More maintenance is required for basement windows since appropriate drainage needs to be present to avoid water damage. You can test for drainage by running host water over the well and seeing how it drains. It should never reach beyond the bottom of the sill. It is also useful to look for cracked foundation areas and otherwise maintain the windows.
Adding weather-stripping to the window is useful to create a tight seal. It prevents water from leaking into the house, but the material should be manufactured so they can continue to be opened and closed. If black mold starts to grow near an egress window, you will need to hire water damage restoration services, ranging from $300 to $2,200.
Common maintenance tasks include clearing any debris from the window wells, making sure the well is one foot or lower from the sill, and checking for a tight seal. All downspouts should be directed away from the wells, and any dirt located on the outside of the sill should be consistent with the surrounding areas. Also, make sure that the sills always have covers on them.
Below Grade vs Above Grade Egress Window
Egress windows may be installed in basements or bedrooms. They are typically installed in rooms used for sleeping purposes. Below ground installations require digging into the ground and cutting your way through concrete and brick walls. You must consider the permits and permissions required by city utilities. You may also have to dig or build around pipes and house lines. Hire a skilled contractor to do the job. For basement installations, you will also need to dig a well to keep moisture away from the foundation. It can cost between $2,000 and $5,000 to install a below-ground window, including excavating the well.
Installing egress windows above ground is a simpler process. Installing an energy-efficient window costs about the same as having any other window installed. It may cost around $500 to $1,000.
The table below shows the difference in price between above and below-grade windows. For price purposes, this assumes hanging a vinyl single-hung prefabricated model that measures 20 x 36 inches.
| | |
| --- | --- |
| Type of Installation | Cost (Installed) |
| Above-Ground | $500 - $1,000 |
| Below-Ground | $2,000 - $5,000 |
Egress Window vs Walkout Basement
A walkout basement is a full-sized room (a basement) where you can walk out into the open air. This additional living space requires that you pour a foundation. In contrast, an egress window is just an opening that allows an adult to escape from the house in the event of an emergency.
Both options are beneficial in an emergency. The question is one of budget. You will pay between $2,500 and $5,000 to install one in the basement. To build a walkout basement, you will pay between $47,000 and $100,000. Walkout basements are typically more expensive than a regular basement because they require extra grading and excavation.
| | |
| --- | --- |
| Type of Installation | Cost (Labor Included) |
| Egress Window | $2,500 - $5,000 |
| Walkout Basement | $47,000 - $100,000 |
Enhancement and Improvement Costs
Egress Ladder
An egress ladder is part of an egress window in basements. Once you have escaped from the building through the window, you use the ladder to climb up to ground level. Most often, ladders are permanent fixtures on the side of the well. However, temporary ladders are available that can be stored until needed. When a professional installs your well, the installer can mount the ladder. The cost to install an egress ladder is $150 to $225.
Egress Well Cover
A well cover is a sheet of material designed to cover the well and basement window. It is installed to prevent accidents and avoid the buildup of snow, water, and debris. Purchasing and installing a well cover costs between $120 and $700.
Additional Considerations and Costs
DIY. This type of installation is certainly not a DIY job. You could disturb the entire infrastructure of your home, including the pipes and drainage system.
Egress door. A sliding basement door on sloping property substitutes for egress windows if it meets the building codes and provides homeowners an emergency exit. The basement egress door costs between $600 and $1,200.
Permits. You will need a permit prior to installing an egress window. While most permits cost around $50 to ​$200, the actual cost depends on the value of the product. Unlike installing other windows, installing one of these requires more planning. It also requires permits from city utilities. If you have hired a contractor, he will get the permit for you.
Warranty. The warranty varies from lifetime to limited, depending on the company.
Utility lines. Digging the basement to make an egress can interfere with the utility lines. This is why you should hire a professional. If you are doing a DIY project, you may call 811 to locate utility lines.
Home value. Apart from providing you and your family an escape route in an emergency, they add value to your home. They add square footage to your home, equating to greater value.
Functions. When opened, they allow light to pour in and act as a high-quality basement ventilator, bringing fresh air from outside. Depending on your property, you can use them to boost the aesthetic value of your home.
Energy-saving windows. High-end windows with energy-saving features often cost more than their single-pane counterparts. The price is about 10% to 20% higher than other windows. The installation costs are about the same. They save an average of 12% energy compared to non-energy saving models.
Convert regular basement window to egress. Adding a bedroom to the basement requires converting its window into an egress one. The costs depend on the materials and locations but range from $1,700 to $3,700 depending on the location, materials used, and type chosen. This includes windows, permits, and labor costs.
FAQs
How much value does an egress window add?
It adds $8,000 to $10,000 per room to your home's value.
Who installs egress windows?
Only window professionals should install them, especially in rooms below your home's foundation.
How many egress windows are required in a basement?
According to the International Building Code (IBC), only one is required in a basement or sleeping room below the fourth floor.
How much does it cost to put in an egress window?
The average installation cost is around $2,500 to $5,000.
How big does an egress window need to be?
It needs to be a minimum of 24 inches tall, 20 inches wide, and a maximum of 44 inches off the floor, opening to a minimum clearing of 5.7 sq.ft.
What is an egress basement?
Basement egress is a way out of the basement that does not involve using the stairs to the upper levels. Typically, this involves an egress window but may also include a sliding basement door if the basement is installed on a slope.
Where are egress windows required?
They must be included in any areas where people sleep on every floor of a home, as well as the basement. If several bedrooms are in the basement, they must have one.
The information provided by our cost guides comes from a great variety of sources. For more information, read our Methodology and sources.