How much does it cost to install vertical blinds?
Get free estimates from window treatment specialists near you
Vertical Blinds Installation Cost Guide
If you have a sliding glass door or a large window you want to cover, finding traditional blinds or other window treatments that fit may be challenging. Vertical blinds are designed for these unique situations. They run vertically from top to bottom, offer a lot of control over their placement, and easily cover a large window or sliding door.
Many factors influence the cost of vertical blind installation, including the material, the number of windows being covered at once, and the overall size of the installation. The national average cost for vertical blind installation ranges from $300 to $1,000. Most homeowners find that they spend around $524 on faux wood vertical blinds for one sliding doors and two picture windows installed. Costs may be as low as $238 to cover two 3 x 4-foot windows with vinyl blinds, but prices can be as much as $2,736 for a set of automatic premium-textured PVC blinds.
Window Blinds Prices
Window Blinds Installation Cost
National average cost
$524
Average range
$300-$1,000
Low-end
$238
High-end
$2,736
Vertical Blinds Price per Square Foot
Vertical blind standard sizes are measured in square feet based on the size of the windows and doors. Many blind installation companies base their installation costs on the square foot size. The chart below shows some of the most common vertical blind sizes and their cost per window.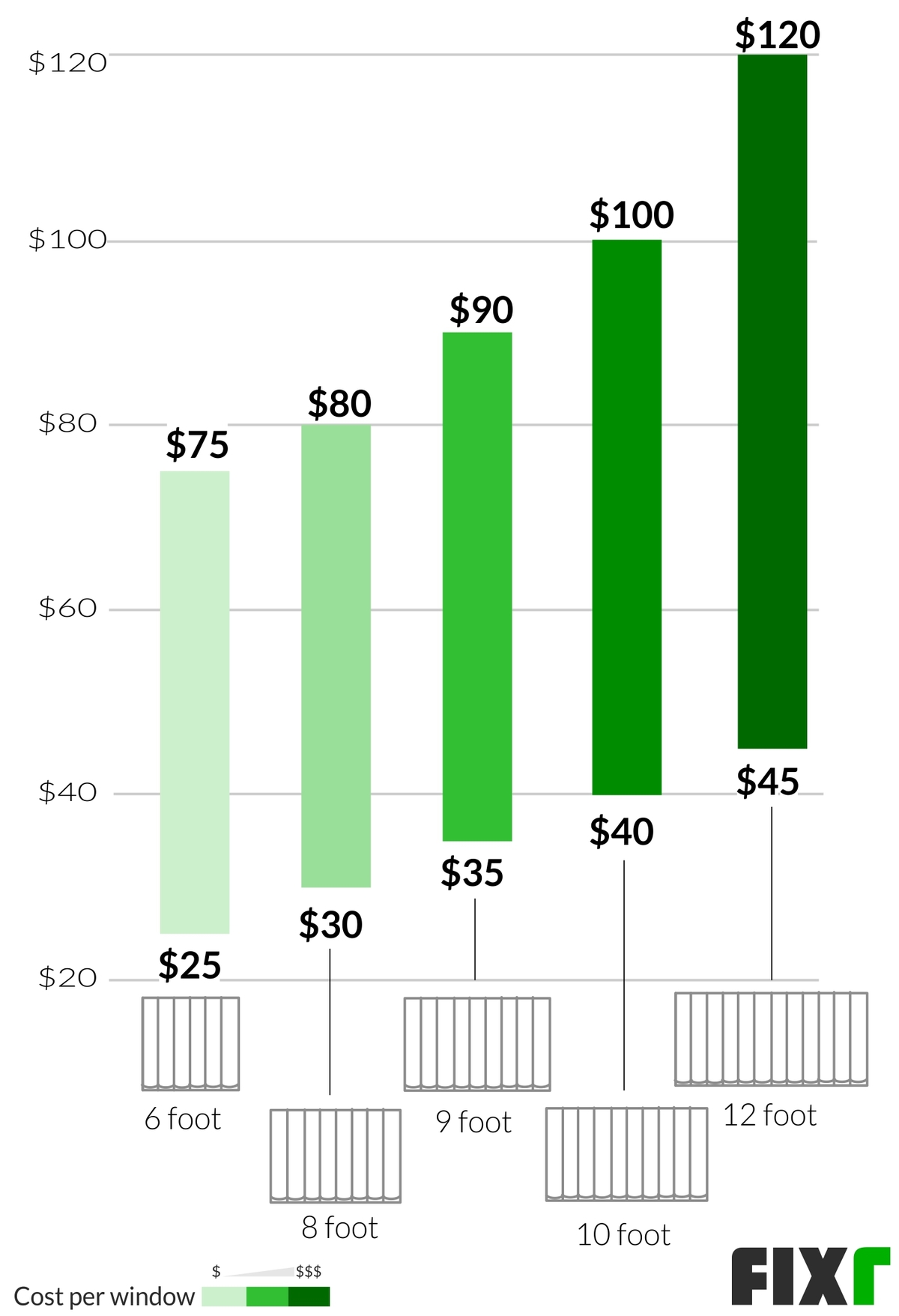 | | |
| --- | --- |
| Size | Cost per Window |
| 6 foot | $25 - $75 |
| 8 foot | $30 - $80 |
| 9 foot | $35 - $90 |
| 10 foot | $40 - $100 |
| 12 foot | $45 - $120 |
Vertical Blinds Cost by Material
Like horizontal blinds, vertical blinds come in several different materials. These prices include materials only and do not include installation costs:
| | |
| --- | --- |
| Material | Cost per Window |
| Vinyl | $20 - $40 |
| Metal | $30 - $50 |
| Aluminum | $35 - $70 |
| Fabric | $40 - $100 |
| Faux Wood | $45 - $100 |
| PVC | $50 - $100 |
| Bamboo | $70 - $120 |
| Leather | $75 - $125 |
| Wood | $100 - $200 |
Vinyl Vertical Blinds
These blinds may have a solid or translucent finish. Moreover, they are available in a wide range of colors. However, they emit gas VOCs for up to 5 years and are difficult to dispose of or recycle. These blinds break easily. Vinyl blinds are not expensive, so you should pay between $20 to $40 per window.
Metal Vertical Blinds
The finish on metal blinds may chip, but metal is a durable material that is easy to maintain. Although there are few options and the blinds are noisy to use, they are inexpensive. You can expect to pay $30 to $50 per window.
Aluminum Vertical Blinds
Aluminum is a corrosion-resistant and water-resistant material, making it a great option if you need blinds in wet, humid areas. Aluminum blinds last for a long time and are unlikely to peel or crack. These blinds tend to be more affordable and cost around $35 to $70 per window.
Fabric Vertical Blinds
These are the most decorative blinds. They are available in many color and pattern options. Fabric needs more maintenance than other materials and stains easily. The cost of this soft, quiet option is $40 to $100 per window.
Faux Wood Vertical Blinds
Faux wood blinds have a very similar look to natural wood, but they are even easier to clean and won't crack or warp due to humidity. Faux wood blinds come in a variety of stains and finishes to give you a beautiful wood-like appearance. These blinds come with a price tag of $45 to $100 per window.
PVC Vertical Blinds
Polyvinyl chloride is used to make the popular PVC vertical blinds commonly found in homes and offices. The smooth vanes are simple to clean using a wet cloth and highly durable, making them a good choice for households with kids or pets. Most homeowners find PVC blinds for around $50 to $100 per window.
Bamboo Vertical Blinds
Bamboo is a sustainable wood found in many modern homes. It is used for furniture, flooring, and window furnishings. Bamboo blinds are an eco-friendly way to enhance the look of a living space while blocking out noise and light. Bamboo blinds are typically priced from $70 to $120 per window.
Leather Vertical Blinds
Leather isn't used just for furniture but blinds too. This distinctive texture is a preferred choice for modern interior design. The heavy material blocks out a lot of light and doesn't need slat fasteners at the bottom of the window covering system. Leather vertical blinds are around $75 to $125.
Wood Vertical Blinds
Wood is a natural, long-lasting material that can be stained and finished in numerous colors. Finding replacements for damaged or broken slats is challenging. Some woods darken from exposure to the sun. The cost for these blinds is $100 to $200 per window.
Vertical Blinds Prices by Brand
Vertical blinds are a big part of a beautiful home with just the right amount of light streaming in. Some trusted blind manufacturers and retailers are preferred by professional window covering installation companies. The costs vary by brand. These prices are for the blind material only and are separate from installation costs:
| | |
| --- | --- |
| Brand | Cost per Window |
| Budget Blinds | $70 - $100 |
| Vertical Solutions | $75 - $100 |
| Hunter Douglas | $75 - $100 |
| Somner | $90 - $110 |
| Silhouette | $100 - $115 |
| Duette | $100 - $140 |
| Cadence | $125 - $150 |
| Skyline | $150 - $175 |
| Luminette | $200 - $300 |
Budget Blinds Vertical Blinds
Budget Blinds is a reputable source of affordable, stylish blinds. Many homeowners trust this brand for well-priced custom window treatments. These blinds stack nice and neat on the side to give you a wide view when you want it or flow seamlessly across a window or door for more privacy and security. These blinds cost around $70 to $100.
Vertical Solutions Vertical Blinds
Vertical Solutions are an economical, energy-efficient option available in fabric or vinyl. They absorb acoustics well and are easy to operate on a wide range of windows and sliding glass doors. If you want to decorate your home with these blinds, make sure you set aside at least $75 to $100 for each blind.
Hunter Douglas Vertical Blinds
Hunter Douglas is a leader in premier vertical blinds and energy-efficient products that keep window heat transfer at a minimum. They have over 2,400 textiles for window coverings in a multitude of colors and designs. Their vertical blinds are priced around $75 to $100 each. Expect to pay higher prices for the more luxurious fabric selections and automated window covering systems.
Somner Vertical Blinds
Hunter Douglas Somner vertical blinds can be custom made from fabric, vinyl 7, and aluminum. They are well suited for sliding glass doors and bay windows and may feature geometric patterns or modern metal finishes. Some Somner blinds also have Softex, a texturing process that reduces sound. Expect to pay around $90 to $110 for Somner blinds on the low end.
Silhouette Vertical Blinds
Hunter Douglas offers Silhouette vertical blinds with unique S-shaped vanes and sheer panels. These blinds let you block the view inside or let more light in without compromising the look and feel of a room. The window shades are compatible with an automated closing and opening system. Silhouette blinds start around $100 to $115.
Duette Vertical Blinds
The Duette honeycomb shades from Hunter Douglas are energy-efficient and light diffusing. This design is suitable for unusual window shapes and skylights. These shady blinds trap air in the pockets to keep houses cool when it's hot outside and warm when it's cold. Prices for Duette vertical blinds start on the lower end around $100 to $140 each.
Cadence Vertical Blinds
Cadence vertical blinds are another popular offering from Hunter Douglas. Soft to the touch with smooth material, these blinds have gently curved vanes to resemble the look of delicate drapery folds. These blinds offer translucency and enhanced sound protection. Prepare to pay at least $125 to $150 for Cadence blinds, with a higher price for big windows and sweeping sliding glass doors.
Skyline Vertical Blinds
Skyline gliding window panels by Hunter Douglas are a preferred choice for vertical blinds to cover large windows or sliding doors. They are also popular for stylish room dividers. These blinds are designed for large windows but may work for smaller sections too. The bottom weight interlocks for greater stability and tangle prevention. These blinds start around $150 to $175. The price increases depending on the size of the window or door.
Luminette Vertical Blinds
Hunter Douglas Luminette vertical blinds offer a lot of privacy with a sheer, stylish look. The fabric vanes rotate for 180-degree light control over large windows, floor-to-ceiling glass, and sliding doors. These luxurious blinds are on the higher end and cost at least $200 to $300, but the final price depends on the window size. If you have multiple large windows in one room, you may pay over $1,000 to outfit the entire space out with Luminette blinds.
Vertical Blinds Installation Cost
Professional installation is the key to success with vertical blinds in your home. These experts have the tools and experience needed to precisely measure the space and install the blinds to work perfectly in the room. The normal cost per hour for vertical blind installers is $40 to $50, although many offer pricing per window or sliding glass door. Check with your local company to understand their pricing. You're likely to find a base rate of $50 to $100 per job with additional fees for tall windows, enhancement features, and premium materials.
Installation is fairly straightforward for most vertical blind installations and takes roughly two hours from start to finish for a sliding glass door, less time for smaller windows. First, the track that the blinds slide and rotate on is leveled and then screwed securely into place on the inside or outside of the window frame.
The louvres are then installed by sliding them individually into the stems on the track. Installing them in this manner enables them to move, slide, rotate, open, and close. The valance is then attached to the outside of the track to cover it if desired.
The track operation method influences the installation. Pulley cords take longer to install than cordless versions, for example. The entire process is generally carried out by the window covering professionals from whom you purchased your blinds.
Because vertical blind installations can be so time-intensive, the cost to install is generally higher than that of other window blinds. It's common for installation to cost $50 to $75 per window, with larger windows and sliding doors costing more than smaller windows. In the instance of two sliding doors and two picture windows, labor costs would be roughly $250 of the $524 total.
Vertical Blinds Installation Cost by Location
Vertical blinds can be installed throughout the entire home wherever you would like to cover the windows or glass doors. The most popular places include kitchens, bedrooms, patios, and bathrooms. These prices are for the installation services and do not include the cost of the blind materials. Many companies offer competitive pricing for buying and installing the blinds together:
| | |
| --- | --- |
| Location | Cost per Window |
| Kitchen | $90 - $160 |
| Bathroom | $95 - $135 |
| Bedroom | $125 - $200 |
| Patio | $150 - $250 |
Kitchen 
Kitchen vertical blinds come in various designs and styles. The focus is on filtering the light and providing privacy when you're in the kitchen at night. Kitchen blinds are usually pretty straightforward to install as kitchen windows may not be as large as other areas in the house. The final price depends on the size and quantity of kitchen windows. Expect to pay around $40 to $60 to cover the labor for each kitchen vertical blind installation, plus another $50 to $100 for the individual blinds. Your total kitchen project should cost between $90 and $160 on average.
Bathroom
Many homeowners find it well worth it to install waterproof vertical blinds for the bathroom. Privacy is especially important for bathroom windows, which may be smaller than in other rooms. They have lower material costs at around $40 to $75. Bathroom blinds often require less material than other locations, so you can get the installation done for about $45 to $60 per window. The average cost of a bathroom vertical blind upgrade is $95 to $135.
Bedroom 
Many homeowners choose a solid color or blackout bedroom vertical blinds instead of transparent, which may show silhouettes at night. The right blinds block the light from streaming in during the early morning hours and disrupting sleep. Bedroom blinds require more material and labor if the windows are larger than in the kitchen. Budget at least $75 to $125 for bedroom blind materials. Most window installation companies charge around $50 to $75 to install each bedroom vertical blind.
The average price for buying and installing new vertical blinds in the bedroom is $125 to $200.
Patio
The patio is another popular place for vertical blinds. Installing blinds over sliding glass doors gives you more privacy and keeps people from peering into your home from the backyard. Sliding glass doors for the patio also let in a lot of light. This kind of blinds help you manage the light in the adjacent living room or kitchen. Patio blinds may be taller than normal window blinds, so plan to pay around $75 to $100 to install. Depending on the material, you can expect to pay another $75 to $150 for the new blinds. The cost of total installation and labor averages $150 to $250.
Cost to Replace Vertical Blinds
When you notice a problem with your current vertical blinds, it is important to look into getting replacement slats. Sometimes you can save money by replacing part of the blinds rather than the entire window covering system. If your blinds are old or there's a damaged slat, you may be able to find a replacement slat for $10 to $20. You should budget around $45 to $60 for the installation of replacement slat. Just talk to your window furnishing company to make sure they find you the right replacement to maintain the proper style and functionality of your blinds.
Single vertical blind replacement is a good option if you have one bent or cracked slat. If there are problems with much of the blind system, you may need to replace the entire blind instead. Plan to pay around $50 to $150 to replace the vertical blinds covering one window, including materials and labor.
Pros and Cons
Vertical blinds are the ideal solution for large windows and sliding doors where horizontal blinds or rollers aren't an option. No matter how wide your window is, it's possible to cover it evenly with vertical slats, known as louvres. The louvres are weighted to help them fall evenly and allow you to adjust their position in ways that can let in light without sacrificing privacy. This is a benefit for those that want to better insulate their homes against the sun without completely blacking out the room.
On the downside, there are limited designs and patterns for vertical blinds. Fabric blinds offer the most options. However, they still don't offer you as many choices as other window treatments, such as curtains. They can also be slightly more expensive to purchase and install than other window treatments because the slats need to be hung and adjusted together.
Privacy
The purpose of blinds is to control the amount of light entering a room while providing much-needed privacy for greater peace of mind. Most people close the blinds at night for security and turn the blinds if the sun is shining too brightly into a room.
If you want to block out all light completely, you can choose to have vertical blackout blinds installed. They're usually heavier than other blinds and are made of an opaque material. They start around $50 a window for the material plus an additional cost for installation.
If you wonder which way to turn vertical blinds for privacy, remember when the blinds are fully open or slid to the side, you can see all the way through. When they are shut or only slightly open, you cannot see through.
Another privacy option is translucent blinds made from a tightly woven, lightcolored material that filters the light. This makes for a lovely ambiance yet still blocks people from seeing in or seeing out.
Vertical Blinds Designs
Vertical blinds are very similar to one another in the way they look once installed. The biggest design differences come from the material and color you chose. Some fabrics may have a pattern printed on them, which can enhance the room, but many are solid in color.
It is possible to have a valance installed at the top of the blinds to cover their track and enhance their appearance. This valance usually matches the blinds in color but may contrast if desired.
Most contractors specializing in modern vertical blinds install them for $50 to $75 regardless of the color you choose. If they are sourcing the blinds directly, you can expect to pay slightly more for high-quality materials and designs. Keep in mind that white, ivory, and tan are a few of the most common blind colors. However, you can get them in just about any color or pattern if you find the right supplier.
Vertical blinds with printed pictures are popular for children's rooms or spaces where you want to be inspired by different surroundings, such as beach or forest images. These special designs, which you can customize with some companies, may cost anywhere from $50 to $150 just for the blinds, and then you need to pay for the installation costs.
Vertical Blinds for Sliding Glass Doors
Professional companies that specialize in vertical fabric blinds for sliding glass doors charge for the installation labor and material costs. Because these jobs are relatively straightforward and quick for experts, they typically charge per door project. Check with your contractor to determine their costs.
Vinyl and metal vertical blinds are the easiest to install. Therefore, these materials require less labor than options such as fabric and faux wood. Expect installation costs to be between $40 and $75 per window for vinyl or metal blinds. The costs may be around $60 to $200 for fabric and wood blinds.
Vertical Blinds vs Horizontal Blinds
Vertical blinds are not the only type of blind you can install on windows. Horizontal blinds may also be an option for some window sizes. With vertical blinds, the slats go up and down and slide along a track at the top. They can pivot to fully open while remaining in place along the track or slide shut to block out all light.
Horizontal blinds have slats that run from side to side. They can all slide up or down together and may also rotate to let in more or less light. The average cost for installing horizontal blinds is around $100 to $150 per window.
Vertical blinds are usually wider than horizontal blinds and are designed for much larger windows, where a horizontal blind may not reach. They are more difficult to install and more expensive. But they're more versatile in how much light they can let in because the wider slats offer better coverage. Expect to pay around $50 to $100 to install vertical blinds on each window.
Horizontal blinds are lighter, though, and easier to use and operate on smaller windows.
Venetian Blinds vs Vertical Blinds
Venetian blinds and vertical blinds are two of the most popular options for home window furnishings. The Venetian variety has horizontal slants connected with pull cords and a string ladder. They also feature a lifting mechanism so you can control the amount of light coming in.
Vertical blinds move from left to right rather than horizontally like Venetian blinds. The pull cord moves the slats across the window or back the other way for more light. Both options can be used to adjust the lighting in a room. Vertical blinds cost about $50 to $115 to install for each window, while Venetian blind installation ranges from $11 to $215.
Solid vs Translucent Vertical Blinds
Solid vertical blinds are a single color and available in many different shades to match your interior design preferences. Solid blinds are also known as blockout or blackout blinds and help reduce ultraviolet rays and keep the rooms dark whenever you want. The main con with solid blinds is the lack of light if you prefer constant bright sunshine streaming in.
Translucent vertical blinds filter the light with tightly woven fabric. The lack of holes in the material offers softer lighting and better control, which many homeowners appreciate. Other pros include reduced heat coming in and a glare-free view and privacy as people can't see inside. Although, one downside is that these blinds restrict the view out as well. Something else to think about is how your silhouettes are visible if the lights are on in a room with translucent blinds at night. That's why many people prefer to keep translucent blinds out of bedrooms and bathrooms. Solid vertical blinds cost between $35 and $100 each. The prices are similar for translucent, although some higher-end products may be more around $125 to $150 for each window section.
Maintenance
The type of maintenance your blinds need varies depending on the material. Wood, PVC (vinyl), and aluminum only need to be dusted and occasionally wiped down with a damp cloth to look their best. Fabric blinds can be more difficult to clean. You should also wipe them with a damp cloth, but they may occasionally require a fabric cleaner to help remove stains. Always test cleaners in an inconspicuous area, as they may discolor your blinds.
It's important to adopt a regular maintenance and cleaning routine for vertical blinds to minimize dirt and dust and make the materials last longer. Try to dust at least once a month and consider yearly professional drapery cleaning to protect the integrity of these stylish blinds and delicate fabrics.
Enhancement and Improvement Costs
Electric Vertical Blinds
If you don't want to use a pulley or a push stick to operate your blinds, you can opt for electric blinds operated by app or remote control. They are significantly more expensive than manual blinds, starting at around $200 to $500 per window and going as high as $1,000 per window.
Valance Installation
A valance is a window treatment covering the top of the window and hung either alone or with blinds or curtains. Unlike a wood cornice, a valance is made from fabric or drapery. Valance installation is a quick process and costs between $50 and $100 on average but may be as high as $600 for premium brands.
Additional Considerations and Costs
Size of the window. Vertical blinds look and work their best for large picture windows and sliding doors, although they can be used on smaller windows.
Lifespan. High-quality blinds can last 20 or more years, while lower quality blinds last around five years.
Custom blinds. Vertical blinds can be ordered to cover sliding doors that are five to six feet wide. Custom blinds can be made to cover even wider areas.
Vertical blind alternatives. Sliding panel track blinds and solar shades help block out the light when used to cover glass doors and windows. Some homeowners choose Roman shades or cordless cellular shades too. Sliding track blinds and solar shades are priced around $75 to $125 per window covering. Roman shades and cordless cellular shades are around $65 to $100 each for the material.
FAQs
Can you put vertical blinds in a bay window?
While possible, it's not always recommended. They cannot conform to the shape of the window but will go straight across the widest point. A flexible curving track is preferred for curved bay windows to match the arc. Separate blinds for each glass pane work better for square bay windows.
Can you cut vertical blinds to size?​
No, they should be ordered or made to the correct size. If you attempt to cut vertical blinds, you will likely end up with mismatched, uneven blinds. Professional blind companies take care of the sizing for you.
Is it easy to fit vertical blinds?​
Yes, but it is also time-consuming depending on the number of slats. Vertical blinds require each section to be properly measured and screwed on for the inside and outside mounts. Professional blind companies can install new blinds quickly and efficiently.
Should vertical blinds touch the floor?​
Ideally, they should be just above the floor for ease of movement. This placement also keeps blinds from getting too dirty and maintains a sleek, sophisticated style.
Where should vertical blinds sit?​
Ideally, the blinds should sit just above the floor to allow for ease of movement. Professionals mount vertical blinds three inches above the top of the window. Just an inch of space from the bottom will be enough.
Are vertical blinds suitable for bedrooms?​
Yes, they do a good job of offering privacy as well as blocking light. Modern styles for vertical blinds can enhance the look and feel of a bedroom, especially when they complement the rest of the room's design and furniture.
How to install curtains over vertical blinds?
To install curtains over vertical blinds, install a tension rod between the blinds and the cornice. It should only take a few minutes to hang the curtains. You can always try Velcro or brackets if you prefer. Just remember to measure properly and leave enough space between the new curtains and the blinds for the best curtain installation. Professionals charge at least $400 to install curtains, with the average costs between $600 and $2,000.
The information provided by our cost guides comes from a great variety of sources. For more information, read our Methodology and sources.