How much does it cost to xeriscape a yard?
Get free estimates from landscapers near you
Xeriscaping Cost Guide
To provide you with the most accurate and up-to-date cost figures, we gather information from a variety of pricing databases, licensed contractors, and industry experts.
Xeriscaping is a form of gardening that reduces or eliminates the need for supplemental watering. The method has a strong focus on incorporating native, drought-tolerant plants into the landscape and arranging them in a water-saving fashion. The very term 'xeriscaping' gives some insight into the process. The Denver Water Department, Associated Landscape Contractors of Colorado, and Colorado State University were the first to introduce the term and formalize the process. It comes from the Greek word 'xeros,' which translates "dry" and the word 'scape,' which refers to a landscape's patterns. Some homeowners choose to hire professionals for xeriscaping to assist with water conservation.
The average homeowner spends between $16,000 and $18,000 on xeriscaping their yard. The average project costs around $17,000 for the xeriscaping of 1,200 sq.ft. with groundcovers, shrubs, plants, and the deliberate placement of rocks in areas to promote water conservation. On the low end of the spectrum, some people spend $6,000 on xeriscaping a 500 sq.ft. lawn with minimal plants and rocks and some light groundcover. At the high end of the price range, you could spend as much as $24,000 for premium xeriscaping on a 2,000 sq.ft. lawn, including shrubs, plants, groundcover, and a custom water conservation-focused design.
Xeriscaping Installation Price
Xeriscaping Installation Cost
National average cost
$17,000
Average range
$16,000-18,000
Low-end
$6,000
High-end
$24,000
Xeriscape Cost per Square Foot
The cost per sq.ft. to xeriscape a space ranges from $5 to $20. The cost of xeriscaping a landscape is normally calculated by the sq.ft., and includes the labor, plants, and supplies needed to complete the landscape. Below is a table that outlines the cost of xeriscaping a variety of common yard sizes. Many people opt to xeriscape their entire landscape, but others choose to only do a small section, or perhaps only the front or back yard.
| | |
| --- | --- |
| Yard Size | Cost (Labor Included) |
| 500 sq.ft. | $2,500 - $10,000 |
| 1,000 sq.ft. | $5,000 - $20,000 |
| 1,250 sq.ft. | $6,250 - $25,000 |
| 1,500 sq.ft. | $7,500 - $30,000 |
| 2,000 sq.ft. | $10,000 - $40,000 |
Xeriscape Cost by Type
The average cost of xeriscaping by type ranges from $8,000 to $24,000 for a 1,200 sq.ft. yard, depending on whether you choose desert, classic, or modern xeriscaping, and what kind of elements the design entails. Classic xeriscaping and desert landscaping are common, but many people who want something more stylish or less "typical" choose modern xeriscaping for their project. In the table and subsections below, you will learn about each type, what it includes, and the average costs.
| | |
| --- | --- |
| Type | 1,200 Sq.Ft. Yard Cost (Installed) |
| Desert | $8,000 - $20,000 |
| Classic | $10,000 - $20,000 |
| Modern | $14,000 - $24,000 |
Desert Landscaping
This most basic form of landscaping for water conservation costs between $8,000 and $20,000, depending on the size of your yard and the landscaping that you choose. Desert landscaping refers to a more classic style that focuses on using desert-friendly plants, rocks, other hardscapes, and other elements to create a classic desert look that is also water-friendly and supports conservation. It is usually the most basic form of xeriscaping.
Classic Xeriscaping
Classic xeriscaping is a step up from desert landscaping and costs about $10,000 to $20,000. This depends on the elements you include, how much xeriscaping is being done, and how much work is involved. Classic styles reflect basic, minimalist designs focusing on water conservation and often do not include enhanced features like artificial turf and other premium or "modern" upgrades.
Modern Xeriscaping
You can expect to spend between $14,000 and $24,000 on modern xeriscaping, including premium custom designs, a premium irrigation system, and plenty of hardscaping and rocks used for water conservation. This style usually includes more high-end finishes and creates a much more luxurious, timeless look than classic xeriscaping or the desert landscaping style, which both generally feature more basic elements.
Xeriscaping Cost by Location
The average cost of xeriscaping ranges from $2,500 to $24,000, depending on the location and size. This is based on location but also includes the type of xeriscaping being done, how much space there is to cover, and what obstacles are in the way. Typically, though, jobs are just quoted by the square foot. In the table below, you will see the most common areas that are xeriscaped, their costs, and average size.
Many people choose to add xeriscaping around their patio or pool to enhance the design. These projects usually have minimal costs compared to a full yard makeover. There are lots of rocks and native plants used in these areas. Mulch could get tracked in and would make a mess. You do not usually need irrigation systems here, either. In the front and back yard, you will have a much bigger design that could include drought-resistant plants and trees, landscaping rocks, irrigation systems, rainwater collection systems, etc. Generally, these are much more complex and costly projects than smaller patio or pool installations.

| | |
| --- | --- |
| Location | Cost (Labor Included) |
| Patio (500 sq.ft.) | $2,500 - $10,000 |
| Pool (800 sq.ft.) | $4,000 - $16,000 |
| Front Yard (1,000 sq.ft.) | $5,000 - $20,000 |
| Back Yard (1,200 sq.ft.) | $6,000 - $24,000 |
Xeriscaping Landscaping Costs
The average cost of hiring a landscaper to xeriscape any area is $50 to $100 per hour. This makes up about 60% to 75% of the project or about $10,000 to $12,750 of the average $17,000. The other 25% to 40% goes toward materials. When undertaking the process of xeriscaping, you should work with a pro because they understand the water needs of the region's native plants and also have a firm grasp of the designs needed to achieve water conservation, such as the placing of rocks or hardscaping in a specific area to divert water.
Several cost factors impact what you spend on xeriscaping. Some elements allow you to cut corners to save costs, but others require the maximum investment for the best outcome. The number and type of elements chosen impact the cost, such as if you add large boulders or concrete slabs. The size of the yard and the size of the plants chosen impact the cost. The two biggest cost factors with xeriscaping are the irrigation system and any custom additions (like lighting, rainwater collection systems, patios, etc.) that you include in the design.
Xeriscaping Steps
The cost to xeriscape a yard varies based on several factors, including the steps taken in the process. The plant choices, hardscaping, rocks, mulch and soil, irrigation system, and other elements determine the total cost and the steps that need to be taken. Professionals recommend creating a design that suits your budget and choosing the items and steps accordingly. For example, if your xeriscaping project does not include mulch, you can skip that step. In the table and sections below, you will see the various steps of xeriscaping and their related costs and other factors.
| | |
| --- | --- |
| Steps | 1,200 Sq.Ft. Yard Cost (Labor Included) |
| Planning and Design | $2,000 - $7,000 |
| Yard Grading | $1,200 - $2,400 |
| Concrete Slabs | $1,200 - $1,400 |
| Plants | $3,000 - $4,000 |
| Rocks / Stones | $250 - $2,500 |
| Artificial Turf | $6,000 - $15,000 |
| Irrigation | $1,800 - $2,150 |
| Mulch | $150 - $400 |
Planning and Design
A landscape designer who lays out the landscape design charges $2,000 to $7,000 for the total project, or between $200 and $300 per hour for consultation, planning, and design work. The design process for a 1,200 sq.ft. yard generally takes between three and eight hours. You may also choose to pay a designer to stay on site during the installation as a consultant, which could add to the cost. Xeriscaping is about more than planting drought-tolerant plants and laying out a few rocks. If too many rocks are placed on a southern- or southwestern-facing location, they can substantially increase the temperature and wastewater and potentially contribute to water runoff. Careful planning is essential in xeriscaping to conserve water use. This is the first and most important step in the process and should be done with professional assistance.
Regrade a Yard
You can expect to spend $1,200 to $2,400 on the cost of leveling or re-grading the yard as part of the xeriscaping process. This is the second step in the process of preparing the land for the new installations and plants. The cost depends on how much grading is needed, the type of soil present, and what kind of slope(s) you want to create to assist with your irrigation and water conservation efforts. This needs to be done before the rest of the project begins. Your planner or landscaper will help you determine what kind of grading you need to get the finished design you have in mind.
Concrete Slabs
Installing concrete slabs to form a walkway through the landscape for a 1,200 sq.ft. yard averages $1,200 to $1,400 and comes as the third step in the process. Putting down patios or pathways makes installing plants, mulching, rocks, and other elements much easier. The slabs help divert water and are ideal for walking across as a possible pathway. You can choose to install pathways, patios, and other concrete slabs that could add to your hardscaping and reduce the amount of land that needs plants and trees and other landscaping, or just use them to finish the look.
Native and Drought-Tolerant Plants
You will probably spend about $3,000 to $4,000 on established plants, but you could also spend less if you buy smaller plants and allow them to grow into your design over time. Once your yard is graded and any concrete additions are made, it is time to start mapping out and planting the foliage you have chosen for your design. Plants adapted to the region will substantially reduce water use and typically require no supplemental irrigation. Make sure that you consider this as part of your design to get the right plants at the right age of maturity for your liking.
Xeriscaping Rock
Delivery of river rock or other xeriscaping rocks averages $1.24 to $6 per sq. ft. Most people spend between $250 and $2,500 on their rock installations. River rock can also be used as a mulch to divert water in the landscape. Other rocks and boulders can be used for decoration, diverting water, and creating a more eco-friendly landscape. The total cost of your rocks depends on which ones you choose and how much you need for the job. Generally, rocks will be installed after everything is planted but before the artificial turf and irrigation unless the rocks are part of the irrigation system.
Artificial Turf
If you opt to install artificial turf, you will spend about $5 to $12.50 per sq.ft. on the turf alone, or $6,000 to $15,000 on the materials and installation for the total project, depending on the type of turf chosen and how complex the installation process is. Grass is water-hungry, so replacing it with artificial turf conserves water. This option allows you to have the look of a traditional lawn without impacting the environment or using too much water to keep the lawn looking good. Artificial turf also stands up to the elements well over time and lasts up to 25 years.
Irrigation
You will spend between $1,800 and $2,150 for the professional installation of an irrigation system, depending on the size and type you choose and any related installation costs or other expenses. An irrigation system is an option with xeriscaping to conserve water and keep the yard healthy. Many people want to forego any supplemental water and depend solely on rainfall. However, if you want to water your plants when needed rather than risk losing them to an excessively hot season, you will want to try drip irrigation systems.
Mulch
The cost of mulching averages about $10 to $60 per cubic yard. The amount of mulch used depends on the design, with most people spending $150 to $400 for mulching. This includes one to three cubic yards of mulch, labor, and installation. Mulch is often beneficial in a xeriscape because it helps hold water and prevents evaporation. It can also add color and style to a design since it is available in several shades and varieties and may even be used as an accent. The total cost of mulching depends on how much is needed and what type of mulch is chosen for the job. Generally, mulch will be laid after the rest of the xeriscaping is complete or at least completed in the areas where mulch will be installed.
Xeriscaping Plant Costs
The cost of plants varies significantly but ranges from $7 to $80 each for plants, $3 to $17 for groundcover, $6 to $97 for shrubs, and $12 to $21 for trees. Xeriscaping involves the use of highly drought-tolerant and indigenous plants in place of water-hungry varieties and excessive turf. Drought-tolerant plants grow well in desert locations, and indigenous plants are native to the region where you will be xeriscaping so have adapted naturally to the climate and annual rainfall amounts. Their unique adaptations mean that once established, they require no supplemental watering but can subsist on rainfall alone. Your landscape designer will help you choose plants that are best suited for your hardiness zone.
| | |
| --- | --- |
| Type | Cost (Plant Only) |
| Groundcovers | $3 - $17/quarter |
| Shrubs | $6 - $87/each |
| Plants | $7 - $80/each |
| Trees | $12 - $21/each |
Groundcovers
Groundcovers are often moss and lichens and range from $3 to $17 per quart. Groundcover comes in several different styles. You may need more or less depending on the design of your xeriscaping project. The creeping growth pattern of groundcovers prevents soil erosion. Also, they keep areas cool and hold on to water, acting as a natural mulch. Pussytoes and wooly yarrow are favorites. However, many people use red creeping thyme and other groundcovers to protect the soil, retain more water, and give the appearance of a lush lawn without the expense or maintenance of grass.
| | |
| --- | --- |
| Groundcover Type | Cost per Quart (Plant Only) |
| Pussytoes | $3 - $4 |
| Red Creeping Thyme | $8 - $9 |
| Wooly Yarrow | $12 - $13 |
| Juniper Blue Rug | $16 - $17 |
| Japanese Spurge | $16 - $17 |
Shrubs
Low-maintenance shrubs add to your design for $6 to $87 for each shrub, depending on the size and type. Shrubs that require very little care are ideal for any xeriscape project. The shrubs create shade and visual interest in the landscaping. Ideally, you should choose varieties that vary in size and shape. If they grow well in the shade then you can plant them beneath trees and in other areas to cool the soil and act as a natural groundcover.
| | |
| --- | --- |
| Shrub Type | Cost (Plant Only) |
| Russian Sage | $6 - $7 |
| Siberian Peashrub | $24 - $25 |
| Sand Cherry | $39 - $40 |
| Yucca | $68 - $70 |
| Sumac | $85 - $87 |
Plants
You can expect to spend $7 to $80 on plants for your xeriscaping. Drought-tolerant plants such as hens and chicks (a type of succulent), aloe vera, and sedum are very popular because they store water in their leafy fibers for use during times of drought. Cacti also store water and can go long periods of time without any form of irrigation or rainfall. Ornamental grasses are naturally tough and subsist on very little water but rainfall.
| | |
| --- | --- |
| Plant Type | Cost (Plant Only) |
| Sedum | $7 - $8 |
| Aloe Vera | $9 - $10 |
| Native Grasses | $10 - $30 |
| Hens and Chicks | $11 - $12 |
| Cacti | $20 - $80 |
Trees
Depending on the type and level of maturity, you will spend between $12 and $21 on each tree that you add to your yard. A wide array of drought-tolerant trees are excellent in the xeriscape. Many require supplemental watering during the first few years of growth to encourage a robust root system. Once established, the trees can subsist on very little water. Choosing the right types of trees depends on their maintenance needs and appearance. Many people enjoy the look of the dawn redwood and hackberry trees. Trees provide shade for people and plants alike, add a unique look to the landscape, and protect the soil.
| | |
| --- | --- |
| Tree Type | Cost (Tree Only) |
| Northern Catalpa | $12 - $13 |
| Dawn Redwood | $12 - $13 |
| Bur Oak | $12 - $13 |
| Hackberry | $12 - $13 |
| Kentucky Coffee Tree | $20 - $21 |
Irrigation for Xeriscaping
You will spend between $0.20 and $4.50 per sq. ft. for irrigating your xeriscaping design. Many people who xeriscape opt to depend on rain, which is why they plant only native or drought-tolerant plants. However, others feel that the investment in plants is substantial so they want an irrigation system to prevent the plants from perishing in extremely dry weather. The most common type of irrigation system for a xeriscape is a drip system, but there are other types that are potential options, including above-ground sprinklers and in-ground irrigation. In the table below, you will see the cost range of each choice to help you decide which is best for your yard.
| | |
| --- | --- |
| Systems | Cost per Sq.Ft. (Installed) |
| Above-Ground | $0.20 - $0.30 |
| Drip Irrigation | $1.50 - $3.50 |
| In-Ground | $2.50 - $4.50 |
What are the 7 Principles of Xeriscaping?
There are seven principles that go into xeriscaping. The distinct landscaping technique first emerged in the 1980s as a way for people to save water and still enjoy gardening during long periods of drought in the Western United States. This is not a maintenance-free landscaping solution. However, with these seven principles in mind, you can create a lawn that successfully conserves water and still fits with your style and tastes.
Planning and design. The first step in xeriscaping is the planning and design stage. Most importantly, you will want to utilize the area's natural rainfall so you can limit the need for irrigation. Map out the yard before you start the process of creating the landscape. Always consider which areas receive shade and sun so you can pick your plants and hardscape accordingly.
Improved soil. When xeriscaping, you want to improve the soil's consistency so it can better hold water during times of drought. Adding compost to the soil definitely helps its water-holding abilities. If the soil is firmly compacted, then you'll want to rototill the dirt to break it up so water does not run off during rain or with irrigation, but instead sinks down to the plant's roots. Also, a plant's roots develop better in loose soil which allows the plant to more readily reach both water and air.
Smart turf use. Yes, turf has a place in xeriscaping. It makes a great surface for children and pets to enjoy while helping cool the environment. In addition, it combats soil erosion and even lessens the glare of the sun. However, you should always limit turf use and only use types of grass that are drought tolerant. Bluegrass does very well with little water.
Efficient irrigation. During the first few years, you'll need to irrigate to establish your plant's root system. Once established, you can usually forego the irrigation. Ideally, you should opt to use drip irrigation or micro-spray to focus the water where it is needed the most. Also, such methods help encourage deep and diverse root system development.
Appropriate plant selection. Low water-use plants are a necessity in any xeriscape yard. Often, native plants are the best choice because they have adapted to thrive in the region and can subsist on rainfall alone.
Mulching. Mulch helps the soil hold in water during times of drought so your plants don't dry out and start to perish. Applying mulch also helps prevent soil erosion and stop the spread of weeds.
Appropriate maintenance. A xeriscaped landscape is not maintenance-free. You will have to prune, weed, and irrigate during the first year or two and focus on pest management on an ongoing basis to keep everything looking good.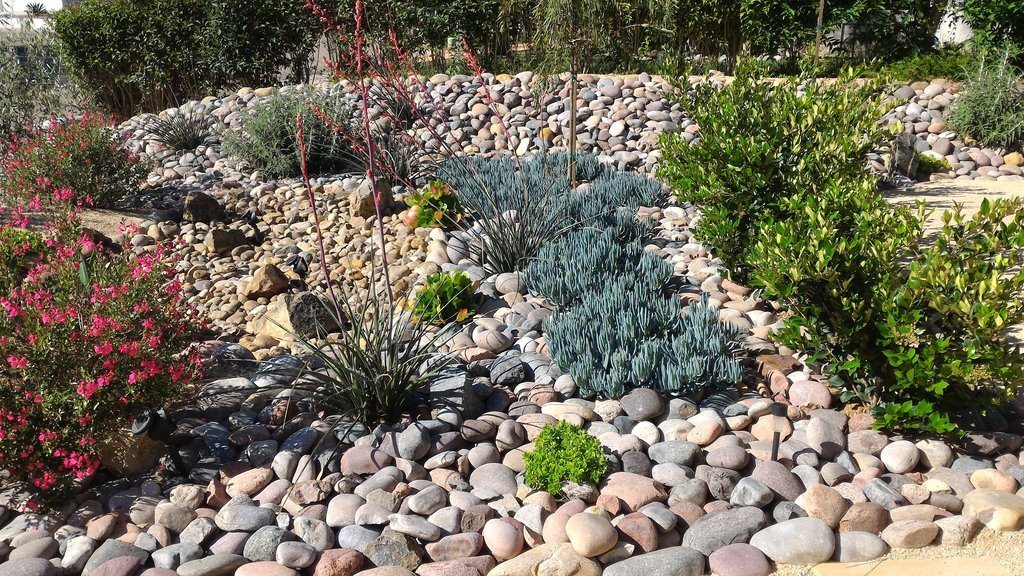 Pros and Cons of Xeriscaping
As with all landscaping choices, there are pros and cons. You need to weigh the pros and cons of xeriscaping to decide if it is right for your unique needs. The biggest positive thing about xeriscaping is that it conserves water, which is ideal in drought prone regions. It is also an environmentally-friendly landscaping system that requires very little maintenance and no fertilizer applications to look fantastic. Typically, homeowners with xeriscaping also enjoy an increased property value. The cons of xeriscaping are that you have a very limited choice of plants to choose from that are either native or drought-tolerant. Moreover, the first couple of years of establishing the landscape is labor-intensive and expensive.
Xeriscaping on a Budget
If you are xeriscaping on a budget, you can try to DIY as much of it as possible. Doing some of the physical labor and planting the plants yourself saves a considerable amount of money. You can minimize hardscaping, which is an expensive endeavor. Consider planting seeds or cuttings instead of high-cost, fully developed plants. Also, pick non-invasive plants that spread readily via self-seeding, so you do not have to buy as many plants to fill an area. You can always dig up the small plant starts and move them around the landscape to other locations. Finally, make your own mulch instead of buying pre-packaged mulch to save money and help the environment.
Maintenance
Landscapers offer xeriscaping maintenance and charge $50 to $100 per hour. Xeriscape landscapes are not maintenance-free. During the first couple of years you'll need to use some form of irrigation system to help your plants develop a strong root system. You'll also need to regularly weed the flower beds to prevent weeds from taking over while you wait for your plants to grow. If you have turf, you might need to regularly clip the grass to keep it looking good. Plants also require pruning while they grow and applications of mulch if it washes away.
Enhancement and Improvement Costs
Hardscaping
Hardscaping costs between $300 and $21,000, depending on the type of installation you choose. Hardscaping refers to all of the non-living elements in your landscaping. Several enhancements can be made here. Fire pit installation is the cheapest, with costs starting at $300. You may also choose to build an arbor for climbing plants and vines, build a pergola, or even build a porch or a patio to accentuate the new xeriscaping design. The size, materials used, and number of these elements that you choose impact the total cost of these enhancements.
Outdoor Lighting
The cost to install outdoor lights averages $2,000 to $4,000. As the days grow shorter, you'll still want to enjoy time outdoors. Lighting helps you spend even the dark hours outside while helping to showcase your landscape with well-spaced lights. It provides safety for patios, driveways, steps, and walkways that are otherwise dark and difficult to navigate. You can choose between functional and decorative lighting or choose a style that offers both.
Mosquito Misting System
The average cost for a mosquito misting system is $2,500 for a drum system with about 30 nozzles. Mosquitos are pests that you probably don't enjoy. The biting insects can quickly send you scurrying for your house to seek shelter. Many people who want to enjoy their newly xeriscaped yard during the summer months choose to include a mosquito misting system to ensure that the pests do not ruin their outdoor relaxation and fun.
Rainwater Collection System
The cost to install a rainwater collection system averages $2,500. If you are serious about xeriscaping, you know the importance of rainwater in drought-ridden areas. You want to collect as much of the liquid gold as possible to irrigate your plants and further your water conservation efforts. If you are learning how to xeriscape on a budget, the rainwater collection is a definite must.
Additional Considerations and Costs
DIY. Xeriscaping can be a partial or complete DIY project. You'll need to layout a design, pick drought-tolerant plants, determine hardscaping, think about an irrigation system, and then spend many hours planting, moving soil, mulching, and more.
Estimates. If you decide to let a professional handle xeriscaping your landscape then you'll want to obtain three to five estimates from a xeriscaping contractor to determine your area's average price so you can pick the best-qualified contractor for the job.
Rebate programs. Many areas that regularly experience drought may offer rebate programs that help you save when you decide to xeriscape your landscape. You'll want to check with your local water and energy departments to determine if there are any area rebates if you decide to xeriscape.
Best season. If you xeriscape in the spring then your plants will have the entire spring, summer, and fall to get established and develop a firm root system before winter. Also, xeriscaping in the spring in a drought-prone area gives your plants time to enjoy the spring rains for growth before the heat and drought of summer arrive.
ROI. The return on investment that you get from xeriscaping should also be considered. This is an investment, not an expense, and rewards you with less water wasted, less energy and water used, and helps you create your own watering system if you choose to add a rainwater collection system. Over the years, the savings on landscaping and watering will pay for themselves.
FAQs
How much does drought-tolerant landscaping cost?
The average cost to xeriscape your yard and make it drought-tolerant averages $15,600 for a 1,200 sq.ft. yard.
How do you xeriscape your yard?
You choose drought-tolerant plants, some hardscaping, mulch, and a water-saving irrigation system. You can use a small amount of turf, but you want to get rid of any water-hungry plants. Ideally, a xeriscaped landscape will grow and flourish without supplemental irrigation, or at least with very little after a couple of years.
What is the purpose of using xeriscape in your yard?
You want to conserve water, embrace the natural landscape appearance, and find drought-tolerant plants that will thrive if there is no irrigation.
What is xeriscape landscaping?
Xeriscaping refers to a form of landscaping that focuses on water conservation.
What are the benefits of xeriscaping?
Once established, a xeriscaped landscape requires very little or no irrigation and thrives with virtually no maintenance compared to other landscapes.
Where is xeriscaping used?
Xeriscaping is often used in areas of the American West that are prone to drought.
What are two disadvantages of using xeriscaping in landscaping?
One disadvantage for many people is the cost of xeriscaping. Even though it has a good return on investment, it has a high up-front cost. Another disadvantage is that the complex design could mean that you will not be able to change your landscape design as frequently as you may like to reflect changes in style and taste.