Build Sunroom Cost Guide

​​A sunroom, a popular addition to any home, is designed for entertaining, lounging, or enjoying the outdoors without being bothered by insects or weather. A sunroom offers the best of both worlds by giving you direct sunlight and outdoor access while still sheltering you from the elements. The abundance of natural light and additional living space make sunrooms a sought-after feature in many homes.
The cost of a sunroom installation project varies depending on the sunroom type, materials, and labor costs. The average cost to build a sunroom ranges from $35,000 to $70,000, with the average homeowner spending around $55,000 on a 14' x 14' four-season sunroom with a vinyl floor, painted walls, outlets and lighting, windows, and a sliding door. This project's low cost is $10,000 for a 8' x 10' three-season sunroom conversion of an existing patio. The high cost is $100,000 for a custom-made four-season 12' x 20' sunroom addition with luxury windows and flooring.
Cost to Add a Sunroom to a House
Sunroom Costs
National average cost
$55,000
Average range
$35,000-$70,000
Low-end
$10,000
High-end
​$100,000
What Is a Sunroom?
The term sunroom often describes several spaces, depending on where you live. Generally, a sunroom is an area offering abundant natural lighting and outdoor views with protection from the outdoor elements. Sunrooms are commonly found off the back or front of the house next to the yard for the best views and lighting. Some regions of the U.S. refer to a sunroom as a screened room, solarium, glass atrium, or sunporch. For example, a screened porch is considered a three-season sunroom in some areas.
Compare prices from sunroom builders near me
Sunroom Addition vs Conversion Cost
You can build a sunroom in two ways. You can convert an existing area like a porch, deck, or patio to a sunroom or build an addition using conventional methods for its own foundation, walls, and insulation. Conversion projects are generally less expensive and often built as three-season rooms rather than fully insulated spaces for all seasons. Additions cost more but are more likely to include features like an HVAC extension so that the space can get used more consistently. Both projects can give you a range of styles, features, and uses for the space, but the building methods can vary. Below are the average costs per square foot for both projects.
| | |
| --- | --- |
| Project | Average Costs per Sq.Ft. |
| Conversion | $80 - $200 |
| Addition | $130 - $300 |
Sunroom Conversion
The average cost of a sunroom conversion averages $80 to $200 a sq.ft. Conversions use existing areas and structures. This includes porches, patios, and decks. They do not have a dedicated foundation but use what is already there. They are more likely to become three-season rooms rather than four-season. You can get more use out of the area because it now has a roof and partial walls to help keep out the elements. The area still feels like an outdoor space, helping create an indoor/outdoor living area. You can convert these spaces into four-season rooms, but the costs per square foot may be higher because more modifications need to be made.
Sunroom Addition
The average cost of a sunroom addition is $130 to $300 a sq.ft. Sunroom additions are built like other additions. They have a foundation and roof, increasing the project cost. They are most often built as four-season rooms because of this, but you can build a three-season room using this method and eliminate HVAC or insulation to keep costs down. The total cost per square foot of your sunroom addition depends on the finishing level the space receives. Four-season rooms have higher costs per square foot than three-season, even if both are additions.
Sunroom Conversion Cost by Location
Sunrooms can be built in various locations, the most popular being the existing patio, deck, or porch. The location depends on the sunroom's purpose. If you are looking for a place to entertain, cook, and dine, building a sunroom on your deck or porch may be the best idea. A sunroom built on a patio is ideal for shade or entertainment. The location and design affect the cost.
Homeowners often convert an existing space into a sunroom rather than building a new one. The most common areas to convert include the deck, balcony, patio, or porch. Adding a roof and walls achieves a versatile space they can use for an outdoor experience with more protection and comfort. Costs for each project vary depending on if you convert the space to a three-season or four-season sunroom. Also, the condition of the existing structure can play a role. Here are the average costs of popular sunroom conversion projects.
| | |
| --- | --- |
| Conversion | Cost (Installed) |
| Screened Porch | $8,000 - $50,000 |
| Balcony | $10,000 - $50,000 |
| Deck | $20,000 - $100,000 |
| Patio | $20,000 - $100,000 |
Porch to Sunroom Conversion
Converting a porch to a sunroom costs $8,000 to $50,000. This project is generally the easiest and least expensive conversion because the porch foundation is in place and needs to be reinforced to turn it into a proper room. A screened porch must be brought up to building standards for an interior room, which may involve pouring a new slab foundation, adding insulation, and extending the heating and cooling systems if you are making the space a four-season sunroom. Porch screens can be replaced with glass windows to bring the room together.
Convert a Balcony to a Sunroom
Most homeowners pay $10,000 to $50,000 to turn a balcony into a sunroom. When working with an existing wood, vinyl, or concrete balcony, contractors need to add the necessary structural support to turn it into an enclosed room. The roofing, insulation, windows, and HVAC also must be added for four-season spaces. The costs of this project vary based on the balcony size. The existing sliding glass doors that open onto the balcony may be used in the new sunroom.
Deck to Sunroom Conversion
Converting a deck into a sunroom costs $20,000 to $100,000. The main component of this project is leveling and reinforcing the deck to comply with local building codes. Most decks are made of timber materials. Depending on if this is a three or four-season space, you may want to upgrade the flooring. This can mean overlaying wood or composite to form a solid floor or switching to interior floors, such as carpets or rugs. The previous deck space also needs new HVAC connections, insulation, windows, and doors to turn it into a proper sunroom if you use it for all seasons. Three-season converted decks have lower costs because insulation and HVAC are unnecessary.
Convert a Patio Into a Sunroom
If you want to convert a patio into a sunroom, expect to pay around $20,000 to $100,000. This project is similar to a deck conversion, but some patios may have an existing concrete slab that can minimize foundation costs. Structural components like walls, roofing, windows, doors, and insulation need to be added. Existing patios often make a good spot for a sunroom due to their prime position in the backyard. Whether this is a three-season or four-season sunroom and whether you can use the existing patio as a floor dictate your final costs.
Cost to Add a Prefab vs Custom-Built Sunroom
When deciding to build a sunroom, you must choose whether to purchase a prefabricated sunroom or have it custom-built. This can significantly affect the project cost.
Prefab sunrooms are generally built like modular homes. They are factory-made and delivered ready for installation on your home. They are much less expensive than custom-built but can be difficult to find in some areas. Like custom-built or traditionally built sunroom additions, they can have a wide range of costs depending on materials, style, and size. Because both construction types are priced by the square foot, the larger the sunroom, the higher your total costs. Below are the average costs for both structures.
| | |
| --- | --- |
| Type | Cost per Sq.Ft. (Installed) |
| Prefab | $50 - $75 |
| Custom Built | $130 - $300 |
Prefabricated Sunroom
Prefabricated sunrooms average $50 to $75 per sq.ft. These pre-built sunrooms are cheaper and require less installation time than a custom build because they are factory built. They can be delivered as one unit, ready for installation on a foundation, or you may get prefab sections designed to be assembled on-site. In both cases, they can sometimes be installed on existing patios or decks, but many need a dedicated foundation. The main downside to prefab sunrooms is there are limited designs, so they may not match the exact look you want.
Custom-Built
Custom-built sunrooms cost from $100 to $300 per sq.ft. due to the range of design options and materials. With a custom sunroom project, you pay more to choose the exact layout, size, material, and finishes. These sunrooms are customized to your liking and can be energy-efficient to suit all-year use. A custom-built sunroom is more likely to increase home value, often making it worth the expensive upfront cost and longer installation time.
Sunroom Costs per Square Foot
Conservative estimates put the cost of installing a sunroom between $50 and $300 per sq.ft., depending on if you build a prefabricated or custom sunroom and the type of sunroom you build. The following estimates based on size are reasonable, leaving room for variances due to site prep, material and glass choice, wiring requirements, seasonality needs, and decor.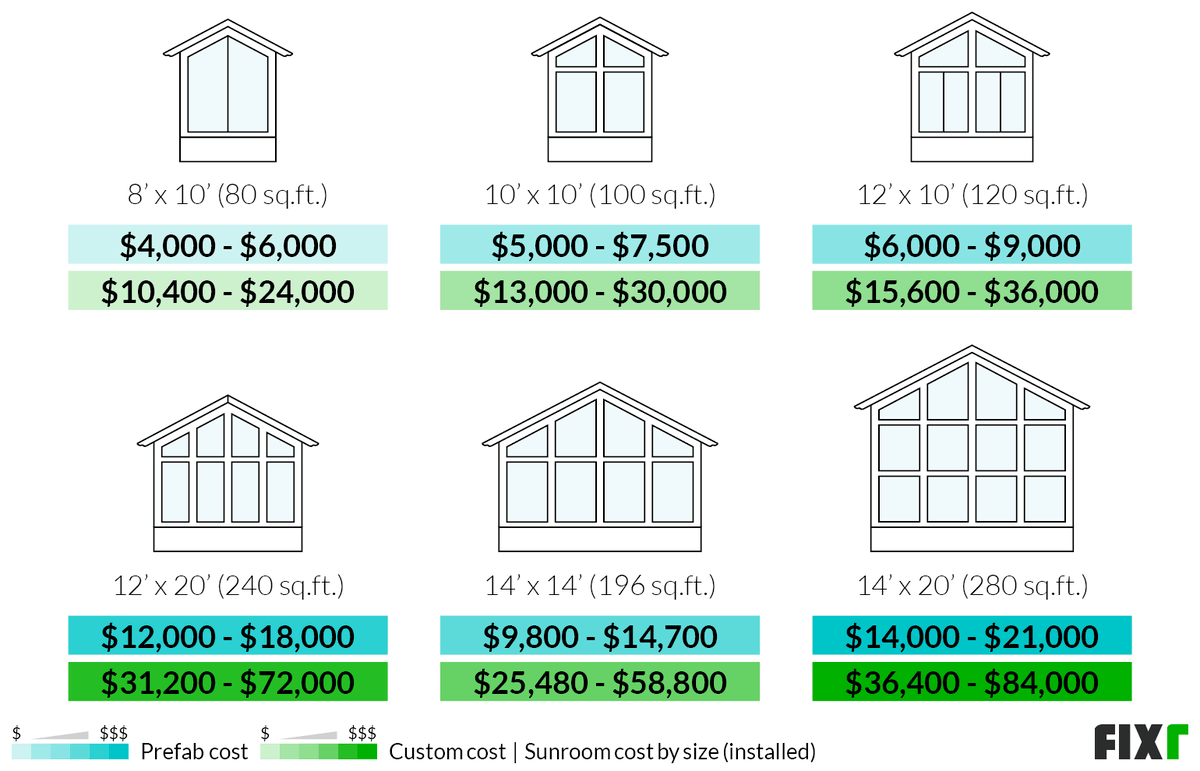 | | | |
| --- | --- | --- |
| Size | Average Cost Prefab (Installed) | Average Cost Custom (Installed) |
| 8' x 10' (80 sq.ft.) | $4,000 - $6,000 | $10,400 - $24,000 |
| 10' x 10' (100 sq.ft.) | $5,000 - $7,500 | $13,000 - $30,000 |
| 12' x 10' (120 sq.ft.) | $6,000 - $9,000 | $15,600 - $36,000 |
| 12' x 20' (240 sq.ft.) | $12,000 - $18,000 | $31,200 - $72,000 |
| 14' x 14' (196 sq.ft.) | $9,800 - $14,700 | $25,480 - $58,800 |
| 14' x 20' (280 sq.ft.) | $14,000 - $21,000 | $36,400 - $84,000 |
Find the best sunroom contractors near me
Average Cost to Build a Sunroom by Number of Stories
Most sunrooms are single-room additions, meaning they are generally single-story. However, you can build a two-story sunroom with a vaulted or cathedral ceiling or a loft or other space above it. Do this if you want to extend the home's profile rather than having a two-story home with a single-story addition. The total cost of a sunroom project depends on if you build a one or two-story space and if it is designed to be three or four seasons. A two-story sunroom is significantly more expensive than a one-story sunroom due to the additional materials and labor. Your budget and your design/landscape determine the number of stories.
| | | |
| --- | --- | --- |
| Number of Stories | Average Cost Prefab (Installed) | Average Cost Custom (Installed) |
| One Story | $8,000 - $15,000 | $20,000 - $60,000 |
| Two Stories | $11,500 - $25,000 | $30,000 - $100,000 |
One-Story Sunroom
Building a one-story sunroom costs $20,000 to $60,000 for a custom design. The cost of this project for a prefab installation is $8,000 to $15,000. One-story sunrooms are standard and less expensive than two-story designs. One-story sunrooms vary in size and design, depending on the existing home and personal preferences. Most sunrooms are similar to the bedrooms or living rooms in the house, but the space can be expanded if it is a large property.
Two-Story Sunroom
A two-story sunroom costs $30,000 to $100,000 for a custom build. The cost of this project for a prefab installation is $11,500 to $25,000. A two-story sunroom is similar in price to a full home addition due to the requirement for a stronger foundation. Two-story sunrooms need reinforcement and better building materials than a basic one-story sunroom. Homeowners with two or three-story houses may consider a two-story sunroom, giving them ample additional living space and serving as an attractive feature if they decide to sell.
Cost to Build a Sunroom by Type
A big decision you have to make is the sunroom type. Many types serve different purposes, designs, and styles. While many add three-season and four-season sunrooms, you may have different needs based on your climate, location, and home style. For example, if you plan on growing plants in the sunroom, a glass atrium, which gets more light, may be better. Not all sunrooms are available prefab and custom. The following costs are for traditionally built additions.
| | |
| --- | --- |
| Type | Cost (Installed) |
| Glass Atrium | $10,000 - $35,000 |
| Three-Season | $20,000 - $50,000 |
| Conservatory | $20,000 - $95,000 |
| Orangery | $25,000 - $100,000 |
| Four-Season | $35,000 - $100,000 |
| Solarium | $40,000 - $100,000 |
Build a Glass Atrium
The average price of a glass atrium is $10,000 to $35,000. As one of the most inexpensive sunroom options, glass atriums usually just require roof construction over existing walls. Instead of a regular shingle or tile roof, atriums have a glass roof to let the sunlight in for a warm indoor space. This is a popular choice for homeowners looking into budget-friendly home projects. Glass atriums are an attractive addition to many homes, with a modern architectural flair and functional insulation. For those who enjoy indoor plants, glass atriums provide a nice sunny spot to bring the outdoors in without exposure to the elements.
3-Season Sunroom
Three-season sunrooms average $20,000 to $50,000. A three-season sunroom is one of the most popular types. This sunroom can be enjoyed through the spring, summer, and fall. These sunrooms are built without insulation or HVAC systems. Depending on the planned use, a three-season sunroom can be built using single-pane or double-pane glass. This sunroom is separated from the house using an entry door to keep the cold and hot air outside. A three-season sunroom is similar to a four-season sunroom, but a three-season sunroom is a less insulated version and not designed to be heated or cooled.
Build a Conservatory
Many conservatory options are available, ranging from $20,000 to $95,000. Originally designed as a greenhouse for growing plants, a conservatory has become popular for adding a touch of elegance to your home's exterior. A conservatory has a traditional appearance consisting of glass walls and a polycarbonate or glazed glass roof, connected by aluminum or wood beams.
Orangery
The cost of an orangery ranges from $25,000 to $100,000. Orangeries are similar to conservatories. They normally have brick walls and a solid roof, while conservatories have a glass roof. Their purpose is similar, with this addition trapping heat to grow plants. They are uncommon as home additions and are more likely to be stand-alone buildings. However, you can have one built onto your home like a sunroom.
4-Season Sunroom Addition
The average cost of an integrated sunroom is $35,000 to $100,000. A four-season sunroom can be used in all four seasons. There is no worry about weather or insects because they are thermally engineered to be heated and cooled cost-effectively. This sunroom can be built using traditional stick-building methods, prefab, or you can use kits that include aluminum or vinyl frames. The sunroom usually has double-pane insulated windows to help with energy costs. This sunroom does not require a door to separate it from the house, but there is the option of adding a French door or patio door. Due to the heating and cooling elements, a four-season sunroom is more expensive than a three-season sunroom.
Solarium Addition
A solarium sunroom costs $40,000 to $100,000. Relax under the stars and enjoy nature with a solarium sunroom. This sunroom is completely enclosed by glass on all sides, even the roof. A solarium sunroom is designed using an aluminum or wood frame. You can also add heating and cooling to make this space a four-season room. Solariums can have two roofs - straight or curved eaves. Straight eaves are the more common and affordable option, with several designs. There is no peak to the roofline, so they can match your existing roof and home style. Curved eaves are more expensive but have a unique appearance and may also improve the view from inside. Below are the average costs for straight-eave and curved-eave solarium sunroom roofs.
| | |
| --- | --- |
| Roof Type | Cost (Installed) |
| Straight Eave | $40,000 - $75,000 |
| Curved Eave | $45,000 - $100,000 |
Talk to local pros to get quotes for your sunroom installation
Sunroom Addition Cost Breakdown
Many aspects are similar for all parts of planning for a sunroom project, even with different sizes and styles. Material and labor costs for important steps like foundation, insulation, windows, and roofing are considerable portions of the sunroom addition.
The visual below breaks down the average costs of building a typical $55,000 four-season sunroom using traditional methods. Different sunrooms, such as three-season rooms, may have different breakdowns without HVAC or insulation. This visualization shows the total costs and percentages to better understand how to budget for your sunroom project.
| | |
| --- | --- |
| Project Breakdown | Percentage of the Total |
| Foundation | 8% |
| Insulation | 6% |
| HVAC | 6% |
| Frames | 18% |
| Windows | 25% |
| Doors | 6% |
| Utilities | 4% |
| Flooring | 7% |
| Roofing | 12% |
| Paint | 4% |
| Furnishing | 4% |
Cost to Insulate a Sunroom
Insulating your sunroom depends on the sunroom type you build. When installing a four-season or solarium sunroom, you have insulation installed. Insulation is not needed for a screen room or three-season sunroom. Your decision likely depends on the region where you live and how often you want to use your sunroom. The cost to insulate a single room, depending on the product used, ranges from $800 to $8,000.
Sunroom Glass Cost by Type
Glass makes up as much as 90% of your new sunroom. Various glass options are available. Your choice depends on the climate, safety, and environment. Single-pane glass is the least expensive and least efficient, allowing the most thermal transfer. Double-pane glass is more efficient, with an air gap between the two panes to prevent energy transfer, and triple-pane glass is even more efficient for the same reason. Another option, which works best for hot climates, is Solexia glass. This glass prevents heat transfer and stops UV rays from the sun. It is not available in double-pane, triple-pane, or tempered glass.
Beyond efficiency, you can add other features to your glass. Low-E coating is popular in the north. This prevents certain wavelengths of UV light from entering the home, preventing fading and making the sunroom more comfortable. It can be added as a coating to any glass, including single-pane. Tempered glass is good if you have high winds or simply want a more durable glass. Tempered glass is stronger than standard and less likely to shatter. You can combine it with low-E coatings or double or triple-paned glass for better efficiency.
| | |
| --- | --- |
| Glass Type | Costs per Sq.Ft. (Installed) |
| Single Pane | $3 - $8 |
| Low-E Glass | $5 - $35 |
| Double Pane | $10 - $20 |
| Triple Pane | $12 - $22 |
| Tempered | $25 - $30 |
| Solexia | $30 - $50 |
Sunroom Frames Cost by Material
When preparing for a sunroom project, consider the frames you need for the windows. Window frames come in many materials, from low-cost vinyl to high-cost wood. Each has several attributes to consider. Vinyl frames are the lowest cost, with moderate durability and insulating properties. They are readily available in many sizes and come in a few colors. Aluminum frames are stronger with better durability but are poor insulators and not ideal for hot or cold climates. However, they come powder coated in many colors.
Fiberglass frames are becoming the gold standard for many installers and homeowners. They are strong, durable, and much lower maintenance than vinyl or aluminum. They are also good insulators. Wood frames are durable, long-lasting, and make good insulators. However, they are the highest maintenance and most expensive. Below are the average costs for wood, aluminum, vinyl, and fiberglass sunroom window frames.
| | |
| --- | --- |
| Frame Material | Cost (Installed) |
| Vinyl | $100 - $1,200 |
| Aluminum | $200 - $2,400 |
| Fiberglass | $200 - $3,000 |
| Wood | $200 - $4,000 |
Compare quotes to get the best price on your sunroom installation
Sunroom Roof Cost by Shape
The average cost to install roofing on your sunroom is $2,500 to $8,000. The cost depends on the sunroom's roof. Many homeowners want the sunroom roof to match the house. This is true of the roof's material and style. Other times, the sunroom may have its own roof, particularly if the sunroom is a single-story addition to a taller home. In this case, you have a few roofing options for solid and glass roofs.
The most common roof is the gable. This roof has a peak in the center and extends to both sides. A gable roof is good if you have snow or rain because it enables the precipitation to slide to both sides of the roof. This roof can be easily paired with many other roofs, including gable, cross gable, hipped, and dormer.
Flat roofs are also a consideration for modern homes and sunrooms. Flat roofs do not last as long as sloped roofs and use very different materials for solid roofs. Without a moderate pitch, water and snow can collect on these roofs, so they work best in dry climates.
Single-slope roofs are another good choice for more modern homes. These roofs extend from the house straight down to the front. They do not match the roof well but can be paired with a flat-roofed home or another modern roof with good results. Below are the average costs for the different roof shapes in solid and glass materials.
| | | |
| --- | --- | --- |
| Roof Type | Cost per Sq.Ft. (Solid) | Cost per Sq.Ft. (Glass) |
| Gable Roof | $3.50 - $6 | $15 - $40 |
| Flat Roof | $3 - $10 | $15 - $50 |
| Single-Slope Roof | $3 - $11 | $15 - $60 |
Sunroom Flooring Cost by Material
Floor installation is an important aspect of a sunroom project and costs $3,850 for the average $55,000 sunroom. There are many flooring options to consider, whether you want to match your home or choose a new material. Carpet, tile, vinyl, concrete, laminate, and hardwood are the top choices for sunroom flooring.
Sunroom Window Cost by Type
Many windows are on the market, but the best option is an efficient type. Of the many windows, casement and sliding windows are the most popular options for sunrooms because they let in natural light while providing insulation and security. Expect to pay between $2,500 and $20,000 for window installation, depending on the type, brand, size, and number of windows.
Get free estimates from sunroom builders near me
Sunroom Door Cost by Type
Quality door installation completes a sunroom project and ensures you can close off the space. Sunrooms are accessed from the home and frequently accessed from the outdoors. Most lead to an outdoor living space, particularly when located beside the main yard or outdoor living areas. The most popular doors for sunrooms are French, sliding, and folding glass doors, with prices depending on the door size, brand, and quality.
Sliding doors are the least expensive. They work on a track allowing them to slide past. The downside is track doors can get stuck or jump the track, leading to additional maintenance. Folding doors, which are the most costly, have the same issue and require more maintenance and often better quality materials to eliminate these issues.
French doors do not have this issue because they operate independently like standard doors. The amount of glass, frame material, and style in a French door drives the cost. Below are the average costs for the three door types installed.
| | |
| --- | --- |
| Door Type | Cost (Installed) |
| Sliding | $2,000 - $4,000 |
| French | $2,000 - $5,000 |
| Folding | $2,400 - $8,000 |
Labor Cost to Install a Sunroom
Building a sunroom involves the work of a professional contractor. Contractors typically charge for the project as a whole. Their services range from $4,000 to $10,000. Depending on the company, some require more than one professional for the job. Some people hire an architect to assist with the design plans for the sunroom, but it is not needed. An architect takes your ideas and gives you professional knowledge to make the process go more smoothly. There is an additional fee to hire an architect, with most charging 10% to 17% of the total building budget or $50 to $150 per hour. These prices apply for building a custom sunroom from scratch or converting an existing space into a new sunroom. A conversion project usually costs less because it requires less labor and fewer materials. Building a sunroom from scratch costs $10,000 to $90,000, including labor and materials, while conversions are $5,000 to $50,000.
Cost to Convert a Three-Season Room to a Four-Season Room
Converting a three-season sunroom into a four-season sunroom costs $5,000 to $20,000, depending on the existing room and number of upgrades. While a three-season room can be enjoyed for much of the year, this space is not designed for extreme temperatures because it does not have the capacity for long-term heating or cooling. The switch from a three-season to a four-season sunroom gives homeowners more flexibility. This change increases the home's value because a year-round space is attractive to prospective buyers. Transitioning to a four-season sunroom for year-round use usually requires HVAC upgrades or system extensions, insulation, windows, and concrete foundations. Most sunroom installers do three-season and four-season rooms, but always ask your preferred professional to be sure.
Sunroom vs Screened Porch Cost
A sunroom costs between $35,000 and $70,000, while a screened porch costs $15,000 to $35,000. A screened or enclosed porch has screens stretched over a frame rather than solid walls and windows. This can let the air in but keep bugs out, allowing you to enjoy more of the outdoors with less discomfort. A sunroom offers more protection with insulated windows and HVAC systems, increasing the project price. The screens do not need much support from columns or walls, keeping the price down compared to the complete structure of a sunroom. Both spaces are relaxing and in-demand, depending on where you live and their use.
| | |
| --- | --- |
| Project | Cost (Installed) |
| Screened Porch | $15,000 - $35,000 |
| Sunroom | $35,000 - $70,000 |
Sunroom vs Greenhouse
While a greenhouse and sunroom sound similar, they serve different purposes. A greenhouse is a glazed structure built for horticultural purposes. A sunroom is an addition attached to the house and used for living space, such as a sitting area, living room, or entertainment location. A greenhouse is not attached to a house, while a sunroom is attached by a wall or sliding door. Sunrooms are mainly used for people and can be considered a full addition. Greenhouses are used mainly for plants and gardening and are not insulated. Many do not have utilities and may have minimal ventilation. This makes a greenhouse uncomfortable for spending large amounts of time in. The cost of building a greenhouse is typically less than a sunroom and averages $10,000.
| | |
| --- | --- |
| Project | Cost (Installed) |
| Greenhouse | $5,000 - $20,000 |
| Sunroom | $35,000 - $70,000 |
Hire a local pro to build your sunroom
Enhancement and Improvement Costs
Decor and Plants
The essence of a sunroom suggests bringing the outdoors inward. A potting station in your sunroom allows for form and function. Many companies offer functional and attractive potting stations ranging from $200 to over $1,000. If you are a bit handy, a potting station could be a fun DIY project. In that same vein, sunrooms, almost by definition, need plants. Large potted plants run between $100 and $300, but collections of smaller potted plants can be purchased for a few dollars each. Bright pops of natural color from throw pillows, area rugs, or a unique piece of art add a wow factor.
Interior Designer
Some homeowners hire an interior designer for their sunroom project. Professional interior designers cost $2,000 to $10,000 to cover full-scale design services in one room. Smaller projects cost as low as $900. Homeowners who hope to increase their entertaining space or plan to sell soon may be more likely to bring in a professional designer to enhance the interior of their new sunroom.
Blind Installation
The all-around windows in a sunroom benefit from professional blind installation, ranging from $300 to $1,000, depending on the window size. While the sun streaming through during the day is great, you may want more privacy and security with blinds at night. Thermal blinds winterize your sunroom, especially if you live in a cold region with ice and snow.
Shutters Installation
Installing sunroom shutters costs $2,500 to $8,000 and is most common in areas prone to hurricane damage, such as the southern United States. Shutters can be aesthetically pleasing and come in various colors while providing extensive privacy and protecting windows from storm damage. Plantation shutters are a popular choice for sunrooms, allowing the light to filter through while offering ample security and privacy.
Additional Considerations and Costs
Permits. Building a sunroom requires a building permit that costs $400 to $600. The application process takes 4 to 8 weeks for approval. Doing the project without a permit can cause issues with insurance claims if something happens.
Building codes. Depending on your state, the building code requirements for a sunroom are different. Some differences include the size, glazing, isolation, and separate heating/cooling systems or zones.
Warranties. Most companies offer long-time warranties on sunrooms, even some lifetime warranties. Typically, warranties cover manufacturing or material defects.
DIY. Building a sunroom can be a DIY project and save money. If you purchase a DIY sunroom kit, be prepared with all the proper tools and materials for the job. It is a good idea to leave the installation of windows and doors to the pros to ensure the job is done properly.
Quotes. Get a free price quote from 3 to 5 contractors before choosing the one you want to hire. This is extremely important to ensure you get a fair price for the work.
Preparation. Discuss all aspects of the project with the contractor before signing documents. Ensure all the required prep, foundation work, and clean-up are included in the estimate.
Sunrooms for mobile homes. Sunrooms may be added to mobile homes to increase comfortable living space and ensure a versatile indoor area with outdoor views. Installing a sunroom on a mobile home ranges from $8,000 to $20,000. Some mobile homes already come with sunrooms.
Sunroom winterization. Prepare your sunroom for winter by installing space heaters or an electric fireplace, especially if you live somewhere with freezing temps and snow. Rugs and carpeting keep the space warm. Insulated windows and draperies also help maintain warmth.
FAQs
How much does it cost to add a sunroom to your home?
The average cost to build a sunroom is $35,000 to $70,000. The project cost depends on the sunroom type, material prices, and labor costs.
Is a sunroom worth the money?
If you are going to enjoy the sunroom, it is definitely worth the money. It adds value to your home. If you want to sell in the future, a sunroom increases resale value.
Does a sunroom add value to your home?
Yes, a sunroom increases your home's value by offering more living space and an attractive entertaining or relaxing area with outdoor views and protection from the elements.
Do you need planning permission to build a sunroom?
You need a building permit that costs $400 to $600. Check with your contractor, who should be up-to-date on city and county building codes.
Does adding a sunroom increase taxes?
A sunroom adds square footage and increases property taxes but likely not by much. It also boosts your home's value, a worthwhile trade for many homeowners. Contact your city or county about having a tax assessor come out and evaluate the project and probable tax increase.
Find remodeling contractors near you
Get free estimates on Fixr.com from trusted remodeling contractors in your area
Find Contractors