How much does it cost to build a storage shed?
Get free estimates from garage, shed and enclosure contractors near you
Build a Storage Shed Cost Guide
Updated: October 10, 2022
To provide you with the most accurate and up-to-date cost figures, we gather information from a variety of pricing databases, licensed contractors, and industry experts.
Adding a shed to your property provides storage, workspace, and added visual appeal to the area all at once. Sheds come in a wide variety of styles, sizes, and uses. Whether used for gardening or as a workshop, a shed adds a lot of utility to your yard.
Because sheds come in many sizes, styles, and materials and have many different uses, they have an incredibly wide range of associated costs. Sheds can be custom made, built DIY from a purchased plan, or assembled from a kit. The national average cost range is $1,500 to $10,000, with most homeowners paying around $5,653 for a 10' x 12' storage shed clad in pine siding with a simple gable roof.
Cost to Build a Shed
Storage Shed Costs
National average cost
$5,653
Average range
$1,500-$10,000
Low-end
$1,321
High-end
$33,764
What Is a Shed Used For?
Many people use sheds for storage purposes, either for gardening tools or things like bikes, golf carts, and motorcycles. But sheds can have a wide range of purposes, which dictate how large it is, the flooring, and how it is laid out and finished inside.
Typical uses for sheds include:
Gardening sheds - These are usually large enough for a potting table and storage of basic gardening equipment.
Storage shed - A storage shed can be any size depending on what you plan to keep in it. People use sheds to store lawn mowers, rakes, gardening equipment, bikes, golf carts, sports equipment, and more.
Workshop/office - If you want to work in your shed and have a space separate from your home, you need to fully finish, insulate, and wire your shed for electricity. These sheds are more like small houses and have much higher costs to build.
Child's playhouse - A simple shed can also be used as a child's playhouse. These sheds can be any size and may be finished or unfinished, depending on how you intend your children to use them.
Cost to Build a Shed Per Square Foot
The cost to build a shed has a wide range per square foot, depending on several factors like the materials, purpose, how finished it is, and whether it is a kit, a DIY build from plans, or a custom shed.
The most common cost per square foot for a professionally built shed is around $50 a square foot if the interior will not be finished. If you intend to finish the interior for an office or workshop and need to insulate it and add things like electricity, expect your costs to go as high as $200 a square foot.
Some kits and DIY builds run around $25 a square foot, after purchasing all materials, equipment, and the plans.
Shed Cost by Material
Sheds are most commonly built of wood, resin (plastic), or metal. Resin and metal are most commonly found in kits, although some metal sheds can be custom built with a wood frame. However, it is also possible to build custom sheds using concrete and brick, although the material costs become much higher, and they require specialists to build.
Each material has its own cost, pros, and cons. Below are the most common costs associated with each material:
| | |
| --- | --- |
| Material | Average Costs for 10' x 12' Shed (Labor Included) |
| Resin (Plastic) | $1,000 |
| Metal | $4,500 |
| Wood | $6,000 |
| Concrete | $18,000 |
| Brick | $24,000 |
Resin Shed
Resin sheds are very low maintenance and can be built from kits. They are fairly durable and lightweight, but sizes, styles, and colors are limited. There is little to no customization, and they are less likely to have floors unless you custom build one, which adds to the cost. Most resin sheds cost around $1,000 to build from a kit.
Metal Shed
Metal sheds can be purchased in a kit, but these are generally flimsy and not recommended for any area that sees high winds or snow because they cannot hold up well enough to either one. A metal shed with a lumber frame with metal walls and roof can be built anywhere. Metal is limited in style and color options, but if you are custom building with a wood frame, you can have your shed built to nearly any size. A wooden-framed metal shed costs around $4,500.
Wooden Shed
Wood sheds are the most common custom-built type. They come in nearly endless styles and variations and can be clad on the exterior with any siding to make them more weather-resistant. They can have concrete or wooden floors and any roofing material. Wooden sheds can be higher in maintenance if you use wooden flooring and siding because they need to be protected from the elements and painted or stained regularly. The average cost of a custom-built wooden shed is around $6,000.
Concrete Shed
Concrete sheds are most often built of concrete blocks and, in some cases, ICF blocks, if you intend to use the shed as a finished office or workroom. They can also be built of poured concrete. They can be customized in numerous ways and can have either plain concrete walls or be clad in various siding and roofing options. They are more expensive to construct and cost around $18,000 on average.
Brick Shed
Brick sheds may be built with a wooden frame and then clad in brick or, in rare instances, be built of nothing but brick with a timber roof. In either case, they can be customized or finished in a wide variety of ways. Brick is expensive to work with, even with a wooden frame, so expect to pay about $24,000 on average.
Metal vs Wood Shed
When comparing metal vs wood, consider combining these materials. A wood frame is more sturdy than a metal frame and less likely to be damaged by wind or snow. But metal walls and roofs are resistant to rot, moisture, insect activity, and flames, making them a longer-lasting option than wood walls.
Plastic vs Wood Shed
Plastic kits are available for small sheds, and they are very durable. However, they are not customizable and are limited in size and style. Wood sheds need more maintenance than plastic sheds, but you can endlessly customize them with size, color, trim, and siding and roofing choices.
Shed Cost by Size
In most instances, the biggest determining factor in the cost of your shed is its size. This is true whether you use a kit, a DIY build from a plan, or a custom build. Below are some of the most common sizes and costs, assuming a professionally built shed.
| | |
| --- | --- |
| Size | Average Cost (Labor Included) |
| 6' x 4' (24 sq.ft.) | $1,200 |
| 6' x 9' (54 sq.ft.) | $2,700 |
| 8' x 8' (64 sq.ft.) | $3,200 |
| 8' x 10' (80 sq.ft.) | $4,000 |
| 8' x 12' (96 sq.ft.) | $4,800 |
| 10' x 8' (80 sq.ft.) | $4,000 |
| 10' x 10' (100 sq.ft.) | $5,000 |
| 10' x 12' (120 sq.ft.) | $6,000 |
| 10' x 16' (160 sq.ft.) | $8,000 |
| 10' x 20' (200 sq.ft.) | $10,000 |
| 12' x 16' (192 sq.ft.) | $9,600 |
| 12' x 24' (288 sq.ft.) | $14,400 |
| 16' x 12' (192 sq.ft.) | $9,600 |
| 16' x 16' (256 sq.ft.) | $12,800 |
| 16' x 20' (320 sq.ft.) | $16,000 |
Square footage is not always the most accurate indicator of cost per size. This is because a shed may be taller or shorter, be a lean-to on an existing structure, have a flat roof, which is less expensive to build, or have a decorative roof.
For example, while a 10' x 12' shed costs around $6,000 for a basic structure with a gable roof, it could cost less with a flat roof. Or if you wanted a much taller, two-story shed, it could be the same as the 16' x 20' shed cost because you need to add stairs, an extra floor, and more material.
So while these costs serve as a basic guide, your 12' x 24' shed costs could be $14,400 or $30,000, depending on how you build, finish, and construct the structure.
Roof Shed Price
All the same materials used for roofing on your home can be used on your shed as well. Many people like to clad their sheds in similar materials to their homes to give their property a more cohesive look. However, to save costs, choose a flat roof for your shed and clad it in less expensive materials. Below are some of the most common materials for roofing a shed and their average cost per square foot.
Labor Cost to Build a Shed
The labor cost to build a shed varies tremendously based on several factors. Most sheds can be built on any clear area of an existing yard, but if you do not have a clear area, you need excavation or clearing first, which adds to the cost. Grading is the most common type of land preparation needed for a shed and costs $4.37 - $5.41 a square foot.
The material type and whether the floor is concrete or wood also impact the labor cost. Most sheds do not have electricity or plumbing run to them, but if you intend to have a workshop or office inside your shed, you need to have at least electricity run to the area, which further increases labor costs.
Having a kit put together by a professional has the lowest labor costs. If a carpenter or builder constructs a new custom shed from plans, your labor costs will be considerably higher.
Because sheds can be built in so many different ways, you may need one or more of the following professionals if you choose not to DIY the project:
Carpenter
Shed building company
On average, the labor costs of building a shed average around $70 an hour, or around half the total cost to build a custom shed - $3,000 for a 10' x 12' wooden shed. For a kit, expect to pay a fee of $100 to $500, depending on how complex it is to assemble. When contracting with a shed building company, they supply all the materials and labor and, in many instances, build all or most of the shed off-site, then deliver it to your property for finishing.
Shed Plans and Cost
There are additional costs that go into building a shed. If your shed is more than 100 square feet, you will need a permit to build it, which has costs starting at $100. If you intend to work from plans rather than contracting with a shed building company, you need to purchase those as well. Shed plans cost $100 to $1,000, depending on where you purchase them and the plan's complexity.
How Much Would It Cost to Insulate a Shed?
The vast majority of sheds are uninsulated. The only time you need to insulate a shed is when it will be used as a workplace. Insulation has a wide range of costs, from low-cost fiberglass to ICF blocks. Expect to spend at least $200 on insulating a basic shed. Larger sheds, sheds with living areas above them, and sheds built from ICF blocks have higher costs.
Cost of a She Shed
Many women who need workspaces or garden sheds choose to build what is known as a "she shed." These have the same costs as any other shed and the same finishes and uses. Some women choose to insulate and finish the sheds to create a more comfortable space. If so, the price is closer to $24,000. If you decide to build a standard she shed, the costs are around $6,000 on average.
Buy or Build a Shed
It is possible to purchase a fully built shed and have it delivered to your home. It is also possible to buy a kit and assemble it yourself or hire a handyman to do so. Or, you can choose to build a shed either yourself or by hiring a carpenter.
Because there are so many options and variables, there is also a wide overlap of costs. It is possible to purchase a small upright resin shed for $500 or a fully custom-built shed that is delivered to your home intact, starting from $30,000. Likewise, you can build one from inexpensive lumber DIY for $500 or hire someone to build a shed for you on your property for $30,000.
When choosing to buy or build a shed, your biggest considerations should be in getting a durable shed that holds up well to your climate and fits your needs. Some people find that a prebuilt resin shed meets their needs perfectly, while others want a custom shed that blends in better with their property and allows them to accommodate overnight guests.
Therefore, the decision to buy or build a shed should not depend on the cost but its intended purpose.
​
Shed vs Barn
Another outdoor structure that many people choose to build if they have the space and need is a barn. Barns are larger than sheds and are better for storing equipment, such as tractors, and housing animals. They often are two stories or contain lofts for additional storage, while sheds are usually one large room, although some sheds can also have a small loft or sleeping area.
Barns usually have a similar cost per square foot as sheds, but because they are much larger - around 1,000 sq.ft. on average - they have higher costs, starting at about $50,000 for a very basic structure.​
Cost to Turn a Shed Into a House
If you have a large enough shed, you could have it completely finished, wired for electricity, and plumbing run to it to create a tiny house. Because most of the costs are in the finishing, this would not be an inexpensive project unless you intend to do it yourself over time. Finishing costs will run around $125 a square foot, plus insulation, running the plumbing and electrical lines, and other interior finishing add even more costs, for a total of up to $250 a square foot. This assumes that you do not add square footage onto the shed because most sheds are only a single room and are not divided into kitchen, sleeping, and bathing areas. These houses are not legal to live in unless they are permitted and inspected, however.
Cost to Move a Shed in a Backyard
If you have an existing shed but want to move it to another location, this could have a range of costs. If your shed does not have a floor, it can be easily moved for around $50 in most cases. Floors can be made of poured concrete, plywood, or plastic. If your shed has a concrete pad for a floor, you will need a new floor poured, which has costs of up to $300. Some wood floors can be moved with the rest of the shed. If you purchase a floor kit, you usually need to build the floor separately, while custom sheds can have them built-in.
Since floor joists are close to the ground and exposed to moisture and pests, it's crucial that they're pressure treated to prevent premature damage, decay, mold, and insect damage, prolonging the life of your shed.
If your shed is larger than 100 square feet, you will need a permit to move it, which includes marking off the new location and having it checked by the town or municipality before you can move it. This can add further costs of $100.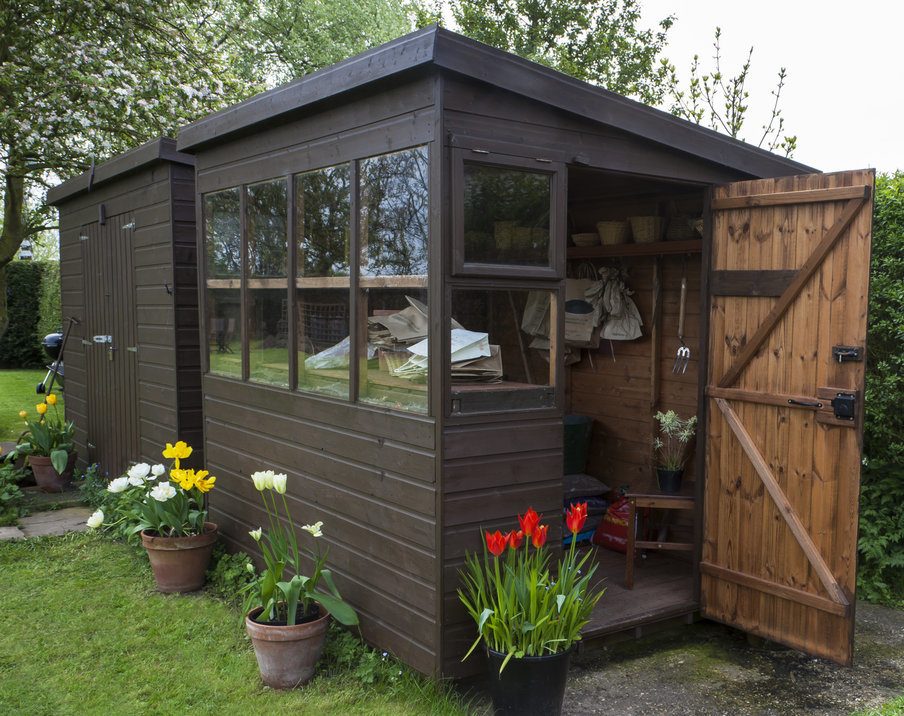 Enhancement and Improvement Costs​
Barn Door
Most sheds need wide doors to accommodate equipment and storage. Therefore, a barn door is the most frequently installed style because they are wider than standard doors. Barn door costs start at $100.
Build a Workshop
Many people use sheds as workshops. Because workshops need things like insulation and electricity, expect to pay closer to $200 a square foot.
Adding a Lean-to to an Existing Shed
If you need more space, add a lean-to to your existing shed. This is more like a bump-out than a full addition. Costs average around $30 a square foot.
Gutter Installation
If your shed has a pitched roof, consider installing gutters to direct the rain from the foundation. Gutter installation starts at around $3 - $5 a foot.
Asbestos Shed Removal
If you have an older shed with masonite siding or older asbestos flooring or insulation, you will not be able to tear this down on your own. You need to call in an asbestos abatement team. The cost of this project largely depends on where the asbestos is located and how much there is. Expect costs to start at $500.
Additional Considerations and Costs
Design. While your shed may be for storage, it still has to match the rest of the appearance of your property for the best look and a cohesive design. Try to match certain details, such as siding, roofing, or overall house style, to the shed for the best results.
Landscaping. Consider your landscaping and how it will interact with your shed as well. Many people choose to blend it into the yard with garden beds or trellises.
Doorway size. Ensure that your doorway is big enough to accommodate your largest piece of equipment easily, such as golf carts or lawn tractors.
Shed on wheels. You can build your shed on wheels. This allows you to move it around the yard if needed. These tend to be much smaller sheds, no more than 15 square feet.
Flat yard. The flatter your yard, the less grading that needs to be done, and the lower the project cost. The hillier your property, the higher your total cost.
Residential shed. You cannot legally live in a shed. If you choose to make the shed a residence, it must undergo permitting and inspection for that purpose.
Roof design. Sheds are not very tall, which means that the roof will be visible. If possible, match your roof's pitch, style, and material to your home for the most cohesive look.
Older sheds. Old sheds can often be pulled down very easily, usually for a few hundred dollars, or you can do this yourself with a tractor-trailer or a sledgehammer.
Small sheds. If you need more than one shed, consider supplementing with a smaller structure. Small sheds can be found in corner, vertical, and horizontal orientations that are as small as 5' x 4' x 3'.
FAQs
How much does it cost to build a shed per square foot?
A custom-built shed has an average cost of around $50 a square foot.
How hard is it to build a shed?
This depends entirely on your comfort level and experience. If you are unsure, consider a kit that has precut and drilled lumber.
How much does it cost to build a small workshop?
Workshops need more finish work and electricity than storage sheds, making the cost closer to $200 a square foot.
How much does a new 10' x 16' barn-style shed cost?
The average cost for a shed this size is around $8,000 if custom built.
How much does it cost to move a shed?
Provided it does not have a concrete pad, it should cost around $50 on average.