Long Roofing is a residential roof replacement company currently serving homeowners in the Mid-Atlantic region of the US, including Maryland and Virginia. Under the Long Home Products company umbrella, Long Roofing replaces a variety of roofing materials such as asphalt shingles, metal roofs, flat roofs, and luxury shingles. But perhaps their biggest selling point is the strength of their warranties, which is up to 50-years on all roof replacements. Let's dive in and discuss what makes Long Roofing a successful business.
Who Is Long Roofing?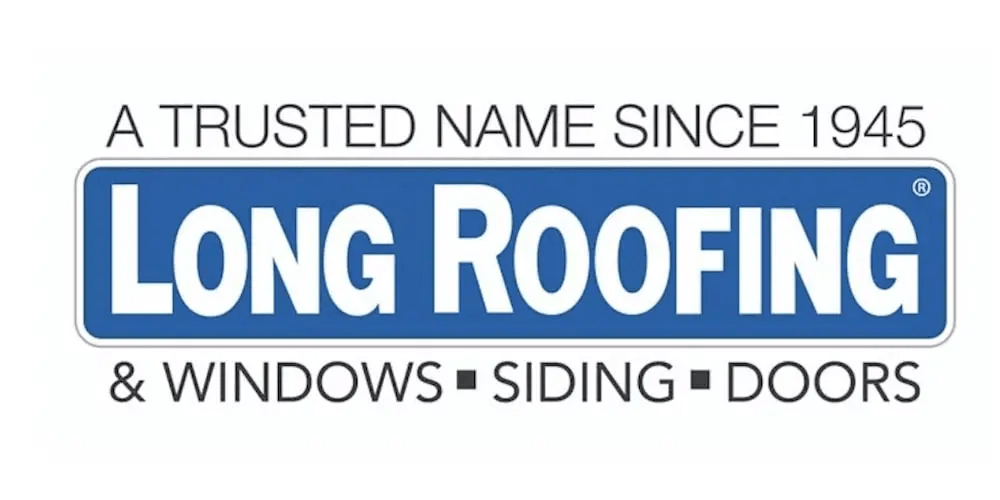 Image source: Roofing Contractor
Founded as Long's Fence Co. in Washington, D.C. in 1945, the family-owned company expanded to windows and other home products in the 90s, including Long Fence, Long Windows, Long Doors, and Long Roofing. In 2018, roofing manufacturer CertainTeed recognized Long Roofing as its top roofing contractor for the second straight year for providing extended warranty coverage.
Roofing Services
Asphalt Shingle Roofs
Image source: Roofs For Life
If you're looking to install asphalt shingles for your new roof, Long Roofing carries many of CertainTeed's popular brands like the Patriot 3-tab shingles, Landmark dimensional shingles, and the Presidential shake luxury shingles. While most asphalt shingles need to be replaced about every 15 years or so, Long Roofing offers a 50-year, non-prorated warranty when you choose their Integrity Roof System. This system includes all the necessary components of your roof including ventilation, shingles, flashing, underlayment, ice and water barriers, drip edge, and roof deck.
Metal Roofs
Image source: State Farm
With metal roofs, Long Roofing offers installation of four different types: standing seam, shakes, tiles, and slate. Long Roofing's metal roofing materials have a Class 4 impact rating, a Class A fire rating, and are energy efficient, saving you money on utility bills. While metal roofing can be significantly more expensive than asphalt shingles, Long Roofing offers a free estimate and payment plans, which should help give you peace of mind.
Flat Roofs
Image source: Long Home Products
Whether you have an EPDM, TPO, or PVC roof, it's probably best to hire a professional roofer to install it for you. Some materials require using a hot air gun to weld them together. Even with some larger apartment buildings with modified bitumen and BUR (built-up roofs), Long Roofing can accommodate your flat roofing needs.
Luxury Shingles
Image source: Royal Roof Co.
Designer luxury shingles are made to resemble the appearance of slate and cedar shakes at half the cost. Homeowners can choose from quality products like CertainTeed's Presidential shake shingles, which offer a textured appearance that's also algae and fire-resistant. With any type of home improvement repairs or roofing job, a poor installation is going to cost you more and lead to defective materials. That's why it helps to not only have a reliable manufacturer's warranty, but an extensive workmanship warranty as well.
Customer Comments
Image source: NEA Member Benefits
Long Roofing prides itself on customer satisfaction and positive experiences. Out of over 12,000 reviews on GuildQuality, a site that allows customers to review and comment on various businesses, Long Roofing currently has 4.5 out of 5 stars. Let's take a look at what homeowners had to say.
"I would gladly recommend Long Home Products to a friend. The 'proof' is in the roof, and I have seen the quality of the work. I was included in the process from beginning to end with no second-guessing about the steps involved. What a relief!"
"I am 100% satisfied. The work is awesome. From the beginning to the end it was perfect and I have no complaints at all! They were clean, courteous, and everything was on point. I didn't have any problems!"
In addition to comments on Long Roofing's quality work and craftsmanship, some customers were also pleased with the roofing company's SureStart PLUS warranty, which is covered for 50 years, and a non-prorated transferable warranty of up to 15 years. The cost of shingles and labor is completely covered in the warranty.
"The one reason why I decided to purchase it was the long-term warranty that is transferable to a potential buyer of my house. I believe that will be a great selling tool when it is time to sell."
Is Long Roof Worth It?
While some customers claimed the pricing was a little high, Long Roofing is a respectable company that's been in business for nearly 80 years, offering extensive warranty coverage, roofing installation, and replacement services. Partnering with a highly successful manufacturer like CertainTeed, and earning their prestigious ShingleMaster designation only adds more credibility to Long Roofing's products and services. Long Roofing offers various ways for homeowners to pay for their services, whether through a payment plan or other financing options. Though it may be expensive, you get what you pay for in the quality of workmanship from Long Roofing.