Image source: Home Stratosphere
The days are growing longer, the weather warmer, and before you know it – spring will be knocking on your front door! If you've been considering an exterior renovation for your home, spring is the perfect time to get started.
If you're not sure where to start on your exterior home remodel, we have a few suggestions that are sure to help you make the most of the season. Let's spring into the best exterior home renovations for spring.
On this page
Roof repair or replacement
Image source: Pyramid Roofing
After a harsh winter, you may find your roof needing a bit of a facelift. A roof repair or replacement has plenty of benefits from enhancing your home's curb appeal to extending the life of your roof. Whether you're in need of an entirely new roof or you find a few shingles that require replacing, it's important to get a jump on these repairs as soon as you notice them. Here are some important signs that you may need your roof repaired or replaced:
Signs of water damage such as water stains or the presence of mold

Missing, curled, or cracked shingles

Rusted metal roofing components

Presence of moss or algae on the roof

Sagging
Homeowners should begin screening roofing contractors at the start of the season to ensure their home is in good hands.
Have your siding replaced with new vinyl siding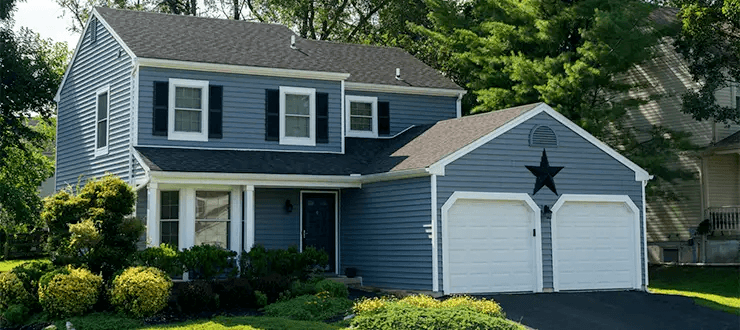 Image source: Best Contracting
Vinyl siding is sturdy, weather-resistant, and will protect your home's exterior from becoming damaged in severe weather. As one of the most popular siding materials in the U.S, vinyl siding is the perfect choice for renovators on a budget due to its low cost.
While the biggest draw of vinyl siding is its durability and versatility, homeowners will be thrilled to learn that vinyl siding also comes in a variety of colors. Easily match your vinyl siding to your garage doors or even your landscaping or garden for a dazzling color scheme crafted by your imagination.
New siding is integral to a home exterior makeover, and it's sure to refresh your exterior while creating a welcoming first impression. If you find replacing your siding is out of your budget at the moment, an exterior paint job should spruce up your home until it's time for new vinyl siding.
Elevate your exterior home remodel with new windows
Image source: Pella
Typically, new windows are overlooked when it comes to bigger home exterior remodeling projects such as a roof replacement or new siding. Replacing your windows will ensure your home looks as welcoming as it feels.
When it comes time to replace your windows, there are plenty of options to choose from. Some of the more common window manufacturers, like Pella and Andersen, offer windows in many different styles and materials. From bay windows to dormer windows, you're sure to enhance the exterior of your home.
Gutter installation or repair
Spring is often synonymous with plenty of rain, and if your home's gutters are in disrepair or you simply need to install new ones, it's best to do so before the season is in full swing.
Gutters are installed along the roof's edge, just a few inches lower than your roofline. You can install gutters yourself, but we highly recommend going to a professional to get the job done right.
Not sure which gutters to choose? We're partial to seamless gutters, which are easier to install, look great on your roof, and promise to be dependable during difficult weather.
More exterior remodeling projects
There's more to your exterior home design than just your roof or your siding! Spring is the perfect time to add any finishing touches to your outdoor living space.
Add a portico
Image source: Unique Decor
Have you found your front porch or entryway is looking a little less than welcoming? Utilize this season to install a portico! A new portico is a next-level addition to any home, adding a bit of warmth to the otherwise flat look of the exterior.
Enhance your front porch with new pavers
Image source: Houzz
Want to further enhance your entryway? New pavers could take your front porch – and even your front yard – to the next level. Pavers can be arranged in many different ways and are available in several different styles to elevate your home's appearance.
Jump into spring with your next home exterior remodel
Once winter is through, we all need a little TLC. If you're looking to remodel your home, there's no better time than springtime. After you've decided on which exterior home remodel project you'd like to go through with, it's important to find the contractor that pairs perfectly with your vision and, not to mention, budget. Fortunately, you can always find expert local contractors here at Fixr.com who are eager to get the job done right.